The New Beginning
2016
Sunday Journal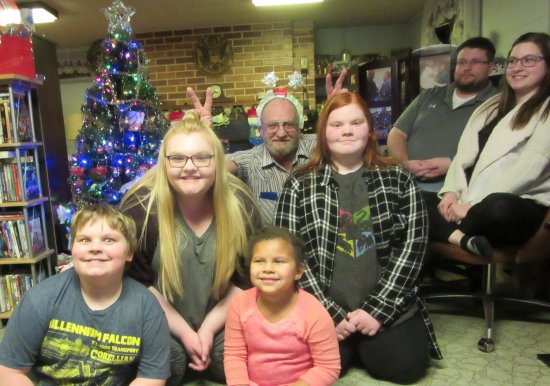 1 January 2017
Revelation 22:12, 17 (NIV) 12"Behold, I am coming soon! My reward is with me, and I will give to everyone according to what he has done.17The Spirit and the bride say, "Come!" And let him who hears say, "Come!" Whoever is thirsty, let him come; and whoever wishes, let him take the free gift of the water of life.
It's Sunday morning and once again here is Lew. Another year has passed and 2016 ends on Saturday December 31st. Christmas also fell on Sunday 25 December and the new year begins today 1 January 2017 so this is the last week post for 2016 and we have a wonderful Christmas Eve picture for you to see. My Grandkids are so silly.
What a week so far, we have had rain on Christmas day, 1 and 18 hundreds of an inch. It is December in Iowa. Recording the Sermon on Christmas day I found the #3 Camera was very dark so went in this week and fixed that. Christmas Day evening as we went to bed mom heard a loud noise on the roof and in the morning I found my Vertical Ham antenna on the roof. The wind broke it off so now have that to fix. Mom and I cleaned up some and we got the fireplace room back in shape some what. I found the bookshelf for the kids book came unglued so repaired that and a small table with folding leaves that needed glued also. We got the tree down and packed away and mom is working on some of the other things to clear all out of the way.
Well got the bookshelf and small table back together and in place and filled again so it is looking better. Now just the things mom needs to go through and we should be done in the fireplace room and have it back to normal and be able to have some fires again. I got the antenna piece off the roof and out to the garage so now just need to log the broken parts and order them. Went back up later and repositioned the dipole but the ham bands are so bad that may not help much. Took the Expedition to Wally as it acted funny with gauges reading intermittent all over the place and things not working but we could find nothing wrong. Wally thinks it is maybe the alternator but it checked ok so will just keep and eye on it and if things go wacky again check what the charge ammeter is doing.
Completed the 2016 Evangelism report for the church and have set up some program things for 2017. Wow 2016 is gone already. Where did this year go? Set up some good food for the birds in this cold weather and cleaned out and plugged in the bird baths so they don't freeze as they need lots of water in this weather.
Well I fell asleep before the clock hit midnight but mom woke me for our kiss so all was well. Happy New year everyone. Rather short on the journaling but church is over so better get posted and move on. God Bless, Be Good, Do Right, Love Papa, Dad, brother, cousin, Uncle and all.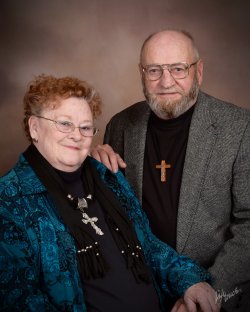 25 December 2016
Jeremiah 33:2-3 (NIV) 2"This is what the LORD says, he who made the earth, the LORD who formed it and established it–the LORD is his name: 3'Call to me and I will answer you and tell you great and unsearchable things you do not know.'
It's Sunday Morning and once again here is Lew! Who put up this Pic? That is us at our Church pictures for our member book. It's a pretty good picture of this old duffer and a really nice one of Mema.
Week is just starting but have not done much so far. Weather is warming up some and finally got the packages mailed off for Christmas but some will be late as I am so late to do things lately. It warmed up nicely today so got out on the roof and took down the weather station and did some cleaning, oiling and battery replacement and all is well and it is working fine again. Had to learn all the reset features all over but finally got them all set and it is good. And after two hours they are still working so the warranty is up and we are on our own. Wahoo!!!
Still learning to adjust to Mema's concentrator but it is going well as her levels are staying above 90 so that is good just waiting for this cold to get over for her so we can see how it is really doing. Went to vespers this evening and then brought home some McDonalds snack wraps and has browns for supper. Washed the expedition and the mini van today to get all the salt off from the last snow so they are all clean again. Picked up some Carmel Frappe's for mom while there and got the groceries also. I do not have a present for mom yet so I better get that going also. Hope to mail and drop of the last gifts tomorrow as the mailed ones will be late but the rest should work. I guess I better get the tree up also.
Well it is tomorrow, today as I said yesterday and still no farther along than the day before yesterday so not sure what is next. Got much cleaned up and moved today but still not close to ready for the family celebration of the birth of our savior. High today was 42 on the weather station and now it has some snow in the forecast. We shall see.
Well WOW it did snow so the weather station was good there this time and more on the way it says. Got things moved around some and now the clean up for all to come plus at least decorate the tree some that I did put up. Doing bedding for the kids that will spend the night and getting that ready also. High today was 36 and much snow fell again but now they are saying rain tomorrow and or Sunday so what is up with this weather. Got much done for Christmas but still need to Vacuum, dust, Move some furniture, wrap presents, and get some of the food ready for tomorrow night. Oh Bother! Mema is not doing well and I am not able to keep everything as nice as does but we will make it.
Got my presents for mom so hope she likes them but need to wrap them yet. Wrapped a bunch for mom tonight but still need to get mine done. Just vacuuming to do and finish the tree and then get the supper going tomorrow. Will I make it in time?
We made it and it all went off well so that was nice. Now to get this posted and off to church to record the sermon. God Bless, Be Good, Do Right, Love Papa, Dad, brother, cousin, Uncle and all.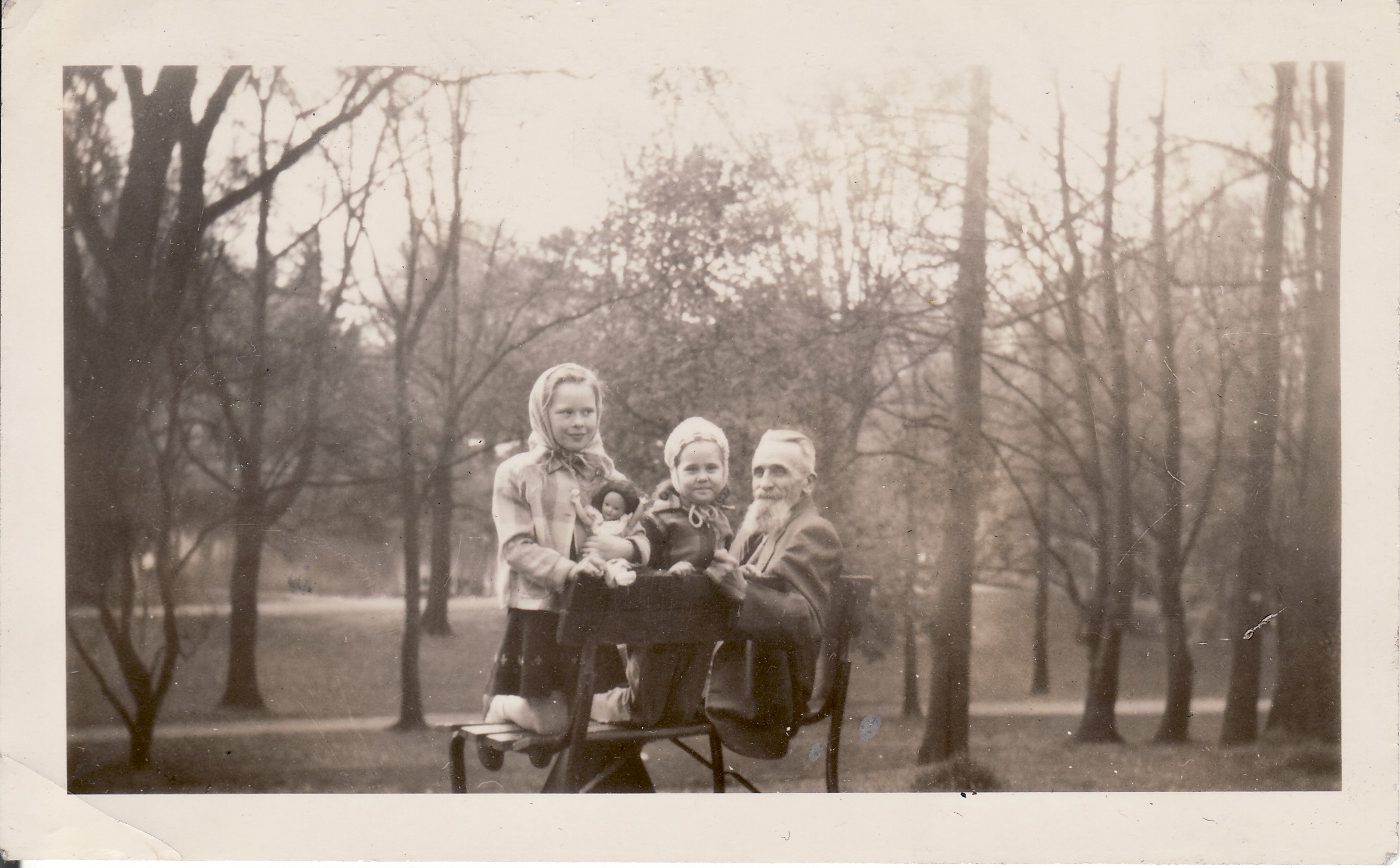 17 December 2016
1 John 2:15-17 (NIV) 15Do not love the world or anything in the world. If anyone loves the world, the love of the Father is not in him. 16For everything in the world–the cravings of sinful man, the lust of his eyes and the boasting of what he has and does–comes not from the Father but from the world. 17The world and its desires pass away, but the man who does the will of God lives forever.
As you can tell I missed last week and am late starting this week. Picture is of my precious wife Carol with her little sister, Kay, in the middle and Grandpa Christoph on the right about 1954 or so. What a cute photo of them.
Week has been very busy working on the ARMS web site as I am the webmaster there and decided it was time to update the appearance and make the presentations more fluid. Turns out that is a lot of work but think it looks good now. Had vespers and much church activity this week also with our Alaska Missions meetings and such so have met myself as I came and went.
Got mom set up for 24/7 oxygen so that is still a work in progress but have a temp layout for hose runs and all. Cleaned an area for the concentrator and set up some hose runs so she can be hooked to the CPAP at night or a hose to get down stairs also. She is fighting a very bad cold right now so may run her to the doctor if she does not feel better soon.
Did some work in the kitchen to put down a carpet piece over the area mom has her rolling chair and the linoleum is pealing off so it will stop for now till we decide how to fix with what we want. Ben checking in the ARMS net as I can and the old Swan 240 is a great radio and I sure enjoy it. Glad I got it going again. The weather is really getting nasty this weekend the weatherman is saying and this is the weekend we are supposed to go across the state to visit my sisters for Christmas. Mom will not go but I was hoping I could if she was okay then. I put up some new curtains in the library for mom and fired up the old Sears Silvertone phonograph to listen to some old 78 records while working there.
Went to town and got mom some diabetic tussin for her cold and hope that helps a lot. Her oxygen levels have been great with concentrator but there have been flukes with the heart pulse a couple times so will check that with doctor. Weather man still predicting a bad weekend for travel so will see tomorrow if I can go or not. Will be up early to check it out and get moving by 5AM if I can go.
Well I did make it to my sis's but one could not but we had a nice visit and the drive was not terrible, just some ice and very slow drivers in some spots. All in all made good time and got home safe. Better post and get to church so God Bless, Be Good, Do Right, Love Papa, Dad, brother, cousin, Uncle and all.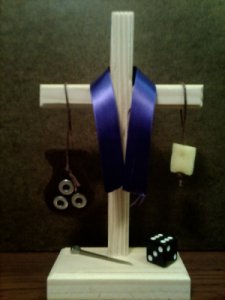 4 December 2016
James 4:1-3 (NIV) 1What causes fights and quarrels among you? Don't they come from your desires that battle within you? 2You want something but don't get it. You kill and covet, but you cannot have what you want. You quarrel and fight. You do not have, because you do not ask God. 3When you ask, you do not receive, because you ask with wrong motives, that you may spend what you get on your pleasures.
It's Sunday Morning and once again here is Lew! Will see if I can do better this week. Picture is of the Cross for Lent I have been working on and I think it will be OK. The first service will be handing out the Cross to put everything on and then each week following will be the 30 pieces of silver, then the nail, then the vinegar sponge, then the dice, and finally the purple robe. What a great reason for Advent season of the Birth of our Savior and the forgiveness of our sins.
Well the camper is done and put up for the winter so now comes the winter things. Mom had her CT scan for her lungs and it came back ok but need to check again in May as a follow up to make sure it is still going okay with the spots there. Colonoscopy this Friday for mom but need some blood tests tomorrow to be sure the dye used for CT scan did not do anything. It is cooler today but will see if I can get the lights out of the attic and put up since I need to put the Halloween things away there anyhow. Seems I am not able to keep up with it all. I have printed some Advent Devotions for church and have the December Tri-fold ready for printing.
Put my Swan 240 back on line as the 350D is still not going good. To much frequency change from start up till it is stable. Went to town for some of mom's meds and picked up some Fareway chicken for supper. We had Mac & pea salad and steamed veggies with it. I took the camper receiver off the Expedition and put it over with the camper as nothing else fits with that ball. Watched some TV and now off to bed as I need to get up early and take the Mini-van in for some front end work or checks at least.
Well got the van checked and it was a tread separation on the left front tire. Looked them all over real good and all had really good tread yet but were weather checked and cracked and ready to do tha same thing as the front left one so decide to get new ones. Turns out where I have the work done, Wally, had a used set of snow tires and they looked all brand new almost and he let me have them for $150.00 complete with mounting and balance. Wow that just saved like $300.00.
Got the outside lights up and they look nice. Could have put up more but it has turned cold and is raining some mixed with snow so that may be all that get up this year. The doctor cancelled moms Colonoscopy yesterday as she has a bad cold and they did not want to chance some pneumonia or problems from the cold. They will let us know when later for that. Am making some fried chicken, fried potatoes and Brussels sprouts for supper. Hope it turns out ok for mom. Made it to Bible study this AM and we are studying the Temple for the Lord King Solomon built that took seven years to complete. It took him 13 years to build his palace where his family lived. WOW!!!
Let it snow, Let it snow, Let It Snow!! The snow is falling here tonight but it will not stick the way it looks as we had 3 100's of an inch of rain first. Some might accumulate if it comes down long enough. Winter has finally arrived. Just watched It's A Wonderful Life, dumb show I couldn't see it all for the rain. What a wonderful story. Well the ground is white and it is now sticking oin the patio some so winter is here and that is the first measurable snow here at home this winter. Get to drive to church in the first snow so better get going. God Bless, Be Good, Do Right, Love Papa, Dad, brother, cousin, Uncle and all.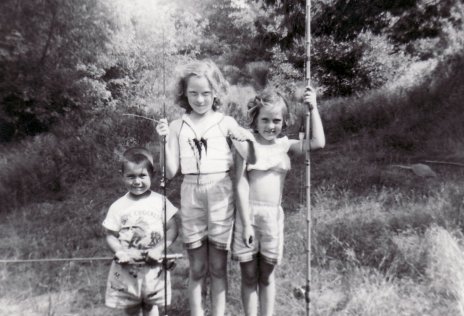 27 November 2016
James 1:25-27 (NIV) 25But the man who looks intently into the perfect law that gives freedom, and continues to do this, not forgetting what he has heard, but doing it–he will be blessed in what he does. 26If anyone considers himself religious and yet does not keep a tight rein on his tongue, he deceives himself and his religion is worthless. 27Religion that God our Father accepts as pure and faultless is this: to look after orphans and widows in their distress and to keep oneself from being polluted by the world.
It is Sunday morning and once again here is Lew! Wow another week gone and it is the end of November and nothing written. I am a mess but am being the best mess I can so Hooray for me! Picture is my special love with baby Hugo and her little sister Kay about 1954 or so. What big fish they caught but I had not met them yet for a few years for them to catch this big fish. I was probably just a flounder anyway.
Have practiced some on the harmonica and have Silent Night sort of going but not well yet. Seems I do not have enough wind contrary to what I am told. Have most all the Cross work for church done and now just have the things the rest of the Evangelism board will do. That is the pouch for the 30 pieces of silver and the sponge for the drink. Will need to cut the ribbon for the sash when it comes in but that will be a short project. I put a label on the bottom with the verse John 3:16 on it so came out nice and we have a black dice and a horse shoe nail for the spikes.
Checked in the ARMS net a few times and the band is still a mess but got in each time with relays and such. Was able to catch some of the 258 gang also so it might be getting better for the winter months. Have the camper almost ready to put up for the winter. Washing the bedding now and then just store the drawers away and do a final pick up of stuff to bring in and good to go.
We went to Brad and Heathers for thanksgiving and had a great meal. They did a ham and turkey and many sides. Mom brought some pies and her famous Jell-O salad and we had a great visit with the kids. We have so much to be thankful for and have been truly blessed by our Lord and Savior. We watched some TV and then headed home for the rest of the evening. Friday found us both sleeping in some and then not doing much when up. I did some printing from the computer and then just vegged.
Had to take the ranger in for service as I thought the new starter went bad but it was the battery and now good again. Wow the battery for it was like $187.00. When did they go to the moon on the price? Need to get the mini van in also as it has a small shake in the front end. Then the expedition as it is starting a little funny. Oh my always something isn't it. Mom ordered another wild bird plant package from the DNR so now have that to do also. Not sure yet where to go with that as everything we got is overgrown and wild again and I can not keep up any more. We did not even make it to the Primetime in Guthrie center for our anniversary dinner of all you can eat fish and shrimp.
Saturday here and nothing much done then either. Made us a lunch from turkey day leftovers and that was about it. Did practice on the harmonica some but that isn't going to well either. Was looking for a different cell tracfone but not sure yet what I may want or need so I do not have to reboot all the time to get a signal and one with a little larger screen. Did some cleaning on my 350D radio and it is much better so will put it back on line now and give it a full test for the drift it had. Cleaned the band switch and the improvement was 100% better just setting and heating now will need to see how it does in place with the fans and operation going on. Just did a power test and it all seems normal there if maybe a little low on power but it has plenty to drive the linear. Big test for the nets tomorrow. Guess I better get posted and move on so, God Bless, Be Good, Do Right, Love Papa, Dad, brother, cousin, Uncle and all,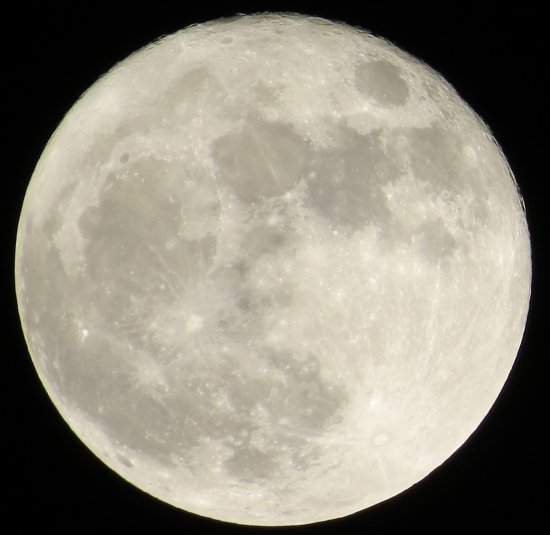 20 November 2016
Hebrews 10:19-22 (NIV) 19Therefore, brothers, since we have confidence to enter the Most Holy Place by the blood of Jesus, 20by a new and living way opened for us through the curtain, that is, his body, 21and since we have a great priest over the house of God, 22let us draw near to God with a sincere heart in full assurance of faith, having our hearts sprinkled to cleanse us from a guilty conscience and having our bodies washed with pure water.
It is Sunday morning and once again here is Lew! Already Tuesday and still nothing written so here we go. What a super moon picture I took on Sunday night or maybe this one was Monday but it is amazing. What a marvelous universe the Lord our God has created for us. Mom and I started the planting of the row of Ninebark where the pines died. We have five planted and five more to go if we can get them in before winter otherwise they will have winter over in the drive under garage.
Tuesday and Wednesday came with some work on the cross for handout over Easter and a few other small things. My journal posting does not seem to be moving along very well so not sure what is up with that.
Thursday found me watering in the ninebark deep so it will make it through the winter. We ordered the dice and sash for the Easter cross and still need to get the sponge and money pouch and then find a crew from church to assemble some of them. Later in the day we went to the kids in Sac and stayed for supper as Brad grilled some of his special ribs. M M good! Was home late so just called it a day and went to bed.
Now Friday is here and doing some journal while I check in the ARMS net. Then off to DMACC to see an old coworker retire from there. Temperature has dropped to 35 degrees here and the wind is really blowing with gusts to 32 MPH making the wind-chill 25 degrees outside so may not do much outside today. Ham radio conditions are really bad but did get checked in and was able to share my bible verse, Hebrews 11:6 I pray I keep that faith as it is a free gift from God. Snow has started up by Cherokee but not sure it will reach here according to the weather man.
Saturday has arrived and we survived the night with winds to 51 MPH out of the North West and temps down to 23 degrees. Went to Table Talk at church this AM and we are studying Ken Ham's foundations from the Answers in Genesis series and it is very informational about our worldview of today. Much of it is also educational if we listen through the words of the Gospel as the Bible tells us with all that info already. We set up mom's nebulizer yesterday and I put the solution in the wrong way and mom figured that out this AM so that was good as not sure it was working the way I did it. Now I need to get out and get the camper cleaned out and put up for the winter as the last place we camp closes next week and it is too cold now as we may freeze some pipes or tanks and sure don't need that. I grilled some T-Bone steaks for supper with some potatoes, Brussels sprouts, and ciabatta rolls and then I ate way too much. Oh bother!! Dug out my harmonica to play some songs maybe and learn some little more but may be too old for that. Had to fix the box that holds it for storage so got that done even if I can't play it.
Well enough of this I need to post and get to church so, God Bless, Be Good, Do Right, Love Papa, Dad, brother, cousin, Uncle and all, Lew.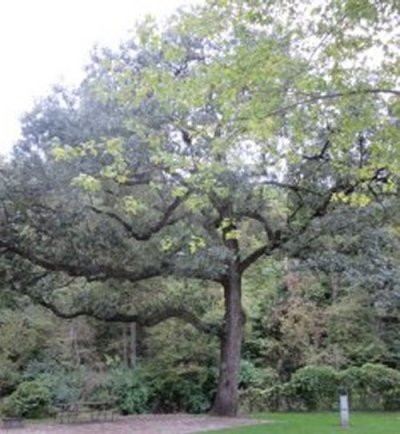 13 November 2016
2 Timothy 4:1-3 (NIV) 1In the presence of God and of Christ Jesus, who will judge the living and the dead, and in view of his appearing and his kingdom, I give you this charge: 2Preach the Word; be prepared in season and out of season; correct, rebuke and encourage–with great patience and careful instruction. 3For the time will come when men will not put up with sound doctrine. Instead, to suit their own desires, they will gather around them a great number of teachers to say what their itching ears want to hear.
It is Sunday morning and once again here is Lew! Here we go as I have written nothing this week since I have busy with nothing I guess. We did get over to see Crystal and are still there. I spent much of the week getting ready for the Church board meetings and working on my Swan radios. Most of the radios are going now so that is an accomplishment. Boards went well and we are making a cross with things depicting Easter resurrection for each family unit in our congregation. We will hand them out at the Wednesday night Lent services so that is exciting but a huge undertaking as we have 287 families. Will be heading home tomorrow I think unless mom wants to stay another day. Made it to church in Altoona at Christ The King LCMS church and it was a good service. On the way over to church I seen a Buck on the tracks and on the way back in a field near there I saw a crew dressing out a deer so maybe it was that one. Well I better get this sent and off to Visit Crystal again. God bless, Be Good, Do Right, Love Papa, Dad, Brother, Cousin, Uncle and all, Lew.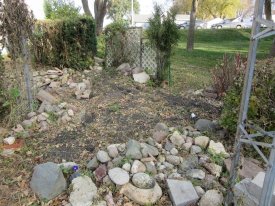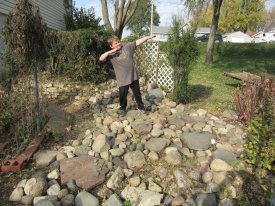 6 November 2016
2 Timothy 1:6-8 (NIV) 6For this reason I remind you to fan into flame the gift of God, which is in you through the laying on of my hands. 7For God did not give us a spirit of timidity, but a spirit of power, of love and of self-discipline. 8So do not be ashamed to testify about our Lord, or ashamed of me his prisoner. But join with me in suffering for the gospel, by the power of God...
God wants you to fan your gift into a flame!
It is Sunday morning and once again here is Lew! Our Little Man Lucas along with mom helped Papa in the pictures start the rock garden I started in the spring and never got farther on but now can go ahead and get some more done. Him and mom worked on it for 5 hours while dad and I worked on trimming some limbs from a fallen willow tree and what a great job. Still much more willow to go. What a great Sunday it was Last week As I made it to church, Bible study and then we had our Evangelism Reformation Bonfire. The bonfire was a great success I believe as we had about 35 show up and I had to run get more hot dogs and buns. We had guitar music and some great fellowship and I really had a good time. Wow!!!
Monday came and not much done then as I was rather tired and just did some town errands and things in the house and then just vegged. Unloaded all the bonfire things from the truck and checked in my nets also and then mom and I just goofed off. At 3PM went back to town to help Pastor Shauer move some furniture and then the day was done and watched some TV and now off to bed.
Tuesday came and went and not much done but did decide to try and get the Swan 240 radio up and running again so that is a task to work out as it has been around 8-10 years since it ran last or even had power applied to it. Got it on the bench and still doing the same as it was back then so have some work cut out for me.
Wednesday and it is garbage day so got that out of the way then some time to check in my ARMS net. While doing that I did some more checks on 240 and discovered the power plug is bad and completely wore out. Pulled and extra one off an old cord I have and rewired the power supply and got a start on the radio. Transmit audio sort of raspy but that may be gassy tubes and still need to clean some switches, pots, relays etc and then maybe good to go. It has low power and need to run the mic gain too high but am getting real good audio reports on it. Woo Hoo!!!!! Now just some tube checks and alignments to get back to full power. Took Buddy in for his haircut and trim and then some meds and groceries for mom and back home. Later in the evening I used my 240 for a swan net and got into California fine, even with terrible conditions. Then we had supper and I did some bills along with some TV and now off to bed.
Not much more this week but did get the 350D back from repairs and it works. But am really excited about my 240 for now so may not use it much after some contacts to see how well it is working. Did make it to our Men's Breakfast in Atlantic with 3 others so that was fun. So now I will get this posted and get to church. God bless, Be Good, Do Right, Love Papa, Dad, Brother, Cousin, Uncle and all, Lew.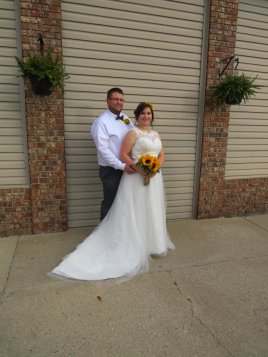 30 October 2016
Colossians 2:6-8 (NIV) 6So then, just as you received Christ Jesus as Lord, continue to live in him, 7rooted and built up in him, strengthened in the faith as you were taught, and overflowing with thankfulness. 8See to it that no one takes you captive through hollow and deceptive philosophy, which depends on human tradition and the basic principles of this world rather than on Christ.
Love Him more today than you did yesterday.
It is Sunday morning and once again here is Lew! Our Granddaughter little Melodie is now a married woman and what a beautiful bride she is. Thanks for another grandson. The week started off slow with me just vegging and doing Ham Radio stuff on Sunday. I made a complete roast for mom for supper also and it was pretty good but not as good as hers. We then just did some TV and off to bed.
What a busy day today. Did some pruning and some weeding and hauled power pruner to town to get the oilier fixed as it would not oil the bar and to get it sharpened. Hauled one load of brush to the burn pile and have another load ready to go. Mom was out and helped me so that was fun. Checked in the ARMS net early and then the Swan 258 gang after lunch during my rest time. Have all the radios connectable to the Cygnet linear now so that is great and get around 500 watts PEP out so yahoo!! Now need to get busy for the Reformation Bonfire this Sunday evening at church as one of the board members is out of town again. Seems like this one always is so no food or help there. Opps did I say that out loud? Talked with the other board member and she will do S' mores and chips and I will get the hot dogs, buns, beans, condiments and paper plate and silver. Will also do our fire ring and the wood and some roasting sticks.
Another day at the ranch and all is well. Slept in today till 7:30 so off to a slow start but am up and moving. Warming up the radios and working on a slide show and the journal. I should be outside as it is really nice out and there is much to do. Well I set up some movie slide shows for my web site so will see if that works.
It turns out I was very lax this week and not much written but it is now Saturday and what a day this has been. Kids here to help with the big willow tree we have down and our little man Lucas loaded some wood and the fire pit in the pickup for our reformation bonfire and that sure is a big help. Then he placed all the rocks around for our rock garden we had in piles and it looks so nice. What a great help that is so now we can plant the flowers and make mounds etc and add figures and so forth for there and it will be done. Mom made and excellent lunch and then a really great supper and I was about pooped out but it was a fun day. Mom even was on the old Cub Cadet rider mower today and rode it around looking at the yard, so how cool is that. John called about my Swan radio as he just got it yesterday and already has the solution for it but just needs to get the parts. Wow!!! May send the others to him also as it is getting harder and harder for me to do them.
I have most all of the things set for the bonfire so will just put them in the pickup with the wood Lucas did and we are good to go. So once again better get this posted and get moving. God bless, Be Good, Do Right, Love Papa, Dad, Brother, Cousin, Uncle and all, Lew.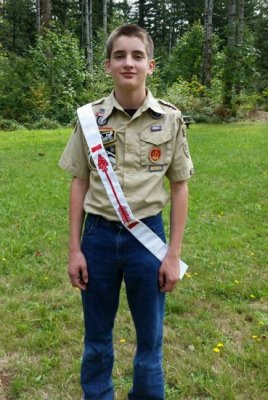 23 October 2016
Philippians 3:18-21 (NIV) 18 For, as I have often told you before and now say again even with tears, many live as enemies of the cross of Christ. 19 Their destiny is destruction, their god is their stomach, and their glory is in their shame. Their mind is on earthly things. 20 But our citizenship is in heaven. And we eagerly await a Savior from there, the Lord Jesus Christ, 21 who, by the power that enables him to bring everything under his control, will transform our lowly bodies so that they will be like his glorious body
Consider: Realizing that transformation is coming loosens our ties with this life but strengthens our commitment to service here.
Its Sunday Morning and once again here is Lew! The picture is our little Cody getting the Arrow Of Light in the Scouts. So Proud of him. Last week not much written but will try and do better this week. Have a good start with this being set up by Monday morning. And Monday is over and I completely reset the Carillon at church for better selection and less repetition.
Well as you can see it is now Thursday and not much written again. How do I do that. I have been busy but just not writing about it I guess. Got all the mowing done, redid the Carillon again and will now just add all the season music as needed and change them out as the seasons change so we can use them from year to year. Wrote a letter to the editor and did some ARMS and Swan net check ins. I have fixed the doorbell again but not sure it is a good system.
Have set up for our Reformation Bonfire with guitar music at our church parking lot and printed off the inserts and signs for advertising so that should be lots of fun I hope. Have also set up the trip to Atlantic Iowa for a Men's breakfast and growing our Church men's group I hope.
Once again the doorbell did not work so ripped it apart again and cleaned some and will see now if it will. Schwan's delivery here so now have my Ice Cream, but the wireless doorbell did not work again. Go Figure! It is a rather cool day with lots sun but only 52 degrees so far with a low of 37.
Friday has arrived and still goofing off. Fired up my old 500C Swan radio today and boy is that fun. Good power out and sounds good. Checked in some School contest nets and talked to some kids so that was fun. Also here a guy from Olympia Wash. but not strong enough to carry on a conversation. Was going to check all my radios and then get rid of some but not sure yet which ones as they are all so much fun. Guess so Far I will keep my original one the Swan 240 that mom got me about 1964, my 350 old white dial as my second radio, and the my 350D as the third radio and not sure yet on my 400 as I need to try it again and maybe the rest will go. Wait that is all there is other than many accessories from Swan to go with them. Oh wait I have a 1200W linear amp but will keep that to use for the power out factor. Guess they are not leaving very fast are they? Oh Bother!!! What is wrong with me?
Saturday showed up and I woke up so the day is great. Went to Table Talk and then home to work on the linear for my ham station and got it up and running so Woo Hoo!!! Band conditions are terrible so not much help there. Bummers. Oh well will keep going and maybe this winter the band will improve again. Hope so anyhow. Well better get posted and move along as I tape the service this Sunday. God bless, Be Good, Do Right, Love Papa, Dad, Brother, Cousin, Uncle and all, Lew.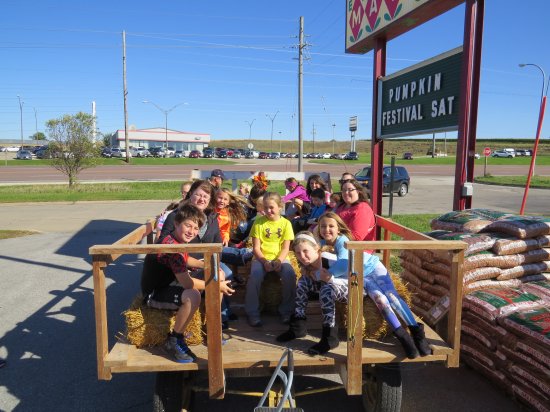 16 October 2016
Philippians 2:5-8 (NIV) 5 Your attitude should be the same as that of Christ Jesus: 6 Who, being in very nature God, did not consider equality with God something to be grasped, 7 but made himself nothing, taking the very nature of a servant, being made in human likeness. 8 And being found in appearance as a man, he humbled himself and became obedient to death– even death on a cross!
Consider: A church of servants is the most powerful example of Jesus.
Its Sunday Morning and once again here is Lew! The picture is the first hayride on the Earl may pumpkin days yesterday and it was a fun day with many more rides. Not as many as previous years but enough that I was wore out. Maybe I am just getting older. What a gorgeous day today with full sun shine and a temp of 68 with a low of 37.
Been busy with the skid loader and had to get a battery as the one on it did not work and it was 10 years old so it was time. Put it in and it still won't start and acts like there is no spark. Have to haul lights and tools over to work on it as it is in the barn and no lights where it is parked. Oh Bother! Got fresh gas and all as I thought that might be the problem but not that lucky so next will try a new plug and if that isn't it will have to pull the engine covers etc to see why the spark is gone.
Well as you can see I got nothing done for the journal this week. I did get the Skid loader going but then it all ended. Had to get stuff going for the Operation Barnabas support for our military at church and then had the council and voter meetings to prepare for. Besides that we were preparing for the Mel Brad wedding and the kids from Washington came in on Thursday to be at the wedding so that was really nice. We had a great visit Thursday and Friday and then Saturday was all day at church with the Barnabas conference. Then another nice visit after that and the kids headed back to Washington and home to there kids. Sunday morning back to church and the voters meeting and the week is done and not a thing written down for the journal. God bless, Be Good, Do Right, Love Papa, Dad, Brother, Cousin, Uncle and all, Lew.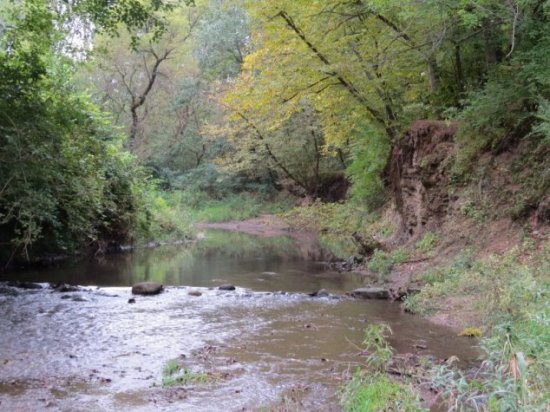 9 October 2016
Ephesians 2:6-7 (NIV) 6 And God raised us up with Christ and seated us with him in the heavenly realms in Christ Jesus, 7 in order that in the coming ages he might show the incomparable riches of his grace, expressed in his kindness to us in Christ Jesus.
Consider: Are you relying on His power today?
Its Sunday Morning and once again here is Lew! That picture is camping at Thomas Mitchell Campground in Mitchellville, Iowa. We visited with Crystal today and then had some supper and just vegged. I did go to church at Christ the King LCMS in Altoona today but that was about the extent of any accomplishment. We head home tomorrow and then begins the work for the Earl May Pumpkin Days hay ride on this Saturday. Am I having fun or what?
Monday morning is here and I did not sleep well at all. Had some chex mix stuff last night and it did not agree with me so was up most of the night. It is really hazy this AM so not sure I will get a good shot of the vultures. It is 8:30 about there take off time and still no sun burnt through for them to sun. Oh Bother!
Here it is Friday already and not much written this week so not sure how that works. Guess it is because I did not do much other stuff either. Did some cleaning and repairs on the tractor and hay rack for the Earl May pumpkin days this weekend but that was about it. Tried to check in the ARMS net but the Ham bands are still pretty much dead that time of day. Got the radio on today also to see if it is working better. Winter chill is in the air at 35 degrees this AM and that is usually better for Amateur radio over the winter months here. Wow that is magic as I just heard a station close to the frequency we are on so maybe it will work. Our control station today is K5VSP Boyce Guffey out of Cash Arkansas. At least it was cool enough the boiler kicked on last night so fall is here.
The new TV antenna is working great and we have more channels than we can watch. Using the rotor we can get about 60 channels so why would anyone pay like $100.00 a month to get TV when this is all free and they are many HD channels. I don't get the younger generation. One company here for satellite TV would even through in the broadcast channels for $10.00 more a month and the kids buy into that! HUH!!! Oh well I guess they got more dollars than sense. Did you catch that?
I have been looking for a chat room for our ARMS net web page since Para Chat has so many ads and most of them not very nice and I may have found one at www.churchusatoday.com . I have signed up anyhow and we will see if it will work. Well we are about 1 hour into the net and hear only two stations and none of us are checked in so conditions not good today. Opps I spoke to quick so got checked in and heard about 5 stations so all is okay sort of. Now out to work the finishing touches for the Hay Ride tomorrow.
Got the tractor finished and now just the rack to go but that just needs some clearing off, cleaning and maybe some bale replacements. This sure turned into a lot of work but the kids enjoy it so much and their bright beaming smiles make it worth while. Not sure I told you but I have bagged 120 bags of candy with a pencil included to hand out when the ride is done and that is always fun. I have some Jesus braclets left over from the Carroll Fun Days with the LERT trailer so will hand some of them out also. Well the rack is done and ready and hauled back to the barn for the night and now just veg and get up early and haul it all to Earl May for the Pumpkin Days hay ride.
Pumpkin days are here and it is a nice day, 43 degrees to start and will be about 73 degrees for a high and all sunshine with a few bright wispy white clouds. It was a great day and the kids enjoyed it and so did I. It was warm but not hot and low humidity and a breeze so it was just perfect. Not as many people turned out this year but it was good. About half of the candy bags went and all of the Jesus Bracelets were given out. I got good pictures of it so that was nice. I guess I will quit babbling and get this posted. God bless, Be Good, Do Right, Love Papa, Dad, Brother, Cousin, Uncle and all, Lew.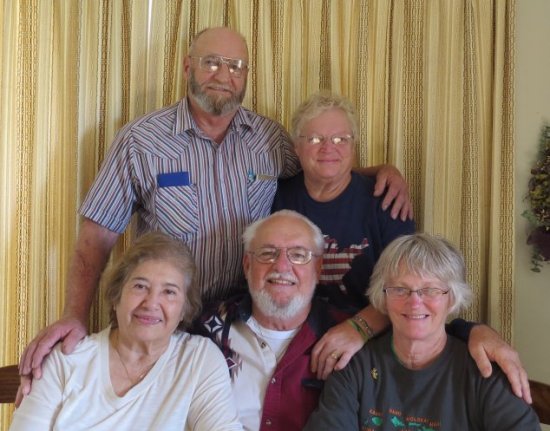 2 October 2016
Psalms 1:1-2 (NIV) 1Blessed is the man who does not walk in the counsel of the wicked or stand in the way of sinners or sit in the seat of mockers. 2But his delight is in the law of the LORD, and on his law he meditates day and night.
Consider: "If we meditate on God's Word and don't walk in the counsel of the wicked, whatever we do will prosper."
Its Sunday Morning and once again here is Lew! Picture is from a visit from Bob & Josie Fischer last year. Fun times!! Made it to church this AM but was not feeling the best but had to go as I was the person to tape the service today. Felt some better so stayed for Bible Study then picked up some frappe for mom and went home. Was a bummer day and I did nothing but check in some nets and type a letter for mom and then watched NCIS LA and now off to bed.
Oh bother just got a call from the renter and it seems we have a water leak again. Went to look and it appears like it is under the house so called Drees plumbing to have them check. That modular house is sure becoming a major problem. Well got the mowing done there and the plumber will be there this afternoon to check it out for a leak. The temperature dropped to 45 last night and is up to 62 now so it is a cool day just the way I like it. Turns out it was just a stool leak and not much problem it seems so happy for that. Did finish the mowing there and at the house so that is done. At home I see while mowing one of our willow trees at the bottom of the yard has finally given up and fell over so now need to clean that up.
Made it to Wednesday this week and not much done or written so better get on the move. Mom has a Doctor appointment today so we will get some town stuff done while we are there. The Monarch butterflies must be ready to migrate as I seen many of them yesterday while I was mowing. Sort of out of sync this week for some reason not sure why but just seem off base. Checked in the ARMS fellowship nets some but the ham bands are a mess so not much conversation there. Got most of the PC back up and running so that is working some better for now. Off to see our little Crystal this weekend and then have the Earl May hay ride next weekend so will be a busy time.
Wow it is Thursday and not much accomplished but seem to be getting some things done. Have most everything ready for our trip to see Crystal my little Lady lightening bug. Got the Expedition all cleaned up, gassed up and ready to go.
We made to Mitchellville about 3 PM after a late start and was set up pretty much by 4PM. It was an ok trip but was sort of tired. Been using 91 octane gas and that sure gets better mileage out of that big vehicle. Need to see if the mileage outweighs the price to see if it is really a savings. It is about 3-5 MPG pulling the trailer and about 8-10 MPG without. I did flatiron steaks with twice baked potatoes and carrots for supper and it was good. Then some ice cream for dessert and the day is coming to a close. Watching some TV and off to bed.
Well I slept in till about 8AM and then fed buddy and went for a walk and seen the Turkey vultures again and they were very neat. They are God's sanitation department, what a wonderful gift. They are sort of ugly but very regal and majestic. Just a few hours and we can visit our little love Crystal. Can hardly wait. The day is sort of overcast with some thunder but not sure it will rain. The campground is completely full and the kids are out hollering, laughing, screaming and chasing each other on foot and bikes and kind of miss those sounds. Children are a wonderful gift from God.
It is now Sunday and time to post so will get busy with that. I went for a walk yesterday and made a small movie clip of the walk for mom since she is not able to do that anymore at least for now. See you next Sunday. God bless, Be Good, Do Right, Love Papa, Dad, Brother, Cousin, Uncle and all, Lew.
25 September 2016
Job 14:14-15 (NIV) 14If a man dies, will he live again? All the days of my hard service I will wait for my renewal to come. 15You will call and I will answer you; you will long for the creature your hands have made.
Encouragement: Set your sights on eternity with Him! You will be renewed!
Its Sunday Morning and once again here is Lew! The picture shows a party for my 74th Birthday in April. Where has the time went? Sure hope I can keep going with this journal as mom likes it and as you can see it was spotty in 2014 and vacant in 2015. I did some then but it was not even worth the post. Sunday last started off the week with some warm temps after the nice week before. High was 87 Degrees. Well I have the second week of the journal started and now can think of nothing to post. How did I do it before? Maybe will have to go back and read some of the old journals to see how I did them. Anyhow I have been super busy with church things and outside work beside helping at the store with Tammy and visits to Crystal so the summer is gone.
Was out early this Monday AM and finished the one landscape area I was working on and it sure looks nice if I do say so. Thank goodness it was early because by 8:30 it was almost 80 with 80% humidity. Whew it was heavy and warm so I came in to warm up the radios for the ARMS net. Today's verse is "Galatians 2:19-21". Question after reading, Is he living through me? I pray it is so! Well the ham bands are quiet again so not sure I will get checked in. My little weather station says may get some rain again so a little more will be fine to top off the pond for the winter months. Got a new battery for the expedition but not sure it is any good as it does not show full charge by the hydrometer even after a full night of charge at 1 amp. Oh Bother guess I will need to check that also. Well I did some more tests and all other batteries you can check with the hydrometer float 4 balls for a full charge but this new battery only floats 3 like they did not put enough acid in it. Ran it to town for one of those new battery tester things and it says the battery is fine but when I started the car the tester said the starter failed, but it started just like always. So much for new stuff.
Well it is evening and I went back to Wal-Mart and traded the new battery in for a new one and put the trickle 1.5 Amp charger maintainer on it so will see what that does. It showed it needed a charge also just like the hydrometer specific gravity test showed. Oh Bother!!! Mom and I started to watch the TV show the Good Life. They aired two episodes tonight with Ted Danson and if they show another in the series they are really wasting good TV time, what a useless waste of that time. Not even funny just dumb.
It is Tuesday and I slept in today till almost 8:00. How did that work? I am looking for a nice chat room to use for our ARMS net but can find none so far that aren't filled with ads and some not very nice so will keep looking. They most all want to eat up you bandwidth with ads and updates etc. Any Ideas appreciated. Well the net is over so better get busy. Today's verse was Galatians 3:26-29. Remember: As you get dressed each morning, clothe yourself with Christ. Ran back to town for some meds for mom and to pick up our PC as they have it done. I am thinking I may just downsize and use the laptop for everything and clear out some stuff.
Hello Wednesday oh you humid hot day. Over 80 by 9AM so it will be an inside day. Got the garbage out at 7AM and it was already unbearable out for me. Did some work on the PC this AM but it still acts funny so not sure yet if I will keep it running or not.
As you can tell Thursday came and went and here it is Friday. We had a surprise Bday party for Mel last night and that went well. We also had some gifts for Ellie that we gave her since nobody had a party for her either. What has happened family? Well I got the PC up and running fairly well so may just keep it going as I have much set up and ready on the external hard drive so we can carry it along when we use the laptop in our travels or camping. We are headed out this weekend to see Crystal if mom can make it. Got the links set for the journal and sent an email to all that it will be going again so now just to see if it is read or the links all work. Hope they let me know. Brad called and the mower broke down again so ran up to help him with that. Got it up and running again so back home and more work here.
Saturday Morn and all is well, sent the info about doing the journal again and found I have 4 wrong Email addresses so have sent out to up date them. Went to table talk at church and we are doing the Ken Ham series Foundations and is it ever good and so where we are today in the secular worldview. Got a haircut also as my hair was itching and time for it to go away. Not much left but still time to get it cut. So much for Saturday and this weeks journal. God bless, Be Good, Do Right, Love Papa, Dad, Brother, Cousin, Uncle and all, Lew.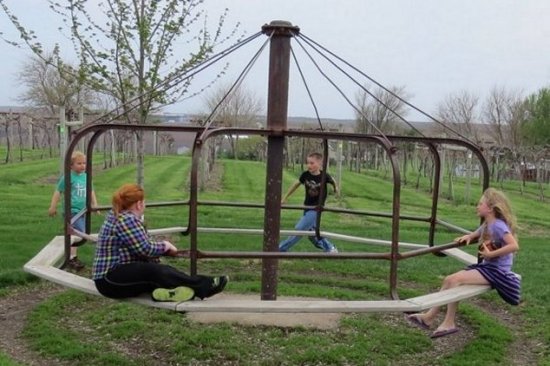 18 September 2016
Galatians 1:4 (NIV) ...Jesus Christ, 4who gave himself for our sins to rescue us from the present evil age, according to the will of our God and Father
Well it is Sunday Morning and once again here is Lew. It has been some time since I posted to my journal but will try again and see if I still can. Picture is GK's having fun in the Willey park and am missing them all very much. As they grow up they seem to grow away for some reason. It has been a super busy time since my last posts what with helping our daughter at her store, visiting our Little Crystal, coping with some depression as we age, keeping up with yard work, fitting in some camping, church work, keeping mechanical stuff running and on and on. Every piece of mechanical equipment has broken down this year, twice, and some three times.
Wow I may get the hang of this again but technology does not make it easy. Wanted to bookmark a page on firefox but the bookmark this page to do is gone with the last update. How the heck does that work. Oh well will get it eventually. Was out mowing and it has cooled off and is really nice and you can tell fall is close and you feel it in the air.
It is Saturday and have been out weeding the landscape area by the sidewalk steps to the patio and oh my do we have weeds. What the heck happened this year? I can not keep up! Where oh where has my stamina gone oh where oh where can it be. Well I just finished the mowing in the center section and have the landscape area I was working on about half done so guess that is it for today and now time to think of what's for supper. May just run to town and get some redskin potato salad and some fairway chicken. Does that sound good.
Well that is what I did for supper so that was good so maybe the journal has started again. Set up is a problem as technology starts out with wonderful software programs and then they keep upgrading until it is completely destroyed and useless and not usable. Oh well we will make it work in spite of there wanting to control the world. God bless, Be Good, Do Right, Love Papa, Dad, Brother, Cousin, Uncle and all, Lew.