2014 Journal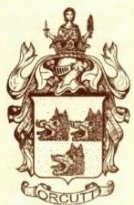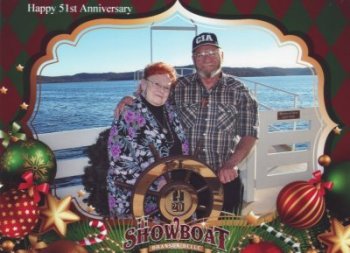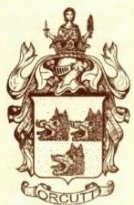 It's Sunday Morning and once again here is Lew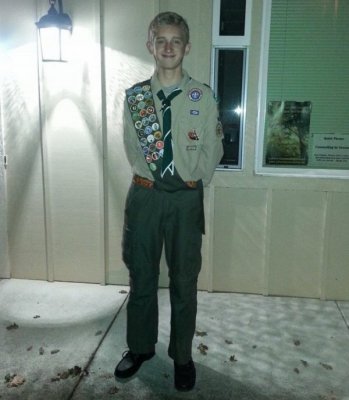 9 November 2014
Would you look here and see our little Sean so grown up and ready for his review for his cross over into EAGLE Scout. What an honor for him and we are as proud as can be Little man. May God fully bless you in all you do, keep up the good work!!!
Monday started with me sleeping in till about 6AM and then just loafing till the nets start with doing the dishes, checking the water softener as it does not seem to be working right but that all checked ok, doing the bills for the month, and then just listening to the ham set till net time. My Verse Psalm 139:5-7 so read and don't try and hide. Mom still has some back pain so she is resting today mostly. Ran out of some printer ink so ordered some more to get moving on the calendars etc. Church was looking for an Elder for a funeral this Wednesday so I volunteered for that. Sure are losing many of the older generation that way.
Tuesday came and did prep work for our Elders meeting and some setup things for the carillon. Did some work in the yard and then put some washers etc on the tongue jack on the camper as it was not good. Did much work on the calendar I make as it was lost on the computer somewhere. What's up with technology. Did some dishes for mom. Picked up some chicken wraps after the meeting for mom and I and then just watched some TV and to bed.
Wednesday up early and did more calendar and Committee work on the computer and put on the new Office Home & Student. Oh My can they mess things up any more. What happened to simple and it works. No CD's anymore so it ate about 700 MB of my internet and took almost 4 hours to set up. Wow are we making progress. Made a town run for mom and she did fish and potatoes for supper and was that good. Did a few more bills and was about done for the day. Checked on the road work and all is well and should be open soon.
Thursday up early again about 5:30 and got all the work on the calendar done for now so hope that stays good and is not eaten by the computer again. Warmed up the radios and checked in the ARMS net to get the day started. My verse for the day was Proverbs 3:5-7. Temp has dropped and was 33 overnight and up to 38 so far. Disconnected the garden hose and rolled it up as we are now entering winter mode and do not want to freeze the house line and have a break. Checked all vehicles here for anti freeze and they are good now just need to do the tractor and van over at the barn. Cleared the patio for the winter and got the grills located so I can use them. Put up all the potted plants and will see if they make the winter in the drive under. Fed buddy and let him out so now maybe take a small break. Did a break with mom and then had some lunch and back out for the camper. Got it hooked up and ready for storage but will check for some holes yet for the mice to get in and seal them if any and then off to storage after mom has another look for me. Found all the holes around pipes and wires and sealed them, disconnected the battery, and brought in all moms hair clips etc so are good to go if she finds nothing else. Have all the bedding in to wash and will pack that away and then put camper in the shed. Nap time! Well got all the garbage out and dumped and then started the washing of the camper bedding.
Friday found me still working on camper, bedding, rugs, towels & wash cloths etc and getting it all back in the tubs and under the bed for storage. Working on the calendar as I do the other stuff and made a boo boo on one page so put that away for awhile as I am low on ink and the ones I ordered will not come in till Monday. Got most all of buddy's things back to the right vehicle and set up the expedition for winter in the barn. May keep it out though as it has all wheel drive but not sure yet. Mom helped decide in the camper the right bedding so we have that done. Been washing most of the morning also and need to vacuum the carpet in the camper and then shampoo it also. Have washed all the throw rugs and have them ready for the garbage pail they get stored in. Got the vacuum to the camper but the day is late so started some seasoning on some pork steaks for supper and will just relax for now. Supper was great with the pork steaks on the grill and then some TV and off to bed.
Saturday found me up and out to the camper and got the carpet shampoo done and then scrubbed the vinyl and cleaned the floor ducts etc. Did some cleaning on edges and it is ready for the storage season. It looks and smells so nice and clean I want to head out camping again and just veg and leave the world of today for awhile. Still need to scrub and wax the outside but will get that in the spring. Fired up the radios and checked in the ARMS net and just waiting for my turn to share. My Verse for today is Proverbs 8:34-36 so I will wait on the Lord today through, with, and by His Grace. Really pretty day today and will be nice for the weekend the weather man says so that is nice but some snow in the forecast for next week. My net turn is over and have listened some but now back to work. Did some town errands and finished up the day and mom and I just watched TV and went to bed. God bless Be Good Do Right Love Papa, Dad, Brother, Cousin Uncle and all Lew.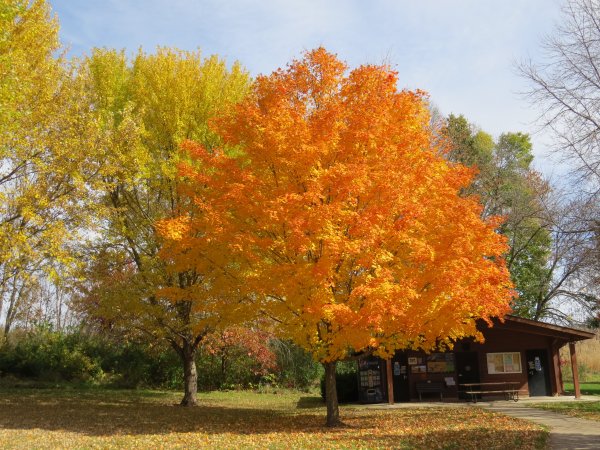 2 November 2014
Okay enough pity party and depression for me, would you look at that beautiful tree the Lord has provided for my vision to devour and be absorbed in my mind to feed the quiet spirit that longs for the grace provided to us by the Holy Spirit. Wow And Wow And Wow!!! Praise be to God our Father and his Son our Savior Jesus Christ and the Holy Ghost all three in One.
27th
Up very early at 3AM and started the work needed on the Constitution for our Church. First had some coffee and organized papers and then about 4:30 started the edits of it. Had it mostly done by 7AM and now just to send off to get inputs on other changes needed. Then out to the camper to winterize and get rid of any places a mouse can get in. Removed numerous covers, cook stove, electrical panel to see what was needed and then off to town for some steel wool and sealer to close those gaps. Found some special gap filler that tastes funny to mice and using the steel wool have sealed many inside areas that let them move about the camper and several outside ones so far that will let them into the camper. Will continue that later but now off to church for the Secretary assistant interview. Keep me energized please dear Lord! Wow got the interview done and she will start Monday and then home and removed the tongue jack from the camper to put the new one on when it arrives which will be Thursday. It is now 4PM so may call it a day for awhile. Well that did not last long as I went out and disconnected the Expedition and unloaded it and then did some more checking for outside holes for mice and found another one around a pipe and then one that is a service door/flap to get at the fresh water tank and heaters and then will check the roof and all. Need to get a different power plug for the side also that is sealed and not always have an opening when plugged in. Drained all the water and removed the water heater corrosion rod so it is empty and now will just blow the lines and put RV anti freeze in all the drains. Drained both Gray and Black water holding tanks and the fresh water tank so should be good to go with them. Back out after some coffee and did a small patch of mowing for Buddy to go potty and then went to check for a brush pile for this weekend when the kids are here to help with the trees. Started the old Cub Cadet so mom can travel around some and help with where to start the brush pile. checked on the trimming equipment some but will get it all started later so it is ready also. Now 6:30, time for wheel, and supper so in to help with dishes and meal. Busy Day!
28th
Wow did I ever sleep in today till about 7:15, guess I may have overdone yesterday. Got the coffee going and the radios on so the day is started. Temperature is 42 this morning so it is a crisp fall day. First thing on the menu is the water softener as it has quit working. Tore the head apart and cleaned all the filters, screens, venturi etc and started a new cycle so will see if it now leaks and still does not work. Ha, spell check can't spell venturi or does not know what it is so how good is that, that it wants to check MY spelling? In two hours we will know if this worked. Coffee time! Brought in some things left in the camper and there are still a few more to go before we put it away. Computer up and running and the radios are warmed up so time for the ARMS net. Got checked in so waiting my turn I checked the Softener and it seems to be working right again, my verse for today is Psalm 118:6-8. Schwan's guy came and I misplaced my checkbook so had to pay with cash but found it after he left. Water softener is okay so that task done. Cleaned the coffee pot as it was limed up and that is good. Started some yard work to get ready for this weekend with the kids coming for the tree clean up mess we have. Lunch time and a short rest and then back to work. Crawled under the camper but will need to wait till can move it again so I have room to get under it to work. Picked up many fallen dead tree branches and then walked to the city brush pile to see if I can haul the brush there. Can't get there now for the road work. Will start one here for the birds and animals as the old two are just about all dirt. Started much of the mowing and finally went in at about 5:30 and mom did a great supper of fried chicken, potatoes and fried zucchini. Watched some TV and then off to bed as I am beat.
29th
Started the morning at 7:30 with winterizing the camper. Mostly done by 8AM but need moms help to watch the final air pressure to see inside while I pressurize on the outside. Get that later today. Radios are on and getting warmed up and the coffee is going. Overnight low was 37 so got cool but should be a warm day in the 50's I hope. Yes fall is in the air and it is sort of overcast and gray but no rain in the forecast. Checked in the ARMS net and then outside for some more mowing and preparation work for the weekend. Got back inside about 11:30 and mom had us some lunch going and that was really good. After that mom came out and helped watch the water lines to make sure all the water was out and that chore is done. Checked the Beggars night here in Willey and it is Friday so we are getting ready for that. Out again for some more mowing and boy are there lots of tree branches down. Have decided on several places for brush piles so can do that now. Completed some Emails and some church work in preparation for our Elders meeting next week and then have only one more before my term is over. Finished up some mowing and put the mower up. Mom helped me get things from the attic for beggars night so hope that goes well.
30th
Another day has passed and I am up at 5AM again and can't sleep well. Working on the Elder agenda so I can leave that all in good shape when I am done. 41 degrees out and had a low of 38 so not real bad. Mom is up also as she was not sleeping well and woke me at 3AM so here we are. Had some coffee and a visit and then back to try and sleep. Finally dozed off at about 5:30 till about 7:30. Radios are warming up and the coffee is done so now will start the day. Dropped to 37 degrees and now is 39 so warming up. Checked in the net and now off to town for some supplies. Got them all after running all over as nobody carries anything anymore and all the good reliable stuff we always could get is gone for a not so good product at a higher price. Put the tongue jack on the camper and that worked but will need to put some washers there also as the bolt holes are larger than the old one. It will be fine but just don't want to take any chances. Checked on the street progress and it is looking really nice and will be so good when done. Carried clothes into the bedroom for mom she wants to hang up and we are getting the small bedroom ready for the kids this weekend.
31st
Wow I woke up this morning at 6:30 and it was 24 degrees out with an overnight high of 37, the boiler was running and fall is in the air. Did a hurry job to get all the things that could freeze from inside the camper in and glad all the tanks and water lines were already done, knock on wood. Put the pointy fork thing on the skid loader to use to move the brush tomorrow as we make a new brush pile so hope that works well. The skid loader has a low battery so jumped it and it started right up and run well so have a charger on it for now. Fired up the radios and got the coffee going so all is right with the world as far as that goes but not all the world. Apple CEO just came out of the closet and said he is gay and his thanks to God for this wonderful blessing is appalling to me, and the support for his gayness just boggles my mind. Help me Lord to love the sinner and accept them but not the sin as I really need help with this sort of thing. Got the DVD ready to go for the church talent show and it came out pretty good after all the messes of the new camera. Technology really isn't what it is cracked up to be. Checked in the net and waiting my turn, my verse today is Psalm 127:1-2, Are you aware of the fact that success in God's eyes is not dependent on how hard you labor, but on your obedience in the little things? As you obey in the little things, He works out the big issues, and the fruit of that cooperation is eternal. My turn is done and what a verse if you read it. Finished up the skid loader and tried it out for moving the brush and it will be nice. Hauled one load of fallen branches I picked up to test it all. Ran for some gas to be sure I have enough. Ben and Tammy came late in the evening and we finished watching Blue Bloods and went to bed.
1st
Up at 5 AM to help mom get the roast going for the day and managed to set off the smoke alarms so that was fun. Mom lost one of her glue on finger nails and was just about ready to empty out the crock pots when I found it in the middle of the bed. Mom finished up her banana bread and it sure was good and will have it for lunch with the roast. We had some coffee and then mom went back to lay down some and I am out to get the things ready for the day. Temperature low for the day so far is 20 degrees and we are at 23 now so it is a chilly start for the day. Ran to town for breakfast pizza and the day is off and running. Many trees were trimmed and dead ones removed. We have a big brush pile for the birds again so that will be nice for them to come back and use in the spring. All the kids were an amazing help and much has been accomplished for us by them. The roast for dinner was amazing and then we were back out to finish up all the stuff we had cut before dinner. What an amazing week and I better get going so God Bless Be Good Do Right Love Papa, Dad, Brother, Cousin, Uncle and all Lew.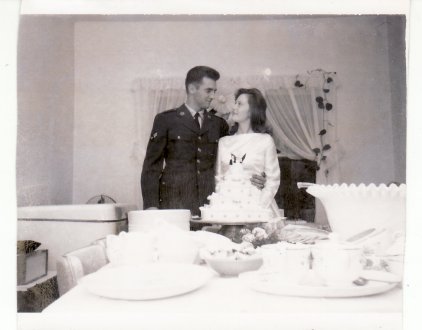 28 September 2014
What a blessing that day was and is. It will be 52 years this year and still is a great joy for me and still not sure why I got so lucky but I will be thanking the Lord till the day I Die. I Love you Angel! Hard to believe the 1962 Photo is from a Polaroid camera you had to put the goop on after the camera spit it out. If memory serves it was called the Polaroid Swinger because it meant you were with the in crowd and it had a small strap for you to let it swing on your wrist. Those were the days, Bing it to see what it was.
Have not been doing so much for the last couple of weeks and the journal has suffered but will try and get back on track. Been busy and concerned with mom's heart problem and the trip to Des Moines and then doctors and and all so my time has been consumed with all that. She is better that way I believe but so very tired all the time and I miss her when she is sleeping. Got through the Committee meeting for the church constitution and by-laws last week and the next one is today so have that all set for another member as if we needed more committee members to stir the pot. It should go well if I have made enough preparations. Did a little mowing between all the rain and it is like a hay field but got it knocked down anyhow. Still lots more to do. Managed to get the Toro stuck in a wet area so had to run over to the barn and bring the tractor home to pull it out. All is well now. Got the broadband modem back for our internet from US Cellular and it still is not fixed and had to go in and get a new SIM card for it. Still is not good. It is there 4G LTE service but they will not believe that. Oh Bother. Also the printer stopped working the first of the week and was told by Epson that it was old and was a hardware failure after many calls, emails, and visits with them and there service center. I almost ordered a new one but thought I would look at it first and try to learn something. It is now working well and printing excellent again. What happened was I was printing a document and one of the ink cartridges ran out of ink so I replaced it and then the printing turned just light gray instead of sharp black. Doing a print cleaning by the machine it uses ink from all cartridges so another one yellow ran out and needless to say 4 were done and replaced and no luck so Epson said I needed to let the machine clean itself about three times and if that did not fix it the hardware for the print head failed. Long story short I tore it apart and sprayed the head and nozzles with some electrical connector contact cleaner and wiped them down several times and then did a machine clean and all is well and printing like new. Do people today go to school to get there jobs or what. Got the mowing at the barn and rental done so it looks rather nice again and all the rain has made the grass grow like made and really get thick so many of the weeds were crowded out so that helps. Still have some creeping Charlie to get gone though. The church fellowship, Hobo supper/Hayride went well and we had a fair turn out so that was nice. I was able to check in the ARMS net several times this week so the radios are working well but the solar flares are making communications a big problem. Guess that is affecting the Cell phone/Broadband connections also. Still have to figure out now why since my computer upgraded to Internet Explorer 11 when I go to a web page that has audio and then go to another page the audio from the last one still plays. Anyone have any ideas? Technology??? The wetland has added more water and is really nice this year all Praise and Glory to God our Father as we give thanks for that. Going to cool off this week so maybe I can get going on the dead trees, from the harsh winter and the summer storms, we have. The road work through town continues and is a bother but will be very nice when done. Guess I better quit rambling on and on and get posted and the day started. God Bless, Be Good, Do Right, Love Papa, Dad, Brother, Cousin, Uncle and all Lew.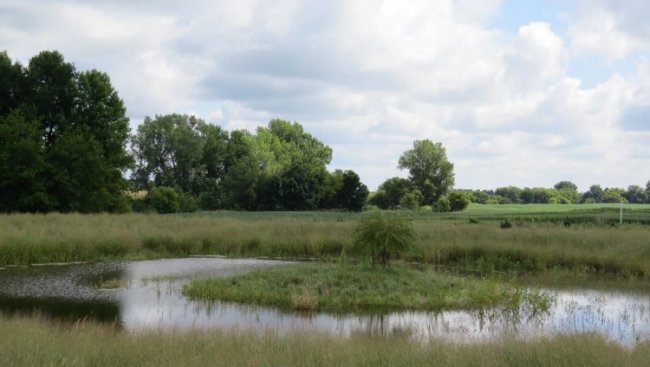 14 September 2014
The Lord has blessed us with rain but not a flooding rain and our wetland or I should say His wetland for the creatures He has provided us is filling up. This picture was last week and it is even more full now so it is a great sight. We may have to look for an overflow area so the island does not go under water. All praises to God for his wonderful, beautiful creation for us.
Monday found me still exhausted so not doing much but getting the Laptop back up and running and working on my Elder stuff. Made us some Lunch and supper and that was about my workload for the day. Did check in some of the nets but not much there either. Started a small amount of mowing and the grass is really long and looks terrible but it will work.
Tuesday here and not feeling much better but was up by 8:30 after sleeping late and started the big mowing while the radios warmed up for the ARMS net. Did some more for the Elders meeting and then some more mowing till I got to the water standing in the yard so had to stop there. Boy are we wet. Visited with mom some and then we lay down for a small nap. Got through the Elders meeting and all went well.
Wednesday and am really tired today for some reason. It is rainy and overcast so guess that wears me out. Anyhow checked in the nets and then to work on the Elder report for council and some other church things. Did some mowing and it is so wet that I could not get it all done but got around the house good. Worked on the TV at church and that is working good so not sure what problem the deaconess had but it is going fine. Set up the stuff for the B&W movie night at the fellowship supper and that is going fine also. The expedition went through several storms with rain, humidity, and driving in it and the #1 plug did not misfire at all so think that is fixed. Knock on wood.
Thursday here and mom and I are both tired but she is feeling some better I think. Tammy and Ben want to borrow the old van for a time to pick up some stuff for the store so will see them on Saturday after work for a few minutes. Sure am missing all our kids and Grandkids lately so must have the empty nest bad. Set up the report and motions for the council meeting tonight and checked in the ARMS net so the radio is still working fine. Went to see the doctor for moms heart follow up and it was a very good report so thank the Lord and all glory to him for that. Got through the Stewardship/Family Life board and council meeting and home to bed. Picked a Frappe for mom on the way home.
Friday here and slept in very late for me till about 8:30 and then up and unloading the clothes from the camper and will need to start the process of preparing it for winter pretty soon. Have to do another trip or two with it first but then we will be done for the year I believe. Cleaned all the mat etc out of the Expedition from the trip to Des Moines for moms heart test and put the back seat back in it so we are good to go with that. It is running really well so that is a good thing and we really like it. Sure hope it keeps going a long time and the CD changer is getting better all the time as I use it. Just needed use and TLC I guess.
Saturday arrived and did not do much but veg and set up the movie etc for the fellowship supper. All is well with that and working well so that is good. Mom is not feeling so well today as she has a cold and is chilly and seems to be very tired all the time so hope that is just a side effect from one of the medicines she is on. I worry a lot about all that and not sure what to do so just pray constantly for the Lord to help her and me through all this according to his will. The supper went well and the movies were good but we need to address some different audio for the fellowship hall as it was hard to understand from the TV speakers only. Need to get the sound out of the stage area and add some bass sound to it. A lot more water in the wetland than the picture shows and I better get posted and move along so God Bless Be Good Do Right Love Papa, Dad, Brother, Cousin, Uncle and all Lew.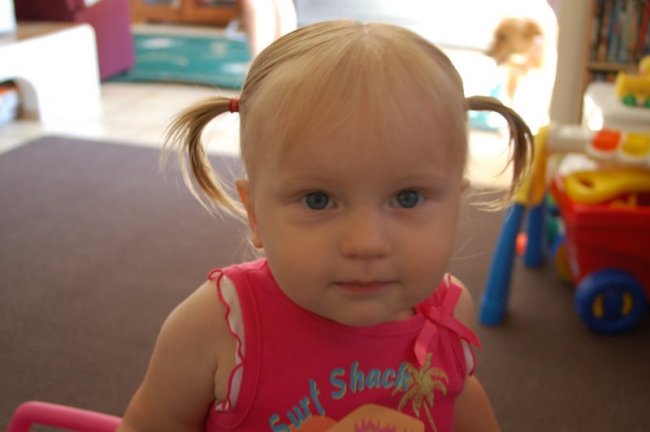 7 September 2014
Oh My Oh My!!! does anybody know this beautiful Little girl. Wait a minute That is my little Peanut, Caitlin, way back when she was about 1 year old. Time sure does fly and she is 9 now so have told mom and dad to put a brick on her head to slow her up some.
Sunday after church Did some lunch for mom and I and then decided to check in some of the nets for Sunday afternoon I have not been on in a long time. They are the vintage sideband net, Heath kit net, and then the Swan net. The rain has let up and we are getting some sun with a breeze so that is nice but it said 100% humidity earlier. Getting things going for our trip to DM for mom so that is coming up fast.
Monday is here and I am not doing well, don't know what to do first or what. Have the camper hooked up and did some town stuff. Oh My is the wetland full and if we get a little more our Island may be gone and our little tree will be under water. May need to add an overflow if it gets that full. God has sure answered my prayers there. Praise God for all his blessings to undeserving sinner. We are truly blessed. The Expedition ran great after all the rain and humidity last night so maybe the coil and boot with the new hold down screw fixed the miss. Blew the dirt out of the CD changer and that is going better also so making some headway. Am wore out with worry about this week for mom and I know I shouldn't be as it is in the Lords hands but my sin makes me worry about these things I cannot control.
Tuesday we headed out for the Iowa Heart Center in Des Moines with many prayers running through my heart and worry in my head. We finished all the loading up about 10 AM and headed out. Had a stop by Coon Rapids for lunch snack and then on to Adventure land campground. We had a spot reserved so that was easy and I did not need to worry there. The expedition did great and not a single miss or stutter with the new coil and such and it was very humid and rained a lot all night. Guess it is fixed. we made good time and arrived there about 3PM and set up and then a rest and off to supper at Perkins.
Wednesday morning I did some more set up things and started some work on the Laptop computer as it is still a mess with the blue screen of death. Did a little more cleaning on the CD player/changer in the expedition and it is getting better and should clear up with some use. Took a trip to the heart center to make sure I could find it and get to the right spot since I have to get there by 7AM for checking. Mom is really worried and that worries me a lot so we just did stuff to keep our minds occupied and off the stress of the operation. I grilled some steaks for supper and that was really good and mom fed some geese that were wandering around the campground. We made a trip to Wal-mart to occupy some time and then Brad and Tammy came to be with mom in the morning then off to bed after some TV.
Thursday morning up and on the road by 6AM and we arrived at the heart center early as I did not want to be late. They got us in right away and we said another prayer all of us together and then the wait time began. All the prep work and such was over by 9:30 and they said there would be waiting till noon now for all the saline drip to finish to protect her kidneys so Brad and I went back to the camper to let Buddy out. We got back there and Buddy out by 10:30 so I made a cup of coffee and by 11AM Tammy called and said they are taking her in so we rushed back to be there if needed. Mom was napping when we left so not sure if she would miss us or not. By the time we got there at about 12AM they were wheeling her back out of surgery and we got to see the doctor. He told us there was not any blockage of any significance at this time but there were several places with minimum through moderate to 40% but no angioplasty or stints needed and he felt the meds she was now on would hold the further blockage and my eliminate some. WOW Praise God from all blessings flow and by 3PM she was released and we headed back to the camper. What a roller coaster ride with an amazing finish thanks be to God. Mom and I were both exhausted and not sure what we did for the evening.
Friday we decided to stay another night so we could visit Crystal and get mom some of the rest she needs. Mom slept in late as did I and we just vegged and then off to see Crystal. We had a very nice visit and sure glad we made the stop as she really enjoyed it as did we. We got a picture of all three of us and that is kind of neat. Mom and I did a few garage sales while in Mitchellville and then back to the camper and we ate out again at Perkins. The water heater in the camper is working right finally but now the battery is gone bad so will need a new one of them. I thought the charging with it for all those days would bring it back but it is not working so will get a deep cycle marine battery for it. Not much on TV so we just watched Blue Bloods and then off to bed for me.
Saturday morning found me up about 7:30 and feeling somewhat relieved but still worried about mom. Did a little computer work and then woke mom and took Buddy for a walk. Mom had much of the camper done for travel so I finished the bed area and the outside stuff with hookup and all and then helped inside. We had some coffee and I drained the tanks and finished all the disconnects and we departed at 11:00 AM and stopped over at Perkins for some breakfast. Afterwards we bought some brownies to take home from them and got on the road. The Expedition is really doing great so hope it keeps it up and we can get many miles out of it. We stopped in Coon Rapids at New Hope bargain store and I got an electric clock for my side of the bed in the camper so I can tell the time when I wake up at night. We got home around 4 PM and I plugged in the camper and we took a short nap till about 5:15 for me. I got up then and unloaded much of the camper stuff and made supper and woke mom at 6:15 to eat. Then did some more unloading and watched some TV and Off to bed. Better get the post done and head for church so God Bless Be Good Do Right Love Papa, Dad, Brother, Cousin, Uncle and all Lew.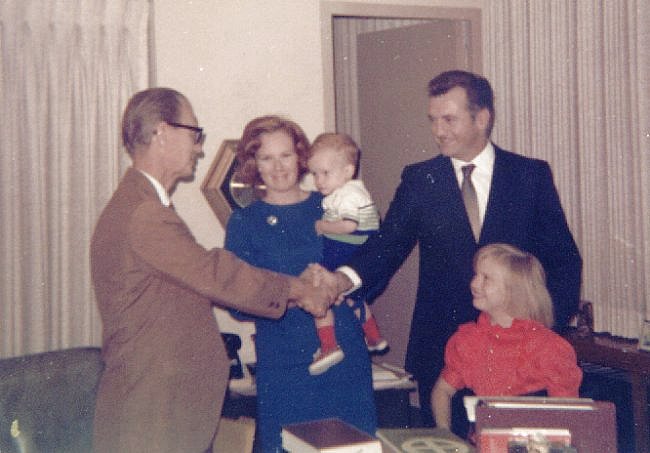 31 August 2014
WOW and WOW we now have Matthew our second child and what an amazing feeling that was. Little Tammy is grinning from Ear to Ear as we all are! This was all hurried up so we could head to Iowa in 1971 for my assignment there as Air Force Recruiter. Another blessing from Our Lord and Savior comes twofold.
Wow what a start to the week. Found out over the weekend about the floor sagging at the rental so went to check it out on Monday and found the water heater was leaking and rusted out in the tank. Set up Drees to come remove the heater and then set up Badding to come repair the floor that was rotted out since it was that crummy particle board. Ran mom to finish the stress test for her heart and then back to set up Drees for the installation of the new heater on Tuesday. Ran some town errands while all this was going on and ended up wore out.
Tuesday morning up early and off to the rental for the water heater installation and some town business. Finally the heater was done by about 10:30 so I put back all the paneling after I checked that it was heating and all the lines were bled of air. Finished that and back home for some mowing and mom made us some lunch and I helped her load the dishwasher. Got a call from the stress test that mom has some serious blockage with the heart so have made an appointment for tomorrow for some counseling and decisions on what we may need to do.
Wednesday here and did not sleep well and am stressed for mom and what should we do. Tried to do some mowing but the rain started so gave that up. Worked some on the laptop as it still has the blue screen popping up. Recovered it back to the state it was in when new and still has that screen show up so am working on some updating etc and then if I can't get it I will take to the shop for a complete format and drop off al the HP stuff and make it normal. It ran for several years with no problems and now that and even back to like it was when new it still does the blue screen. Go figure. Time to get mom to the doctor for the stress finding consultation. WORRIED!!! Got to the consult and we are scheduled to get mom to Des Moines to have a color scan of the heart to see if she needs some angioplasty or stints or maybe just some meds. More stress than I need and mom is feeling it very much. The doctor thinks probably more than meds are needed but less than open heart surgery so that helps some but am very nervous for the love of my life for 51+ years now.
Thursday here and got more rain and the pond is really looking great and the grass is growing like mad so how does that work in August. Took the Laptop to the computer doctor as I could not figure what it was with the blue screen. Did some town stuff and then did the mowing at the Barn and the rental so have that much done. Moms cardiogram is next Thursday so we will be camping there for a time to save some on the Hotel bills.
Friday came and worked on setting up things for moms trip for the heart balloon or stint next Thursday. Stopped the mail and had a new serpentine belt put on the expedition as it was getting really bad and did not want to break down on the road. Had to do some Lawyer stuff for our properties and stop the mail till we get back. Put some mattresses in the SUV for mom just in case she wants to lay down coming home. We picked up supper while in town and then just rested some. Seems I am rather tired lately but think that is from worry about my angel and her health and not being able to do anything about it. Anyhow God will see us through and we ask his forgiveness and his blessings on this surgery and we know our outcome wish Lord but thy will be done.
Saturday came early and just wondering the house trying to figure what to do. Started on some camper things and the ARMS net while mom is sleeping in as she was up most of the night. It seems I just wander aimlessly when she is not with me. Got some things done for the SUV also as the #1 plug would always miss when the weather was wet or humid but would quit after it ran for awhile and was warmed up. Put in a coil pack and boot for the # 1 plug and then put in a screw to hold it tight as the bolt had stripped from someone tightening it two much before I got it so the coil etc just set on top and wiggled. It may have been missing because it was loose or the coil or boot had a crack that miss fired when the moisture was up. Cleaned two cupboards in the camper and is that ever nice. Will work so nice as we will not have to dig and move many things to get at what we need. I picked some B&W movies for our church movie night for a selection so will see what is picked. Guess I better get posted and moving along for church so God Bless Be Good Do Right Love Papa, Dad, Brother, Cousin, Uncle and all Lew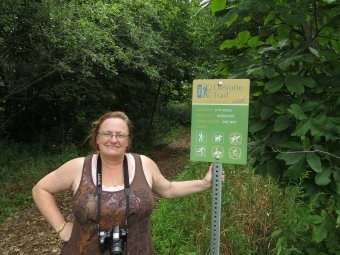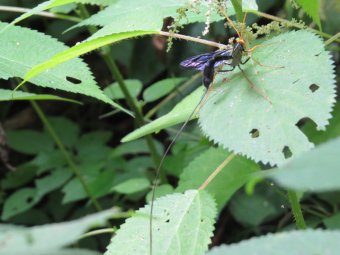 24 August 2014
My precious daughter and I went for a walk on our last visit to see Crystal and it was a fun time. We seen many wonders the good Lord provided for us and it was a good time to reminisce and remember the many things we have. We even seen some weird things like the bug in the picture with the real long tail thing.
It is now Tuesday as we spent Monday on the travel home and the new Expedition really is nice and fun to travel in but the mileage really drops pulling the camper. It might have been 8-10 MPG. Have to get a bulb to fix a back up light that Ben noticed while there. Have a Stewardship meeting tonight and we started to clean out things from the camper that we do not use so it will be easier to get at the things we do use. There is much stuff in there we have accumulated over the years so will be much better when done. The camper battery quit working this trip and I see it is out of water so have added some to see if it will revive or I will need to get a new one. Meeting for stewardship went well and the battery seems to be working so will have to see when we unplug and then run lots of stuff.
Wednesday did not do much but worry about moms stress tests and blood tests coming up tomorrow. Did a little more in the camper and goofed off. The roads crew is starting on the road through town so we will be back on gravel for a month or so. It will be really nice when completed.
Thursday and we got through the stress test only to find out it is a two part one and the rest will be on Monday. They sure can plan well and not let us know much. We did another blood test the doctor wanted also and hope that is okay.
Friday is here and am really depressed for some reason and can't seem to get much done and get moving. Went out early to mow but it is so wet I guess I will wait awhile but then I suppose it will be to hot. Turned on the radios and guess I will try that and see if it will cheer me up. Guess it is time to put on my big girl panties and get over it. Got most of the calendar Lotus program back up and working so that is a help. Mom is some better I think but we are not moving so great. Oh Bother. Okay the pity party is over and not much pity going on so am moving on. It is already 78 Degrees out so will be warm again and looks to stay that way till next week when we should cool off into the 70's again. I need to get the chain saw chain off to get it sharpened and a couple more made to get busy on the tree trimming I need to do. Did a little of the mowing and watched them work on the street some and then off to town for some of the errands that need doing. Took the chains in to sharpen and picked up the list of groceries and then back home. Unloaded some more in the camper and then was about done for a very hot day. Today's high says 101 Degrees with a heat index of 158 my weather station says but that cannot be right so that is no good and maybe the temp isn't either. Oh Bother but it is hot out I know that.
Saturday arrived and the weather is still hot but we got 2 3/8 Inches of rain overnight so that is great. It is August and the grass is still green and growing. Normally by now it is getting brown and the mowing has stopped but not this year. Went early to Table Talk at church and we had a good discussion and lesson so that was enjoyable. I did much work on the ARMS web site since I am the web master for that and it is going well I think. Had to update some of the Section reports. Set up for Skype in hopes I would catch Matt Or Kris in Scotland but no luck even when it says they are online. Go figure. Would try Maryann to visit with the GK's some but she was not online at all. Did not go out and mow or do any outside stuff with a heat index of 98 degrees. Did some calendar work and scheduling with mom so we are really booked all the next three months. How does that happen. Guess I better finish this and post so God Bless Be Good Do Right Love Papa, Dad, Brother, Cousin, Uncle and all Lew.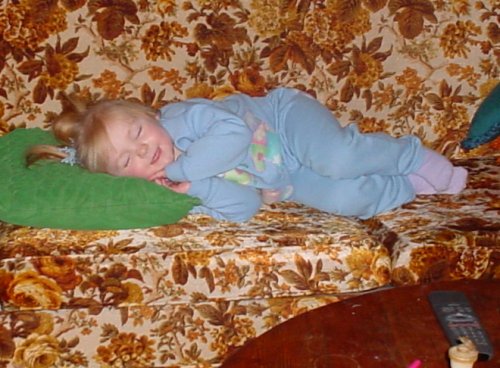 17 August 2014
My precious little Faith pretending to be asleep on one of her babysitting times with Papa & Mema. Is she just adorable and so tiny. When were they that little and when did they grow up. Just stop it Little Love.
What a week this has been and I will try to get some journaling done. It is Friday and this is the first I have had time to do some. We visited Crystal today and we had a good visit and then did some shopping and back at the camper I made some T-bone steaks. We started off the week with getting ready for the trip and much yard and house work. Finished all the mowing for home, rental, and barn and did some clean up. Helped do some house work and with some laundry. Checked and loaded the camper and put in a new water heater calcium rod. Fixed the EATC in the Expedition and then fixed the 6 cd changer so it would work again. I found a handful of pennies, a plastic fork, and a finger nail file in it so it was jammed. After removing them I had to twist, tap and loosen it and it finally was going again and it works great.
Finished loading the camper and getting the expedition ready for the maiden towing voyage and all went well there. Thursday I filled the pond and then headed out to visit Crystal. The expedition did a great job and was really fun to drive and made the trip easy so that was okay so far, now just to see how long it will keep going that way. We visited with Crystal on Friday and Saturday and then Tammy and Ben came on Saturday night and we went out to eat at a Chinese Buffet and mom liked that. Better get going here and post this and get to church. Will need to get the kids up so God Bless, Be Good, Do Right, Love Papa, Dad, Brother, Cousin, Uncle and all Lew.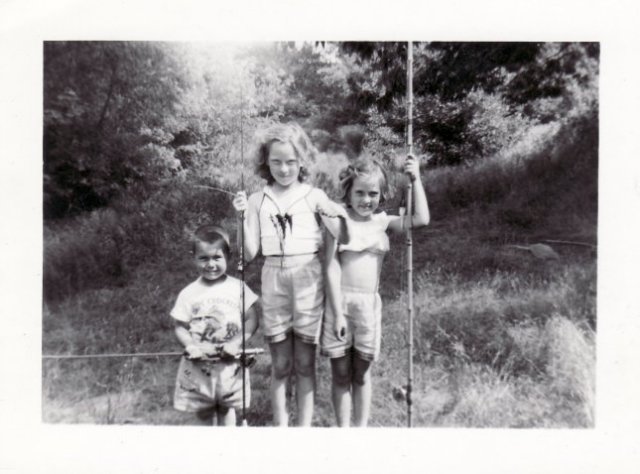 10 August 2014
Baby Hugo, Mom when she was a little girl and her sister Kay.
My little city girl was actually getting dirty and holding some fishes. How cool is that, and mom had us believe she was all city girl and prissy. What a little cutie!!
Got a call from Crystal today and that was exciting and it is so fun to hear from her. Made it to church this morning but slept in rather late till about 7AM so guess the 300 mile drive yesterday wore me out. Got over 15 MPG in the town driving also so am well pleased with all that. Is a warm day today and the humidity is up so not a pleasant time outside. Sunday evening and had to rush mom to the hospital with high BP spikes but thank the Lord it was not a heart attack or stroke but could become a stroke if they cannot get it down to normal. Not much sleep.
Monday here and up early to get to the hospital to see how mom is and can she come home yet but they cannot get the blood pressure level so are going to keep her today and night to get it level and change the meds if necessary. It was better this evening so that is promising. Not much done today as I spent it all running to check her and let buddy out and feed him and so forth. Am really tired and have a dentist appointment at 9AM tomorrow and then Elders tomorrow night. Pastor came up to the hospital and that was really nice. I am lost without my love so Lord please look after her.
Tuesday arrived and went to the Hospital early as they kept her overnight to work more on getting the blood pressure down. Mom was napping then so did not wake and left to get some tasks run and finish the agenda for the Elders meeting tonight. 9AM had a dentist appointment for a filling and that was done so went back home for awhile. The blood pressure is regulated with some different meds so finally about 3PM we were able to go home. We picked up the new meds and set them up for the daily use when we got home and finally could relax some before I headed out for the Elders meeting. The meeting was good so back home and a little relaxation and off to bed.
Wednesday here and about 3AM heard some thunder with lightening and the rain is coming down and by 4AM we have about 1 and 1/4 inches of rain so Praise god for that as it is needed. I pray we get the 2 or 3 inches in the prediction but it is Gods will be done so it will be good and right. Took moms BP at complete rest and it was 120/41 with a pulse of 55 so that is great. With Gods will lets keep that working if we are able. Found the computer games again and added Taipei again so mom can now play the games she did and I can play my FreeCell also. Need to work on both my 24 hour clocks as they are making noise so have unplugged them for now. Went back in to nap with mom at about 6AM and we now have about 3 1/4 inch of rain. Wow! I am loving that. Have radios on and checking for the ARMS net but am hearing nobody so will check in the chat room. Found one in the chat room and finally heard net control so got checked in and better get moving. Wow we have had 5 and 1/4 inches of rain today and will that be great for the wetland and it is still pouring down but coming nice and easy. The rain in July filled it more than it ever had before and it wasn't this much. Can't wait to see how full it gets now. Maybe we can go skating on it this winter. Made some corn on the cob, special potatoes, and steaks for supper and that was really good. Moms BP is staying down nice so far and her oxygen level is up so that is good and am praying it stays that way.
Thursday morning and we have 7 inches of rain so far and it is still in the forecast and over cast and dreary. that is from the old frog water gauge so it should be pretty close. The weather station reads high yet in comparison so need to adjust it some more. Wow should be great to see when we go to town today for moms doctor appointment. We go to the heart center here for some kidney scans I believe it is. It is a Renal ultrasound. Got that done and it was good they said so happy there and the wetland has much water in it so that is exciting. Got the cup tray in the Expedition fixed so it works now and still need to figure out what turns on the running board lights and the front air control panel lights. Then maybe attack the right out side mirror to see how to tighten that up. We had supper and then some TV to relax and off to bed.
Friday morning and the rain has let up for now but still in the forecast. Turned on the radios to warm up after I slept till 7:30 and then out to look at the lights for the Expedition running boards. Finally found the fuse was removed and one of the lights was not working. Put in a fuse and repaired the wire to one light and all four are working now. Some progress. Now to get some of the instrument lights etc up and running. Most are working well except the lights for the EATC (electronic automatic temperature control), Overhead computer, Turn signal switch, and ashtray light. Hope its a fuse if I can find it. Have to get ready to take Buddy for his trim at 1PM so will not tear a lot apart for now. All of moms tests here at home are coming out really good and under control for now so I am well pleased with that. I was really worried there for awhile. We are doing Blood pressure, Blood sugar, oxygen, pulse and all are coming out normal so thank you Lord for that.
Saturday morning and mom beat me up this morning and had coffee ready and some fruit for breakfast. What a pleasant way to wake up. Proceeded to get stuff ready for the kids to get here and help with some weeding and tree trimming. Wow did we ever get a lot done there. They all helped much and it looks so nice and we quit about 2:30 so I could get ready for Elder at church tonight. We got all the pines by the drive cleared of all the brush and much of the garden shed area and so much it is to much to list. The kids really helped and I am so thankful for that. We ended up hauling 6 large trailers of brush and weeds to the burn pile so that is a lot. What a busy week and off to my Elder duty for the Lord as I have that this weekend so I better get moving. God Bless Be Good Do Right Love Papa, Dad, Brother, Cousin, Uncle and all Lew.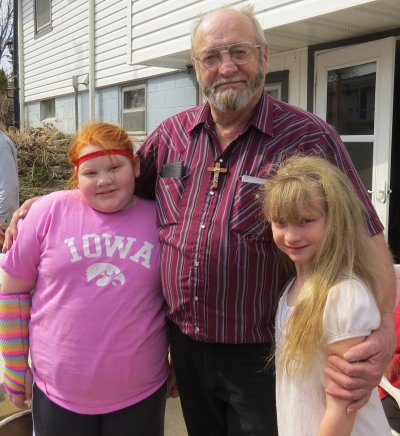 3 Aug 2014
Papa and my little loves. Does life get any better?
Did not sleep very well as it is warm in the house and is now Monday and can't seem to get organized for anything. Always have good intentions but can't seem to get moving. Need to work on the church TV as it has stopped taking signals I hear. Also need to get the Expedition registered and insured and then pick up some of the parts for it. What a day got the TV going as some one in there infinite wisdom struggled to get to the back and moved some of the cables around and then could not get them back where they needed to be. Got and installed the new plugs and controllers for the trailer towing and what a breeze. The Expedition is all wired for a towing package and all the hardware was just plug in no wiring and splicing etc and it works great. Go Figure. Ordered some towing mirrors and a manual for it and a lumbar ergonomic knob to adjust the drivers seat as the one there was gone. Also ordered a drop link for the hitch ball as the Expedition is way higher in the back and the drop I had was not enough to get the trailer level when towing. We are also registered, titled, and insured so when the other parts get here we are ready to go when they are installed. Woo Hoo!!! Was busy full day and after a soup supper we watched some TV and then I went to bed. I set my alarm for midnight to look for some of the meteor shower but after an hour I did not see any. Mom seen several and then we just went in to bed.
Tuesday morning and did not sleep good so was up at 5:30. Measured for the trailer ball height and it should be right at 18 inches for level trailer when towing. Checked the running board lights on the Expedition but the one I tried could not get the screw out so will wait till it is lighter out to work on that. Repaired the cup holder for the back seat and that is good again but oh my is it ever fragile and flimsy. The radio is acting goofy so will need to look at that also. Checked in the ARMS net and again the internet modem is bad and dropping connection and saying SIM card failure. Went to town and got a different one as they need to send this one back so we are back to 3G till they get it checked out. Oh Bother. It is slower but very dependable it seems so far. Same as the old one I had earlier so I know it works well. Also picked up the knob for the seat in the expedition and got a remote also and the rest of the parts should be there soon.
Wednesday morning was up early again at 5:30 and started on some outside stuff and unloading the old red 1990 Ford van and checking on putting those things in the Expedition for use. It will work fine but will need to make some adjustments as we go. Did the mowing at the front of the house and the set aside and then in to check in the ARMS net and share my verse of the day. After that back out for some more work with the vans etc. Got the old 1990 van cleared out and the seats back in and anchored and it is about back to normal now. Looks like with some different loading the Expedition will work really great so am making some headway and very pleased so far. The mileage will not be so hot I think but that is maybe the price you have to pay for the comfort and ease of operation. The manual says about 11 MPG town and 15 MPG highway and on the town drives so far the computer is saying right at 11 MPG + or - some depending on the drives. May take it to pick up Matt & Kris just to see how it will do on the highway all by itself. Picked up the towing mirrors and they are great and solid and clip right over the existing mirrors but the right original mirror mount is a little loose so need to see how to tighten that. Also picked up the drop bar for the towing package for the camper to be at the right height so when that is on will be about ready to rock and roll away in the camper. Totally wore out so will call it a day. Mom made Spaghetti tonight and it was amazing, ate to much.
Thursday finds me up early again so warming up the radios while I work on the ball hitch on the Expedition. Drop link is on and good to go so will just do final adjustments when we hook up next time so off to do some mowing again. Finished some mowing at garden and new lot and then checked in the ARMS net but the signals are terrible and can not hear net control so will use a relay for my verse. Done and back to the mowing. Hooked up the camper and did the adjustment things and my does it ever pull nice and easy. The tow mirrors work great and the trailers tows right at level. Was told by Ford that the mirror cannot be tightened so will need to check that out for sure as that does not make any sense. need to fix one of the cup holders also in the front as it does not always come out like it should. Got the back one working but still need this one to work also. Oh well always something.
Friday morning and up early again and did the bank push mowing and then loaded up the push mower and headed for the rental to see about the mowing there and wait for the plumber to fix the stool constant running so the water bill is not so high. Guess 7:30 at the rental was to early as the plumber did not come till about 9:00. Home again and then to work on the August birthdays and anniversaries from the church members and the youth. Finished those and on to the bills for payment and then to town to mail them and get a haircut. Picked up the needed town stuff and back home to get ready for the night out with Brad and family at Pizza Ranch. No clean black jeans to wear so put a load of them in the washer. Got the flight plan of the kids arrival but have not heard a word yet on Sean and where we can pick him up. How do kids get anything done today. The new Expedition is working out great so hope it keeps that up. We are taking it for the outing tonight and then I will take it to Omaha tomorrow to see how it will work there.
Saturday went well and the kids are on there way back to Washington I would hope. They spent the night at Fam Camp at Offutt AFB and then on the road today with the camper. We had to jump start it to get it going and then all was well and got them set up in the campsite and then off to some supper with them and a long drive home for me. Made it home around 8:50 and the Expedition did a swell job at 20 miles to the gallon going over so that was good. I was really surprised. Have not checked on the trip home but pulling the camper will not be so good. Guess I better post and get moving so God Bless, Be Good, Do right, all my Love Papa, Dad, Brother, Cousin, Uncle and all Lew.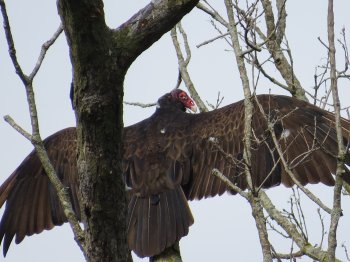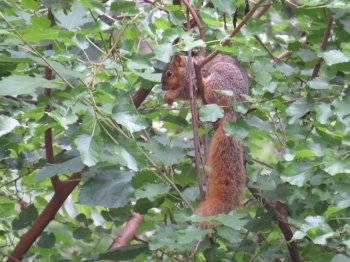 27 July 2014
As I went for a walk one day, to see what there might be, The many sights along the way, Were marvelous to see. A Turkey vulture sunning dry, getting ready for the day, Some baby squirrels way up high, and vigorously at play. The gifts we find in our great land, Be sure to hold them tight, they come to us from Gods own Hand, and make our darkness bright.
Monday here and another visit is over and Mom and I will be headed home. Was up early at 5:30 and did the outside things for camper as it is supposed to be very warm and humid today so finished that before the temps got to high. Will just have to suffer with the heat while I drain the holding tanks etc. The water heater worked just great and the new skid wheels are great. All in all it has been a fun trip and some great visits with Crystal. Mom and I played some scrabble with crackers and we played some cribbage again so that was fun. We also did some 3 handed cribbage with crystal and that was different but fun. Got internet explorer up and running again with the chat rooms so that is good. It seems something reset some scripting or something and it would not work. May use it this morning to see if I can check in the ARMS net without the radio. Should work if anyone else is there. Well the new computer is back and mostly a mess but will get it to work right yet. Had to change the font also as the old one is lost and not sure where I got it before. Got home fine and the day is over but very hot out.
Tuesday here and not much done outside so worked most of the day on getting the programs all back on the computer. I did not remember all the stuff I had there and used most of the time but making headway. Got moms all up and running and I may just try a different program for the calendar as the old one has lost parts of the the last few months. Might as well see if I can make one work in the real world instead of the virtual XP world I do it in now. Got a call Sean will be dropped off today so that is a surprise but a good one. Have to change our schedule some but it will be fun. They got here about 9 PM so got him settle in and watched some TV and visited and then off to bed as I was beat after getting most of the trailer unloaded and getting air in the camper to run again.
Wednesday here and got the garbage out and then set up the radios for ARMS and went out to mow the bank before the net and before the heat really sets in. Started the rest of the mowing after lunch as Sean and Mema slept till about 12 noon. It was warm but the humidity must be down as it was tolerable so that was good. Need to look at the weather station as it has 99% humidity all the time and seldom changes so that is not right. Got the ditch, new lot, and most of the yard at home done. Still need the set aside, and Garden here and the barn and rental at the farm. Went in to test an Expedition by Ford and it is very nice and seems to run well with almost 200,000 miles on it. That makes me wonder but it all seems tight and solid. Helped mom with the dishes and then resting some and waiting for supper.
Thursday arrived and I slept in again till 7AM, what's up with that. Turned on the radios and warmed them up and loaded some more programs on the computer. It is running well so far so maybe that fixed the problem. Did get checked in the ARMS net but the signals were not good. Ran to town to do another check on the Ford Expedition and not sure but I think we may buy it. It is very nice and has many options to assist with the camper towing including an overdrive. Mileage will be poor but should do a good job. Got Skype up and running on the home computer so now we can check with the kids on that. Checked in the Swan 258 group as I had not heard them in a long time so that was fun. Got 2/100s of an inch of rain so it did not even get the sidewalk wet. Looked over Sean's list for his camping trip and rested with a movie with him and mom. Not doing much it seems. We had brats and Mac and cheese for supper and then a Sunday later for desert.
Friday started out at 5:30 AM so it is a cool day out and the work has started. Temp started at 63 degrees so took the chain saw and mower over to the rental and barn and cut some low branches by the barn and then did the mowing there and the rental. Sure was good doing it in the cool of the morning. Fired up the radios before I went and they are ready for the ARMS net so the day has a good beginning. My Verse for today is 1 Chronicles 21:1-3. Have decided if the Expedition is not sold and they put in new plugs or assure me new plugs have just been put in we will buy it. Sure have lots of dealing to do with the newer vehicles as they need so many more things done with them and since I do not have the equipment or knowledge of the new systems it needs checking or you can give a good price and then spent a lot more for things that needed doing at certain miles. Oh Bother! At least I can figure out enough to know what needs to be done even if I am not able to do it. Praise God for that. Well the net was a bust as the signals were very weak but did get checked in by relay and got to share my verse. Also constantly dropping the internet connection today so yippee for digital stuff. Went to town for a list and transferred the insurance from the old van to the new Van and bought the Expedition. Well I said I would as the manager was out of town and the guy there did not want to do the paperwork in case he got it wrong so will get that all done tomorrow or next week. Sure hope it was not a mistake.
Saturday and we got the Expedition and oh my is it ever fun to pull the camper with it. It does a super job and does not even grown just have to remember to shift out of or turn off the over drive. Redid the hitch to get it lower for the camper but will need to do more adjusting so the camper will set level when towing not with front up in the air. Also need to get a controller for the brakes and will get that at Ford as it appears it is wired for it but none installed. Hope and pray I did right as the miles are very high and it has a slight lifter knock at idle but it really runs great. The battery cables were all loose and corroded so I cleaned them all up but left them off for about 20 minutes to get the computer set back to default I hope. Got them really tight so that should help with many things in this new computer age. Guess I better get moving for church so God Bless, Be Good, Do Right. Love Papa, Dad, Brother, Cousin, Uncle and all Lew.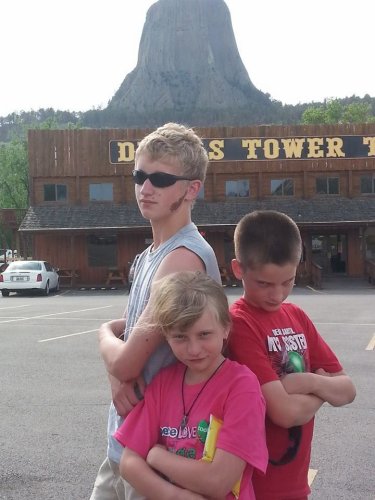 20 July 2014
Three of my special loves have moved to Washington and I am feeling the empty nest really bad. Little man, Little Buddy, and Peanut I am missing you much and am so proud of you all and May God Bless you all in everything you do. Will get to see our little man Sean in a week or so since he will be back in Omaha for some of his Eagle scout ceremonies so that will be a temporary grandbaby fix. Love you all so much.
Well Monday was here and I did not do much. Helped mom with the dishes and checked in the ARMS net. Took the P.C. off line to take to the shop as it is acting really dumb again. Looks like another main board but could be drivers I suppose. Made trip to Brads for some help there and then just vegged the rest of the day. The wetland pond is really looking nice so hope we keep some of the water in it for now so we can have more next year when the rains come. The snow may add some this winter. Have installed the Laptop on the desk for now till the P.C. gets fixed and it is working really well, Knock on wood. Why did I say that as now it will stop working also. Got some of the games out of the closet for mom to go through and get rid of and just watched TV for the evening.
Tuesday here and did not sleep so good so was up early. Made some coffee and then checked mail and such and prepared for the day. Have the radio's warming up for ARMS and just playing computer games. Have checked in the net and just waiting my turn to share a verse. Finished my verse and turn and then out to mow after some breakfast. Got much mowing done and then in to set up some of the camper stuff for our trip to Crystals. Made a tool to drain the fresh water tank so I do not have to lay down on the ground and slip between the tires to drain it. What was that engineer thinking. Oh Wait he wasn't. Will work great now. Got some things loaded and ready and then out to mow some more and finished most of it here at home except the push mowing. Now get the rental and barn and will be done till we are back.
Up at 6:30 Wednesday and getting the day started with some push mowing and some coffee. Then in and some toast and oatmeal for breakfast and back out to hook up the camper and check the level changes to make and see if that works any better. Done there and now checked in the ARMS net and will wait for my turn and do some computer work while waiting. Seems like there is a lot of that as every update you do the Spam starts new from all over. Finished all the mowing and told the computer techs that they are looking in the wrong areas for a computer problem and just format all and start from scratch but not sure that will fix it as I believe the main board is bad. Well along day so will close for Wednesday.
Thursday morning and up early and on the road to look at a full sized van to pull the camper. It is at Sac City and an 02 Chevy Express and rather pricey. It is a pretty nice van but after some long thought and discussions with mom we have decided to maybe paint the old Ford we have as it is still running very well. The Chevy has a 5 Liter V8 and our Ford has a 4.9 Liter 6 cly so not much gain there for the price. Finished packing the camper and hookups and hit the road about 11 AM to go see Crystal. Did some different hook ups for the Reese ez lift load levelers and wow what a difference on the towing for the trip. Of course there was no wind to speak of so that helps also. May add another sway controller to see how that will help with the Semi drafting us. Stopped several times and arrived at Mitchellville around 3 PM and set up and relaxed. It is starting to get warm so worked up a sweat getting that done. Mom and I just goofed off and I made some Salmon burgers for supper and they were really good. We chatted, watched TV with some of the snack mix mom made and then off to bed as I was rather tired.
Friday morning and I slept in till 7 AM so what's up there, must have been more more tired than I thought. Went for a walk and got some more pics of the Turkey vultures and then watched some baby squirrels exploring the new world out of their nest. what a fun sight as they were rather small and still learning. Visited Crystal and not much journal time.
Saturday morning and there were 26 Turkey vultures in the tree getting dried out for th days hunt so that was a sight. Java Applets on the IE 10 went south so cannot get in the chat rooms so what do I have wrong now as it just did it on its own. Visited with Crystal and then I did some boneless chops with potatoes, corn on the cob and a salad for supper. Mom and I did some scrabble with some cheez-its she got and I finished mine first using all letters but she had more letters than I and used them all also. It was a toss up. Well not much else as the flag is at half staff for all the strife this week so will close and post. God Bless, Be Good, Do Right, Love Papa, Dad, Brother, Cousin, Uncle and All Lew.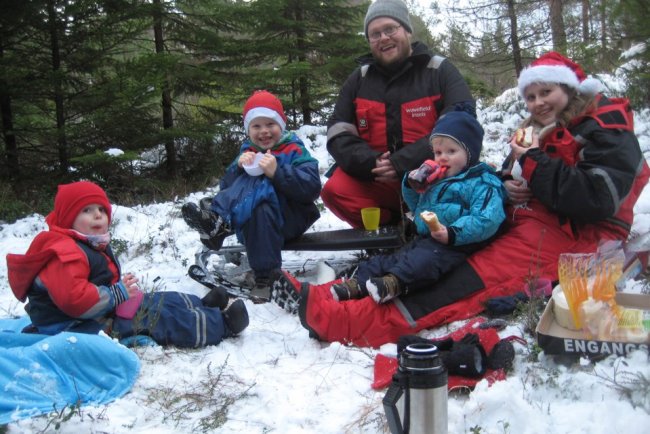 13 July 2014
A picture from a Christmas picnic in Norway by our Norway cousins. Sure do miss that and the bonfire for the 4th celebration and all the fun times we had there. My have the boys and all the kids from there grown since our visit in 2011. Three years have passed and it seems the time is flying. Miss You guys.
Monday is here and was out early for some weeding and got the pond area pretty good by 9AM and by then it was 90 degrees and very humid so I came in. Mom has a doctor appointment today but is not feeling well so she cancelled and made a new one. Had a talk with US Cellular on our broadband modem and they think the sim card is bad so will take that in and get a new card or modem. It constantly drops the connection or just stalls out. Once in a while it says sim card failed but comes right back on reconnect. Oh Bother. To hot to work outside so may just get that done. Well I did get that done and now it works great again. Two months old and broken how is that. Love that technology. Not much done today except a visit with a member of my portion of the congregation and then some supper I did for mom as she is still not feeling the best but was very hungry so that is a good sign.
Tuesday here and is some cooler but only 6:30 AM so out to pull some weeds and clean out the cactus some. By 8:30 was getting humid so came in for a rest and check in the ARMS net. Computer is going well so far knock on wood! Got some pics from Kris on FB and boy do I miss them all. They were at the Airman appreciation celebration at McCord and wow has our Peanut grown this summer. They all have and hope we get to see Sean in August when he is back for his Eagle scout promotion. Got the Skype fired up and fixed for the computer again so maybe we can chat with it from time to time. Got checked in the net and then out for another half hour of weeding before my turn. Got about half of the cactus area knocked down but not clean yet. Had my turn on the net so back to work. Got some of the hill weeded and the load of things hauled to the burn pile then off to town for the grocery list and some short rest. Mom is feeling better today. Wow is the new Sim card ever doing the job it should and why did the old one not even make it a month. Good internet speed again. Supper, TV, then bed.
Wednesday morning and is it ever a nice day. 56 Degrees last night and will be cool with low humidity all day. Out at 06:30 and started the mowing and came in for the ARMS net at 9AM and then back for some more mowing. Got the rider mowing done by noon so in for some lunch and a little rest. Made a town run to get my Chain saw cleaned and adjusted so I can start some real trimming. Back home and got the tractor and skid loader out and started the work for a curb at our new lot when the road through town is done this fall. May have pulled a muscle in my left shoulder this time as it is rather tender tonight. Oh my guess I am not as young as I feel. Had a great supper mom made of Fish, twice backed potatoes, and some Broccoli. Some TV and off to bed early about 9:15 as I am beat.
Thursday morning could not sleep so was up at 5:30 and torn the old Swan 350D apart as the VFO dial LED'S dropped the front small red panel and you could see each segment. It worked fine but looked funny. While it was apart I cleaned up some solder for the readout as it would go goofy and read funny till warm. The freq did not change it just read funny. All back together and solid as a rock so it is warming up and I am out to do some mowing and hedge trimming before the ARMS net. Finished the hedge and the new lot and started the ditch by the city sign but the grass was to wet there yet and the bank is very steep so the mower kept sliding down so gave up there till the sun gets the dew off. Checked in the ARMS net and the radio worked great so am happy for that and the fix worked. Had some lunch and then back out to do the ditch and over to the rental and barn to mow and trim there. Back home for the pond work and then a shave and shower and supper before back to Church for Family life and stewardship boards. Long day much done and getting tired.
Friday here and wake up late to rain with thunder and lightening and sure do sleep good when that is going on. God sure gives us many things to relax and restore us. Checked in the ARMS net and the radio is good so that fix worked and it is good for another 50 + years. I ordered a Power supply for my Microtek monitor as I can not find the loose ground or what ever happens as it puts a terrible buzz in the ham set and it goes away when I kick or hit it. It is random and I can't find it and new one was only $12.00 so I ordered it. We got about 1/2 inch of rain with more in the forecast so that is nice. Have to run buddy in for his haircut and shampoo and he always looks so nice when that is done. He needs some wet food also so may get that while I am there. All done with those tasks and mom has some supper going so we have completed another day.
Saturday morning woke up early to lightening and thunder and rain coming down. Gauges say we got right at 2 1/4 inches so that is really nice and the pond is filling more as this happens this late in summer and praise God for this amazing grace. I pray it continues without the flooding and damage we are seeing around the country. Did some computer stuff and it may need a complete format and reload as it still is acting goofy and making the drives what it wants not what I say. Did elder duty for a huge funeral and it was the biggest I had seen at our church. Elaine came to visit and we had a good time after I got back home so that was nice. I am Elder for church in the morning and so I will see her before I go and then she will be off to manila FOR SOME FAMILY STUFF. we HAD A BIG SUPPER AND THEN WATCHED AND OLD TIME MOVIE AND OFF TO BED FOR ME. god bless, bE gOOD, dO rIGHT, lOVE pAPA, dAD, bROTHER, cOUSIN, uNCLE AND ALL.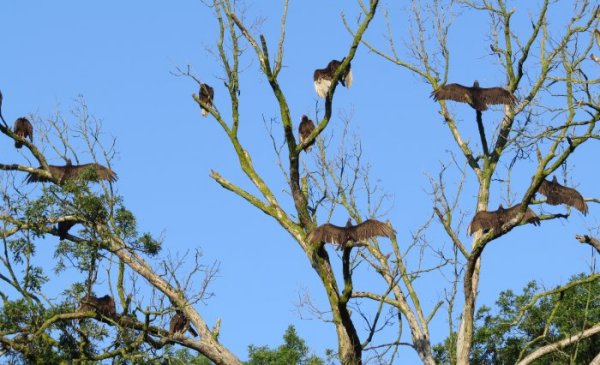 6 July 2014
From the Thomas Mitchell Campground in Mitchellville Iowa I was able to spot these Turkey Vultures sunning and drying out for there morning hunt among many other wildlife animals during some walks.
It was a short stay but was full of visits with our Crystal and with Tammy and Ben and it was a good time. Monday and The camper did great with the water heater working right and the new skid wheels but we still have a water problem at the head of the bed. Multiple checks finds no leaks but water must condense on the blinds there and then drip on the bed and us sometimes. Oh Bother. Life seems to get complicated when you get older. did some church stuff and rested a lot as I was very wore out. did some town errands and such and the rain really came so the pond is getting some water in it again so that is nice. Talked to the computer people but they have not found anymore than I have so that is a bust and may have to do it myself.
Tuesday arrived and Been doing some washing trying to help mom as her back is really hurting today. Was up last night a little to rub it some but that didn't do much. Got much of the camper bedding done and folded some of the house bedding and washed some of the whites we had in the laundry room. Computer people found absolutely nothing so am starting to wonder about that. Finally told them to do a windows repair and if that did not clear it up I would handle it myself. Got the mowing started and did some house things for mom and the day is done.
Wednesday came and had much town things to do along with some church tasks to complete and then checked with the Computer nerds and that repair fixed the problem with the Proxy server but lost some other stuff and I was really upset with that but they found it again. Got home with it and found they lost the Virtual machine I had on it with all the programs there so called and they did a remote connection and when I seen where they went I told them what to do and walla it worked. All in all it cost me $36.00 so I got an education with that money. Did much more mowing at rental, barn and some home stuff after I spent much of the day fixing the old mower for the rental.
Thursday I spent much of the day with errands and getting the computer back to normal operations and it beats me how all the techy people do really dumb things in setting them up. Pulled a muscle in my shoulder trying to get the mower unstuck yesterday and it really hurts. Did much weed eating and pulling today so that did not help either. Boy I sure could use some help here I think, maybe I am getting old and not able to handle all this any longer. We love our place so much though so I will not throw in the towel yet. Mom made some of the Pork burgers I got for supper and they are really good so how kewl is that.
Friday came and slept in some but out by 7:30 and finished most of the mowing and the low area at the bottom was still rather wet so that is more rain than we have had in the last 4 years and the temps for July so far are below normal so maybe we will keep some of the water in the pond. Mom and I taped off some of the old Carroll theater plays her and Tammy and Brad were in and was that cute. Fun times. Mom did some chuck steaks for supper and they were very good along with some potatoes and corn on the cob. Excellent meal. watched some TV and most were repeats and then off to bead.
Saturday came in with some rain at 1 inch to start so that was nice to wake up to with some easy Iowa sod soaking rain continuing so we really needed that and My God and Lord does answer prayers by his Grace and Faith. Bless the Lord. Was going to get some outside things done but will do other stuff and Thank God for the rain and all his love of me. Have most of the computer back to normal and it is working fine again but the US Cellular 4G LTE connection modem service here is not going so good. It went like mad in April when we first got it but the last week it is constantly dropping connection or stalling out on downloads or even to open a page. Technology is just great. Baa Humbug!!! In comparison my Ham Radio has lost one line of one segment of one led having 7 lines in each segment with a total of 6 segments and It has its 51st Birthday this year. Go old school!!! Opps just had to redo the java on the computer as that went south with techy update repair things from the shop and still we must do most of the stuff ourselves. Need that to run one of the chat programs for the ARMS and Swan nets. One more up and running and how many more shall I find? Checked in ARMS and all is well and had a good radio and Chat room chat so that was fun. Much weeding by the pond area today and then off to town for some milk and needed supplies. We had supper and then some TV followed by a game of flash Scrabble and that was fun. I won by 2 points. Guess I better get closed here and moving for church so Be God Bless Be Good Do Right Love Papa, Dad, Brother, Cousin, Uncle and all Lew.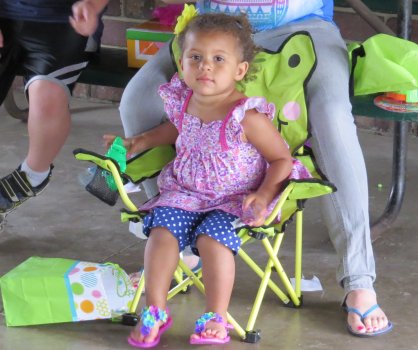 29 June 2014
A Bday for our little Ellie Rue and here she is in her new lawn chair. What a little pumpkin.
Monday arrived and was very busy day. It started with me sleeping in till about 7AM and then out at 7:30 to get some mowing done. Finished the main part of our yard and then off to town for some parts to put the skid wheels on the camper. Stopped on the way and did the push mowing at the rental. Got the skid wheels on the camper only to find it had some really dumb grease gun fittings to grease the bearings so back to town to get them changed out and pick up a gas cap for the Toro. Got moms meds while there and stopped at the barn and serviced the Deines mower and did the mowing at the rental and barn. Then back at home and finished the push mowing on the ditch bank and changed out the grease fittings for the skid wheels. Reset the fridge as the gas did not start so reset that and it is now working so turned to auto so it will select gas or electric as needed. Got a call from Ellen and her and Bill are tripping tomorrow so they will stop here in the afternoon and visit some. Did some work on the church congregation lists for me and then on our elders agenda for our meeting next week and then it was supper time. What a long busy day. Watched a little TV and then my journal work and off to bed. Will see about getting a new van for mom tomorrow and getting the rest of the camper ready for our trip to Crystals.
Tuesday here and was up early and mowing again and then off to town for some supplies. Cleaned the filters on the fish pond and then more mowing. Finished mowing the sign ditch for the city but it is still pretty wet so that was fun and slid into a wet spot once so had to get the truck to pull the mower out. Bill and Ellen came in about noon and stayed till around 6PM so we had a nice visit and that was fun, Then did some spaghetti for supper.
Wednesday came and it was a full day. Ran for the gas valve for the camper and got a new electrode while there and that is now working well. May not have needed the Gas valve as the old one is working at least temporarily. Ran all over and finally got mom a new van. Well not new a 2002 but it is nice. Did camper stuff most of the day to go for our trip on Thursday. Had to run the van around to get the things fixed they said were fixed when we bought it. Service is not what it used to be. It is really nice with only 61,000 miles on it but it does have leather seats which is a negative as far as I am concerned. Cleaned pond filters and overfilled it so it would be good while gone and soaked all the potted plants so they don't die. Took the PC to the shop to get the problem with a program loading a proxy server to not happen. Must have got a bug that I cannot find in it so took it in.
Thursday here and had to take the new van in again as it still had a loose stabilizer and just did it myself as it was just tighten a nut and they already said twice they did that and it was installed by them new. Finished camper things and hit the road about 9:30. Was a slow trip with much heavy, heavy rain but we made it fine. Got set up and then to town after some rest. Set up was a pain as I filled the fresh water tank but I did not close the drain so by the time I set up and leveled all the water had drained and I had to tear back down and go fill again. Got it all done and all is well. We had some supper and then rested with some TV and off to bed.
Friday here and I went for a walk on the trail here and then we just vegged and got ready for our visit. Spent 3 hours with our little Crystal and then back and put together some minute to win it game directions for her for some fun there. Sent them off in an O-mail and then started the things for supper. Mom was not doing well and had a very bloodshot eye which does not look good. She also is having some strong headaches so not sure what that is. We had Chuck steaks for supper with corn on the cob and some salads and was it ever good. It is very humid and heavy out and mom has some trouble breathing in those conditions. Mom is in bed so am watching Blue Bloods and then off to bed also.
Saturday arrived and it is another steamy day with some high temps. Sure hope we are getting some of the rain that is showing in the forecasts. slept in and then Went out and took a few pics of some turkey vultures sunning themselves in an old dead tree top. What a sight. Mom slept in also and about noon we ran out to see Our Crystal and she really liked that. Ben and Tammy came then and will Crystal be surprised when they show up tomorrow. We will just visit a little tomorrow and then head home so they can have most of the day then. I did some hamburgers for supper and we had a really good visit with the kids and mom has started packing things up for the trip home. I showed the kids the turkey vultures roosting in the dead tree after supper and the week is done so will close for now. God Bless Be Good Do Right Love Papa, Dad, Brother, Cousin, Uncle and all Lew.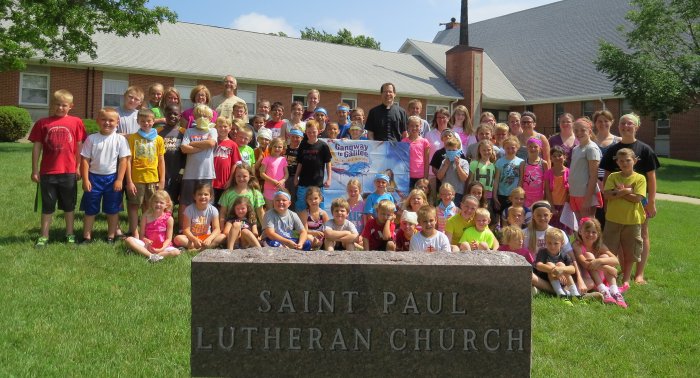 22 June 2014
VBS ended this week and what an amazing week it was. I pray the kids had as much fun as I did and we got some really good pictures and will send them to the paper to see if we can get some of them posted. We had an amazing turn out and many great youth helpers so that is truly a blessing.
This week has flown by and I have not been able to write much as I was pretty busy. In fact these last two months have been a whirlwind for time flying. Monday started with Vbs from 8AM to 11:30 am and was a very busy time I took pictures and set up some the group pictures for the newspaper if we can get some of them in it. The afternoons were spent with some inside work and camper work for our trip to see Crystal again. Mom and I spent a day or so looking for a different van for her but had no luck so far as they are all so over priced it isn't funny. Most of them have much rust or many of the accessories do not work or the mileage is super high and they still ask 6 to 10 thousand dollars for them. How does all that work.
We took the big van for van hunting and when we got back to town the serpentine belt tension bearing froze up and we lost the belt so we had no power steering or water pump or charge so lucky we got to Wally's right away before it over heated. Wow do they ever want gold for the belt and tension idler. Got it going again so guess that is not so bad and we were lucky it happened where it did.
Picked up the gas valve for the camper water heater and it does nothing so not sure how that works. The guy said he will take it back and get us a new one but it is hard to survive with all the dumb around. Tried to mow some in the sign ditch but it was to wet yet to do that so just started some in the yard and front of house. Put some mouse traps in the camper as we have one of those pesky vermin in there somewhere. Not much else for now as I could not keep up this week and will put all the unfinished business in the Lord's hands. God Bless Be Good Do Right Love Papa, Dad, Brother, Cousin, Uncle and all Lew.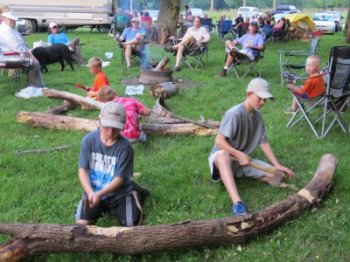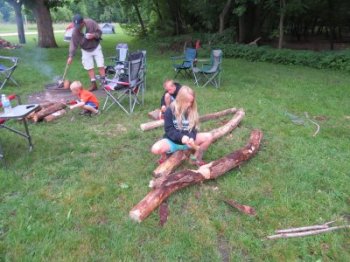 15 June 2014
St Paul's Church campout was a great lot of fun but did not have a huge crowd. Pastor, Joe, Deaconess, the Janssen's, and us were all that came and all but the deaconess camped out. The kids had fun cutting firewood and running through the trees and going to the river for a swim. The Lord gave two great days and one great night for the outing. We had Hot dogs and s-mores over the fire for the evening meal and scrambled eggs in a bag for breakfast and the a Hobo meal for lunch.
Monday and Mom and I headed home and then just did some unloading and resting for the afternoon. I went to the church in the evening to set up for VBS and then the day was over and I was beat.
Tuesday arrived and we finished most of the camper unloading and some clean up stuff and then Mom and I went to town for some business and some groceries. We spend some time at New Hope for some things mom needed and were going to look at some vans but it got late and I needed to get church for some more VBS decoration things so we just got some Fairway chicken for supper and headed home. Did the church decorations and we have it in pretty good shape for now so will get the rest on Sunday next before VBS starts on Monday. Mom and I watched some TV and then off to bed.
Wednesday here and was up early and out mowing at 7:30 after a quick breakfast of oatmeal and toast. Got the rental and barn finished for mowing and then home to check in the ARMS net. The 4G internet is still dropping out all the time and I have called US Cellular twice on it so far so guess we need to chat again. Started the mowing at home and got much done for a good start. Sure is a lot of grass growing for no more rain than we are having.
Thursday is here and finished all the mowing and did some weed pulling. Don't seem to get much done lately but am keeping on keeping on. Set up all my agenda items for the council meetings and for our Family life and stewardship board so that took some time. Did some more for VBS during the beaks between the board meetings and the meetings went well.
Friday found me up early and did some weeding and then off to town at 7:30 to get my haircut as it is driving me nuts it is getting so long. Fed the birds and then did some work on the computer but not having any luck getting the proxy server turned off and not sure why it was there. Spent over an hour with the techy wizards remotely connected and they could not find it either. Am trying a different tactic tonight instead of the way I was told as even system restore did not help. Go figure as technology just stinks and some system put in a proxy server and I cannot get it disabled. Technology stinks.
Saturday arrived and did nothing but work on the computer most all day with no luck at all. Must have a bug I can't find or something cause it all works right on the laptop but not the tower. May have to run it back the techy shop but I think that is where the problem started. Oh well seems like a busy week but not very productive so will close and do better next week maybe. God Bless Be Good Do Right Love Papa, Dad, Brother, Cousin, Uncle and all Lew.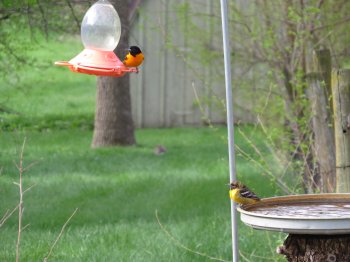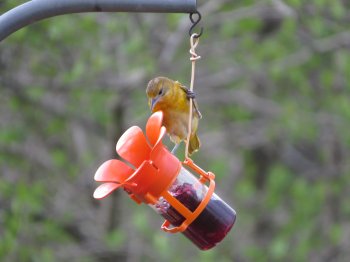 8 June 2014
Summer is in the air and the Orioles are remaining in place and we have several pairs feeding all the time. I have counted as many as ten but not sure they have all remained. What a blessing the Lord furnishes us everyday! They love the grape jelly and the orange halves.
Sunday afternoon and the church service was good along with the bible study on the Lutheran Liturgy. Made a sandwich when I returned home and then just relaxed and watched some TV. Feel kind of pooped but have done nothing so not sure why. Mom is working on cleaning out and getting rid of things and I missed the Swan nets today so that is a bummer. Hope the kids made it to Washington okay as they should be there by now I would think. Sure do miss them already.
Monday is here and the kids called last night and they made it to Washington okay but my little peanut was lost for awhile at one of the Hotels they stayed at, How terrifying is that? We got about 1/2 inch of rain last night and every little drop helps so lets pray it keeps filling the pond for the wildlife. Have a few town errands today for the Church campout and to get some Bday things and then much mowing to do again and not even finished with the last round. Got the town things finished, stopped the mail and checked in the ARMS net and now to work after I get the groceries put away.
Tuesday here and all prepared for the Elders meeting. Finished the mowing here at home and helped mom with some washing. Got parts of the camper ready for our short campout and worked much on the computer as it would not let me get updates for the anti-virus we have. Somehow it had a proxy server set and would not let it work. Fed the birds and Orioles and filled the pond again but I believe it is okay now. We got about 1 1/4 inch of rain so that is well received by me and the wetland pond. Did a little more after the Elders meeting to get ready to leave for our trip and then off to bed.
Wednesday here and up early to hook up and hit the road. Finished all the loading and hook up and helped mom finish her things to go, filled the pond, fed all the birds, turned the air off, and are ready to get moving. Stopped in town for gas and some stuff for lunch and then arrived at the campsite at about 2 PM. Had a hard time getting into the site and we got 19 with a small hill to get backed in. One of the skids caught in the ground finished breaking off the half already broke. Sure be glad to get the skid wheels I ordered. The water heater did not fire right again so guess I will need to get the gas valve at $116.00 so that is pricey. Got it going good on the electric so is good for now. Got a call from Harrison RV that the skid wheels are in so that is good. Put the awning out and hung up the plant baskets we got so are pretty much set up.
Thursday is here and the day is very slow and relaxing. Ran to Jefferson for the skid wheels and then picked up some things at home on the way back. Been checking in the ARMS net some while here but the signal is very poor on the mobile Swantenna since we are parked down in the hole where the campground is. Picked up some firewood for the campfire and cookout tomorrow night and for the S-mores.
Friday came and got things ready for the people from church to show up and hope we get very many. Put out the firewood and set up the camp chairs for us and got the coffee ready to plug in outside. Mom and just vegged some and took a nap then it was time for the church campout to begin. Pastor, Joe Eisenbacher, Deaconess Watson and the Janssen family came to spend the night and camp with us but that was all, Bummers. We did chips and hot dogs for supper with S-Mores later with a devotion from Pastor. The kids all needed something to do so I got out the two hatchets and saws for them to cut up fire wood. Opps this is a no-no but was not aware of that but there was not a problem as we just read it on the paper when we set up our stay for another night. Was up around the fire till about 11PM so it was a fun night.
Saturday morning and Joe and the Janssen's were all that spent the night but Elizabeth came back for the breakfast. The egg omelet in the bag worked out really well and Aimee Janssen did a marvelous job with the cutting up of all the condiments to put in the Ziploc bag to boil in the water and it was a fun time with the kids checking to see if there omelet was done yet. The Janssen kids cut up much firewood and it was a joy to see them all so excited and we were even able to get in lessons on sharing. Aimee then went to work on some things for the Hobo dinner we were having and she even made a town run for things to use in it. The kids wanted more of the Ziploc omelets and I think little Keziah ended up doing three Ziplocs of omelet stuff. The Hobo dinner was a smash and then the people started to leave after some visiting and it was a very fun time. Most all of the firewood was burned up and we gave the rest away. Guess I better quit and post this and get moving as I am very late even getting it complete so God Bless Be Good Do Right Love Papa, Dad, Brother, Cousin, Uncle and All Lew.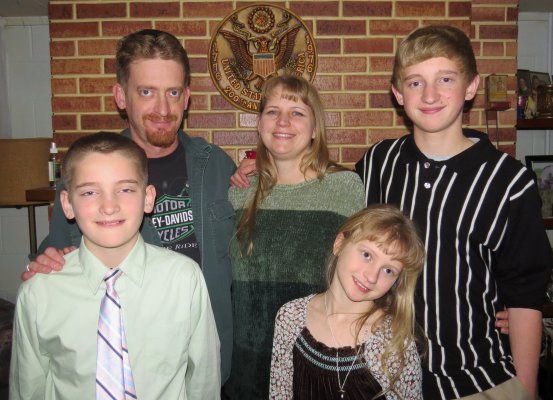 1 June 2014
Oh My Oh My all my loves are leaving Omaha and headed out west to Washington for Kris' assignment. Sure am going to miss them all especially my Little Man Sean who isn't so little anymore, My little buddy Cody who is growing way to fast, and my Little peanut Caitlin and all our marvelous walks and sharing times. Papa loves you all very much and May God bless you all and watch after you on your journey and we will keep you in our prayers.
Sunday afternoon and that Sounds like a pity party for me but I will miss them much. This afternoon mom and I cleaned out the garden shed and found we have a squirrel nesting there and that is where they built a nest. Had a small board off the eve and they dragged in small branches and Walla there it is up in a basket and there are some babies in it. Hope we haven't scared the mom away since I could not see inside and had feel in it to tell and I felt a little fuzzy head. We got much of the shed cleaned out and organized and then have more to finish but called it a day at 530 and went in to rest some and then did some chicken hindquarters and cheesy potatoes and hominy for supper and watched some TV. One of our favorite shows, Believe, was on and then we watched Mentalist and I am off to bed as I am beat. Mom is wore out also as she really worked today.
Monday has appeared and I did not sleep well as I have a pulled shoulder muscle and was up around 4AM for some dumb reason. Got about 1/2 inch of rain so that is a help and today is memorial day so will do some more work on the garden shed and maybe mom's arbor if we have time. Checked in the ARMS and shared verse 1 Samuel 28:5-7. Fed the birds and still a small mist coming down so will wait and see if we can work outside but we need to go to town for mom to check for some old VCR tapes of the shows she was in with the Theater.
Tuesday came and was up and fed the birds and checked in the ARMS net. Let Buddy out and fed him and fed the orioles there oranges and grape jam. I hauled the old picnic table to the land fill so that task is done. Put together all my Elders agenda and mailings and got them off in the e-mail. Did some town pickup stuff and then home to put away along picking up some med's for mom. Took some pics of the wetland but not much rain there but it did fill up some. Got an O-mail from Crystal so was good to hear from her.
Wednesday came and the ground was very wet so not much outside stuff done. Cleaned and treated the pond and the fish are fine and the water is running well again. Filters were almost plugged with algae. Fed the birds and just wandered aimlessly most of the day. Not sure what that was about. Mom was not feeling so good so maybe that was it. Called the kids as they are headed out to Washington and maybe that is why I am so listless not sure.
Thursday here and was awake early but just stayed in bed till about 7:30 and then got up and fed the birds and all and checked in the ARMS net but the conditions were horrible. Guess I better get busy and get out of this blue mood I am in. Well got busy and did some mowing where I got the big mower stuck in the city ditch by the sign so had to walk home and get the chains and truck to pull it out. Then started to work on the camper water heater and finally did it my way to fix it and it works fine now. The fire tube did not have a metal ring over the large hole to regulate the air for the flame. After many adjustments and inquiries I made one from aluminum foil to test it and it worked amazing. I called Suburban the water heater manufacturer and was told it was not supposed to have one, however every one I have ever seen on any gas burning appliance has one and every gas mechanic said it should be there. So I then made one with a hose clamp like they do at Webster city RV and it works fine.
Friday came and I finished the fine adjustments on the water heater and then moved the camper step out about 4 inches so it will be easier for mom to use. Not sure who engineers all these things but they could use a lot more school and then some experience before they are ever allowed to work in their chosen field. Anyhow that is done and now need to order the skid wheels for the back so I do not drag the drain pipes off since the camper is so low. Making some headway and now better get going on the mowing again. Mom has been having low oxygen levels so have been trying to monitor that and keep the high humidity in the house down. Well been listening to the radio but do not hear anyone on the net or anyone anywhere. Guess the band is dead today. Opps heard old reliable KI5KF/Harold so he will relay me in at # 5 position. Ran to Grant Park by Auburn to check on the sites there for our church campout and it is a real nice park. You cannot reserve a site so guess we will pull out on Wednesday the 4th to get a site and have a place to camp. Mom did a really great supper and since Blue Bloods was a repeat we watched Crossbones. It may be okay but not great.
Saturday found me up and warming up the radios while I fed the birds and then did some mowing on the ditch bank. Checked in the ARMS net and then loaded the truck to go mow, weed, trim and spray at the rental and Barn. Got back in time for lunch at 1PM and then watched Rawhide and took a small nap with mom. After that I unloaded the truck and then just messed around with the camper and some tree limbs to haul to the brush pile. Hauled the limbs and trimmed some more to haul and hauled them all to the brush pile. Showed mom the new camper step position and it seems better for her and the water heater still lights first time al the time. We did some TV dinners for supper and then just vegging and some TV. It has been a very busy week so will close for now, God Bless Be Good Do Right Love Papa, Dad, Brother, Cousin, Uncle and all Lew.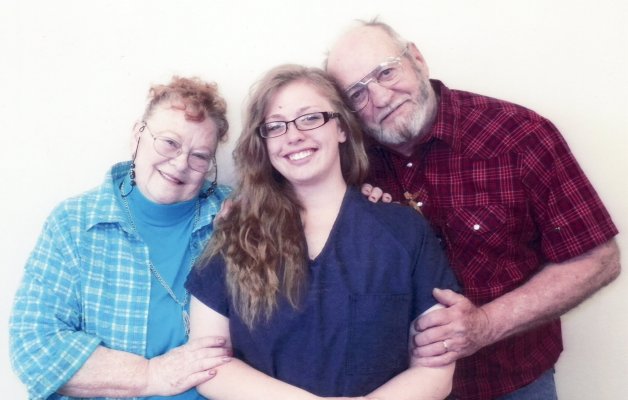 25 May 2014
Our visit with our Crystal is over and it sure was a good one. Can't wait till the next visit. We love her so much and pray all will work out for her now!
Monday found us getting ready to head home from the visit with Crystal and we are both rather tired and stressed out from it but the visit was good and not as complicated as we thought. We pulled out about 11AM and it was a slow drive home as it was very windy and not much fun to drive in that. Stopped at New Hope Village Bargain store in Coon Rapids for mom to look around and I tried to nap but that did not work. Then when we got home I unloaded some and ran to town to pick up the mail and start it again. Then unloaded some more and just quit for the night.
Tuesday found me up at 6:30 and outside to do some weeding before it gets to hot. Trimmed the man tree or should I say gave him a haircut. Cleaned the pond filters and still weeding. To town for some groceries and picked up the computer. Boy am I ever dumb since I took it in before our trip for the hard drive making a noise that sounded like it was reading or writing to a Floppy. It was not done when we got back so put the lap top in its place and I got the same noise. It was some thing coming from the speakers on the desk and they were not even hooked up so must have been through the power cord. Oh My Oh My!!! Oh well it is good to go again and working well. Did some mowing by the sign for city and did our new lot and picked up all the trimmings from weeding etc. Hauled more things in from camper and decided to call it a day. Mom did some shredded pork sandwiches with red potato salad for supper and then we just vegged. Was a busy day.
Wednesday here and got up early and more weeding done and was going to spray some but it is to windy. Today is garbage day so got the garbage and recycling out and then back to trimming and weeding. Cleaned out the Knock out roses and they may make it after all as one has some new shoots from the root and the other still has some green stalks but no buds yet so not sure on it. Fired up the radios and cleaned the hard drive on the computer and defragged it. Checked in the ARMS and found much of the computer tests in the shop messed it all up so had a time during net to reset it all to normal instead of the dumb techy settings that never work along with upgrades that are useless. Going good again. Ran to town for some meds for mom and took a picture of the tapestry Church hanging to see what it is and where it may have came from. Have sent it to District for their guess on what it is. Mom made some soup and sandwiches for lunch so may be nap time now and then outside to work again. Well got the nap done and then out for a little work but mostly just chilled, vegged, relaxed, and basically goofed of and did nota.
Thursday came early and was outside by 6:45 AM pulling some weeds, doing the push mowing, and even sprayed around the pond area where all the wild morning glory vines keep getting a foothold. Fired up the radios to get them warmed up and made some coffee so the day has a good start. Fed the birds and put out new oranges and jelly for the orioles. Mom tried to use the computer for the Virtual windows XP last night and it did not work well so the repair episode at the shop must have messed it up. Did some turn off things and turn on things and defragged the XP virtual mode and updated back to the old way and finally got it going well again. Oh Bother, Why do people always want to fix things that are working well? I Did my Verse for the ARMS net, it was 1 Samuel 18: 7-9, and oh my the green eyed monster sure appeared there. Lets keep it away from us. Now back outside for some more work. Did some more mowing and then in for Lunch and we had some Mac & Cheese with hot dogs and a sandwich and rested some and then out for some more mowing. Stopped for a bit at 3:15 and took a little nap with mom.
Friday has arrived and all the mowing here at the house is done but still have the barn and rental to do. Need some grape jelly for the orioles as I used the last yesterday. Slept in till 7AM today my bad. Did get some coffee made and the radios on and then some work on my Elder stuff and bills. Oh Bother! Mom and I did not do much for the day. Did get to town for some supplies and got us a new picnic table for where the old wood one is really rotted away and picked up a new flag for the flag pole. Mom sewed up some on the Air Force flag and the MIA flag so hope I can get them up yet for the Memorial weekend. We were anxious for the meteor shower and were up at 2AM but could not see any of them.
Saturday found me sleeping in till almost 8AM and not sure why! Seem to be feeling old and having empty nest syndrome along with some depression I guess. Matt and Family off to Washington and I will really miss them all, This weekend, Memorial weekend, is usually our first camping trip of the year but did not even get that set up. We did get out Camping last weekend for our visit with Crystal so not sure why this dumb mood I am in. It seems life is so busy that nobody has time to stop and smell the roses anymore and I really miss that. Guess I need to suck it up, put on my big girl panties and adjust. Got the radios on and will check in the ARMS and work on things while waiting for my turn. Will share 1 Samuel 24:5-7 Where David cut off a corner of the robe of Saul and then was conscience stricken having done that. Really good reading. The new Grape jam I put out for the orioles yesterday was not used much so not sure how that works, maybe jam is wrong as I always did jelly before. Well got checked in the net and then the band went dead so had a relay in and signed out. Got the flags up and the new picnic table for us to enjoy. Moved the two person swing beside the table but don't like that so may get rid of that and the small table by the garden shed so that area is really cleaned out. Will just use the big grill here at home and put the small one away for camping only. Not sure anyhow it has been a very busy week so will put this to bed and get posted. God Bless Be Good Do Right Love Papa, Dad, Brother, cousin, Uncle and all Lew.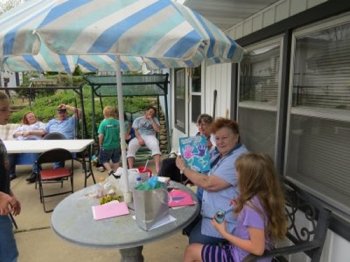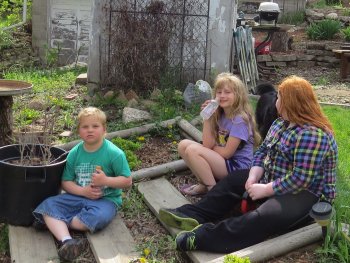 18 May 2014
Mothers day & Moms Bday was celebrated on 11 May at our house and it was really fun. All the kids were home and we did some gifts and then grilled some steaks for lunch along with the potato salad, Mac & cheese, pork and beans and chips. It is such a blessing to have the Mother of my kids, best friend, and wife for all the years we have been together. You are still my Angel, the same as yesterday, today, and tomorrow!!
It is Monday morning and we got about 2 inches of rain so that is really nice. There were some severe storms last night but they all missed us so we were blessed in that and the much needed rain. Have much mowing and catch UP WORK TO DO AND NEED TO GET THE CAMPER READY FOR A TRIP TO SEE OUR crystal. have THE radio FIRED UP TO CHECK IN THE arms NET and already fed the birds so got that much done. I seen 9 Baltimore Orioles this morning while feeding the birds along with some humming birds and Goldfinch. What a sight the Lord has given us. There are also Grosbeaks and jays and many others at the feeders. If we just open our eyes the good Lord will show us many wonders. What a day this was and was rather tired when it was all done.
Tuesday morning seen me feeding the birds and watching the Baltimore Orioles, Orchard orioles and all the birds we have. Even have an Indigo Bunting hanging around with the Gold finch. How amazing. Checked in the ARMS net and took care of the Schwan's guy and the food we wanted from him. Loaded up the pickup with the yard equipment and then had some coffee and lunch with mom before heading out to the barn and rental to mow and trim some downed branches. Took care of some my church stuff and then took a short nap. Unloaded the truck and got the mail and now will get some more done for the camping trip. Moved some things out for mom and the fridge is started and cooling nice and am running on the battery only so it can be run down to the deep cycle mode completely. Cleaned up the winter dust and things on the camper inside and that is pretty much ready to go. We did some supper and then watched our NCIS shows and off to bed.
Wednesday came early and got the birds fed right off as the orioles were looking all over for there treat. Got the garbage out, fired up the radio and made the camper bed and plugged it in as the battery was flat. Cleared out some of the stuff from the last van trip and put some tools in the van just in case. Checked in the ARMS net and my verse is 1 Samuel 13:11-12. The bands are not very good this morning so hope I can get in okay. The rain added much water to the wetland so hope it stays and we get another round without all the severe weather. God will provide for his needs and ours so am praying he wants this habitat for the animals he has left us in charge of. Ran to town for some supplies and to stop the mail, planted all the new flowers in the planters, planted the herb garden for the year, mowed the lot we have here and the city sign area I do, carried things out to the camper. loaded the grill in the van along with the lawn chairs. I am getting tired.
Thursday here and we have an early start. Finished the loading and then took the PC to the computer shop as the hard drive sounds like an old floppy drive when it works. seems like the sound comes when it has warmed up so when I pulled it out I noticed almost all the vents were plugged so had them clean it while they test the hard drive. We had an easy drive but much wind so that was not nice. We found the campground fine and set up and rested some and then took a small nap. Then went to check where Crystal is and then to Hy-Vee and Wal-mart for some groceries and then back to camper for supper. So much for there free WI-FI, I could walk there faster than that moves. Watched Rosemary's Baby on TV and what a waste that was. Not even scary like the old one.
Friday came and we were excited to see Crystal so the day moved slow and we just goofed off. Mom slept in some and I took Buddy for a walk and finally 11AM came and we got to see our little love. She sure looked good and the hug was really great. We love her so much. we had a nice visit and soon it was time to leave. All went well and the check in and out was not bad at all. We went back to the camper and then later ate supper at the Flying J truck stop. It was not the typical gift shop so that was a bummer for mom. We watched some TV and then off to bed.
Saturday came and the water heater still not working right so did some work there with little success. Did manage to break the door clip for it had to make a catch for it. I believe the gas valve is dirty or misadjusted so will take it in I guess since I can not figure it out. We had a great visit with Crystal and played some Phase 10 so that was fun. After we left we checked out Thomas Mitchell campground and it is nice so will try and stay there next time. Back to the camper and a short nap and then I grilled some steaks for supper. All in all a very busy and long week but it was a fun one so will close for now. God Bless Be Good Do Right Love Papa, Dad, Brother, Cousin, Uncle and all Lew.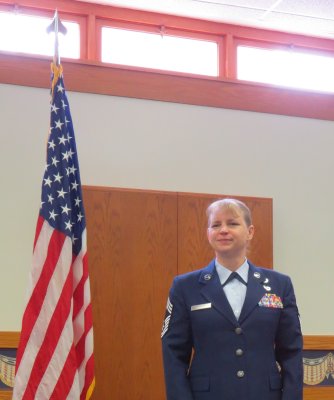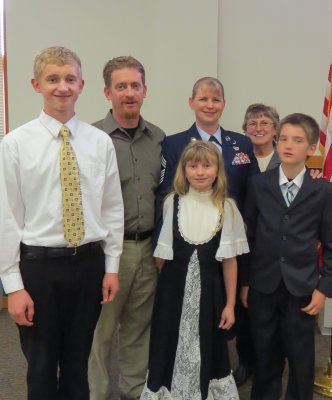 11 May 2014
Wow and wow Our daughter Kris was just promoted to Chief Master sergeant in the Air Force and are we ever proud of her for this great accomplishment. She worked very hard and really deserves it. Proud of the Family also for the time given by them for her to get this accomplished. Congrats to our second daughter!!
Monday started the week off with much activity. Up early around 5AM and getting things ready for some yard work before I head to town to look at a van and check on some billboards. Finished the regular mowing and did some weed eating. Checked in the ARMS net and then off to town for the van and billboard stuff. Then home and did the mowing on the set aside and did the city ditch by the sign. Stopped then for some lunch and a little rest. Got a call the tractor is done and the draft control now works so went back to town and picked that up. Finished up a bunch of the weed eating around the pond and landscape areas by the house. Mom made some yummy fried chicken for supper and after a short rest went back out to finish some more of the weed eating. Finished the Confirmation picture for the LYF room and made the tags to put on the Table for their confirmation/Baptism recognition.
Tuesday here and the day is really nice with the sun rising around 6:15 AM and I got to watch that with my coffee as I was up around 5:30. Started some of the water shoot tree trimming in the landscape areas by the house while I wait for the Net to start. Fed the birds and started on removing a plant from the pond that has become overgrown. Checked in the ARMS net and then time for some coffee while I wait for my turn. Turn is over and I shared Judges 16:20 where the Lord left Samson and as of that verse Samson was not aware of that. Out side to do more pond work and finally got the grass pod plant out and was it ever big. Not sure yet if I will leave it out or cut it way back and then prune it out every year so it does not get so big. Proceeded with some of the trumpet vine removing as they have spread everywhere. Well I cut up the grass pond plant and put it back in and will just take it out every year to trim so it does not get so huge. Wow was it ever woody and hard to cut and had to use a saw to do it. Was wore out after that so just rested till the Elders board meeting. Had a good board meeting and talked of things to do as outreach mission things here locally. Mom and I then had some pizza and watched person of interest and then off to bed.
Wednesday came early but I forced myself to stay in bed till about 6:30 and then got going with getting the garbage out as it is garbage day, Fed the birds, and filled the pond as the radio warmed up for the ARMS net. We have Goldfinch every where so hope they stay around and not move north as it is going to be another very warm summer the way it looks. We are at 70 degrees now with a high of 90 today the forecast says. Not looking forward to those temps. Maybe it is time to move to Alaska. Checked in the ARMS net and my verse is judges 17:6, and what a verse that is as there was no king in that time and everyone did as they seen fit. Sounds like our world today as that is the way everyone is going with the thought of everything is okay if it is right for you. OH my what a mess that is, look around us. Out for more work in the yard and it is now noon and already at 86 degrees and is that ever warm. So much for spring we went from winter to summer it seems. Oh okay maybe there was one day we had spring but it was very short lived. We had a TV dinner for lunch and now just a small rest and then Buddy to the Dog's Paw for a cut and shampoo. Picked up some shirts while he was there and then looked for some cushions for our lawn swing but found none so have to fix what we got or buy a whole new patio swing thing. Go Figure. Now off to church for a youth group setting and some pics for them and then will bring supper home for us.
Thursday was another busy day with some yard things, the pond, preparations for Moms Bday/Mothers day celebration Sunday and getting things ready for the Council and other meetings. Fed the birds and picked up some leftover yard waste and added some water to the pond. Printed off the pictures for the kids from the 5/6th grade confirmation studies. Ran some town errands during some rest times and we got some rain again but it is not filling much of the pond so far. Need to get the subsoil moisture up so it will stay there I guess. Went to all the board meetings and the council lasted till after 9 PM so was a long meeting. Brought mom a Frappe and tried to watch some TV but was tired so went to bed.
Friday morning we had some more rain but not much and I slept till about 7:30 so that was nice. Did some email stuff for the council meeting and turned on the radios for the ARMS net. and then made some coffee. Boy is my life exciting huh? The temperature cooled off last night with a cold front going through so that was nice after the 93 degree high of the day before. Way to warm for May and even rather warm for August. Got checked in the ARMS net and then went to feed the birds and get some coffee only to discover the pond filters were plugged so had to fix that. Then back in and took my turn and Shared 1 Samuel 3:10 for my verse of the day. Then set about trimming the hedges and cleaning up that mess. Made a TV dinner for mom and I and then hauled the trimmings to the burn pile. Dried and folded some clothes for mom that was in the dryer and let buddy out and fed him. Did some calendar work and now I think I will rest some. Mom and I laid down but I did not stay long so got the drive cleared some and ready for the camper to come over so we can use it to go see Crystal. Put a towel on the swing seat after I got the cushions from the shed and that will work for now. Will pick up the other swing from the shed to use also.
Saturday is here and not sure what I am doing as it has had a small amount of rain again and looks to be stormy tomorrow for the Bday Mothers day gathering. Got the patio swing from the machine shed and that will work but will get some new covers for it as they are really bad. I can still find those. I slept in again and that seems to be becoming a habit. Fed the birds but missed the ARMS net and went to pick up some more bird food and get the Camper from the Shed. The Orioles are back so now need to get the feeders ready for them. Helped mom organize some in the house, did some mowing, got the camper, did some push mowing, picked up some food for tomorrow and whew I am wore out. Decided against some new cushions as I just turned them over and we may get another season out of them. Helped the neighbor with his camper fridge some and treated the pork steaks to grill tonight. The kids arrived and we grilled some pork steaks for supper and then watched some of the races for Ben and about 10:30 I was beat so off to bed for me. The kids watched a movie I believe. Guess I better get posted and get the day going as It is almost 5AM and I been up since 3AM. God bless Be Good Do Right Love Papa, Dad, Brother, Cousin, Uncle and all Lew.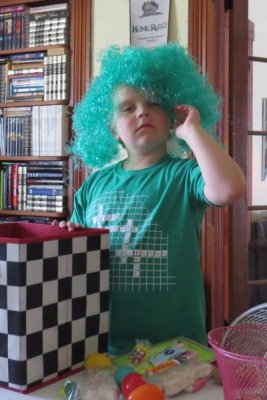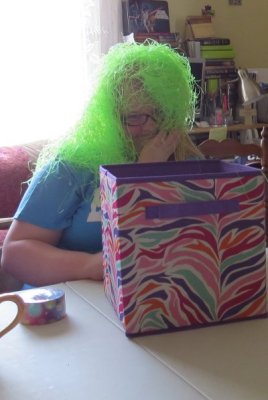 4 May 2014
How about these two Easter bunnies sure had some fun at Brads and a really good meal also. Got to meet our little James for the first time also.
Well the time here has been super busy and did not even get a post to the journal this past week. Things going wacky at the rental and at Tammy's have kept me on the run. Mom went with me for some and that was a big mistake as she is laid up now with some back pain. Praying the Good Lord will help us with that. Got much done but it is now raining and keeping me inside. It is already Wednesday and the time is flying but getting much done so that is a blessing. right at 2 inches of rain and that sure is making the grass grow. Had to work at the rental as the vinyl is not adhering to the floor and has some bubbles. Been off the air for a week or more so fired up the swans and ready to check in the ARMS net and the 258 Group and they are working fine. Seen 2 Canada Geese at the wetland so hope they decide to nest there but not any water for there protection so not sure that will work. May put out some hay just to entice them there more and see.
Thursday Morning has arrived and we are still overcast with rain in the forecast. We got Almost 3 inches in April but that all went right to the ground water and not much help yet for the drought or the wetland. Have the radio for the ARMS net but the bands are a mess so may not get in. Will head out shortly for Omaha to be there for Kris and her promotion celebration. Sure am proud of that young lady as she has worked very hard and is a wonderful daughter. Our son got real lucky when he found her. Mom is not feeling like a ride again with her back so I will be going myself and then another tomorrow to Tammy's for some store roof problems I am trying to help her with. I am about run ragged.
Got the trip for Kris's promotion over and was it ever an honor to be there for her in her amazing accomplishment. Plus got to see the GK's again so was a double bonus. Also went to Tammy's on Friday and seen to the roof things we have been working on and it is going great. Not much else to report as the memory is not there and was two much running to keep it all in the mind. God Bless Be Good Do Right Love Papa, Dad, Brother, Cousin, Uncle and all Lew.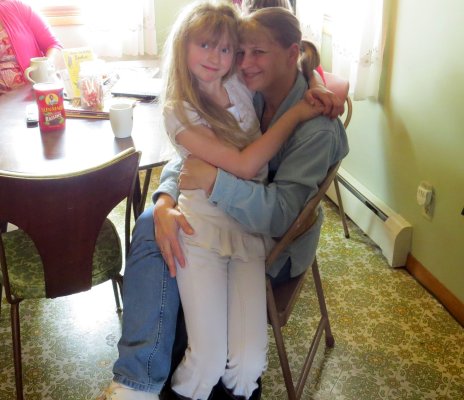 20 April 2014
Oh MY two of all the loves I have and are they cute or what. Opps sorry, I guess I should say pretty, now that the Grand baby is so grown up and our daughter is an adult. The time is passing so fast so just stop it. Stay little for Papa and Mema as that is how you will always be for us and for mommy and daddy.
Monday morning and I slept in till about 8Am so how does that work. Fired up the radios and then did some work outside in the snow. Wow did we get more or what. 82 Degrees two days ago and 25 degrees today. Did some washing for mom and then did some dishwashing. Checked in the ARMS net and called Tammy and then fed and let buddy out. Started to tear the water softener apart to see why it is not working. Mom told me the flag was on the ground as the flag rope broke in all the wind so got that up and will dry the flag to dispose of it as it is pretty torn also. Taped some veggie tales but did it wrong so will need to redo that. Got the water softener all apart and cleaned out and then back together so will see if that does the trick. Ya Hoo that did the trick I believe as it went through the complete cycle so now will tell for with the next shower. Time to get to sleep and set alarm for 1:30 AM and see if we can see the Eclipse.
Tuesday came in with a bang, up early for some washing and getting ready for the net. Did some dishes and made us some breakfast and started the copy of another DVD. Got a call the tractor was ready for pickup and about that time the washer hose came out of the drain pipe and flooded the basement so spent several hours getting that cleaned up and dried out. Not sure why that happened as I have not seen that before. Picked up the tractor and it appears like the draft control for the implements quit working when they fixed the lift part of the 3 point. Go Figure, need to do some research now to se for sure how that will work. did some more washing and then grilled some pork steak for supper and decided to call it a night after supper.
Wednesday here and could not sleep so was up at 4:30 after tossing and turning for 1 and 1/2 hours so here am I having some coffee and writing in the journal. was a cool night with a low of 37 degrees and is 43 now so it is headed in the right direction. Guess I better get the garbage ready to go out before I miss that the way I forgot and missed the Schwan's guy yesterday. Maybe my life is just to cluttered. Well that is done and have had some breakfast and played some FreeCell so now on with my day. First thing is it is nap time. Nap is over and checked in the ARMS net. My Verse is Joshua 1:7-8. We are now at 48 degrees with some rain in the forecast so hope that comes true.
Thursday is here and did some town things along with checking in the ARMS net. Was called in for Elder duty as the one assigned could not make it. Made a bunch of calls on the roof for Tammy's store and have a few appointments set up so will see how that goes. Also have an appointment at the rental for some kitchen vinyl repair tomorrow. my PLATE SURE IS FULL THIS MONTH AND NOT SURE WHY. I SLEPT IN LATE TODAY TILL ALMOST 8:30 SO THAT WAS STRANGE. picked UP SOME THINGS FROM TOWN AFTER elder DUTY AND SOME SUPPER AND THEN HOME.
Friday here and up early as our Little Sarah and Lucas are coming over for the day. Made some calls for the store in Le Mars again and got some appointments made. Kids arrived and they had breakfast so set up a movie for them and busy with some more roofing things for Frugal Fusion. Fed buddy and let him out and had some coffee with mom and then checked in the ARMS net. What a pretty day out with only a breeze and wall to wall sunshine with a temp of 51 degrees already. Went to the rental for the vinyl repair and then back to town with the tractor for further repairs on the 3 point hitch as I believe it was working when I took it in but now it don't. Picked up some groceries from our list and then back home and Heather was there to pick up the kids. Had supper and not much else for the day.
Saturday here and up early again for our study of exodus and the Passover and that was exciting. Then mailed the phone money for Crystal and home to help mom with things for our trip. I forgot to stop the mail so guess we will do that Monday so we can not go on Sunday Like I hoped. My memory is not what it should be some times. We got some washing and folding done so that was good and I stopped after our bible study and got a haircut so I am ready for Easter service tomorrow. Mom and I watched the movie the kids left on the Ice Age but it was not as good as the first one and then it was nap time. Well nap is over and now on to some more work. We found the Movie The Ten Commandments so now we can watch that for this Easter season. Attended the Easter Vigil this evening and then picked up supper for us and went home. Had supper and watched some TV and will now post early as I am Elder at sunrise service tomorrow so hope I wake up ok. God Bless Be Good Do Right Love Papa, Dad, Brother, Cousin, Uncle and all Lew.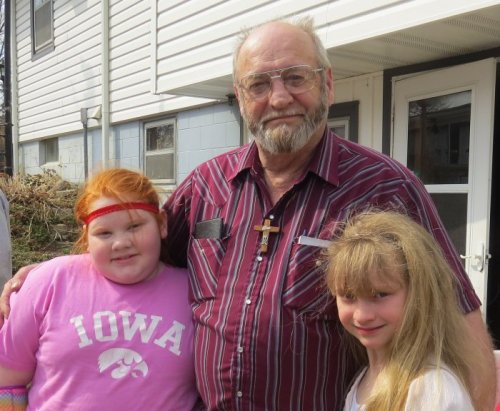 13 April 2014
It's a Sarah, Papa, Caitlin birthday and it is warm out and the first wiener roast of the year. Can things be any better than that with all the kids home and some wonderful gifts with hugs and kisses.
Monday is here and hauled the Tractor in for the 3 point lift repairs. Elaine spent the night after the Sunday birthday party and we had a good visit. It was a fun weekend but very busy so I am exhausted. I think I have a touch of the cold hanging on so am run down. Went to town council meeting in the evening and then that was about it.
Tuesday is here and I slept in and then checked in the ARMS net and worked some on the website for it but still have updates to finish. Ran to town for some groceries and did the taxes while there so now just have to mail them. Helped mom with some supper and then watched some TV and called it a night.
Wednesday here and the weather is getting warmer and it is a beautiful day the Lord has provided us miserable sinners. I started the day slow with some oatmeal and toast and then checked in the ARMS net. Worked on the reports for the Council and for the voters for tomorrow and Sunday and got them finished. Did some store checks on some things for Tammy and then watched some of the Veggie Tales from You Tube to make sure they all work. Did my Elder duty for the vesper service and picked up supper for us and then home after filling with gas. We did some TV and some more for Tammy on the store and then off to bed. Did not sleep well so back up to write some here and play some FreeCell on the computer.
Thursday here and out early for a bike ride and made it two miles today so that is better, but was winded so need more practice so how does that work. Fired up the radios and computer for the ARMS net and all is well there. The bands is rather dead though as we have only 6 check ins this morn. Cell phone is about dead so have to charge that. decided to see what I have on the MP3 player and that battery is dead also so am charging it. Went to church for the board meetings and then to council meeting and that went well.
Friday came and went and mom helped get some of the plants out of the drive under in hopes we get some rain to get them started. I ran buddy to town for his clip and cut stuff and checked on the tractor while there. At least they are working on it. Also went to see how the bike path to Maple River is and it is flat pretty much so I may try to ride it with the church group. Had to fill the pond again as it was really low so we may have a leak. Started the conversion of some of the VHS tapes to DVD that pastor wants to save.
Saturday is here and it is suppose to rain today and my weather stations says it is in the forecast so may get some April showers. Put the fan in the window last night as it was warm out and the house was very stuffy. Mom or I either one slept well so it may be a long day. Ben and Tammy are coming over to discuss some store stuff this afternoon so will have a long day. Went to look at a car with Brad & Heather but that was a bust as it was not in very great shape. The temperature got up to 82 degrees according to the weather station so I cleaned all the air conditioners and turned some of them on. The forsythia is in bloom with the vibrant yellow flowers and the grass is turning green and it looks like we missed spring and went straight to summer. Mom made some goulash for supper and was it good and then we had a good visit with the kids and off to bed after I finished the DVD for Pastor. Guess I better get posted and move along so God Bless Be Good Do Right Love Papa, Dad, Brother, Cousin, Uncle and all Lew.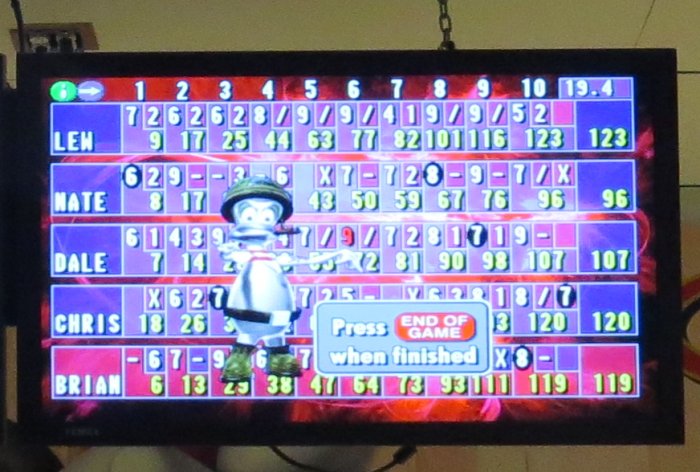 6 April 2014
Bowling for Church fellowship last Sunday and I got high score with 123, How sad is that. Won the first game but not the second so all was good and we had much fun!! We had 4 alley's going all together and some of the others lanes did much better than our group.
Monday has arrived and it is official that spring is here. I need to get outside each evening for about 2 or 3 weeks now and bang the pans to get the starlings out of the roosting pattern in our trees. Bummers! Been a busy day as I started early with some ARMS web page updates and then checked in the ARMS net. Then went over to the barn and got the Ford tractor started and mounted the disc on it so I can use it at church before I take it into the shop for repairs. Then I did some alignments to the derailers on the bicycle and it is coming along fine and has 21 speeds. Not sure if I can ride it that far or not but will need to ride some each day till then to get prepared and get used to all that shifting. Maybe I am just old and dumb I don't know. It is pretty well aligned for now so we will see. Then back in and some more updates along with doing all the bills and paperwork for the month. Grilled some steaks for supper with some rice and corn on the cob and then went out for a bike ride and Oh My am I out of shape.
Tuesday here and the wind is still a mess at 30 to MPH and is chilly again. Don't Like wind!! Busy day and to start checked in the ARMS net and did more bills. Then did much work and studying for the Elder meeting tonight. Fed and let buddy out and we had lunch and then into town to disc the church lawn where we did all the tile work last fall. Then home and got the mail and did some more for the last of the studies for the Elder meeting tonight. Got through the meeting but not much gain for the radio devotions etc.
Wednesday here and slept in some and then to town for the Elder business I needed to discuss with our secretary and Pastor. Back home and fixed the bike seat lower so it rides some better and then just goofing off. Did check in the ARMS net late in the morning just before it closed down and shared my verse for the day. Loaded the dishwasher for mom and got that caught up.
Thursday here and we got some rain last night but just like a heavy dew at 1/100th of an inch. How can that even be measured and why would we want to. Turned on the radio and the band is very quiet so may get some good radio signals today. Have to haul the tractor in this week so the 3 point can be checked to see why it does not work right. Hope they can get it figured out. When I used it for the disc I did some experimenting and goofed up there and dented the bottom of both fenders so now have that to fix also.
Friday here and was a busy day cleaning house and moving things for mom. We got about 3/4 inch of snow but it is about gone as the temp is to warm for it to stay. Checked in the ARMS net and then did some town things and worked on the decision for storyteller for VBS. Not sure I can handle it this year.
Saturday came and went for the Bible study on Exodus and I am really enjoying that. Moses sure had many excuses why he could not do what God wanted didn't he. Sounds kind of like me and VBS maybe. Then home and some vacuuming for mom with some other moving things and back out for church clean up. Very busy day but clean up went well and we got very much done. Then back home and more stuff to get ready for the kids to come for Sunday. It is as good as we can get it so guess everyone will just have to deal with it. Ben and Tammy came early and what a joy that is so they can spend the night. It was very relaxing evening as Ben and I ran in for some pizza and we then watched a movie, The Hunger Games, and it was pretty good. I t was the second part and it left the story hanging so you would need to see the next section. It got pretty late for me at 11:30 so I headed off to bed so I could get up for Church. Better get posted and get moving if I am going to make it so God Bless Be Good Do Right Love Papa, Dad, Brother, Cousin, Uncle and all Lew.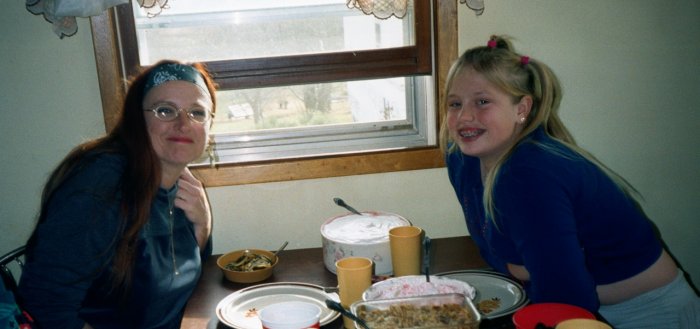 30 March 2014
Oh My Oh My the time does fly when we are having fun! Wow two of my precious little loves!
Monday arrived with the renters calling that the water softener is making funny noises and then just constant running water. Tried to reset and all but it did not work so Called Hey Culligan Man! That didn't work so had to use the phone. Checked in the ARMS net and then off to town for some church business and some list things. Got the tire on the trailer fixed while there and it was a bead needed cleaning and reseated. Did some pictures from the Bowling night and then home and reset all the cables for the TV system with some added amps. It is working okay now that signal is better but still channel 5 is gone. Not sure why. Worked on the Elders agenda and on some other church items to address at the meeting and then just goofed of the rest of the day. Mom and I did some TV and then the Portal of Prayer devotion and off to bed.
Tuesday arrived and I checked in the ARMS net and then before my turn the Culligan man called to fix the softener at the rental so missed my verse but got the softener going again. A relay on the board went bad and of course they can not get the board any more so had to do an upgrade for about $400.00. Go Figure!! Set up some more phone money for our little love so she can call some more and then was lunch time. Scheduled the 1954 Ford 640 Tractor in to get the 3 point hydraulics fixed so it lifts all the way up so need to get that in to them by the 9th of April. Checked in the Swan 258 group and then off to work some. Called the Carpet layer that put down some vinyl at the rental as it was getting big bubbles in it and I want it fixed before it starts to tear.
Wednesday here and the Crocus are poking there heads out to see if the weather is good to emerge and they are greatly surprised as there is no snow for them to pop through. Spring has arrived when they pop out so it is spring which does not mean we are through with the winter weather! Not feeling the best today and took a nap with mom and then checked the 258 Swan group and then just did goof off stuff. Later in the evening I was Elder for lent services and then picked up supper at Hy Vee for us.
Thursday here and woke up to some small amount of rain so that was nice as we can really us it. Temperature is warming up so it wont be long now before the warm spring summer breezes are here. Been checking and reading on the old ford tractor so I know some information when I take it in and don't look really stupid. That takes a lot of work sometimes. Need to use it with the disc at the church along with the skid loader to finish the dirt work from last fall so may try that before I take it in to get fixed.
Friday arrived and not much done but we did get some rain and that helped some. Started the cleaning on the pond and then did some things form mom. Made a trip to town for some food and things and then just vegged out and did nothing. Early afternoon I went to Brads and got the two little ones Sarah and Lucas as we are going to keep them overnight when the kids take the youth group to a band day. We watched a movie and then off to bed.
Saturday found me up early getting ready for the day and checking in the ARMS net. By the time it was ready to start the little ones were up and it was the start of the day. Mom was up and doing breakfast and I helped with that and we had fun. We watched a cartoon or two and then Mom and Sarah got to work on some sewing and clothes for her doll and Lucas and I went off to work on a bicycle that I may ride for a church outing. Once we got the parts it looked like we needed it was going to take a couple tires also as they had a crack in them and would have just eaten another tube. We got it all apart and then found the seat was set up really weird and since the post we got was normal it would not fit. Wow who dreams up this stuff. I needed a special Allen wrench to get the seat post out so just decided to wait on that and went in to see a movie and have some lunch. Sarah and Mema made sandwiches and cottage cheese for lunch and we had that watching all dogs go to heaven. By then the kids came to get our little loves and we had a good visit and then they went home and the house was quiet. We did the supper and just vegged and then off to bed. Guess I better get posted and get moving. God Bless Be Good Do Right Love Papa, Dad, Brother, Cousin, Uncle and all Lew.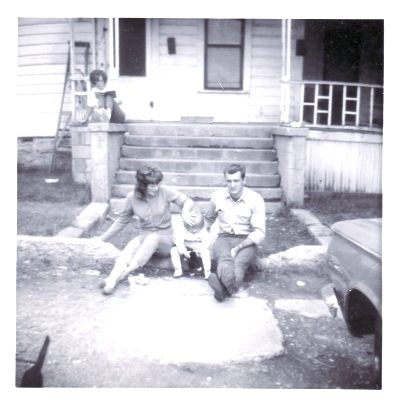 23 March 2014
Its 1964 in Burns Oregon and a long journey begins to reach the point we are at today and a wonderful journey it has been truly blessed by our Lord and Savior!
The temperature cooled off last night and it dropped to 21 degrees so winter is still wanting to hang in here in Willey. We got a small dusting of snow overnight but not enough to amount to much but it should add more to the pond in the wetland so that is a great start for now.
Monday has arrived and it is warmer but still not warm. In to town early and picked up the TV wall mount and a VCR/DVD player for there since the one I repaired I did not use it as it is intermittent. Will check it more later to see how it works. It will be fine once I get the TV up and all else done when those at church think it is okay. Sure should not be so much politics or power struggles in a Christian church. Our TV stations are all but gone so not sure if it is now the weather or maybe a cable has come loose. May be able to check tomorrow if it is warm enough and the wind stops or dies way back. Still no word from Crystal so we are anxiously waiting for some mail.
Tuesday came and went and was a very busy day. I hung the TV on the wall of the stage at church and then moved all the cables so they are not underfoot and just have the power left to finish up. Did the dishes for mom and tried to figure out the TV signals here at home. Problem has to be solar flares etc as before the sun comes up we get all channels and after it goes down later in the evening they all come back but during the day we receive only about two of the upper channel numbers. Finally got an Omail from our little Crystal so we are happy for that and all is fine. Cannot figure out the tin can engine I told Lucas we would build, must be getting old, so have decided to go with the crystal radio instead as I know how that all works. May get more than one to use with others also.
Wednesday arrived and was up by 6:30 so got the garbage out and started the radios up to warm them up. Talked to fellow I had not talked with on the ham bands for several years so that was fun. Had a dusting of snow last night so the ground is white again. It will be gone before the day is out as it is supposed to get to 50 today. Checked in the ARMS net and then had toast and oatmeal for breakfast. Am Elder tonight for our vesper service so will go some early and finish up the temporary power cord for the TV. It will just be hung on some hooks around the wall for now till the trustees decide what I am trying to do is okay.
Thursday is here and have the meeting on the radio devotions today in Audubon so hope that goes well. It will probably cost to much but will just have to see. Got the ARMS net up and running and got checked in there so the day has started well. Had to run to town early for church as I forgot to do one of the Elder tasks last night so did that and mailed some letters and got some breakfast for mom and I. Made the trip to Audubon for the Radio Devotion meeting and that seems like it will be able to work and could be a good mission outreach arm for us. Moved a few things for mom and we watched some TV and then off to bed. Did not sleep well as mom was up feeling sick and not doing well.
Friday is here with some rain in the forecast and some warm temperatures so it a nice start to the day. Have the radios warmed up after I really slept in till about 8AM. Guess I was up or awake worried about mom so took some extra ZZZzzzz's this morning. Have my coffee but sure not moving fast but have checked in the Net and let Buddy out. Did some work on most of the mowers and such for spring and they are running or at least workable so far. Just need to do the ones at the barn yet for the rental and around the sheds.
Saturday is here and up early for Table Talk at church and then some groceries and home to check in the ARMS net to share my bible verse. Made some lunch and then helped mom clean the stove some. Then we looked at a catalog and just goofed off. Not much outside work as the wind was terrible so another week is over. Crystal called and that sure was nice and we are praying for her always and then some TV and off to bed. Better get posted and moving for church so God Bless Be Good Do Right Love Papa, Dad, Brother, Cousin, Uncle and all Lew.
16 March 2014
Papa's Little girl at graduation. Where is my little love chasing the lightening bugs with her fruit jar, blonde hair blowing in the breeze and the giggles of excitement when she catches one or the never-ending reading of rubber Ducky. Oh my Oh my! Really fond memories of those days with trips and fun times.
Sure have missed some weeks of the journal but have been under the weather and to busy for my own good. Back on track some now and got the bad news about our little Crystal so that is a bummer. It is Sunday afternoon and the weather is really nice at 52 Degrees with some rain in the forecast. Checked in the Vintage sideband and Heathkit net along with the Swan net so the band is some better. However by the time of the Swan net it was falling apart and I just left.
Monday morning and wow we are again warm at 66 degrees so far for the day and it is really nice. Went out and put all the new tags and registrations in the vehicles and started the rambler and other things again and they all started well so far. Repaired a stool from the garage for mom to use to get around on while she works on some low items in the house. Trying to finish up the taxes and get them turned in as it is getting late for me. Just not up to all the excitement of getting it all done yet. Checked in the ARMS net and the band was not so good again but should improve with the nice weather. Set all the clocks ahead like they should be so that is caught up. Set up some money accounts and Omail for our little Crystal so hope that works okay. In June I should be able to get 4G LTE for my USB modem so that will be great.
Tuesday has arrived and the wind is blowing and only 40 degrees today so not like yesterday. Checked in the ARMS net and then off to town to mail in the form for some phone minutes for our Crystal and do the town chores needed. Picked up some new hose to fill the pond with as the old one I use for the winter fills had many repairs and it broke again. Cleaned all the filters and tightened the overflow so think I have the leak fixed. Really need to get some algae control going as it is full of that again. The snow is gone and the pond is getting a lot of water in it from the melt so maybe we will make some headway this year and keep it there for the next winter months.
Wednesday is here and got the garbage out and then off to town as I am Elder for a funeral at our church. Service went well and then had a nice lunch there. Picked up some things from our list and then home and got busy with nothing. Took a little nap as I did not sleep so good and was up at 4 AM. Checked on the Omail for our little Crystal but nothing there yet. Looked at a catalog with mom and here I am.
Thursday arrived and up early for the Vet clinic to get Buddies teeth cleaned and many town chores to finish. Need to help some at church for some workmen's comp insurance to file and set things up for the board and council meetings tonight. Well we got all the town stuff done along with the completion of the workmen's comp at church and buddy has clean teeth and even has the fatty tissue deposit removed from his right shoulder. Why does this dumb computer want to always put in a wrong word when I type, Go away auto correct you do not know what I am typing. Mom, Buddy and I laid down for small nap and now getting ready for the board and council meetings tonight. Family life and Stewardship went really well and we got much done but council was long and negative from one member about the TV and things I want to donate so just left it partial for now. I don't always understand the partial doing things and not getting much done.
Friday is here and up at 7AM and got busy on putting some washer fluid in the vehicles. Inflated a tire on the trailer as it went down over winter so now will watch and see if it is bad or what. Checked in the ARMS net and the weather is warming up again so that is nice although the wind is really blowing again. Time to get the skid loader out and start to level the dirt at Church from the drain tile work last fall.
Saturday is here and have not been feeling so good but am better today. Did some work on the taxes and that is almost done to take to the accountant to file. Put up the extension ladder and locked down the TV antenna some but will need some help to take it down and clean it up and rewire so it works better again. New digital signals are the pits. Checked the tuning on the Ham set and it is right on yet. The last time I really tuned was in 2011 I think. Wow old stuff sure works fine. Just have to open the case and check some solder joints as the digital dial is jumpy with the numbers and that is a usual indication it has a bad connection and RF is getting in it. Oh bother! Mom and I watched some TV and I Believe I like that new show Believe. So far anyhow. The antenna stayed locked in place like it should so will be ok temporarily I think. Better get posted and head out to church soon so God Bless Be Good Do Right Love Papa, Dad, Brother, Cousin, Uncle and all Lew.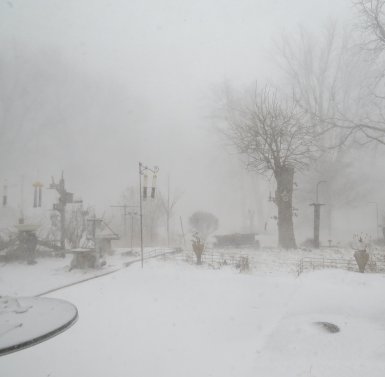 16 February 2014
Wow here we are and it is still winter in Willey with no end in sight. Not much snow but the temperatures have been brutal with staying below zero for weeks at a time. The snow has mostly went around us all year.
Well it is Monday and all is well except the weather. Got the DVD player going great and figured out the problem It was having or I guess I was having. I recorded the show on a DVD+R and some stand alone players do not like that as the layers are maybe all over and they can't always get the read right. I did them on the DVD-R and they work great. The minus ones are only one layer and the Plus ones are multiple layers to hold more info. DVD+R will play on the computer and better DVD player recorders so that is how that goes. Now I know.
Tuesday is here and the big van has a battery going bad or something as it would not start while at the sledding party on Sunday. Got a jump and it worked well. Will clean all the terminals when it warms up some and see if that will resurrect it. Checked in the ARMS net and then just vegged some as not feeling so good. Had much heartburn and chest pain like I used to get with the ulcer thing. Took some Mylanta and some tums and it went away. WOW haven't had that pain for a long time but it is like a huge gas bubble right in the chest. No it is not the heart as aspirin did not help but the tums antacid did. Made some DVD labels for the DVD's and will see if we can show the follies at the soup supper. Worked on the Council meeting report for the Elders and on our next agenda some and then visited with an Elder from the church in Audubon on some radio spot devotions that our circuit might get involved in. We had steak and potatoes for supper and just watched some TV and off to bed after helping mom with some clothes folding.
Wednesday is here and the temp is finally better as we did not get below zero last night. Checked in the ARMS net and helped mom with some clothes. Did some bills and went to town for the list we have and had the van battery checked while there and it needed replaced so got that. Wow have they ever went up since the last one we put in it in 2007.
Thursday is here and mom and I neither one feeling so well. Checked in the Arms net and did some house things along with some Church work. Set up for the Family life board and Stewardship board and the Church council as I now belong to them all and need reports. Got that done and the day passed rather fast and not much more done. I did put some water in the pond as it was low again.
Friday came and I made Mom a Valentine meal for breakfast in bed along with a card and some flowers. We did some small house things and got all the dish washing caught up. We had some leftovers for lunch and then watched some of the Olympics tapes mom did and I then made some T-Bone steaks, cheesy vegetables, and some grilled type potatoes for her valentine supper. Did a few more of the Olympics tapes and then off to bed after we changed the bedding.
Saturday here and I was up early and checked into the Midwest Arms net at 7 AM and then off to table talk. Returned a turtle neck sweater I bought as it had a faded area right where it was folded. Then back home and checked in the regular ARMS net and got a crock pot roast going for mom. We fed the birds and I had to fill the pond again. Did some more DVD recording and it is working well now along with the new DVD player from the junk pile at church. Started clearing up all the mistakes with +r DVD's and then will do the rest of the tapes. So far they are all doing great now. Guess I better post and get moving so God Bless Be Good Do Right Love Papa, Dad, Brother, Cousin, Uncle and all Lew.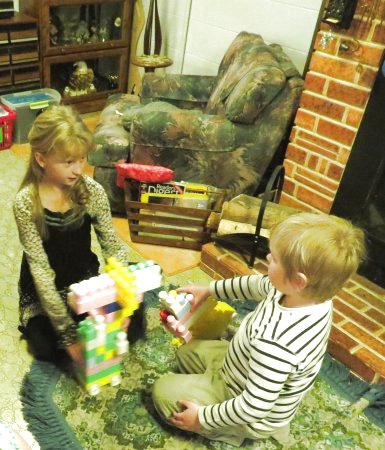 9 February 2014
Well January is over, as is the Season of the Birth of our Savior, and fast is approaching Lent and the death and resurrection of Jesus for the forgiveness of our sins. Just believe and we are saved, WOW!!!
Monday found me sleeping in some and then getting some things ready for Brad and family for supper tonight. Mom is making Chicken and potatoes with some cheesy vegetables for the evening meal. Worked on making a DVD of the church 1990 Follies that had Mom and Brad in them so I could show them to the kids after supper. Packed the gifts for Norway and mailed them off and also the calendars for Matt and Tammy and Crystal as I forgot to give them out over Christmas.
Tuesday found me up early to run to town for a wiper motor for the Ranger. Have much snow and bad weather in the forecast but my station says clear and no snow forecasted. We will see how that goes as we had a few flurries going on while I was out fixing the wipers on the Ranger pickup. Put the new motor in them and now they work well again. That was a fun job (not) but I got it done. Finished all the Elder things and attended the Elder board meeting and that went well.
Wednesday here and the weather still cold and we got some snow overnight so have some white again but not much. Set up many of my Elder files and worked on a DVD of the Church follies and that is going well. Can do chapters and all with titles and all so that is fun.
Thursday here and slept in some but was up by 7 AM and got the day started in the cold mode again. Checked in the ARMS net and then also in the Swan 258 group. Have started Buddy on all his old food but there is kind of a cough again or at least he is trying to clear his throat. The week is flying and here we are into February about 1/4th of the way through it.
Friday came and I finished the Church follies but the DVD player I saved from the trash does not play them well once I put a label on them. Must throw the motor out of balance or something. I don't get it as they all play well on the computer and all the VCR DVD players we have and all other ones except that one. If I don't do the Label they work just fine. Put water in the pond again as it was getting low and refilled all the humidifier tanks as the static was really bad. Sure is a dry winter. Made a town run for some things mom needed and then Supper.
Saturday is here and was up early for a Bible study at church and we are going over Exodus and that is a very interesting study. I am that far ALONG WITH THE READING OF THE VERSES FOR THE arms NET ALSO. put SOME THINGS BACK FROM THE Christmas FURNITURE MOVE THINGS AND SOON IT WILL ALL BE BACK TO NORMAL AND THEN IT WILL BE TIME TO SET IT UP AGAIN. Helped mom with some washing and getting things ready for Tammy and Ben to be here for supper and spend the night. Moved cables some for the antenna for the TV as we still do not have good reception. So much for digital signal pickup. Sunspots must be affecting that also. We played some Yahtzee with the kids and then off to bed for me. I think they stayed up for a movie.
Guess I better post this and get moving as we have a sledding party today and all at church. God Bless Be Good Do Right Love Papa, Dad, Brother, Cousin, Uncle and all Lew.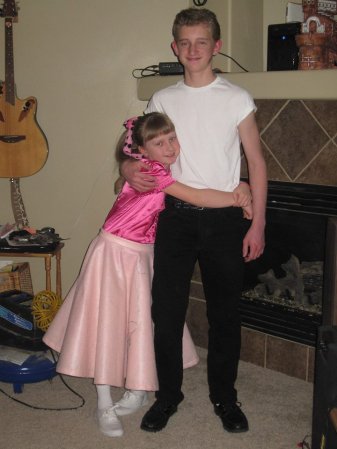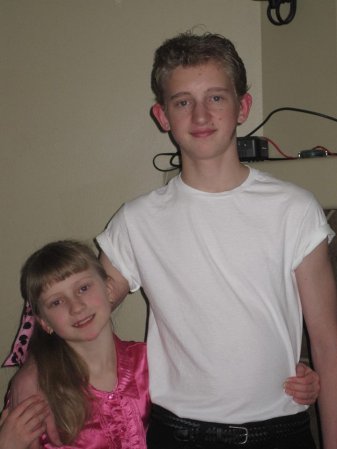 2 February 2014
Oh My Oh My11 Sean stands in for Daddy at the Father Daughter Sock hop for her brownie troop since daddy had to work. What Great, and great looking, Grand kids. For Sean The only thing missing are the steel toe engineer boots with chains on them and the cigarette pack rolled in the tee shirt sleeve (Not) and since we can't see the back of the head maybe the ducktail and for Peanut what a great look just needs Saddle shoes. Great Job to all and what beautiful Grandkids! Opps I guess handsome is in order also.
Monday is here and I checked in the ARMS net and then copied some more of the old VCR tapes from Church. That is going pretty good and they are turning out pretty good. Spoke to soon as on of the DVD's just said it was a bad one but I guess one out of many is to be accepted in today's way of thought and acceptance of quality work.
Tuesday here and got up early and did some work on agenda for elders. Went to town and met with pastor on the Agenda for starting my run as Elder chair. Filled the pond with water and filled the bird waters and fed them. Had to drain the boiler down and purge the air tank as it was water logged. All is well now so finished the agenda and a email for it sp good to go there. Fed buddy early and let him out and sure will be glad when this meds thing is done as I do not believe it is helping for the answer and he is just fine without the diet and meds and all. Mom did steaks for supper and it sure was good. Watched the State of the union address by the president and it sure was a low key speech. Looked like a setup for someone to take the blame when the things he wants to do does not get done.
Wednesday is here and up early and got the garbage out and warmed up the radios for the ARMS net. We are above 0 degrees with snow in the forecast and the ham bands are relatively quiet for a change so hope that lasts through the net. Well it did not last real well but did not get as bad as normal. Let buddy out and fed him and renewed my domain with Go Daddy so am good there for another while. Had eggs and toast for breakfast so am ready for the day. Did the town stuff and fixed moms Cpap mask so now it is better for her and will be quieter also. Picked up some chicken for supper while in there so supper is handled. Did some more work on the elder agenda and that is pretty much a go.
Thursday and got an early call from the renters as the furnace went out again. It say out of cycle when it happens and I believe the wind is the problem as the wind is just terrible the last few weeks but will have Drees look at it just in case. It tries to fire three times and if it does not work it locks out and needs reset. Made some DVD labels for the discs and still have more to go but the player I had working from the junk has started acting funny again so it is time to tear it apart. Fired up the ham set and will check in the ARMS net if I don't get a call on the furnace. The ham band is really quiet this morning only about an S4 on the meter so that is nice for a change. Well Drees found nothing wrong with the furnace so hope it is just this terrible wind we have. Torn the DVD apart and did some cleaning and it is kind of working but leave the covers off to see if it act up again or maybe I got it fixed. Did some town things and mom made some ribs for supper and that was good but not as great as Brads. Hint, Hint.
Friday is here and the temp has warmed up some and the wind has let up as the peak was only 8 MPH and we stayed above 0 degrees so it was a nice day. Worked on the DVD player and it works okay with the cover off but not on. Huh? Well pulled all the boards off and check all the wire connections and cables and pulled the load mechanism and checked all that so now will get it all back together and see what happens. Checked in the ARMS net and helped mom some on the computer with things she wants to do. Did the bills and worked on the new Bday cards etc for the Church and much of my elder stuff. Will need to mail the cards ASAP as they are all for February. We had some spaghetti for supper and was that good. Got the DVD player all back together and it appears to work well so far. Will run a number of DVD's just to make sure before I confirm my work. Watched Blue Bloods and off to Bed.
Saturday is here and woke up to snow on the ground so that is pleasant as we need the moisture but it is only about and inch so far, Still falling lightly though. Fixed moms computer tray stand she uses by the couch for her magazines and stuff so now it is steady. Testing out the DVD player today and it looks like it will work for prerecorded DVD's but maybe not all ones we record. Oh Bother, time will tell but it appears unless the VCR tape is in excellent shape the glitches it has transfers and then the DVD player gets confused and stops working. Sounds like a good guess to me. Fired up the radio and the band is quiet today again so may get some good signals. Mom has been up several nights with flu symptoms again so that is not good. Now the DVD player, it plays all commercial disk very well now but does not always do all of the recorded ones fully or at all. Must be they come from the VCR tape and the sync and tracking affects them unless it is completely perfect. Oh Bother!! Well at least I resurrected it from the trash and can use it for the stage audio and sound as we get that going. Mom made some great potatoes and the rest of the ribs for supper after Saturday church and then we watched some TV and off to bed. Time to post and get moving for church so God Bless Be Good Do Right Love Papa, Dad, Brother, Cousin, Uncle and all Lew.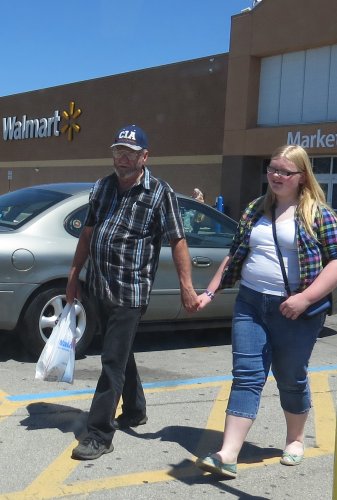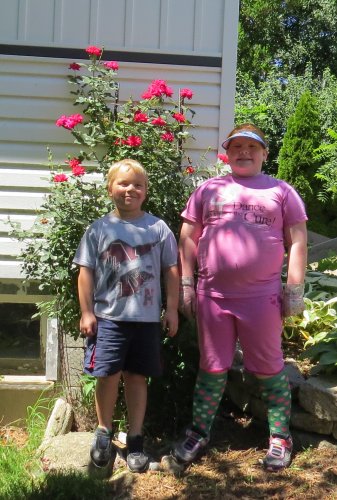 26 January 2014
Shopping with my little faith while at kings point and some yard work with My Sarah and Lucas at home. Fun times and great memories for Papa.
Sunday and January is almost done and wow did it that ever pass fast. Forgot to mention moms camera is on the way back and should be here on Monday so that will be nice to see what it is and if it really is better. Went to church and then did some things at home. Mom spent a good bit of time on the computer so that was fun to see and maybe she will get going on it again. We had some leftover pizza for lunch before she got started. I used the laptop to start a mail out letter for congregation updates of contact information. Rested some and then we had Chicken noodles and dumplings for supper and was that ever good. We then watched some TV and I finished some pictures she wanted to put in some frames and it is bedtime.
Monday arrived and was up at 7AM and finished the work on the mail out I am doing after going to town for supplies I needed to complete the mailing. Got it ready to go and checked into the ARMS net and Let buddy out and fed him. Mom gave buddy the medicine and I Carried some clothes up for mom and she is not feeling well today. Temp is really warm for January, at 43 degrees and very little wind so the January thaw is in place. We sure could use some moisture as everything is very dry. I made liver with mashed potatoes and cheesy broccoli carrots and cauliflower for supper and it turned out very good. I am really tired tonight though and not sure why. I spent a long time at the church getting some old VCR tapes and things so maybe overdid today but not sure why. Oh well the wind is really at it again peaking up to 47 and wind chill of 19 below zero. Did get 1/100th inch of moisture today. Wow sure not much wet there.
Tuesday morning and I am up at 5:30 AM so will get some stuff done before the ARMS net. Got the DVD player working the church was throwing out and started going through the VCR tapes etc they are throwing. Turned on the radio to warm up and working on the journal. Temp was very cool overnight, got down to -13 degrees with a wind chill of -37 degrees. Moms camera came in yesterday and it seems like it will be very good. Charged the battery and she took some pics with it so it does work for her so far. It is a silver color where her old one was blue. The Schwan's guy was here and we have that done so now to town for some list things. Got the town things completed but forgot the papers mom needs to send things overseas so will get them tomorrow. Still very chilly so not much outside work.
Wednesday came and I got the garbage out and checked in the ARMS net and worked some on the old VCR tapes from church to copy them to DVD and that is working pretty good. Got 5 done with labels and all so that is good. We had chicken stew over toast for lunch and now to work on the Norway Mailing with mom. We are kind of slow this year. The wind is back up at peaks of 38 MPH so that makes our chill factor at - 9 Degrees at a 13 degree temperature. Wow it is chilly and the wind blew the antenna around again so had to go out and reorient it back where it belongs. Thank goodness I have a handle to rotate the post on it but the antenna is loose so when it warms up I will need to take it all down and fix it all right again. It's only been up there 26 years so why is it needing work already.
Thursday is here and checked in the ARMS net and did some town errands and then some more on the VCR copy things. Had to add some water to the pond as it was very low again and the top was pretty much frozen. Did get the declaration pages for mom to mail things to Norway so that is done. Not sure the meds are helping Buddy as he is acting different than usual so will be glad when that is done. Got one of the letters back with info for updating the contact information for the Church and got one for someone to attend the Movie night. Some progress there anyhow and sure hope it works out well for all.
Friday is here and it is warming up some as we are at 22 degrees now and have come above the zero degree mark. Checked in the ARMS net and the band conditions are not much better. Did some town stuff and picked up a universal remote for the discarded church DVD player and it works great. Will use it now for the theater stage system I am doing at the church. Mom got a bunch of computer things done and updated and paid for today so that is great. I helped her with some kids song CD's for sending to Norway so that is pretty good also. Got some of the letters for the church updates so am excited about that and pray the Holy Spirit keeps moving in me and our congregation for our growth and actions.
Saturday is here and not much done today as mom is feeling not well and just stayed around for her. Am feeling rather depressed also about the church stuff and not much movement so that does not help. Did not get any more yes notes for the movie night tomorrow night and no more of the update things coming back. Also found out the DVD's I been working on do not work for the regular just plain DVD player so am starting to do them all over. Education sometimes is a bust with all the new technology and nothing will work together unless you struggle with waste and time to work around things. Got it figured out though and did get the DVD player the church threw out working well as I said earlier with some head cleaner, well not head cleaner I guess as they are no contact readers and not contact heads. Anyhow it works well so picked up a $5.00 universal remote and got that going with it now.
Really had some strong wing last night gusting to 55 MPH. Guess I better post and get moving for church. God Bless Be Good Do Right Love Papa, Dad, Brother, Cousin, Uncle and all Lew.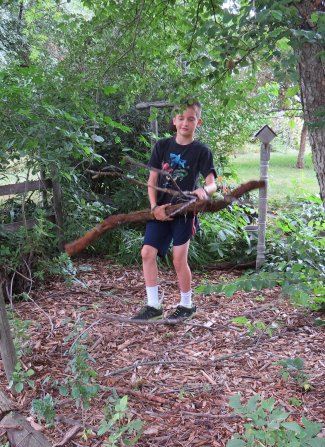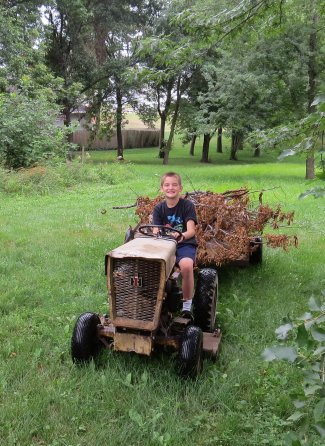 19 January 2014
Yard Clean up with our Cody on one of his visits last year and we sure had fun. He got to drive the tractor and he helped me make the rock formation to cover the light for the flag pole. Thanks little buddy that was fun.
The temperatures have warmed up some and have Church voters meeting at church today so will finish the outside light stuff after that. Have been looking for some projector and screen stuff for the stage area at the church to finish that up and get started on using it. We can come up with a nice fellowship all purpose use area when it is finished. Mom is still not feeling so good and her back is really bothering her so I missed church today and used a massager to try and ease the pain some so Hope that helped out.
Well it's Monday morning and I can not sleep. It's 2AM and thinking about the stage setup I would like to do and about why no one can seem to fix the boiler pump and various other things. Sometimes I think knowing things is just a small curse but it is what the Lord gives me so I should use it for him and the Church here on earth. We have lost all the lower numbered channels on the TV tonight so must be the storm or weather messing it up with the sun spot flares the last few days. Maybe a tower problem or such as 5,8 ,11 are all gone. Technology, digital TV signals and all such a blessing.
Tried to sleep again and it is now 5AM and still no luck so just will play here. Have the ham set on and that's a bust also as the sun spots and flares really did a number on that. It is 34 degrees out so we are above freezing so far and not a lot of wind yet so that is nice. Finally got to sleep and woke up at 8:30 so now I can start the day.
Cooled off some and it is now 30 Degrees but is going to stay warmer for another day. Went to town and got the stage area measured and thought out the way I want to present it and then mailed out the cards for the Movie fellowship so have that started. Now working on the TV problem and may be the signal from antenna etc not sure but was hoping it was stations problems not some here but could be mine. Oh Bother.
Filled the pond again today as it was way down and just filled it yesterday so checked the waterfall and cleared all debris etc so now just see tomorrow if it is down again and Will have to start the hunt for a problem. Another Oh Bother!! Did meet with plumbers at the rental and they got the shower drain fixed so have made some headway.
Well I disconnected all the Television sets from the antenna and then hooked up just three of them and they are working. We must have some cable connection type of problem but how strange is that that they all went out at once and then only some came back.
Tuesday is here and the TV situation is no better. Slept in again till about 8:30 so that felt good. Worked on reorganizing all my church manuals and checked into the ARMS net. The pond seems to have leveled off at a little lower than filled to so will keep a check for a couple days to make sure it is staying good. Phoned some of my elder duties congregation and that went well. we had a 53 MPH winds today so it was pretty breezy. Got all my manuals done and just need one more notebook to get them all filed. Not much else done as I was rather wore out or groggy or something like that, just rummy I guess.
Wednesday has arrived and I was up at 6:30 and got the garbage out and started my tasks for the day. Check! First was some of the Christmas decorations to the attic. Check! Move table back to kitchen. Check! Fold and put away the two tables used for Christmas. Check! Check into the ARMS net. Check! Get a cup of Coffee. Check! Feed buddy and let him out. Check! See how the pond is doing and water level is good there. Check! Put finch feeders and cover back after the wind blew some down. Check! Feed the birds. Check! Water the birds. Check! Get one table back out to use to package and box the rest of the outside lights. Check! Outside lights down and in the house. Check! Check into the Swan 258 Group. Check! Christmas lights in the boxes and boxes stored in the attic. Check! Okay is that enough for the checks, since there are so many checks you would think I would be rich! Hee Hee!
Thursday is here and will cease with the checks. Check! The wind is really blowing today and had some peak wind at 56 MPH so hope all the antennas stay up. I don't like the wind so much. Canon can not repair mom's camera so they are sending her a newer model and according to the specs it is a camera with more options than her old one. Just hope it does not have the fuzz spot in the pics. It already shipped so can't do much now till it is here and we see what it does. I am not always fond of the constant change that goes on in this new world where everything is throw away. Checked in the ARMS net and helped relay for net control. Wind has let up some but not over the way the weatherman says. Band conditions are very poor again today so can't wait till the solar flares and sun spots along with the weather clears up. Oh Bother! The wind has really died down and now the snow starts so will see how much of that we get.
Evening and the wind picked up again and snow blowing everywhere. back up to 57 MPH wind and the wind chill is -15 degrees so it is not a good evening. Started buddy on his new food for his cough and will see it that helps him and giving him the meds the Vet said to do for some inflammation.
Friday arrived and the wind is blowing again but not as bad so that helps. Ham bands still a mess and mostly down but got into the ARMS with relays through 2 other stations. Bother. Took Buddy in for his trim etc and got the things needed from town. Have been giving him the steroid for the cough so hope that will help. Shoveled some of the snow on the patio so he can get out to the bathroom okay and reset the TV antenna about a dozen times as the wind keeps turning it. Need to redo it all very well when it warms up.
Brad and family came over in the evening and we played a new card game called fluxx and then we played scatagories and both were fun. We had a good visit and a fun time so really enjoyed that much. Mom and I had some shrimp and bowtie noodles for supper first and it was really good. It was one of those Schwan's meals you can get and we are doing some of them now since there are just the two of us.
Saturday arrived early since we were up till about 1AM and I got up and into town early for a haircut and then on to Men's table talk at church. Back at home mom and I finished the shrimp noodle stuff and then took a short nap. Not to long for me as my ulcer was acting up. We had Pizza for supper and then the last of moms bread pudding with cream and sugar. Wow was that good. Now it is TV time or just veg and get ready for church in the morning. Mom made some of her dip for chips and we finally watched Blue Bloods and then off to bed.
Guess its time to get this posted and head off to church so God Bless, Be Good, Do Right, Love Papa, Dad, Brother, Cousin, Uncle and all Lew.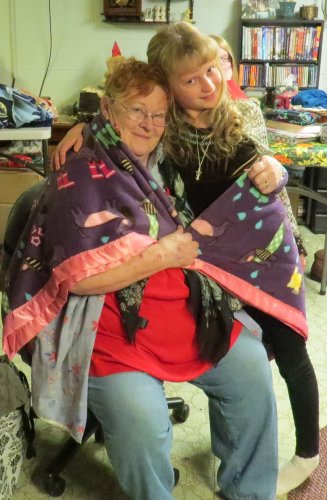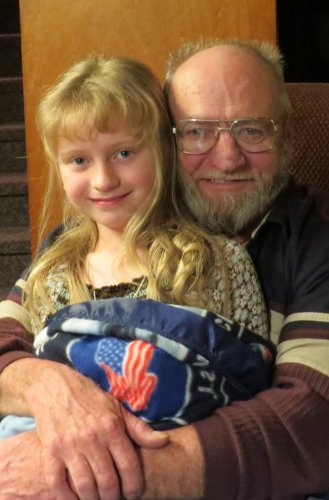 12 January 2014
It' Sunday night 5 Jan 2014 at 10:00 PM and the actual temp according to my weather station is -14 Degrees with -40 degree Wind chill, as we snuggle in our new blankies, and oh my do they work well. Thanks Peanut we Love you!!
By Monday morning my weather station said the low was -18 and the low wind chill was -40 as I Checked into the ARMS net and it was cold everywhere. Got an old Newspaper from Cherokee Iowa in my Email from one of our checkins and it had a wind Chill of -110 degrees in 1982. Of course with the new wind chill index that means today it would have been only about -74 degrees. Wow sure is nice to see global warming works. Started working much on Church stuff for the Elders and Family life and Stewardship boards so it may be a busy year. What am I doing and what is wrong with me? Mom was up most of the night with flu symptoms and using her pail while setting on the stool so it was not a good night for her.
Tuesday here and the cool spell is warmer so that is nice. Did not do much but get ready for the Elder board meeting and do Church stuff. Got to the meeting and was chosen to chair the board so set up a meeting with pastor to discuss that for tomorrow. Finished putting some of the Christmas things in the attic and still not feeling the best but on the mend. Mom slipped on her stool in the furnace room and hurt her back and head so that was scary for awhile and she is rather sore now. We watched some TV and then off to bed.
Wednesday came and waiting on the call from the plumber to fix a shower drain at the rental. Went to a meeting with pastor at the church about being Elder chair and other things and then did some town stuff and mailed moms camera back in for service for the same spot in the pics we sent it in for a year ago. Got all the vehicles running after all the cold so that is nice.
Thursday finds the temp at 1 Degree for a low but is warming up. Checked in the ARMS net and did some work on the Council meeting info to get it ready for the meeting here tonight. Did some stuff for a fellowship gathering but not sure it will work as it should so may just pass on that. Wind blew over the tree ornament in the front of the house so now when it gets some warmer will need to get that back up and put away. Is some chilly at -20 chill factor to do it.
Friday here and the weather is some warmer so that helps. Filled the humidifier and it sure is going through the water this year as it is so dry. Finished the cards for the fellowship but may not do that as it is getting sort of negative for me. Did the dishes and made some fish for supper along with some rice and mixed vegetables and it was pretty good. Brad and Heather came over and returned the Van as they have their truck going again for awhile at least. Doing more on the taxes but need most of the withholding statements so I can take them for preparation.
Saturday is here and I sure slept in till 9AM so not sure what is up there. Did get up and do the eggs mom wanted boiled and then went out an got the tree picked up and inside to get back together. Will leave the stake there till spring as I can not get it out of the frozen ground. Started on the other decorations and the bells are all broken so will throw them away. Tried to fix them some but they are to bad. Still only 16 degrees out but not bad and will need to do some work for the fishes as they are getting low on water. May need to clean the filters if the temp gets warm enough. Checked in the ARMS net and shared Genesis 6:8-9. I pray I can always with the grace of the Holy Spirit walk with God like Noah. Buddy has been out and fed and the sun is shining brightly and is a pretty day. Worked on the Nativity for the outside but the lights are out there also so need to test them all or throw it away.
Well I got the nativity fixed and most of the decorations down and in, just the roof lights and a bush set of lights left and the Christmas out side stuff will be done. Sad it is all over for another year. Well I better get posted and get moving, God Bless, Be Good, Do right, love Papa, Dad, brother, cousin, uncle and all Lew.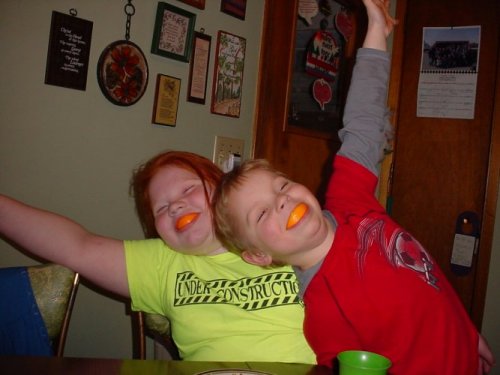 5 January 2014
Here we are at the start of the new year and the last one sure has passed quickly. Not sure where the time went but it passed fast and I am not ready for it. This year was full with a special 51st Wedding Anniversary celebration in Branson for us and it sure was fun. It seems mom and I are getting slower as we did not get all the things done we hoped to do but still finished much.
We had our Little Sarah and Lucas for a visit in February and fun times abounded as you can see by the picture. Matt and family also came that month and we had some good times with the GK's along with a Cinderella musical we went to for our Little Faith.
In March we went to Easter at De Etta's and got to see many family members we had not seen for some time. Easter morning found us going to church and then off to Brad's with Tammy and Ben for the Easter celebration there.
On my birthday we caught a possum in the bird feeders so that was some excitement. We also made a trip to Tammy's store to help out some and the time was flying past. We also had a visit from our Mel, and Sarah and I celebrated our Birthday at our house and Matt and family and all were there so that was fun. Then a bunch of the kids showed up and helped with some yard clean up for the spring and wow we are just in April.
Moms Bday came and all the kids were here including Mel and her boyfriend Bradley and little Ellie so that was another fun day. We did some pictures with the neighbor kids for mothers day for their mom and that was fun as they are such sweet kids. Then later we went to Faiths concert and really enjoyed that. We also had a pretty good snow storm in may so that was unique and by now the pond was filling with water but that was not to last. There was much flooding in LeMars in May so it is wet everywhere except here in Carroll.
June arrived and we had to catch a ground hog at the rental as he tore out some of the vents to get under the house. We also travel back to LeMars and picked up our little Maltese dog Buddy as you can see from my background. I also worked much at the church this month to help install some drain tiles and do some landscaping. The case skid loader finally gave out and had to repair a hose and put a head gasket in the engine. Mel wrecked her car this month but no one was hurt just some stiffness and aches for Mel and our little Faith celebrated another Birthday. We did some more pics with kids next door for their fathers day and again was fun and we finished the month with a birthday celebration for our little Ellie along with the kids here for fathers day. The pond is super full and looking good but is not to last as now the drought starts. We ended the month with a trip to the Grotto for the LYF and not many turned out and that is rather a sore subject for now.
July came and our Little Sean came for a visit and he sure was a help with some landscape work. We then headed to Matt's for the 4th for the fireworks and a good visit and my Little Peanut Caitlin and I went for our walk as we usually do and I sure do enjoy them. We did some camping there and then seen the boys off to camp for their summer trip and then brought Caitlin back home with us for her time to visit. Elaine also showed up for a short visit on her way through so we had a good time there. We then did Mema's trip to Kings Pointe for the summer swim and water park excitement and a good time was had by all. We had another visit by Sarah and Lucas to help in the yard and then a visit by Cody to also have his time with us and help us outside.
In August I loaded up the Old Ford 640 Tractor and went on the Glidden tractor ride and blew one of the front tires so had to get a new one there. Then did a hayride for the LYF and had a fairly good turn out for that one. We did a church picnic in august also and the time just keeps flying and not getting anything done.
September was Mel's birthday party and the end of the year is fast approaching. Much work has been done with the LYF and it seems to be getting better and I will be glad when the new Director for Family life and youth arrive so I am able to help them out and really get the program moving.
October is here and I did the hayride for Earl May Pumpkin days again and that sure is a lot of fun. We also got our first snow for the season but it was just not to last. The prep work for our trip and Anniversary have been going on and the time is fast approaching.
Finally November is here and we are off to Branson for our 51st Wedding anniversary celebration and it is getting hard as mom is not feeling so good with her breathing and back pain. We rented a scooter while there for her and We had a wonderful time but had to stop early several times for the breathing problems. It was a very fun time with Tammy and Ben and many thanks to them for sharing their time share for us to be there. We had a marvelous ride and show with a great meal on the Branson Belle and that sure was a good time for 51 years. Then came another big celebration for thanksgiving with the kids at our house and we ate to much again. I was asked to step back from Youth Group LYF and let the new Director/ Deaconess handle that and that was really hard for me at first as I had put my heart in the youth studies. I now fell some better and it is a good thing for the youth so I pray they now get growing. Did much work on the Carillon bell system for the church this year and that is going well now. Attended the Children's Christmas program and also The New Years eve program and then some fellowship for New Years eve and that ends out 2013 and here we go for 2014!! What a great year the Lord provided! God Bless, Be Good, Do Right, Love Papa, Dad, Brother, Cousin, Uncle and all Lew.