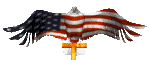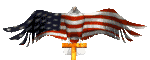 2012
It's Sunday Morning And Once Again Here Is Lew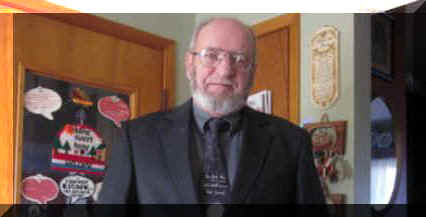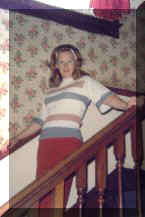 Eddy Arnold song for my angel so turn up the sound and listen!!!

30 December 2012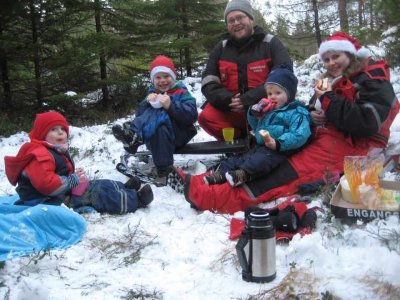 Getting a Christmas tree picture by our Norway Cousins. Sure remember those days fondly when the kids were little. Oh My it is now Thursday and just getting going on the journal. Oh My I'm Late I'm Late for a very important date. We had a wonderful Christmas and really missed Matt and family but he was on call and could not make it home. We got some snow so had a white Christmas and it sure was a pretty white. Received some wonderful gifts and we cut back on them and we were done early and had some good visit time so that was fun. Did some finish up work on the snow removal in the drive and it is mostly good now. More snow predicted for today.
Did some snow removal at church and got the parsonage drive cleared and some of the walk drifts at church. Temp has been down around zero and with the wind it is cold with that. Checked in the ARMS net and it is some better with the winter months but solar flares etc are causing much rapid changes in signal strength. Still using the old Dipole as it works better than the vertical. Signals are some stronger and the transmit is much stronger. Oh Bother. Had a dirty switch or something and keyed it some times and flipped the band switch and all is well now.
My Eeyore Christmas stuffed animal did not work so tore him apart and found two wires that were never connected so got that fixed and he works great now. Had to rip open the leg and connect them to the switch and then was good. Go Figure.
Snow falling again but only will be about 2 to 4 inches so now a lot. Sure is a pretty sight when it is falling. Ran to town for some groceries and the Ranger is just about useless in the snow. To much engine and not enough weight. I have 6 sand tubes in the back and still is squirrelly. Mom is doing our Christmas dinner for us two tonight and it sure looks good. It is turkey thighs and potatoes with all the fixin's it looks like and is really smelling good.
To town early Friday to clear some snow at the church but Doug had most of it done so I did the parsonage and some clean up work at sidewalk ends and on the north sidewalk. The snow blower is doing fine so far and getting better as it is used but it could be some bigger both width and horse power to get it all done faster. They have the heavy plastic shovels but I want a metal one for cleaning all the ice etc so may get my own. More snow falling so not sure about the family Christmas tomorrow as it may be very slick. Will check late today and then decide. Mom is not feeling well so may just stay home for her to take care of her but do have some eggs ready to make deviled eggs if I do go. Checked in the ARMS net and signals were low but the strong ones were still very good. Cleaned the Band switch on the 350D and that seemed to help so back to norm there. What a great old radio that is.
Been working on taxes and getting things ready for the new year so staying busy there. Did get all the Ushers set up for the year so that is out of the way but believe we need to set up some training for them so it is a more reverent function in our service. Have some Youth group things to finish and then we are back to meeting on the 2nd of January. Decided to stay home with mom as she is not feeling so hot and do not want to be stranded far away from her when the weather gets bad. Will just mail the calendars out and then get together another time. Cleaned the walks at church again and the blower is working fine and I got a steel pusher for me to use so they are all clean for now.
Saturday arrived and it is 6 degrees out but no wind so that is not bad. I slept in since I am not going to CR for the family Christmas. The roads may be okay but mom needs me here more I believe and we will just use the deviled eggs for our Church New Years eve fellowship. Have radio fired up and waiting for the ARMS net and the sun is coming up so will be a very nice day. The net has started and I am # 3 and my bible verse to share is [ Revelation 19:6-8 (NIV) 6Then I heard what sounded like a great multitude, like the roar of rushing waters and like loud peals of thunder, shouting: "Hallelujah! For our Lord God Almighty reigns. 7Let us rejoice and be glad and give him glory! For the wedding of the Lamb has come, and his bride has made herself ready. 8Fine linen, bright and clean, was given her to wear." ] So we can see from this verse When the systems and governments of man have been judged and are no more, then the Lord God Almighty will reign over mankind. Our world looks like that day is close or has arrived. Just saying as the world is in very terrible shape on the course it is following.
Went back and cleared more snow and now the sun will do the rest thanks to the Lord for the sun. That clears everything up better than I could ever do. Cleared the patio and filled the pond and fed the birds and wow did they ever come for the food. So much fun to see especially the cardinals against the white snow background. What a brilliant red. Will post and get moving so God Bless Be Good Do Right Love Papa, Dad, Brother, Cousin, Uncle and all Lew.
23 December 2012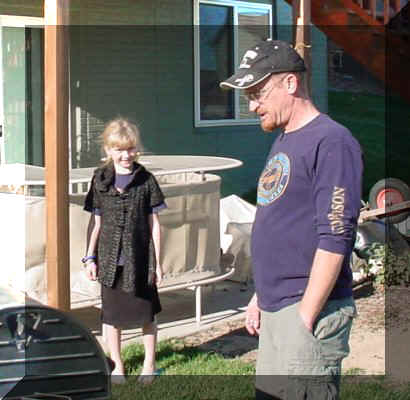 Pic is Matt grilling turkey for thanksgiving and of course my peanut got in the picture. Another week and it has been a good one with much accomplished and the Usher list is done and all good so hope that works out. Spent much of Monday resting as was not feeling well. Then got the usher list done and helped with packing and getting ready to haul things to Tammy's. Tuesday we finished all the packing and loading and headed out to LeMars to see Tammy and take all to the store. That trip gets longer every time we make it. Arrived late in the day and got unloaded and visited Tammy as she did not feel well and stayed home while Crystal and Josh ran the store for her.
Wednesday came and was up late and off to store to work. Moved some things and did a small amount and then back to get mom for the store. Did a small amount and then off to pick up lunch for us three.
Thursday a busy day at store and then setup for the trip home. Much snow and was not recommended for driving on the roads. Turns out it is the first snow and the hype was pretty great but all the roads we were on were mostly clear to packed snow. So the roads were rough but 50 to 60 MPH was good most all the time. The worst part was at home with the corner not plowed great and a 6 foot pile of snow plowed in front of our drive from the road crews. Finally got it open enough to get mom in the house and with the help of the neighbor got enough open to get the car off the street.
Friday came and the wind let up and spent much of the day moving snow. Another neighbor helped with the drive some more and then I finished it and the patio for the birds etc and off to the rental to clear there and at the church to see if it was cleared okay. After filling the bird baths and feeding the birds many took baths and the Cardinals were on the patio table eating the food. Finally back to norm but had to have the pickup pulled out of the snow as it would not move and was so packed and hard under it I could not dig it out. WOW we got snow. Kewl!! I found some muscles I did not remember I had but it was fun and the day was warm at 30 degrees with no wind so was enjoyable. Had to get the ladder out also as all the icicle lights blew up on the roof so had to get them back down and then the wind also broke off my imitation tree so it is now about 1&1/2 inches shorter as I cut it off to fix it.
Saturday morning arrived and started the work for Brads Bday and the Christmas celebration so a very busy day. Also was elder for the Saturday service. What a busy week with all the snow and stuff. Did a little shopping so have some of that done and did much to help mom in the house. Got the tree up and mostly decorated and a few gifts to wrap yet and then maybe it is a go. Oh My Gosh it is the birth day of Jesus we celebrate so all will be fine as he saved us from our sins. Everyone have a very Merry Christmas. God Bless Be Good Do Right Love Papa, Dad, Brother, Cousin, Uncle and all Lew.
16 December 2012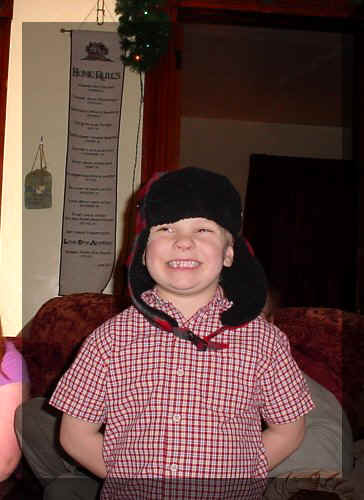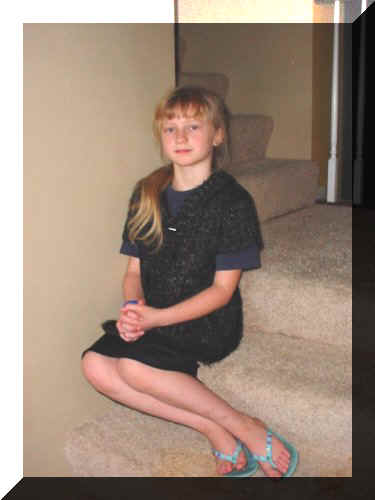 My two Precious 7 year old grandkids, my little Buddy just turned 7, my little Peanut is soon 8, and where oh where has the time went I am starting to feel old. Was a busy weekend and guess it will be busy now till after the new year. We got some snow Saturday night but it did not stay and not enough to call it the first snow fall it seems as it turned right to rain and total measure was 6/100's of an inch. The wind started Sunday and it is still blowing with some gust to 30 and the wind chill has been down to 18 below. BBRRRRR!!! winter is in the air.
Monday came and I checked in the ARMS net and worked some on the Ushers for Church and a skit mom got for the youth program called "The Pew." It was from many years back in Minnesota and she found it there again and it is very moving. I have the skit done but need to do a bulletin to use with it when we do it if it is okayed by Elders and Pastor.
Just did a mass Email for the usher program so will try the new technology for a change and see if that helps any. It is getting hard to find ushers for the Sunday service. Even added myself for a couple months. My oh my it does work some as I had 2 responses in less than 2 hours. One positive and one not but that is good.
Tuesday is here and my weather station has snow for a forecast. I guess the forecast part means conditions are such that it can but not the prediction that it will snow. 29 degrees this morning and a chill is in the air. Had to fix some of the outside decorations yesterday as the wind tried to move them away or break them up. Put the nativity back together and it all looks good again. Checked in the ARMS net but conditions not good. Did friend requests for many LYF kids on Face book.
Wednesday is here and got 5 friend requests accepted so far so am making progress. I have one that is very interested in the recording service at church so that may be great. 29 degrees this morning so not to bad and still no moisture.
Thursday here and Advent and midweek went well and had 4 kids for the LYF so it is getting better. Will just keep working on it. Have the youth board tonight so may have some more progress there. Doing some computer clean up while doing the ARMS net and the computer sure needs it. Why are they not as good or serviceable as in the times past. The youth board went well and all is progressing nice I guess.
It's Friday morning and mom and I went out at 2AM and watched the meteor shower and it was really fun. We seen probably 25 in about a half hour but it was chilly so we went in then. What a marvelous sight to see. Low for the night was 16 and we are at 24 so far and getting ready for the fellowship net.
Saturday morning and we have 81/100's of an inch of rain so that is nice. Pray we get some more and the temps are very mild for December, 45 degrees last I looked. Total rain turned out to be 88/100's of an inch so that was a nice soaking to help us out some. The children's Christmas program was last night and it was so good. Please say a prayer for the Kids lost this last week and the families that will not see there children again that is so sad. Pray for the healing power in the families lives and for the classmates that will need to over come that terrible interruption of their childhood. God Bless them all.
Got many of the LYF set up for the usher program at church for the month of June and now just to see if it all works out. Will just keep building and building on the youth if I can. Have even used Face Book to see if that will help. It is a work in progress. Guess I better get posted and stop all the babble. God Bless Be Good Do Right Love Papa, Dad, Brother, Cousin, Uncle and all Lew.
9 December 2012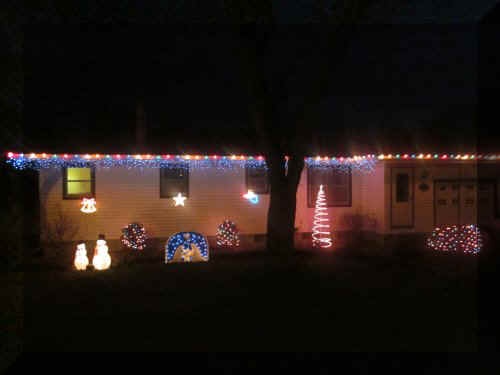 Finally after several months of the commercial Christmas the right Christmas is here and it is Advent season and the birth of our savior, Let all the world rejoice. I did get up a few lights and the small nativity with Brad's help and lit them up with a new outlet we installed. It was a good weekend to be outside working as the temps were in the 50's and 60's for the most part.
Monday was also very warm in the 50's so it is hard to believe it is December in Iowa. I helped mom with some of her projects and we cleaned out the linen closet and got rid of things there. Also moved some boxes and heavy things for her and did the town things we needed to do. I mailed all my congregation that had birthdays some cards and then all the LYF both senior and junior some birthday cards also. I hope that will help some with getting everything going for our youth again. Also had to order much ink and paper etc for the printer as it was getting short.
Tuesday started out with a low of 33 degrees but warmed up some and the barometer for the weather station is working again still so not sure what the glitch was for November. We got 1/100th of an inch of rain on Monday so am trying to figure is it even possible to measure that small amount. The road was damp but have seen it wetter with a fog. Oh well 20.94 inches of rain for the year so far instead of 20.93 so it all helps as we are so short and dry for this year on the rainfall as is all the country. Sure hope we don't end up with many frozen pipes if it turns real cold as there subsoil is so dry it can freeze very deep when that happens.
Went to town and picked up all the paper etc from the office stop but need to call them as the envelopes were not there so guess they will be in tomorrow. Stopped at the Lawyer and started the changing of our tax preparation to them instead of where they are now as they want way to much money. Also took care of the last info for the lot survey stake needed so the complaining persons can be done with all there felonious assaults and remove there affidavit of possession so they can accept what is there or do a new survey to prove that what is there is correct. It's now their call.
Mom and I worked on some of her material block things for her to wrap material on for Tammy to sell at her store and did some moving things for her. Elders Meeting tonight was long and we have one new elder now we just need one more to be full again. We actually could use 3 more but that will come later.
Wednesday dawned cool and clear at 21 degrees so the warm weather has dropped off some but still not bad if the wind does not pick up. The weather station has some snow predicted but not sure as it has had rain predicted also that never came. Warmed up the radio and checked in the ARMS net and the band was good early on but dropped off some later. Was able to hear a station in Cherokee about 90 miles north so that was strange for 20 meters on the ham bands although it does happen from time to time.
Advent service was nice tonight and 3 of the Sr. LYF showed so we just helped with the supper after the service and then helped with the clean up for our study for tonight. We may get moving one of these nights and start building the group and doing lessons.
Thursday dawned at 44 degrees and that was the low for the day so is a nice day for December. There was no snow or rain as predicted and the ham bands were open so checked in the ARMS net first thing and my scripture reading was from 1 Peter 4:7-8. Check-ins started real early but the signals are very low. Forgot I had a dentist appointment so had to run for that and then mom and I went to town for some shopping. Was a good day.
Friday arrived and it is cooler at 32 degrees with a low of 30 degrees. Put a timer on the Christmas lights for the outside so now they come on at 5 PM and go off at 10PM and then come on at 5AM and go off at 7AM. May use the same setup for the flag light when I get it or just add a photo cell for it. Checked in the ARMS net but need a relay as I do not hear net control.
Will be closing down my Lewzplace on multiply as that site is going away they say. Like most things that was fun and new the computer and internet has become a money gouging hypocritical bunch of money hungry ceo's and all the fun and any useful purpose it might have is gone along with all the fun and connections. Bah Humbug. The way of the world is sad.
Saturday was a full day with help for mom and her material for Tammy's store and the prep for the Saturday night service. We had some snow in the evening but it did not last long or stay on the ground long but it was the first for the season. My rain gauge says 1/100 of an inch. We have a baptism this morning and those are always exciting and will need to be there some early so better get going and post this. God bless Be good Do right Love Papa, Dad, Brother, Cousin, Uncle and all Lew.
2 December 2012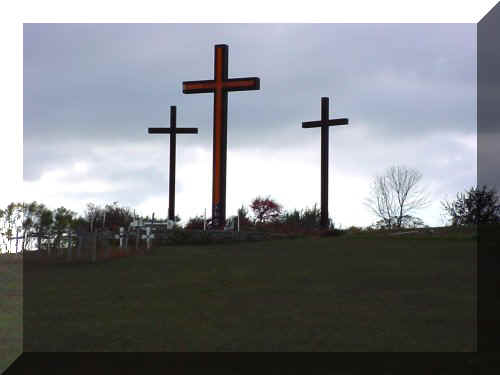 Pic is at the Religious museum over by Omaha and it is a pretty sight. We have missed the inside visit several times now as we are to late, to early or a closed day. We will make it sometime. Made it to church and have Sunday started and the temp is still cool. The birds have eaten all the food so need to feed them again. Have sent out all the cards etc. for the youth group and sure hope we have a good turn out and I helped with Communion so that was a blessing.
Checked into the Swan net and the Heathkit net so the band was good but up and down really rapidly.
Monday came in very chilly and with a good breeze. Fed the birds and helped mom some in the house. Worked on the lesson for youth and checked in some nets but the band was down with the poor sun spot cycles again. Picked up some groceries we needed and paid some of the bills that were due. Worked on changing our tax person as the ones now doing them after Verna passed have not checked or done anything and would not even help us with the penalties Verna left us with by the wrong filings. The world sure does not take pride in its work anymore.
Tuesday is here and the low was 10 degrees and it is now 13 degrees as I warm up the radios for some ARMS net fellowship. The day is overcast with a breeze out of the SW at 7 miles per hour and the barometer is still stuck at 98% so when it warms up later in the week I need to get out on the roof and see what is the matter. Also had to check one of the bird baths as it was getting some ice on it but all was okay as it was just on one edge from the wind and cold. BBRRRRR!! winter is in the air but the forecast is for the 60's by the end of the week again. Will do some of the last outdoor stuff then if I can.
Helped mom in the craft room and stuff is going somewhere but not out the door. Hee Hee How does that work. Running to town to check on changing the tax people today and see what they will charge. Verna had went way high the last few years.
Wednesday is here and the temps are going up some and lots of sun shine. Checked in The ARMS net and edited the lesson for LYF for tonight and am rather nervous and pray I can do it well.
Doing some outside work I checked on the lot boundary problem and they have moved their gravel parking and shed off our area and it looks like all the way so have some posts etc and will put them in the ground tomorrow and then wait for them to complain. Will end up with a corner post there and new fence in the spring so it will be all cleared up by then. Knock on wood. Not quite sure what has happened to the world.
My oh my the LYF youth gathering was a complete failure so far. Had one show up and that was pastors daughter and one elder to see how it all went. This is very depressing and what a complete shambles for our church, the Lords congregation. Never give up so will keep trying and pray the Lord moves the parents and the kids to get with it.
Thursday is here and it is a warmer day starting at 34 Degrees and going to the 50's today maybe. The Power ball for 500 Million went out last night so I am still broke. It would have just been a problem anyhow. Will see if I can set the marker posts today for the new fence and wait for the lawyers to figure it out if the neighbor has any problems. Got the new marker post in and now just need to check on their claim to our property. They still have the affidavit of possession on our property so they need to remove that and then I can start the fence building to make it good again.
Friday is here and the sun is bright and it is suppose to be warm so may do some outside stuff. Have the radios heated up for the ARMS net so am ready for that. Wow the ham bands are dead as yesterday I heard about 30 stations and today only about 4. What a difference a day makes. Started getting down the Christmas decorations and ready to put them up, at least some of them. Wow what a day, Started a crock pot roast for supper, Got out and put up many outside decorations, Started on an outside outlet I have planned for many years to plug the decorations and my flag light in, Trimmed some of the bushes in front, Hauled some brush along with the trimming to the city burn pile. What a great start for lighting the house up for Christmas on 1 December. I am kind of pooped but it is a good feeling. Also fixed a hose for using with the pond this winter if it gets low on water.
Saturday is here and it is really warm for December. Had a low of 31 and a high of 55 on the weather station of mine. It reset itself today on 1 December and the humidity seems to be working again but not sure it is right as it is very humid and foggy and it says it is 1%. Finished all the outside decorations with Brad's help and even got the hole through the foundation for the outside outlet. Boy was that hard as the cinder block was completely full of concrete and it was very hard to drill. Am really wore out but it is a good feeling to get that all done. All the lights look nice and all seems to be working good so now it is time to get in the spirit and remember that the reason for the season is Jesus Christ our savior. Mom and I had some of the leftover roast for supper and then just vegged and watched TV.
I am really tired this morning so what's up with that. Guess all the outside work with the lights wore me out. Guess I better quit rambling on and get posted. God bless Be Good Do Right Love Papa, Dad, Brother, Cousin, Uncle and all Lew.
25 November 2012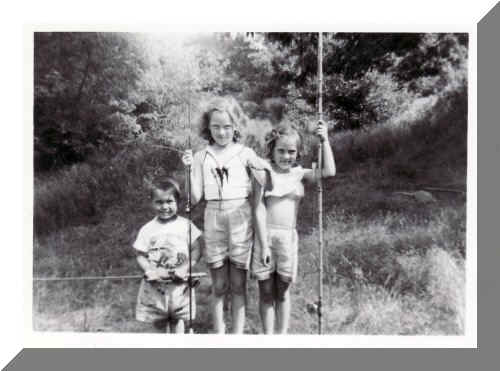 Some pretty big fish for you Guys. Hee Hee! The pic is Carol, Kay, and not sure of the boy, maybe little Hugo. Those were the days, a cane pole, some worms, a good book and the day was perfect down by the lake or pond. When and why did we leave those days and make our lives so hectic and busy. The good Lord has given every thing we could ever want so why do we think we can improve on his love for us and his perfection. Lets stop and smell the flowers.
Monday came and went and finished some town errands and small things around the house and set up the computer, projector, and sound system with microphones for the singing of praises at church. All works well so just need a good turn out now but may have picked a bad time the night before thanksgiving day.
Tuesday is here and the weather is just great the last few days so we should have a great time for the gathering at Matt & Kris's for thanksgiving on Thursday. The weatherman is predicting this through the weekend and then still not very cold. Need to get some things done outside today and we will take Heather to lunch and pic up the books I need from her and then get mom to her doctor appointment for the Cpap machine.
Checked in the ARMS net and the signals all seem good so should be a good radio day. My old home made goofy dipole works better than the purchased vertical so not sure how that works but it is good. May see about a trap one so it will do more bands and I could rotate it then.
Finally got the camper put away on Sunday with the help of Ben so that season is over for another year. Had to put them up a little different as I started the camper in wrong so may move it later but it should all be good even if not. I should get some battery maintainers for several of the vehicles so the batteries do not go totally dead. They sure seem to help for the old Rambler so may get more.
Set up the pond for winter and plugged in all the heaters for the bird baths and pond and then drained the hoses so they do not freeze. Will keep one inside so I can add water through the winter as needed and will just carry for the baths. Need to treat the pond and then clean several times to remove all the algae. The pond sure is becoming a lot of work for no more than the GK's come to enjoy it and may just sell the fish to Earl may and close it up. Not sure yet.
Mom and I had a good time in town and enjoyed lunch with Heather and the book from Brad is really good and I believe I can do it for the youth group. I checked the leader guide and it will work well and hope the study is as great for them as it looks to be. We got all the snacks I need except the cookies and I will pick them up tomorrow as ordered them from Hy Vee. Looking forward to tomorrow with nervous excitement for the singing of the praises night.
Wednesday arrived and finished the praise songs and then checked into the ARMS net and the band was noisy but in good shape. Picked several verses for the singing praise and some prayers to give and pray all is to Gods glory.
Had a good turn out for the Thanksgiving church service but only one youth member for the the sing along. The total was pastors daughter, Paige as the youth group member, her sister Jena and her boyfriend, Pastor and wife and two elders and their wife's. Rather sad I would say but now the challenge is on so will see if with the Lord giving me guidance we can generate some youth for the midweek bible studies.
Had Thanksgiving for the family at Matt & Kris's and 19 of us made it so that was really nice. Got to see the kids and Grandkids but we all missed our little Steph. We pray she can find her way back to us. It was a fun time and a great meal and I really like the noodles Mary Ann made as they were somewhat like the one mom and Grandma made and they were really good. Matt did a turkey on the grill smoking it and all and it was really good along with the regular turkey from the oven and way many sides so once again I stuffed myself. My little Peanut, Caitlin, and I had our walk and I learned much about her Girl scouts and that was fun. We did not step on any cracks so we did not hurt mommies back. Little Sarah and Lucas were going to with us but they got busy in a game and decided to stay and play that. We had some great visit time with everyone and some pie later on and then decided to get Cody's drawing light going as I forgot till late so got that up and running and then headed home very late. Finally got home by 11:30 and was very tired and after getting things from the car and put up I just passed out.
Friday came in rather cool at 21 degrees and will warm up to about 50 they say but not sure of that. Wind is blowing out of the northwest at 35 peaking to 41 miles per hour and there is snow out NW of us so may blow in some of that. The sun is up full but still chilly. Need to check the humidity reading for the weather station as it has been stuck at 98% for some weeks now.
Worked outside much today and got the patio cleared off and all the planters of the young trees put up for the winter so hope they make it well. Put the large planters by the garden shed and moved the chairs around so I could clear snow to let us get too the birdfeeders and baths. Put up the hose caddy and moved the grill close to the door for some winter grilling. Trimmed back the Russian sage so we can maneuver around while feeding the birds and put the tray for some food on the table with some rocks to hold it in place. Turned on the power for the heaters in the baths and pond as the baths froze up last night so it is time for the cold to set in.
Saturday was a busy day with some outside work and much work for the LYF group we are trying to get going again. I checked into the ARMS net and it was good with many nice signals so it is great to have winter in the air again as the ham bands are opening up. Had to run to church to stuff some info in the bulletin for the LYF group about their meeting on the 28th so have been running pretty much lately.
The low for the night was 30 degrees and that is where we are now with a breeze out of the north. Guess I better get moving and post this and get ready for church. God Bless Be Good Do Right Love Papa, Dad, Brother, Cousin, Uncle and all Lew.
18 November 2012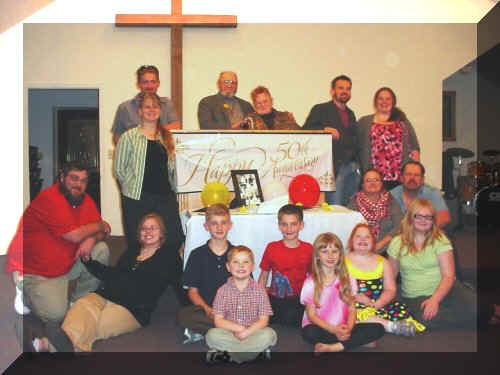 Our 50th Wedding Anniversary is over and was it ever an amazing celebration set up by our children and what a blessing to have 8 of the 11 grandkids with us. We have been so blessed for these years by our Lord that I cannot find the words for a proper blessing to him. I just pray that what I do with my life is to his glory and satisfaction and he will keep the Devil behind my back and the temptations such that with him guiding me he keeps me a poor miserable sinner strong enough to overcome any that comes my way.
What a very busy week and not much time for journaling but have much done with the Youth kick off for the Bible class each week and have found many songs for the fellowship praises to our Lord for this Wednesday. Have also made 3 on the media player to sing along with Tennessee Ernie Ford also. Have found a group of the karaoke songs that I could sort of keep in tune with so that will be plenty for and hour with some fellowship along with cocoa and cookies.
This week has been very mild and the solar waves are going towards winter mode and all the bands are starting to open up for me so that is exciting. The nets are working so I hear more stations.
Need to do some outside stuff yet and may do that this weekend as Ben and Tammy are here and I can use some of their help. Nothing huge just to pick me up when I put the camper up and then maybe help with putting the skid loader up also. May get the cords run for the pond and bird bath heaters and get them all set for winter also. Why did I think I needed to do all this stuff and then keep biting off more. Woe is me so come to my pity party. Hee Hee.
Anyhow been very busy and have a baptism at church this morning and that will the first I am involved in as an Elder so rather nervous. Well enough of this for now so may finish later if I can.
Yes Wow it is later and the Baptism was amazing and so good. What a precious thing to be part of and what a little cutie. The Lord helped me with some instruction from one of the other elders and it went really good.
Kids have went home and still not posted so will close and post and do better next week maybe. God Bless Be Good Do Right Love Papa, Dad, Brother, Cousin, Uncle and all Lew
11 November 2012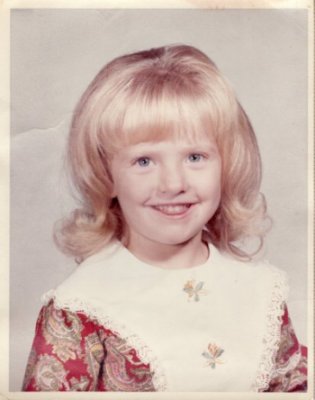 Oh My 49 years ago last Monday for my squirt and 50 years ago yesterday for my love and me. What a celebration and what a very cute picture of our little precious Tammra. It is hard to believe that much time has passed since those days or that 53 years ago about the 4th of July I asked her mommy to go steady with me. Good Times I am truly blessed.
Sunday was a good day and the bands opened up so we had a great Swan net. Church was fun and the Sunday bible study was challenging as we are on separation of church and state and things like Same sex marriage, Abortion and the likes and that really bothers me. It seems the world is on such a downward spiral but I trust in the Lord and pray for his guidance to do the things I should to slow it up and reverse this trend. Have put much together for a LYF group to get started again so pray that works out for the glory of God and the set up three notebooks for our church bylaws, Elder stuff and the youth group.
I did some of my potatoes for supper along with some beets and some broiled steaks and Ciabatta bread and was it ever good. Had enough left over for another meal tomorrow or at least a lunch for us. Mom has been working up a storm in the house and I can see much happening so that is a big help and I been trying to help by moving big heavy things, doing washing, washing dishes and stuff along with the things I need to do. How did I get so far behind, maybe we have to much stuff.
It is Wednesday and the election is over and so sad how America is evolving to the sinful nature and becoming the Sodom and Gomorrah of the world today. History does repeat and it is like the rise and fall of the Roman empire. We all need to pray for a turn around and then work very hard for it. We even keep the Supreme court judge Wiggins we tried to get rid of so that really surprised me. Moral Christianity is falling off rapidly and that scares me.
Got down to freezing last night but we are up to 38 now and going to the upper 50"s today they say and we have wall to wall sun with very few wispy clouds so the day is beautiful so far. Started the day with checking in the ARMS net and the band was good so that was fun.
Wow it is now Friday and I was really sick. Started Wednesday afternoon and then I was in bed all day Thursday. I did get up in the evening as we had an youth board to attend at church but sure did not feel like it. Am some better this morning but just weak and achy. Had some cereal and checked in the ARMS net so now will see how the day develops.
Got through the net and did some camper things to get it put up for the winter but moving rather slow. Made out some bills and now just need to head to town to pay them and some taxes.
Oh my the week is gone and what a whirlwind it has been. The kids all rushed us off on Saturday for our 50th wedding anniversary and had a whole presentation at the fellowship area of Brad's church. We had an amazing meal and then off to a room they set up at a suite in Lakeview. The evening had us in a dance, some memory lane trips, our Alaska trip video, and some great visiting and sharing times. It was really fun. We are still at the motel and mom is sleeping in so I went for some breakfast and now may go to church with Brad and family at there church but not sure yet. Guess I better get busy and get posted. God Bless Be Good Do Right love papa, dad, brother, cousin, uncle and all Lew.
4 November 2012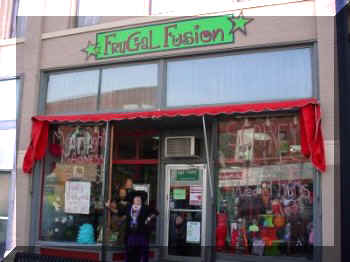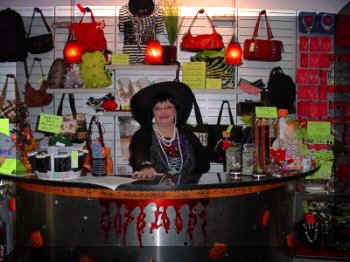 Halloween fun and work at Frugal Fusion. We spent several days working in the basement so that could open with much of the household items in it. Much was completed and now just some things to move down and she can open it up. Saturday the town had a Halloween day down town and we gave out candy for the store and that sure helped as was much fun as the kids are such a blessing and was great to see there costumes.
Sunday went to Church and Bible study and then a few groceries and home as mom was not feeling so good. Did a few things there and worked on the congregation mailings and some ideas for youth groups. Have picked a study book I believe, Life's big questions God's big answers and it should serve some of the thoughts of the day. There are some added books to go along with them for students journaling and follow on prayers.
We had our Halloween for the town of Willey Sunday night and it sure was fun to see all the kids in their outfits and share in the excitement they felt as they came around. Mom was still down and I had to give out the candy and take the pictures, So Fun. I mean Oh Bother Hee Hee!!!
Monday came and checked with the facilities manager for the church on some rack things for hanging some of our banners and may help if it is something I can do. Also visited with Pastor on the youth group and will start with the youth board and some group activities, especially midweek bible studies. Picked up some lunch to take home as mom is still now so good with her cold and all. Made out some Birthday and Anniversary cards for my part of the congregation and just loafed and did some leftovers for supper and then some TV before bed.
Tuesday arrived and it was a low of 29 degrees overnight but is a nice day so far. Checked in to the ARMS net and lets be mindful and pray for all the people on the east coast and the tragedy they are suffering. Many of the people I heard on the east cost were giving good signs their damage was not real bad so that is a good sign.
Started a roast for supper in the crock pot and it sure smells good. I am hungry already. Watched much of the news on Sandy after a nap so that is not well on the east coast.
Now it is Wednesday and the roast was good and I ate to much. Am checking in the ARMS net as I journal so have that going also. Overnight low was 30 degrees and we are up to 35 degrees now so it is warming up. Sure was a mess on the east coast so keep them in our prayers as we go through our daily things with the Lords blessings we have. Band was really up and down so not real good communications but was okay. We had 21 check-ins.
Went to town for mom's Cpap info to the medical people and now need a doctors appointment for it so it is paid for. Stopped at the rental on the way home from town and cleaned the gutters so they are good now till spring I would guess.
Thursday came and went and we went to Ft. Dodge for moms eye appointment to check on the surgery healing and it was a good report and will go back in 3 months for some follow up checks. I was very nervous about it so that was a good relief. While we were in Ft Dodge we did some shopping and ate out at Perkins and then came home and I went to bed as I was wore out.
Friday is here and it was a cool night at 30 degrees and now is up to 33. Have the radio up and running for the ARMS net and working on some of my elder and youth group stuff so the morning is starting out busy but it is all fun stuff.
Saturday came and worked much on the plans for a youth group at the church and sorted out all my elder papers and books. Checked in the ARMS net and waited for mom to get up. I finished the letter and labels for the youth group mailing and then set up a resource manual for the church boards. This is turning into a lot of time but it is well spent for our Lord and savior. This is my weekend to be the Church Elder for the services so went in for the Saturday service and then mom did some really good chicken for supper with some baked potatoes and some of my left over beans.
I showed mom how to add the minutes to her phone and then we just watched some TV and off to bed.
Forgot to set the clocks back so was up at 3AM to set them and sure am tired. Got them mostly set but have some to do after church. B etter get moving and get my day started so God Bless Be Good Do Right Love Papa, Dad, Brother, Cousin, Uncle and all Lew.
28 October 2012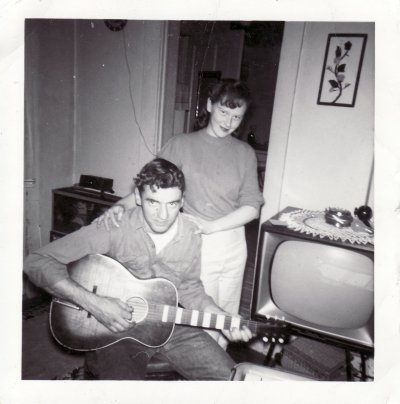 Oh My where did that come from and who is that doll in the picture. Yes I used this pic before but WOW what a blessing. My Oh My just looking at some old pics what a trip down memory lane and it is hard to believe that it has been 50 years next month we been married but about 52 years since that pic was taken. What a blessing from the Lord I have been given.
Checked into the Swan net Today, Sunday, and the band is opening up and was able to talk to one of the founders of the swan net stuff WA9AZK and I had not heard him for many years. Sure was good to hear him and now with winter coming on maybe the band will be better and the sun spots will stretch it out some.
Mom wants me to have paragraphs for all the things I say so will do it this way and see how that works. I think journals are random thoughts and entries and are really not required to be in the paragraph structure. Otherwise they may all be only one or two sentence long. Oh well!!
Got part of the new laptop fired up with the bingo machine I got and now am working on the Microke for the Karaoke program and then may use it for the church youth group to raise some money or family fellowship nights along with the movies from the projection screen. Got the Go Sing karaoke player going but it is old fashioned so need the Microke one set up. Monday is here and the temps are warm at about 65 so that is nice. Ordered the password for the Microke karaoke machine and that was a problem as it kept wanting to take me to a sight In India somewhere. Went to my other computer and finally got it set and ordered it so now just a wait till I get the password to make it work. Hope it will be fun for the LYF groups at church.
Did much mowing late in the afternoon and then just vegged some and set table and helped mom for supper. We watched the wheel and then after supper we watched the debates and oh my I was embarrassed to be associated with our president with his display of childish behavior with horses and bayonets and many other comments. We surely need a new commander in chief and yes he did in theory apologize for America's actions or behavior and was a disgrace in those respects I do not care what spin the news media or democrats put on it, it is just as indicated by Mr. Mitt Romney, and exactly the way I interpreted as I heard at the time it was said.
Tuesday here and kind of warm and humid but checked in the ARMS net and did some Email while waiting my turn so got the password for the Microke software. Oh bother it works just great on the old XP but windows 7 has issues with it with several error codes but got past them and can make it work just fine. Will have to go past them each time I use it or just break down and use mom's computer that Matt gave her many years back as it works great there. May need to download a new program and start over to fix it.
Fixed my alarm clock that all the switches were dirty and gunky in so cleaning got it going and we can use it for a long time again.
Did some of the mowing and mom and I worked in the camper to get it put away for winter. Found we had a mouse in it and it was caught but had to bring all the silverware and such in to wash as it had been in the drawers for them. We will fold some of the sheets etc tonight and then pack them all in the tubs under the bed and should be ready to put away.
Had to charge the battery on the Rambler and Case skid loader as they were dead. Put the monitor unit on the Rambler so it keeps a full charge and may get one for the tractor and the skid loader also. Now when they are full charged will take the skid loader to the barn for the winter.
Wednesday morning and the garbage is out and mom and I are getting ready to go to Tammy's for a few days to help some at the store. Well we will when mom is up and going as she is not feeling well yet and maybe we should stay home but she said no. At any rate I have the garbage out and got the dishes going for now and have gathered some things we will need for the few days gone. Things like some of my elder stuff to work on, chargers for phones, computer stuff, clothes and such so am about ready to load car. Don't need much for only a couple days.
Sent Email to Microke to see if I can make their program work right for me. I know it was not much money but its the principal of it all so will keep on keeping on and get it going. I think when I tried to use the old software program it did not like it on the new computer but the download site they have does not work so checked to see if they can Email it to me. Oh Bother it never does work in today's world, lets go back to the 50's and 60's when everything worked and people really cared.
We made the trip to Tammy's in some misty rain and arrived there at about 2:30PM. Just visited some and then started on some projects in the basement to give her some more room. Lots of work done there so we should be able to help her get going soon. The store is very full so she needs some help to improve sales and to help people navigate better. Shortly after 6PM Tammy, Ben and us went to supper at China Buffet and then back to our room.
Now Thursday morning and I did not sleep so good but am up and had some breakfast and mom just wanted to sleep in some. We had some rain last night and it was mixed with some snow so we are headed into the winter mode for sure. Hope we got some of the rain at home and can end up with some moisture in the wetland. Later in the morning the snow really came down but no accumulation but it was a lot of moisture with it.
Had a busy day at the store and got most of the basement arranged and cleaned and Tammy liked it so that is good. Now just need to pull it all away and do a through cleaning and it will be good to go after I fasten the panels to the wall. Then we can start the moving all the things from up stairs down and get her more room upstairs. We went to supper at Family table and then back to our room and a shave and a shower and its bed time and I am rather pooped.
I slept some better last night and it is now Friday with lots of sun and looks to be a nice day. Had the continental breakfast at the hotel and brought mom some milk and a bagel. They serve a fair breakfast with cereal, waffles and all. Now off to the store for some work and see what we can accomplish today.
Got the basement almost done and what a lot of work but it was worth it. All the extra stuff hauled out to store, and the ledge and cleaning done, the panels hung up and started to move some of the household items and books down. Also went back after close and extracted some of the runner carpets so they are clean looking again. Wow were they dirty and what a busy two days we had.
Saturday is here and this is the fun day I hope as the downtown is doing a Halloween treat day and all the kids may come dressed up and get some candy. That is always so fun to see them all excited and happy. First though I need to get the carpet runners back in place, the extractor hauled back, the consignment items back in place so better get to the bank and get checked out of the room and get moving.
Had a great time with kids trick or treating at the Frugal fusion in LeMars and we just finished in time to head out to Brad & Heathers for a marvelous lunch/supper. Had a nice visit and then headed home for some much needed rest.
What a fast furious and great week but am a little pooped out so will close for this week. God Bless Be Good Do Right Love Papa, Dad, Brother, Cousin, Uncle and all Lew.
21 October 2012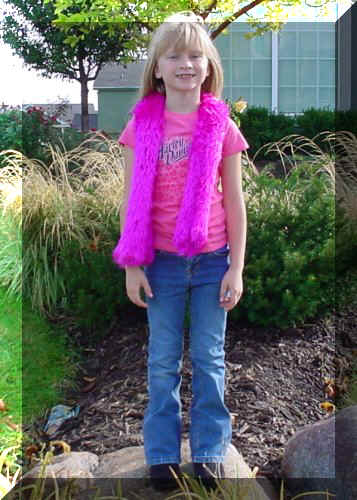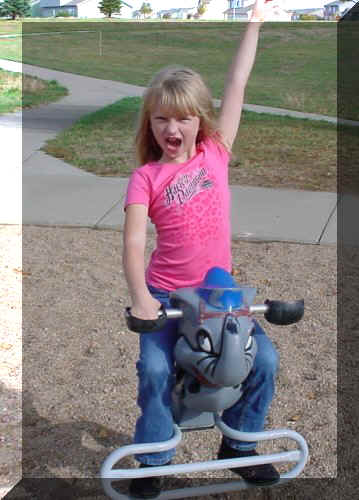 The Papa and, my Peanut, Caitlin walk was fun and hope she enjoyed it I know I did. Sure enjoyed being there for my little Buddy, Cody's Bday and it was amazing to watch him put his avenger Lego set together in such a short time. Got most of the Sunday things done, Church, Sunday School, Voters meeting, Fellowship hay ride and then home as I was tired. Have decided I am going to chair the youth board and do some youth fellowship etc. along with getting a youth bible study going. Monday Had to check on the tax letter we got and it appears okay and then set up a perk test for the rental as the septic is up to be completely replaced as it has failed and the drain field is clogged also. The tank collapsed and the distribution is in the same shape. Then also had to check on the State Farm as our homeowners is going up for some really dumb reasons. They will get back to me. Picked up a few groceries and then back home. Still no letter from the lawyer on the things we sent out last week so called and they mailed one so must be the mail. Great day today as we had a high of 73 and a low of 37 so the temps were great. Ham bands are really bad but did get in the Swan Net. Tuesday arrived at 50 degrees with the chance of rain so wish that would happen, one of the old several days Iowa sod soakers to fill the wetland and replenish the sub soil moisture. We have a falling barometer and 98% humidity so it could happen. Pond pump almost stopped this morning so had a good cleaning to do and then fill the pond back up. Need to do the algae treatment more and really clean all the gunk and leaves out for the winter time so it is ready for the heater if needed. Got all the Fellowship hay ride pictures off the cameras so now just to post if I do. Moms camera is completed and back in the mail they said so will see as it is not here yet. Walla It just came imagine that as we speak. It looks good and the problems seems fixed so now just the test time with some pictures. Could not figure why my computer was running slower and discovered today that windows turned windows defender back on and since I run Zone alarm Spam software it really slowed me up. Have turned Windows defender off and now the computer moves again. Why does the whole world want to control what I do and how to do them. Oh Bother. Finally got a chance to watch the VP debate we taped and what a disgrace our VP was with his constant interruptions, cutting off congressman Ryan all the time, and laughing at everything. Clearly not professional and a loss on his part I believe. Looking forward to the Presidential debate tonight and another loss by our president. Did I say that out loud. Debate is over and he so lost. Thursday here and overcast with rain predicted and is doing a drizzle so far. Worked on my Elder visits for absent members and have a letter ready for that. Only 7 this time so it has really dropped off and hope it keeps up. Checked in the ARMS net early and did some work on my Church web page so have the Hay Ride pictures posted. Mom and I looked at some small houses for the lot we have so may just be doing that soon if we can get everything else we have going on worked out. Rain kept it up all day and now at 6:30 we have 45/100s of an inch. Will see how long this runs and may get the sod soaker we need. Friday came and went and Saturday went to men's table talk and then did the absent visits that we have for my part of the congregation and they all went well I believe. Went to town later and got some of the things mom wanted and then just rested and worked on the web some more. We ended up with 64/100s of an inch of rain then and a total for the month of 1 & 28/100s of an inch so far. Today is pastor appreciation so we are giving him and his wife a couple cups with bible verses. One says pastor and the other says pastors wife. Moms eye seems to be some better so hope that continues and she is not just getting used to it. The floaters are not as large in numbers or size she says so she cancelled the surgeon visit this week and will see at the checkup the 1st of November what he says. No body on messenger or online for the Sunday chat so guess I will post this and get going. God Bless, Be Good, Do Right Love Papa, Dad, Brother, Cousin, Uncle and all Lew.
14 October 2012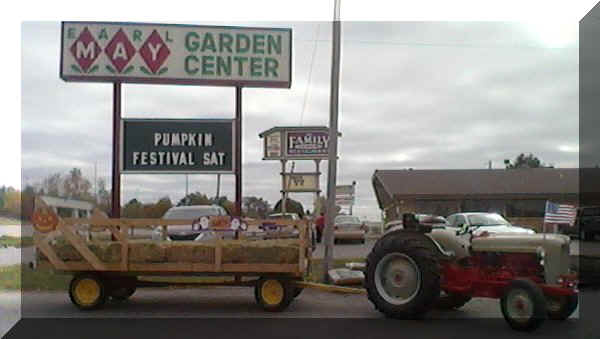 Earl May pumpkin days was a good success even if it was cold and I had great time watching all the kids eyes light up as we went for the ride. I believe it is more fun for me than for them maybe. Anyhow I got a chill and was really not feeling good Sunday but went to church and then did not do much. Monday came and I worked on the camper to get it ready for winter storage. Checked in the Arms net and then later in the day in the Swan net. Band was very dead. Unloaded all the stuff left in the pickup for the last week or so and got that all put away and then helped mom some in the house for stuff she had to do. Did the dishes and am about wore out again. Maybe I need some vitamins. Mom and I just were watching Dr Oz about some sweeteners and flavors and things we eat that can be a part of the Alzheimer's epidemic but I forget what they are. Tuesday came in warmer temps and that is nice and the low was 45 degrees and it is now 51 degrees. Checked in the ARMS net. Spent a long time working on my green light copal flip number clock and after calling and using Goggle all over the internet for parts etc only to find out they are no longer available I decided to tear it all apart and see what gears were bad or stripped. Finally found one had slipped on a shaft and that allowed the shaft to come out of the hole to keep it in place so did some sliding and adjusting and Walla my clock is going again. Did a small amount on the camper. Mom was sick most of the day and in bed so I was very lonely but did make a great supper for us of pork steak with mushrooms and some Ciabatta bread and some stir fry veggies with balsamic vinegar. It was all really good and mom really liked it so all is well and she feels some better so that is great. Did some TV and then off to bed. Wednesday was sick most of the day but not super bad just heartburn and sour stomach. Did some work in the house and prepared our info for the lawyer to take care of the lot line problem. Thursday finished the lawyer letter and feel some better. Got things ready to go to Matt & Kris's and our Cody for his birthday. He wants some Lego Avenger stuff so will take him shopping when we get there as we do not know what he has. Moms eye is bothering her with all the floaters in there so we set up another visit for her to see if they will go away or what. Went to the lawyer late in the day and he was just laughing at what they thought were conditions. Oh My what a joke. Finished the preparations to go to the kids and then just rested some before off to the church council meeting. Friday came and we slept in but feel much better and mom is some better also. Finished getting ready and then off to the kids. Took Cody shopping and my oh my is he ever frugal but we found the Avengers he wanted so that was nice. We did his Bday gifts and that was fun as my little buddy is in the middle and seems to be missed some of the times. Did some Pizza for supper and then watched some of our Alaska trip slide show. Then put in a movie for Cody and the kids and watched that and off to bed for me. Mom & Cody and Sean stayed up late and watched another movie. Saturday was a slow day but my little Peanut, Caitlin, and I went for our walk and that was really fun. She wants to always go for a walk which is great for me as we can bond and have our time. She was able to play some at the playground we walked to and then we went home again. Overnight there was an amazing lightening show and some much needed rain so that was wonderful there. Had a great visit with the kids but Mary Ann was not feeling good with a cold and such so that was not good and hope she is feeling better today. Matt made an amazing breakfast/lunch/brunch thing before we left and we dallied around and finally got out about 3PM and headed home. Did some work for Sunday school and then off to bed. Guess I better get posted and move along. God Bless Be Good Do Right Love Papa, Dad, Brother, Cousin, Uncle, and all Lew.
7 September 2012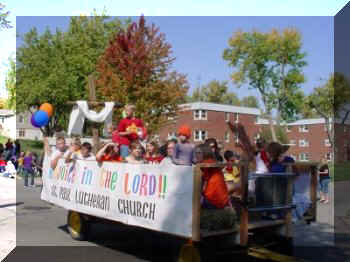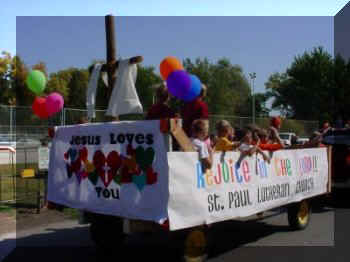 The band day float pictured, turned out fine, and was fun and we had a pretty good load on it so that helped. Had Elder duty this weekend both Saturday and Sunday and that went well. Have checked into the Sunday Swan net on the new Freq and that works well so far with 21 check ins today so that was a great net. Did not sleep so well so was pretty tired this morning, Monday, but got up for mom's Eye drops and then checked in the ARMS net. May lay back down as soon as the doctor calls back on moms eye to see if she can be heads up normal tomorrow. They said heads down for a week and tomorrow will be day 8. Well they just called and it is positioning till her appointment on Thursday so face down till then. Oh Bother! Well we pray it is all doing the very best for the eye and her sight. Will see the lawyer today on the survey problem so hope that goes well as it should cause I have many pictures etc of the area to confirm our belief and the facts of the registered marks at the courthouse. Got through the Lawyer visit and he did a great job and already sent the letter so now just wait and see. He figured out the best way to go so hope it all works out right. It is Wednesday and our little Mel and Ellie have been here since Monday so that has been great for Mema although we did not do much or have much for her to help so she may be bored of us but she has been a great help for Mema and we had some good visits and great meals. The temps are cooling off so that is nice but have not seen the monarchs going south yet so hope there path has not changed. ARMS net is real quiet this morning so conditions do not seem good. Still have to get the hay rack ready for Saturday and have done nothing yet so hope I can get that all done. Tomorrow we go to Fort Dodge for moms eye appointment so hope that is good and then that just leaves me Friday to get it ready. Need to fix one of the bales that broke and then do all decorations and the kids treats. Why do I wait till the last minute. Thursday Morning and it is 44 Degrees out with a slight drizzle to dampen the pavement but not enough to register, 72% humidity and a rising barometer so may get some rain. Today we go for moms eye pray all is well there and the positioning is over with. Checked in the ARMS net and did Psalms 37 verse 27 thru 29, really good verses. The eye appointment went well and no more positioning and the hole is closed so now just for the last 40% of the gas to absorb and all the sensors to reconnect. They said the sensors could take some months up to a year. Friday I finished the hay rack and sacked the candy so that is good to go. Had to charge the tractor battery so hope that was just low because I left the radio memory hooked up. Filled it with gas and then ran it down the road to make sure all was okay. Helped mom with some supper and then watched some TV and off to bed. Saturday morning and wow the low for the night was 25 degrees and it is now 26 degrees so it is going to be a miserable day for some hay rides. It may warm up some but will not hold my breath for that to help. Still need to load the tractor and get the rack and get to town and then put on the decorations etc and then wait for the people to arrive. Did all the papers on moms canon camera and got that in the mail yesterday as we figured out what the gray spots were in the photos. They would show up when you zoom in on a pic and get worse the more you zoom. It has a 2 year extended warranty so that covered it for another year. It is a really nice digital camera so hope that it can be fixed. The hay rides turned out okay and quite a few came even in the cold so that made me happy. I am about sapped of energy for the week but it has been a good week. Better post and get to church. God Bless Be Good Do Right Love Papa, Dad, Brother, Cousin, Uncle and all Lew.
30 September 2012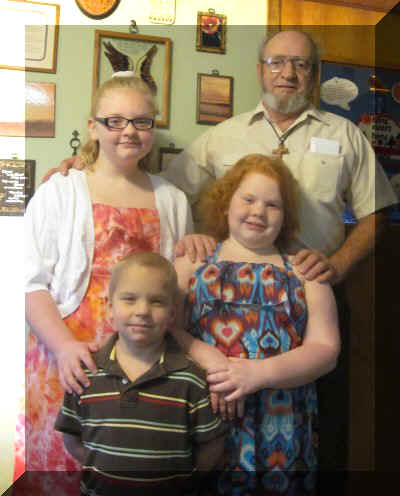 It's Sunday morning and once again here is Lew. What a start for the week, we spent Monday getting ready for mom's eye surgery and headed off to Des Moines late Monday night. We reserved a room at the Staybridge and it is really nice but expensive. Then out to eat at Perkins and mom had her Fudge brownie supreme and I shared some with her. It was very good and so was the service. We did some TV and then off to bed as 5 AM comes really early. Got here early and mom is now in surgery and I am nervous, She was so worried she threw up before she went in so hope all is well. I pray all goes well. Big cities are a pain in the rear and so glad we live where we do. 8 AM and mom is out of surgery and the doctor said all went well and she did well and will be face down for one week instead of two so that is some help. We went to breakfast and then back to the room and some rest for mom. I laid down a while and rested also and then put her face down chair together. It will be a long week but am watching her closely and praying her sight improves with this. She is the love of my life and the best friend and partner ever. She is resting well and I am watching an SVU Law and Order marathon. Made a pot of coffee as the room is complete with dishes and everything to live here. Guess mom was right and I should have brought some snacks but then she is always right like that. I can get some in the lobby if I really need some. Mom has a new CPAP and it is working well and goes automatic for the pressure rates. Got some snacks and later fixed her chair to fit her and then went to burger king and got us some supper and brought back to the room. We did not sleep well and was up for breakfast at the hotel and it is really good, then off to the clinic for moms 9AM appointment. The doctor said it looks good so we are praying for that. Then on 4th of Oct we go to Fort Dodge to Wolfe clinic there and she will be done with the face down stuff. We left for home about 11AM and stopped several times for snacks etc and got home about 1PM. Unloaded all and set up things for mom and put in her eye drops and then did some Stroganoff and a salad for supper. Later did some TV and worked on the property line problem and hit the sack about 10PM. Oh bother could not sleep so been up just goofing around and it is now 4AM. Thursday did some work on the rack to have it ready for the Band days and had a sink run over in the basement that flooded some so had to get that cleared up. used some of the dirty towels to soak it up and then washed them and dried and did two other loads of wash. Got busy so they are still in the washer and dryer and one load on the folding table to do as I forgot all about them. Hauled the rack to town on Friday and the upstairs stool had a water leak so did some tightening and adjusting and it seems to be okay but probably will need a new wax seal. Filled and cleaned some on the pond and watered plants in the planters. Mom's eye looks much better but she cannot see well with it yet but the surgeon said that will be 3 weeks to 3 months or so when all the gas is gone. I pray it all comes out fine. Saturday helped set up the hay rack for the parade and then got a good spot to take pictures to get of our little Faith as she came by in the band. What a pumpkin she looked so cute. Then some shopping and get us lunch and the rack back to the barn to get ready for next Saturday and home for our lunch and drops for moms eye. It has been a very busy week but we have had some great weather and we are surely blessed in that. Not much time on the ham set but it seems the bands are improving for the winter months. Better run. God Bless Be Good Do Right Love Papa, Dad, Brother, Cousin, Uncle and all Lew.
23 September 2012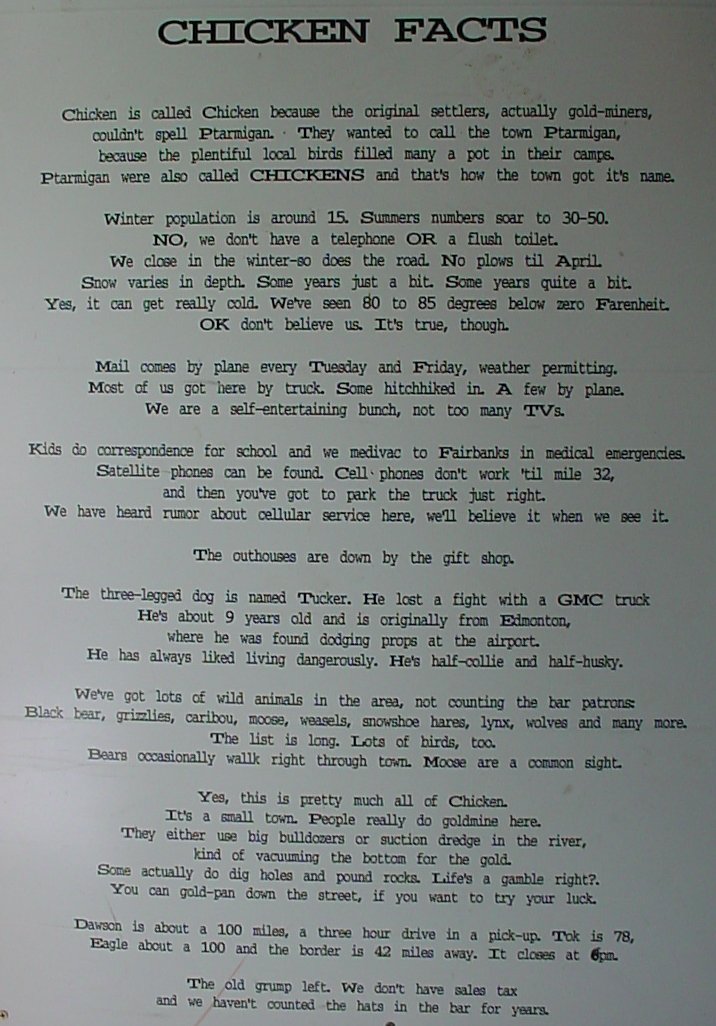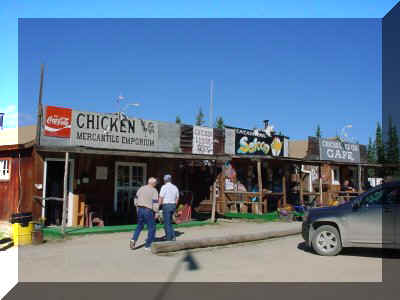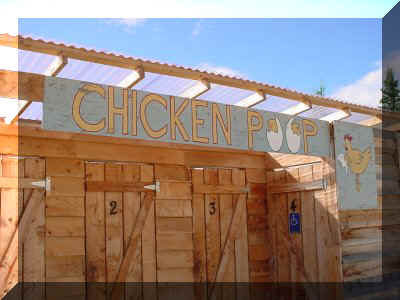 It's Sunday Morning and once again here is Lew. Pics are from our Alaska trip as we went through Chicken Alaska. Read the facts sheet and the picture on the left is the whole town and the right shows the toilets. What a sight and what fun. Started out this week a very bad cold and spent all Sunday after church just lounging and the spent the whole day in bed on Monday and most of Tuesday. Mom has a real bad cold also so they canceled her eye surgery until next Tuesday. Wednesday & Thursday I did a small amount of outside work and ran to town for some supplies but it all just wore me out. I cut and hauled 4 loads of tree trimmings to the city brush pile. I made us some supper for Thursday night and it was baked boneless chicken breast in alfredo sauce with my seasoning and some corn on the cob and some butter noodles. It was all pretty good. Been sleeping in some lately so not sure how that works but it is working. Checked in the ARMS net some and signals were very poor. Noticed one side of my dipole had come loose from the anchor and blew over and wrapped around the other leg so fixed that and that was some help. The vertical is just quiet and not much good right now. Hope it is just band conditions. Must be as the ones I could talk to have the same problem. Well the weather has cooled off some and the hummingbirds are headed back south so fall is in the air. The monarchs should be going also I would guess if the weather this year has not messed that all up. Still not much rain here. Mom and I are both some better but this has been a real bad cold. Tuesday we go to Wolfe eye clinic for her operation so hope we are all good by then. We missed the zoo yesterday and that was sad to miss all our kids and grandkids there enjoying the fun. Maybe next time. Hauled another load of tree trimmings and then checked on the mopeds and did some mowing. Looks like the speedometer on the ranger is going bad so there is another thing to fix. Not much to write this week so guess I will close. God Bless Be Good Do Right Love Papa, Dad, Brother, Cousin, Uncle and all Lew.
16 September 2012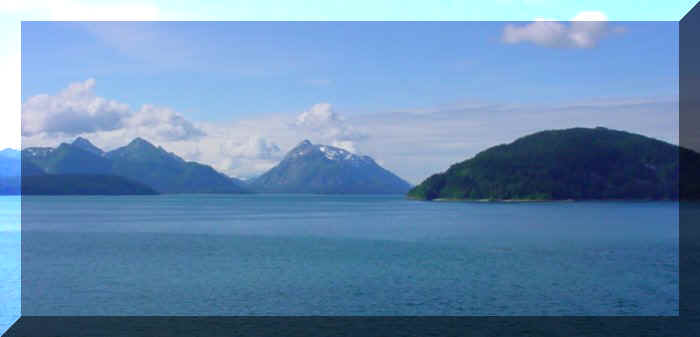 It's Sunday morning and once again here is Lew and the picture is our leaving Glacier bay on our Alaska cruise. It has been a very busy week but have accomplished much. Have most of the weeds around the patio gone, trimmed many trees and did some mowing. We got a letter from our neighbors lawyer so went to see ours on the land problem our neighbor has. Don't think I have one but we will see. He seems to think the property on the outside of our fence is his for some really ignorant reason. Go figure the good Lord sure must love idiots as he made a world full of them. Did some work on the hay rack and the bales of hay and have it ready for the church float in the Carroll band days parade. Also have it set up for the Earl Mays pumpkin days. We got 1 and 1/2 in of rain this week past so that sure was a help but could use more. Checked into several of my nets on the radio this week but signals are still very bad. Did switch to the dipole again as the signals are stronger on it. Covered most of the same stuff last week but had to have the pads and rotors replaced on the van as one side lost a pad and was metal on metal and it needed both. Did both fronts so now that is good. Also the serpentine belt on the ranger went out when the idler pulley locked up so had to fix that. My old Copal 24 hour clock has stopped working so will check that out but it seems a gear has striped on it. Hope it is fixable. We go to the Wolfe Eye clinic this Tuesday for mom's eye surgery so keep us in your prayers. I am coming down with a bad cold so that is not fun. Guess there is not much to say this week so will close and get going. God Bless Be Good Do Right Love Papa, Dad, Brother, Cousin, Uncle and all Lew
9 September 2012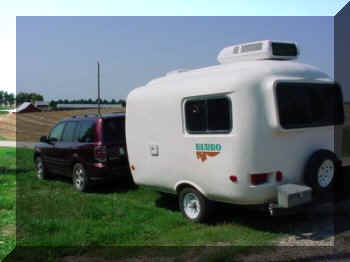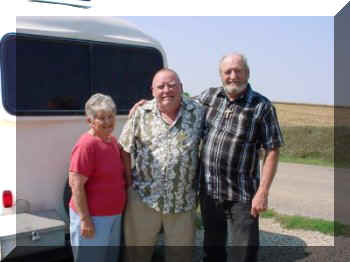 Its Sunday Morning and once again here is Lew. Gary and Jeanne stopped by for a visit and it was really amazing to see them again after all these years. We had a good chat and remembered some old times and had a really great afternoon. I was sad to see them leave but they needed to head home. Aunt Arvilla is still living on her own but having more problems with the eyes so that is sad. She is over 100 years old so that is great. The week has been a real busy nightmare as all the problems have not let up. I won't go into them but I was running my rear off all week. I am ready to head back to Alaska or at least ready for our campout at Springbrook for the year. Had some old tax problems, Insurance problems, truck broke down and on and on to deal with but most is done and all ready to go so all is okay now I think. Our little Mel came to visit yesterday so that was great as we got to see Ellie and she is sure growing. We got 10/100th's of an inch of rain yesterday and today so that was nice but sure need a lot more. Moms eye visit on Tuesday went well and it was just a checkup to set a time for the surgery and that will be done on the 18th of this month so keep her and us in your prayers. Oh Wow and the drama goes on as the neighbors are giving us grief over a boundary line and corner stake they removed and now want to claim about 2 feet of our land as theirs because we have a fence not on the line. Go Figure. Will see the lawyer Tuesday for this mess. Did some mowing and some in the road ditch so have much of that done. 49 degrees Saturday morning but it got up to 80 so that was still warm for me, Loved the 49. Checked into some of my nets this week but the bands are really dead so that was pretty much a loss. Had to use the dipole the most as the vertical had no signal at all. Being a ham is funny as the vertical is a very expensive antenna and the dipole is some cut flat speaker wire thrown up on the roof with some cinder blocks to hold it in place that I put up as a temp antenna. Well have been saving an Alaska trip movie since about 9AM and it still is not done and it is 6PM so it will be super big or will not work. Guess I will let it run all night. It did run all night and still not there so must be a problem. Computers stink. Just canceled it and will see what's up later. It's 49 degrees out this morning and that is really nice and the sunrise is amazing so it will be another great day. Temp has now dropped to 48 come on snow. Hee Hee! When it's springtime in Alaska it's 40 below. Started getting the Hay rack ready for the church band days and for the Earl May pumpkin days. Should be able to get one more year out of the bales of hay. Guess I will quit rattling on and get posted. God Bless Be Good Do Right Love Papa, Dad, Brother, Cousin, Uncle and all Lew.
2 September 2012

It is Sunday Morning and once again here is Lew. I have been gone on an amazing adventure with the love of my life in celebration of our coming 50th wedding anniversary this November 10th and WOW!!! The picture is Denali to the locals but is Mt McKinley as we know it. Denali means the great one and the name could not be better as it is the great one. As time goes on I will post many pictures but we are wore out and will just give a slight overview of the trip for an Idea of how much fun we had and the wonderful sights the Lord made for us to admire.
Praise God for all these marvels and especially for our amazing life together!
Lew & Mickey Orcutt
Our 50th Wedding Anniversary Celebration
In celebration of our 50th wedding anniversary we took a trip to Alaska and the Yukon territories. We flew out of Minneapolis to Vancouver BC where we caught a ride on a cruise ship from Holland America lines. The 5th and the 6th of August we cruised the scenic inside passage and on the 3rd day we made port in Ketchikan Alaska where we spent the day sight seeing. The next day we set course for Juneau and again made port and spent a day marveling at the vast beauty of the capitol of Alaska and then continued to Skagway and made port for another day of tours and adventures. On leaving Skagway we cruised through Glacier bay where we were blessed with the sights of Bald Eagles in flight, Dahl Sheep, Wolves, and brown bears on the coastal shores, and humpback whales, seals and such in the sea. The most amazing sight I believe was the sight of the Glaciers and their calving and discovering that although some glaciers are receding others are growing. Upon leaving Glacier bay we set out to sea across the Gulf of Alaska to make port at Seward the following day. After disembarking the ship we had a half day to enjoy the area and then caught an explorer motor coach and headed to Anchorage for a two night stay with many sights to see. After this stay we boarded the McKinley Explorer for a very scenic train ride to Denali for a 2 night stay with tours and sights to tickle the imagination of the past and the gold rush days. Here we learned the reason Denali was named Mt. McKinley but it is still Denali meaning the great one to the natives. On a tundra wilderness tour here we spent almost 8 hours in the wilderness and joined the 30% club that get to see Denali in its full slender as it is normally partially to mostly covered in clouds and only 30% of the people that visit can see it this way let alone see it at all. It stayed in full view for the full 4 days we were in the area and what an amazing sight it is. Then back on the McKinley explorer for our train ride to Fairbanks, with a 2 night stay for more sights and tours. Here we took a 3 hour cruise on the river boat Discovery III and seen many wonderful sights including the the statue of the best lead dog ever for the Iditarod races (Granite) followed by a ride on a replica of the Tanana Valley Railroad where we seen the Alaska pipeline on our way to Gold Dredge 8 to try a hand at some Gold panning. Leaving all these marvels behind we again board an explorer coach and travel along the Richardson highway to Delta Junction with a stop along the way at North Pole Alaska to visit Santa's house and another stop at Rika's Roadhouse in Big Delta state park and then continue along the Alaska highway to Tok Alaska at the crossroads of the Alaska and Glenn highways. After a refreshing nights stay we traveled the scenic Taylor and Top of the World highways with a stop at the tiny town of Chicken en route to Dawson City, Yukon for a 2 night stay with many sights of the gold rush days to relish including another river boat cruise on the Yukon River aboard the sternwheeler Klondike Spirit. On this cruise we seen 5 of the stern wheelers that helped to built the road by bringing in equipment for the building of it and bridges and then the bridges were to low for them pass to get out so they just drug them up on the bank 5 deep and they are all there in complete decay. After this stay we proceed on to Whitehorse, Yukon and on the final night of our stay here we have a farewell dinner and relive all our vacation highlights with friends and say goodbye to all our travel companions. Leaving Whitehorse we bid a fond farewell to our tour concierge, Molly, en route to the airport and head back to Vancouver BC where we catch a flight to Minneapolis and are met by our daughter Tammra who drives us back home to Carroll, Iowa where our adventure is completed. What a marvelous place Alaska and the Yukon are and what a wonderful celebration of our amazing 50 years together in marriage. The week following this return was extremely busy as we had many things to catch up on and take care of since we were gone so long so will post this for now. God Bless Be Good Do Right Love Papa, Dad, Brother, cousin, Uncle and all Lew.
29 July 2012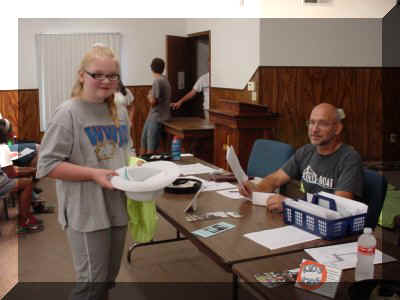 Another week and our little Faith is off to Raccoon River Bible Camp and Brad and Heather with Steph will be back this week so Sarah and Lucas will be going home so our house will be rather quiet but then Wednesday Matt & family will show up to camp at Lakeview until Monday so will be busy for that week also. What a summer we have had and just a week and we head out on our Alaska Cruise for our 50th anniversary. I filled the pond, got the GK's some breakfast and the loaded the dishwasher and now on the ARMS net so Monday is starting full. Ended up going to town for some groceries and visited with pastor on getting the youth group going and then back home to make the kids some lunch. Mom is not feeling so good and is down with a cold so hope that is better soon. The exterminator called and I am back to the rental for that chore and installed a new doorbell switch and then home and just wore out with this temp. So far today the high has been 106 degrees with a heat index of 117 degrees. The units we have to condition the air inside are not keeping up very well this year so may need some new ones with higher cooling units if this darn summer weather is going to stay this way. Helped mom with some supper after I fell asleep in my chair for a longish nap and then some TV and to bed. Wednesday Brad and Heather picked up the young ones so that makes the house really quiet. Well the week has been completely nuts and it is now Saturday night and have nothing done here at home. Spent much of the week working on my elders stuff and then Thursday went to Black hawk lake and took Maryann and the kids out for supper. Friday after some early morning things mom and I went to town and did the final papers on our trip and shopped most of the afternoon. We spent hours at Wal-Mart looking for stuff and once again we found they carry absolutely nothing. I did get a new sport coat at the thrift store so that is pretty nice. Need some new shirts now and should be ready to go. We did get some supper at Pizza Ranch and then home. Saturday I spent all morning in town at the special elders meeting and that was very trying as most do not see the big picture but it will be what it is and we will survive. Crystal returned from camp and it went well she said so am happy for that and today we have Matt and Family here for a meal and all. Not much to write this week so will post and get going. God Bless Be Good Do Right Love Papa, Dad, Brother, Cousin, Uncle and all Lew.
22 July 2012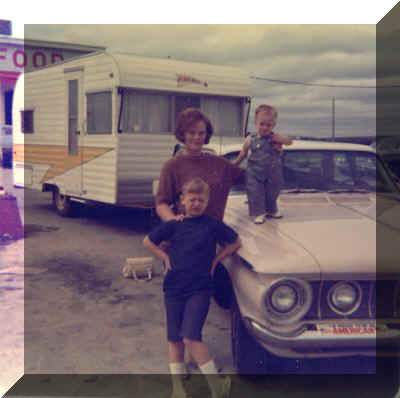 What and old pic of our first camper with our 1962 Plymouth Wagon about 1972 and time to hit the road. Those were the days my friend we thought they would never end. Oh my has my life been good. Notice the purse on the ground behind mom, she did pick it up there but we did leave it once or twice along the way and even the movie camera on the roof was gone, what a trip some of those trips were. Memories. Monday was again very hot, 97 degrees, and did not do much outside but set the trap for the cats using our yard and stuff for a litter box. I did run to town for some things and delivered most all of the absent church member newsletters and I was very well received from the ones I caught home. The rest I just left for them in a bag at the door and will call later and still have two more to complete. I was very nervous but it turned out to be a very exciting time and a rewarding experience. Mom did some chicken and rice for supper and it was very good even if it was redone leftovers. I ate to much. Watched a little TV and now it is bed time. Oh Bother could not sleep well so here I am up at 4AM and working on some Elder issues and my journal and some computer updates and all. I caught a cat in the trap so now to decide what to do with it, try and find the owner or haul it away to dump it. I am so tired of all the cats using my yard and landscape areas as a litter box but what is the right answer. Well I found the owner and took it back but I know it will be here again so what to do. Measured the corner lot and our neighbor has crossed over the lot line with his parking lot and his shed so need to contact him on that. Checked in the arms Net and the signals are poor but can copy some and at least net control most of the time. Went to town for groceries and delivered all the Elders materials for the church and visited several members so that was nice and well received. This is kind of exciting and fun so far. The kids came and dropped off our Little Faith, Sarah, and Lucas and are headed to N.Y. with Steph so I pray all goes well and good for them. Mel came over also to tell them good bye so we have her for supper also and we got to see Ellie for a time so how great is that. The high for the day hit 103 with a heat index of 112 degrees. The highest heat index was on 26 Jun at 118 degrees. Wednesday here and a very busy day with the pastor visit lasting 3 hours but it was amazing to get his insight and knowledge. It is now 8 PM and must change the forecast stuff as the temp high toady was 108 degrees and the heat index was at 122 degrees and at this time of night we are still at 100 degrees. WOW we really need to move to Alaska. Am looking at doing the snow removal for the church this winter and seriously looking at working to get a youth group going for our church. Thursday here and temps are still high and it looks like no end in sight. Went out to check the pond and potted trees and all and My Oh My everything is so dry and wilting and the pond is way low always and growing algae big time in all this heat. My yard and beds are a complete disaster and full of weeds and most all the grass is dormant and could be a huge fire hazard. Oh Bother! So far today we have 95 degrees so it is still warm. I did get all the trees watered and the pond cleaned and filled and then notice the fence by the front looked like it had been pulled up some by the posts so on checking someone has pulled them up about 1 foot for the first 6 or the dry ground has kicked them out that much. Never seen that before but will check with the neighbor in case he was doing something. Well after checking it seems he used a skid loader to pull 5 posts up about 1 foot so he could weed eat under the fence. Huh, what world am I living in and when was all the dumb born. I give up. I found part of the noise problem on the Swan radio, there is an old power strip for my TV, clocks, converter and all that has a problem because when working on some stuff while listening to the radio I moved it to rearrange and the noise went away. Will get a new strip and then see if it still does it because of the position or because it was bad. Anyhow I checked into the ARMS net on the dipole and the signals were much better so Yay! Went outside some with Sarah and Lucas and Oh My was it hot, 97 degrees today and no end in sight. Put out some poles by the stakes for the lot lines and our neighbor is over the line by about 8 inches on a gravel parking lot and about 2 or so on the shed he has there so now need to address that also. Saturday came and the heat is still oppressive and is even now forecast for 100 + for the next week. I have done very little outside as it is just stifling when I go out for about 20 minutes or so and try to work. Went to men's table talk at the church today and that was interesting as we are studying Revelations and it is a very interesting and scary book of the Bible. Caught the neighbor home late and told him he needs to move his shed and gravel so it is not on my lot so now will see how that goes. Life is sure busy lately it seems. Have the three grandkids baths started for the Saturday night baths and getting ready for church tomorrow. Will need to go very early as I will pick up Crystal for an appointment with the pastor at 8 AM and then we will just be waiting for church to start at 9AM. After that a rush home for the kids to change and then back for church picnic at 12:00 and then home again for Faith to get to her Bible camp for the week. What a day this will be. Made a few more calls for the elder visits but not many home so sent some more mail outs and called the dad in several cases. Not much more to post for now so better get moving and post as today will be very busy. God Bless Be Good Do Right Love Papa, Dad, Brother, Cousin, Uncle and all Lew.
15 July 2012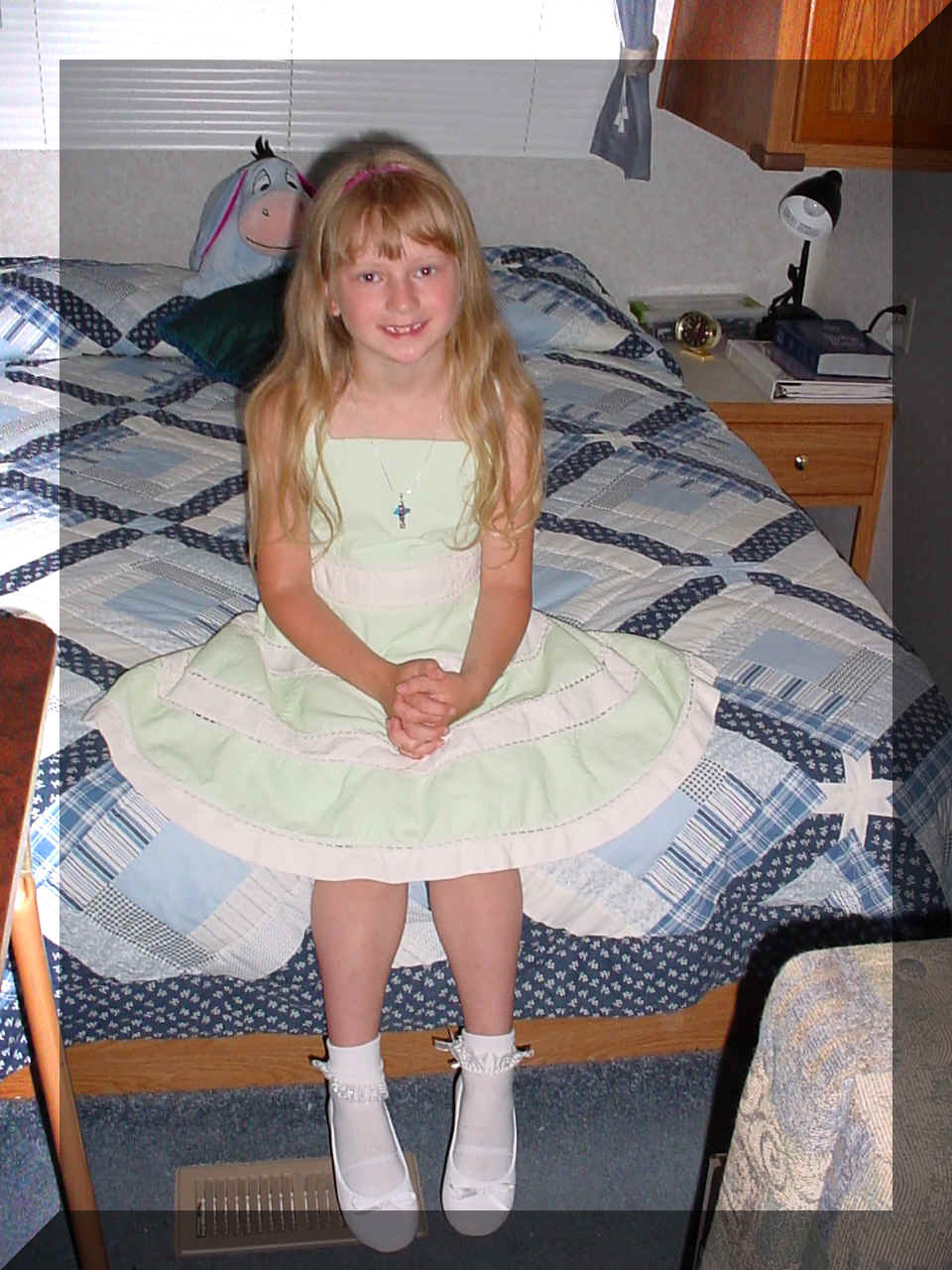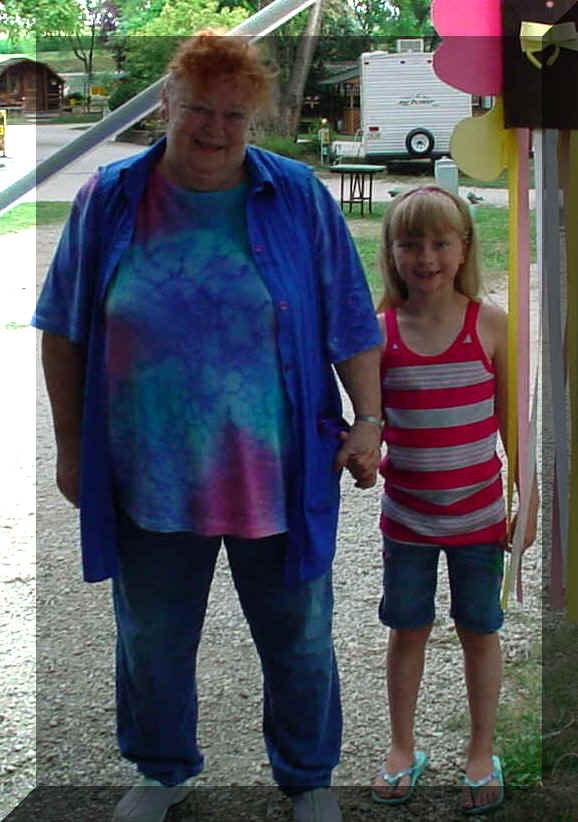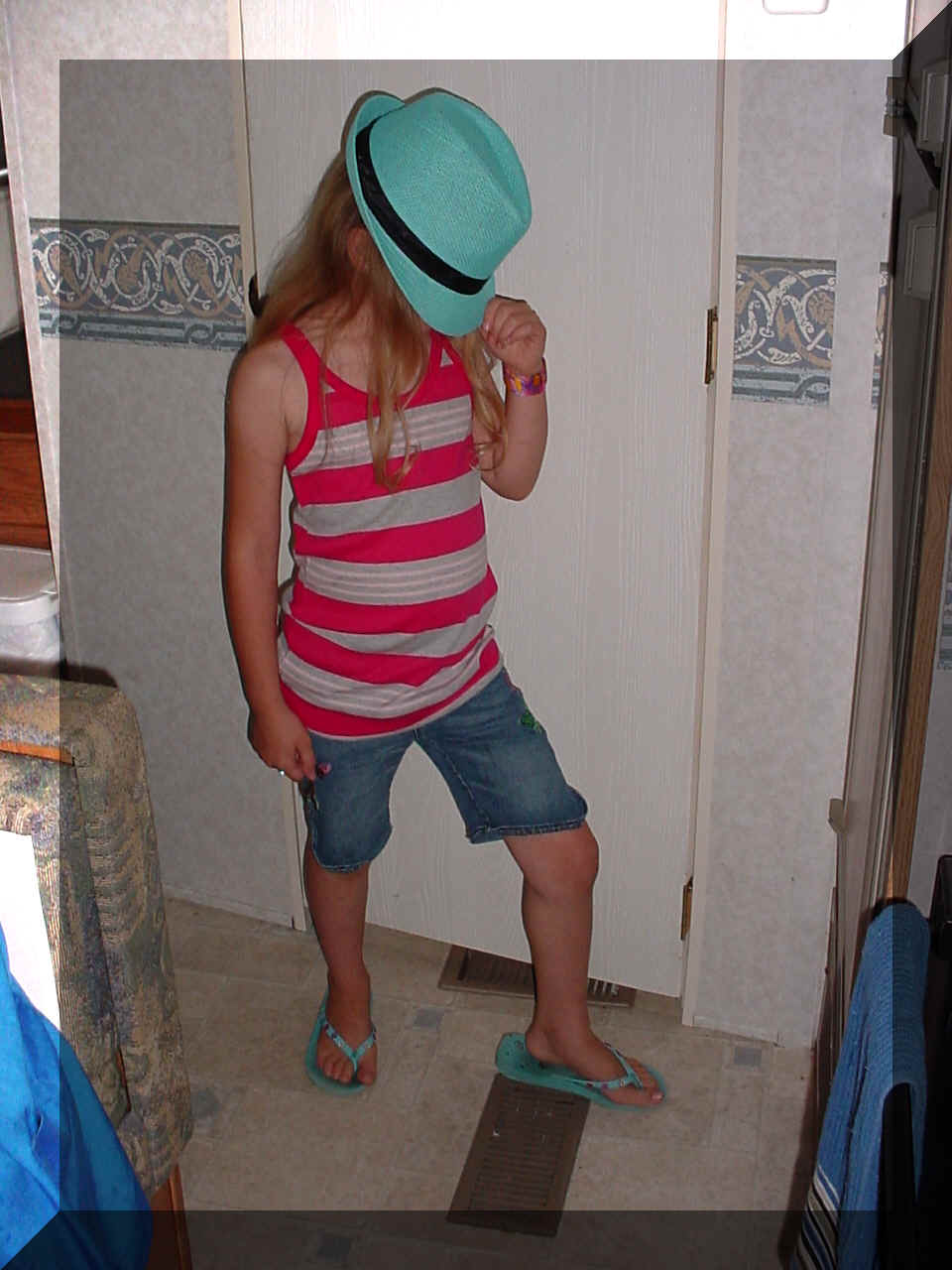 From a church sing to Bling Bling oh my is my little punkin a sweetheart. Caitlin and Mema went to the camp store and she got some Bling Bling, a Tee shirt and her hat. What a little doll. We did a treasure hunt at the KOA and Caitlin won some candy and it was fun, then her and Mema did some craft things and we made sloppy Joe's for supper and then finished some of the craft things and then fingernail polish on the nails while we watched a movie about some old time heroes. What an amazingly, terrifically, exiting, fun Sunday we had with my little snuggle bunny. She is our little love bug. Monday has arrived and it appears like it will be some warmer but not the cool 75 degrees I would like. Have the teardown and loading under way so will be off and running for home soon. Had to empty one carrier on the back bumper and repack as it was all a mess and the second will need the same thing later. Got the tanks all drained and things packed by 11:30 then gassed up and had some lunch so hit the road about 12:30 and the drive home was very hot and miserable. Sure not fond of the heat and felt rather exhausted from it so did not do much when we arrived home. Did get some of the fridge stuff in and the needed medicines but not much else just plugged it in and turned on the air. Mom did some supper and we just vegged as I did not feel so good. Looked at some Elder things for the meeting on Tuesday, tomorrow, and then went to bed. Tuesday here and I really slept in till 8AM what's up with that. Started the mail, filled ponds and bird baths and watered the new trees so they make it through without the rain. Mom and I went through all the survey things for the elders and I did the meeting and then got mom a Carmel Frappe and me a strawberry shake and went home. Was still really tired today so went to bed early. Wednesday morning and the recycling and garbage is out so the day is off to a good start. Was in the lower 60's when I got up so that was pleasant. Turned on the radio to see how the bands are and may check in the ARMS net. Heard some Philippine stations so that was fun. Did check in the net and then did a letter to hand out on some elder visits when people are not home. Finished the setup on the new US Cellular card and it is going to be fine it seems as long as it keeps going well. The price is sure great at 1/2 of what Verizon was and quicker here as well so we will see. Mom and I went to town for some groceries and things and I picked up the elders things I needed from the church and we seen the lawyer for some things we needed to do and then home for some supper. I grilled some chicken breasts and made some rice and a salad and then watched some TV. Thursday morning and the temp is 65 degrees so will be another hot one. Could not sleep well so here I am and it is 5 AM. Oh Bother. Checking on a survey of the new lot and some old stakes to see areas. Got set up to start giving the kids some inheritance stuff so will see how we can proceed with that. Life is sure busy. Checked in the Arms net and the bands are just the pits. Who broke the sun spots. Guess it will all work out so have to let it go. We had Brad and Family over for supper on Friday night and I grilled some steaks and Mom made some amazing potatoes and we had a salad with it. We had a good visit and was up real late so had to set the alarm so I would not miss the Saturday morning Elders meeting. Turns out I was up way before the alarm and filled the pond and watered some of the trees and stuff and still was early for the 8AM elders session. It was a long session but we made a small amount of headway but it seems we have some in the power mode and not in the Authority and Christ mode. It is a struggle and I sometimes wonder what I can do but the Lord is helping. It is very hot again today and this heat spell will just not let up. No rain since the first part of June and that was not anything to even mention. Had the Rambler out on the really hot 100 degree days several times and it did well so we are okay with the heat mode and no overheating. This has been a very long week and I am some tired but much is going good and mom is getting lots done in her cleanup and sorting of things to go. I am so proud of her. We are both getting excited and scared as our trip for the celebration of our 50th approaches but looking forward with anticipation. The forecast is for upper 90's all week so it will be miserable again and still no rain. I better get this posted and move along as I have much to do today and Tammy and Ben will be here later today. God Bless Be Good Do Right Love Papa, Dad, Brother, Cousin, Uncle and all Lew.
8 July 2012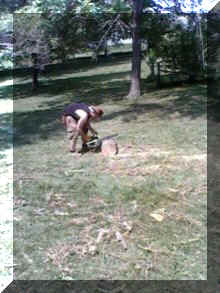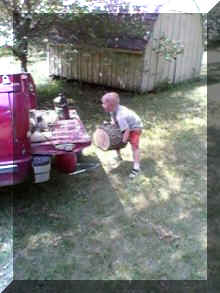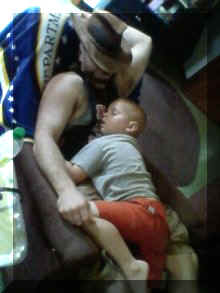 What a way to end the week last with all the yard work in the terrible heat. It was fun and my little men sure worked their hearts out. So Proud of them both. Monday came with much heat again and it is going to get warmer so hope the van can handle it tomorrow with the camper and all and headed to Matt's. Have much of the loading done and just the last minute stuff to do yet. Oh Wait mom isn't done oh my oh my!!! Hee Hee. Mel and Crystal coming this afternoon maybe so will get a chance to see Ellie again and of course the big girls also. Did the mowing at the rental, picked up moms medicine, and did the town stuff we needed and now out to mow the sign ditch before we leave so it looks good for the fourth. Dropped our survey stuff at the church for the congregational staffing we want so hope it all turns out good like we need. Ran to town for more needs mom has, Hee Hee and picked up Crystal and Mel is here and oh my is the baby small but gaining weight and almost back to birth weight so all is well so far. Got to snuggle with her for a long time so that was fun. Did lots more for the camper loading and now just the clothes things and that will be about it. I am getting tired so not sure how that is. Had a high today of 97 degrees with a heat index of 109. Tuesday is here and cleaned the pond filters and filled it with water, watered the new trees, watered the potted trees so they don't die and have the outside done for us to leave. It is going to be warm again and for the whole week is the forecast. The trip was not eventful and we arrived late in the afternoon and setup the camper and then headed to the kids for some supper. Sure was good to see them all and they did some fireworks early and we headed back to the camper late. Wednesday we spent at the kids as both had the day off for the 4th and Matt did baby back ribs and was it ever a good meal. We just visited and did more fireworks and watched all as there was many in the area and got home real late again. Thursday we had the boys with us and Mema and they did some crafts and some art work and then we did some pork steaks for supper and went swimming. It was a fun time and I took the boys home about 10:30. Friday mom and I just spent goofing off and then went to Hobby Lobby to wander around followed by some supper at the Hibachi Grill with the kids and over to their house for a visit and show them the movie of Cody swimming and watch a movie. It was another late night. The thermometer on the camper showed 110 degrees in the shade at about 4PM so it was another nasty day. Saturday has arrived and the temps are still horribly hot and we have the family gathering today at Matt's so it will be inside a lot for me. Brad has to work so just Heather and the kids are coming and will miss him bunches but life is just poopy sometimes. Ben and Tammy will be here in the afternoon also so am excited for us all to be together. I slept in this morning till 8AM so this heat and all is just wearing me out. The days with the boys has been just amazing and they are such good kids and my little shadow Caitlin who is connected at the hip is just precious. Mom and I have been truly blessed and I am so thankful for all our kids and Grandkids. Called mom to get up but she is very tired also and we need to start getting ready for the day. Have to get some things for the dessert I am making for the meal today and other stuff. Saturday was a great success and the desert was good and we had hamburgers and hot dogs along with several potato salads and cakes and Ice Creams. Matt did panini sandwiches for lunch earlier and were those ever good. We all had a good visit with much reminiscing and all the little cousins had a great time and not many of the squabbles that kids can have. The temperatures have been unbearable but we have had a great week and will be going soon to go with the kids to church and then we have our little Caitlin for the day so life is not much better than that. I better get posted and get moving as I have lots to get ready for church and the day. God Bless Be Good Do Right love Papa, Dad, Brother, Cousin, Uncle and all Lew
1 July 2012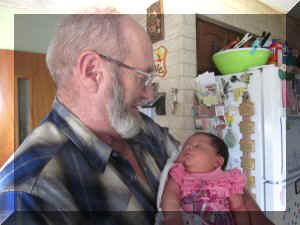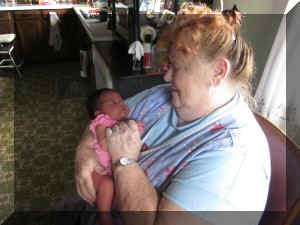 Sunday last Ellie came to visit and oh what a joy. She is so precious. My weather station has rain in the forecast but that is not likely and at 8AM Monday morning it is already 73 degrees with a dew point of 68 and 84% humidity. Do these things really work. Out to get some work done before it gets really hot. Started with the Willey sign ditch at the entrance to town and then checked in the ARMS net. Ended up staying out most of the day with several breaks as everything was so much ahead of me. Did much weed eating and cleaning in the landscape areas and trimmed the hedge by the garage back door. It is tapered like mom wants so is starting to look good. Then some push mowing and then some of the rider and it is now 5:30 PM so I think I will call it a day. Mom has been busy with her sewing room and the small bedroom for when the kids come to stay with us. The new US Cellular modem for the internet is a breeze and so much better than Verizon so we will probably keep it and dump Verizon. That is hard as we been with them so long but they will not help or even care about us so that is not good. Tuesday I finished all the mowing here at home and completed the hedge along with the cleaning of the drive and landscape area at the front of the house. Mom and I did some town things and then here eye doctor appointment and home for supper so I could get going for our elder mail out program at the church. with that finished we did a little TV and off to bed. Wednesday is here and starts at 77 degrees 73% humidity, falling barometer and rain forecast. For all the rain it predicts chances of we sure get very little. Watered the trees and plants and fed the birds and filled the pond as it is really evaporating in all this heat. Got up to 97 degrees yesterday again, and with all the humidity that is way to warm. Checked in the ARMS net and the signals are some better so that is nice. Had a great visit with Pastor and have most of the deaconess issue resolved and told him that even so for the things we need at our congregation for the service of our savior we do not need a deaconess but we need a second pastor. I can see we are going to have fun with this praise the Lord. Was a rather poopy day and not much done so not sure why. Thursday is here and it is going to be warm again. 8AM and it is 80 degrees out with 80% humidity. Did the mowing at the barn and then hauled the Ford 640 Tractor home and the trailer to use for the downed willow tree this weekend when Brad and family comes to help get rid of it along with some of the low branches on trees so I can mow without poking out my eyes or tearing up my arms. Well had a light on the trailer not working and while fixing, all the stuff is so old that when you fix one wire two break and the sockets are corroded beyond repair so will just get a new harness and lamps and start from scratch. Go Figure the Orcutt Luck is great. Will be good when I am done as there are about 3 broken wires, splices till who done it and it is a mess. Yay for me!! Well it is done and all lights work great again and will work good with the tractor also so good to go. OK the temp dropped to 87 but now is back to 92 and our high for today is 93 so far. Friday has arrived and it is another warm day so not much outside. Mom and I are going to town for her glasses, groceries, bank papers, parts for tractor, and more stuff I forget just now. We will eat out when all is done. Pretty well set up for Brad and Lucas tomorrow so maybe we can get much work done with all the tree removal needed and have some guy Father son grandson time together. Well Saturday came and the temperature was appalling but we did get the blown over willow tree down and hauled away. Wanted to get more trimming done but I am beat and I believe Brad was also and our little Lucas just worked his little heart out. So Proud of him and he is such a good boy. Had to change the chain on my saw and put on a brand new one and it would not work. Put the old dull one on and it worked fine so put the new one back on and it still locks up and won't run, so put on the other new I bought at the same time and it works fine so not sure what is wrong. At any rate it took till about 3:30 to get this all done with some rests from the heat and mom made pulled pork for lunch and we had pork cutlets for supper and our desert was peaches and cream. I am bloated along with being wore out and heat exhausted. The high for the day was 96 with a heat index of 107 degrees wow no wonder it felt warm. Guess I better get moving so God Bless Be Good Do Right Love Papa, Dad, Brother, Cousin, Uncle and all Lew.
24 June 2012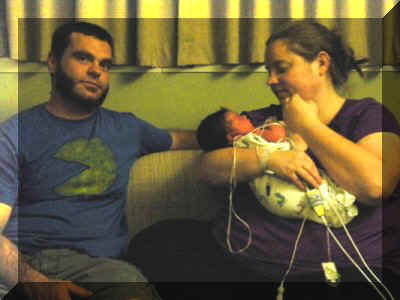 Ellie is still not home and neither is Melodie so am praying it will be soon since it is already Tuesday. Pink for my new baby love and is that pic with mom & dad just the cat's meow. Guess saying that gave my age away huh? Papa is here little love and waiting for you. Yesterday we got to 97 Degrees with a heat index of 108. We are at 92 Degrees with an index of 104. Didn't get any better and the kids, Brad And Heather, came over for supper and we had a good visit so really enjoyed that. Brad left his hat and stuff here so took that to town when I went in for some grocery stuff. Our bird food we been feeding for years has changed the seeds and the birds leave most of it there now. Contacted the company to see what they did so will wait to see what's up. I did get some cracked corn and some sunflower seeds to mix with it and see if that helps. Finished all my congregation letters and got them in the mail so that is completed and now just will do follow-up in a week or so. Had a call from a member about our communion so will be studying and checking on that. Been working on our staffing for the church in preparation for our special meeting Saturday and the the Congregation info meeting on Sunday. Mixed the bird food and then filled the pond and watered trees and filled the bird baths and gave the birds some of the new mix so will se how that goes. We got a small sprinkle but nothing to even register. Then about 6PM the rain came in and we got 1 26/100's in about 1 1/2 hours and it is still coming down. Wish it would keep that up all night but it is real light now but still coming. Kris is taking Mel out for supper so that will be nice for her to get away awhile. Here it is Friday evening and the week has disappeared and I have nothing done, What's Up with that. Went to the rental today to meet with tree trimmers to have the fallen limb removed and trim several others. The renters said they would use some of the wood to burn so told the trimmers to clean them off but leave the logs for them to cut up, hope that was not a mistake. We have a small amount of water in the pond now so the 1 1/2 inch rain we finally got did a small amount. Went to Brad's to help with some mortgage info but he had it mostly under control and doing fine. I went to town yesterday and got a US Cellular Broadband card for our internet connection as Verizon is doing nothing, don't plan on doing anything and there service has fallen to nothing after some years of very good and satisfying service. Wow does the US cellular card ever hum along both here and at Brads so may just keep it if it stays that well through the trial time. Sure is a tremendous improvement on the Verizon lately as it works just like Verizon used to. Have been studying and am set up for the Elders meeting tomorrow and have sent out all of the letters to my part of the congregation so I can get set up for some visits. Checked into the ham nets a couple times but the bands are really bad so not sure when that will improve. Can't make many contacts that way. Mel still not home but may get to come home tomorrow and we are sure hoping so. So Saturday is here and we had a very long Elders meeting on the staffing at church and then off to Brads for our little Steph's Birthday. I am basically wore out and not running on all cylinders so need some rest. Mel is coming home tonight with Ellie and we are so busy now not sure how soon we can go see her. Sent her a text but no response yet, hope all is okay. Well it is late so will get to bed and then finish and post in the morning. Well the morning is here and we ended up with 1/4 inch of rain again and it all helps so thank God for that. Kids will be here today to help with the big willow tree that fell down so maybe I can get that done. Better post and get going for our church meeting today. God Bless Be Good Do Right Love Papa, Dad, Brother, Cousin, Uncle and all Lew.
17 June 2012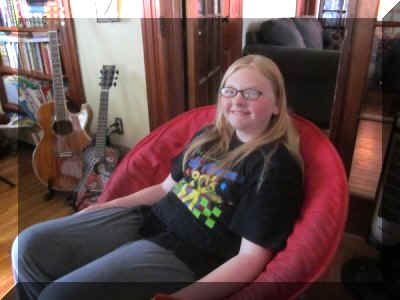 Monday is here and we got 31/100's of an inch of rain or almost 1/3 of an inch. Where is the water we need as the corn is curling and everything is so dry even the grass is going dormant. Went to our little Faith's Bday party yesterday and it was fun. She got some great gifts and even made her own carrot birthday cake which was really good. What a little sweetheart. 12 years old now and so grown up. Checked in the ARMS net and my verse was Colossians 3-1 thru 4. Have started using the bible mom got at the thrift store and it is really good with so many references and all and even large print. Started charging the camera batteries as many were dead and had to change several at Faiths Bday party. Took the Rambler to town again to get some things for the time we are going to watch the kids for Mel to have her baby. They will try natural first to see if that will work as that is the best. Mom threw out her back today so she is not moving so well so I been trying to help her. Made some salmon for supper and it was fair. Got all the camera batteries charged so they are good to go again. Tuesday here and we finish our tasks at home and headed to the kids to baby sit while they take Mel to Omaha for the birth of Ellie. We did not do much for the afternoon and then made a special goulash supper the GK's just love and watched some TV. Wednesday is here and I did not sleep so well so was up early and watched some news and studied some on our pastors and elders sharing and caring for each other. We did some French toast and bacon for breakfast and then did a movie. I did some more work on the computer and just goofed off. We did some foil wrap dinners a Mema special and the kids just loved them. We got a call from Brad at 9:04 PM that Ellie has arrived so now I am a great grandpa again. Wow & Wow that is so great. Can't wait to meet her. Well we got some rain today but not enough to make much of a difference so hope we get the stuff they forecast for tomorrow thru the weekend. Thursday came and the kids came home to pick up the young ones to take them back to see Mel and the baby if they can and they are pretty wore out. I worked on a Elders report for our council meeting and then mom and I headed home for some needed rest. Unloaded and went to the council meeting and then it was late so just visited some and off to bed. By Friday morning we got 11/100's of an in of rain and that gives up 49/100's of an inch for the month. Sure can use much more. Still very cloudy and overcast and predictions are for more so pray we get lucky. Word from Mel is the pain has receded much and baby Ellie is gaining weight so that is amazing, so can't wait to see her. Ellie Rue Eastman Orcutt, born 8:5? 13 June 2012, weight 8 lbs 15 oz, length ??. Just chatted with Mel and baby still is not stabilizing on the blood sugars so some prayers are needed. Saturday arrived and we had a total of 54/100's of an inch for this event and 89/100's for the month. Yes Tammy I said this event. Well I got a couple fans for the sanctuary for the church and went in for Men's Table talk and we discussed Revelations Chapter 6, Wow is it interesting, eye-opening and some what scary, but we are saved with our baptism into Christ's death. Well the week has been very busy and the weather has cleared some but there is still some rain in the forecast so may get a small amount yet. Been on Messenger Sunday mornings but no one else comes for the 7 AM visit and may just leave that be so will sign and post for now. God Bless Be Good Do Right Love Papa, Dad, Brother, Cousin, Uncle and all Lew.
10 June 2012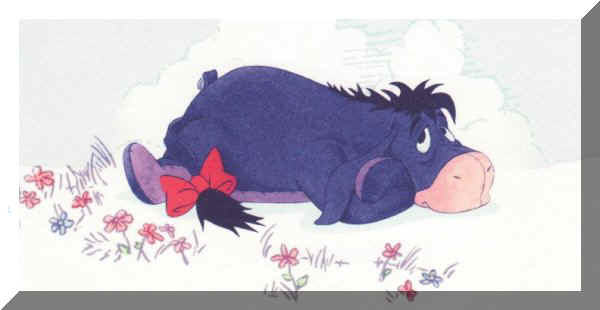 My Oh My
Back from our Doxology weekend retreat late Sunday night and what a wonderful training session that was but like eeyore I am totally exhausted. It was an 8 hour drive there starting at 5 AM Friday and then classes till 9:30PM that night and then Saturday from 8AM till about 9:30PM and Sunday then from 8AM till about 3:30PM with the 8 hour drive home after that. It was a fun time and Pastor and four elders all went in one vehicle so that was fun. Monday I did next to nothing except pay the bills and such with a trip to town for needed things and just rested. Tuesday is here and have recouped some and have much to do as we have an elders meeting tonight with much to do for that. Need to get some mowing done but not sure I will as I want to visit with mom on the Doxology class for her input and other things for our meeting tonight. Went out and watered the new trees and plants as they are going in to stress some and then did the pot plants also to help them along. Finished up my elder visit letter so will see how that works. Also have started another one for some usher training etc and mom corrected them for me so now the English and grammar is correct. Meeting was very long and still not up to the calling of a deaconess as an office of the church. Replaced a bulb in the radio so now I can see the S-meter again. Wednesday not much done either as still wore out but just went to town for some groceries and that was about it. Thursday came and I did some of the mowing and it sure is dry out and we really need rain. The big willow tree in the middle has lost over half of one side so much to clean up there and may have to take it all out. Was supposed to go to Brad and Heathers for supper tonight but Mel and Faith both have pink eye so guess we will pass on that as I have had that before and it is not fun and they are in the contagious stage. May just veg and work on the computer and help mom some more. Friday here and not much done. Got the Rambler out and went to town for some groceries and things but that was about it. Helped mom a small amount and worked much on my Elder and church things and oh my gosh is there much to do there. I checked in the ARMS net on Saturday and that was fun and the radio is still running good so that is nice. Mom slept in as she was tired and I guess I did also as I did not get up till about 8:30 so was late for the net as the radio needed to warm up some first. Tubes you know. Oh wait all you young-ones don't know what the tube radio is. I repaired and glued back a binding on a bible mom got at a garage sale and it is large print and I may start using it for mine as I really like it and it has so much concordance, information, explanations and all in it. Sure takes a lot of research to ensure we are doing the works of the bible and not of the world. I pray continually that I am successful. Mel is going to have the baby this week and it is scheduled for C section because of her diabetes and there can be problems so Pray for her and the baby Ellie in all things as even though we are all conceived in sin this is a miracle of God and we are saved through our baptism into the death and resurrection of our savior Jesus. Mom and I had bean soup for supper and it must not have agreed with me as I was not feeling well and was awake most of the night. O course I ate way to much and then snacked while watching TV so that did not help. Need to pick Crystal up for Church this morning so better get posted and move along. God Bless Be Good Do Right Love Papa, Dad, Brother, Cousin, Uncle and all Lew.
3 June 2012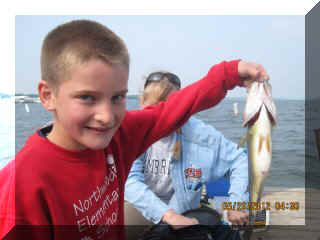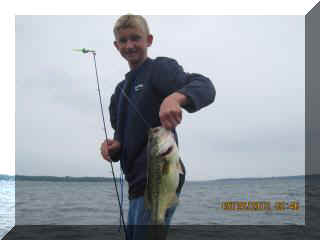 Well would you look at that our two little men have caught their first fish and they are some pretty good ones also. Amazing times on memorial day weekend and so proud of them and all our kids and grandkids. What a blessing we have. Started to get ready for the trip to Illinois for the elders doxology training and should be an exciting time. Cleaned the old van some as we are taking it for us elders so hope it does okay. It is only 23 years old so should be fine. May take the ham set along so I can try the ARMS net and Swan net on the way so will see if that works if I do. It will be an 8 hour trip so will leave very early Friday morning. Tuesday I got the last vehicle serviced and boy have the prices sure went up for that. After that I visited with pastor to get started on my congregation visits and see how all that works and presented some usher responsibilities for us to work on so we can get that program going well. Wednesday and were supposed to get rain but none and got the van ready for the trip. Emailed Verizon as the service has just stopped working. It will connect it says and stays connected but can take 2 minutes to check my mail only to tell me there is none or just stops when opening a page. Helped mom do some material holders for some of her material she is going to sell so hope that works out okay. Got a new ice chest to fit between our seats in the van so hope that works out nice. Moved the clothes hanger there also so it is at the back and not in the way of the middle seat. Did the town stuff that we needed and got a haircut also. Packed my Bible and Elder things for the trip and did some letters for our ushers so that is done. We got a small amount of rain in the evening and some over night but all added it was only 18/100's of an inch. Thursday and mom was up most of the night with her leg bothering her so that is not good. Helped her some with washing and then worked on the ends for her material holders so Faith and her can do them while I am away for the doxology training. A total of 22/100's of an inch so far but does not stay constant. Sure could use a sod soaker. We went to town for some things for the kids coming for supper and some other special weekend stuff and a few things for my trip. Put the groceries away and hammered the steaks for mom and then made us some lunch. Early this morning we got the garbage out so that is done a day late but that is how it is when we have a holiday. Got most everything ready for the trip tomorrow and will need to be up at about 4AM to pick up the pastor at 5Am and then the rest. Have the Ice chest cooling and some snacks ready for the trip and the clothes and all are ready to go just need to take them out and in the van. Am already missing mom but am excited also. Sure pray all is fine and we have a great time. Will take the laptop along so maybe can post this Sunday before we head out to the training at 8AM. Kids are coming for supper tonight and we are doing steaks and potatoes with peppers and onions that more got in a recipe from Kris but doing them in the oven so hope it all works out. Well as it happens the meal is now done and it was amazing so it worked out well. All the kids and GK's liked it so that is a good thing. Well we made it to the center by 1PM so was just a little early but got checked in and then off to check into our rooms. Finished the first day at about 9:30 so am very tired so off to bed. Up early and breakfast at the hotel and then back to the Doxology at 8AM. Finally ended at about 9:30 and had some snacks and called mom to say goodnight. Went back in from the call and there were some snacks there and one of the pastors had his keyboard so they started to play some songs and there was even some beer. None for me thanks. I took some pictures and then at 10:25 I told all I was done and we all left and back to the hotel we went. Was a early start and a late day so am off to bed and will see if I can post tomorrow. Up early and ready for the day so will post and then head to the last day of doxology and the long drive home. God Bless Be Good Do Right Love Papa, Dad, Brother, Cousin, Uncle and all Lew.
27 May 2012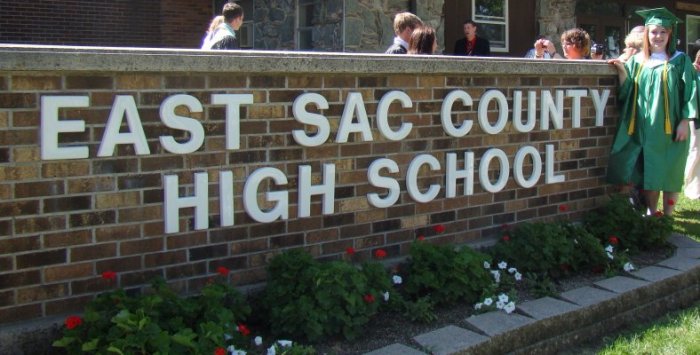 Our little love Steph has graduated from HS and now maybe off to college. What a weekend we had with grad parties and commencement ceremony and all and I am bushed but it was fun and exciting. Monday ran to town early for a dentist appointment and then back in a little later for some trees we need to get for a replacement on one that died and then one I hit with the mower around the base and it was really sad and would not make a good tree so bought another one. I planted them both and used the skid loader to get them out and that sure worked slick. Tuesday was veg day so not much accomplished except play on the computer and up load some new videos to the photo album movies. Later in the day mom and I ran to town for some info and to pay for our big trip this year and to the FSA office for some updates for the wetland and then did some groceries and came home. Did some steaks for supper and then some TV and off to bed. Wednesday started with some rain forecast but not sure about it happening as everything is clear and bright out. Wind is forecast also so I staked the new trees just in case it blows real hard so they don't get whipped about till the roots can get out and strong. Uploaded Steph's graduation slide movie I made and it is out there to view if you like. Verizon is still not right as it is very slow at times during peak loads and that is wrong for the money I pay. Am gathering information and will contact them later so they know just what it does and can tell them just what their problem is. Gave the man tree a haircut and it looks okay but made a chop on the back side, oh bother. Did the ditch mowing and the new lot mowing and some at the house and by 3 PM the temp was 91 Degrees and way to warm to be out. How did we get to August already. Thursday came in with some rain if you can call 4/100's of an inch rain. Temp is in the 60's so that helps some and ran to town for Hy-Vee specials going on for some meat and things. Set up the vehicles for some oil changes getting ready for the doxology trip and all of the vehicles are overdue for changes. Also scheduled a meeting with pastor for the input on the visits for my portion of the congregation. Friday our Little Crystal was really sick with an abscessed tooth so ran her to the dentist and then did all the oil changes on two of the vehicles, the last one is next week. Also gave her and Josh some meat we got from Hy-Vee so they have some for awhile. Got all the photos etc out to Lewzplace done for now and they came out nice so now all can see them. Did a small amount of mowing and started on cleaning some of the weeds from the cactus hill. Saturday I filled the pond again and worked more on the cactus area hill and about half done and I got wore out. The solar flare a couple weeks ago sure messed up my ham communications so not much happening with that. The little cub battery is dead again so may need to get a new one as it does not hold a charge for very long. Here it is Memorial weekend and mom and I are just staying home instead of camping. How does that work we never stay home as this starts the camping season. Am getting all ready for the Doxology training this next weekend and the van is good but want to clean it up and wax it some. Why am I so slow lately. Went to church and then to the store for some stuff mom needs and home for supper. Mom made stroganoff and was it ever good and I ate to much and then watched Harry's Law. Am not real fond of where the show is leading us into a numb state on many political issues of today like homosexuality and such. Today's world is so so full of consumerism that it is desensitized to what is real and natural for a proper and normal life. It is scary so we need the blessing of our Lord and Savior to see us through it all. God Bless Be Good Do Right Love Papa, Dad, Brother, Cousin, Uncle and all Lew.
20 May 2012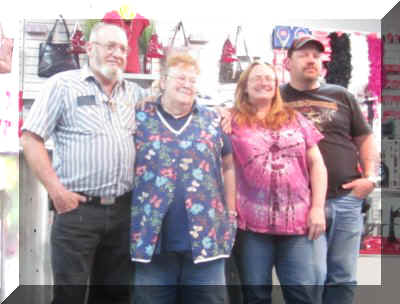 What a day last Sunday was but we did the finishing touches on the store and removed all the door and window plastic to keep people from seeing in and WOW is it looking good. Tammy has worked her little tail off and now her lifetime dream is coming true. Monday is here and in a few hours, 3 to be exact, the store will open and all will be great with the first customer coming in. And what a day it was. Non stop all day and there were 56 customers which was good for a Monday I guess so how great is that. I am wore out and mom has not been feeling well with some bronchitis or something not well with her breathing so I pray all is well there. It is Tuesday and time to hook up the camper and head home which is sort of a sad feeling but have so much to accomplish at home. Oh Bother!! We got home in the afternoon and unloaded some stuff and then just had supper and vegged some. I had to clean the pond filters and add water as it was getting pretty low and then fed the birds and cleaned and filled the bird baths. It is good to be home but we miss the thrill and excitement of the opening and our daughters excitement. Wednesday started real nice and hope the temps do not get to high and had to update much on the computer as it had lots of outdated things. Started the mowing as all the grass is long but not out of hand like I expected so that is nice. Mom picked up the mail on the way home yesterday and started it again and I went and picked up the newspapers and had them start again. Tammy had a really good day she said so that is exciting. Unloaded some of the camper and did some computer things and then just goofed off. Thursday came and the temps are still very warm but the humidity is low so that is nice. Finished all the mowing here at home and will get the rental & barn tomorrow. Worked on our little Steph's movie for her graduation and then started some uploads as video me by Go Daddy is going away and will need to redo them if I want them posted so those links in my photo page will be goofy for awhile till I get it all updated. Checked in the ARMS net but signals are very poor and also got Hank on the 258 group and the band was still poor so was amazed I heard him. Weather station has rain in the forecast so hope that is right as the pond is about evaporated dry again. Big lapse in my journaling as it is now Saturday and we just got through with Steph's grad party this afternoon and I fell asleep in my chair. Mom and I both spent all day Friday getting things ready for her and that was fun but I am just wore out. Did get all the mowing at the barn and rental yesterday and then finished the book for Our Steph and it came out real nice I believe. She had a good turn out at the party so that was nice. I filled the pond again and then did the bird baths and potted trees so they are all done for now. The first week at the store was amazing Tammy said so we are so pleased for her. The storms predicted for last night have all passed so we are fine there but still not even the rain that was supposed to come with them. It has been a tired week so guess I better post and get moving even though I feel like going back to bed. Can't do that as my little Crystal will be waiting for me to pick her up for church. God bless Be Good Do Right Love Papa, Dad, Brother, Cousin, Uncle and all Lew.
13 May 2012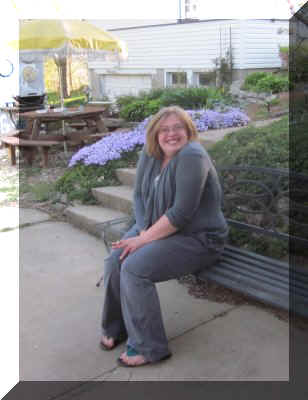 My little punkin and such a cutie. Monday came and it was an extremely busy day. First thing I loaded the truck with the mower and the door for the rental and went there. I did the mowing at the barn and then at the rental and then helped put in the new door for the rental and then off to get the camper and all ready for the trip too Tammy's. After much loading and time spent we arrived at Tammy's about 5 PM and just set up the camper and then ate supper and seen the store. Tuesday slept in some till 7:45 and then off to work. Cleaned some stuff and started on hanging up some clothes for Tammy and after that started the labeling of those clothes items. I got some rugs on a break for the walk to the bathroom and to help dress the back area and I believe she liked them. Also got some for the kids room but she is not sure of them so may take them back. Well Wednesday is here so better get moving and finish the tagging. Wednesday, Thursday, Friday & Saturday are a blur as we did much work at the store and I went to the elders meeting back in Carroll on Saturday. The meeting went well and much was accomplished but I am struggling with the calling of a deaconess for added staff for the staff we need to add at church. We will see. We got a door from the habitat warehouse and put that on the store room at the store and then I made a set of doors for the office there also out of some old doors Tammy had from an old trailer she had. They all came out nice. We put up the monster stickers mom made for the Fun Finds room and they look so cute she did such a good job. Tammy likes the rugs for the kids room so we put them out and then I got some for the dressing rooms and she really liked them so we did them also. We put out more clothes and set up some consignments and the week just flew by and now tomorrow is the big day as the store will open then. I painted the door and trim for the store room and then put up some chain stuff mom got for the down stairs entrance to keep people out since that is for a later date. Mom was not doing well this week so that slowed us up some and think she is better now and it was like a bronchial virus thing as she was running a fever and breathing was labored at times. I did fix the water heater at the camper so that stays lit now. The igniter electrode was too open so it would some times fire through the ceramic and not light. I checked the wetland when I was home for the meeting and not much rain as it is still no different than when we left. The campground is completely full as a large group comes every year for mothers day and the weather is cool and nice so that is wonderful. The big van is now handling very well since I found the radial arm bushing bad and they fixed that for the price of the parts since they did not do it when it was in for the front end work. Even in the wind now with the camper on it is easy to handle and the wandering is gone. I guess I better get this posted and call Tammy and get to work since tomorrows coming and there is still much to do. God Bless Be Good Do Right Love Papa, Dad, Brother, Cousin, Uncle and all Lew.
6 May 2012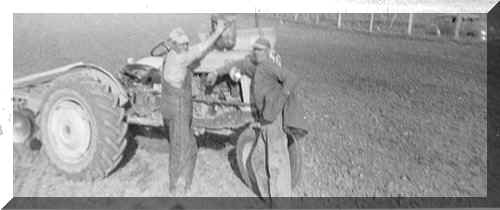 That is my daddy and Mr. Hawkins when we lived at Toledo Iowa and the tractor is an old Ford like mine now but with the narrow front and the disk is about the same as the one I have. The car in the background is our old 1947 Dodge 4 door and it was a very nice car. Those were the days as our driveway just to the road was about 1 mile long and we walked that to catch the school bus. One summer day I found a baby turtle along the road as there was a small creek that ran there also and kept it as a pet till it got out one day and I did not find it for a long time. When I finally found him he was about dead and I could not bring him back to health and he died. I was so sad. Monday came and we had some rain on Sunday evening but only about 52/100's of an inch so that did not do much for the wetland. The day is warm at about 71 for the high and rain is in the forecast again for most of the week but not very promising at only 20 to 30 percent chances. Spent the morning in working on the door closers at the church and discovered that the ones that were hard to open had new closers installed but they did not have adjustment for the spring tension so will move some around and then see about getting some with the right adjustments for handicap etc. I did all the mowing by the roads and signs today and then did our set aside paths here and that area. Then I mowed a small amount by the patio and came in to rest and get ready for our Bible study tonight. Mom may go also just so we can refresh and that sure is exciting for me with her going with me. We have her Bday and Mothers day set up for this Sunday 6 May after church and Sunday school. Tuesday came and it is a warm day and we had a great time at the bible lesson and will see about some more of them as time goes by. Temp got up to 83 degrees so far but now is down to 81 so may be dropping off. I finished all the mowing just in time to start it all over again an then checked into the Swan 258 group on the ham set. Did the ARMS net this morning and that was fun. Have an elders meeting tonight so am preparing for that and will check and see if we can set up to Skype in for times when a member is away. Did the meeting and it is now Wednesday and the Skype is out I guess. Temp got to 78 and I took the van in for the radial arm bushing and they let me buy the bushing $30.00 and they ate the labor so guess that was fair. Changed out the bad door closer at the church while they did that and checked some on the cooling but will need some old clothes and a flashlight so I can get in the tunnel and have a look at it all. Took mom to town to check on some of the books she needs for her left behind series and then we went to the thrift store and I made some final adjustments on a door at the church and mailed all my letters to the Ushers for this month so that is done. Mom did spaghetti for supper and then went down to watch TV and I fell asleep. Thursday came and we had another 23/100's of an inch of rain so have had 1 and 13/100's so far this month. We need more. Kind of slow today but got the letter ready for my congregation members for my introduction and then put out some mulch and did the weed eating for around some bad areas. Got the blankets out of the hall closet so we can go through them and get rid of some. Pulled a few weeds and then came in as it is now 85 degrees and 60% humidity so it is warm. Will see about the Swan net if the band is okay. Friday arrived and I was up early and went to town for a haircut and then I hung the blankets on the line to air out and trimmed the hedge for mom the way she has always wanted it as a birthday gift. It looks pretty ragged but should fill out nice. I did all the mowing including the sign ditch and the new lot so that is done here for Sunday and for the time we will be gone. Pulled weeds in the pots that have the trees in them and set them around so the patio is not cluttered and pruned some of them that needed it. Hauled all the brush and hedge clippings etc to the burn pile and then worked on the stuff for the camper some. I ordered the books mom was missing for her Kids Left Behind series for one of her birthday gifts and then did some of the washing for her and did the dishes also. Seen quite a few Goldfinch today so maybe they will be here this year again. Made a T-bone steak with fried potatoes and string beans for supper and then when we were watching TV made some popcorn and the day ended. I was tired. Saturday early in the AM gave us another 1 and 6/100s inches of rain so that is really nice. Still need much for the wetland pond so hope we can get if full this year. Set up to fix the door at the rental on Monday and we will head to Tammy's for the store opening on May 14 and that is very exciting. She is pretty nervous but excited also. Checked into the ARMS net and then reset my weather station as it had some goofy readings, not sure what caused it but seems fine now. Helped some in the house, did some washing, did dishes, and went to church for my elder time. Pastor got overheated and had a dizzy spell but all came out well but was a scare. Today is moms Bday and we are under some rain storm watches so may just be doing all of her party inside. Whatever we do I better get moving and get ready for church and pray we don't have another episode like last night. God Bless Be Good Do Right Love Papa, Dad, Brother, Cousin, Uncle and all Lew.
29 April 2012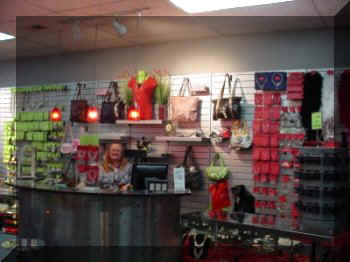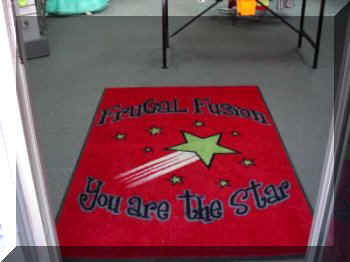 Lots of work completed at the store of Tammy's and the opening day is coming closer. Finished the painting in the kids room and did some dusting and then changed design on some tags for Tammy and printed them also. The picture is just a small portion of the store behind her checkout desk and it sure is nice. It is a beautiful day today and will get much done I hope. Mom was up early so she is feeling better I hope and I am not so bad so better get moving since I had breakfast at the motel. They have a really fair continental breakfast so that is nice. Checked my Face book and it is as boring and full of drama as ever so not sure why I bother. At the store and cutting more branding labels Yay! Also printed some more so now have them to cut also. Trying to fix one of her card punches and will see how that does. Went to lunch at China Buffet and then back to clear out the kids room for paint, vinyl and floor patching. Brought the broadband modem this trip and all the tests just fly for 3G with less tower bars and signal strength. Finished the floor sizing so it is now ready for the vinyl and then just the trim. Tammy has finished the one wall hanger board she wanted painted so just a small touch up back to the storage room and the kids room is ready for the installation of the shelves, racks the inventory and tagging as soon as the vinyl is down. Sort of hit a slump about 4:30 so just slowed up and set down for a rest. Helped Ben with the vinyl and then ran for a threshold for it and called it a day and went to supper. Day is done. Well almost got back to the motel and the night worker was parked in the handicap space again so had to ask her if she had a sticker for that. Her reply was no so I informed her she can not park there then and she replied well I needed a place to park so I informed her that she was rude and inconsiderate and that is a $100.00 fine for doing that and she needed to move and then left. About 15 minutes or so she moved it. Things like that really upset me. It is now Tuesday and the sun is bright with no clouds and going to be very warm according to the weatherman. I went up for continental breakfast again and our van seems to be all intact so guess we had no repercussions from last night. A very busy day at the store. I finished the base board for the kids room and put it in after the vinyl was all down and checked for bumps etc. Then did all the base for the outside and the the door molding and installed that, and then did the touchup painting and moved all the black beauty stands back in. What a full day but it sure looks nice and it is great to get so much done. We all quit at about 8PM and went for supper and then back to the motel. Wednesday and did some clean up for the store and then moved a thermostat so we can put up some curtains and it was time to head home as I need to help the pastor with the confirmation students final quiz for completing the class. What a joy to see all the young people starting on the path the Lord guides us to if we just listen to our hearts. Stopped in Ida Grove on the way home and picked up the new door for the rental back door to the deck so hope I got all those measurements right. Thursday came and it is a clear beautiful day. Cleaned the pond and filled it again as it was getting low then fed all the birds and Hooray the goldfinch are here so maybe I can keep them this year. The food for the other feeders looks different than I remember so may have to check on that. Went to town and did the town stuff I needed to do and started the mail again so that is all good to go. Unloaded all the van things from our trip and now can check on the front end some more. Back at home and Verizon is slower than snail snot so called them and they have no explanation. Goes really well everywhere but here and they say they know there is a speed problem but can't figure it out. Go Figure maybe I'll go apply for a job there as an engineer since you can do that and accomplish zero for some years and still keep the job. Friday morning and the sky is overcast and rain is in the forecast so hope that is true and we some and could even use one of those good old Iowa sod soakers that lasts for some days. Checked the speeds on Verizon and it is still slow and my signals are stronger than in other places but with much slower speeds. Checked into the ARMS fellowship net today and have been missing it and the Christian fellowship we shared so it is good to be back. Did some town errands and the fixed the Toro rider mower and did all the mowing at the rental and the barn. Charged the battery on the ford tractor and got that ready for the summer fun and also on the Cub Cadet so it is ready again for work this summer. There is much thunder and dark skies but no rain yet so hope it does open up and make it. Well it is now bedtime and we did get some rain 23/100's of an inch, that's not even a quarter inch so where is the rain. Well it is now Saturday and getting ready to clean at the church and we have only 39/100's of an inch of rain so not much yet. Better get going to the clean up and get that done. Well clean up went really well and we accomplished much and had fun in that. Must have overdone as I went home and just vegged all afternoon. I did some flat iron steaks for supper and we just watched some TV and then off to bed. Guess I better post this and get moving although it is still early. God Bless Be Good Do Right Love Papa, Dad, Brother, Cousin, Uncle and all Lew.
22 April 2012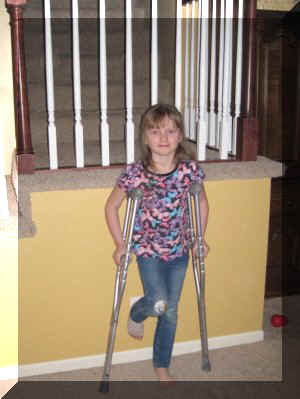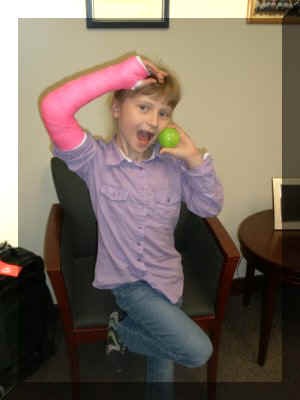 Oh My Oh My our dear little Caitlin is at it again. How cute is the arm picture with the pink cast. They were here last Sunday for an Easter celebration and she was going over a fence or something and jumped or fell and landed straight arm and Walla a hairline fracture at the elbow. Maybe the doctors are starting to think abuse with wanting to know where it happened and how and all that after the leg toe thing just several weeks ago. My precious little girl what a trooper she is. Church today was great since Crystal went with me and I sure enjoy that and we are looking at some classes together so will enjoy the refreshing I need for our savior. I remember the classes Mema and I took way back in 1962 with great fondness and can't wait. The day is very warm and don't see much rain but we are at 73 degrees with winds gusting to 29 and a falling barometer with rain forecasted and the high was 75 so the temp is falling. Monday arrived and it is 41 degrees out so not bad but some real strong winds with gusts at 49 MPH so now spring is official in Iowa. The barometer is on the rise and 90% humidity so the day is going to be fun. Take the big van in today for some front end work and work some at the parsonage on the water heater and the church on a sidewalk. We had a poopy day yesterday and I missed the voters meeting at church so not sure how I did that. Got the van in at 7:30 and then off to the parsonage for some work there. Got the Water heater going and all is good. Looked some at the garage door there also and can do some help with that if necessary. Adjusted an opener for one of the doors at the church so it works better now and put in some door bumpers for it. Need to get a manual as it seems not quite right yet. Got the van back and it was a drag link that was bad. Wow are the garages really expensive of late, may just go back to doing it myself. Tuesday is here and decided to go with mom up to help Tammy as I don't like her going that far all alone. Yes she is a big girl and don't need me around but I worry. No rain in the forecast so not happy there but the good Lord knows best. Well better get shut down here and pack it all up and get going. The trip went well and we arrived at Tammy's with time to get much done at the store. I painted the small kids room and then put some of her labels on jewelry and we went to supper. Then back and put on some more labels and gave up about 8:30 went to the motel and off to bed. Was real tired for some reason. The van was very good and did not drift even in all the wind we had but it was blown around some but it still has the noise I told them to look for and fix. Go figure for that kind of money. Got up Wednesday morning to get mail checked etc and found I left the broadband modem at home so had to use the wireless at the motel. Bother as now I can not check the speeds here for it. Oh well off to the store for some work. Did more label stuff all day and finished a lot of one wall and some stands. Man is there a lot of labeling to do just to get open. Thursday is here and will see about putting up some wall bars to put her shelves in the kids room up. And of course labels. Better get moving. Late in the afternoon have the shelve brackets up and have completed the labels for the natural's area and then started to cut off some of the branding for her items. Some people coming tomorrow for some items for a wedding so started some clean up so it looks presentable since she is not open yet. Took the van out to Ben's work around 4 PM for him to look for the noise and Walla barely got under about 30 seconds and we seen the problem as one of the control arm/radial arm stabilizer bushings on the right side is shot allowing it to hammer on a bump or quick brake. Will be back to Ford here to chew some. Went to supper about 8PM and then called it a night and since mom needed some things we went to Wal-Mart for some shopping. Friday is here and I forgot to mention it rained most all day yesterday and the renters said it rained there since about 4 in the morning and till late afternoon so hope we see slots in the pond when I get back. Anyhow we have some black cloudiness so might get more today. We will check out of the room today and I will head back to see the girls, our little Faith & Sarah's dance recital, so I can tape it as mom is going to stay here and help Tammy some more it seems and she can sure use the help. We have accomplished much this trip and most of the horrible tagging is out of the way for now but still much to do. Our Doxology training for the Pastor and Elders for 1,2,3 June has been set up and it is in Springfield Ill. I believe so will have about an 8 hour drive just to get there. Well I better call mom again to get up and start the van loading for checkout so we can get moving. Got through checkout and went to the store for more work. Have accomplished much and got all the vacuum and cleaning done I could do. Then put up some of the hangers for the dressing rooms Tammy wanted and printed things off for mom for the kids room. Helped Tammy pick out some new rugs and then packed all the things for home and loaded the things to stay with mom in Tammy's car and headed home. Seen the dance recital for Sarah and Faith and really enjoyed it and I ordered a cd also for our library. Visited with the kids some and then home and to bed. Missing mom much as it is not normal for her to not be here with me. Saturday morning came with overcast and some sprinkles but we have had no rain at all as we lost water in the wetland so not sure how they say we had rain all day Friday. My weather station shows maybe 30/100's of an inch which is barely misty high humidity. Went to Men's table talk and really had a good breakfast and visit and the class was great. Checked on the van parts and such but may do it myself if I can. Parts are from $12.00 to $33.00 and the labor will be over $300.00 to $400.00. WOW! Just need it fixed I don't want to purchase the company. Did a bunch of the mowing for the yard, ditch, sign, and roadway so it looks nice again. Put the mud flap back on the Van so it is ready for the camper since it got caught and ripped off when I got the camper out of the shed. Also fixed the door pull on moms side as it came loose last week so now it is good again. Went to the evening church service and then will take Crystal to the morning one Sunday morning. Started some washing and loading the camper for the trip back to LeMars for some more store work. Sunday morning is here and mom sent a text at 2:18 AM and said to forget the camper and just lets stay in the motel so will get that unloaded and change back to just the van. Oh well will see my honey in a while after church and the change out of that. While doing this the computer decided this morning it needs to update everything it has on it so that is a pain and some are entirely unnecessary. What a joy this new tech stuff is not. Well I better get post and moving so God Bless Be Good Do Right Love Papa, Dad, Brother, Cousin, Uncle and all Lew.
15 April 2012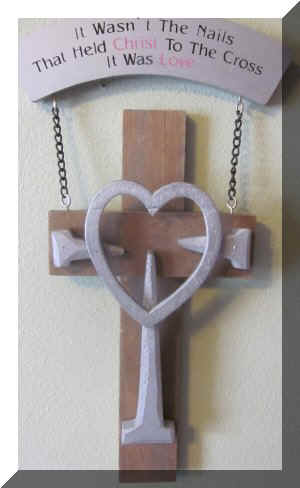 Oh my what an amazing week the past Easter week celebration has been as our Savior has Risen, He Has Risen Indeed, Amen. The kids were her Saturday last for my Bday and then they all came over on Sunday also for an Easter celebration. I did a small Easter service with some sing along songs and it was fun and we did The three nails which about puts me on my knees and brings me to tears and then I pledge allegiance to the Lamb. We had a very fun time. Monday started cool and sunny and I picked up some in the yard and then checked on my net and cleared up some things in the house. We goofed off and mom made some lunch and we did some TV and then I needed a nap so we laid down for awhile. Got up about 45 minutes later as my hip hurt and checked the Swan 258 group and all I could here was KC7PSY Ron out of Montana so the band is still not well. Did some Face book stuff and then just nothing. Was really sick in the evening and about 12:30 ran to the bathroom and threw up so not sure if I ate something bad or was just sick. Tuesday came and I got the figures and measurements for the rental door and then got all the confirmations on the correct size to order so will do that tomorrow. One problem down and many to go. Signed up for some doxology training on the 1st 2nd and 3rd of June along with pastor and all the elders. Should be a fun time if all go. Did some mowing and planted the new bleeding hearts I got for my Birthday and put some mulch around them. Fixed the bird on the plastic bird feeder that was broke and leveled it again and fed the birds. Pulled all the filters in the pond and cleaned them and the pump screen and the water is flowing fine again. Made a trip to town for the printer ink and some groceries and did the mowing at the barn after I got the mower and tractor going for the year. Mom made some fish and rice for supper and it was really good so I ate to much again so hope I do not get sick tonight. Redid my elder letter for the congregation but the pastor wants to wait on all the elders so am getting frustrated with all the waiting all the time and just talking and then not doing much. I will get it going by the next meeting. Wednesday is here and last night had a good frost at 24 degrees so not sure how all the plants held out but they look okay so far. The morning is just beautiful with full sun no clouds and the temp is on the rise at 37 degrees. Checked into the ARMS net and then off to get to work on the yards and spring stuff. Did some weed spraying by the landscape hill next to the garage and by the pond and garden shed. The put down some mulch by the garage and unloaded the rest to put around the pond and loaded the truck with the push mower, trimmer, chain saw, sprayer and clipper and headed out to the rental to work there. Unloaded the sand tubes from winter on the way there at the barn. Cleaned out the saplings around the house and the peony bed and the iris beds there and hauled all the brush to a pile. Sprayed the drive and the landscape areas around the house and then loaded all back up and headed home. I was rather tired then so took a small nap and then unloaded the truck and cleaned the patio area and called it a day. Mom did fish for supper and that was good and we just vegged and off to bed. Thursday 6 AM and we had our low for the day of 33 degrees so plants should be fine again and there is some rain in the forecast so hope that works. Started a log for the Verizon internet connection here to see just for sure what speeds we get throughout the day. First few tests are going fine. Went to town for some medicine for mom and then picked up some groceries and some bird food as they are about out. Mom said it rained on her when she fed the birds but there is none on the patio and the rain event on the weather station has no indication. Must have been heavy dew or not enough to measure or see. Need to get going and finish some mowing and I have a church council meeting tonight so better move. Opps now I am on the radio so will postpone that last update for the time being. Heard and old acquaintance sign in and was great to catch him so will chat some and maybe catch the 258 group also. I did finally get some of the mowing done and then cleaned up and went to the council meeting after some supper and finally got home about 2145. Had to stay later for a scholarship fund meeting also. What a long day. Friday came in cloudy and raining at 88/100s so far so hope it keeps it up to be one of those good old Iowa sod soakers. We need it. Had some granola cereal for breakfast and checked Internet speeds and it is doing fine. Was up and down and mostly bad till Thursday/yesterday and then has been good till now so will just keep checking and filling a log out just in case I need it in the near future. Fired up the radios and getting ready to check into the ARMS net so am multitasking. So far the net is a blank but Matt called last night and said our little Caitlin has a fracture by her elbow where she fell. Oh My the poor little dear and she did that at our house playing out in the yard and has a small pink cast on it. She was such a big girl when she was here and I know it had to hurt lots. Still no ARMS so that will be a bust the way it looks. Set up to take the big van in on Monday for some front end work and while it is there will go to the parsonage to check on the water heater and things that may need repairs there. I volunteered myself into that work also but it for a good cause since it is for the church congregation. We sure do get in trouble whenever we open our mouth and close our eyes and ears. Hee Hee!! Finally got in the net but heard only two stations so it was bad band conditions. Saturday is all overcast and foggy but warm temps at about 50 degrees but there are storm forecasts for late in the day. We need to get more rain out of it I hope. Getting ready for Sarah's Bday celebration today as it is already past but they were busy on her Bday. She is my little love and we got her some clothes and toys and all went well. After gifts we had cake and Ice Cream and then headed home. The rain started and we ended up getting 1 and 80/100s inches so that was good. Wish it could have been more but there is still some in the forecast. My little Crystal is going to church with me tomorrow so that will be great and we may get started on some classes for both of us. Well we got more rain over night for a total of 2 and 44/100's inches so that is good and more forecast for today. We need it. Guess I better get posted and get going as I am not moving fast today. Got some word on little Drake and he is improving so keep the prayers going for him and family. God Bless Be Good Do Right Love Papa, Dad, Brother, Cousin, Uncle and all Lew.
8 April 2012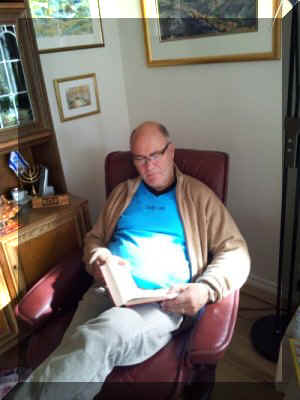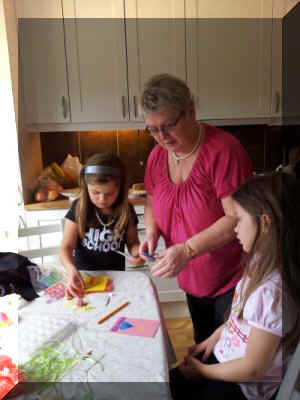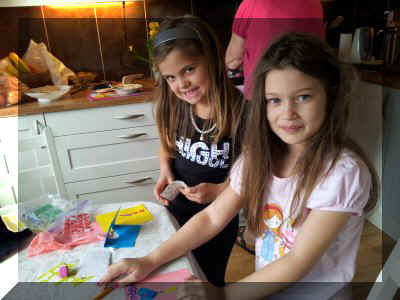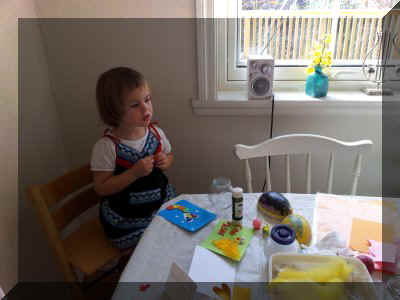 HAPPY EASTER
Psalm 23
What a wonderful Happy Easter from our Norway cousins Johannes and Aaslaug, and what a group of pretty and precious kids that we are so thankful we have met and have as new family members. We are surely blessed in our lives and thank the Lord every day for that. The young ones are Helene, Natalie, and Ingeborg with Bjonar not there and they are working with some crafts that Mema left there when we were over there. The kids are in Thailand for a year with mom and dad Oyvind and Solveig but all are home in Norway for Easter vacation. What a day Sunday last as it hit 91 degrees for a high on the first of April so how does that work. Did some mowing and checked in the Swan net and just sort of goofed off. Monday came in at 90 degrees for a high and it was a very warm day which was too high even for August in Iowa. Finished the mowing and need to start at the front on the bank again as it is about 6 inches already. Did some outside clearing up and picked up a load of mulch for the landscape beds so will see how quick I can get that down. Cut up and hauled some more brush out of the trees so have much of that cleared up for now. Tuesday came and it was a sad day as our little puppy missy gave up and passed away and she was 16 years old so we really miss her. Didn't do much then except get ready for the Elders meeting for church and get most of that stuff ready. Did all the bills and started the mail and that was a full day. Wednesday was cooler for a temp to start at about 50 degrees when I got up but that is still warmer than normal. Checked in the ARMS net but the band is really not good so heard net control and 1 or 2 others was all. Did some more chemicals for algae in the pond and it is getting clear after all the winter sludge buildup so that is nice. Moving things for mom and then got the camper out and in place for the kids this weekend and will have some of the blow up beds ready and much other stuff. What a super busy week with all the Easter preps for the resurrection of our Savior and the services needed. Was able to attend several of them and do communion for several so that was very rewarding for me. Put some more chemicals in the pond for the algae and then started all the bird feeding as there are some returning but have not seen many Goldfinch this year. Been doing some yard work and already did the mowing 3 times. The temperature has cooled off some so it is very nice to go out and work in the yard. Helped mom around the house to get ready for all the kids for my Bday celebration and for Easter so have been busy there also. The camper is up and running and just need to make the beds if we use it and have the small bedroom cleared out also if that is needed and then can blow up some beds also. Made it to Maundy Thursday service and helped with communion and then went to the Friday service also but with everyone here skipped Saturday and then will go to the sunrise service for Easter at 7 AM. We lost all TV signal so had to get out the ladder to check the antenna after all the checking cables and such in the house did not fix it. Still don't know for sure what it was but it is now coming in better than it has for some time. Must have been something lose that I fixed while checking it all out. I did call Verizon Friday night and they could not find out what was wrong although they had many calls for our area on slow and poor conditions. Saturday morning it seem to be back to normal so they must have found out what was wrong. The rhubarb was ready on Saturday also so made up a rhubarb raisin sort of minced meat sauce for desert and for an experiment it came out real nice. Went out after the daylight arrived on Saturday and did some push mowing and some rider and the city bank by the city sign so it looks nice for Easter. The kids all arrived except for Kris and her mom as she had to do some class work but they both will be here today. We had some chicken with fixin's for supper and then just some great visiting and some desert and did my gifts and it was a great birthday for me. Now I better get moving as it is early and I need to be at church by 6:30 or so to help if needed. I am truly blessed in my life. God Bless Be Good Do Right love Papa, Dad, Brother, Cousin, Uncle and all Lew.
1 April 2012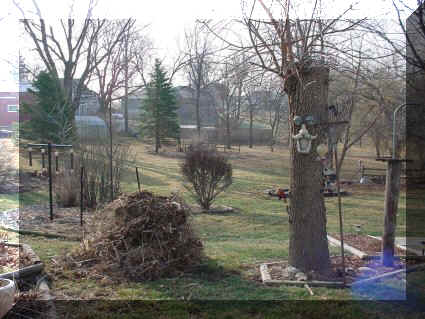 Spring is in the air and the clean up has begun from all the winter derbies and the man tree has been busy raking. What a Monday we had. Tammy and I went to Menards early for some supplies to build the kids room she wants. The room turns out to be not square from top to bottom on the walls and and not level on the rest so what a mess. Spent most of Monday trying to figure out how to fix it and then was completely exhausted. Did some printing while working on the walls and then Tammy and Ben made some steaks, potatoes, corn and such for supper and we watched a movie and went back to the motel and to bed. I did not sleep well as I tossed and turned all night worried about the work at Tammy's and mom and missy. Got up early and headed to the store for some work and maybe get some things done today. Well the day went good and got the room done and now can start the mud for the sheetrock. I have learned two things doing this, 1 I don't like to sheetrock and 2 if I need any done in the future I will hire it done. Wow what a bunch of work and now the really hard part with all the mud in joints holes etc. We hung up two of her bracket panels and are they ever heavy and it took both Ben and I with Tammy holding to help out, what a job. Did the clean up work and all the while was printing more signs so got a lot of work done. Oh man Tuesday morning and I slept in till 7:15, what's up with that? Oh well the day went well and I got the first set of mud done on the drywall and it looks nice and will work well. Did lots more printing and while that went on I put more jewelry on cards for Tammy. I am getting rather wore out and found some muscles I have not used for some time so guess that is good. Framed in the door also that is going to one of her rooms for special stuff and then Tammy & mom went to Menards to find some vinyl and trim stuff and once the mud is complete she can paint and trim and it will be good to go. She ordered her sign today for outside and inside and the rush is on to get it all done and get open. They got some trim and the vinyl so that much is done and the first coat of mud looks to be dry enough to work on tomorrow and get another coat on. We gave up about 10 PM and went back to the motel and gave missy her meds and then off to bed. The night has passed and it is Thursday morning and I slept fair last night. The computer does not always want to play the music from my external drive so not sure what that is but tried the VLC music player and it does not always play it either. Hooked it all up different so will try that. It's almost 8AM and Tammy has not called so she must be sleeping in and I do not have the key so will just wait. Missy still is not good but was some better yesterday as far as being active goes. Well discovered the different hookup did not help either so am assuming it did not all transfer to the external drive correctly. The sun is up and going to be another beautiful day and this is march. Accomplished much today and missy finally is doing some better so that makes us happy. Sanded all the drywall and then put on the second application of the mud and the inside of the room is ready to paint I believe after the final sanding on that. The outside needs some more mud to level the surface though as it was very crooked and uneven. During that time I also did some more printing and cutting an folding and making labels so we have really accomplished a lot this week but she has much to do yet. Mom and I got a tuna sandwich and a frappe and then went back to the room and just watched TV. Friday came and we had a great rain last night so hope we had a good one at home also. We will be heading home today and feel we accomplished much for the store and getting it ready to open. They are working so hard on it. I got the music figured out I believe since they all do the same at the same areas I think there was a glitch when I copied it to the hard drive that won't let it all work. I will redo some and see it that works. I think I will be calling Verizon when we get home since my signal strength here is less than at home and the transfer rate is really fast and with a better signal and strength at home it is about 1/2 or less speed than this. They are definitely throttling and messing with the throughput and bandwidth at home. I have read if you use 2 GB a month or more they do that and for the price I pay that is just wrong. We shall see. We went to the store before we left and I did one more coat of mud on two of the real bad areas and it looks so much better so they won't have much to do there before they can paint and trim on the outside also. Mom finished a few more things for Tammy also and then I fixed a light in her office and we had lunch with Ben and her and then headed home. Moms knee and leg was really hurting so she had a hard time on the trip back but we finely are home and that feels good. Mom ran back to town to get a mega million ticket for tonight's jackpot of 640 million dollars. Is that just crazy, I mean what could anyone do with kind of money. Went out and cleaned all the pond filters as the pond waterfall had all but quit and they were just plugged. That all worked well so set up all the bird baths for now and many of the plants we put in last fall are doing great and blooming already. Saturday morning and it is overcast and cool at about 55 degrees so it will be nice working outside. Treated the pond for the spring time for algae and stuff and the junk came off the bottom really heavy so that is nice. Then started some cleanup of more brush that is down and found one huge branch out of a mulberry tree down so cleaned that up. Did the ditch mowing and some by the patio and now off to town to start the mail again. Well was to late to town as the post office closed at 11:00 and I thought they were open till noon so will have to wait till Monday now. Oh well it was a very busy day and mom and I did not win the giant mega million lottery so guess life is good. I did some steak and corn on the cob for supper and then we did some TV where I fell asleep and then off to bed. Guess I better get posted and off to church so God Bless Be Good Do Right and say a prayer for Sammy & Daryn as they had there baby, Drake Allen McCumpsey, way early and he only weighs 2 lbs and is struggling. Love Papa, Dad, Brother, Cousin, Uncle and all Lew.
25 March 2012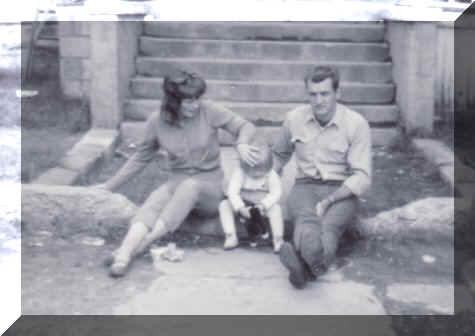 1964 in Burns Oregon and our life together was just getting started and what a life it has been. Sunday last Tammy and Crystal went to church in LeMars with me and am glad they went. It is Grace Lutheran and is LCMS but has become to modern for my tastes. I enjoy our traditions much more at St Paul's and would only blend a small amount of the new. After church we all went to the store and worked very hard till later in the day and then Tammy made chicken Fajitas and they were very good. She then left to take Crystal and Josh back to Carroll and we went to the store and did some more work. Then mom and I went to Wal-Mart for some shopping and back to the motel and got ready for a lazy evening. I am really tired for some reason. Monday arrived and the night did not go so well as missy kept us up all night with some sort of pain and we can not figure it out. She is not eating well so I ran out to get a small hamburger to see it that would work and not McDonald's, Hardee's or any of the hamburger joints had hamburgers cause it is morning and only do breakfasts so how does that work. Went to Casey's and got a sandwich there and she ate much of that and then had lots of water so hope that helps some. I know she is 16 but we are not ready yet as she has been with family since birth. I let mom sleep till 9 as she was up a lot during the night and then we started to get ready for more work at the store. The day went well and we got much done for Tammy and helped her with a new couch for her rest area and it looks real nice. Mom continued putting out the jewelry and I finished cutting all the slips she had done and will start some more tomorrow. Then I put tags on some of the black jewelry and hang that back up. Mom and I did lunch at the store and then we all did supper at the Family Table and back to work for a couple more hours and gave up at 9:30 and went back to the motel for some news and to bed. Tuesday came and mom is really tired as the puppy kept us up again and mom has been working hard at the store. I think it is really helping Tammy though so that makes it worth while. The store is looking real nice and am anxious to see it all open and running as Tammy has worked so hard for it. I put in a new faucet in the bathroom, as the old one was dripping much, and that was chore. The old was put in really dumb so had to engineer it all. Did some more tags and Tammy got some more things ready for printing. Wednesday came and some rain is falling so sure hope we are getting some at home. I let mom sleep and after some breakfast went to the store and started the printing and cutting of more labels while mounting more earrings and jewelry tags. Mom got up about 11AM so I got her and she started more of the hanging things up she is doing. There is very much stuff and we can not keep up with all she is putting up. Got a call from our renter and we have a sagging door so will see about that when we get back this weekend. We had dinner at China Buffet and then back to work. Finished up all the printing we had so far and cut them all apart and started the bagging of some twist jewelry. We did supper at Family table and then went back to bag some more and finally gave up around 9:30 and went back to the motel. Thursday is here and this is our last day here for now to help so hope we get much done for her. Got many things done along with much printing and cutting of labels and posting labels on some jewelry. It was a very long day for me it seemed and we went back to the Motel after we ate and did some more work till about 9:30. I fell sound asleep by 10:00 PM and was completely passed out till almost 8AM Friday morning. Wow did I ever sleep. Anyhow we got up at about 8:20 and got all our stuff ready to checkout and then went to the store for some more work. I started printing and cutting some more labels she wants and then Ben came at about noon and we went to lunch. After lunch the printing continued and I wired up a rheostat for her sunglass display so she can dim the lights and fixed the stand so you can roll it around but still lock the wheels so customers aren't moving it around. It worked out real nice. Finished the printing at about 3 PM and I headed home as I need to work on a door at the rental tomorrow. Got home about 5:50 and wow some grass already needs mowing. Is this march or what and am I not in Iowa any more. Did not sleep well with mom not here so slept late till 8 AM and what a beautiful day for the start of Saturday. Most all of the little bulbs we planted are up but not sure what is what as mom is not here and I do not remember what all are but they are growing along with the potted trees and bushes. Most of the potted plants may be alright. Checked the rental and the door is really sagging so it needs replaced and have called Glen Badding to see it he can do it. He will check it out Monday and see what he can do. Did some mowing by the city sign and cleaned the plants I have there so they come along nice. Mowed the bank by the house and then picked up all the winter tree branches that fell and hauled them to the brush pile on the city lot then did some mowing by the east fence where the grass is really long and started some washing for me for the trip back to Tammy's to do more work this coming week. Maybe can get her kids room area done this next visit and have her close to getting open. We sure got much done the last week. I sure wish I was more of a help but will do what I can and go from there. Did the Saturday night service at church and I am rather tired so may just veg tonight and get things ready for service tomorrow and then head back to Tammy's afterward. Did finish some of the washing last night and the service went well however I once again forgot to light the candles so need to work on that. Hope today's service I can do better. Have most of the things ready to leave so better get this posted and off to church and then load everything and head to Tammy's. God Bless Be Good Do Right Love Papa, Dad, Brother, Cousin, Uncle and all.
18 March 2012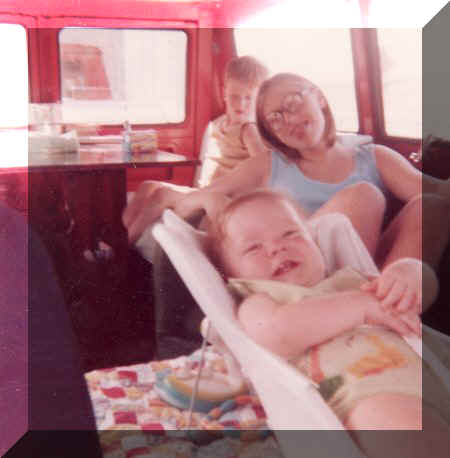 The Van is loaded and we are ready to go an a trip. Notice all the comforts of home with the swivel rocker and Brad on the engine cover and Matt in the back in the booth by the table. Did we have class or what. Don't miss Tammy sticking her tongue out, what is it with the kids. Those were the days my friend we thought they would never end. Last Sunday after church it was overcast with forecasts of rain but just a sprinkle. Did up my Lentil soup for the extravaganza and did that. Guess I should call it Lentil veggie stew as it is full of vegetables and very thick. I like it a lot anyhow. The soup supper went well and I am bushed after all that. Time for TV and to chill. Monday came and I forgot that after the supper it rained really nice and we got 33 hundreds of an inch. Any how the Usher list is done and accepted and all is good so say a prayer that it all turns out for the best. The high was 65 degrees and by evening the barometer was on the rise with promise of clear skies and warmer temps tomorrow from my weather station. Mom and I just goofed off today with nothing accomplished so feel kind of lazy about that but it is okay. Checked into three of my nets but the bands are still messed up from the solar flares so hope that changes soon. Tuesday started at 40 degrees but will be up to the 70's if the forecast is right. The internet from Verizon is goofy again and sure wish they could get it fixed and working good. Now we are getting the WMC 671 could not connect code again but it is always my computer and never there service. Then their next solution is the coverage in my area is poor however I always have all bars for antenna service. Finally they figure it must be something wrong in the broadband modem they sold me. What a bother. It seems the more people learn the dumber they get. Well I am sure of the things that do work so went outside to work in the Lord's wonderland as it is always working. What a day this has been. Took all the equipment out of the drive under shed and cleaned the shed good then started and fixed all the grounds equipment for the summer work and took the old Rambler to town for some repair items for the equipment and some gas and groceries. Drug out all the potted trees and soaked them really good and now will see if they all made it through the winter. Fired up the Case Uni loader also and made some adjustments on it so it is ready to move some dirt this summer. Got the mopeds running and then put all the equipment back in the drive under and about 5:30 called it a day. My weather station says the high for today is 79 Degrees with peak winds at 11 MPH and I thought it felt pretty warm when I was working. Mom did some cube steak for supper and then we just vegged and watched TV. Wednesday started with a low of 54 degrees, 98% humidity, 54 degree dew point and a south southwest wind at 15 MPH and falling barometer with a forecast of rain in the next 24 hours. Got all the garbage for the trash man so have the day started also so off to work before the ARMS net starts. Got the hose reel moved and the grill on the patio and then hauled out the swing seat and put it up where the bench was and moved the bench by the sedum bank. I like it but not sure about the cover on the swing. Need to lower the seats with some chain and then we can sit better without cutting off the circulation at the knees. Figured out a way to hang it lower by drilling some new holes without the chain so now it is really nice and fits much better. May be a little low for me but should be great for mom now. I Like it for her so we can set there in the evening and enjoy. Went to town in the late afternoon and picked up the groceries and then got a haircut. Cleaned all the dirt out of the drive under driveway and used the uni-loader for that and it worked good. Hauled the dirt to the new lot for the washed out areas. Then in the early evening went back to town for the vespers service and home for supper, some relax time and bed. Thursday morning it was 41 degrees when I got up and that was the low for the day so far with a 2 MPH wind out of the East Southeast and a rising barometer with 85% humidity. Was up at 4:30 to let missy out and then she woke me at about 6am with some yelping. Could find nothing wrong so let her out and then fed her. Checked into the ARMS net and the band seems some better. Called Tracfone to find out why they shut off our service on one of the phones. They said it was set up and should be okay in about an hour. It wasn't so spent another 2 hours arguing with them and finally got it going again but had to get a new number to do it. Scanned more pics from moms old ones and finally have them all done. Now just burn them on a cd and then hand them all out. Big van has all the freon leaked out again so went and bought some R 134a and did it myself rather than paying them a couple hundred every year as no one can find a leak. It is done and it works real nice so will just carry the gauge in the van and if it looks like it is not cooling well will just check and then add some. When did we end up with things that never work and all pride in service etc is gone. Grilled t-bone for supper and was it ever good. The high for the day was 79 degrees and that is to warm for me. Maybe Iowa will become the new snowbird state. Friday started at 56 degrees and that is the low for the day so far. Wow is this march or what. Getting things ready for helping Tammy out in the store this next week along with much yard work that needs doing for this time of year. Got a good start on the flower beds around the patio and pond and cactus. Checked in the ARMS net and then back at some more preparations. My Verse was Isaiah 66 1-2. Took the pics off the cameras so they are ready for our trip. Air in the big van works better than it has in quite awhile, so the people charging it must not have filled it full or something. Will see as I had to run it in for a vet appointment for missy and to fill it for our trip tomorrow. Hauled some yard waste I cleaned out of the flower beds and then helped mom with some washing and things for our trip tomorrow to help Tammy. Have most of my things loaded and the van is ready, just need my shave kit and computer printer stuff and it is a go. Oh wait we still have moms stuff, hope to have this to you before this is posted on Sunday. Hee Hee. Saturday found me off to the Men's table talk for breakfast and then to the Elders meeting for the work on our parsonage work. We finally left Carroll for Tammy's at about 1:30 so got there about 4pm. We visited some and then went out to eat at about 6 and then back to the store to do some work. Worked til about 9PM and then gave up and went to the motel to get all our stuff set up and then off to bed. Missy did not do well last night so I better get posted and let her out. God Bless Be Good Do Right Love Papa, Dad. Brother, Cousin, Uncle and all Lew
11 March 2012
Mommy and me and I miss her so much. Monday started with us getting plans set for a trip to Alaska for our 50th anniversary and sure hope our health holds out enough to let us go. Carol is really struggling with her back and breathing and coupled with the diabetes it is slow going most of the time and now she has a bad cold and all stuffed up. The trip will be a trip of the lifetime so hope we can pull it off as my old body is always telling me are you nuts you can not do that anymore if you ever could. Daddy always wanted to go there with mommy God bless them both so maybe we can make the trip for them and tell them about it later. It was a very nice day today with a high of 50 degrees and sun most of the day. Rain is in the forecast but that is alright as we need it. Finished up the, elder training I attended, slide show I made to inform all our elders about the training and put it on for mom and it will be good I think and is right at 25 minutes long. Checked into both ham nets today and did okay for a very poor band. Did some dishes and made some spaghetti for supper and then went to the town council meeting and then TV and to bed. Tuesday started warm and will be in the 60's they say. The Verizon broadband connection we have for the last several weeks has been a mess and several calls did nothing so I called them again last Thursday. Friday last then it started to go fast again so hope they have it fixed. I was really slow Sunday and Monday again but is up to speed again now today. Welcome to Intro to technology II. 58 degrees already and chance of rain in the forecast. Mom is feeling some better again and is breathing better so I am happy for that. It really scares me when that happens. Made a small change to my slide show and tonight is the night so pray that goes well. Went to town and set up things for tonight and paid the hold it fee for our trip so have that out of the way. Had a high today of 71 with peak winds out of the southwest at 29 MPH. Need to get on the roof and get our TV antenna stable as it keeps blowing around and we lose channels. Wednesday started out warm but the temp has dropped after getting in the 60's and is now down in the 30's. We got 1/100th of an in of rain so dew is heavier than that. Called Verizon again as the speeds are really slow again so how does that work. Will see what happens. Started on the usher list for church and that is going well so should have a part done by tomorrow. The meeting and slide show went well and sure have a lot to do with the elders stuff. Wind blowing all day today and a high of 40 MPH so it is a blustery day Pooh. Thursday started cool but is warming up and got checked into the ARMS net even though the bands are dead from the solar flares lately. Ended up with all the usher list completed and will call some of the young now to add them also. Set up some web page stuff for the elders so now need approval for that. My little Caitlin hurt her foot and is on crutches but guess it is not serious just a terrible twist or sprain on the toes. Be careful little love. Friday came and went real fast as I spent most of the day on usher lists and then went to help Brad with the purchase of there new van. I was just the info guy to see what I thought and they ended up getting it. A 2005 Chrysler Town and County Touring stow and go. So happy for them and it is a real nice van it seems. Had them stop over for supper and we had a nice visit so I really enjoyed that. Saturday started warm and got up to 69 degrees and the barometer started falling and the future forecast said rain but that is not always happening like it says. Got an early start to get to Men's table talk at the church but when I got there I discovered I wrote it down wrong and it is next week. Oh Bother! Did some more with the ushers and will finish up after church for some extra call ins and that will have to be it so hope all are okay with it this way. Was able to get some of the youth to commit so now just see if they follow through when it is there turn. This is turning into a lot of time consumed but it is for a good cause and am meeting some new people. Mom is feeling some better but we had stuffed cabbage last night and was it ever good but we both ate way to much so the stomach is rather queasy this morning. Guess I better get this posted and get moving on the chat and my lentil soup for the soup extravaganza today. God Bless Be Good Do Right Love Papa, Dad, Brother, Cousin, Uncle and all Lew.
4 March 2012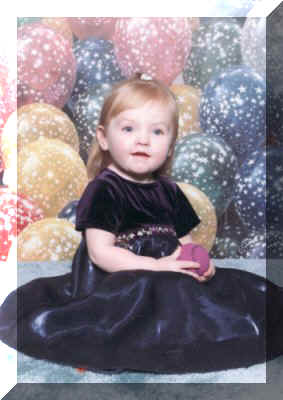 AAAWWWW!!! My precious little Faith you are growing up so fast please slow up and wait for Papa. Been a super busy week but have slacked off some so not much done. That sounds like a conundrum doesn't it. Went to my elder training Sunday last and was that ever a fun full rewarding exciting day. I have much to share at our elders meeting next week. I worked out a short slide show on what I learned to show all the guys so hope it is a good experience for them also. This week 2 Mar1957 the ARMS net was started as a service to the missionary's spreading Gods word overseas and it is 55 Years old on that day. With all the new technology it has become a fellowship net mainly. We received a total of 1 and 78/100's in of rain for February as my weather station measures so hope that is close. It has been fairly good on the temps and forecasts and that so it is fun to monitor anyway. The first part of the week gave us that rain and we now have some puddles in the wetland so lets hope we can get it full this year and then keep it full. Checked into several of the nets and the bands have been poor but had some good QSO's. Mom and I both have been struggling with a cold and stuffiness all week. Did lots of editing on my slide presentation and went to midweek service. We had Brad and family over on Friday for a chicken fry and a movie so got to see all the grandbabies. That was nice. Had a chat with Elaine this morning and seen Gary came online but couldn't catch him in the Chat. Did more picture work but have slowed up now that it is about done. Mom and I cleaned up some in the house this week but that was slow also. Not moving real fast so will just post this and get moving for church as I help do communion today along with the service. Have a good week God Bless Be Good Do Right Love Papa, Dad, Brother, Cousin, Uncle and all Lew.
26 February 2012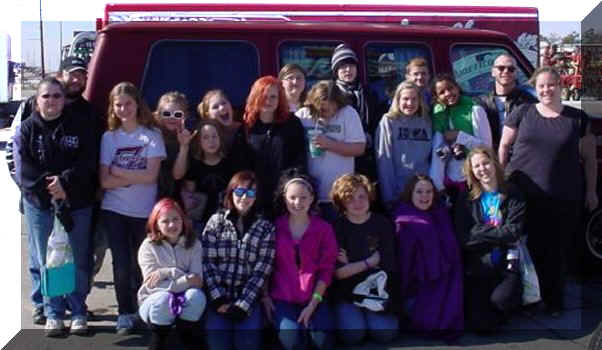 Wow and Wow what a great time we had and sad it is over. The kids were so much fun and so exciting to be with and the convention was great. I slept a lot on Monday and got caught up some on sleep. I guess I should say rested as if you lose the sleep you never get it back. Did some recording and checking on the weather station and we got 52 hundreds of an inch of rain so it is recording some any how. Will see how the accumulation goes. Tuesday found mom and I both under the weather and not doing much. We got the dishes caught up and I did a run for groceries and then checked in ARMS net and just vegged. Moms back is really hurting along with the sore knee and the diabetes so she has a struggle with the cold she has. Did a bunch more scanning of all the pictures of moms, that Ellen had from some years back so have made much headway there although I am very slow as I age. Sure is fun to see all the old pics and many fond memories come back to the surface. Highs have been in 40's and 50's so this is really a strange February. The snow we got last is all melted again so everything looks all brown and dirty. Wednesday came in warm also and I prepared for our Ash Wednesday service and studied some for the Elder things I need to learn. Set up a visit with the pastor as there are a few questions I have. I went to the Wednesday night service and then the lasagna supper the youth group provided for their fund raisers and that was really good and then I did a T-bone for mom when I got home. Thursday morning we got some rain and the station did not register it and the clock was way off so I must have set it wrong Wednesday while trying to check some histories. I finally got it set right and the rain level came in and all seems right now. We got 1/100th of an inch so it did register. I checked in the ARMS net and the ham bands are much better and can hear most of the signals well again. More scanning going on as time allows. Lots of snow predicted but my station has none in the near forecast but I think the big snowfall is up north of us. Time will tell. Our temperature is at 39 Degrees a dew point of 36 with steady barometer and an east southeast wind so it does not seem likely right now. Late in the evening the snow started and it lasted awhile so by Friday morning we had about 2 inches on the ground. In Carroll about 8 miles away they claim they have 4 inches so it sure can change in a short distance. At any rate the ground here is all white and clean again for awhile and sure is looking nice and we really need the moisture. The temperatures warmed up some on Saturday and much of the snow melted. I finished much the scanning on the pics so just a small pile and the will be done and then the burning to CD and mail them all out. The weather station has finished the 14 day learning mode so now will see how it is doing for real. It has rain likely in the forecast and so did the TV so may be about as good as that but as I gaze out the window all I see is sun and blue skies so not sure. We went to Brad and Heathers last night for Heathers Bday celebration and that was fun. Her birthday was Thursday but the kids were busy then so we did it last night. Better get moving and hit the road as today is a full day. God Bless Be Good Do Right. Love Papa, Dad, Brother, Cousin, Uncle and all Lew.
19 February 2012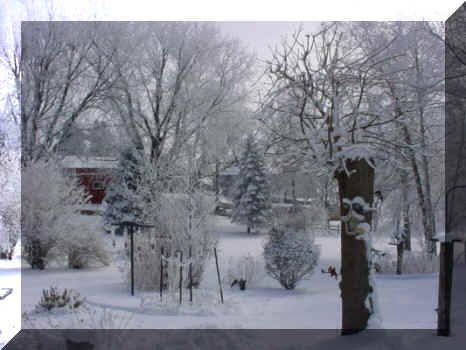 Okay not a good start to the week. During the communion service I spilled a small amount of the wine, and that was serious to me, but all said not to worry they all have. It still bothers me. Went on Skype today and cousin Aaslaug from Norway was on so we had a nice visit and seen many of the family there. Wow has Natalie, Jens-Tobias, John-Inge & Jan-Erik really grown and what a treat to see all the little ones. Fixed a mount for the weather station and will mount it on the garage roof in a very clear area to get good readings. Well that is mounted and the weather station is up and running so now will just see how much money I wasted to have this great toy. Wind chill was 12 degrees when I installed it on the roof and the wind was out of the SW so got a reading already for that. It says in the manual that it has a 14 learning curve to get it all set but I believe that is set there to teach us how to use it. Are toys fun or what. Well I am learning I guess. Mom is doing stuffed cabbage for supper and sure am getting hungry. It was really really good and I am ready for bed. Checked the weather station and the barometric pressure is falling and the humidity is 61% with the wind out of the south east at 4 MPH and a 9 degree dew point and an outside temp of 20 degrees with a 14 degree wind-chill and it is forecasting snow is likely. Oh my is this too much I am off to bed. Monday morning and Wow it was right and snow started about 6AM and is still coming down at 7:30. Barometric pressure still falling with 24 degrees and 85% humidity and still says snow likely, go figure that is spooky. And how much do the weather people get paid. The snow plow just came through so now need to clear the drift they put in the drive. Oh Bother there was not even enough to worry about. Well it works pretty good and spent the day doing pics scanning and working on the address book and not doing much. Mom made a good supper with pasta and chicken and then I went off to an Elders meeting that had been postponed and we need to work on these some as I take them very serious but many of the elders seem do not or are so busy with life this is not given the full time it needs. Tuesday came and I found the manual for church officers and boards that nobody could find and wow is it a wealth of information and rather scary in all that it requires the elders and all to do. Am working on helping the pastor for a couple living together that want to be married by our church, which without repentance and acceptance of this as a sin and living separate till the marriage we cannot do as it goes against all our church beliefs and the word of God as the Bible instructs us. Wednesday arrived and the weather station is at 40 degrees with a rising barometer and forecasting clear to some clouds and a 33 Degree dew point. Yesterday it had a 0.05 rainfall event so I believe that was some melting snow and today so far it has a 0.02 event again melt I would guess so the month and total so far is o.07 in. which is 7 hundreds of an inch so it amounts to a heavy dew. Wow is that kewl. What a fun toy. Mom has a Doctor appointment to get to today and I am working on a cross necklace for me for church so will pick up the fish (symbol of baptism) emblem for it today when we go and may look for an elder lapel pin also. We got to the doctor appointment and I got my baptism symbol and a the word Jesus for my cross and then put it on when we got home. It came out real nice I believe. We picked up the groceries on the list while in town and then got Arby's roast beef for supper. We watched our shows and it was a good night. Thursday came in very warm at 30 degrees and I checked in the ARMS net after I slept in and then let the rat out and fed her. Had some coffee and then off to town to get Crystal to spend the day with us. I cleaned the van and got it ready for the trip on Dare To Share tomorrow and go the music ready and the phones and cameras charged so am pretty much ready there. Mema and Crystal went through jewelry I believe and they made some Christmas project stuff Mema had for them to have a sock for the fireplace. The day remained clear and nice out and the the barometer got steady at about 5 PM and it has some light rain in the next 12 to 24 hour forecast. Friday came and the preparation was all completed for the D2S convention and off we went. Went first to Sac City were we picked up the youth group, 16 7 to 12th grade girls and one boy with 4 youth leaders and me as a chaperone. What was I thinking. We drove to the convention with several stops along the way and got seated and ready to go by about 7 PM. It was an exciting experience for me and the energy of all the young people was truly amazing and inspiring. The Friday program went till about 10PM and the we went to get some food and off to bed. I finally got there to sleep about 1:30 so was really one tired person. Saturday then started with breakfast at the motel around 7:15 and then back to the convention center where the youth leaders went to some training and we were back at the motivation exercises. This all ran till about 3PM when we took a break and the youth went to witness with some of the tools they learned and then back to the center at 7PM where we had more of the motivation exercises and skits till 10PM and the D2S convention was over so back the the hotel for some sleep. Then we were up at 6AM to head home so we could get the youth back to the church to tell their congregation about their experiences at the convention. With that completed I headed home and so ended a wonderful experience for me and a very rewarding time. Such energy God Bless Be Good Do Right Love Papa, Dad, Brother, Cousin, Uncle and all Lew.
12 February 2012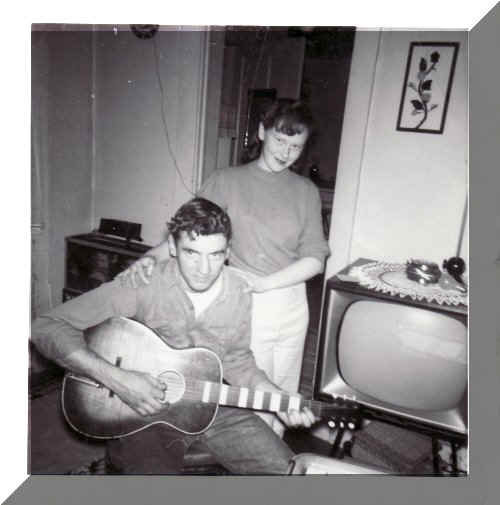 What a start to the week I am scanning in old pics from Carols childhood and look at this one from 1961 before we were married and before I went to the Air Force. Oh My what a cutie she was and is, if we could just Photoshop out the dork with the guitar. Picture taken at Grandma Moore's on 4th Avenue SW in Cedar rapids. Monday was an amazing winter wonderland with frost covered trees and the sun burning off the fog and glistening on the branches. What a sight. Tammy spent the night Monday night and that sure was fun and mom and her had a great time and stayed up late. Filled the pond with water again and shoveled a path to load some things in the SUV for Tammy to take to the store to sell when it is opened. Checked in the ARMS net and in the Swan tech net and the old radio needs some relays and switches cleaned as it jumps frequency some times. Had to run out to Al's corner to straighten out our propane bill and there accountant so how does that work. Tammy spent the night again as she was late getting ready to leave from Carroll so we had another fun night. I went to bed by 10:30 both nights but they stayed up late and then slept in. Tuesday started out overcast and cool at about 25 degrees and then warmed up and the wind started but stayed overcast the whole day. Finished up much of the scanning for the old photo's of Carol in one album we have and that sure is fun seeing all those years of her before we met. What a little cutie. Did some more on the store mat but they have that all confused so had to email them all again on what we want. Now wait and see again if they can get it right. Why in today's world do you always have to do things two, three, and four times to get it right. Checked in the ARMS net again and used Romans Chapter 6 as my inspiration and what and amazing Chapter that is for us sinners to be able to die in Christ and be resurrected with him. WOW read it, it is wonderful to be given us! Checked in the Swan net and that worked well also. Wednesday came in at -1 degrees with wall to wall sun, no clouds and glistening like diamonds on the snow. What a beautiful sight. Got the garbage out and made a run to town for supplies we needed and just was lazy. Heather called and the car stopped when her and Mel went to lunch so went and looked at that for them but I appears to be something bad in the engine. So now the car is out of commission and the small van is also and they have church youth group tonight so we loaned them our van till they can figure out what to do. Thursday arrived and we did some house things and then went to town to find me a sport jacket for our Alaska trip and for my church Elder times and just some casual wear for nice but not always a suit. Found a couple nice jackets and they will match my slacks so need a turtle neck to wear with one and will see about a shirt for the other. The day was cool and over cast and Brad wants to see about taking both vehicles to salvage and then using that for a down on another car. Put some more water in the pond and the fish are doing fine. Mom and I both a little under the weather this week so not much going on. Started work on our address and phone number book so that will be much keyboard time to get that all in as it includes addresses, phone numbers, birthdays, anniversary's, relationship and lots of info so will take some time to update. Friday started with no temperature at all and a little wind with full sun and clear blue skies so it is chilly. Checked in the ARMS net but the sun spots and storms have really messed up the ham bands so no much traffic there. I shared Romans Chapter 6 verse 20 thru 23. Very powerful chapter and verses. Continuing work on the addresses. Started the cleanout of my closet and all the old clothes I don't like or don't wear and was able to get rid of 38 shirts and pants so that is a good start. Why did I leave them in the closet when they don't fit. Also got busy with the den/computer room and have removed much stuff just cluttering it up and got rid of a lot. Mom and I went to town for a turtle neck for my new sport coat and got two of them, one gray and one black. It will make a casual dress suit or sport suit so that is nice. Saturday found me finishing much of the den and then working on the family photos some so we can get them where they should go. On the ARMS net I shared Philippians Chapter 4 Verses 4-7. Had to run to town to help Brad with his cars so I got the weather station I have been looking at so will see how that works. It tells everything from rainfall to wind speed and direction along with the temp and humidity inside and out and even gives a forecast so it should be fun to check out and use for the Ham nets I check in. Picked up a lounging pajama set for mom also as she is chilly some times and it is soft and warm. Participated in my first baptism as an elder and that was such an honor and very pleasing. Stopped afterwards on the way home and got a caramel Frappe for mom and we had supper and then just did some TV and went to bed. I better post this and get moving so God Bless Be Good Do right Love Papa, Dad, Brother, Cousin, Uncle and all Lew.
5 February 2012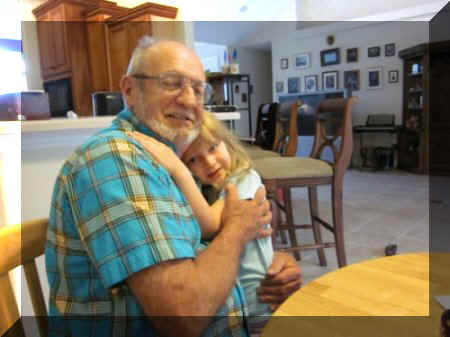 Still no snow and warm temps where is winter Oh My Oh My! Had a chat with Elaine before church this morning and it was fun. Guess it is just her and I now and sometimes Cousin Barb in Minnesota. Guess my Sunday chats as a group were not supposed to happen. The day is nice and temps warming up again and will be nice all week the weatherman says. Church went well and have checked in the Swan net and that worked well so the week is starting fine. Put away some Christmas items we missed so some things never change and started to put the fireplace room back together. The girl scout cookies I ordered came in so now we have lots of sweets. Monday started out at 35 and then went up to the 50's later in the afternoon. Moved some of the furniture but not sure where we want it yet so will just keep moving it I guess. Have not been feeling well the last few days so hope I am not getting that new virus going around. Mom is really down with a cold or flu or something and her oxygen levels are down some so am monitoring that a lot. Not serious yet but she does not feel well and that all really worries me with the diabetes and back problems she has among other stuff. Got the fireplace room fairly good but now to see what mom thinks when she sees it, hope it is good. Called the plumber about the drain that is plugged for the washer and he will be here today so may have that one cleared up. Yup he just left and it worked so it now drains with no backup. Checked in the Swan group and had fun there. Heard and old Swan check in that has not been around for a long time so was excited there. Started to get the cameras ready for the concert that Sean is in so all the batteries are fully charged and ready to go and got the old Sony Cyber shot ready to give to Sean if he wants it along with all the extras. I can't seem to hold it still enough to get nice pictures so went back the old and larger Sony Mavica as I very seldom get a bad picture from it. Tuesday started at 30 degrees with much sun and promise of getting warm again. Yesterday we broke temp records at 60 degrees and more. Moved some of the furniture different for mom in the fireplace room and I like it better so that is nice. Mom and I went out to eat in the evening and then did some checking at K-Mart for some things she needed and went home and watched some TV and off to bed. Wednesday came and I got the garbage out for the pickup and it is only 20 degrees but no wind so is nice so far. The temperature got up to 60 degrees and once again I drove the old Rambler to town with the windows down and it sure was nice. Did some washing and mom is some better but still not well as the cold has her oxygen levels down some so am keeping an eye on them. That bothers me a lot. Need to put some money aside to do some work on the rambler front end so it is better for longer drives or trips. Did more work on the mat for Tammy and am making some progress there and hope to order soon. Thursday Was another warm day and finished the mat setup for Tammy and now will just see if she approves when she comes for Crystal on Friday. Had the Rambler out again before the big storm this weekend and it was another nice day. Mom is still down with the cold but is some better today and hope the improvement keeps up. Did some carrying for her and some washing and had to get some groceries but forgot the milk so oh bother. Friday arrived and still not cold like Iowa but has cooled off and the big storm predicted for the weekend is starting to develop so they may be right as it is overcast and cloudy and no sun. Tammy arrived and sure was good to see her and she gave mom some much needed help and spirit lifting. We got her okay on the walk off mat for her store so have sent that in for the final proof and then will order it if all looks good on the proof. Won't get that till next week I guess. We had spaghetti for supper and then helped Tammy load the car and put her new business signs on the doors and she left to pick up Crystal and head home. The house is quiet again and mom and I just watched some TV and then off to bed. Saturday morning came and was up early as I could not sleep. The snow started about 5:30 AM and by 7:30 there was quite a lot so I decided I better get to town and get some milk and stuff before we are snowed in. Took some time to even get started as it rained first and there was about 1/4 inch of ice on the windows and it was hard to get the doors open. Finally got to town and back and then checked in the ARMS net and had some oatmeal for breakfast. The concert for Sean has been cancelled so I am really disappointed with that but they will have a reschedule I hope. Maybe mom will feel good then and we can go together. The snow quit about 11:00 so went out and cleared it all and did the rental also and did not get much. About 4 inches here and maybe 2 at the rental and Brad just got a dusting and Tammy got none. Used the blower and the skid loader and it was fun to play in the snow again, the first real one this year. Now maybe it will be done but we sure need much more for the wetland and for the crops, plants, trees and yards and all. I picked up the printer ink I had to order and got the printer up and running again and printed off the mat design for Tammy so that is good and it prints nice. Also did all the computer updates so they are all caught up and defragged and up to full speed again with all the anti virus and things up to speed and did all the camera batteries and such so they are all cleared of the pics and ready to go. Had a skype visit with Sean, Cody and Caitlin Last night and that was sure fun and we got to visit for quite a while so I really enjoyed it. It has been a very busy week and much has been accomplished and the good Lord has been looking out for me and has taken good care of my needs and I woke up again today so life does not get any better than that so I better get moving and post this and head out to church. Be Good Do Right God Bless Love Papa, Dad, Brother, Cousin, Uncle, and all Lew.
29 January 2012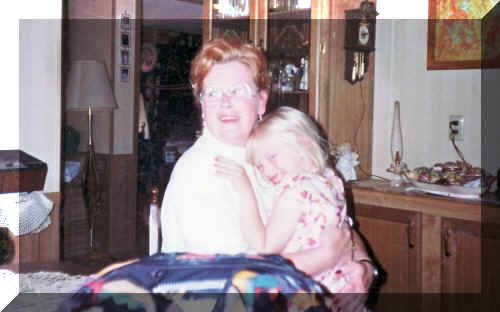 Well I got through my first Saturday and Sunday of serving communion at church and was that ever rewarding for me. Not many mistakes and none of them serious so it was fun. What a night it was with the boiler down and the temp dropped to about 50 degrees in the house. I put some logs in the fireplace and brought the temp back up to 58 and then went to town for a thermocouple for the boiler pilot light and installed that. Boiler back up and all is well so we have a great start for the week this Sunday. Checked in the Swan net and finally with the sun spot explosion several days ago the band was wide open and we had 36 check-ins so wow carried me back to the 60's. Amazing Ham radio signals. Thawed a T-bone to grill for mom and will have a tiny piece with a salad for supper. Hope my diet still works okay. A good start is to cut out the 5 or 6 pots of coffee a day I drink. Filled the pond, and cleaned filters some and did the birdbaths full also. Monday started with 20 degrees and a dusting of snow but not any accumulation. Had some misty rain with it so it is slick but not bad. Sun started to peak out around 8:45 and the temp is starting up so will be a nice day. Checked in the ARMS net with ham bands in good shape so hope that keeps up. Did some town stuff and got our list and then started taking down the Christmas decorations. The rest of Monday and Tuesday I did not feel so good so not much accomplished. I did change out a microphone for the ham set and get great reports with it but it is a desk mike and I believe I like the hand mike better as the desk mike is awkward with the computer keyboard and mouse and all there. Wednesday started out sunny and at 20 degrees and got the garbage out and checked in the ARMS net. Have started some testing on and old turner microphone I have to see if I can make it serviceable again as it was a very nice microphone. Oh bother I broke it so put it in the trash. Finished all the Christmas decorations coming down and that is sad as now it is another year till we can put them up. Well 340 days and counting. 45 degrees today and sure is nice so had the Pickup washed when I went to town so I could get all the salt off. Thursday came and it was 20 degrees when I got up. Started on the entrance mat for Tammy's store but it is having problems with the computer since all our old programs will not work with the new version of windows. Boiler is also water logged so had to take care of that and get it cleared again so the water can circulate and it is going fine again. Worked some of the bugs out of the mat for Tammy so sent her a copy of what I am thinking to see if she likes it. The wind has picked up again but the temp is rising so is not to bad. All decorations are in the attic so now can see what we missed as we always find one or two left out. Friday here with snow falling and 22 degrees out and we may get some this time but will not last if the temp predictions are right. About 1/4th inch so far, and back in the forties by Monday. Checked for the ARMS net but the band is dead at 9AM so will see how it gets in a while. Well checking in later in the day the band was not any good and the 1/4th inch of snow is all gone and the wind has really picked up. Went to town for some supplies and had some lunch with Crystal at Hy Vee so we had a nice visit. She is doing fine and I am so proud of her and pray all her troubles are behind her. Doing work also on some ideas for our next elder meeting so hope that all goes well. Showed my letter to the congregation, to pastor, for my being and elder but he wants to wait till our next meeting to discuss all of us sending one to our group of people before I send it out. I may end up stirring up more than I should with all this but if that's what the Lord wants then I guess go for it. Any prayers for my guidance are appreciated. Talked with Tammy and will see about her font she wants for her store to get the mat as close as possible. Not sure the company can do all the stuff she would like at an affordable price. Sean's concert is next weekend and I really want to go but mom is not able to ride that far so not sure what to do as I don't want to be gone without her. I thought with the kids closer it would be easier. We need to get busy on our trip for our 50th anniversary also if we are able to make it on that. I sure hope we can as it is a very exciting time in our life. Saturday is here and it is 10 degrees out but no snow and lots of sunshine so it is better with out the wind. Have been growing my beard longer and now not sure what to do with it. I wanted to see it longer but then what to do, the hair on my head is almost gone and straight but the beard is full and curly, so how does that work. Checked in the ARMS and my verse was St Matthew Chapter 14 Verse 26 thru 31. If only we did not doubt! Spent much of the afternoon on the washer drain as it overflows when the washer drains. Tried many things but I can't get far enough with my snake it seems and it still floods. Oh Bother. Have restricted the drain on the washer to get by till a plumber can come over next week. We got most all of the washing done and folded and put away so it was a busy day but a lot accomplished. I did call Kris and decided I will go over and then right back after Sean's concert so I can see it and take a movie for Mema to see also. Sure is crap to get old. Well it is going to be a rather warm week according to the weatherman, up in the 40's most of the week. Better get this posted and get going so God Bless Be Good Do Right Love Papa, Dad, Brother, Cousin, Uncle and all Lew.
22 January 2012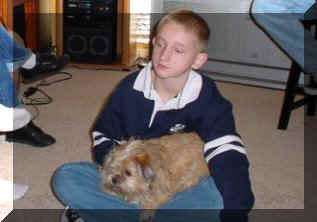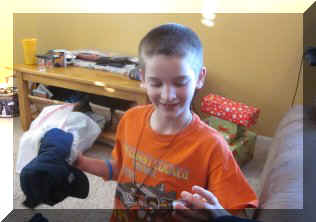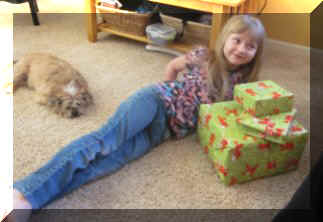 Ended a great week last week with our visit to Matt's and got to see our little munchkins there and what a joy that was. The kids are about settled in to the new home and the young ones like the school so far so the transition has went well it seems. Monday came in at 22 degrees and full of sun so it is a nice day. Worked most of the morning on an elders letter to our congregation while checking in the ARMS net and waiting on my turn. Got all the pictures off the cameras from our visit and some are really neat. Well all are really good but some are just cute. Sean helping sister ride her bike, and Cody breaking his geodes and Caitlin with her cute poses. Mom and I have truly been blessed with all our wonderful GK's. Was able to play a game of chess with Cody and that was fun. Checked in the Swan Tech net for Monday night and the net control was strong on signal. All the snow is gone and the temps are still warm. Tuesday was a full day with tax stuff, nets, clearing more in the den, getting medical papers ready for filing to the tax forms, working on my elder letter to the congregation and Oh Bother. Wednesday came and I redid the web page for the grandkids so that is now new for this year. Will I be keeping up with all this drama in my life. Got a dusting of snow last night but nothing to even count and the ground is still dirty so not enough to call it snirt. Temp was at 2 degrees when I got up but is at 30 now with more snow in the forecast but it isn't for much either. Mom and I went to town and did the shopping we needed and then I did some town tax stuff to complete and we went to the bank to complete some account things we needed. I made some cod for supper and then we watched TV and just went to bed. Thursday started out at minus 5 degrees with some wind so will stay below most of the day with the wind chill. More tax work and then fired up the radio for the ARMS net. The band was fair today and the vertical was only antenna that worked well. We had 20 some check ins so that was nice and the old Swan 350D is doing great and it is only 46 years old, find a PC that will still be working that long. Have the taxes about done for the tax lady to do the final figures. Seems like we do all the work and then just put it in the right block and add and subtract. Maybe I should do it myself again. Friday morning and 2 below and snow on the ground and almost all white. So pretty when it is brightly glistening in the sun. Ham bands in poor shape so the winter storm here has made that a mess. At least got to check in with the Swan group and visit some Went to town for the grocery list and some other stuff and got mom some chicken strips and a caramel Frappe for lunch. Am going to try and diet some as I can not breathe well or reach my feet to tie my shoes easy. Oh Bother. Well finishing touches on my tax stuff and then off to see the Tax Lady. Wish me luck. Dropped off some oyster stew for Crystal and then finished the tax appointment so will see if I got that all good. Saturday saw me up early and letting Missy out and the temp was about 8 below 0 so it is cold. Fed her and then got the radio's up and running and checked into the ARMS net and had some breakfast and some coffee. Am rather hungry so the diet stuff must be working so far. Got the message from Matt about the Omaha all city music festival that Sean has been selected to attend by his music teacher and that is amazing. He is playing the double French horn and as I understand it that is very hard to play and not many can play it. Congrats to him. He will be in the festival 4 Feb from 7:30 to 9:30 but he did not say where so will have to contact him for the location. Loaded up the old Swan and checked the Swan group but many contesters on the air so it was hard. Temp did not get over 20 degrees but going to the middle to upper 30s by the first of the week. Will be at church tonight and practice serving communion I hope but that is really scary so am praying I don't mess it up. The practice went well and now just to remember all the things that need doing. Maybe I am to old for all this not sure. Had a small supper and mom and I watched some TV and then went to bed. Mom said it was feeling cool in the house but it seemed okay but getting up this morning found it chilly and a note that said it was 1AM and the boiler was not on yet. On checking the pilot will not stay lit so the sensor or the control is bad. Oh Bother. Guess I will have to wait do something after church if I can or see if there is a repairman to find today. Down to 56 in the house so it may get chilly before this is done. Guess I better post this now and get moving. God Bless Be Good Do Right Love Papa, Dad, Brother, Cousin, Uncle and all Lew.
15 January 2012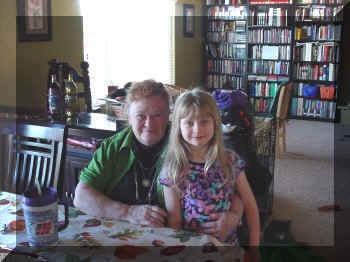 It was a very busy week for me but this is a new one so we have a new start. The weather is still very warm for January and will be in the 50's again today I am told. Wow it is Iowa and it is January after all so where is the white and the chill in the air. Oh well Monday was a very busy day but lots done so that is good. Gathered all the rental info and posted most and the same with much of the farm stuff. Have lots of the tax items done but need the W2's etc. Tuesday came and it was real warm and Brad had a car break down so we are loaning him the van and my little pickup as the truck of his has a broken headlight yet and he can't us it at night. He has purchased a headlight to fix that so will keep the truck here and see if I can put some stuff back together for them so he does not get lights or noise tickets since it all went broken when he took it to get my tractor when he hit a deer. Oh Bother. Found some parts to help but had an elders meet at church Tuesday evening for the confirmation group so nothing done there for the truck. Wednesday came in cooler and was up early to get the garbage out and it was 20 degrees but was not cold. Got that done and did some work on the truck and about every 45 minutes would go in to warm up as I was working with no gloves and only a long sleeve shirt. Heather came over then about 8:30 to drop Mel off as she had an interview for a job at 2 and she would just wait here till then. The temperature was now up to 30 degrees and the wind started so went out to do some work but after about 5 minutes went back in as it was to cold. It was okay at 20 degrees with no wind but to cold at 30 degrees with the wind, hence the wind chill. I did get the grill out and a start on the fender before it was to cold. Forgot my dentist appointment at 8:30 so they had one open at 11:30 so made that one and it was all fine. Then did some work inside and just chilled. Checked into the daily Swan 258 group and it was fine but the band was in and out rapidly so the atmospherics were not working very much in our favor. Late in the afternoon Mel got word she got the job so now has to find transportation and stuff. Thursday came in at -2 degrees with wind chill of 20 below so it is chilly so not sure how much I will accomplish on the truck today. Was up early doing more on the taxes for the accountant so that is about complete and that is good. Tuned up the Swan for the net and tried it some different but it still comes out the same power so learned some new stuff. Also taught the Swan 258 group some stuff so the old mind is still going at least on all the old things I learned. Woo Hoo!! Worked a bit of the morning on the fender for Brads truck and finally about 12:00 got it off. Who engineered that mess I wonder. Well now just start the back together phase and hope all goes well for that. Many of the little plastic clips for wires etc broke so that is fun in the cold but did get it all done and is only missing 2 screws but they are not real important ones. Went to town and got some bulbs for the lights that did not work so now it is all well and I used it for the Church council meeting after dark and got all the headlights adjusted as best I could with out the real machine. The new exhaust is quiet and it is a nice truck again with one ugly blue fender on a maroon truck. Friday came and it is -5 degrees out and rather chilly but the wind has died down so that really helps. Got an over draft notice but not sure how that works so went to see what happened or what I did wrong, and I did a subtraction boo boo so thank goodness for the over draft protection we have. Oh Bother heaven help me please. Checked in the ARMS net and that went well but poor band conditions. The kids came over in the evening to get the truck and dropped off both our vehicles so all is back to normal there. Saturday arrived and we had a dusting of snow and we headed over to Matt & Kris's for a Christmas gift exchange since they could not make the one here. It was so good to see all the kids again and the grandbabies are growing so fast. We came home in the evening then as I have a voters meeting etc to attend today as an elder. Guess I better get this posted and get moving. God Bless Be Good Do Right Love Papa, Dad, Brother, Cousin, Uncle and all Lew.
8 January 2012
The old year left in such a rush we did not get to say goodbye but it is a starting of another year and a time to reflect and rejoice in the blessings of our Lord and Savior Jesus Christmas. We still have no snow and warm trend is starting again this week the are talking so what is up with this weather. Will try and caucus tomorrow but not sure yet if we can as we are registered democrats but want to do the Republican caucus as there are no Democrats to vote for this year. Oh Bother. I guess you have guessed by now that we do not vote party we vote the best person for the job that needs to be done for their term, in other words some damage control from last president in office. Anyhow we can caucus tomorrow and I got the old cell phone reactivated so it now works again. Tonight is my first Elder meeting for church so am nervous and excited to get going with that. Tuesday morning came and it is 8 degrees and very sunny out. Made the meeting last night and was it ever long but very good. I will have much work to do to keep up but I feel I may enjoy it and it is important work for the Lord. Checked into the ARMS net and had some nice signals and a very good net. Over 20 degrees by 11AM so the temp is going up. Paid the bills and that is always a pain but a necessary evil so that is done. We have our little Sarah here as she came home with us on Sunday night and stayed till today Tuesday and that was very fun. Getting ready for the caucus tonight and going out to lunch with Sarah and all so my life is still a rush. Trying to figure out why IE always dumps all my files and hope I found it as the new IE 8 is another, Why did they change a good thing, when the old was working fine. Go figure. Wednesday came in at 10 degrees but is going to the upper 40's today so will be nice. Started the new year cleaning of the files here and shredding them so that is a big job. Not sure why I keep so much and then why I keep it so long. Have some files from the late 90's yet and did not need any of them ever so not sure about any of that. The shredder overheated once and the thermal switch turned it off so had to take a break for that so Checked into the Swan Group and had a good QSO with the guys. Still shredding and it will be awhile before I am done. Thursday came and it is 12 degrees with lots of sun, no wind and blue sky so what an amazingly beautiful morning. Was up early and cleaning more files, room, cabinets and shredding so got some done and out to the trash cans before the collector comes. Sure is nice to see the floor again and have some room in the file drawers. Still shredding and so far 5 tall kitchen garbage bags full out of one file drawer. My Oh My!! By noon the temp is up to 50 degrees and really nice so where is winter and the white? Come on snow! Working on the Congregation survey for the elder meeting and presentation next Sunday. Friday also is a warm day and our little Crystal came over and helped Mema with some clothes, shoes, and jewelry sorting and getting rid of so that was really fun. Finished most of the shredding stuff and did much work on the tax things and got the rental almost complete. I have the ham/den/computer room really cleaned out and still need some organizing but it is better than it has been for a long long time. I will empty some cabinets of some old computer stuff and use that for a place for my cameras etc. so will have all that off the floor. Saturday came in warm also at about 20 degrees and is going to the 40s today so winter is not here in Iowa yet. Next Saturday Is Aunt Arvilla's birthday and she is 100 and still living on her own. Send her a card if you want as that is amazing she is still doing fine alone. I sent her card to the wrong address for Christmas so will include that in a card to her. Her eye sight is poor so write large for her. Checked into the ARMS net and had some nice signals so that was good for a change. Missed going to Matt & Kris's this weekend but mom is not feeling well and having some real bad back problems and the trip would be very long and painful. We will be going next Saturday so we should be better by then. Finished some more clearing in the den and mom and I settled down to see what the debate was about. Not sure how all that works but Mr. Romney did not seem to answer any question he was asked and what is with Mr. Paul. How did Romney get out in the front as in our caucus here he was clear at the bottom and the only one with less counts was Bachman. Seems like Perry or Santorum should be in front and I am cheering for Perry. Well I better get this posted and get going as we have the church survey this morning after service and a busy service. God Bless Be Good Do Right Love Papa, Dad, Brother, Cousin, Uncle and all Lew.
1 January 2012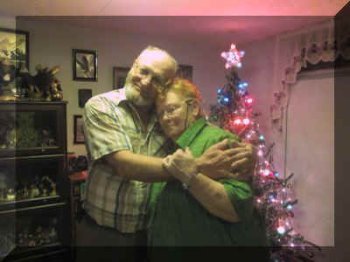 Happy New Year
So starts the new year and all is well here in the heartland. Christmas is over and the last year was an amazing year but way to busy as we bit off more than we could handle well and may try and do less this year so we can enjoy more. Christmas this year was a first as we completed all the gifts by 10:30 and wow mom did it all so well as she only had several gifts for each person. Set up the new page for the journal for this year and have that ready to go. Got the man tree set as the background so he can keep an eye on what we do. Hee Hee! Checked into the Swan net on Monday evening and all was working well and may see about a commercial dipole antenna so I can rotate it the way I need to. Have seen a nice homebrew one in the antenna manuals I have but not sure I am able to handle that very well but maybe will give it a whirl. No snow and most all is gone and looks very brown out and what snow is left is just snirt. The forecast is for 20's at night and 40's in the days for the next week. Tammy and Ben stopped back when they dropped off Crystal and Josh and they had Shawna with them and we got to see her so that was really nice. She is Ben's daughter's daughter, so our great granddaughter. Tuesday started out at 20 degrees and overcast so may get some rain. Checked into the ARMS net and the band is still a mess but did alright using one antenna or the other as the band just wandered around and was not stable but the old Swan radio was stable and great. No rain or snow and Wednesday came in at 18 degrees and should get to 45 today according to the weatherman. Well so much for that after I checked into the Swan net the temp was 50 degrees and was very warm out. Went out and filled the pond again and did the bird baths and then just enjoyed the outside for awhile. Did most of the bills and when I paid them went to town with mom and Crystal and had lunch with them but then on home as they were going shopping or such stuff. Did some prep work for the turkey thighs for the supper meal as Josh and Crystal are going to be here for supper. Wow is our life ever busy now so need to figure out how to go slower for the new year. Did some work at the setup for the New Year stuff for the internet so have a head start on that. Really need to start on the tax stuff and get that ready to go. Thursday came in warm again and very full of sun and blue skies and is a beautiful day. I slept in till 8 AM and this may be getting to be a habit. Hee Hee. Fed Missy and let her out and made some coffee and then checked into the ARMS net with some very nice signals heard. The temp got to 52 degrees by late afternoon and it was very nice out and what weather for December in Iowa. I did major surgery on moms little valentine devil thingy from many years ago and now he can talk again but may have lost a leg during the operation unless mom can perform a miracle with some reattachment grafting surgery. Friday came with warm temps again and and much sun but it clouded up later in the day. We made a flying trip to Guthrie Center for some more stuff for Tammy's store and mom got carried away again so hope it is all put to use and not just set there and is a waste of money. We then headed to Carroll for the grocery list we need for the supper tomorrow and some snacks for the evening with all the kids and Grandkids coming over. However it sounds like Matt and family won't make it so we will really miss them but Matt is wore out with the new job and Kris is having some back issues so we understand I am just at the age of the empty nest syndrome I guess. Crystal and Josh are bringing their Wii so should have fun and learn a new activity. Saturday came in at 26 Degrees and full of sunshine so should be a good day for the last day of 2011. Will grill some special potatoes for tonight along with salmon for the last meal of 2011 with the family and should have some fun I hope. Mom has some games set up also and may pick a movie to watch, not sure on all yet. Got an early start on a magnetic sign for Tammy's car door for her business so hope it works out and she likes it. She will be here tonight and I will just put it on the car and not tell her and see what she thinks. Not sure how it will last as I am doing it on magnetic printer sheet so not sure if the rain etc will mess it up. We will see! Checked into the ARMS net and all signals were really great so that was a good thing to start the new year. 10AM and the sun is back and the temp is rising. Did much prep work for the New Years Eve gathering and the Meal was really good and we had a great visit. Crystal had to work later than expected but is on her way out now as went to pick her and josh up. Mom set up the game tables and the snack tables and then did her pickle wrap and cracker stuff along with some veggie's and dip for the evening while watching a movie and waiting for the new year. It has been a great 2011 and it is now 2012 and the party was great. God Bless Be Good Do Right Love Papa, Dad, Brother, Cousin, Uncle and all.