2009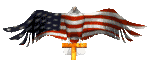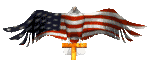 27 December 2009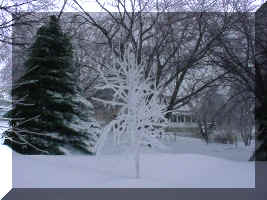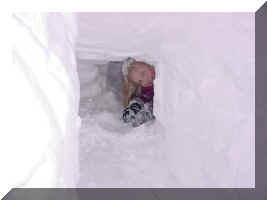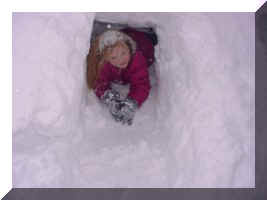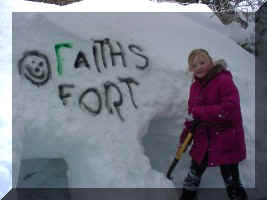 Its Sunday morning and once again here is Lew. Wow and Wow and Wow what a week this has been and a true blessing from above. It has been a very white Christmas and a lot of fun. The week started with us very late with our decorations and preparations for the celebration of our saviors birth so it was a rush for me. Must be an old age thing and need to start right after the 4th of July to get it all done. We had snow to move during this so that kept us going also. The garage has a 8 foot drift in front again. How fun. We got dug out enough to get to the kids for Brads birthday on the 23rd and then I got to start my Christmas shopping on the 24th. A little early this year but it went well. The new tires on the truck work real well in the snow but not much help on the ice as the engine in the truck is way to big for what is needed and it just spins on ice. And speaking of ice my ham antenna is a vertical but with all the ice on it and the wind by the time you see the top it is in a horizontal attitude. Not broken yet but really leaning over so hope it all goes straight when the ice melts. The roof is also to slick with ice so I can't get up there to lay it down so can just pray it works out. We have lost many tree limbs and will have some fence repair from them because of the ice. Some of the tops on the river birch are bent in a U and pointing at the ground. I guess I would say God is pruning out the deadwood. The pond for the most part is buried again and the open area is down about 4 feet in a big snow hole. The pumps are running and the fish are fine so all is okay there. We have lost electric several times but only for a few hours and that was late at night and we were sleeping so the only bother was to reset all the clocks all the time. I finally helped mom get all her angels set up and lighted and all her battery operated singing, dancing snowmen people things set up for Christmas eve on that day. The weather turned really bad that day but Brad & Heather and family, and Ben & Tammy with our Crystal and her friend Josh showed up for the Christmas Eve celebration and gift opening but we sure missed Matt & Kris and family in Florida. Must be getting old. Any how we had the traditional oyster stew and some Chili for Ben since he don't do oysters. With that over the gift opening started as did the severe storm and all were snowed in at our house till Christmas day late in the afternoon. Maybe would still be here, if I hadn't located the city Bobcat with snow blower to open a path in the afternoon, as the plows still have not been through to clear the road past our house. We got it open to the Blacktop and then it was slow going to Sac City and LeMars but all got home safely late evening on Christmas Day. We all got some great gifts and we finished early so really liked the gift exchange thing and we had time to visit and enjoy it all. How fun it all was and so sad it is now 1 year away again. Christmas day after the bobcat with snow blower opened the street Faith & I went out to open our drive and play in the snow. She built a fort that I helped her with and we shovel some on paths and got the drive mostly cleared with the Cub snow blower. My little love was soaking wet and cold but we had so much fun. It was some Papa, Faith time and I sure enjoyed it. They are all growing up so fast. Well I am run down once again so will post this and get moving. I will see you all again in the new year as this is my last post for 2009. God Bless Be Good Love Papa, Dad, Brother, Cousin, Uncle and all Lew.
20 December 2009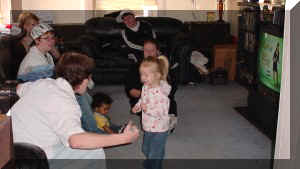 It's Sunday Morning and once again here is Lew. Mom /Mema is not doing so well this week as she has a bad cold mixed with upset stomach. Been fighting the cold for a while and I have a small one I believe also. The roads are all pretty clear here and I made it over to the family Christmas at Teresa's and it was fun. Looks like Sam has a girl friend and little Caleb and Alexis are growing like weeds and so cute. I should have taken our little Lucas with me as he would have had fun with them. All three sisters made it so that was treat and fun to see them all again. Got to see mom twice then once for breakfast and then once when I left at 3PM. She was pretty much out of it both times and very sleepy so did not get much visiting done. She looked good though and her health seems fine. I took the Ranger over so mom could have the van if she needed and it did just fine and the new tires sure make a difference. I got back home at about 6:30 and Saturday night and Brad and family came for a quick visit then and then went home. I got the drive under garage fuse panel for the garden shed replaced and that works fine now and the fish pond is starting to melt all the snow off the top and the pumps and things are all running fine. Barb was on this morning and we had a nice chat but she is the only one that shows up any more. May not be worth all the time and effort and such I put into the journal, chats and connections and things. Have many things to accomplish today for our Christmas so hope I get it all done. Seems like I am getting slower. Got the pictures posted for the family Christmas at Teresa's so better get this posted also and get moving. God Bless Be Good Love Papa, Dad, Brother, Cousin, Uncle and all Lew.
13 December 2009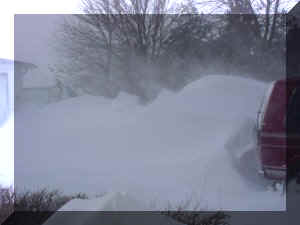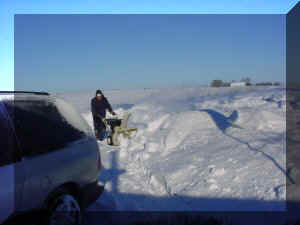 It's Sunday morning and once again here is Lew. Wow did we ever get snowed under. It came Tuesday evening and I was till Friday getting us dug out. The snow was okay but the wind really made a mess. Last I measured we 13 inches on the patio and then the wind came and it drifted higher that the red full sized van. Did some work on the snow blower and it did a good job for being so old. When I first went out on Wednesday I could not get any door open it was drifted so bad. After some working on the Garage walk door I finally got a crack large enough to squeeze through and the had to clean them about every hour all day long till the wind quit. The pond pump quit just before the storm and had to order one but was able to borrow one from Earl may till it gets here. The pond was under about 3 feet of snow so had to dig a 10 in hole in the snow just to let the gas escape and another one by the water fall to see the pump was working and the fish got some oxygen. Had to use the city Bob Cat to pull the full sized van out of the snow drift as it was to solid to dig. It's an Iowa winter finally. Mom is not feeling so good this week with her back ache and doing a lot of Christmas stuff. Sure wish we could make that better for her. We got some of the mail out stuff done and will get the tree up on the 15th I hope. Got the 1955 Dodge truck home under its own power just before the storm so it is good to go again. I called it a 1956 once or so but it is a 1955. The rear end we got was out of an early 1960's truck but with a small change on the spring mounts and replacing the yoke from the old one it worked out real fine. Not sure but may tow it there in the spring so we can see the kids. It will be later though as I have been notified for jury duty for Jan, Feb, and Mar. Was notified once before but never called so don't know how it will work. Got skirt on the rental done but they need to redo some of it and that may wait till spring as the ground is froze now. The siding will start this next week we hope so that will be done also. Life has sure been hectic since I retired. It's not suppose to be that way I don't think. Oh Bother!! Well I better get this posted and get moving. God Bless Be Good Love Papa, Dad, Brother, Cousin, Uncle and all. Lew
22 November 2009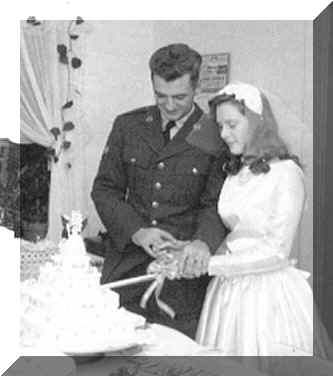 It's Sunday morning and once again here is Lew. We finally celebrated our 47th wedding anniversary this week on Monday. It was actually on the 10th of November but mom was not well and then on Monday I was not so good. Had a real bad case of laryngitic and then Tuesday I could not talk. I got a real nice small tool pouch to take along camping and such for radio work or other small stuff, and a people statue for my shelf, and some old DVD movies to watch. Carol got two Precious Moments statues from me. We also went shopping and then out to Yans for some oriental supper and then home. It has been an amazing 47 years and pray the next are just as good. My life partner is my best friend and my constant companion and the love of my life and I am a truly blessed and lucky man to have such a prize as she is. God only knows what I did to deserve her but I am thankful. We spent Saturday afternoon up at Brad & Heathers as Mel & Steph are giving them much grief so pray for them and the girls. I went to there play that night Guys And Dolls but mom stayed at there house as she was not feeling good. Checked into the swan net on Sunday but the band was not good so did not get much done there. You load sixteen ton and what do you get another day older and deeper in debt. Oh wait it was only 15 ton and it was river rock not coal I spread and leveled on two drives. Figured I needed some so I had something for the snow blower to pick up this winter and throw in a window or something. No more animals in the trap so will fill the hole and go from there. Started on the windows/blinds/curtains cleaning and boy is that ever a mess. When did I do that last and how did they get so dirty. Oh Bother. Had a fellow from Glidden call me on transferring some old 8 mm movies to VHS or CD so found the old transfer machine and projector so I might be able to do that. It is a rather awkward process with showing the film from the old projector into the transfer box where it is flashed off a mirror and then picked up by the camcorder and put on the tape or sent on to the DVD to record it there. Rather cumbersome but effective. I ran a coax for the kitchen TV so we don't have the rabbit ears in the window any more and we can now get some channels there. Mom has ordered a shelf stand for the corner for the TV to set on and help remove the clutter from the corner. One week from today is Family thanksgiving and not sure if I will make it or not. I studied the grilles some and may just borrow one to help with space for all the Fish and potatoes. Should be okay if I have it figured right just hope the weather holds out and it is partly nice for Sunday. Shari is married now so give her a big congratulations and she sounds so happy. Say a prayer for her new life. Heather wanted to try a new recipe so she invited us to dinner Friday and it was really amazing. I ate too much, but what is new, as it had fresh bread for appetizer, noodles with sort of Alfredo sauce, and meats to top it off and some seasoned breadsticks. Really Really good. Mom sold more of the crops to get ready for the expense of the rental siding and skirting and we about have that set up. We hope to have that done before the winter sets in full time. Guess I better stop rambling on and on get this posted before next Sunday is here. God Bless Be Good Love Papa, Dad, Brother, Cousin, Uncle and all Lew.
15 November 2009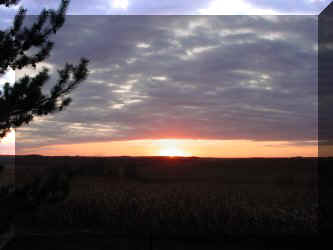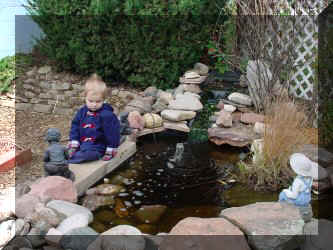 It's Sunday morning and once again here is Lew. As the sun sets on an amazing November day we reflect on a day of fun with our grandson Lucas while he reflects on his walk with Papa and his games with Mema during the same day. Has been a busy week but mostly a haze as mom/Mema was sick most of it and I spent much of the week cleaning the kitchen and stuff. Got the fridge, Stove, counters, and all real clean and wiped off some doors and such. Rearranged some stuff but mom was not real happy with some of it so it will go back how it was. I was kind of under the weather also so the week was rather a long slow affair. An animal built a den by the house foundation and I assumed it was a Woodchuck so I set a trap for it but I caught a possum. I did not know they dug a den like that unless it was checking what it was and got caught. I set the trap again anyhow so will see if it catches anything more. Had the ham set on some this week but the bands were fairly dead so that was a bust. Treated the pond one more time and put the aerator back in so should be ready for winter if the waterfall does not leak. Did a little more moving things around for mom and her craft room and behold the week is done. Will close with all my love Papa, dad, brother, cousin, uncle, and all Lew
8 November 2009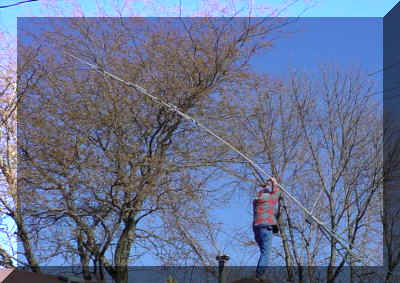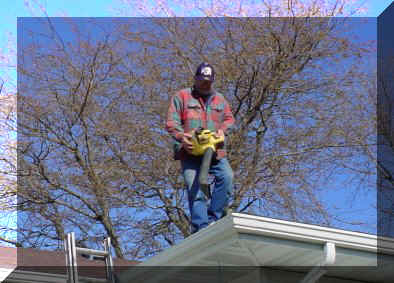 Its Sunday Morning and once again here is Lew. Started out the week with getting the camper finished to go to storage for the winter. Following that I cleaned out the gutters as they were very full of leaves this year for some reason and then had to work on the Ham antenna as the mount was loose and the antenna was leaning to far. After crawling around the roof trying to get all the leaves out of the gutters I went and got the leaf blower and Walla the job was simple and done in no time and it worked like a dream. Had to remake the antenna mount as it was worn a lot and I could not get it tight so did some engineering and it is now solid again and up straight. I have the antenna mounted on a 10 foot tripod base that I hinged so I can lay the antenna over for maintenance/service as needed. It works real well and I can turn the antenna in the mount to compensate for any warping the wind does. Cleaned the landscape around the garage entrance and trimmed five of the bushes so it looks better now. Have started on the pond stuff for winter and need to add much dirt by the pump area so it does not freeze and then put back all the rocks my little loves threw in the water that we fished out. Spent all day Tuesday on it and it is looking good. Wednesday morning did some more on the pond and it is done for now and will just do some cleaning, as it has some algae build up, and putting the heater/deicer in for winter.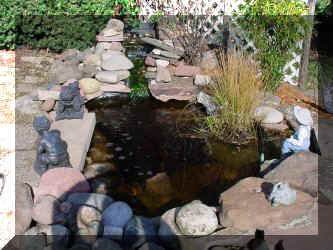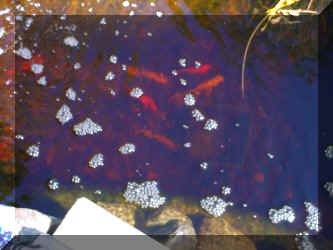 Had the Cub Cadet out working with it again and it started to hammer again. Took the belt to the mower deck off and it went away so the idler pulleys I replaced was not the problem so must be on the deck. Will have to do more checking. Got the old correct generator for the Rambler up and running so now it has the original on it. Now I need to get the oil pressure switch replaced as it was on all the time and after taking it out to check what was wrong it now does not come on at all. It takes a special wrench to change it out so had to get that at $8.00 and now will probably never use it again. It is running well and the generator works well now and the oil switch works great so will change the oil for winter and it should be good till spring. The radiator does not leak and all the other leaks except the thermostat housing are sealed and that may stop with use. I will only take it out on nice no snow days so that will work fine. Made several trips to town with it and it is doing great. Beans are all done and the corn is almost done so that is great. Mom/Mema has been sick most all week so that really stinks. We got Tammy's Bday tomorrow so have been real busy with that and getting things set up. Put the camper in the machine shed for the winter and now just need to get the van ignition and heat gauge figured out. It is Sunday night so better get this posted as spent the day with Tammy's Bday stuff. Am wore out. God Bless Be Good Love Papa, Dad, Brother, Cousin, Uncle and all Lew.
1 November 2009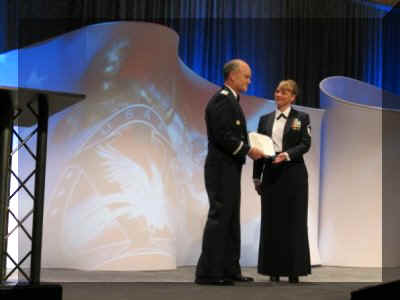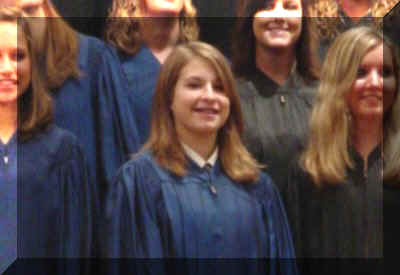 Its Sunday morning and once again here is Lew. All I can say is Wow!! Wow!! and double Wow!!!! What an amazing week this has been. Kris received the Yates Popwell award for the top/best Paralegal Senior NCO Air Force wide and Melodie was inducted into the National Honor Society. You can see there photo albums at Lewzplace. These are two amazing girls and I am probably the proudest Dad/Papa in the whole world. What a tremendous joy our Lord and Savior bestowed on us when he brought them into our lives. That goes for all our children and grand children. Got the camper mostly cleaned and ready to store. Discovered this week with much heavy rain daily that it did not leak a drop so why did it leak so much when we were camping. Got out the books and read and read and found out that in a area like that it can condensate 2 to 4 gallons a day. Since it was raining most all the time and we were inside a lot I feel it was all condensate and it just poured off the window that was slanted in the front. In a 24 hour period we caught about 1 to 2 gallon with our plastic taped up and run to a pan but at home no heat on or people there it leaked or did not sweat a single drop. Live and learn will get a small dehumidifier Mom found and try that next time. May not be out so late in the year as this year when it was cool so it might never do it again. Has turned cold and wet and rained most of the week so it is a mess. Got the beans harvested but the corn is still in the field so hope we get a break for that soon. The kids are not interested in the farm or managing it after we are gone so we will be selling it this spring. We will keep a few acres with the house and such but get rid of the rest. We got through Halloween last night and that was fun and we had about 20 kids show up. Willey is a small village and many older people like us so not many kids but it was fun. We missed all our kids and grandkids coming but the little ones were so cute. Several homemade costumes that were just darling. Did a small amount of yard work this week but sure need to get more done. Need to trim many trees but that gets harder every year. Guess I better quit whining and get this posted. Go Bless Be Good Love Papa, Dad, Brother, Cousin, Uncle and all Lew
25 October 2009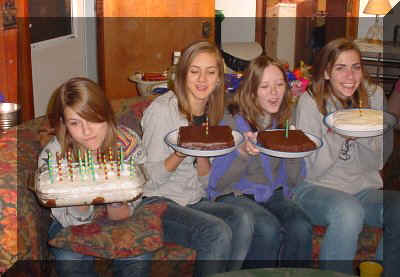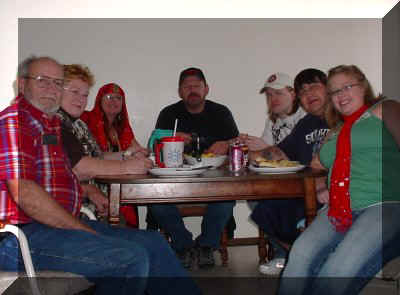 It's Sunday morning and once again here is Lew. What a time we have had this last two weeks. We got through Mel's Birthday and hit the road again for Merrell Iowa for Crystals birthday. We seen her apartment and it was really nice. It rained most of the week and the camper front window leaked really bad. New stuff should not be so much work or take so much effort to make sloppy quality control right. It also has real bad condensation at the windows in this cooler weather so need to figure that out. Just had a chat with Barb so got the Messenger going and had to go back to an earlier version as they were having problems with new one but they are working on them. Why do you put them out if they are a problem, just fix it then put them out. Oh Bummer what world am I in. I got the radiator back for the Rambler and sure was a surprise on the price. Was about $100.00 when I took it in but after finding out they are scarce and hard to fix the price went like triple. I guess I just don't understand. A lot in Merrell has an old Hudson Wasp that is really kewl but is rather high for my liking but I really like the older cars. It was a great little car anyhow. Found a rear end for Matt's truck but it is not the same year but will fit fine if I measured right. Not much to say this time I guess so will close and get this posted. God Bless Be Good Love Papa, Dad, Brother, Cousin, Uncle and all Lew.
11 October 2009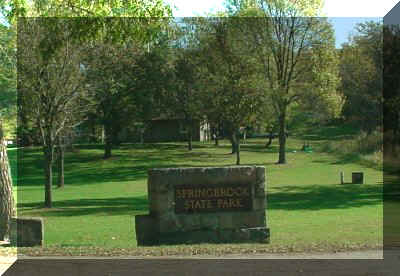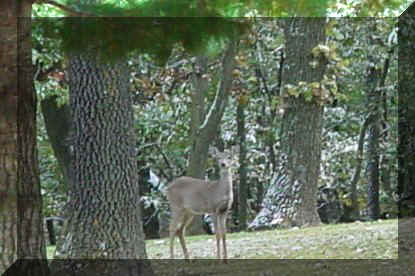 It's Sunday morning and once again here is Lew. Well, Well, Well, got this far and have writers block. What's up with that. Oh well had and interesting week at Springbrook as our little Crystal and her boyfriend Josh showed up on Thursday but no one else as stuff happened again. Where does all this stuff come from and who is in charge of stuff, I would like to meet them to give them a piece of my mind. Wait I don't have enough mind left to give away and probably the stuff in my life is controlled by me so does that mean if I gave me a piece of my mind I would have, More mind, Less mind, The same amount of mind, or None of the above. I guess I better be mindful of becoming mindless with these questions of the mind of mine. Have put some pictures of our trip here at Springbrook on Facebook and will get them all up here when I am through. The new camper is great and we are having fun with it. It is so cool that we do not have to fold out a bed all the time and for as small as it is it sure has a lot of storage. Even the shower works great but it has been a labor of love as it needed much attention. Nothing super just things like when we used the sink for many dishes I found it leaked at traps and drains and such but just some tightening fixed that. It took about three days to get the fridge to work right and the cleaning was tremendous. Had to put on new tires but the sales company paid half so not to bad. We took down all the mini blinds and put up shades. Mini blinds are useless in a camper as they are always dirty and very hard to clean. Mom/Mema got a real cutesy lamp for the table and made some side curtains for the kitchen and some ties. The new foam mattress we got is amazing and it came in a small box with all the air sucked out but it expanded in 24 hours and is amazing and much cheaper than some with not as much density. Yesterday it snowed around 6AM and looked like about 1/2 inch but was gone by 2 PM and turned out to be a nice day. Was cool though and we went junk store shopping. I found the perfect coffee and coffee condiment stand for our counter so that really cleaned up that area. Mom really likes her folding table I put in from the old camper and it works real well for her crafts, writing, games and will work as a eating table when the grandkids come. We are just kids with a new toy right. Mounted some tubs on the back bumper and that works real well for carrying the outside stuff. Picked up another length of hose so don't need to carry water now while here anyhow so that helps much. Last night was down to freezing and I was worried about the camper tanks and pipes and such but it appears to be fine so am happy for that. Was ready to get on messenger this morning but it said it needed an upgrade so have that running. Now if it works better than on the home computer it will be great as there it setup but I cannot get any of the contacts over from the old version nor can I add them in the new. Oh Bother. Guess I better get this posted and get moving. God Bless Be Good Love Papa, Dad, Brother, Cousin, Uncle and all Lew.
04 October 2009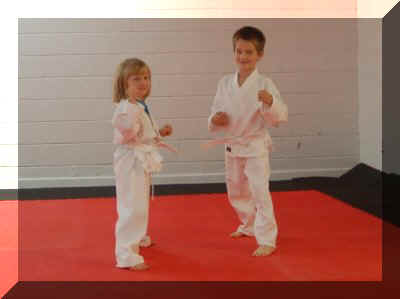 It's Sunday morning and once again here is Lew. Woke up this morning to some frost on the roof and has turned cool. Fall is in the air with winter around the corner. Sean, Cody and Caitlin are taking Tai Kwon Do but Sean was sick so he is not in the picture. Will get his soon I hope. Are they just the cutest. Busy week as it has been camper mania week. Deciding what we take and what we leave for setting up the new one. Getting things to dress it up for us and make part of it more useful. And then the scrubbing and cleaning and working to get rid of the funny smell. Pulled the furnace and scrubbed it really good and ran tests and such and in the process burned out the thermostat so needed to replace that. The cleaning helped very much and now may just set the anticipator for the cycles to let it run cooler as it runs super hot and that may be some of the smell. Took out all the mini blinds and put in shades and that is so much better because the blinds never work well and then are a pain to clean. Mom has been real busy getting tubs and such for storage in it and racks and stuff to organize so it is going well. We are headed out on Tuesday for Springbrook so hope we have enough ready for us to go then. Still have to put in the new mattress and get it cut to fit what we want. It will be very cool when done. I have the tubs set up for the back bumper and have rewired the power to get the cord out of the cabinet to use the cabinet for my pots and pans. Found out this week also that the Rambler radiator is going to cost much more than planned as they will take it all apart as the tank still leaks and that will double the price. Go Figure. The big girls had Band day yesterday but we missed it as we had the renter stuff to do and all that. Tried the new windows live this morning and it does not work so may just use the old one. Well the day is beautiful and I am very late here so better get going. God Bless Be Good Love Papa, Dad, Brother, Cousin, Uncle and all Lew.
27 September 2009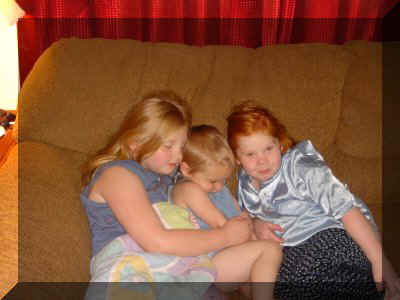 It's Sunday morning and once again here is Lew. Sure has been one funny, busy week. Spent a lot of the week still cleaning the new camper but have a lot of it done. We got a new mattress but new to get it cut some as it is to long. All foam with a memory foam top. Hope it works out well. Will find out next week as we are headed to Springbrook and will be there till the 15th of October if all goes well. We will be doing much of the camper setup un this trip to get it how we like it so will be going slow. Had the new tires put on last week and Webster City RV paid half of that so that helped and we found out the smell that is left is probably a mud dauber nest they built in the furnace. It will go away as we use the furnace and it does seem some better as we have fired it some to see. It is so modern for us but probably old school for most. It has sensors that tell us when the battery has a full charge, when the fresh water tank is full, and when the black and gray water tank is full and all at any level until empty. It has gas leak monitors and you do not have to light anything as it is all done automatic. It has crank up antenna with rotation capabilities and the crank down jacks ready to go. Sure will make setup easy with all that fun stuff. We spent most of the week getting the mom/mema garage sale ready but we finally got it done. Not near as many people came as usual. Garage sales must be not popular any more or we picked to late in the year for it. We have boxed and loaded lots of it in the van to haul to the thrift store for donations. Windows live messenger is gone dumb yet so am working on that. I still need to go get the radiator for the Rambler and we have heard no more on the differential for Matt's truck. The guy he heard from never did get back to him or something. I have had no luck at all with it so maybe Matt will have more luck than I am. Got part of the mowing done again and it is ready already again so what a year it has been for that. Weather has been beautiful so guess that's what happens. The house is rented and hope it is fine there. We had the people come for an estimate on siding and skirting for there so hope that is not to expensive. Still need to get there and remove some things from the shed the renters left. What a joy they were. Well better get posted and get moving. God Bless Be Good Love Papa, Dad, Brother, Cousin, Uncle and all Lew.
20 September 2009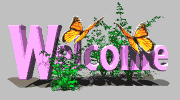 It's Sunday morning and once again here is Lew. Another glorious week given us by our Lord and Savior. We did some of the work on Brads van but the check engine light is still on. Will let it run some and see if it clears with the additives we put in. Took the radiator for the Rambler in for repairs and got some stuff to add a recovery tank but not sure it will fit. They are boiling out the radiator and adding a drain petcock and then putting in a connector for a recovery tank. Got a battery disconnect also so it does not keep the clock running all the time it just sets. Renters are completely gone and have advertised for some new renters and had appointments on Friday night and Saturday. Will have many more today also. Had to have the tank filled and need to get this all done so we can go after them for there lease money and other things owed since they moved out in the middle of the night no notice. What a bother. We have some people coming for a price on siding and skirts plus soffits drains and down spouts as it needs it bad and will need renters that can deal with a few weeks of commotion while it is being done. Got all the mowing done there and at the barn so that is done for some time now. The kids went to retreat Friday and got back on Saturday and had a good time they said. That is great the things they have to do with the youth group. We are so very proud of all the involvement Brad and Heather have with their church for themselves and their kids. We picked up the camper Friday and it is really nice but sure was a disappointment on the cleanliness of it. Have much work to get it as clean as our trade and it is 34 years old and the new one is just 9 years old. Go figure. Found 2 recalls also that need done and who knows what else. The web sites do not have manual downloads so will just call tomorrow to see what I can get. It works so much better than the internet. Today was nuts with the rental and people coming and here it is 4:30 and still not posted here. Will just post and be done. God Bless Be Good Love Papa, Dad, brother, Cousin, Uncle and all Lew.
13 September 2009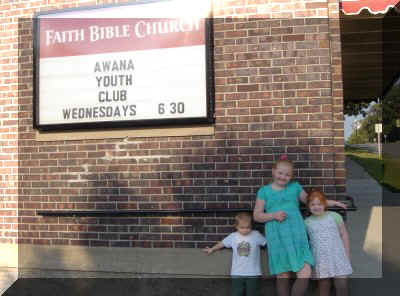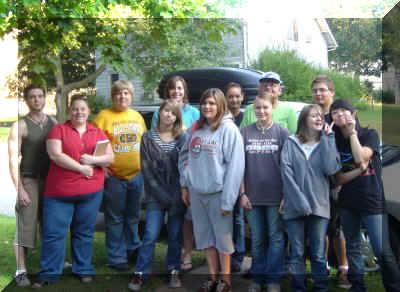 It's Sunday Morning and once again here is Lew. Wow what a week we have had. Sunday School and Church after last Sunday's post. Lucas sat with us in church and it was amazing and then lunch of pigs in a blanket, that Faith and Mema made, and then crafts with Mema on some shirts and some coloring. Then some play and rest time and then a few more crafts and Walla it was supper time. All day with no TV and did not miss it. We ate our meals at the long table we got for the kids and it worked super. Our three little loves are so precious and then it was bedtime. The kids and youth group got back about 2 AM but I was sleeping. Group pictured from Left to right are Brad, Heather, Jonathon, Mel Front Faith back, Rachel front, Tyrei back, Jessica front and her dad back, Steph front, Chris back and Hyun-seon and then Faith, Rachel, and Tyrei spent the night with the big girls. Everyone finally got up and gone and we headed for home about 2PM. What a weekend. Did some mowing Tuesday and looked online for a camper. Also fixed the pond as it was getting algae again and picked all the tomatoes. Wednesday did some more camper checks and found one we might like at Webster City RV. Worked more on the yard and in the house and then on Thursday went to look at the camper to see if we liked it. We thought it would do but wanted to think about it some so went out to country kitchen to eat and then went home. Did some more thinking and then called Friday and said we would take it so started cleaning out the old one to get ready. Yesterday we did some more cleanout and some painting and now just a good scrubbing and we are good to go trade it in. I did more mowing and then the rain started so did not get that done. Have been putting some of our music on the computer so we can use it camping and such. I brought Brads mini van home to check some stuff on it and I believe we can fix a lot of it ourselves. We can clean the EGR valve I believe and then do the other stuff that they estimate at $1,400 that needs doing and much will clear up with some of it. Like $50.00 for a fuel cleaner additive and $75.00 just to put that cleaner through. I can get the can for $10.00 but Will just try Sea Foam first at $3.00 a can one for the tank and one for the oil. They sure see us coming. I need now to take the radiator out of the Rambler and take it in for repair as the last one did not do it good. It is doing fine though and the JB weld is a miracle as it is holding fine. The morning is dawning fine and the weather is good. It has been a really great year for the weather. The renters did not pay there rent this month and it looks like they are moving out. Many phone calls and notes in the door and such but no response so will send them a letter and start collection proceedings. Oh bother!!! Guess I better get posted and get busy so God bless and be good. Love Papa, Dad, Brother, Cousin, Uncle and all Lew.
06 September 2009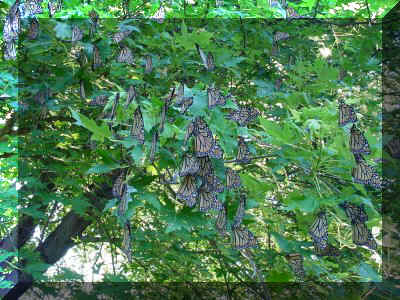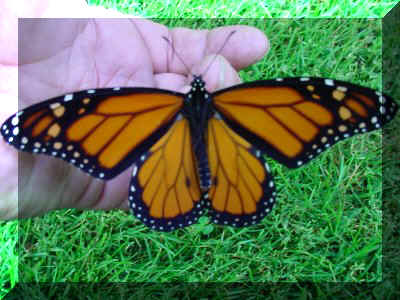 It's Sunday Morning and once again here is Lew. Well fall is in the air as once again the monarch butterflies have begun their migration back to Mexico. There are thousands of them that hang out on our silver maples and willow trees as they rest over night and warm up from the morning sun and get nourishment for the next leg of there trip. Some years you see them covering the whole side of a tree and you think it is dying until you get close or see them take off. WOW!!!! The good Lord sure can do it right can't he and we are truly blessed to see all this. Installed the wings on the Rambler little lady hood ornament and she can fly now. Almost two years to find the wings and it sure looks nice now. Completed all the yard mowing and some of the other stuff. Got much stuff out of the camper and may just clean it up real good and look for a new one as it is going to need some serious work soon. We seen some at La Mars when we were camping there and really liked them but are really pricey so may be limited there. They were the Innsbruck and the Flagstaff and I liked the Innsbruck best. Headed up to Brads Friday and got ready to watch our Little Faith, Sarah, and Lucas while Brad, Heather, Mel and Steph go there church Life Light concert in the field. They also 2 van loads of kids that went with them. How Fun. I told the kids they were not to be bad but needed to a little kid naughty just to keep Brad and Heather in line. Hee Hee. Sure hope they are having fun as they will be going full steam and then head back Monday morning about 3 AM. I'm thinking we will have a bunch of wore out kids and chaperones. All in all the week has been full but very good. We left La Mars on Tuesday morning and on Wednesday and Thursday I did all the mowing and things and then here on Friday so was busy. Have a small surprise for the kids when they get back here so hope that is good and they like it. I got another hard drive for our computer for the music and karaoke and they sure try to load it with junk. It is a passport external and only for storage but they put on programs to manage and such so had to dump all that. Its for me and for storage I can put on what I want with out all there clutter thank you very much. Got it going and now it works well and has 230 Gig storage. I remember when I was amazed when the drives went to 100 meg and why would anyone need one that big. Wow. And the USB drive the laptop has four in use and the tower has six in use and there are not enough on the laptop and the tower is full. Again Wow. Guess I better get this going since no one is here to chat, it's 7:30 and the kids are getting up and we need to get to church shortly. God bless us all and see you next time. Love Papa, Dad, Brother, Cousin, Uncle and all Lew. P.S. Teresa just signed in so will chat there maybe before I go. Both her and Matt must have been away as got no response so bye for now.
30 August 2009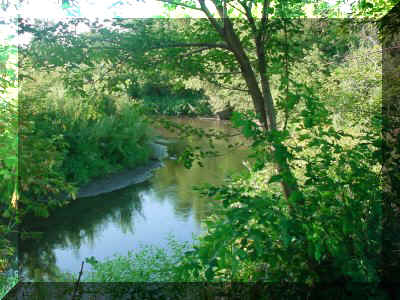 It's Sunday Morning and once again here is Lew. Has been a rather funny week as on Wednesday we decided to go camping by Tammy's and we took off Thursday for Le Mars. I did finish some work on the yard and some stuff on the Rambler first but then got the camper ready to go and left. The camper water system had a funny odor and taste so have bleached it and hope that is good. I put it in the tank and pumped it through the lines and left it set all night. When I flushed the lines it sure let out a lot of junk before it all run clean. Water smells good again. We seen Tammy and Crystal Thursday night and then again on Friday morning and then went sopping with Crystal. Then Mom and I went shopping and came back and made supper after all the water line preparations. Saturday morning I drained everything and then went for a walk and took some pictures, two are above. Did get the Rambler head fixed with the JB weld the first of the week and found there was another crack in the block that was very small so did that also. It works really great for patching. Worked on the heater controls some and got them working better and did thermostat work and some clean up on the thermostat housing. Another couple Murray thermostats and then got one from NAPA before it worked. Guess I will forget the Murray thermostat. Had Tammy and Ben over for supper last night and then they are all coming today for lunch. We stayed up last night and had a fire and chatted around it so that was really nice. I think it is time for some camping at Springbrook and if you really want to camp we might be going to Texas in late October for Kris' Award in Dallas and make a trip of it to see our Texas relatives so if we do come along. We are not sure if we are going yet but that is a great award for Kris to get The Yates-Popwell Award for the Best Paralegal for the whole Air Force for 2008. What and honor and we are so proud of her. We are looking at maybe getting a new camper that is lighter to haul and easier to handle as ours is having some problems and it is now 35 years old. The newer ones are so much lighter and we may go some smaller but set up rather different and easier to setup and teardown when we stop. Just dreaming so far but have been thinking of it the last year or two. Mom has some doctor and eye appointments when we get back home so hope they are okay as I really worry about her and her health. I try to help but don't know what to do. We will be leaving here on Tuesday and home then so back to all the yard work that is again overgrown and the other stuff. Next weekend we need to watch the little kids for Brad and Heather as they have a church youth group trip with the big girls and some of the church youth. We will have our little Faith, Sarah, and Lucas. I guess I better quit Ramblering on and get moving. God bless us all and keep us till next time. Love Papa, Dad, Brother, Cousin, Uncle and all Lew.
23 August 2009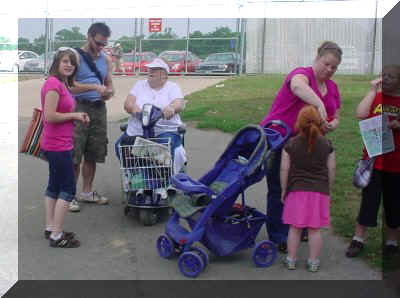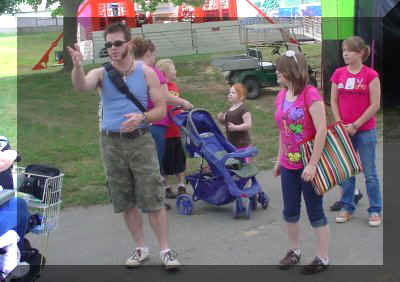 It's Sunday morning and once again here is Lew. At the risk of sounding repetitive what a week this has been. I thought things were supposed to slow up when you retired. Oh wait I have control of that don't I. I just need to adjust and remember that I have more than my evenings and weekends to do things and that most things to do have been there for a long time waiting till I retire to do them so if I go slow they can still wait some. Time for Springbrook. Went to the State Fair last week end and it was really great with lots of fun and posted some pictures. Missed the campout with Angie and Hailey but it sure sounds and looks like they had much fun. Have been working on the Rambler this week and still no further word on Matt's truck. Did get the glove box in the Rambler to work right, and have found a small crack in the head that I thought was a leak around one of the head bolts. NAPA machine shop said they can fix it but I may try some JB weld first to see if that will work so I don't have to remove the head. Have cleaned up at the Barn and went back over yesterday afternoon to do some more to get it all done right. Finished some weed eating and then sprayed some of the trees by the machine shed to kill them and did the mowing again. Spent time here in the yard also and it is coming along nice and then did much of the closet of bedding laundry that needed doing along with some work in the bedroom that it takes us both to do. Put some wood blocks under the head of the bed to see if that helps with the CPAP for moms sleeping and rearranged there so we can get around better. Put all the seats back in the mini van and mom spent the night Monday night at Brads as Melodie had an appointment in Omaha early Tuesday for braces and mom watched the kids for Brad and Heather for the appointment. We had some rain and the temps sure have cooled off and I slept in yesterday so did not get a whole lot done but goofed off real well. With some more practice I may get that figured out and be able to do it perfectly. Thursday Mom and I went back to Ames for her eye check on the stitches and all was fine so now need to make an appointment for a vision checkup and new glasses. Last night I also worked on a table we got from our renters several of them ago and got it fixed. It is a fold out table with two leaves and all closed is about 3 1/2 foot square and fully open goes to about 7 feet long. We got it for the kids cause they have a real small dining area and not enough table for it. It should work good now as you could seat 10 rather tight but the 7 with the food should work out. No one here for a chat this morning so guess I better post and get moving. God bless us all and have a great week, Love Papa, Dad, Brother, Cousin, Uncle and all Lew.
09 August 2009
It's Sunday Morning and once again here is Lew. What a week this has been. We got home on Sunday last and Matt and family were already here and we did not even clean all up from our trip. We spent a lot of time visiting and catching up and resting up and Matt and I spend much time on the truck trying to get it ready to go. We did not make it so now have some more to do on it but it should be good when he comes back to get it. Wish he was here to help but that was not suppose to be. Found the ignition switch was bad and that may have been what took out the starter so ordered one from O'Reilly's so will see Tuesday if that is the right one. Flushed it out good on Saturday and set the timing some and put in a 160 degree thermostat so it is some better on the heat. After two stats of the Murray model went to NAPA and got one of there's and it is better. The Murray ones would stick or open incorrectly. Need to get the timing right for it to work good now. During all this work on Saturday the turn signal broke so need to fix that now also. What a great truck it will be. Got the clock for the Rambler but no work on it yet. All the kids were together for visit a couple times and we took Matt and Family out to Yan's for a meal the night before they left and they left on Friday with the RV, Boat and SUV headed for Florida. The time was way to short. The kids made it to middle Missouri the first day and to south east Missouri the second day so will see where they get today. We are under severe storm watch and the rain just started in torrents a few minutes ago so hope it is not serious. The weatherman gets carried away, but this is Iowa after all. Had to get more minutes for my cell phone as I went through about 400 of them on the trip. To much texting I guess. Hee Hee. Now Angie will be home at Bill and Ellen's this next week and they are going camping on the 12th, 13th, and 14th at Sugar Bottom and we are going to the fair on the 15th. Not sure I can fit all this in and how did retirement get so darn busy. Oh Bother maybe should go back to work, NOT. Guess I better get this going and get busy so God Bless us all till next time. Had a chat with Jeff and Cindy this morning and it sure was good. Where have all the other ones gone. All my Love Papa, Dad, Brother, Cousin, Uncle and all Lew.
02 August 2009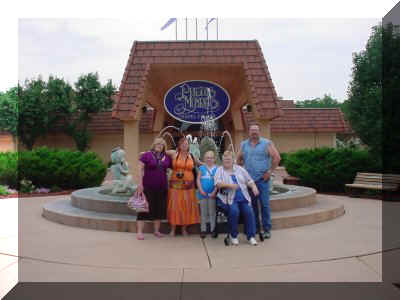 Its. Sunday Morning and once again here is Lew. As our Branson trip draws to a close today with the final leg of our trip home, mom/mema and I will truly cherish these Precious moments we have had. We have seen some wonderful sights and had some great times with our kids and grandkids. There was so much that happened I will not be able to list them all however some favorites of mine were the Magnificent Variety show/dinner theater mom and I went to, The tour of the Precious Moments museum, The Dixie Stampede dinner and show, and sharing all the joy and fun Faith had at the Silver Dollar City day we had. There were so many other truly amazing blessings the Lord gave us on this trip and we are truly thankful for them all. Mom and I are wore out but it is a good tired. Now on to home and getting to see Matt and family as they have arrived back in the states from there long stay in Germany. We will get to visit and have fun till there leaving for Florida on the next assignment. May even get to help some more on the old truck. Before any of this can happen we need to get going so I better close this week and get moving. God bless us all. Love Papa, Dad, Brother, Cousin, Uncle and all Lew.
26 July 2009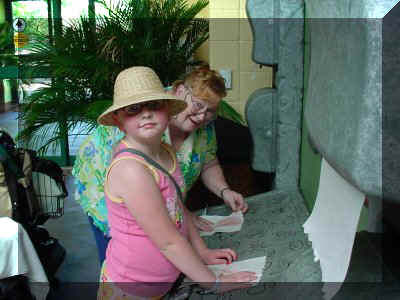 It's Sunday morning and once again here is Lew. What an eventful week with all the trip planning and packing. Had to get the vehicle ready, yard stuff done, then loaded to hit the road. Monday did vehicle oil change and haircut and some yard stuff along with packing and hauling things with mom etc for trip. Tuesday was yard mowing and pick up the scooter for the trip if mom needs it and start the loading of the van. The plan was to get an early start on Wednesday so we could see some sites. Heather dropped Faith off early going to work and we still were not ready. Finally got all finished and out of town around noon. Day one was fun as we stopped in Villisca and had pie and ice cream at Edie's coffee cup then proceeded to St Jo Mo. We made several more stops along the way and even visited a welcome center for info on Missouri. Got some nice pictures there of some statues and things and finally arrived in St Jo and got a room at a motel 6. They really don't leave the lights on for you and then we went to Denny's for supper and retired for the night. Thursday was breakfast at Denny's and then on the road for Kansas City and the zoo. With a late start, stops and getting lost and traffic and finding a room and all We finally got to the zoo at 3pm. We made some fast trips through things to see after Mema & Faith seen the gift shop but still were to slow and we were locked in. Mema found us a way out so we did not have to sleep there with the animals. During our trip to the baboons colony I lost mema and Faith but finally brought the right ones out with me. Hee Hee. Then back to our motel and a dip in the pool for our little love and to eat and then bed. Friday morning off to the waffle house for breakfast and on to see the doll museum. We did not get there as was not sure of the location and was low on gas so after getting lost in some wrong areas we gassed up and headed on to peculiar to get our room. Then after we settled in Mema and Faith spent the rest of the day shopping and such and Friday evening Ben, Tammy and Crystal arrived and we went to Flying J for Supper. Was up real late visiting so woke up tired on Saturday ready for the final leg of the trip to Branson. I got a Tracfone for our trip and I even been texting how about that. Am I techy or what. Right Tammy and Crystal showed me how to use it. Hee Hee!! Saturday we had breakfast at the Flying J and then on the trip here Ben took us to the Precious Moments museum in Carthage for mom and it was great. We really needed more time to enjoy it all. I have posted some of the pictures at Face book and will add them to Lewzplace when I can. Jeff and Cindy were here to have a chat and I better get this posted and get going for the day. God Bless and Keep us all and give us a save and fun vacation with the kids and Grandkids. Love Papa, Dad, Brother, Cousin, Uncle and all Lew.
19 July 2009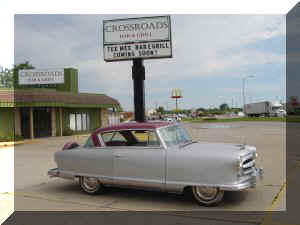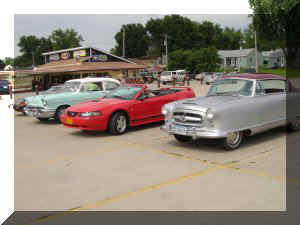 Its Sunday morning and once again here is Lew. Went cruising with the RPM car club here in Carroll last week and had a good time. The old Rambler kept up just fine. Couldn't get it out of second gear though. Hee Hee. Got the new park light in the mail and have it installed and it works great. Found a clock for it so ordered it also and a fellow is checking on the dome light lens and inside mirror for me. The clock should show up in about a week. Been working like made on the yard trying to get ready for the Branson trip but can't seem to catch up. Oh well guess I will always have the time as I don't need to go to work any more. I did get the pond area all cleaned up and looking much better but need some water treatment again as have been lax on that. The weather has been just gorgeous this year and on Friday dawn arrived with a temperature of 48 degrees. Is that perfect or what. So much for the global warming scare some people are running. We had Brad & Heather over for a wiener roast Friday night and the kids needed hoodies in July. How about that. Saturday dawned much the same way. And Saturday was a great day. Got much done on Matt's old truck and it now has turn signals and the lights going. Ordered a brake light switch as the one there is bad and won't work. Then the brake lights should be fine. Then all Matt will need is a set of tires and the speedometer cable to hit the road to Florida. I will wait on those till he is here and were are back from Branson so we can do them together. What a task that has been to get it all done but sure has been fun and educational. After the truck work I did a water treatment on the pond and then worked on the leaf blower as it was not running right. It just needed some cleaning and adjustments and seems okay now. We had the cub cadet out Friday and it still has a knock some where so need to look at that also. On a trip to town in the old Rambler I seen a 1951 Studebaker commander in the McDonalds parking lot so had to stop and see it. We had a good chat and it sure is a neat old car. They were going through to Nebraska from a car show in Chicago. It was a skylight model kind of like the business coupe and rather rare. Well I am run down for now so will close with all my love and God bless us all. Love Papa, Dad, Brother, Cousin, Uncle and all Lew.
05 July 2009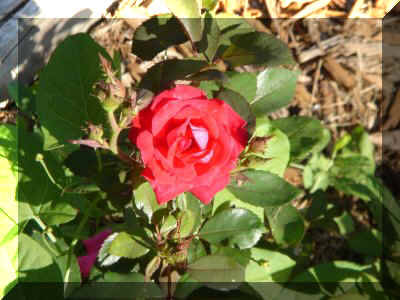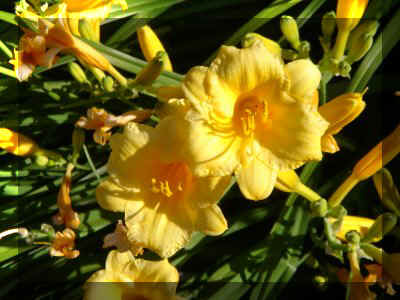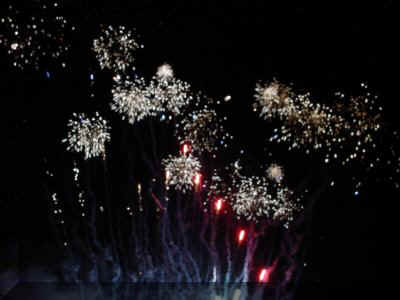 Its Sunday morning and once again here is Lew. Took some flower pictures in the yard and 4th of July fireworks in Willey and decided to share some. Spent Monday and Tuesday mowing, weed eating, tree trimming, weed pulling and cleaning up here and at the barn. Got the Motor home and SUV running while there to make sure they are still ready for when the kids get back from Germany. Will have to get the SUV washed as it is just covered with dust. Wednesday morning 3 AM mom/Mema fell out of bed and hit her eye on the night stand so had a rushed trip to emergency as she ripped the eyelid pretty bad. We super glued her back together. Great memory for my first full day of retirement. I am glad all is okay for now and will see the eye doctor later to make sure. I found a parking light assembly for the Rambler so now I may get that fixed if I win the auction. The Rambler is in much tougher shape than I first assumed but am still having fun but it will never be a show car or trailer dolly under my watch. I will use it for parades and shows and such with local car club though maybe even some DMACC stuff. Now that payday is here mom got me the hedge trimmer she was getting for fathers day and it sure is nice. It is a STIHL and really works great as both blades move and cut. Now have to do them, the hedges, again, finish the tree trimming and the string trimming and then start on the weed spraying. The creeping Charlie has sure got a good foothold. Just got Tammy into Multiply so now that works. Yoo Hoo!!!! On Thursday I planted three knockout roses, a Quaking Aspen, some moss rose and did much more trimming and weed eating. Cleaned the back of the garage landscape so now it is looking better again. By my next lifetime I may get it all done. Oh well it is fun and retirement is just great. I am going to try and get the steering tight on the Rambler this next week because the RPM club here in Carroll are going on an outing to Coon Rapids and would like to participate. July 12th Cruise to Coon Rapids and eat at Jaazzy's Drive In. They have a few other things and would like to get involved with it some. July 22 RPM Club meeting at 6PM at the Santa Maria Vineyard and Winery in Carroll. July 25th RPM Club annual Car Show at Swan Lake but we will be gone to Branson for that. July 30 Show and Shine at the A&W in Carroll 5:30 PM. Maybe if things are right we can do Matt's truck there also on the 30th. That would be fun. Well we got wonderful news on Friday and went to Ames for a doctor to look at Moms eyelid. Turns out they removed the glue and put in some stitches, looked like about 10, but it looks better now. They said it was probably okay the way it was but that may have been covering someone's butt. I lost the auction for the parking light so not sure now what it will be for the other one that one of the NCCA members has. Started raining Friday after noon and we could use a little. By Saturday morning we had an inch and still raining so it was a nice one. No outside work then but worked on the Rambler a bunch. Got the glove box in, the carpet sort of straight, and worked on the toe in and getting the steering wheel straight. Got close but now it pulls to the left so will need to figure that out and then adjust some of the play out of the steering sector. I believe I have a little to much toe in and the left front tire is a little low so that may correct it all. This morning dawned just great with loads of sun and a temperature of 55 degrees and the rain gone. It don't get much better than that and I'm loving it. I guess this leaves me about run down for now so will close with God's Blessing for us all and all my love Papa, Dad, Brother, Cousin, Uncle and all Lew.
28 June 2009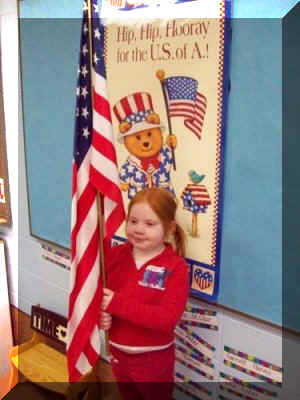 Sarah's pledge of Allegiance 2008
It's Sunday morning and once again here is Lew. What a week this has been and Heather posted some pictures of Sarah's begindergarden and they are sure great. What a little doll. Not much work at work as I was getting ready for the retirement and they gave me a retirement party on Wednesday 24 June. It was sure nice. Got the gold clock and all and many nice gifts and cards. I am on four days vacation and completely retired as of 30 June. Have all the SS, IPERS, early retirement set up and just need to get over to Omaha to get the Tri Care for life completed. I think this might just work out. Been working in the yard trimming trees and doing cleanup work so have a good start on that and got the set aside pretty well cleaned up and hauled. Have moved some things to the attic for Mom so we can get the garage cleanup going. I may be more busy than when I was working. Oh Bother. Been trying to lose some weight and dropped 15 pounds and then it has halted. How does that work. Guess I'll keep trying as I want to lose about 30 to 40 more. I need to be around 165 to feel comfortable and be able to breath good and I need to reach my feet again. This morning dawned really cool about 50 degrees out so may be the oppressive heat wave we are under is over. Sure hope so as it has been in the 90's about a week with real high humidity and staying in the 70's at night. Not good for this old farm boy. We broke down about the middle of June and started the Air conditioners so the spring was real nice and was able to cool the house at night and then hold it there most of the day. Started the truck yesterday and drove it a little and it is still doing okay. Am waiting for the plates so I can drive it more to be sure it will make a trip to Florida. Mom is not feeling good this morning and hope it is not the flu. Her doctors report was good this week and the operation is healing well so thanks for all the prayers and praise the Lord for that. Been trying to clean up my Facebook page and I have a Brandon Elliot Orcutt there I must have added but do not remember who that is so let me know if you know. He has a friend Lewis Orcutt From Tennessee that wants to be friends also and it sure gets confusing. Hope to clean it up or just dump it as it is confusing to me. Need the Grandkids here to help me figure it out. Hee Hee. Guess this leaves me run down and have seen nobody on Messenger so will close with all my love and God bless us all. Love Papa, Dad, Brother, Cousin, Uncle and all Lew.
21 June 2009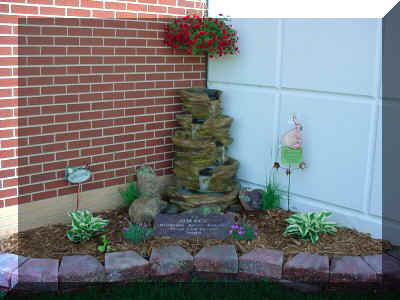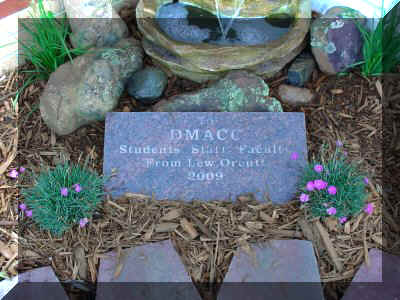 It's Sunday morning and once again here is Lew. Had to get another battery charger as I charged the SUV all night and it did nothing so found out the charger died. Got a new one on the SUV so should be good now and will be up in a few days if it is. I just got a trickle charger to use with the Rambler and the Moped so it takes awhile but that is the best for the battery. I got the plaque for dedication to DMACC for my fountain area and it was very large as the smaller one they could not make work. Ended up getting another moss stone and moving it all out towards the front and put in a little sign of Believe. It all looks nice so guess it will work. I have had some real nice comments on it anyhow. Took the Rambler for a run to town and it sure is fun and will be great when I have a little time to play with it some. The yard is a complete disaster with weeds and things so really need to get going on it but just seem to be to busy and when I get time am wore out. June is full of birthdays and holidays and such and we do them mostly on the weekends so the weekends are used up fast. Friday night we had our little Steph's Bday and then is Matt's but he is in Germany yet so June is done for all that. She got some nice clothes, gift certificates, a Kewl camera, and had friends over for a movie night. Brad & Heather set it up again like a theater and had popcorn and treats and all and it sure was good. They have such neat ideas. Took the Rambler to town on Saturday and it sure was fun and am excited to start on the turn signal parking lights in the front to get it right. Want to do the steering then and get moving on it and the spring tower. It will be a fun retirement thing but will not be a show piece or trailer dolly but will be enjoyed. This is just a kids dream right. Did get started on some of the yard stuff Saturday also as we are going to Tammy's Today for fathers day so that will be a full day with a long drive. Got an Email from Matt and if the VA approves the house in Florida that they bid on they now have a place there to live. Bummer I was hoping Florida was full and they had to go somewhere else. Hee Hee. Changed oil in the Rambler Saturday and need to give it some tune up now so it really purrs. Need to get a new quiet muffler as the one on it turns out is a resonator not a muffler and is not quiet. The truck is running good now and the brakes are much better and found the speedometer does not work because the cable housing is there but it has no cable in it. Hope when that is back in it the head is okay with just some oiling and such. Yesterday also put some more garbage cans in the kitchen area to help mom so she don't have to always go to the garage to put out the plastics or pop bottles and such. She can now put the plastic and cans and recycle stuff in one of them and the 5 cent deposit stuff in another and then the garbage in a third one. It should work out nice as we can now set out the recycle stuff in the garbage bag and not there tub because they just throw the tub anywhere they like. I have found it in the road or in the middle of the yard. Mom is not sure she likes them so maybe I goofed again. About 3 work days till I retire if I take the vacation so it is fast approaching. Sure hope I am ready for it. I did get over to the barn again yesterday and checked the SUV and it is good to go again when the kids get back. The mower there was dead so put the charger on it so I can get it started again but may just haul the big mower over there when it needs mowing. I guess all this chatter leaves me run down so will close with all my love and God bless us all. Love Papa, Dad, Brother, Cousin, Uncle and all Lew
14 June 2009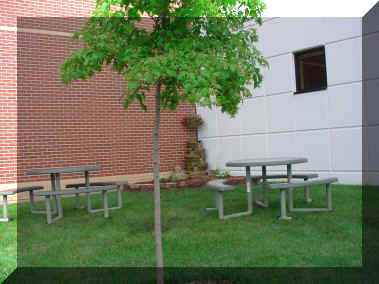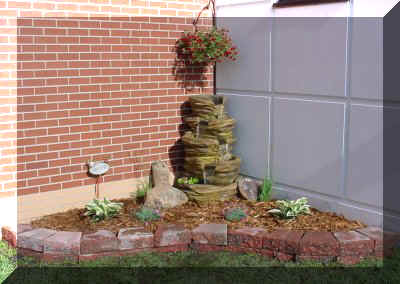 It's Sunday morning and once again here is Lew. The tables and the landscape pictured is my gift to DMACC as a memory when I retire. I finished it yesterday, Saturday, but the plaque mom is having made for it is not done yet. It will set right in front of the fountain on the ground, is 10 by 13 inches and says To DMACC students staff faculty from Lew Orcutt 2009. I even put some plants in the bottom tray of the falls and put a fish there. Lets see how long it is before someone notices that. Was a busy week again but have been feeling kind of tired. Just been doing to much I believe and all the extra with the retirement stuff just wears me out. Got the brakes on the truck done and it is better but think they need adjusted as they don't act right. Not sure they know how to adjust them right. It is running much better and have the gas gauge hooked up temporarily so it is working. I believe we need to ground the tank good so it can get a better reading. Also put in a new thermostat as the truck would diesel or run on after you shut it off. It is usually to hot or idled to slow when that happens. One of the bolts broke for the thermostat housing but stuck up enough I was able to get it out. What fun that old beast is and it has a very firm and solid ride. I did get the generator going in the Rambler again and it was an oops as I forgot you need to oil them as they are brass bushings not bearings and one of mine must have a seal to keep the oil there bad or it is just real dry. It has two little oil cups at each end for oil and like the old water pumps that you needed to grease they need attention. It's all coming back to me now. Sure will be nice when I have some time to work on it a little. Next Wednesday is our little Stephanie's birthday but not sure what we are doing as the kids have not told us what they have planned yet. Then on Thursday Crystal is coming down for the day and night and that will be great. Mel was here Thursday, Thursday night and Friday and we really enjoyed that. Her and Mema went shopping and stayed up and watched movies and all so they had a real good time. My replacement starts on Monday so that will keep me real busy till I retire trying to get him trained in two weeks what it took me 23 years to perfect. Guess I will just hit all the high spots and then he can do it all his way anyhow. It is another overcast day today with chances of rain in the forecast. It has been a real cool spring and summer so far with temps way below normal but don't worry I am not complaining as they are where I really like them. 70's in the day and 50's at night, windows open and no air conditioning so much for Al Gore and global warming. Been looking for an outside sun visor for my Rambler but no luck so far. There is one on Ebay that says it is for 52-53-54 Nash Ambassador and Statesman but no one can tell me so far if it will fit that era Rambler also. It's a little to high priced to get it and then find out it don't fit. Still need the hood ornament also or at least the wings for it as I do have the lady. Every one of those go for really big bucks. Will get them all some day. Got the mowing done at the barn yesterday and started the motor home and drove it some to keep the seals and things working and had to jump the SUV as the battery went dead. It did start right up and then I put a few miles on it also. Will take a charger over today and let it charge and see if it will hold a charge. I recon all the computer clock stuff just finally ran it down and I wasn't running it enough for a full charge when I did. Nobody here for a messenger chat and I am run down so will close for now and God bless us all. Say a prayer for mom on Tuesday. All my love Papa, Dad, Brother, Cousin, Uncle and all Lew.
07 June 2009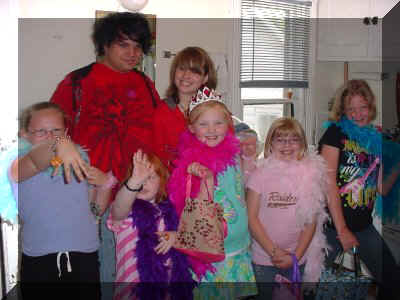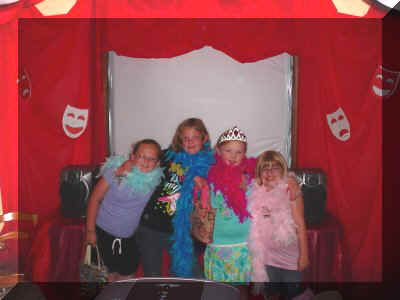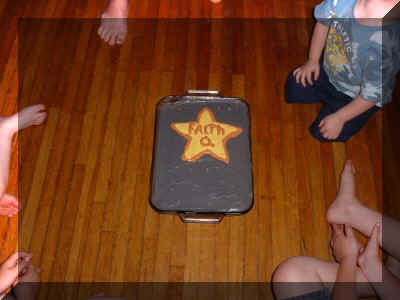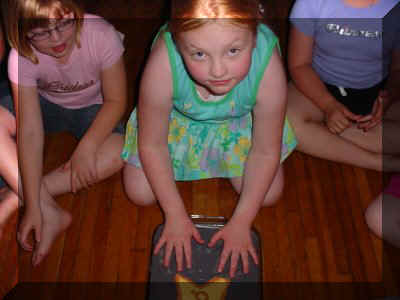 It's Sunday morning and once again here is Lew. Went to our little Faiths Bday and the kids did a movie premier theme and it was great. The pictures show the theme with even the hand prints in the walk. Brad & Heather did a magnificent job. Been a fun week and a busy one again. Guess the busy just keeps getting more and more. There is sure much more to do than there was 40 years ago because I know it isn't me getting older and slower than I used to be. Now what was I talking about. More work on the Rambler and on the truck of Matt's and both are going nicely. Did get the generator back and it worked real good for a day and now the red light is on and no charging. Not sure what went out now. Found a seal leak in the differential on the truck and fixed that and it is in now for some brake work as I could not get that done myself. Found the bad wire for the gas tank gas gauge so will get that fixed as soon as I can. Need to check the speedometer yet as it does not work and hope it is just the cable. Guess I get all this time and money in it I should keep it here for the Old Iron parades that go through. Just had the tractors go through Willey this morning and it was fun to see them. I am real late posting this as you can see. Got online this morning when I was doing it and had a chat with Barb and got this started and then got so sick like I was going to throw up I just quit and went and rested. I feel better now so not sure what happened. It has been rainy all weekend so nothing done outside and don't have my rain gauge out so not sure how much we got. The one I have at work shows almost 2 inches. The outside work is going well but still not caught up with it all and getting things ready for retirement, Graduation, Branson trip, Kids returning from Germany, June birthdays, and all is rather time consuming. Did I use to do this all the time. Must have been in my other life. Did finally get some meter leads for my old Micronta VOM so it is going again and that is great. can now use a good analog meter not the new digital stuff. Had the radio up and checked into the Swan net last week and got some good reports there so that was fun. Still need to thin them out some as I don't need that many radios. I am putting in a memory garden at work for my retirement with some plants, a small waterfall, and a couple picnic tables so hope it is enjoyed for the years to come. Maybe someone will add to it as time goes by. I guess this leaves me about run down so will close for now and God bless us and keep us all. Love Papa, Dad, Brother, Cousin, Uncle and all Lew.
31 May 2009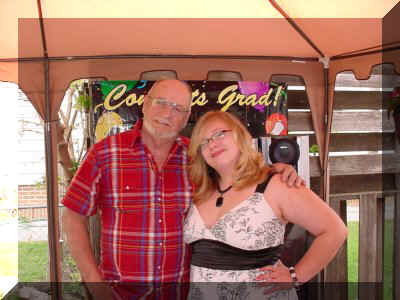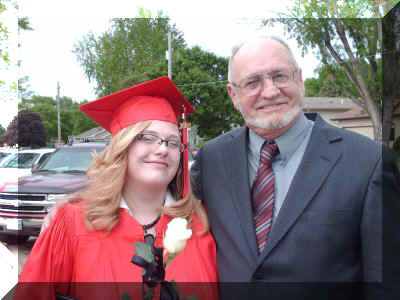 It's Sunday morning and once again here is Lew. We made it through Crystal's Graduation and was that ever nice. We had a good time and it sure was great to see her get her diploma. I am so proud of her. We spent the Memorial weekend there as I said last Sunday but only made it to the camper to sleep cause we were so busy. Mom over did and has not been real good this week but we did go to Des Moines and finish my IPERS papers for retirement so now have them all done. WOW is that day ever coming up fast. Only about 31 days left and then I am on full pension. The week has been very busy with getting caught up on some of the yard work and the mowers and equipment breaking down and all. Made it through though and it is starting to look okay again. Man do the weeds ever like this weather. Still no more progress on the truck and have not even got the Ramble running but may get it done this weekend to drive some. Have to take the generator and regulator in as I said before because it don't want to keep the battery charged fully. I was able to get another screen room thing for outside, camping and such so now I can make it a 10' by 24' or a 12' by 20' or two 10' by 12' ones. We had two but left one at Tammy's after the graduation ceremony for there patio. This last one was a really cheap price also so that was great. I guess they wanted to get rid of them. Have decided that some of the computer slowness is the internet so will wait for a new computer till later. My connection is much better at almost a meg download and about 1/2 meg up so that is part of the problem with the video's and graphics. Guess I will just muddle through with what I have. After all that I did get out last night and get the Rambler running so will drive it some today if the weather remains nice. It will stay charged enough for a few good trips so will get it apart this week for the charging I hope. Have been extremely busy this week at work trying to get everything lined up fore a smooth transition when I leave. They want me to come back as a 1000 hour person but not sure I want to do that yet. Will see as time gets closer and what the offer is. Now our TV antenna is turning with the wind and it looks like the pipe is loose in the rotor or the rotor is broke. Boy it is a long ways up to fix that. Must be getting old if that bothers me. Will need to get it tight somehow as the new digital is more critical than the analog. So much for the sales pitch that this is better and all. They can't even get the audio set up between the commercials and the shows. Not sure how the new junk works but using the audio level #'s they have we can set the commercial for a level of about 20 to 24 but when the actual show comes on you need to run it up to about 50 sometimes to even hear them. They play background noise and music so loud and then the people whisper. What audio engineer figured that out. Maybe they should send them to school before they let them manage audio. Go Figure. May be the actors should learn to act like they used to to make a point instead of blasting everyone with dramatic junk so you want to pull your hair out. Got out this morning and watched the sun rise and it will be a gorgeous day. I guess I better get this posted and get moving as know one has shown up for a chat. God bless us all and see you next time. Love Papa, Dad, Brother, Cousin, Uncle and all Lew.
24 May 2009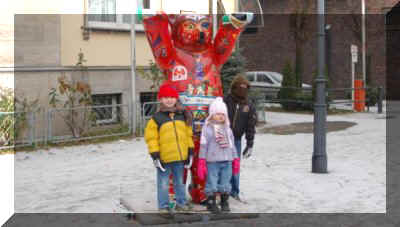 It's Sunday morning and once again here is Lew. Another busy week as we got the camper out and set up and are at our little Crystals graduation this week end. I finished all the mowing before coming and that was hectic and it will be hay when we get back. Had the battery keep going dead on the van and then discovered the ignition switch does not always turn completely off. Will keep and eye on that. We are camping in Merrill Iowa now about 10 miles south of Le Mars as all campgrounds are filled because of graduations and Memorial weekend. The campground we are at is a city camp area and has 3 spots. Just the way we like it. Mom has been working her butt off and sure hope she is not over doing. They all have the house both in and out looking so nice and it should be a great party for Crystal. I decided not to fill the water tanks for this trip since they have water hookups and guess what. There water is the pits. It smells sort of like the sewer with an overpowering chlorine smell. I did put just a small amount of water in the tanks to make sure the pipes and all were clean so we are using that for coffee and things. I got the oil line fixed on the old Dodge but now it has a electric cable bad so need to work on that. Got the brakes loosened up some but they need some serious work also. I don't understand that it is only 54 years old. I need to get some more done on the Rambler also. Oh bother. Spring yard stuff keeps me pretty busy and I still need to finish the IPERS retirement papers and things that need doing. I guess I don't have much this week so will close with all my love and God bless us all. Love Papa, Dad, Brother, Cousin, Uncle and all Lew.
17 May 2009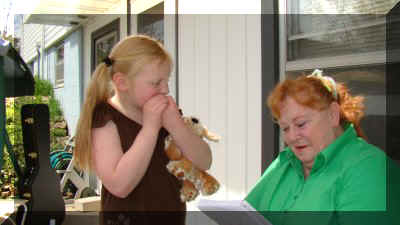 Its Sunday Morning and once again here is Lew. What a couple of weeks this has been. As you can see I did not make it last week as we were at Tammy's but did get to chat with Barb there. Not many show up for them any more. Guess no one is today either as it is 7:04. The push mower blade belt started slipping and the big zero turn lost the left tire chain drive. After much engineering I was able to get them going and finish the mowing but it already needs it again. The pond was using way to much water again and found that was in the waterfall so got that fixed. Was able to fix the last three lights on my landscape light string and then worked on two of the solar ones that do not light bright. Had to work on the old truck some as it broke the oil hose on the maiden voyage and cover the engine compartment in oil. It has the old oil pressure gauge with the real oil line to it. Both lawn mowers went goofy again with the same problems so had to tear them all apart and do a complete fix but should be good for awhile now. Had to haul the big mower to the barn as the grass got ahead of me there. Later today I will be getting the camper out for the year and next weekend will be up by Tammy & Ben with it for our little Crystals graduation. Yesterday she was five so what happened and when did I get so old. Retirement draws closer and am not sure yet if that was the right thing to do. I am looking forward to it but looks like I will be so busy that I should have kept working. Honey dos you know. Hee Hee. We have many things to do with the house we want to finish and much yard work along with my Nash and ham radios and a million other things so guess we won't be lacking things to stay busy. Still it is rather scary as I have always worked my whole life, starting with some farm help at age 12 so don't know much else. Our bird feeders are loaded this year and the orioles and indigo buntings are back and many others we haven't seen in a while so it is fun to see them all. The swallows when I mow are just amazing. My rows were not so straight then as there are about 30 or so just flying all around me getting the bugs I set flying. What a sight. Nature is a marvelous thing and God sure knew what he was doing with his world didn't he. We need to go to Mikey's graduation tonight and need to finish a project for that so better get out of here. Oh he is our little Mel's little friend and they are so cute. Oh Man. See you all next time and till then God bless us all. Love Papa, dad, brother, cousin, uncle and all Lew.
03 May 2009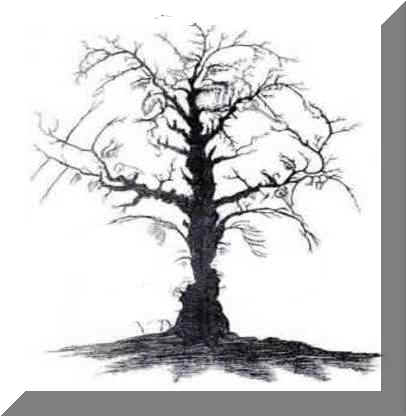 Its Sunday Morning and once again here is Lew. What a busy busy week. I got the old Sears Silvertone radio going and it is playing the 78 RPM records great. The audio quality is superb and the records sound good. Did much outside work and the goldfinch are eating me out of house and home. Have 6 feeders up and need to fill them about every other day. Got some cleanup stuff around the patio area done and all of the mowing done once and some twice. The gas grill is fired up and ready to go and some of the kids are coming today for Moms birthday. Am doing hamburgers and hot dogs with chips and salads. Been working on the retirement stuff and that is going well. SS wants me to retro back some 6 months for retirement to give me $10,000.00 but not sure I will do that. I think they want to save some money in the long run but I will need to die in about 7 and 1/2 years for that to profit me other wise beyond that I will be getting more than the 10 Grand. Way to many decisions. We got the house rented again and that was fast so hope that is good and not another mess. The offers for the farm sale are complete and if all the paperwork checks out and can be completed that will be sold also. Repaired the light switch on the garden shed and got most of the landscape lights going but the end three will not light so must be a bad wire. Will need to pull them up to see and repair. All the down tree limbs and branches are all cleared out of the yard now and a couple were there for a year or better so that is good. Much trimming to do on the trees but a lot is cleared up. Still have the acre beside to do and some cleaning in the garden area and then should be good for the year again. It is 7 AM and no chats today I guess. Teresa was just online and I sent a good morning but she went offline before a reply so may not be anyone today. Gary has not been here for awhile so hope all is okay with him and family. Have been working on prom and graduation stuff for some of the grandkids and had to get more ink for the printer with that and the farm and retirement stuff. How can our first grandchild be graduating already. Did I fall asleep for awhile or what. I am truly blessed by our Lord with all the wonderful things in my life. Guess I better get this posted and get busy as have a busy day today. Oh just in case you notice and wonder there are ten. God bless and Keep us all till next time. All my love Papa, Dad, Brother, Cousin, Uncle and all Lew.
26 April 2009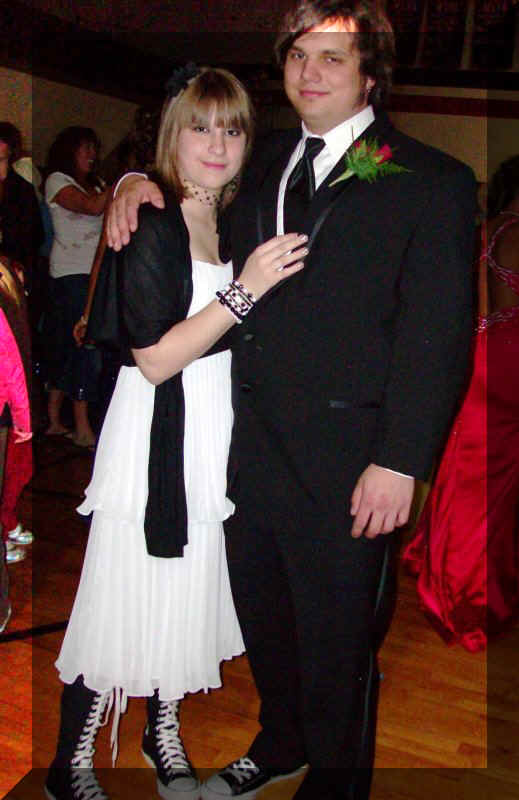 It's Sunday morning and once again here is Lew. Our M&M's went to the prom and our little Mel was just Beautiful. M&M is Mel & Mikey. What a cute couple. We had a good week but yesterday missed the family Easter at Dee's so that was a bummer but had much retirement things to settle along with some of the farm stuff and we got our first bid for some of the land. Also did much at the rental and may have that rented if all the references check out. That is real exciting as Mom was just throwing a newspaper away Friday and it fell open on the table to the classifieds and at a ad about a couple that was looking for a house to rent in Carroll. How odd and they came over yesterday and are real interested. Amazing huh. The week was very warm and I got all the Earth day planting and cleanup at work done and it went well. Then yesterday the weather turned cool and it is damp and chilly again but spring is in the air and the plants are in bloom and the trees are budding. I have all the finch feeders filled and they are covered with Goldfinch and the Daffodils are in bloom and it is a beautiful time of year. The physical therapy seems to help mom some but it sure makes the back ache and the muscles hurt. I hope it is doing good for her back and not just making it worse. Made much progress on the old Dodge this week and the drive shaft is in the shop now to be made longer since we do not have the overdrive unit that goes on it yet. Once that is back then we just have the align and adjust stuff and should be on the road. Will need some new tires as they are really dry rotted bad and maybe clean brakes and such. Need to get out the extension ladder and go up on the TV antenna pole and tighten something as the antenna just blows around with the wind. Looks like the rotor is loose and it would have to be at the highest point almost. I am not real impressed with the new digital yet as when you can't get it just go back to the analog and it always works. Now analog quits next month so when digital goes dumb guess you got zip. How is that an improvement and a better idea. Some days I wonder. Barb was just here for a short chat On Messenger cause they did not go to the cabin so that was nice for me. She had to run as going to breakfast with Chuck's Brother so it was short. Wanted to see how the Family Easter at Dee's went but Elaine is not here either so will check that later. Mom and I have more stuff at the rental today and I have more farm papers and retirement things to do so better get this posted and get busy. God Bless us all until we meet here again. Love Papa, Dad, Brother, Cousin, Uncle, and all Lew.
19 April 2009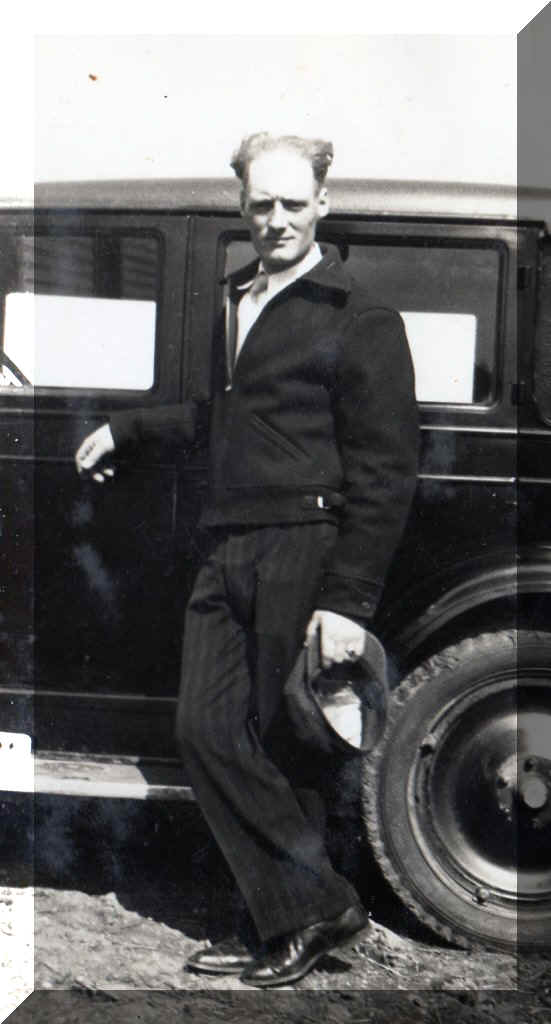 Its Sunday Morning and once again here is Lew. Wednesday the 15th was my Daddy's birthday so have used a picture from old days Elaine found and scanned for me. I see the Ruby ring he once wore and wonder where it went. Hope Jeff has it as it should have went to Tommy and then to his oldest. I seen it many times in moms jewelry box. Like to read his journals also but I digress as have been here before with the journal and all. Also hooked up with Lisa Frarck this week on face book and that was Kewl. Had not seen or heard from her since we left Barrett in 1986. I must be getting old. Hee Hee. She is the daughter of Bob & Deanne and was just graduating when we left 23 years ago. Time sure flies. Last night was our little Mel's Prom and she was so pretty and hope it went well for her. Can't wait to hear how it went and see the pictures from her, her mom, and or her friends. I guess I am a picture nut but in my old age they mean a lot to me. It was a beautiful day yesterday and I did some cleaning outside but mostly just walked around and looked. Mom & I went to town late in the day and got a few things we needed and ate out. We watched a couple episodes of one step beyond and then I went to bed as I was very tired. Friday I was really beat and I guess I was not fully recovered. Got the Crankshaft done and the motor mounts are back and just waiting on the main and rod bearings for the Dodge. The radio is finished for my Sears Silvertone radio so that is on the way back also. I had to completely clean the side of the new van as it was sprayed with grease. Not sure where that came from but was a real mess. Wiping just smeared it all over so had to clean it off with gas and then wash and wax it all. Must have came from the road or a passing truck as it even got up in the wheel well from the tires. Oh Bother. Mom is finally getting over the cold and feeling some better yesterday and it seems like maybe the physical therapy is helping some on the back. Knock on wood. We hope so anyhow as want to get much outside stuff done this year and have fun in the new job of retirement I have. It is a job trying to get that all figured out so it is the best for us. Guess we will manage not matter what we do. The goldfinch are back by the flock and the new feeders with the wood sticks work great and they seem to stay so far. The cardinals stayed and the hunting birds like the Owl and hawk are here also. Many morning doves are here and they are just so special and beautiful to watch. Nature is really a fascinating thing to watch and experience. The grass is really getting green and this next week it will need mowing in some areas since we have some spring rain and now the temps are warmed up. The world just comes alive in spring and it is a rebirth of the world. What a great time. I guess I better get this posted and get moving here. Had a nice Chat with Elaine and Joe this morning so that was fun. God Bless us all. Love Papa, Dad, Brother, Cousin, Uncle and all Lew.
12 April 2009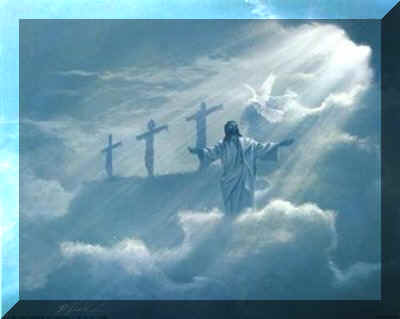 He is Risen Hallelujah
It's Sunday morning and once again here is Lew. Very happy Easter to all and may God bless us as we go about our new life in our savior Jesus Christ. What a glorious week this has been and the weather turned really nice yesterday in preparation for the resurrection. The week was busy and had the Rambler out several times and it sure was fun. It needs and oil change again and some tweaking on the carburetor. Did tons of yard work yesterday and got many tree branches picked up and 6 broken trees cut up and hauled away, all thanks to the help of our neighbor and some of the town kids he brought over. They came and picked up branches with me and he got his saw and helped cut up big stuff and then hooked it with a chain and pulled it to the brush pile with his four wheeler. What a great help and a God send. That's how neighbors should be to each other. Mom made some Easter baskets for the six kids for there help and it sure was fun. Mom even walked around the yard more than normal so hope it is not to sore on her back but she is really trying or it is some better. I hope it's the better part. Sounds like the old Silvertone radio is due to come back as they have it done. Rather pricey but can't wait to hear the old 78 records again. Have been copying some of my old vinyl's to the digital mode for CD's etc but the quality is just not the same. You need the soft glow and the sound of the tubes for them to be really good. Got all the grounds equipment going I believe so that is ready for the spring stuff and have part of the patio set up so am doing some outside things. Sure am ready to be out full time. Been going through more of our pictures and what a mess that is. We have all the old Akin side also. Have a great many still on the old floppy drives so better get them off as that is a thing of the past also. The motor mounts arrived at Kanter Auto products so they should be headed back real soon. That project is coming along real nice so far. Mom has been real busy with Easter things this week for the grandkids and this morning is dawning bright and clear so will be a great Easter morning. Missed Matt & Kris's anniversary again as it was Friday so Happy Anniversary kids we love you all. By the way last Sunday by the time the snow stopped we had about 7 inches and it was almost just water it was so wet and heavy. What a change this week. I better get posted and get moving here soon so God bless, Happy Easter and have a great week. Love Papa, Dad, Brother, Cousin, Uncle and all Lew.
05 April 2009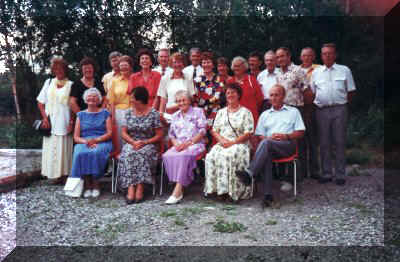 Its Sunday morning and once again here is Lew. Pictured are the Norwegian cousins. Wow did we ever wake to snow this morning, about 3 inches and still falling. Did I ever take the blade off the mower and put the blower up to early. Oh Bother!!! This week has went real fast and we had two visits with the physical therapist for mom and not sure yet if it is going good but it seems to to me like some help. Mom says she is very sore from it and her back still hurts but she seems more active to me. We celebrated our little Sarah's birthday yesterday and she sure is growing up fast, already six. Where does the time go. Sent in the motor mounts for the Dodge to get them rebuilt this week and they must be made out of platinum. The Rambler battery went dead this week also so must have left something on but not sure what. Put in a battery disconnect just in case so don't have a fire but now need to polarize the system a lot after it sets for a long time. After that then it was out of gas also so was a bummer week there but got it gassed and running again. April is here already so now need to get busy on the IPERS, Social Security, and all the retirement things along with the finish up on the Taxes and get them sent. I thought things were supposed to slow down at this point in my life. Tammy, Brad and there families were supposed to come over today but with all this snow they better just stay home. This won't last long as the temps are warm but will keep this up through this evening the weatherman says. Put a new faucet in the kitchen sink as it had a drip that just kept going. Mom has been cleaning out the garage and we took many items to the thrift store. Was there ever a lot there but the rest may all go with the garage sale she plans this year. Barb was online so had a nice chat there but am missing the Sunday chats with Elaine so hope she is back soon. Be nice if Ellen and DeEtta would join us but guess that won't happen. Ellen hates the computer and Dee is always busy then. Guess I better get busy and get this posted and move on. God bless and watch over us all. Love Papa, Dad, Brother, Cousin, Uncle and all. Lew
29 March 2009
It's Sunday morning and once again here is Lew. Are we having fun or what. Elaine has completed her move to her new life and is enjoying it bunches I think. We finished our last Dance lesson this week so that is rather sad and we may take it again in the fall just for fun. Got the under counter digital TV mounted in the kitchen for Mom/Mema and was ever a huge job. Had to crawl through the attic on the rafters to get to a spot to run a cable in. After a couple trips there I had it figured out and went back to drill the hole and when it passed through the ceiling it was about 18 inches in front of the cupboard right in the kitchen ceiling. Go figure what did I measure and how did that tape measure read so wrong. After some more hassles and another trip I got it right and ran in the cable. I used some vinyl spackle to patch the wrong hole so that is gone. Mom pulled the cable down while I was in the attic and just put a hole in the bottom of the cupboard to hook to the TV and we are good. Had to run get a L coax connector as it was two close to the wall and it had to be the slide on kind as it was to small an area to turn. Finally all done and it works fine. Whew!!!! Had the truck in for an oil change and asked them to check why the check engine light keeps coming on. Found it had a dirty air flow sensor and after cleaning it sure runs better now. Must have set the computer dumb to compensate. Had the rambler out and is still fine. Mom will start physical therapy this next week for her back as she was not feeling well this week for it. Got the converters and digital all running and is it ever like advance to the rear. What a joke. When it don't work we turn to analog to get the program and it is still great. They can't make the audio work on the digital and they can't figure out how to make a picture that fills the screen on the TV you spent all that money for. Is it any wonder our beloved country is on the verge of bankruptcy and the great depression with this going on. Where did all these engineers get there degrees, Hello it's not rocket science. The storms have passed us up I believe and spring is here it seems. Had to take the top off our small windmill to get repaired as the tail piece broke off. Should be able to get it welded. Got the engine out of the Dodge and crank out of the engine and off to the machine shop for the work there so have a good start on it. Hauled all of the transmissions in also to see what we can make fit the best when done with the crankshaft. Mom has worked in the garage a lot this week and it is shaping up so maybe a lot will be gone this summer and it will be clear. Now I just need to work like the devil in my garage so I can work in it as soon as I retire. Wait I can do it then as I will have the time. Opps I forgot the honey do's so maybe I should keep working. Hee Hee. The computer is acting strange again so must be time to dump it and start over. Is this a funny world or what, we have updated and reinvented the wheel to the point that if does not work any more. I don't get it. My Rambler and Swans and such all work great still so that is a plus. Guess it is about time for the chat, and hope sis makes it today, so better get this posted and get going. God bless us all keep us till next time. Love Papa, Dad, Brother, Cousin, Uncle and all Lew.
22 March 2009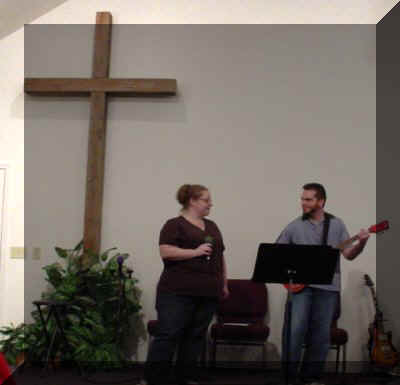 Its Sunday morning and once again here is Lew. Not sure where to start this week but Elaine got here move she said so hope that went well. May see her online this AM if she got her computer back up. Sure hope the move went well and sorry I could not get there to help. Visited with Jeff and Barb several times this week so the computer is still working. Was on the air with the Swan some and it is still working great. Now that I have the old dodge truck of Matt's figured out work is starting to progress there some. I did a little work on the Rambler and finally got the horns working like they should and took it out on several trips this week. Did some studies on the front end and may be able to do some work on it myself. Did much work on my old sears silvertone radio console and now have found a place that can restore it to original condition. I decided to do it however it is real pricey but I really like the radio and it plays all my old 78 records the best. It is a tube radio record player console and the audio quality is just superb. Moms new van is doing good so far and gets about 22 miles per gallon so that is not to bad. It runs and rides nice for trips. Mom and I worked some in the attached garage and then worked on one of her table projects for the Grandkids. That was fun and it got us outside in some real nice weather. Temp got to the 60's so I believe spring has arrived for sure and if we get some nasty white stuff now it will not stay around very long. Burning the road ditches and such has started here so spent some yesterday watching that and chatting with the neighbors. All the little neighbor kids sure have grown up a lot and are so big now. How did that happen. Sure have a lot of tree branches down that need cleaned up. That's what we get for having silver maple trees. They are pretty but not strong so loose many small branches in the wind. I sure will have plenty to keep me busy when I retire in June. Maybe should have kept working. We went to mom's Dr appointment and they found nothing serious on the MRI and no reason for the back pain so we are going to some physical therapy to see if that helps. It did show she has an extra Vertebrae but nothing like cancers or bad stuff. That is a great relief. We have our last dance lesson this Tuesday so am kind of sorry that is done. We both have not felt real good the last couple weeks so did not learn much there. I guess I have babbled on here enough so will close with all my love and God bless us all. Love Papa, Dad, Brother, Cousin, Uncle and all Lew.
15 March 2009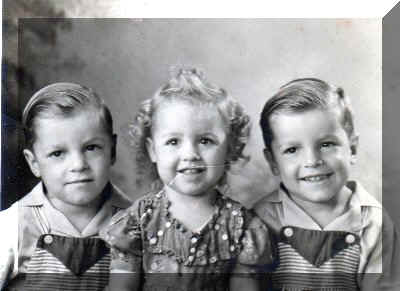 Its Sunday morning and once again here is Lew. Wow another motley crew who are these three bandito's. We survived another spring ahead setting and the days are getting longer and warmer so it's springtime here at the ranch and the mind turns to outside things to do and finish. Got thru the retirement meeting for the early retirement program and they still don't get it do they. They will put that money in a 403B no choice there and talk like crazy to leave it there or roll it to an IRA and such. DUH!!! That's all in the toilet and they still can't see it's a dumb plan and that I am not giving them my money to live on so they don't have to go out and get a real job and make there own money. As soon as it is there I am pulling it all out to put in a sound money market or such with FDIC insurance. Maybe not as much gain but at least no loss and I can still retire with a good retirement and no worries. Hello! Sorry I got a little rant on there and was just Ramblering along. Hee Hee. The week has been good and got some more done and figured out with Matt's truck. The engine although it is not the correct one it turns out is an amazing engine. The truck came with a1955 260 poly V8 but was changed to a 331 poly and now as we find out it came from a 1956 Chrysler and that particular engine was never made for a manual transmission. No wonder nothing we do can match or work out and no manual transmission crank will fit the engine it seems. Now that we know all the ins and outs we can make it work with the help of the NAPA machine shop and be running again and will just need the overdrive for almost like original. May have other ideas also. Got on the Swan net a couple times this week so the old radio is still going strong for a 45 year old radio. May start weeding some out as I can't use them all and they are two good to just set. Got some of the new van figured out and got it to like 24 mpg on the computer but the real math figures it at 23.33333 and so on so it is good so far. As we learn to drive it we may get it to 25 mpg or more. Hello my 53 Rambler does better than that so some day we may be back up to the fifties. Remember those good old days. Have got most of the digital TV and conversion stuff set up and this is another state of regression. Many of our channels have not dropped the old analog yet and as we watch the digital just goes in and out so if we want to see a show we switch back to the analog because it works. Also the audio, what a joke that is, we have in some cases to turn it up to like 50 to hear it and then heaven help us when the commercials come on. They also can't make a clear or bright picture any more as everything is like the lights are off until the commercials and then all is bright and clear again. Is there anyone that is running any of these shows or productions and enough of the reality shows already. At least we now get RTN Retro Television Network and can watch Gunsmoke, Matlock, A Team, Emergency, Quincy, Leave it to beaver, and on and on so finally got some TV worth watching again. We also can now get CBN and several other stations for old movies so that is nice and if I should ever get all my chores/honey do's done I will have something to watch. If I was to start writing a list of all the things to do the kids would have to finish writing the list after I am gone so guess we should just forget the list and start on the work. Lets see this may take some thought so write the list or to do the list. Can't do the list till I write the list and will never get it written in my life so, Oh bother it's time for a nap. Went to see Tammy, Ben, Joe and our little Crystal Saturday afternoon and stayed over night so we are here now with them. Went to the Goodwill and Wal-Mart and the later was a waste. Last night we played some dice and Scattergories and that was a fun game. Our air mattress developed a leak some where so had to use Tammy's. Now will need to patch ours if I can find the hole. Guess I have ramblered on long enough so will close and see if I can visit with Cindy as I see she is on line. God Bless us all an watch over us till next Sunday. Love Papa, Dad, Brother, Cousin, Uncle and all Lew.
08 March 2009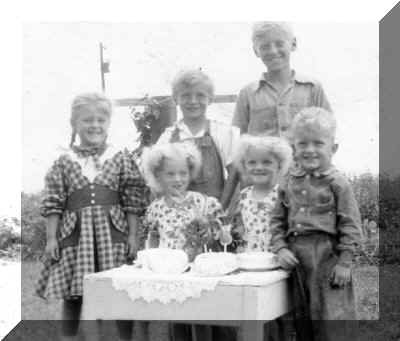 It's Sunday morning and once again here is Lew. Sure had a big warm up this week. Did some more cleaning on the pond as far as the algae goes and have much of it removed. Began working on the yard equipment for spring and got it all running. Am going to try a new oil mix for that equipment that uses it and do one mix for all. They claim it will work well and will only need one mix not four different ones like now. Checked some of our trees and put some wraps on them for spring and may need to replace some that did not winter well. Did a complete clean up on moms new van and it came out nice. Was able to check into the Swan net on Wednesday so had fun there also. Friday we had to go to Omaha to the Base to renew mom's AF dependant ID and has the AF Security ever changed. Appears to be civilian forces at the gates, no vehicle registration any more and sure is different. Not only that it seems to be run by all children or is that my age. Hee Hee. We got it done and then went to some thrift stores and some shopping. Had a new super Target there but could fine nothing to buy there as they had nothing at all and that was a huge store. How does that Super store stuff work anyhow. The stuff I needed I can get here in Carroll at a much smaller local store not one of those huge chain stores. No wonder our economy is in a mess. I did find some finch feeders I wanted but not at the super store but at Bomgaars like ours in Carroll. Go figure. Saturday was dreary and dismal with rain and a chill. Worked on my new feeders and on the ground stuff again and also on the Rambler. Got almost all the feeders filled and going and put out all the new ones I got for Christmas. The birds should be happy now as I see many are coming back and the robins are here in force for spring now. Today was started with rain and cool again so not much yard work with the kids after church like I planned. Will just have to play a game or watch a movie or something if they want. I will see if the Swan net is on later also if time allows. Helped mom in the house with some heavy work and cleaning yesterday. Guess I am run down so will close for now and see all next time God Bless and keep us till then. Love Papa, Dad, Brother, Cousin, Uncle and all Lew.
01 March 2009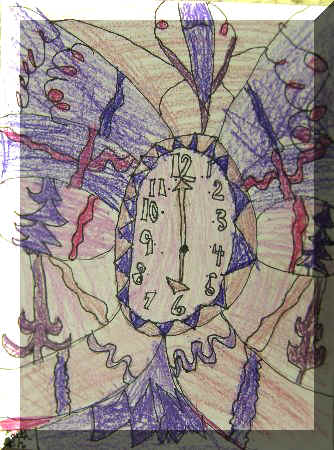 It's Sunday morning and once again here is Lew. Wow is that picture Kewl or what. Our little Faith did that monochromatic art in 3rd grade art class at school. She has several others at Artsonia but that is my favorite however all are very good. Papa loves your art work very much little love. We dodged the snow all week but did end up with some rain which did not freeze so that was good. Found a small leak by the waterfall on the pond and got that fixed so all is fine again now. Have it mostly cleared up and looking good again. Had some strong winds this last week so have many small branches down for spring clean up. Hooray for the soft maples. We had our fourth dance lesson on Tuesday and we did not practice for it. It went well and we did pretty good anyhow. It was fun and I might learn how to do this. We started looking for a different doctor for Carol and her back last week and got her to a new appointment and have a schedule for an MRI on her back already. Wow is that great. They tested to see if the machine would work for her and got the Insurance approval and all and the old doctor said he could not get it at all. Maybe we will find out something definitive now, no matter good or bad. Friday after the trip to help Elaine move I was really tired and just rested most of the day. Her move did not happen as the mortgage company had some issues and would not close. We could not help much so Brad and I just came home after a visit to Moms and the salvation army. Trip home was uneventful except by interstate 35 and ran into a little ice there but that was it. We had a good visit with male bonding and it was fun but a long day. I posted the pictures that Elaine scanned and they sure are great. There are a few I would like to rescan differently for a clearer picture but most all are terrific. Many of them I do not remember ever seeing although I must have as I looked at the albums and pictures many times growing up and later on in life. Many memories of Uncle Red and Aunt Stella, Aunt Annie, Oscar and Edna Nelson, Uncle Carl and Aunt Ella, Uncle Elmer, and Uncle Warren, Uncle Don and Aunt Arvilla and so many come back when I see these and that is just outstanding and maybe if I have some of these originals I can pass my memories on to my children and future generations. Thanks Sis these are the greatest. Saturday dawned with some cold weather and a trace of snow so had to deal with that but it was not much. Also did some work at the rental to get it rented again as I have been real lax there. Had to do some light fixtures, blinds, level doors, vacuum and clean in general. Got much done but need to go again and finish up so we can get it rented again. Have you noticed that between 6 AM and 6:30 AM that it is getting daylight already so spring is on the way. We are going to Brads today for the church group they have that Faith is singing a solo at and that should be fun. Was just on messenger and Jeff & Barb was there so had a nice chat with them. I guess I better get this posted and get going so God bless us all and keep us safe till next time. Love Papa, Dad, Brother, Cousin, Uncle and all. Lew.
22 February 2009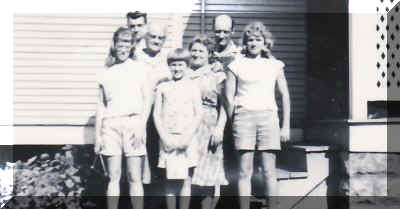 It's Sunday Morning and once again here is Lew. What a week but we missed all the snow and ice so can't complain to loud, not that it would do much good anyhow. Had the third dance lesson and started the Fox Trot and still pretty much lost but having fun. Not much practice this week though so Tuesday will be a mess for our next lesson I bet. Have much accomplished this week but some of it is secret surprises so can't talk there. Finally got the ranger okay with the thermostat so it is running better again. The weather has turned very chilly but it is the wind that is so bad now. Our little Mel has her drivers license now and is ready to find her a car. She also has her first real love and is head over heals and it is so cute. Remember how that was the very first time. Where has the time went. Our little Crystal graduates this year and Lucas is three. Some of our broadcast TV has switched to digital and the rest have decided to wait to the new June date. What a fiasco that is becoming. When I was a kid we had no TV and when we did get one it had three channels you had to get up to change. I am not not sure what we have now is progress. Mom has been more active this week but still some of the flu bug and I have just been wore out so hope I am not getting it. I had to work yesterday some but was out by 12:00 so got several of my projects completed and then mom and I spent the rest of the day in town shopping and getting groceries. We also returned the Precious moments little boy saying I picked you for the little girl since I got the boy for mom/mema last valentines day. I forgot that the virus scan is set once a week and when the computer isn't on for it the next time you turn on it starts, which is now. Oh bother. Had the radio on last Sunday and checked into the Swan net so that was fun and it all still works unlike some of my new equip. I think my computer main board is going dumb again. If I run to many things on the USB's it has it just stops and locks up. A reboot dose not always fix it either as sometimes you have to shut down and then unplug for a few minutes for it to get straight again. If you don't it wants to keep the USB hub up and running and will not always find all devices. Go figure. The pond is great again and lots of the algae is clearing up and have to clean the filters a lot so it is working. The fish are all going strong. I guess this is the week for sis's big move to the new town house so keep her in your prayers as she goes through this drastic change in her life and help us all make the move easy and fun. God bless and keep us all till next Sunday, Love Papa, Dad, Brother, Cousin, Uncle and all Lew.
15 February 2009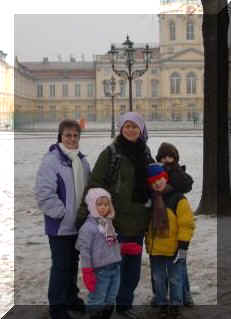 It's Sunday morning and once again here is Lew. Our second lesson for the ballroom dancing is complete and I got part of it right. I heard the right beat and even got the steps down pat. We have lots to practice as there are so many moves we can do with the swing. Mom is working hard with her back to get to do it also but not sure that is good. May be the pain pills making her sick. Have put in for some vacation the last week of February to help my sister move. Heard this week that my early retirement has been approved so will get that in June and then be a free man with time on my hands. WOW now what? Am looking forward to it with some excitement mixed with a touch of scary. We got our new van picked up and it sure is a nice one. Well new to us but it is a 9 year old 2000 model Chrysler Grand Voyager. It has all that useless drivel they put on the new ones like the doors that lock when the car starts to move and such, If I wanted the dang doors locked I would lock them. Guess we will have to get used to it but if we go careful looks like it will get well over 20 miles to the gallon so that is nice. If the motor companies work real hard they may get the mileage back up to what my 1953 Rambler gets. No wonder our economy is in such a mess. Well we dodged all the snow storms this week so far, Knock on wood, and yesterday and today dawned with much sunshine. Thursday night after work I finally got the pond pipes defrosted and the pump started again and have treated it for all the algae and stuff and it is beginning to look good and clear again. The fish are okay as I left the heater in to keep a hole in the ice so the gasses could escape so all is well there again. Many family members I have invited to join Lewzplace at Multiply have not so wonder if maybe I am just wasting my time there. Brad & Matt have joined but still waiting on Tammy and then many of the distant relatives to join. We have only 15 members so far so if you want to join go to lewzplace.multiply.com and check to join or let me know and I will invite you again and revoke the old one. Mom/Mema is down with the flu again this week and it has been a real crummy winter that way. The picture this week shows all my special far away love's that I really miss. Got word they may be back stateside in July so that will be a great help. We did see Kris, her mom and Sean this past summer so that helped us some. The Rambler is still starting and running great and needs the parts I got put on but is a little cold yet to get out and do that. I must be getting old. I did drive it to town today as the day was real nice for that and sure was fun. It really does a great job and will be really great when I get some of the alignments and things done. Went to Brad and Heather's last night to watch the three little ones as they had a valentine sweetheart thing at there church and Steph is babysitting another family and Mel is on her very first ever real date so I am watching three of the best grandkids ever. Wait a minute Mel is only 16 why is she dating. Oh bother. All my babies are growing up way to fast. I guess I have really been Ramblering along so better close for now with all the best and God bless us all. Love Papa, Dad, Brother, Cousin, Uncle, and all Lew.
08 February 2009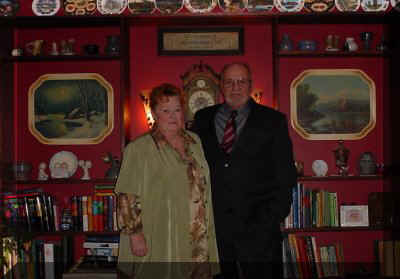 It's Sunday Morning and once again here is Lew. What a great week this has been. We had our first Ballroom dance class on Tuesday and it was really fun. My bride was beautiful and she could dance great but I was rather clumsy with 2 left feet and poor hearing and motor skills along with no coordination skills. Maybe it will get better as the weeks pass. Got all the papers and insurance things completed for the old van that was totaled and have the new one all paid and ready for pickup. What a mess. Had to take the new hard drive apart and fix it as it would not always find itself. I believe it has connection problems but could be it's just new stuff and most of that is just junk with capitol letters. Mom has been under the weather this week with the flu I must have given back to her but we did practice some and I tried some on my own but not sure if this is working or not. The pickup started to over heat yesterday and have tried to flush and clean it but not sure that is working. It looks like the cooling liquid has oil in it, but the oil levels are not low, as the color is rather brown and funny looking. Will warm it up some today and see if the thermostat is stuck or what. Friday and Saturday were really warm and is supposed to be that way again today and much of the snow here is gone. It's about time as this winter has been cooler than normal winters. Have started to burn some of my vinyl to CD's since I have some of them copied off to the hard drive and that works real nice. We have so many though so not sure I can ever get it finished but is fun trying and hearing the old vinyl's again. It was real music then and great audio quality and everything worked as it should. As a matter of fact most of it still works great today after many years. Shari and Joe were online but away and no answer so guess I better get this posted and get going. Barb just came online when I wrote this so will chat there some and maybe more will come. Well no one else came so will post and get moving. God Bless us all and watch over us. Love Papa, Dad, Brother, Cousin, Uncle and all Lew.
01 February 2009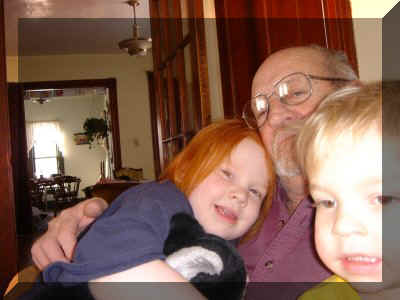 It's Sunday morning and once again here is Lew. January is gone and now is February and where does the time go. Was a rather bad week for me as I was not feeling well and then took off on Friday and spend Friday and Saturday in the bathroom or bed. Can not remember when I felt that rotten before but seem to be some better this morning. At least I can have some solids without it going right through. A person came right through and intersection and hit our van Brad was using and really messed it up. It was there fault and the insurance will cover it and they have a loner now so just need to see if the van is fixable or if it would be worth it. Oh bother. Got all the Eddy Arnold Albums copied onto the computer and that worked well but sure takes some time. Got a new drive to put the music on and got it all there and started some work with it and it died. Of course I had moved all over there and deleted the others and thought I had lost it all. Turns out the drive was okay but the case and inside connections was bad so just got another case and put the drive in it. All is good again. Well as good as the techy world or computers gets, which is rather poor. The quality of new stuff today is rather nonexistent it would seem. Just had a chat with Elaine and Shari but no one else showed up. Guess last Sunday was just a fluke. Not much to write this Sunday so will close with lots of love and God Bless us. Love Papa, Dad, Brother, Cousin, Uncle and all. Lew
25 January 2009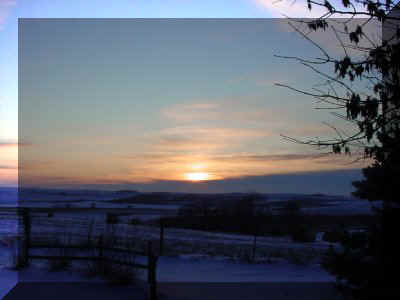 It's Sunday morning and once again here is Lew. Wow What a week. Monday a holiday and had to move snow. More on Wednesday and turned really cold again with lots of wind. More snow on Friday and then more this morning that I still need to go to town and move for work. Got a new program for copying my vinyl to CD as I told you before and is it ever amazing. It sure does a nice job now that I have some of the bugs figured out. So far I have 11 of our Eddy Arnold done with 11 more to go. Then we can use them in the new technology machines. Did one and it is good but still not as good as the old vinyl setup for audio quality. Go figure. Fired up the old Rambler again and does it ever do nice. The fish are doing fine and am getting excited about my retirement. Went in Friday evening before we went to baby sit for Brad and Heather and did the taxes and we will get some back the way it looks now so that works for me. The multiply web site is not working all that well so am still learning there. At first it did music well then in now hangs up when you try. Maybe I have to much there but can't info on that thank you very much, FAQ's as they are useless. It don't sent the email alerts to me either so am working on that. Oh bother computers are so much fun. Had a really good time on MSN messenger this morning as Elaine, Barb, Gary, Tammy, Shari, Jeff, & Joe all were there. Hope I didn't miss anyone. Joe is a new add contact and is our grandson from Ben & Tammy. Was good to greet him there. Hope we get many more. May need a moderator it was so busy. Guess I better get going and get this posted and get some works done. God bless us all and see you next time. Love Papa, Dad, Brother, Cousin, Uncle, Lew.
18 January 2009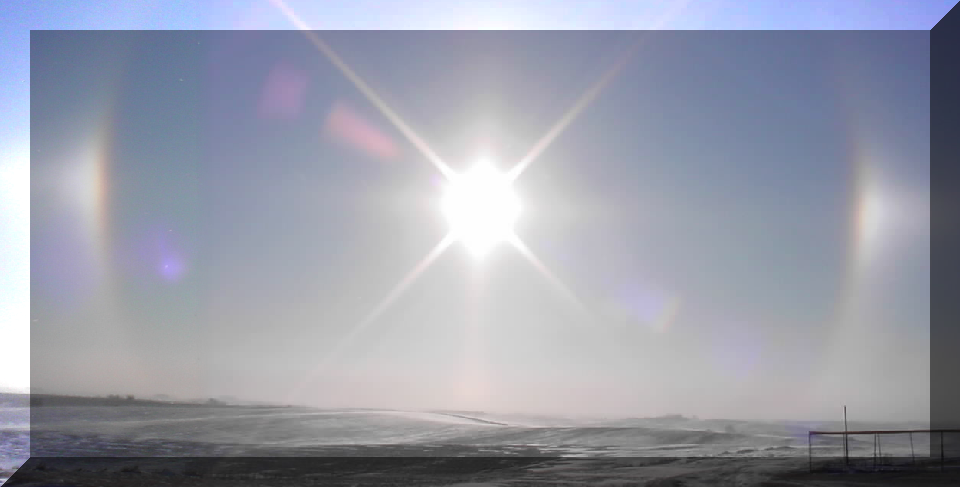 It's Sunday Morning and once again here is Lew. The sun dogs are out and this is the third time I have seen them this winter. I have also seen the moon dogs if that is what they are called which means it is sure cold when that happens. Anyhow looks like I could use a wide angle lens or panoramic lens or whatever as I had to take two pictures and combine them to make this one work. At any rate not to bad for an old guy and a Sony Mavica FD 100 from the 1990's. It turned really wintry here at the ranch and the snow is flying. Monday the 12th we closed school at noon because of snow and then Wednesday the 14th we just cancelled from the start because of snow and blowing snow and white out conditions. Of course I was there early both days to have things opened up for the classes before it was cancelled because no one could get there. How does that work I wonder. Have got Multiply set up and and most all MSN transferred there and it seems like it will be really Kewl. Am having fun with it anyhow. Only 10 people have moved over so far so hope the invite gets everyone and have asked some more to join also. Opps now its 13 as I just checked again. Seems like all the messages don't come through the Email like the system info tells you it will so need to check that out also. Seems most of that stuff never works right. Been playing with a new program for copying all my old vinyl records to the computer and burning on a CD. Got one album done and it worked really great and then on the second one it went to junk like most computer stuff does and will not work anywhere on either computer. Why is that I wonder. Life is just funny that way sometimes. Of course now both of the computers are acting funny also. Was able to get one good CD made before it all went south. Mom is down with the flu and not feeling so good but her back is better she says. Hope it's not just better cause is down a lot from the flu and will come back as she gets better. Got most all of our Christmas stuff put up but still have some outside stuff as it has been way to cold to go out and have fun with that. We have had temps of 20 below and wind chills at 40 below. Brrrrr!!!! that is just to cold even for me. Again with the snow last night and yesterday but it was just a dusting however the blowing wind gave us some good drifts and icy roads. Guess this leaves me about run down so will close and see you all on messenger in about 10 Minutes. God bless us all. Love Papa, Dad, Brother, Cousin, Uncle and all Lew.
11 January 2009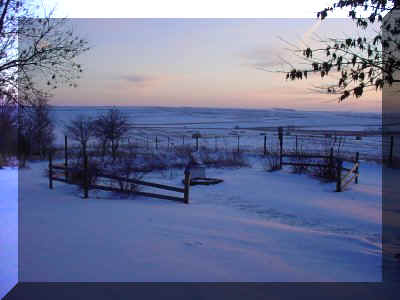 It's Sunday Morning and once again here is Lew. Winter has arrived in Iowa with all its splendor and beauty. Big changes in my life coming this year as I have filed for early retirement for the big check they give you to get rid of us old duffers. About 20 minutes after putting the forms in the mail to get it all moving the panic set in along with the hyperventilation and was almost sick to my stomach. How does that work, as this is suppose to be a great time. I mostly have control of it now but it is scary. My whole life has been family and work and I have been with my wife 46 years, this last job 22 years, the military service 20 years and before that just 19 years old. I had a small break after the service but will be 67 years old this year so my life has been very full. And if things really improve with age I am approaching near perfection. I will have more than plenty to do and more wonderful children and grandchildren than I probably deserve thanks to our great Lord and savior Jesus so it should all be great so not sure why the panic is here. Yah Yah I know put on my big girl panties and adjust. I am and it is to late to turn back now. Much snow last night and had to clear here at home and then at work also. Fun Fun Fun!!! Won a set of 4 hub caps for the Rambler this week and am working on some door mount mirrors now. They are the ones that you mount on the door edge with no drilling. They just clamp there. I have migrated to Multiply for my Lewzplace group as the MSN one is going away in February so hope that works out okay. Only 5 people have came over so far but hopefully the whole crew will make it. Moms back is still bad but my ankle is getting better but have never had a sprain that bad before. I can go down the steps normal now instead of the same foot always first but it is tender yet but much better. The bruising is almost gone and the swelling also. Been working on the taxes this past week and have much of it together for our tax person. Been sorting out all the retirement options with Medicare and all so that is a big job. Hope I get it all done right. Still have the rental to finish but mom/Mema and I have not been going so good. What a morning this is, the sun is bright and on the sunday chat we had Elaine, Jeff, Barb, and my little Tammy and I stayed there almost 2 hours. What a record and so much fun. Wow. I have my roast going and have the dishes started so better get this posted and see how well that works with the new multiply service. There are many that have not migrated so may not get it till they do. God bless us all and have a great day. Love Papa, Dad, Brother, Cousin, Uncle and all Lew.
04 January 2009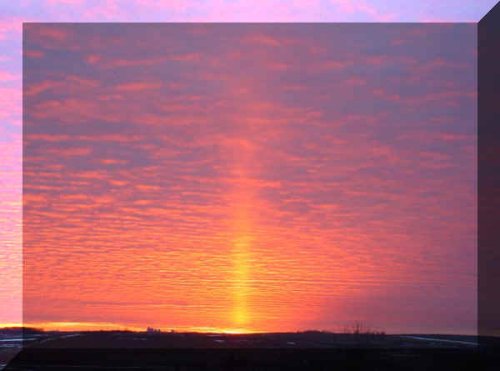 The Good Lord has given us a brand New Year
And so ends the first day of January 2009. Wow !!!!!
It's Sunday morning and once again here is Lew. 2008 is now just a memory and the first day of the New Year (2009) ended with a spectacular sunset to a great day. After absorbing the full impact of my last post for 2008 I realized that we did many things and we had a great year in spite of the back problems and old age aches and pains. With the new year comes the tax season and have got them started and what a mess. We spent the end of December winding down and sleeping in and did get some rest. I had to be at work some of those days as we had painters and Carpet layers there while the campus was empty to finish some work. Some of the carpet did not arrive so it will still be a mess tomorrow when we all go back to work. New Years eve Tammy, Ben and Crystal came to celebrate with us but Brad and family had plans for a church party so we sure missed them but that was a important function for them and the kids to enjoy as a family. We played some bingo and visited and brought in the New Year and then I went to bed as my leg was killing me. Crystal had to go to work on New years day so was up early to make her a special omelet and see her off by 8am. Later I made omelets for the rest of us and we just visited, vegged and watched TV till Ben and Tammy had to leave. As the picture for this week shows the day ended with a gorgeous sunset for a great beginning for 2009. The 2nd I got serious on the taxes and got some of them figured and then on the 3rd I did some more. Still much to do but have made some headway. Mom and I watched the Narnia Prince Caspian movie on the big screen and it was pretty good. It really amazes me that you buy all this new stuff like your TV and all and they can't figure out how to make a picture to use it all. Who designs all this stuff. Don't give me the scenario that you see more picture that way. And what's with the remotes that can do nothing. Last night Brad, Heather and kids came over and Faith had her friend Alyssa and her sister Tiffany with them so that was fun. for supper we had chicken with Mac and cheese and potato chips and then we played Family kid Cranium and the Ungame and the kids went home. Steph stayed the night with us as It was Mel's Turn but she had to work today. The roads were real Icy as we had freezing rain and the temps stayed cold along with wind. The kids called to let us know they made it home and I went to bed. Steph and Mema stayed up and did movies and such. Guess I have ramblered on long enough so will close with love and God's blessing on us all. Love Papa, Dad, Brother, Cousin, Uncle and all Lew.