2008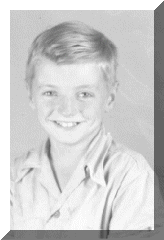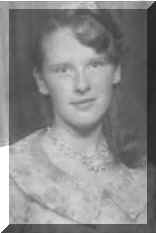 28 December 2008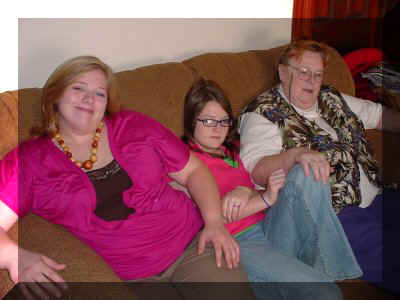 It's Sunday morning and once again here is Lew. Last post for 2008 and it has been a very eventful year. Mom and I have struggled thru it and had a good time even if we both have been not so well. We had family from Norway visit and we did a trip to the Grotto with them and had a huge family picnic, Our daughter and grandson from Germany here and our grandson spent some time with us. I bought and old 1953 Rambler and got it running. We had several birthdays with water slides and one very special Sweet Sixteen birthday for Melodie. We did the family campout at Elaine's and we also did our Springbrook campout. We took our little Faith to the State Fair, Had our 46th wedding anniversary, had Thanksgiving at Elaine's, and redid the bathroom shower in my bath and painted moms bath and the kitchen. Also carpeted the stairs and painted the stairwell. We did some landscaping by the Garage and some more by the walk up the hill from the drive under. For the campout I got a new Karaoke program called Microke and also a bingo hall bingo game both run on the computer and they were sure fun. We had several big screen movie nights and several out side at the Birthdays. We had several large trees come down this summer in a wind storm and then I trimmed many of them and cleaned out the water shoots. The computer went dumb several time this year and our new karaoke program got a virus but was able to fix them all I believe and is going good till next time. Had the Rambler in for a new headliner but had to take it back and still needs to go back once more as I am not satisfied with it. I got the new Verizon wireless broadband for the computer and is that ever fast and does it work well. All things considered it has been and eventful but very good year so we can thank the Lord for that. All our kids and Grandkids have there health so that is a true blessing. WOW no wonder I am wore out. At any rate will close with love and will see you all next year if the good Lord is willing. Love You and God Bless Papa, Dad, Brother, Cousin, Uncle and all Lew.
21 December 2008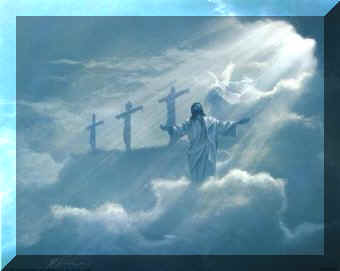 Merry Christmas
It's Sunday Morning and once again here is Lew. Remember the reason for the season and celebrate in the joy of our lord and savior Jesus Christ. Been a real bummer week, my foot is not any better and it is sore. Can't move real well and the things we need to do at work are all slow. The snow closed us on Friday and the wind and cold is just miserable now. We are moving the same snow about the fourth time as we clean it out and the wind brings the same snow back. Today we will celebrate Brad's birthday so will make a trip to Sac City for that. The ranger is not real good in the snow as it has way to much engine for what it is so just spins a lot. Got sand bags in the back but still have to be careful. Will take the little van to Sac as it always does real well in the snow. Have been racking my brain for a Christmas Gift for mom/mema but come up empty all the time. She has me what else could she possibly need or want. Hee Hee. The computers are going dumb again and the laptop lost my Microbe Karaoke. It keeps saying there is a Trojan-Banker and my anti virus shuts it down. Have emailed the company. The joys of the modern world are appalling. Mom still has bad back pain but has managed to get up a lot of the Christmas decorations, wrap presents, baby me with my leg and keep on going. I am so proud of her cause I know how much it hurts. She is a real trooper. God bless and keep her. The pond water fall froze up when the heater quit so it will be down till it thaws but got the heater going so the fish should be okay. Guess I don't have much this Sunday so will close with a huge Merry Christmas wish and Gods blessings to all. Love Papa, Dad, Brother, Cousin, Uncle and all Lew.
14 December 2008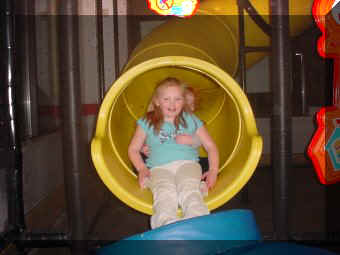 It's Sunday morning and once again here is Lew. Has been a very busy week as we are getting ready to paint and carpet the business office so have a lot of preparation work for that. Painters should start on Monday and the carpet the next week. Spent most of yesterday putting up the outside Christmas decorations here at home and then had to get in the attic to get out the house decorations. Outside I did the ones I took down from work and then had to get new lights for the roof as they were all bad. That was a choir in itself. Got it all done about 4 pm. Mom is not doing well with her back again and we went to the DMACC Christmas party Friday night and had a great feed and enjoyed ourselves but mom suffered with the pain I think. We then drove through the Christmas light display at Swan lake and that was fun. I cranked up the old Rambler again just to get it warmed up and keep it lubed for now. It started real nice and ran good and it was very cold. I went up to Sac to the Big girls concert this week also and we had a potato bake meal there and it and the concert were both great and I video taped it all so Mema could see it as she did not go. The girls are missing her being able to come to some of the functions but they understand. We did some rearranging in the downstairs and moved the treadmill to the garage for some more room and then moved lights around and some of the furniture. We are getting it done but sure is slow. Last night I was getting things out of the attic the decorations and slipped on the stairs and fel1 a couple three steps and really bent my ankle. It is so sore and swollen I may have to go get an X-ray if the swelling don't go down. It is some better this morning but sure does hurt. Guess I will live. Might not look like much but will live. It should all work out and it didn't kill me so guess it made me stronger. The weather is really warm today and it was yesterday also so that helps shorten winter. We have not had it real bad yet this year. Just had a chat with Elaine as she made it online so better get this posted and get moving if I can. God bless and love to all. Papa, Dad, Brother, Cousin, Uncle and all Lew.
07 December 2008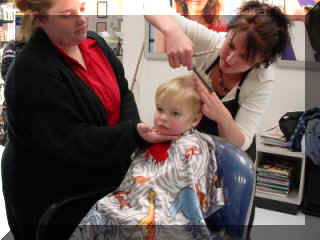 It's Sunday morning and once again here is Lew. What a week. I was told to take down the Nativity scene I put up at work this year and that we could have things like Holiday trees and such so I took them all down as I had CHRISTMAS decorations up not holiday ones. Mom did checking and found out that was not right and wrote a letter to the editor which he published Friday and mom had a positive call about it already Friday night. It all kind of took the wind out of my sails but am better now as we have received much support from work and family so that helps. Will just see what develops now with it all. We had a small amount of snow I had to clean but was just another dusting so nothing great. No more progress on the Rambler but it still is running great. Got the parts for the Ranger but have not started that project yet either. My excuse is that it is to cold for now. The pond is doing great now but it blew a heater fuse so got that going again and is working fine. Taped off all our old home movies I had taken this year and not finished so that chore was done. Then yesterday we celebrated our little Lucas's 3rd birthday so have some more to tape off. He is growing so fast and is such a little doll. We got him a Thomas train with tracks and cars and such and am not sure if he was more excited or if I was. My earliest memory of Christmas was of our wind up train and motorcycle that they both just ran in about a 3 foot circle but that was so amazing it was hard to believe. I believe that season the minister came to the house and baptized us kids also. What a great memory. I hope we have made some like that for our kids and grandkids. The world has been moving so fast and is getting so small that it is kind of sad. Remember to slow up and enjoy our short stay here on mother earth and the things God would like for us. We are here only by his grace so keep the spirit in our hearts and minds this celebration season and through out the year of the Birth of his son our savior Jesus. God bless us all and keep us in his grace as we go through life. Love Papa, Dad, Brother, Cousin, Uncle and all Lew. Merry Christmas.
30 November 2008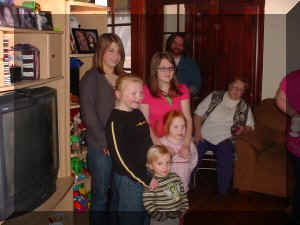 Happy Thanksgiving
Its Sunday morning and once again here is Lew. Short three day week at work so that was good. Got the header and grille for the ranger so will do it myself. Should be okay I hope. Had the Rambler out on the rode and it is doing fine. I did have to disconnect the speedometer as the head needs some oil and did not want to mess it up. I found the leak in the pond and it was in the waterfall and cleaned out the debris and treated it again. It is good for winter now and have the heater in to keep the fishes warm. Have got much at the rental done but still need to install some of the things we bought for it. We cleaned out the garden shed and put most of the stuff away there and cleaned some of the planters to be ready for the winter season. We still need to plant the trees from Arbor day and put them in the garage for the winter so they will live. I put up the Christmas decorations at work and added a couple this year and they sure look nice. I added a nativity scene, star, and two snow men. We had Thanksgiving dinner at Brads and Tammy and family came along with Les & Eleanor Gehlsen and we also celebrated Tammy's and our little Lucas' birthday. I did a ham with some orange sauce and some scalloped corn. It was okay I think. We got some snow last night and the ground is white but not much accumulation there. Hope I don't need to go in and move snow for class tomorrow morning. At least I have all my equipment ready both at work and home if I need it. I hope everyone got the invite to our Family Christmas at DeEtta's this year. It is on the 20th of December at Noon. We sure missed you at Elaine's Family thanksgiving DeEtta. Just sent Dee an Email as she has a Crystal listed in her mailing but no last name and wondered if that was our little Crystal as I am not familiar with the address. Guess I better get this posted and get moving so God bless all and hope your thanksgiving was great. Love Papa, Dad, Brother, cousin, uncle and all Lew.
23 November 2008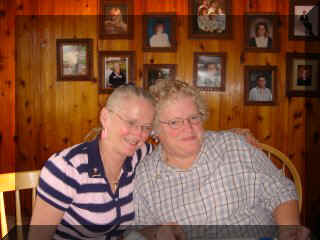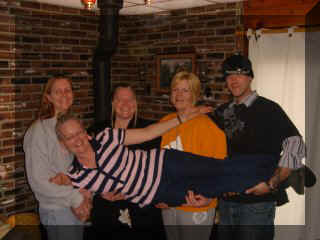 It's Sunday morning and once again here is Lew. What a week this has been. I hit a deer with the Ranger and took out the grille and header around it. Oh bother. The dumb thing came out of the ditch and then turned and ran straight down the road in front of me. I must have been going about 20 when I hit him right in the butt and could not find him after so guess he did not get hurt serious but will be sore. Took the Ranger in for damage estimates and got from $500.00 to $1,300.00 estimates to fix it. Could not find any used at the wrecking yards so ordered some after market parts and will do it myself for $189.00. Go figure. The pond is leaking some where and have to add some water about every day. Maybe I can look at it today if the weather gets warm enough. I seen the missing catfish in the pond that I had not seen in about two years and I thought he was dead or gone. WOW. The Rambler is running great again and starts right off even when really cold. We went to Elaine's yesterday for the annual Family thanksgiving and had a good time. Mom/Mema and Heather both were sick and stayed home so we missed them but we had fun anyhow. Little Alexis and Caleb have grown so much and are now animated so really enjoyed that. Of course my little Grandkids were still the best. Hee Hee. It snowed while we were there and we had about and inch so our first snow has arrived here. I got the pictures off the camera for thanksgiving there but that is all so far. Elaine and Cousin Gary were online and we chatted in messenger so had a good visit there. Now I need to get the big van cleaned out and put away for the winter. Brad and all the kids rode with me to Elaine's so have to pick up and vacuum out and bring all the blankets and pillows in first before we go to the shed with it as I don't want mice in it. Guess this leaves me run down so will close for now and may God Bless us all. Love Papa, Dad, Brother, Cousin, Uncle and all Lew.
16 November 2008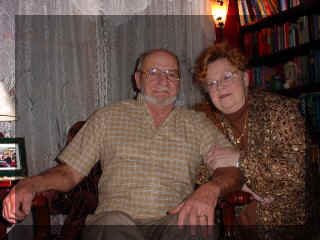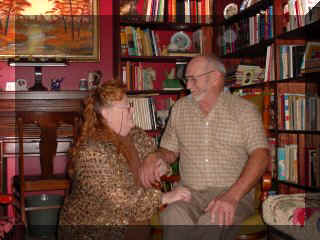 Its Sunday morning and once again here is Lew. WOW!!! Mema & I celebrated our 46th Wedding anniversary and It was great. I am so blessed she put up with me for that long and I thank the Lord for that. We got us a 50 inch flat panel Plasma LCD TV and it sure is nice. Also a couple of VCRs and all of them have the new digital tuners so will not need the new converter boxes. Yes we live out in the sticks and only get antenna TV. Is that great or what. At any rate it added about 7 channels to the 5 we get so that helps. It was really a pain to set them up as if it did not work right you needed to let it auto select again for the channels as it was to dumb to get a channel if you just punched that channel in the remote. I spent several hours trying to get it to function before I got that figured out. Who dreamt up that dumbness. There are so many inputs and outputs you need a degree to figure out what to do. I finally got the generator for the Rambler but the postal service dropped it in transit so had to piece together my old one with it to make it work. It is back in the car and the whole car and such is running great. I had to reset the choke some and then tighten one radiator hose as it was leaking and also the gas line as it was leaking. Old cars are so great as you can work on them and they run great. I got the wood chuck trapped so that is gone and I reset the trap just in case we have another one there. Mema/Mom is feeling some better but the back is still a pain. I put the sand bags back in the pickup so am ready for the first snow that has some accumulation. The snow we had did not amount to anything but the weather has been cloudy and rainy so has been a real bummer week for weather. I need sunshine. We went to bingo last night and took the kids with us so had a good time there but did not win anything. Mema/Mom and I had a good time so that is all that matters. Not much more going on this week so will close with love and God bless us all. Love Papa, Dad, Brother, Cousin, Uncle and all Lew.
09 November 2008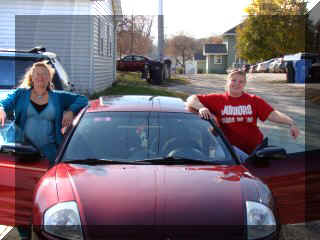 It's Sunday morning and once again here is Lew. Well the camper is finally in the shed, tire on the snow blower is fixed, got the computer running again and we have had the first snow fall of the season. Crystal and Tammy have had there special road trip they have been going to do for many years and it sure was great to see that happen. It really turned out great as they ended up in Chicago on election night and they were at the Obama president elect winners announcement. They did not get to see him but the crowds were heavy and the excitement was tremendous they said. How exciting to be there at that moment in history. Have made some changes on the web pages to some of the audio files so they load faster or run better and have many places updated. Mom is some better but the doctor thinks maybe another week fore this new viral flu/cold thing to pass. It sure has her down. The linoleum is completed at the rental and the furnace closet I was working on is all complete except the painting. Also have the floor patched in the dinning area. Have a woodchuck there that wants to make a home under the house so need to get rid of him again. The crops are all in and the bins are full so am thankful for that as the year was very wet and different. We have a president elect and the election is over and sure glad about that, was tired of all the rhetoric. Most of it on either side meant next to nothing anyway. Went to the radio club Christmas party and had a great meal and the club seemed nice so may go more. It is mostly just a group for people into 2 meter repeater stuff that I know nothing about so not sure but may try it. Elaine is going to have Thanksgiving this year at her place and it will be at noon on the 22nd. She was just online in messenger and told me that so will let this serve as announcement and also inform the kids later. Guess I don't have a lot this Sunday so will close with all my love and God bless us all. Papa, Dad, Brother, Cousin, Uncle and all Lew.
2 November 2008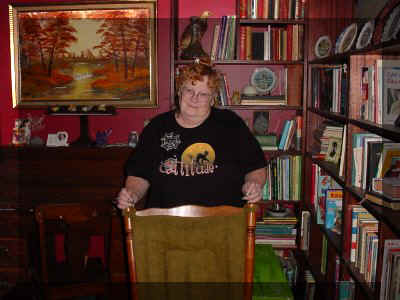 It's Sunday Morning and once again here is Lew. Well I got this started once and then in the wizard world of computing it all went someplace along with some other things so had to start all over. If you find it floating around in Cyber space please sent it home so I can throw it out. The week has been a mess and very little done. The tire on the snow blower went flat again so need to get a tube for it. Also got the mini van back and it is all fixed but could have purchased a new van almost cheaper. Go Figure. The linoleum in the rental is not done yet but that venture is also very expensive. Found a generator for the Nash and it is on its way from Canada from one of the MOL's there. Had several others ones that has one also so if this one don't work I should still get one. Need to check on the headliner yet but need time to do it. Opps here I am but forgot to set the clocks back for DST so am 1 hour early. OK now they are set and I am back. Whew that is a job with all the electronic remote clock drivel. My wind ups set real easy though. Go figure. Better get the camper finished and put away for the winter this week. Kris and her mom were here and we got the SUV, Boat, and motor home of hers put away for the winter. They will be here till July when the kids come back from Germany. Well election is this coming week and I have known who I would vote for since the beginning first few weeks. They sure make it easy once they open there mouth don't they. The Laptop went dumb last night or the tower did and ate some of the programs on our E drive so had to redo them. How does that happen. Got them all back okay and only lost one set of pictures with about 8 pictures there. Also had to go out and get Microke again for my program so found that finally. Glad that was all. Got an invite to the Coon Valley Amateur Radio Club Christmas party so may go and meet some new people there. It is the 7th of November though so wonder why so early. The world is just nuts any more. It has went to somewhere in a hand basket!! OH NO I am becoming my father, but that is a good thing. Mom has been sick with a cold flu thing all week and can't seem to shake it and she may have got it from the Grandkids last week when we were there. Heather has had one for about 2 weeks now but was some better yesterday. I was up there yesterday to help Brad with some of the heat for the girls rooms so I may get it now. We got the booster fans running though so that should help this winter. Guess I better get this posted and get going. God Bless and Love You all. Papa, Dad, Brother, Cousin, Uncle and all, Lew.
26 October 2008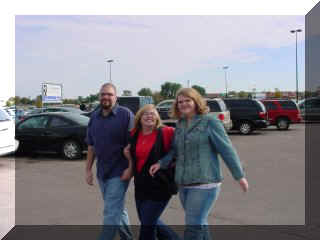 It's Sunday Morning and once again here is Lew. Got the Rambler back but not sure of the fix as it is rather ugly. On the way home the generator quit so must have had a short as it burned several copper laminations on the armature. I see another one online so will get that one I guess. I just got the other one there but had to fix it to work when I got it. Maybe better luck this time. We got to Our little Crystals Bday last Sunday so that was fun and we sure enjoyed it. Mom was better so that made it fun also. We got Crystal some clothes and stuff and she had a good time. Have had a busy week but some things done. Camper is almost ready for winter storage and should be finished today. I got the pond cleaned and ready for winter just need the heater in it just in case. The fish are really getting big. Cleaned off the patio and put most of the furniture up for winter. Straightened out the garage some but have a real long way to go before that is finished. I gathered in the gourds so they are done but the patio tomatoes are still going strong. Yesterday went up to the Brad and Heathers and worked on some house wires for him to get some duct blowers he installed wired to help with heat in the kids rooms up stairs. Mom made some goulash for supper along with biscuits and French bread. It was really good and the kids all enjoyed it. Had to take the mini van in for some work as one tire had the steel belt sticking out, the rear heater sprung a leak, the windshield washer for the front quit and the muffler started to talk to us. Oh bother that won't be a cheep fix. The washer fill me light comes on also but it cost about $60.00 for the sender for it to work. I decided I could figure it was empty when it quit pumping so didn't need the I'm empty light and buzzer going off to tell me it's empty for another $60.00. Got the snow blower up and running and may be have the flat tire fixed on it as it had a slow leak. Took it off and cleaned the rim real good and seems to hold now. Time will tell. Barb and Elaine are online but have been here and gone so must be having Computer problems. Or I am. Guess I better get this posted and be done for now so God Bless us all and see you next time. Love Papa, Dad, Brother, Cousin, Uncle and all. Lew
19 October 2008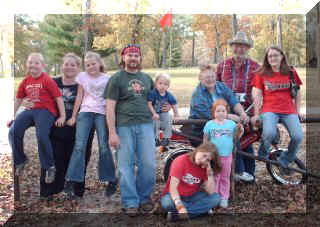 It's Sunday Morning and once again here is Lew. Well our Springbrook adventure is over and we had a really great time. Elaine came for 3 days and nights and Brad and family came for a day and we sure enjoyed that. I guess we will just have to keep meeting at Elaine's as she always comes to my Springbrook campout but no one else from the family shows up from the distant areas. It is there loss as we had a great fish feed from Elaine and some wonderful walks with the Grand kids, plus some good campfire music and a really great feast every meal. Mom/Mema has been pretty sick since we got home with throwing up and chills and such so she must have a flu cold bug or some thing. The Rambler is done but did not pick it up as Mom needs to rest and get better. We are supposed to go to Tammy's Saturday but will skip that also unless she gets much better. Sunday is our little love Crystals birthday and we may miss that unless Mema is better for the trip to Tammy's then. Sure has been a busy week and I have been tired also but did get the van unloaded and the camper cleaned out mostly. Also got it winterized as far as the water goes so that is ready. Had some things start to show wear so it may be time to trade up before it gets to bad to be worth anything. I received an Email from Gail Susan Orcutt Culp that says her line goes back to William Orcutt Sr. also but I lose the line at William Orcutt Jr. as she says her line goes on from Capt David Orcutt from there but I do not find him as a child of his. Guess more research is needed. I asked them to sent any info they have on the line that they are willing to share so may have some more information soon. I really need to finish our years from the Marion Iowa time till the time I started the journals also and that is a long span from 1970 to about 1989 or so. I have looked at all my radios since we got back and I may just sell some as I never use them and they just take up space. I have so much clutter around I need to just get rid of it all and make a clean start. We made it to Tammy's on Saturday and mom was not to bad but back did hurt. Spent some time working on her Bushnell binocular camera but can not get the software to work so we can get them on the computer. We had this same problem before and had to call the company to get it to work but then later the computer died and lost it and now I can't remember what they had me do. OH BOTHER. I thought technology was making my life easier thank you very much. Just tried it again and I got it going but did not have the binoculars set right as the pics are not clear. Why oh Why oh Why???? Guess I better post this and get going. God bless us all. Love Papa, Dad, Brother, cousin, Uncle and all. Lew
12 October 2008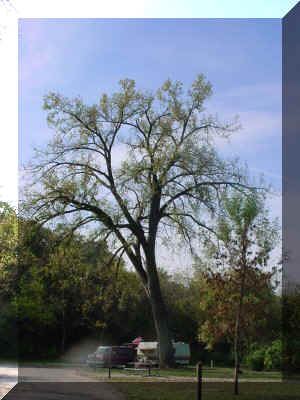 It's Sunday morning and once again here is Lew. What a poopy start to this week. Had a leak in the black water tank for the camper and spent all day Monday from 8AM till 5:30PM working on that. If you don't know the black water is the human waste water and what a mess I had. Why couldn't it be the gray water that is the shower and dish water tank. During all this I discovered the stool fresh water valve has a leak and I soaked the floor. In doing all that I used quite a little water so then the fresh water storage tank ran low. All this with three trips to town for parts and such so it was a bad Monday and then when I was ready to finish it all up and start supper the rain started. Oh Bother. We then spent Tuesday drying out and went to town and on to some big flea market called Chucks discount barn. It was fun but way to much stuff. Had a good time and got some pictures of some raccoon in and old abandoned building that resembled a saloon from the past. On Wednesday we then just did not much of anything. Got the dremel and such set up for working on the walking sticks and just messed around camp. The dremel made a lot of noise so we decided not to do that. I started to clean some of the camper windows and frames but didn't get to far on that. Was going out early to save Elaine's camp spot but at 10:00 a camper pulled in and took it so did the one next to us. On Thursday then Elaine came and we did a walk by the old camp area and it was fun and we went a long way for mom/mema but she made it using her walker. Elaine gave me some lawn chair webbing and I repaired two of our old favorite chairs. I did some chicken breast for supper and we had a bonfire until we were all very tired and decided to stop fighting the sleep and give up. It was now 8:30 pm. Mom and I played some cribbage, watched the news and went to bed. Friday morning I was up by 7 and went for a walk around the lake and Elaine did some fishing. Mom was very beat after the walk yesterday and she just vegged all day. Elaine & I went to Chucks Discount Barn and then to Primetime restaurant to get all you can eat to take back to the camper. No carry out on that night so got some T bones and had that for supper. Saturday then Brad and family came and we had sausages eggs and hash browns for breakfast, did some games, went for a few walks, vegged, visited, and had hot dogs and hamburgers for supper and did some campfire music along with s'mores and then Brad and family left for home and we went to bed. Sunday morning slept in till 06:45 and got online but no one there so just did journal stuff and had coffee. Elaine made us all breakfast of Eggs, potatoes and fish she caught here and boy was that good. Then she did her clean up and will be leaving soon. Many of the other campers have already left and we will be going then tomorrow. I guess I have bored all enough so will close with God's blessings and all my love. Papa, Dad, Brother, Cousin, Uncle and all Lew.
05 October 2008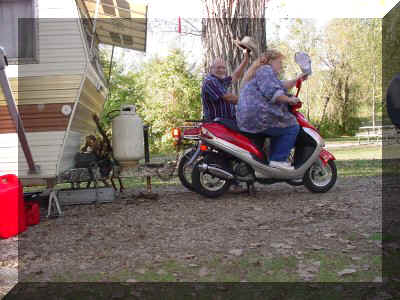 It's Sunday morning and once again here is Lew. We are at Springbrook and is was a slow trip here as you can see by the picture but we made it. What a beautiful day it has been and Mom decided not to get the new toy so we will just have the Honda yet. Guess that will have to do. Walked to the bathroom last night and there was a raccoon along the road and since it was dark I put the flashlight beam in its eyes and got almost up to it before it wandered off. That was so Kewl. We seen one driving in also. Went to Des Moines for a battery for the Honda and now it is good again. Got the ham radio up and running here at the campground and sure is fun. Have to check on some of the drifting on it though. Seems like it may be the transmit/receive relay but not sure so will clean it and see if that helps. It is on my 350D radio. Swan of course. Saturday was cool and I went for a ride on the Honda and seen some eagles, deer, and Raccoon and the temp got up to 75 so it was really nice. Thursday the campground started to fill up and by Friday night it was almost full. The price dropped from $16.00 to $11.00 for a night on the 1st so that helped some. We found out the Raccoon had something wrong with it like mom thought because they are a nocturnal animal and being out like that was not normal. The ranger did something with it. On our trip to town yesterday we could not get any webbing for lawn chair repair so I asked Elaine to bring some if she came. Had to repair the back door on the camper as it was not closing well. Think maybe we should start looking for a newer model as things a re starting to go wrong with it. Barb came online so am visiting there some. Had to put out the external cell antenna for the internet to work but it is on national not broadband here so not real fast. If i move up by the dam it is broadband again but can not camp there. Went up by the campground wireless but it did not work so here we are. Guess I better get this finished and posted and quit ramblering on. God bless us all Love Papa, Dad, Brother, Cousin, Uncle and all Lew.
28 September 2008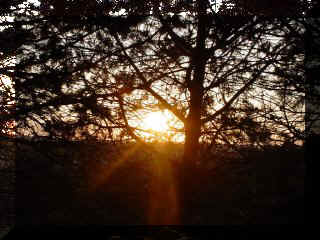 It's Sunday morning and once again here is Lew. We had Mel's Sweet sixteen party last night and it sure was a lot of fun. Two of her friends could not come so that was a bummer but it turned out nice. The week took much time to prepare for it. I enjoyed that but am sure getting slow with all that. Anyhow she got a cell phone and all and was sure excited for that. Lao got many clothes and jewelry and such so had a great birthday. We are getting ready for our trip to Springbrook now so that is busy also. The camper is in need of some repairs also so may be time to start looking at something new. Oh bother. Barb was here and just left but no Elaine or anyone else. Cousin Dick came on line but got no response from him so maybe his computer is messed up. Mel and her friend Jennifer spent the night after her party and they kept Mema up till 5AM so they will be very tired today. Both computers are up and running well again so that is nice and the new wireless is still working great. All the new toys for the Karaoke and such are going fine and the new mixer is swell. Am I in a second childhood or what. The apple trees are loaded and not much doing with them and the tomatoes are running wild along with the melons but not much done with all except eat and give to the kids. Can't think of much else this Sunday so will close for now and may God bless us all. Love Papa, Dad, Brother, Cousin, Uncle and all Lew.
21 September 2008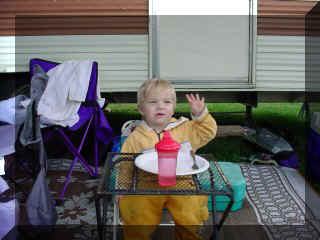 It's Sunday morning and once again here is Lew. What a week. Took the Rambler back for the headliner as two holes appeared in the headliner just above the wing window on each side of the roof. Oh bother it was looking so nice. Did not get caught up much from last week as spent much time for a party for our little Mel next week. Also spent much time redoing the computer once again as I did not get all the updates installed and got a virus I could not get rid of. Formatted and did it all over. Just visited with Elaine but no one else showed up but had a good chat. Still getting the computer set up so that was a joy trying to chat and get all of messenger working right. Zone Alarm is running a virus scan now also so hope that works out good. Don't even have the camper unpacked yet but may just leave it for Spring brook camping next month. Boy is stuff coming at me fast this year. Yard work is a mess and Cars need work and so does the house and now one window air unit is bad so now two are gone. Oh Bother. The printer on the laptop went goofy and got that all fixed I think as it is a USB connection printer but the port I had it on was not one of the fast ones so changed that. Hope that does it. Have run the scans on both of the computers and did updates and all so hope they are good. Guess I don't have much this week so will close with lots of love and God Bless us all. Love Papa, Dad, Brother, Cousin, Uncle and all Lew
14 September 2008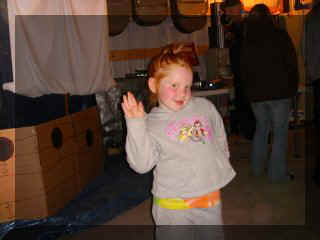 It's Sunday morning and once again here is Lew. What a time it has been here at the ranch. Have missed several Sundays of the journal and been super busy. Most of the busy was not things that needed doing here though. Got the rambler back and the headliner is really nice and sure was fun to drive home. Need to work on the rear bumper now and on the loose front end and then will be fairly good. The new wireless is the perfect thing so far and if it just keeps going all this winter it should be good. The yard is a disaster and got some mowing started yesterday but not much done. Spent most of yesterday working on the computer as it it went bad again and they could not get it going at the shop so just fixed it myself. Am going to try it without all the updates they keep wanting to add as that is when it starts to go bad. It went completely bonkers when it decided it needed service pack 3 and I was dumb enough to put it on. Took all the updates off and redone it all and now it works just great again. This was after $90.00 at the shop to clean it up and reset windows twice. WOW!!! I used the old drive and a USB connection box to save all the files I needed from the old one. Went to Elaine's Campout last week and had a good time there, and we played my bingo, did movies on the big screen, did karaoke, and Elaine had a sack race and that was a blast. She did the omelets in a bag again and the Grand kids sure enjoy that. The turn out this year was not to great so that was depressing but we had a great time. The drain for the water tank on the camper broke so had to get a new valve for that but have not installed it yet. A stick and a piece of wire fixed it temporarily. I left something on in the van there so needed a jump but it seems okay now. I got the early retirement papers from work again and am thinking about it. It would be nice to sleep in some mornings but not sure that is me but can see I would have plenty to do if I took it. Maybe that's why I don't. This morning is dawning clear and cool and you can almost feel fall in the air. Had to take the Ranger in as the heat shield on the muffler came loose and was really rattling. Picked a bunch of tomatoes, muskmelon, and apples for the kids yesterday and still have bunches of apples. Mom still has some back problems and got the X-ray report saying there is only normal deterioration for her age. What the blankity blank does that mean. I had to get off the phone when when I heard that diagnosis or I would explode. Most everyone else her age and older does not have back pain like this so is everyone else abnormal or what. Help me out here. We are going back for another visit and then for a second opinion. Guess I have vented enough for today so will close with all my love and Gods blessing for all of us. Love Papa, Dad, Brother, Cousin, Uncle and all Lew.
24 August 2008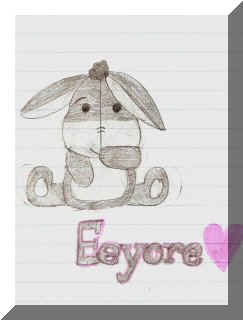 It's Sunday morning and once again here is Lew. What a week this has been. Does anyone know where I am or what I am doing. Oh bother!!! Got most of the work stuff done for our students to come back to class. Cleaned all store rooms and got rid of junk and it sure is nice. Got the pond treated at home again and it sure is clear. Been working a lot on things for the campout at Captain Elaine's and hope I get it all done in time. It should be loads of fun. Got mom to the doctor finally but not much accomplished there but are getting some x-rays next week for her back so maybe that will help. Still working at the rental but is to much stuff so have asked Brad & heather to help. Tree trimmer needs to come yet to clean out some dead branches in the big oaks. Also have the carpenters to show up yet as the floor needs some work in several places where some water has leaked. Got the door closing on the small van fixed and adjusted so now it closes nice. Friday night we went up to see our little Crystal and the van broke down just outside of Lakeview and Brad came and helped me with it. Rear seat heater went out and we just by passed it with some hose and made it all the way to Tammy's just fine. We visited on Friday night and then went to bed as Tammy had to work Saturday. We spent Saturday shopping for things for Crystal and then went to eat in Sioux City at the Steak Buffet and then went home and played some cards till late and went to bed. I brought along my new wireless broadband modem and it works so good. This is all done at Tammy and Bens and will post the journal here also as we are still here. Mom, Mema, was the overall winner of the poker games but her and Tammy were pretty even until the last hand when they played a hand for all the chips and mom was lucky. Ben and Tammy have a new select your number bed and they let us try it but my number must have run away cause I could not find it. Thanks Kids hee hee. I guess I have rattled on long enough so will post this and have some coffee. God bless us all. Love Papa, Dad, Brother, Cousin, Uncle and all Lew.
17 August 2008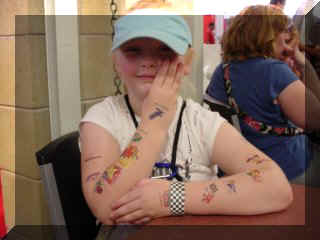 It's Sunday morning and once again here is Lew. It has been a good week and have accomplished a few things. I took off work a couple days and we took our little Faith to the State fair and then had her and Sarah spend the next night and day here. It was much fun but forgot how much speed those little stinkers have. Faith and Mema picked up about everything free they could at the fair and the cart we rented for mom was about loaded down. The scooter was a blessing as mom could enjoy it more but it still wore us out. The parking at the fair was a disgrace and the parking crew were not even helpful and very rude. I won't go into it now but they parked us clear out by University avenue to try and get back to the gate. They were shameful. I got a small amount of yard work done this week and got the Lyndon tree planted and all the wood finally hauled from the old one. Still have a couple more down branches to clear up. Have been working like mad for things for Elaine's campout so we can have a good movie night and for some new karaoke things. I now have over 4000 songs I think so should have a good selection even if my program and all is very cheesy. Also have the bingo stuff ordered and will have that good to go I hope for a great bingo night with some kewl prizes. Finally got the computer back and had to clear up all the downloads and stuff and finish all them but it is running good again. Hope I got all the programs back on it okay. We got Faith and Sarah some new clothes for school and just for fun so had a good time shopping for them. I grilled a couple times this week and the new grill is a dream and works so well. Was a little pricey for a portable table top grill but it has the heavy cast iron grate and is out of the heavy aluminum and has a large circular burner and electric ignition. Don't take much to impress me does it. Mom is not feeling so good this week but has been on the go a lot and is wore out. We have a doctor appointment tomorrow so hope we can find out something then. Guess I better stop rambling on and get this posted. Matt is touring around Europe, Norway, Scotland and such on his motorcycle with some friends so keep him in your prayers and God bless us all till next time. Love Papa, Dad, Brother, Cousin, Uncle and all Lew.
10 August 2008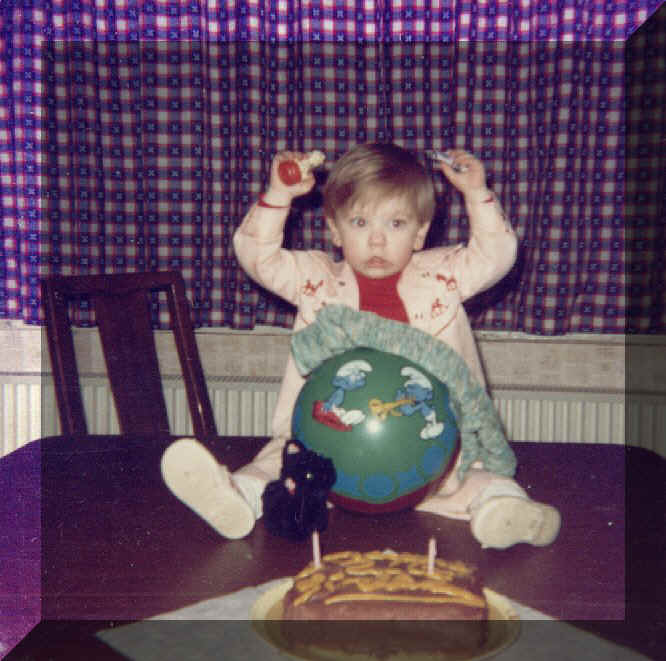 It's Sunday morning and once again here is Lew. What a week but it is now over and I am pooped out. The desk computer went dumb so here I am on the laptop. Took it in for service but that did no good so took it back and will see next week what's up. I have put many Photo albums at from the past at Lewzplace for all to enjoy. Have got Elaine's campout there along with Springbrook and some of our old albums and such. Got the mowing done at the farm finally but had to take the big mower over as it was like hay. Who let it get so long. Had to mow at the rental also as he has moved out and left a real mess. There is junk every where and the yard is 1 foot tall grass in places. The gas tank is empty so there is about 2 grand to fill that. We have been trying all week to reach him but he will not return calls. Finally got him last night and told him he needs to get there today and clean out and then fill the tanks and pay the water on Monday. Then we have some major work as there washer or something leaked bad and the floor needs replaced there and then one place in the dining area needs repaired. Not so sure renting is worth all the hassle. We are getting many tomatoes on our grandkids plant on the patio but no grandkids to pick them so I been getting them and using them in salads. They are really good. Got the garden area cleaned up but sure am not keeping up this year. What's up with that. Mema/Mom and I are going to the state fair this Wednesday the way it looks as we need a day of forget it all and relaxation. This is the week of the Olympics so mom is real busy with that along with all the rest. She has been working hard so is rather pooped out. The rental business has her stressed out very much also. What a mess. Been on Messenger and no one there but Elaine finally signed in so sent a message but she left. Hope all is okay sis. Computers sure can be fun Hee Hee. Got most of the Lyndon cleaned up now and called the tree people for the rental as the limbs are way high and don't want to get that high anymore. Guess I better get moving and get this posted. Love to all till next time and God bless. Papa, Dad, Brother, Uncle, Cousin and all Lew
03 August 2008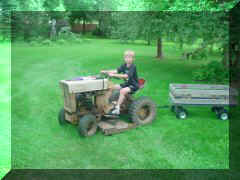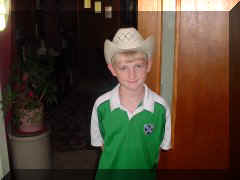 It's Sunday morning and once again here is Lew. What has happened our little Sean and Kris should be home by now and here it is August already. Have I slept the summer away or what. I watched the day dawn today and I see the weeds are bigger than the trees and the yard is a mess. The garden we put in is also a mess and I need a corn knife to cut through the weeds to get to the plants. I have trees down in the yard and at the farm that need cleaned up along with a door to repair on the garage and a new one to put on the house. Oh bother I believe it's nap time. Had to work yesterday as we had a special class along with a motorcycle class and the nurse pinning in the afternoon. Brad brought the pickup back yesterday that he used for the VBS celebration and then Heather and the big girls stopped to get him as they were coming back from church camp. That was good distraction and we had a great visit. I have some really great kids and the greatest grandkids ever. The wireless broadband is working just super and I have started some new photo albums at Lewzplace. You can get there by going to www.lewzplace.com and clicking the photo album link on the left. If you do be patient as many need rescanned as they were done many years back and was just learning. I may get them redone some day. I looked and looked all over for a good photo album program to use but could fine none that seemed to be right. Then I remembered Mom/Mema saying her old Print shop 6 we got back in the early 90's was the best ever so went there to look and Walla there it was and it is great, fast, easy, and it works. Why can't they make them like that any more. Go Figure. Even the new Print shop 20 does not do that good and it wants to control everything and will not let you do some stuff. The old one just decides okay you can do that. Got a USB hub also so now do not have to get on the floor to plug in the Flash drives or cameras and such. My tower sets on the floor as my desk is full of Ham radios and such. Been on line with messenger this morning but not any people here yet. Have found a new Bingo game for the computer and may use it at Elaine's campout if it is okay with her and if I can make it this year. We have been on the go constantly this summer but been nowhere and got nothing done. How does that work. I did remember to use our Earl may fun money and got us a Lyndon tree, rain gauge, and a garden stone for mom. Guess I better get moving as I have much to do and need to make some cd's of the pictures I took at the nurse pinning for them. I see Elaine just signed in. God Bless and take care till we meet again. Love Papa, Dad, Brother, Cousin, Uncle, and all Lew.
27 July 2008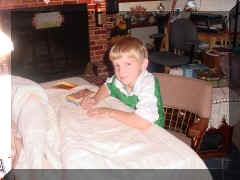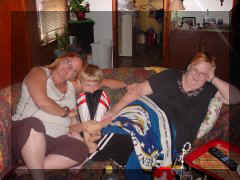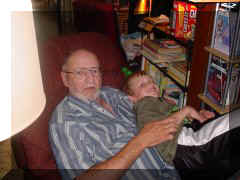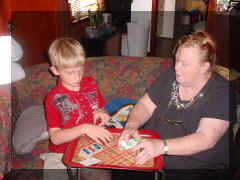 It's Sunday morning and once again here is Lew. Our little Sean came Sunday last and what a joy he is. Kris stayed here with him until later in the afternoon and then she went on to California to help her mom pack and stuff. Monday evening we had a terrible storm with high winds and rain and hail. We lost our Lyndon tree and some tree branches here and many branches at the farm and rental. It was real scary but Sean slept right thru it so did not wake him so he would not be scared. Tuesday after work Sean and I went to the farm and cleared up some of the mess so you could get in the drive at least but here came the rain again so quit that and went home. Then on Wednesday Tammy came down to spend some time with us and Sean and she stayed till Thursday and that sure was fun. We did not do much those days but watch movies and play games. Mema and Sean went shopping on Friday and got him some real nice outfits and things and then on Friday night Sean went to Uncle Brad and Aunt Heather's and he will come back today some time. I spent most of yesterday just relaxing and trying to clean up the Lyndon tree. I worked on it all day and only got about 1/2 done. How does that work because I used to get that much done in a couple hours. I hauled three big loads of the small branches to the brush pile and cut up some of the larger stuff for fire wood. In trying to get the stump out I hit some dirt with the chain saw so now have a dull chain and it was a brand new one on the brand new bar. Oh Bother. Got an Email From Jostein and all is well with them and Jens Tobias is now 1 year old as he had a Bday right after they got home. Mom and I watched some movies last night and I did some T bones on my new grill. Boy is it nice but need to learn to use it all over as it is different than the old one. It has a real heavy cast iron grate to cook on and it has a burner that goes all around the unit. It is a really nice Weber grill. I bought mom a rival ice crusher on Ebay and it came yesterday but it does not work. After several Emails the seller is sending another one no charge so that was nice. Hope this one works as they are very good crushers. Tammy and Ben got us one also, a Deni brand, when they were on vacation and I had this one ordered before I knew that. We will have enough Ice Crushers for awhile. The Verizon broadband wireless is amazing and so fast and still working great. Guess that leaves me about run down so better get posted and get a move on it. Love and God Bless to all Papa, Dad, Brother, Cousin, Uncle, and all Lew.
20 July 2008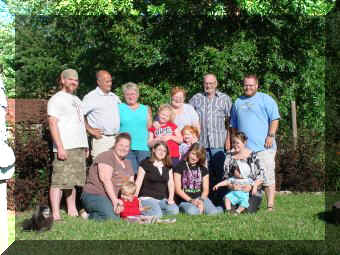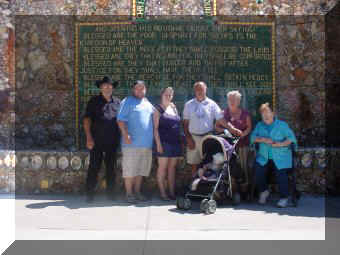 It's Sunday Morning and once again here is Lew. Our family from Norway Left on Monday last and we sure had a great time. We went to the Grotto of the Redemption in West Bend last Sunday and it was a good time. Mostly we just got acquainted and visited on there visit and the time just flew by and was to short but was a great time and good learning time about Norway and some of the heritage from my wife's side of the family. We discovered as a start that she has a minimum of 21 1st cousins there which is a lot to absorb so quickly. With all the family picnics and such the time was rather full. After they left on Monday we then rested some and then in the afternoon went to get the grandkids and watch them till Mom & dad get back home on Wednesday evening. We were just there as the adult supervision as the big girls did all of the work and meals and all. I am so proud of them as they pitched right in and worked out well. All of my grandkids are some of the best grandkids ever, of course I may be a slight bit prejudiced, NOT. I did some updating on the laptop while there as it was needing updates and things and was not working well. Got it going much better and even figured out how to manage my drives on it after they changed on there own. That is another story as I was tired of messing with Sprint and there terrible connection after the first 7 months of service. I decided to try Verizon since they now have wireless broadband in our area but when I installed it the Laptop decided to make the drives what it wanted, Thank you HP. Any way I turned them back to what I wanted them to be. Anyhow got it up and running on both machines and WOW is that amazing. It is so fast that I can't believe it. It can be used all over the country, no roaming charge, I can use it as a phone, and it is cheaper than sprint. It is the Verzion VZAccess (Wireless Internet) and it is broadband. I got the 5 gig a month program. I called on the Rambler but it hasn't even been started on the work so might be a while. Oh Bother. Mom and I went shopping on Friday night and got some things for Sean's visit and some things for the house. We sure were getting anxious for him to arrive and he should be here today as they arrived in Chicago yesterday evening. Yesterday I put up a new light in my Den/Computer/Ham room as the old one was bad and kept eating light bulbs. I then put up a new one in the kitchen with a ceiling fan and that sure is working nice but it was a bear to put up as the instructions were translated to English and the translator had a poor understanding of the language. Both have the low power fluorescent light bulbs so hope that lasts. I then started to clear all the old clothes out of my closet that I don't wear any more so it is some better but still many there I can get rid of. I also got a new grill for camping so I set that up and got it running. I took Missy in to get her distemper shot and she weighted 5 pounds so she has gained a pound. A storm went through last night and dropped my wireless broadband to national but only for a couple hours and then was back. Is that Kewl or what. It runs off the Cell towers and signals so will be affected by weather. Hope it isn't much or often however it was down low again this morning for a couple minutes when I turned it on. We had that good old Iowa thunderstorm last night and it had a beautiful lightening display. I posted some of the Norway pictures at Lewzplace on MSN groups for those interested and guess I am run down so better get this posted. God bless and love to all, Papa, Dad, Brother, Cousin, Uncle and all Lew.
13 July 2008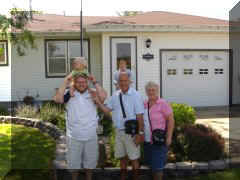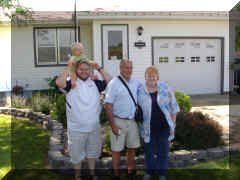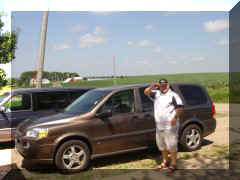 It's Sunday Morning and once again here is Lew. One more really hectic week and I will need to go back to work to rest up. Spent all week remodeling and working on house and yard and it sure is looking nice now. So far we have redone my Bathroom, Carols bathroom, The kitchen cabinets are cleaned, Half the kitchen is painted, we got a new recliner and we are making progress. Have not heard on the Rambler yet but will call later. Tuesday night we had more storms and it blew over the patio swing seat and bent over the old bird feeder pole. It rained, hailed, and had very strong winds and blew stuff all over. It was a mess to clean up and spent a good bit of time Wednesday cleaning it all up and doing the yard mowing and cleanup. Also went in to work for some key change over as the bookstore is now run by and outside company. As it turns out all the employees remain DMACC so we will not change the key system. Thursday morning I finished the yard work and final touches with house clean up and at noon the family from Norway arrived. It was great to finally meet them and we did a sandwich lunch and got acquainted. I also made some rhubarb raisin sauce for desert and it is very good. Made a small walk around the property and then had hamburger helper for supper and just visited till bedtime. What fun that was. Friday morning came way to early as I was up till almost 1AM so was very tired. I made potato pancakes, sausages, eggs, and hash browns for breakfast but was rather poor as things got to well done and I turned the kitchen smoky. Oh Bother. Later our Norwegian cousins went to Carroll to explore some and we just rested. I was about exhausted and I believe it was mostly stress. Tammy, Ben and Crystal came later in the day and stayed for the night before their trip to Branson Mo. I printed off some pictures for Johannes and family of the three cousin generation and of the farm and local area. Mom/Mema made my favorite meal and I did some more rhubarb sauce with whipped cream for supper and it all was great. I went to bed early as I was very tired. Saturday arrived and we visited some more and then Brad & Heather and Family came over and we had an old fashioned family picnic. We had brats, Hot dogs, with all the dressing along with potato salad and such and even did some chicken and pork K-bobs. It was just great and all the grandkids were just the best. We are so blessed with all that we have. The good Lord has surely taken care of us all our lives. We had a nice visit in the evening and the cousins got to see some rabbits and they had never seen them in the wild before. If we are going to make any trip today I better get a move on it and get this posted. God bless us all. Papa, Dad, Brother, Uncle, Cousin and all Lew.
06 July 2008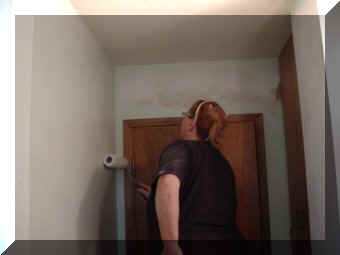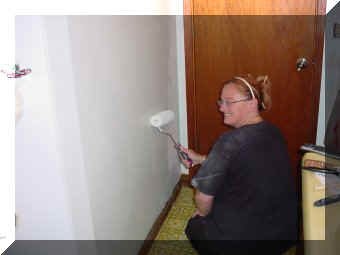 It's Sunday morning and once again here is Lew. Has this ever been a hectic week. I worked on Monday after an extremely busy Sunday with Yard work. I picked up the big mower Monday after work and did much of the mowing. The shower guy came late in the afternoon and that is done just need to seal and then can use it again. Then on Tuesday my vacation started from 1 to 15 July and I started yard work at 8AM and finally quit at 6PM. We did do a trip to town for about 2 hours for some things then but the rest was work. Cleaned the area where the new trees are planted and cleaned all the garden area and all the plants we have growing. Picked up four more plants for behind the garage now that I have all the weeds and tree starts cleared out of there. Also cleared the rhubarb, grapes, and fire pit area so they look nice again. Picked up a small battery string trimmer for around the baby trees and garden stuff and it sure beats pulling weeds. Also cleaned our new area and did the weed eating there so it is Kewl again. Wednesday I planted the new plants behind the garage we got and discovered where I planted two of them we already had some bulbs there so need to replant those. Then got ready to cut up the willow. First saw had a fair chain and cut some but the bar is wore out so can't keep the chain on. The second saw had a dull chain so gave up and took them both in for bar on one and chains for both. Ordered extra chains also as the ones I have were past sharpening stage. Got the chain on the one with the good bar and cut some of the tree. Sure was hot so went in and sealed the shower and then went out and cut some more of the willow. Worked most of the day on it and only about half done. Oh Bother. I did get the plants all watered and all the brush from the back of the garage hauled. Thursday I trimmed willow all day and later in the day Tammy came to help mom with the painting in the bathroom. I helped some on the paper removal. I finished the caulking in the shower and on Thursday got a shower in the new one Wow way Kewl. More yard work on Friday the 4th and Tammy & Mom worked on the bathroom more. Got the willow pretty well cleared out so I can at least mow and clean up. One huge trunk to clean up yet. Did much trimming in the yard and helped more in the bathroom. Here I have to say Tammy did about 98% of the bathroom, scraping the wallpaper, filling the gouges, sanding, and then painting. She worked like a trooper Thursday night and all day Friday the 4th of July till she got it done and WOW does it look nice. Let's see now, Who is my favorite. Hee Hee. Mom picked a swell color and it really is nice. She got it all done around 8PM and headed home but then returned shortly and said she would stay the night and we watched the Willey fire works and were they ever nice and every bit as good as the country club. I am truly blessed with a terrific wife, three wonderful children and a whole bunch of outstanding grandkids. Life don't get much nicer than this. Saturday spent the whole day mowing, trimming, removing the slip & slide, and working inside on house stuff for mom. Sure was a busy day but much was accomplished. Even got the walk path and benches all cleared up for use again. I guess I better post and get on with life. God bless us all and I love you. Love Papa, Dad, Brother, Cousin, Uncle and all Lew.
29 June 2008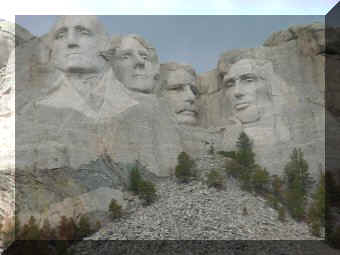 It's Sunday morning and once again here is Lew. Wow what a week I have had. The mower is not done so had to get a loaner for the yard, the Rambler went in for the headliner, Much yard work done, the pond cleaned out, Window in the van broke, Shopped for new clothes, Whew am wore out just telling it all. The loaner mower is not a zero turn but does turn right back on itself. It is a Toro interconnecting turn what ever that means but if you turn the steering wheel all the way the front wheels go completely sideways and it will turn right back on the track you were on. Sort of Kewl but not Zero turn. Got the pond area cleaned finally and the new mulch down so now will be able to spray for weeds to keep it clean. Also cleaned the pines and weeds at the drive so I can keep it better. Mom/Mema were going to town to get groceries and the window in the small van came loose and fell down in the door and at the same time the rain stared. There was not any room in the garage for it so had to push things around to get it in. We decided to take the big van but yah you guessed it the battery was dead again so was out in the rain getting it jumped and running. This happened twice before and the battery is 5 years old so decided to get a new one when we are in town. Got a battery that did not fit because the negative cable was to short so got it with different height and post locations to work with what was there. Then the positive cable was bad so got that also. While replacing that the starter solenoid broke so had to put that on also and the bolt in the negative cable was corroded in half so had to do that also. Finally got that completed between the rain showers and we got moving on our shopping for clothes and getting the groceries after we had some supper. We finally got done about 11 PM and what a day it was. Yesterday I weeded the four O'clock bed as it was overrun and cleaned patio and such then in the afternoon we ran the Rambler down to Gray Ia. to get the headliner installed. We ate out in Manning while there and then came home. I finished the updates and scans on the computers and just goofed off. I did get the DMACC virtual lab on both my home computers up and running as they have not worked for quite a while. Seems the new Internet Explorer 7 shut down an obscure piece of the active X controls so It would not work. Oh Bother. Guess I better get moving and get this posted. Just Ramblering along and enjoying the ride. God bless and keep us all in his grace. Love Papa, Dad, Brother, Cousin, Uncle and all.
22 June 2008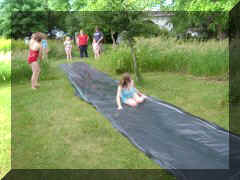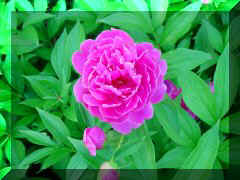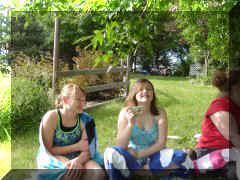 It's Sunday Morning and once again here is Lew. We had Steph's Birthday party yesterday and the slip and slide was a great success. She got many wonderful gifts and had fun we hope as it was a lot to set up the slip and slide for her. She invited one of her friends and then they watched scary movies on the large 6 foot projection screen setup and both spent the night here. It was so great to hear there young joy and laughter as they did stuff. Mema and I enjoyed it immensely. The week has been hectic and seems like I ran constantly but got zero done. How does that work. Had to take the radiator back in as it still leaked and he got it fixed this time but the overflow was full of solder so I just fixed that. Have found some motor mounts from one of the club members so will check on them. The big mower started to run funny and just stop moving and the blade would stop. Found the left engine oil seal was leaking and it would get on the drive pulley and blade pulley so had to run that in to the shop. No news on the shower door yet so will call this coming week to see where it is. Guess I better call Karen's Upholstery also to see if I was suppose to let her know when the Rambler was ready. Moms back has been a real wreck this week again but she has worked through it well. She had a hard time yesterday at Steph's Bday party. We finished most of the planting except for some Sedum and flocks. The tomatoes in the pot on the patio are doing great and have many small tomatoes on them but ripe for yesterday. Gary just came online so will chat there some. Had a nice chat and all is well there he said. Not much to say this week so will close with all my love and God bless us all. Love Papa, Dad, Cousin, Uncle, and all Lew
15 June 2008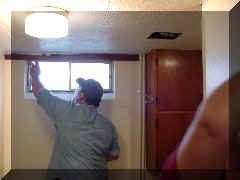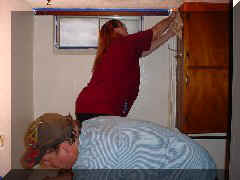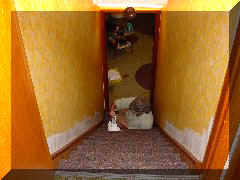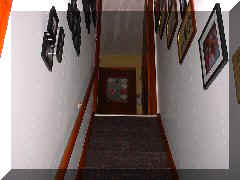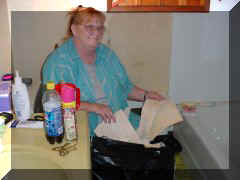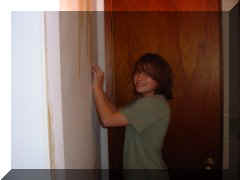 It is Sunday Morning and once again here is Lew. Brad & Mel came over last Sunday & Ben & Tammy were already here and Mom & I , as the pictures show, did a lot of remodeling in my bath room, the hall stairs, and Moms bathroom. What a busy day but much was accomplished and it looks so nice. I am still working in the bathroom with the trim and such and other small stuff. Monday I did the exhaust fan assembly with cleaning and greasing the bearings. I also painted the mirror frame and a small shelf the accent color and started on the trim cutting. Then Tuesday I started to mud in the edge of the shower wall to meet the painted area. Tuesday I also took the radiator and the heater core out of the Rambler to get the radiator fixed and figured I might as well get the heater core checked while I was doing that. Will put on new hoses also and then the cooling should be up to snuff. Also did some mowing then. Then on Wednesday did some more mud and cut all the trim for the border and gave it the first coat of paint. Mom did most of it along with the shelf for by the door. The accent color is a dark green. We were under tornado watch all evening Wednesday and that was kind of scary. It was more rain and stormy out like it has been all spring. Sometime Wednesday night we lost half of the big willow that Brad and Heather got married under so that is kind of sad. Thursday did some more work on the trim painting getting read to put it up and finished the metal cabinet painting so it looks nice. I also finished the sheetrock patching by the shower and it is now ready to paint as soon as it cures well. Mom and I planted the silver lace vine and put up chicken wire to keep the rabbits out. Mom was trimming back some of the branches there and cut her finger real bad with the pruning nippers. We doctored it up but still don't see how she got her finger there and cut so deep. Oh Bother. Friday I got the radiator and heater core back for the Rambler and did some of the mowing. Got the wall painted where it was patched by the shower and it looks rather nice and the trim painting is complete. Saturday I put the Rambler back together and found the radiator still leaks so need it back out and back to the shop. Got most of the mowing done but much of the yard is still wet with standing water so had to wait on it to dry. Put up the bathroom trim and now just have the hole filling and paint the patch and it is done. Just the shower door now and it will be pretty good. Can't wait as bathtubs and old guys don't work very well. At least not for me. Mom/Mema and I watched the notebook last night and it was a real tear jerker but good movie. I guess I better get this posted and get a move on it. God Bless us all till next time. Love Papa, Dad, Brother, Cousin, Uncle, and all Lew.
08 June 2008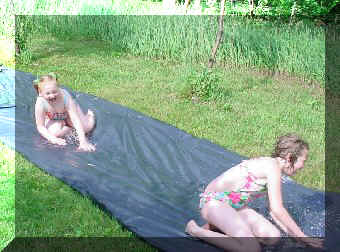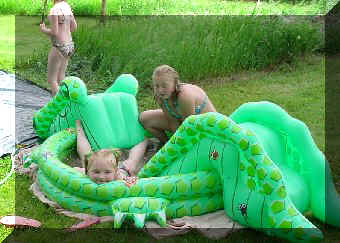 It's Sunday Morning and once again here is Lew. The highlight of this week was yesterday and it was our little Faith's Birthday. I grilled hot dogs and we had them with potato salad and chips and then opened the gifts. She got many nice new clothes and toys and then we went out for Mema's Alligator pond and slip and slide. The slip and slide was home made but it worked real well and the kids had lots of fun. They all tried to make it clear to the bottom to hit the mud hole. Faith brought her friend Alyssa and Courtney, Amanda, and Emma came with Dawn plus Grandma and all the rest of Brad & Heathers kids and Tammy and Ben came later so had a good turn out. We did games and then a Movie and then all went home. They are all such a joy. Got the Rambler all set up with the new water pump and discovered the radiator cap was wrong and then it had no thermostat in it. After all was up and going good with a new 190 degree thermostat in I found it has a small leak in the radiator tank. It calls for a 160 thermostat but that is to cold. Started to work on the front end and found some serious rust I was not aware of so that was a disappointment. Hope I can fix it. The weather has been just a mess, cloudy overcast and rain all spring and the forecast is we will be in this pattern till the middle of July. Oh Bother. I need sunshine I believe. Got some yard work done between the showers and most all planted but it was a chore. Still have mulch scattered all over to put down and the spraying for the creeping Charlie but can't do that in the rain. Just had a nice chat with Elaine and Gary and sure wish I could get more to check in. It is fun for me. Not much to write this Sunday so will close with all my love and have a great week. Papa, Dad, Brother, Cousin, Uncle and so on Lew.
1 June 2008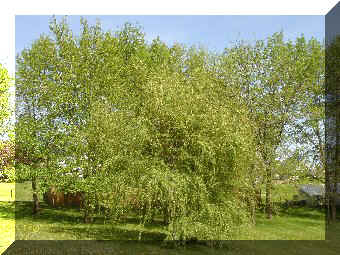 It's Sunday Morning and once again here is Lew. We spent all Memorial weekend working in the yard and did not go camping or even see any of our grandbabies. What's up with that. Of course Matt and Family are in Germany, Crystal had to work, and Brad and family were in the Dakotas vacationing. So Mom/Mema and I just worked in the yard and got a lot done. It is looking so nice. Cleaned up the garden as I said and then on Tuesday I hauled all the old carpet stuff from Brad & Heathers wedding to the landfill. Felt kind of sad. Tuesday I started on the shower removal and set up for a carpet person to look at carpeting the stairs. Wednesday found out the carpet guy can come the first week of June so am set to go on that. Also got the shower almost all out along with the sheet rock so am close there. Had to do some mowing also and the big mower had some sprockets loose so had to run to town to get some new set screws then a couple of the tires were low so had to fix them. Oh bother why me. Then I got the garden done and started on the set aside and trying to get around the Cedar that has grown so big I hit some of the landscape rocks and really messed up the blades and knocked the deck belts off. Go Figure sure great to have the Orcutt Luck. And the blades were brand new the last mowing so they have mowed the yard one time. Got most of the shower prep work done and just have some cement cleanup on the floor and have the carpet ready for this week as both will be here for that to get completed. Had to remake the whole mount system for the fixture for the shower as heaven forbid they could ever make anything the same twice in a row. Oh Bother!!! The water pump for the Rambler arrived but haven't even looked at it yet so maybe I can get that in today. Need to at least get the old one out and sent back as it had a $59.00 core charge on it. Mom got a lot of the flocks planted in pots and will sell it at the garage sale if I don't find a place to plant it first. That is very expensive stuff so I might use it somewhere. This week had much rain, and many tornados with a lot of damage in some areas. None here at our place just much rain. We got about 3 1/2 inches in a 24 hour period. Mom and I were out last night watching the heat lightening and we seen the Sphinx/Hummingbird moths are back. I haven't seen them for a year or more so that is great. It cooled off nice and nature put on a great show so it was fun. Got a lot of the mowing done last evening but the bottom area is still like a lake and just wet mud. Will need to let it dry some before I mow there. I did a repair for windows and all of the updates they have and put on service pack three and then did a virus update and scanned and it found a virus and the update for windows repaired some .dll files and some messenger things so it seems to be much better now. My wireless ISP, sprint, is not very well though. It's like they have booked to many accounts again for the service they have. It gets really stalled so you check speed and it says it is fine but it may take it 5 minutes to run the test. Then you set to roaming and it goes really fast and well but if you leave it there for several days it goes slow and stalls just the same. Running the speed tests it may just stop the communications for a minute or two but that does not affect the test results so not sure how that works. No or poor service to the rural areas sure is getting old. I shaved my legs, I paid my money, so play something country. Yee Haw. I guess I better get this posted and get moving if I am going to get anything accomplished today. God Bless us each and everyone. Love Papa, Dad, Brother, Cousin, Uncle, and all. Lew
25 May 2008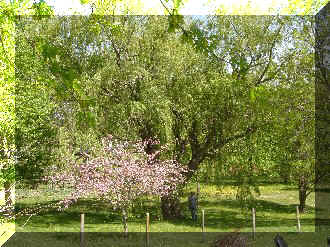 It's Sunday morning and once again here is Lew. Been a very busy week at work and at home but much has been accomplished. Still no word on the cub cadet but have brought the country clipper from the farm and will use that some till the cub is fixed. Tightened all the drive gears on the big Deines mower and adjusted the chains and control levers. Made it work better. Mowing is going crazy and the new grass I planted is up in the first spots planted already. Have really cleaned out the garden area but still more to finish. Have cut out all the wild trees and cleaned out the tree start area and mulched it well and have planted 10 Redbud and 5 Rose of Sharon there. It looks real nice. Have pulled up all the old pile of carpet to haul to the landfill from the garden so mom can use the regular area with the holes to plant her muskmelons. The carpet and stuff on top was from Brad and Heathers wedding for there walk to the willow tree and to stand on when they were married there so it was sad to see it go but is was all rotted and falling apart. The grape vines mom pruned are doing great now and really filling out. We got a hanging basket for the front of the house and mom has been working around the pond area cleaning it up and I am trying to clean up the prickly pear cactus bed area. We will have many cactus starts when I get done as I already have a 30 gallon garbage can full and have hardly started. It has really spread so need to make it small again. The pond is getting clear again so that is nice, we can see the fish again. It doesn't look like the water lily made it though as I can't see it yet. Will have to check by lifting the pot I guess. Brad, Heather, and kids left on vacation to the Dakotas Friday right after school so we are missing them a lot. They will be seeing Flintstones park, the Corn Palace, Mt Rushmore, Pioneer village and all that stuff. We got our little big girls, Faith and Sarah some disposable cameras for the trip and then got the big girls, Mel and Steph set with there cameras. Mel needed a memory stick and I fixed Steph's camera so it is working again and got her some extra batteries. We should be able to get some really nice pictures from all that. Took the big van in again for the Air conditioning as it has leaked all the freon out again for the third spring in a row. I ordered the rebuilt water pump for the Rambler so that should come this week maybe. Will schedule it in for the front end work so then will be usable. The computer has been not good so have tried a repair and all the updates plus got my virus program for another year and did all its upgrades and then scanned the computer. It found one virus and quarantined it. Then windows found several bad or lost files and fixed them and now seems to be working better. It also corrected some error with Windows live messenger. Might have saved some money there. Not sure though as Elaine sent Carol an E card from Hallmark for her Bday but it never would load. Guess I better get this closed and do the post. God Bless us all till we meet again. Papa, Dad, Brother, Cousin, Uncle and all Lew.
18 May 2008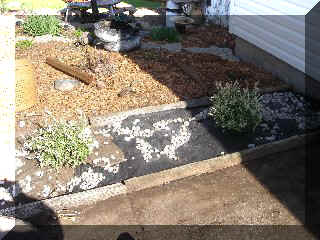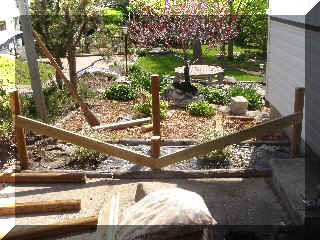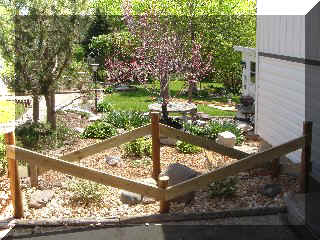 It's Sunday Morning and once again here is Lew. More landscaping completed and it sure is looking nice. Mom has been working up a storm and doing a great job but I think she is suffering more than she lets on with her back. We did a lot of work in the yard yesterday as the pictures show the new clean up by the garage. We also worked in the garden area, trimming the blackberries and getting ready for her birdhouse gourds, and will again today. Will be working on mom's tree thing she wants also where we cut down the ash tree. Also put down some shade grass seed in the shade areas where the grass is dying from all the shade we have now from all the trees we planted years back. We got the fence all moved last Sunday and it came out nice so just have several posts to get straight and that part will be complete. Treated the pond again and did the filters so it is somewhat cleaner but still not clear. Might have to drain it and clean it out well to get it clear. Got the new filler hose on the Rambler and it works great so will be good till I get the right one. Also greased the water pump good and tightened all clamps and will run it some to see if the seal will reseat itself or I will need to take it apart to put in a new one. Got the camera from our little Steph that she told me some time ago had quit working and was able to get it going again for her. It is really a great camera but rather slow on the recording feature as it is the old Floppy disk technology. It does wonderful pictures though. Also found a extra 128 MB memory stick for Mel's camera as hers was lost on the Germany trip last October. Now they should have them all set for this summer and I should get many real nice pictures from them. Right Girls. Papa Loves you. My weight loss is going well I believe and seem to have started to lose the belly and about 20 pounds I think. Mostly from all the outside work I believe. Got the beans in this past week so the farm work is caught up for a time now. I loaned the pickup to Brad to go to help a friend in the cities for the weekend so am using the big van. It needs to go in for the air conditioning again. What's up with that. Was real busy week at work again as we got the painting finished and the automation up date completed also. The aspen trees both at work and here at home have finally put on leaves so guess they made it through the winter. I thought they were dead but are just a late bloomer I guess. Need to get down some weed killer and then treat for the creeping Charlie again and should be pretty good for awhile. The day is dawning just beautiful so I better get moving so God Bless us all and watch over us. Love Papa, Dad, Brother, Uncle, Cousin, and all Lew.
11 May 2008
It's Sunday morning and once again here is Lew. Excuse me that is my planter with Coral Bells planted in it. Been real busy this week and last Sunday Elaine and Susie stopped by for a visit as they were over to Manila. Had to run the push mower back in as the blade belt was still slipping. Hauled the Cub Cadet in also as the engine is making a funny knocking noise. Also the oil light on the big Deines came on but was able to fix that myself yesterday. Got the country clipper running over at the Barn and got that mowed yesterday so it looks better now. Still need to get the set aside and then all will be done for a day or two. This time of year it never lets up. We did get most all of our landscape plants in but still have the bare root ones from the arbor day foundation. There is still one package to come from them. We got the corn in last week so should be good there. I have most of the staples pulled from the fence as we are going to set fence today when the kids get here. Have about 30 posts to set and the fence to stretch and reattach so hope is is not to wet as it rained yesterday afternoon and all evening. The last time I worked on the Rambler I forgot the key on so ran the battery dead. Hope it will take a charge and didn't burn up the points again. Oh Bother. Mom has been going pretty hard all week and her back is still not improving. She sure has the landscaping by the garden shed looking good. We still need to finish the fence there and put in the rock. Karen's Upholstery called and can get the original material for the Rambler headliner so told her to go ahead. She will have that in about 3 weeks. Better get the water pump fixed and the gas filler pipe done so I can drive it there. Sure will be glad when it is done enough so I can really drive it some. All week at work was working on the automation system and changing from pneumatic controls and valves to electronic ones so it sure was a hectic week. Have a few valve leaks to address yet but then will be good there. Also had all the mowing there along with all the regular work so was a busy week. We missed our little Steph's concert but moms back was really bad and I was beat. It is now officially spring as we have four pair of orioles, several hummingbirds, and at last count about 30 male Goldfinch. The wind is blowing like mad though so the oriole and hummingbird feeders will be empty soon. I guess I better get a moving and get this posted and get ready for the fencing project. God Bless us all and see you on the flip side. Love Papa, Dad, Brother, Cousin, Uncle and all Lew
04 May 2008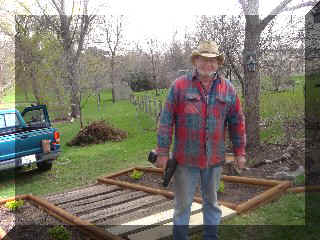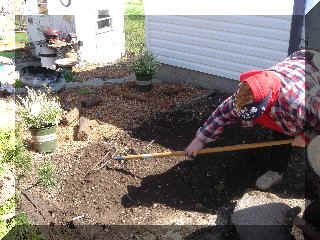 It's Sunday morning and once again here is Lew. Mom and I said several years ago we were not doing any more new landscape areas so as you see in the pictures here are two more new areas we are not doing this year. It sure gives us lots of free time since we started that policy. Mowing is going full speed and the outside work has begun in earnest. Not much done on the Rambler but did get the horn parts for the steering column and it is working now. Got a gas filler pipe also but will need to redo it for it to work. Might get back to it some when I get caught up outside. Need to get the water pump rebuilt so it don't leak so I can drive it some anyhow. Have not heard from the lady on the headliner but if I get that done then it will at least be show able shape. The radio is working just great and the clock is keeping really good time. Mom has been outside helping so much but her back is still terrible but she is doing it anyhow. It is so much fun with her there doing it with me. We got the stair area all redone as you can see and working on the top by the garage also. Mom cleaned out all of the hosta's area by the shed and did some of her sedum and flocks there also so that is really Kewl. We took out almost all of the blue rug juniper as it is not a great landscape plant after a few years. Had to use the truck and a chain to pull them out but got it pretty clear. We have the planters all filled and the patio flowers in there beds. Mom is real happy with her work but is sore and achy although this last two weeks she has been able to do more that way than in the last several years. I pray it isn't doing any damage. We got several new plants and have added a climbing rose by the garage for moms birthday today. It sure is pretty. The petals are white with very red edges and is a hardy rose for this area that you don't need to cover or bury or any of that. Sure hope it works like the double knock outs do. Had to take one of the chain saws in for repair and now I think I need to get the engine on the cub rebuilt as it is making a real knocking noise. Also took the push mower in as the clutch belt was slipping and will not cut if it gets a little heavy with grass. I changed out the blades on the zero turn rider but the set I took off were wore out so had to order another set so I still have a spare set on hand. Still need to put down a bunch of dressing mulch and then pull all the rocks around the pond and reset them and the flowers. Who dreamt up all this stuff anyhow. Sure wish they would come do the work. Oh Bother. Guess I better quit Ramblering on and on and get this posted and get ready for church. The day has dawned beautifully so God bless us all and have a good week. Love Papa, Dad, Brother, Cousin, Uncle, and all. Lew
27 April 2008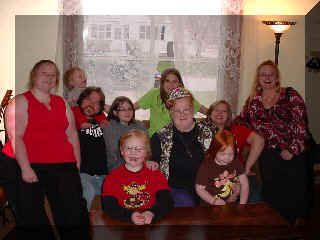 It's Sunday morning and once again here is Lew. Been a very busy and successful week. Got some work done on the rambler but needed to order some more parts for the horn assembly so they are coming. Got some email on some of the other parts needed so will figure them out later. Cleaned up many branches and twigs in the yard from wind and such. We got Mom/Mema a whole bunch of plants for the yard and have got some of them in. We started to clean out a juniper area and redo it so it is not so much work and it really looks nice so far. Have some plants to put in one of her planters and moved another one so have to add some plants there. It will be really nice when done but sure is a lot of work. Mom/Mema took some pain pills and did much work with the plants yesterday so hope that wasn't a mistake. It sure was much fun doing it all together and seeing the results. Last night we went to Brad & Heathers for Moms Bday and Tammy & Crystal came also as they are going to Omaha with Brad to Church Rock concert today. Should be fun there. We had some Pizza and opened the gifts and then played some Cranium with all but the real small kids and it sure was fun. Last week was Earth day at work so did much of the same outside work there and got it all cleaned up and planted 5 trees and many plants and planters. Spring is here and sure hope it is not to early as it is still only April. The nights are chilly around the freezing point so it is iffy. Also checked out the NADA book value for the Rambler and my best guess would be 6 to 8 thousand dollars so guess I got a real good deal. No matter it is fun. Elaine and Gary came online so am chatting with them also. That is Kewl I am multi tasking. YAY. Guess I better get his posted and get moving. God Bless and Love to all. Papa, Dad, Brother, Cousin, Uncle and all Lew.
20 April 2008
It's Sunday morning and once again here is Lew. What a week this has been but have much done. Yesterday I got the freezer cleaned out and defrosted all the ice that should not be there and then mom/mema & I sorted the freezer stuff and organized it and then did lots of work in the attached garage getting ready for the garage sale. I did some work on the Rambler and it is sure getting sweet. You can read the progress on the rambler page in the journal there if you like. Had to clean the filter in the pond twice and it sure is clearing up and looking good. Mom/Mema and I went to town yesterday also and did some shopping and then ate out at Yan's. Have some tree limbs down from last weeks wind so need to get out and get them cleaned up. It's my guess I will never run out of things to do. The battery back up for my computer died this morning so had to wake up to it beeping at me. Oh Bother. It is really an irritating noise. I see Elaine just signed in so will chat some. The rain here has finally quit so that is nice as it has been such a dreary spring so far. I need sunshine and it has been lacking here. I have much of my domain set up and it is going good so far but much to learn yet. Have started some of the spring stuff and we are going to plant the 4 O'clock and morning glories today. Need to clean up the patio area so may get that all after church today. Spring is in the air. Had a good chat with Elaine. Called Dewayne and told him to call home as mom needs calls from time to time. Just got the machine so left the message. Guess I better get this posted and get moving here. God Bless and Love to all Papa, Dad, Brother, Cousin, Uncle and all Lew.
13 April 2008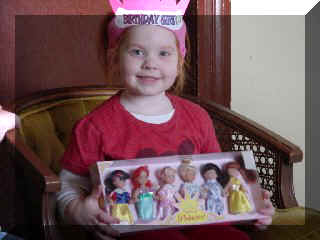 It's Sunday morning and once again here is Lew. We celebrated Sarah and my Birthday last Sunday and it sure was a fun time. I got many fine gifts for the yard, some canned nuts, some Nash books from mom, feeders and things from Tammy last week and Sarah got many toys and new clothes and things so it was great. The best gift for me was just being together with all the family. Got some stuff done on the Rambler and got the generator that was rebuilt so had to rebuild it. Oh Bother. The armature was out of round out of round so had to turn it and one lamination had a broken wire so had to weld that back because the brushes were arcing very severely. It did work before but now it works right and won't eat the brushes. Also got the new audio output transformer for the radio so should have that all going next week. Been doing lots of work on my new domain so I can have it all at one place. Got site builder from Homestead installed for mom so now she can do more with her sites. It has been several years or more since she has worked on them. We got snow yesterday and it was cold and wet but did not stick much and is suppose to be warm today so it should not last and most was gone as it fell. Mom went to the foot doctor this week and it was fine and healing real nice and the doctor said she don't need to come back unless she has a problem. I was late mailing out the Bday and Anniversary cards again so I wonder why I even thought I could that. It was a resolution so will keep trying it. I cleaned out the double garage some this week as I had just left project junk and stuff everywhere. What a job that is and still need to clean the work bench and table. Today dawned cold out again and winter is back in the air but still need to treat the fish pond as it is really doing well. The rabbits chewed the extension cord in halve so not sure how long the heater was off but must not have needed it as it all was well. I got music downloaded for my site but some of it will not work. What a joke some of that stuff is. Oh well I guess I better get posted here and get a move on it. God Bless and my love to all. Papa, Dad, Brother, Cousin, Uncle and all Lew.
06 April 2008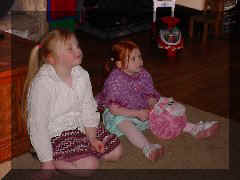 It's Sunday morning and once again here is Lew. Been busy this week with my web pages rebuilding and moving them. I have my own domain now and all my pages are there. All the old links you have have disappeared except my Juno email. To get to them now just use this link http://www.lewzplace.com/ and that will get you to all of them and you can add them to your favorites again. Let me know what you think and what things might not work. Got some work done on the rambler but will need to rebuild the carburetor as it idles real rough and can't seem to get it going smooth yet. Got some outside work done but not much and got the truck and van detailed so they look nice again. Called sprint about my connection problems but not sure they will help much. Got a call from Bob Fischer last night and was informed Dick had open heart surgery but is doing fine and should be home soon. Had a valve not working right I guess so keep them in your prayers. He talked about a trip there for some fishing and that sure would be fun. This year is going to be very busy here as we have family coming from Norway so need to get set up for that. Today we celebrate our little Sarah's birthday so better get moving here and get ready for church and that. God bless us all. Love Papa, Dad, Brother, Cousin, Uncle and all. Lew.
30 March 2008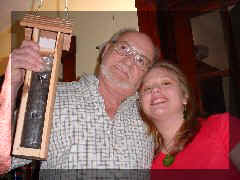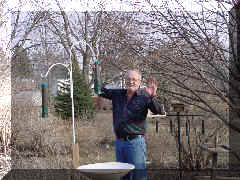 It's Sunday morning and once again here is Lew. We survived Easter and had a great time at the kids. Tammy and family can't make it down for my Bday so I got some gifts then which are really Kewl. It was some finch feeders and some finch food. They are up already and doing fine. We didn't make to Ellen's yesterday for the family Easter as Carol's back was really bad again and couldn't travel or sit that far. We are going to Omaha next week for an MRI on it to maybe finally find out what's up. I did some yard work but then just vegged yesterday. This week I got all the yard equipment running and ready for spring and did some work on the Rambler but need to wait on some parts I have ordered. It will be slow work I think but want to do it right so will take my time. I did bid on a rebuilt generator on Ebay so if I get that I will be able to get the electric all back to 6 volts. Elaine was just online so had a nice chat with her but missed Barb this morning. Guess the Sunday morning chats are just us three normally. The snow is gone again so hope it stays that way. I have had enough for this year. I got the pond cleared some and started the spring cleanup process of it and it is looking better already. It gets kind of cloudy and bad in the winter. Talked to Matt yesterday and found some of the picture disks he sent us so will copy them and send them back to him since he lost all the ones he had when his computer and things were stolen. Remember Backup Backup Backup. I guess I have rambled on enough here so will post and get going. God bless us all. Love Papa, Dad, Brother, Cousin, Uncle and all. Lew
23 March 2008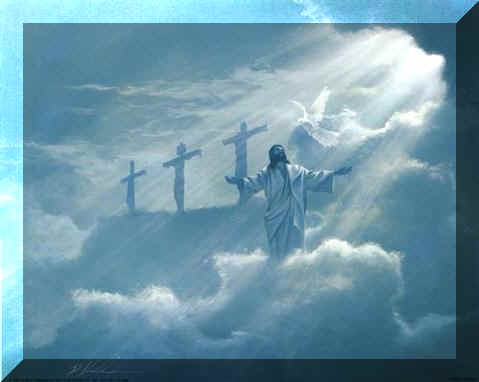 It's Sunday Morning and once again here is Lew. HAPPY EASTER to all and I am posting an article written by Carol Orcutt, Mom/Mema, My wife as one of the articles for her column for the Marion Sentinel. This was written for Easter Sunday in 1974 for her Special Person column. God Bless us all and watch over us on this special time when God sent His son to suffer on the cross for our sins and rise again to give us life everlasting. Love Papa, Dad, Brother, Cousin, Uncle and all. Lew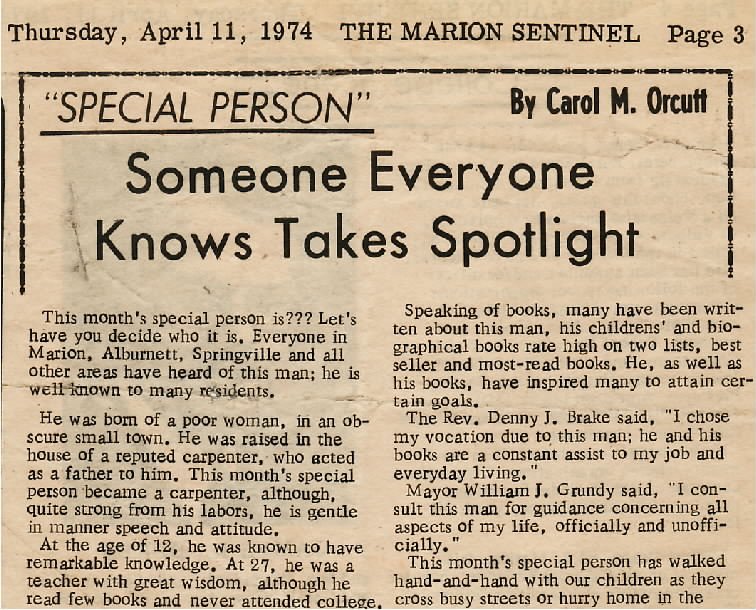 09 March 2008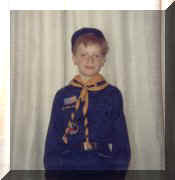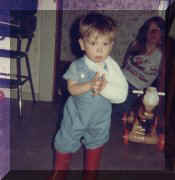 It's Sunday morning and once again here is Lew. Mom/Mema has had back problems all week and not able to hardly move so that was not fun. It got some better on Thursday and she went to the doctor on Friday and we did grocery shopping and ate out so that was fun. I worked on the car some and is running nice now so will get the compression done and then good to go. Got the hood ornament but It is not the right one so am checking on that. Have some other stuff from the Nash club on the way also. We also got the wall clock mom ordered and it will be fine but sure was packed bad. A couple of pieces of the wood broke off but was just at the glue joint so is an easy fix. I have adjusted, cleaned some and calibrated it and it will be a nice clock. After the balance I have had to slow it down 3 times already so is getting much better and the tick tock is close to and even tick tick as it should be. It says Sony on it and I have never heard of that in a wind up clock. It was fairly warm all week so am really getting the spring bug. Next week we are on spring break at work so may get some outside stuff done. Need to clean out the storage areas and send stuff to the Africa schools group and much to the landfill and salvage yard. We had the Phi Theta Kappa Easter egg hunt at work yesterday and I drove the old Nash to it but found out it still needs some fine tuning as it wants to cut out a lot like the points are bouncing and is running too rich. Ran pretty good other wise. Did steaks for supper last night and were they ever good. After the doctor appointment on Friday mom got a good nights sleep and her back was really much better today. She did take a new pain pill he prescribed so maybe that helped. We even went to Kmart shopping and got groceries after the appointment so lets hope we are on the right track. They are setting up an MRI to find out for sure what may be the problem and if it can be fixed without surgery. Matt called Friday night and told us his house was broken in while he was away and all his computer stuff was stole. It had tons of information on it including some family and friends emails and such so if you get some suspicious mail or requests that look like they came from him or his web site use caution before accepting or doing any thing, check with him first. I started the spring clean up on the fish pond so it should be good by the time it is warm out. All the fish survived well and are sure growing. Will see later if the Lily and all the plants made it. I guess I better post and get moving as it is getting time for church. Love to all and God bless. Dad, Papa, Brother, Cousin, Uncle and all. Lew
09 March 2008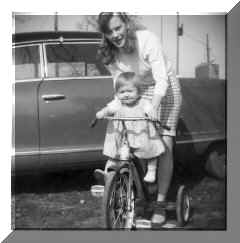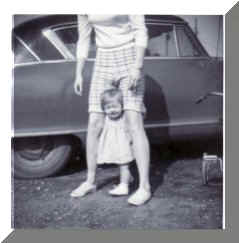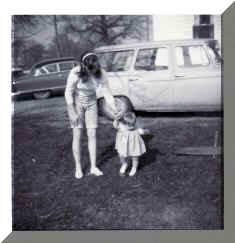 Its Sunday morning and once again here is Lew. WOW does the little Rambler in the background look familiar. That was in 1964, Tammy was 11 months old and it was our second 1953 Nash rambler (beep-beep). We traveled around Oregon in this one and made several trips to Iowa in it. The first one I had when Mom/Mema and I had our first, sort of date, as I could only meet her with her parents at the bowling alley and we got to go out to see my car and visit. Another time later on we got to drive in it to the store a few blocks away to get some Ice cream for the family and I made many trips to the cabin in it to see her. I can't remember if we really got to have a real alone date with it or not as that was many years ago. We did get to ride in it to the farm up the road from the cabin for some water and such and I think we got to go Alburnett once for a pop. We have now come full circle and as you see from two journals ago we have another one. The first was an automatic and red with black top and the second was a manual with overdrive and red with black top and this one is a manual, no overdrive and gray with red top. God has truly blessed me with a wonderful family and life and can't figure how I deserve the wonderful Wife, Kids, and Grandkids he has given me. We had more snow twice this week and it sure is getting old. Have not heard back from the people for the bid on the shower so will need to check with them next week. Mom/Mema has been under the weather some this past week and I didn't get much done so has been a poopy week. We had our little Sarah on Friday all day and then when I got off work we ate out at Yan's Buffet and then went shopping at the new Super Wal-Mart. We got our little pumpkin some clothes and shoes and toys and then came home and watched some movies. Her and Mema were still up when I went to bed and then they slept in on Saturday. We took our little pumpkin home about 3:00 and then went to Wal-Mart again as mom wanted some stuff. We decided it is way to big now and has even less than before. Can't figure out what the use of one is. We watched some TV when we got home and then went to bed and here I am. Elaine is here so been chatting some on MSN but no one else showed up. It's magic cause as soon as I said that Barb came online so we had to chat also. Guess I better post this and get moving. Love to all Papa, Dad, Brother, Cousin, Uncle and all. Lew
02 March 2008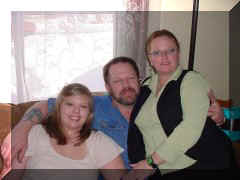 It's Sunday morning and once again here is Lew. What a week and had to shovel snow twice. We have been very lucky and received very small amounts of snow but has been continuous at almost twice a week for about 8 weeks. Oh Bother. Ordered some parts for the Nash at NAPA and picked them up on Saturday and Brad is coming today to help with some of the exhaust system. I got some gaskets, clamps, muffler, choke stove, and penetrating oil. I won the bid for a hood ornament for it so now just need the two hubcaps and some small emblems and chrome refinished and will be good. Friday night we had all of the kids spend the night with us for a birthday present for Heather and we had a lot of fun. We watched movies, had pizza, had chips and dip, and then Saturday we had sausage and French toast for breakfast and then chicken corn chowder soup and Spam sandwiches for lunch. Had fun and then took them home about 3PM. Mom and I just vegged last night and am getting going early for church today but mom may stay home as she don't feel so good. Temperature was in the 40's yesterday and is suppose to be the same today. It has started out real warm and the snow sure went away yesterday so may be all gone today. I am on the third contact with HP on the memory for Laptop where they are suppose to call me in 24 hours. I guess they cannot tell time so how can I expect them to get the computer right. It's a funny world we live in isn't it. Barb just came on line so have a chat going there but have not seen sis yet. She must be sleeping in. Opps she just got here when I said that so I must know magic. It is starting to get light around 6 in the morning now and is pretty light by 6:30 so spring is in the air. I am so ready for it to get nice. Guess I better get this posted as I just seem to ramble lately. God Bless and see you next time. Love Papa, Dad, Brother, Cousin, Uncle and all Lew.
24 February 2008


It's Sunday Morning and once again here is Lew. What are you looking at me for I don't have anything to say, I'll just bow and get out of your way. How about my new toy. It is a 1953 Nash Rambler Country Club, Beep Beep. It is in fair shape but needs work. Did an all niter to Illinois to pick it up along with the company of Brad and it was a great time. We had so much fun and we left our place at about 7:45 Friday evening and drove all night and got to Centralia Ill. at about 5AM. Found the u-haul rental place to rent a car transport about 5:30 and slept in the lot till about 7AM. went an got breakfast and then back at 8AM for the trailer. Picked the car up at about 9:30 and then headed back to Iowa and got home about 8PM Saturday night. Boy was I tired. Sunday we went to Heathers birthday at there house and Tammy and family were there also and we ate to much and then opened gifts and then ate more with some cake. The week was very cold but did warm up on Saturday and Sunday so that was nice and we finally had some Sunshine and that really lifts the spirits. Mom had a doctor appointment on Thursday but did not learn much there. The heart and all check good but they did not have a reason for the flu symptoms she has but gave her some anti-biotic to take and see if that helps. Not much insight from them on what goes on. Still going strong on the shower and have some people coming tomorrow for an estimate for tiling and installing fixtures along with the glass block and door. Been working with sprint on my connection for the internet but have not received any mail back or anything from them. Not sure but they may be not my best choice for all the wireless stuff. Guess I don't have much for now so will close and post this. God bless us all. Love Papa, Dad, Brother, Cousin, Uncle and all. Lew
17 February 2008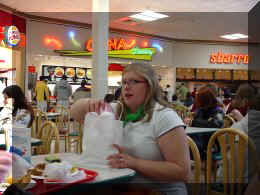 It's Sunday Morning and once again here is Lew. A really windy morning this morning and forecasts of rain and snow are in the air. Sure hope it misses us and goes to the east again. Oh My they have had there share all together so maybe just leave. Been working still with Sprint our ISP on speed stuff and Matt tells how to do some pings and tests and after some time outs and such says it is a connection problem. Also been working with HP on there Pavilion notebook paging file size and finally they are going to set up a different memory stick for me. Not sure that will fix it but will try and hope so. I need 1 GB ram to run Dragon speak a voice recognition program, HP says the Pavilion ZV5000 will run with 1GB or even 2 GB of ram so I got one from HP and then the paging files do not work for some of my other programs. If I put the old 256 MB of ram back in the paging work fine so either the 1GB memory stick is bad or the computer will not operate with 1GB. Go figure. Oh Bother. Have the plumber coming next week to look at my shower so the house updates are starting. Need then to get the stairs carpeted also as they have needed it for about ten years now. Lets don't rush into stuff. Mom is doing some better and is getting out more and feeling better I believe. We went to Brad & Heathers Church last night for a valentines supper and skit and is sure was good. The kids did a great job and we sure enjoyed it. Elaine got back into Lewzplace but with a different login but guess that is good. Will continue to work with the old one if I can. Just looked outside and the rain is here now and the snow is mixed in. I just told Elaine and Barb on Messenger that we were not getting any. It's Iowa, if you don't like the weather wait 5 minutes it will change for you. I was hoping to catch Matt on messenger today but guess he is real busy now with the kids and all. I started on redoing some of the kitchen yesterday but that was mostly just cleaning. Will we ever get it all done. Guess I better leave here and get busy. God Bless us all and watch over us in our daily struggles. Love Papa, Dad, Brother, Cousin, Uncle, Etc. Lew
10 February 2008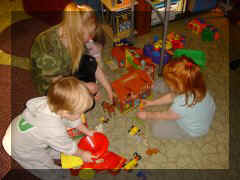 It's Sunday morning and once again here is Lew. Been a busy week but much accomplished and later today we need to run to Sioux City to return Mom/Mema's sewing machine as it is not right. Tuesday the 5th I spent much overtime at work getting for, setting up, work during and teardown after a program called from Africa to Iowa, about diversity. Then on the 8th I spent another very long day for PHI THETA KAPPA to set up, monitor and teardown again. Then Saturday we had classes I had to open for and then close for. And then there was still the snow cleanup and treating besides all the normal tasks. It was very hectic and then the big floor scrubber went bad just when everything is getting tracked in so had to fix that. Could not get any solution through it and the people that sell and repair them did not have clue except just replace the solenoid. I figured it didn't work so just tore the solenoid apart and discovered the rubber flapper had expanded and would not let it open so just cut the edge off and it all works like new again. Go Figure. Oh Bother. On Saturday, yesterday, I shut down our water here at home and replaced the fill valve and flush valve on my stool and added a shut off valve, and replaced the faucets and drain on my sink. This took a lot of the day, WHEW I must be getting old as it sure was a struggle to fit under that darn sink. Well it is done and have not heard from the shower people so am going to check some other place to see what they can do or maybe will just see if I can do it. Should be able to get that done in a year or so at my speed. When we get that in it will be time for the walls and floor and then it will be in good shape and then on to the kitchen, mom's bathroom and the hallway. Guess we will dress up the whole house before we are done. We missed the worst of the snow again this week but still got enough to have to shovel and move it. Eastern Iowa has just been buried all winter but not us. Knock On Wood. Been hearing a funny noise on the ranger and just discovered today it is a piece of the exhaust tin flapping on the frame, must be time for some exhaust work. Mom had a foot appointment this week and it was good. The Doc said she can do normal stuff and there will be soreness but that is good just to proceed carefully and use the boot if it gets bad or put the foot up again. Still struggling with HP on the laptop and it has become very evident that they do not have a clue what they are saying to fix the paging file system. I will keep sending mail until they get it right or tell me they can't fix it. Yes I am being an old poop. Better get moving if we are going to get to Tammy's. God bless us all till next time. Love Papa, Dad, Uncle, Cousin, Brother and all, Lew
03 February 2008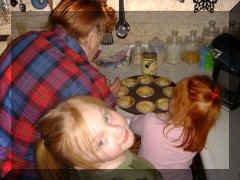 It's Sunday morning and once again here is Lew. Been a rather poopy week with computers crashing, programs not working, mom/mema not feeling well, van computer going dumb, dusting of snow and this was all one afternoon. Saturday we got a grandkid fix as the picture shows and two of the little ones helped Mema make some dessert after a real great meal she made for us all. It was a fun day and we played bingo and won prizes and really enjoyed. Well Mema and I did anyhow. Got the Sony camera back once again and I believe they got it fixed right this time. Knock on wood, at least the focus seems good now and the pictures come out great. I made some pages for the grandkids photo journals but they were a mess as the computer is really dumb again. We got the van fixed and all that was needed was to disconnect the battery for awhile and then reconnect. Got us a new hose setup for the central vac as the old one is really bad. Been in communication with HP on a paging files problem with the laptop, WOW where do they find those people. At best his English comprehension is poor and his reading skills are somewhat worse. Oh Bother. Well I will get it figured out some how if it takes forever. It's really not that important but it does drive a person to drink. Have been watching a 1956 Dodge town wagon on Ebay and sure would be nice to have. It is green but needs some work and is way to high priced for what it is. Maybe I just don't know what stuff is worth any more. At any rate it is the six cylinder and has floor shift transmission but needs care all around. That would be so Kewl. Elaine got on this morning so messenger is fixed and that is nice. Is good to talk to her again. She is wondering if you all got your Christmas decorations as she hasn't heard. Let her know, Send an Email and say thanks they are so Kewl and were lots of work as you can see if you got them. If you didn't please let her know also as it means a lot to her. Temps have warmed up some and the snow has let up and the groundhog didn't see his shadow so spring will be here in 6 weeks. How does that work, if he sees it, there is another six weeks of winter and if he don't see it spring will arrive in six weeks. Must be something wrong with my math calculator or is it the new math. Hee Hee. Guess I better get this posted and be done with it as I am just babbling. God Bless and love to all. Papa, Dad, Brother, Cousin, Uncle, and so on. Lew
27 January 2008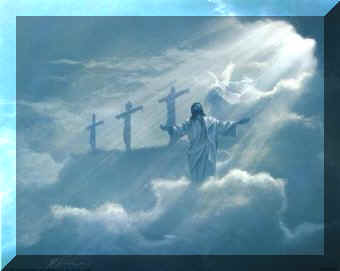 It's Sunday Morning and once again here is Lew. I have puzzler for you all this week. As the week progressed I was availed by our local meteorologists that the temps would be frigid with some small chances of snow flurries but no accumulation. That is all well and good but here is the part that I need clarification on. This week I have shoveled about 3 1/2 inches of the non accumulation snow and it does not shovel any easier than the snow that does accumulate so what am I doing wrong. There must be something I do not understand about accumulation or do I just have the wrong shovel. Oh Bother. Has been a busy week at work as the temps have been a lot in the negative directions and that always brings out the problems with the heating stuff. Don't you just love all that technical jargon. At any rate things have locked out on Freeze stats and even had to get a heater for the ICN equip room as the temp got down to there alarm set point. Have moved the same snow more than once and that is fun. Had to fix the snow blower at work as I hit a chuck of ice or something and sheared the shear bolt and also had to work on the auger drive system as it would slip some. The vehicles have been groaning when you start them in the mornings so winter has arrived here at the ranch. Mom/Mema has been struggling all week with her new machine to have it do some things she thinks it should. I am no help there as I don't know what the machine is supposed to do. We looked for the instruction CD all week with no luck so I ordered a new one. The next night we found it. It is real Kewl and does so much stuff and she can do that but the things she thinks it should she can figure out. It is all computerized and to Techy, we need to just give it to the grandkids and tell them to show us how to do it. Mel where are you when we need you pumpkin. I sent the Sony 5 mega pixel camera back again as the pictures are still not very sharp. They said they had that problem and did this under warranty and put in a new CCD block assembly what ever that is. We will see when it gets back. So far the new technology world has not impressed me very much. I must be getting old. The twilight came earlier this morning and was already getting light at 06:30 so spring is on the way. It is really nice out also and suppose to get in the 40's today so it will be a big warm-up here. Mom and I went to Fort Dodge yesterday for the machine and it is not doing all the things it should be doing so will take it back up to Sioux City to get it replaced. On the way back all the instrument gauges quit in the van but was not a fuse that I could find so don't know what that is. It is always something. It did other goofy stuff also so must be some feedback or something shorted on the new computer controls stuff. Pretty Techy talk huh. I see several people on line and Matt is there. First he said away and then just changed to online but no response so either he or I has a problem with messenger. Go Figure. Elaine still isn't running I guess as she had her computer in the shop. Richard came on line also but did not respond so guess I better check my messenger and computer. I can always visit with Barb though. Oh Well better get posted and busy. Love to all and see you later. Papa, Dad, brother, Cousin, Uncle, and all. Lew
20 January 2008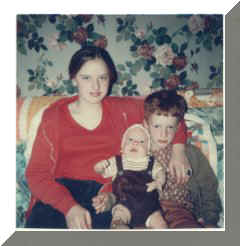 It's Sunday Morning and once again here is Lew. Would you look at that picture, those are all my babies. Wow where has the time went, I must sure be having fun. I started my old hand made kit clock to run for awhile and it sure works nice. I broke down this week and got a new pair of boots but the old ones are so comfortable that I took them in to get new heals, dyed, and some places sewn. They are almost two years old but should get another two or more years out of them now. The new pair are the same ones by Durango and sure don't like to break in a new pair but they are so comfortable when you get done. We got some real heavy snow on Thursday morning and had to go in early for that. Started at 4 AM and worked almost 6 hours clearing it out cause it would drift back with the wind. Then got some more on Friday but that was just a dusting but still blew and drifted a lot. Friday the temp also dropped to about 10 degrees with the wind and then on Saturday in the single digits with 20 degrees below with the wind chill. We can not complain though as the winter has been real nice and we are already half way through January and the days are getting longer. Been watching a 1956 Dodge Lancer 2 door hardtop on Ebay but on Friday it was at $6,000.00 and has not met the reserve so guess I will forget that. Mom got her boot off on Friday and she was glad of that but she still needs to not walk lots and it will be another couple months before it is healed enough to start back to normal they say. She may be going to fast as it hurt a bunch on Friday night but we did a bunch of walking on Thursday night after she got the boot off. I got a new faucet for moms/memas bathroom and put that in on Saturday without any problems. The hardest part was I can't get bent around and fit in small places like I used to and then getting all the junk under the sink out of the way. Hee Hee. We were looking at things we would do this summer with Kids, grandkids, family and all and after some discussion we decided this summer is an US summer and we are going to do outside things, house fixer upper stuff, and such. We have painting to do, library to finish like we want, kitchen to remodel some, both bathrooms to update and more so will be a busy summer I guess. I was thinking we would start off in late May right after school was out with a campout at our place, followed by the one by DeWayne in July, then Elaine's in August plus one in there on the road sometime for the grandkids, and then ours again in September plus all the birthdays and summer picnics and such. Guess I wasn't thinking very well, when you get it down on paper, it is enough to wear you out.. We will still have loads of family time but will start with the garage sale mom has wanted for a long time now, mixed in with the bathroom repairs and updates and all the rest as the summer progresses. Will put some carpet on the stairs also. I guess we have started with the new faucets in moms bathroom huh so that is good. Checked the car again on Ebay Saturday morning and the reserve was met but was at $12,700.00 and then 20 minutes before it ended last night it was $13,700.00 and that's what it went for. Oh Bother. Mom and I went to town on Saturday for some grocery things and other stuff and did some checking there and online for a new shower for my bathroom. I have just about concluded that the online search stuff is about useless as I can never get anywhere to see any thing. I went to our Ace where there were many shower enclosures but ACE online has one enclosure and several bases. What's up with that and how does that work. My search capacity is very narrow I guess. The computer seems okay again but the internet here is slower than snail snot. Mom slept in on Saturday so hope that helps some as she hasn't been sleeping well lately. We got and Email from the family in Norway and they may be coming over this summer also for a wedding in Seattle and may get to meet them and have a visit. That would sure be a great thing and fun to meet them all. Not sure of the time yet so hope that works out and they can make it. We may have a real full summer anyhow. Guess I better get to posting this and get busy. God Bless us all. Love Papa, Dad, Brother, Cousin, Uncle, and all. Lew.
13 January 2008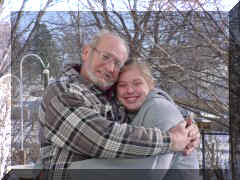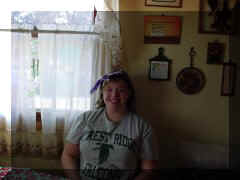 It's Sunday morning and once again here is Lew. What a week this has been. Elaine lost her sign in for Lewzplace and for her MSN messenger so that is why she hasn't been there for our Sunday morning chat. Of course when I try to help and get it to work the whole world comes to an end on the computer side. What's up with that. Then you send a email for help and they turn it into a huge whatsit thing and who knows what. OH BOTHER. Might get her back some day. There has been snow most of the week but it was all around us and not right here. I'm liking that. Had some flurries yesterday but not accumulation just pushed some dusting from the walks. Went up to Brad's on the 10th for our little Amanda's birthday and then Friday she went to stay with her mom as a trial as directed by DHS. Where did they get that dumb idea. We will sure miss our little darlin as mom isn't wild about us and may not let her come see us. She belongs with Brad and Heather anyhow with her other sisters. Been working like mad on the taxes as that appointment is getting close. Decided to not do the bookkeeper style this year and just log the money comes in, the expenses we had, the money left was profit. How simple can that be without the columns and columns of useless bookkeeping rows. That covers it all. Just have some medical left and will be done but probably not enough there to help us much. The doctor called a little before moms appointment for her foot Friday and said he couldn't make it so rescheduled for Monday so have the boot for the weekend yet. Mom has slept a lot the last few days as she has a bad cold at least I hope that's all it is. Her foot seems better but her back is still giving her fits. Just signed into messenger to see if anyone shows up there before our time. Have sent several Emails to Germany but no response yet so maybe it was just us that got excited about the contact. It would fun to set up some communication again there. I did a special crock pot chicken meal yesterday for supper and it came out real nice so I may be the crock pot cookin queen so far. Hee Hee. Have done quite a few of them lately since mom is semi laid up. Got the computers mostly running ok again but am knocking on wood cause they don't last long. Elaine sent me some of the Orcutt family Christmas at Andi's so have posted them at Lewzplace and there are ones of mom at the home also. Went to Hy Vee to get some groceries Saturday and like there is a friendly smile in every aisle. Ya Right and the mega stores for all the stuff have very little that I want to buy and what you want is not in a normal place that makes sense. How does that work. This week I installed a new reading light in the library that mom got and it sure looks good. It is mounted on the end of the bookcase and is on a swivel so we can use it by the rocker. We have a couple more accent lights to put up but haven't decided where yet. I see Matt is signed in but away in messenger and nobody else is around yet. Guess today is a no show and Elaine did not get her messenger going yet. Opps she just Emailed me and said it don't work so guess she is not making it here. Barb is here now and have added Matt to my conversation just in case he gets back with us. Better get this posted also and get busy. Love to all and God Bless us all. Papa, Dad, Brother, Cousin, Uncle, and all. Lew
6 January 2008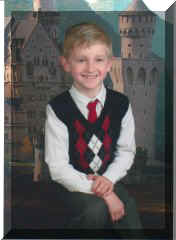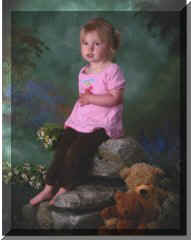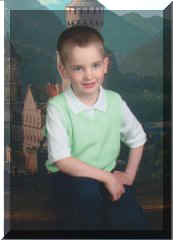 It's Sunday Morning and once again here is Lew. As you can see from the last entry we had one heck of a busy year and most all was a year to be thankful for. The computers are all going dumb again so what's up with that. They sure can be a pain in the ankle. Crystal stayed here till New Years day and Tammy and Ben came for her on New Years Eve. Brad and Lucas were both very sick so his family did not make it. We sure missed our kids in Germany for all our holidays and things this last year. Our Grandbabies are growing so fast we won't even know them when we see them again. I made some bean dip stuff for New Years eve snacks and we set up the bingo and played even if there were just us few and watched a movie. I had a very bad cold sinus thing so I only made it till about 11:00 and then I was in bed. We had an extremely joyous Christmas and a very happy New years eve so 2008 is off to a good start. We got some Email greetings from Norway along with a nice picture card and a very beautiful planter with a manger scene in it that we can use after the plants are gone. It was very nice to hear from the family their even if we never met. Got some real nice gifts from Matt & family in Germany and a very nice set of photos of the kids so really liked that. We got way more neat stuff than I can mention here. Also after New years we got some Email and a phone call from old friends in Germany we had not heard from in years so that was great also. We held the Republican caucus on the 3rd of Jan at DMACC Carroll campus so I was busy with that. We had C-Span there and sure was a hectic evening. Was very neat to see though. Very large turnouts all over the state for both Democrats and Republicans. Moms foot is doing better we think but still very sore and we have another week before the boot can maybe come off. After the big snow the first of December all the snow has missed us here and we are warming up again this week with temps maybe close to 40. The days are starting to get longer so spring is in the air again and time for the new to begin. Wow where did 2007 go. We were so busy it just slipped right on by us however we had tons of fun and it was a very enjoyable year for me. Mom is working on some Norway & German translation programs for us to Email friends and relatives there but not much luck yet. We still do not have her voice recognition program installed either. Seems like we just don't have the time to do any of it. Yesterday we finished taking the Christmas tree down so that great season is over for another year so that is rather sad but just something to look forward to in the year to come. My cold is a little better today but now mom/mema has it so she is rather poopy today. I'm still run down but on Saturday put up one of the new library lights for mom, finished a lot of the bills, worked on the income tax stuff, and just goofed off. I did also put up the small new clock from Matt & Kris that looks like a cuckoo but isn't. It is a wind up though and is so cute. Counting all of them in the den their are 38 so maybe should start them all NOT. Mom would go nuts but I told her only 19 of them go tick tock and chime but guess that don't matter. Oh Bother. I guess I better get this posted and stop the chatter for now. God Bless and Love to all. Papa, Dad, Brother, Cousin, Uncle etc. Lew