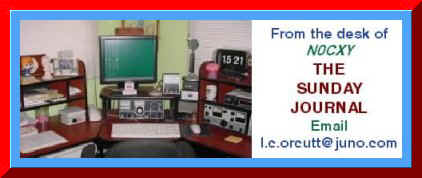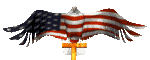 30 DECEMBER 2007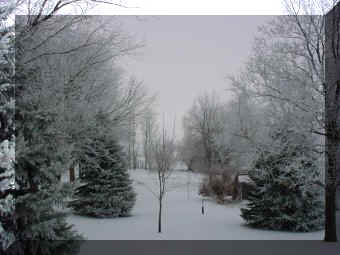 Thought for the week
Let not the sun go down upon your wrath
It's Sunday morning and once again here is Lew. As another year draws to a close and this chapter of our live is ending let us be truly thankful in the reflections of the past year and all the joy we have shared and the bounties we have received. Here at the ranch the Orcutt clan has been truly blessed and the year 2007 has been a great year. It started with kids and grandkids here for the New Year celebration and spending the night and New years day with us followed by the completion of the library shelving and plate rack. We were then blessed with the celebration of our little Amanda's birthday along with some snow and January is done. February followed with some wildlife at the feeders including a red tail hawk and the celebration of our daughter Heathers birthday along with Our Mel and Steph's concert and some more snow and the 2nd month is over. March then came in with a huge blizzard and the snow banks were as high as the garage but we got lucky and it all melted before the end of the month and we were able to make it to Amanda's drill team show. April then brought on my birthday and we got to celebrate with most of the kids and grandkids again but really missed our family in Germany. We celebrated our little Sarah's birthday and also had Easter at Brad and Heathers and then had a family Easter with everyone at DeEtta's. We then attended a track meet for our Mel and a concert for our Amanda, a visit to our little Crystal and another track meet for Mel. Elaine then came over for some work on her camper and Brad and family came over for a picnic. Then we closed out April with a day picnic at Swan lake park and Whew April is over. We then started May with Moms/Mema's birthday that slid right into mothers day followed by another visit to our Crystal and the addition of pond cleaning and new plants for it and the yard. We then ended May with another visit to Crystal. June started right out with a birthday party for our little Faith followed by our 2 week trip to the Wisconsin dells and the great lakes with Mel & Steph and then the celebration of Steph's Birthday and ending with a fathers day celebration. July started with a trip up north to visit Crystal and then the 4th of July celebration at Sac City followed by our 4th of July campout at DeWayne's and then trip over east to visit Mom O. We then made two more visits to Crystal and then an overnight visit with our little Amanda. This was followed with a overnight for our little Faith and then Willey Quasquicentennial with the information from Germany that our little Caitlin had her arm in a cast so ended the month of July. We then started August with another Crystal visit followed by the yearly campout of Elaine's, where I won the karaoke contest, and then back up northwest to family picnic with Tammy. We then ended August with a good old Iowa thunderstorm. September started with another Crystal visit and then Tammy came to spend some time with mom and then another Crystal visit. We then celebrated Mel's birthday and Mema has Lucas for awhile followed by band day for Mel & Steph and we ended September by starting our 1 week taking care of Brad & Heathers kids while they go visit Matt and family in Germany. This then started the first full week in October followed by our annual Springbrook campout and after a visit to the grandkids at Sac and then there weekend here for some tree removal and clean up at the farm and ending October with another visit to Crystal. We have now made it to November and Tammy's birthday celebration and our 45th wedding anniversary. This was followed our Thanksgiving at home and then our kids thanksgiving and we ended out November with our little Faiths school Christmas program. December then started out with our little Lucas and his birthday followed by a snow storm and then moms Mema's foot operation. We then went to Mel's Madrigal and it was great followed by a birthday party for Brad and then the big Christmas eve celebration at our house and then our little Crystal spending the week from Christmas day to New Years days with us which brings us to the end of 2007. As I take inventory of this past year I become truly thankful for all the wonderful blessings we have and the ability to enjoy them so much. For some reason that I don't understand and having done nothing to deserve it the Good Lord has smiled on me and blessed me more than I can explain. I have been given 45 years of understanding loving care from a truly awesome wife and friend, 6 wonderful gifts in Daughters and sons, 12 outstanding and beautiful grandkids, and 3 great grandkids but the biggest gift of all is my health and the ability to enjoy all the blessings the Lord has seen fit to bestow upon me. As we prepare for 2008 let us all remember to say thanks for all that we have and ask that we can accept and follow Gods guidance in the year to come. God Bless us each and every one. Love Dad, Papa, Brother, Cousin, Uncle and so on. Happy New Year Lew.
23 DECEMBER 2007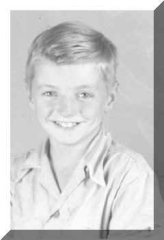 Thought for the week
You are a child of God call home
Its Sunday morning and once again here is Lew.
T'was the night before the night before Christmas
And all through the house
Not a single thing was ready
Not even the mouse
No stockings were hung
The whole place was a mess
And Papa was working hard
To deal with the stress
The tree needs put up
There are gifts to wrap
It seems harder each year
To deal with this Stuff
So rather than stress
Just remember the reason
The good Lord allowed us
To celebrate the season
And ready or not
Its our Saviors night
If we just celebrate him
All things will be right
So Merry Christmas to all
And to all a blessed night.
L.L.O.
OK, OK, I won't quit my day job yet. The week has been very busy with lots of snow and ice removal at work. We did not get any new snow but the last one started with rain that froze and then about 5 inches of snow and then some more drizzle on that and it froze very hard. Still am not able to get it all loose and even tried a bobcat with a bucket but no luck. At any rate the big storm predicted for last night stayed south and east of us so am thankful for that. Had to add more water to the pond but all is fine and the fish are good. Should have fed the birds as they are really looking for food. Got most of my shopping done yesterday I believe so am really early this year as I usually wait till today to shop. Just am doing a little different gift giving this year and having fun with it. Mema and I did some shopping Friday night and she did pretty good but her foot was hurting lots so I think she over did again. She is getting around much better so hope that is a good thing. We go back to see the doctor on Christmas eve day so will know then how it is for now. Yesterday was our family Christmas at Andreas but was not able to go that far cause of moms foot and I didn't want to leave her here alone that long so we missed it. I called and wished everyone a Merry Christmas but missed the gathering and seeing mom there. They all liked there gifts Elaine said when I called so that was good. Guess I better get this posted and get moving as more gifts need done and tonight is Brads birthday party. Merry Christmas and God bless us all. Love Papa, Dad, Cousin, Uncle, Brother and all. Lew
16 DECEMBER 2007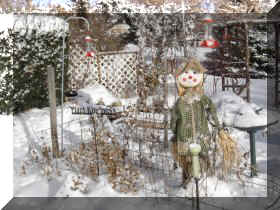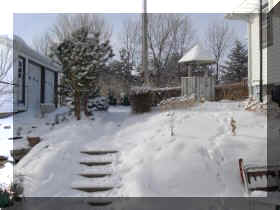 Thought for the week
The straight and narrow is full of good turns.
It's Sunday morning and once again here is Lew. Winter has arrived again here at the ranch and it is a winter wonderland. I just love snow. The earth is in it's rebirth cycle and it is a good time of year. Have been able to move snow 5 times at work and three of those was the same snow over and over. Life sure is good. All the snow equipment worked just fine so that made it fun and was able to clear the drive here at home about 3 times also. Have had some really nice crisp sunsets and it sure is pretty when that happens. Mom/Mema is doing fine but the foot is sore some but the pain pills help some. Have been able to keep her down some but it is hard. The surgery went well and am anxious to get the bandage off and see how the healing is going. I think mom is liking all the extra being waited on but still wants up and going. The extra pill they added for the diabetes seems to help as it is now low so that is good and she has lost some weight. Been working on some Christmas projects and we got the new walk door for the garage but have to paint and refit some and then hang it so it may be awhile before it is up. The computer went dumb again and would not recognize many of the USB items I would connect so checked them on the laptop and they were fine. Took it to the shop where they found nothing wrong so brought it back home with no charge and it works fine again. Thank you Bill Gates. Oh Bother go figure. Got the new DVD/VCR recorder and it seems fine but cannot record digital channels to the VCR however you can record from the DVD player to the VCR. Isn't that digital I'm confused but that's not the first time. What is really amazing is that our advances in technology seem to be going in a negative direction. Or at least in a throw it away who cares direction. Went to see Mel's Madrigal dinner and concert at school and it was really Kewl. There were the elite, King and queen, servants, court jester and all and we got served food and drinks and they sang and did skits so it was a really good fun night. They all did a really great job. Am making a stew for this evening so guess I better get this posted and get a move on it. God bless and take care until next time. Love Papa, Dad, Brother, Cousin, Uncle and so on. Lew
09 DECEMBER 2007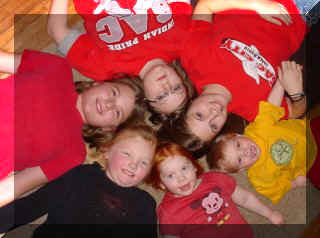 Thought for the week
No matter how much we have failed the love of God never ceases.
It's Sunday morning and once again here is Lew. Been busy with winter and Christmas things and just going like mad. We got to Faiths Christmas concert and sure enjoyed that and the the big girls had a concert but it was cancelled because of snow. We went to the kids for Lucas' birthday and the little guy sure has grown and is so animated now. We also got the results of moms colon and upper GI check and all was fine there as they found an ulcer they are treating and the rest was all clear and no problems. Have had to fill the fish pond several times now as the heater must let it evaporate more than normal. The fish are fine and have stopped the bubbler for winter. Set up some for the birds and we sure have a lot of them. Several pair of cardinals also so that is so pretty in the white snow. Got the sandbags in the truck for the winter because one morning going to work when all was clear I found my truck sideways in the road and couldn't even see any ice. The V6 is way to much engine for the ranger and I need to remember to run in straight drive in the winter so it isn't shifting on hills. Oh Bother so much to remember and so little memory left. Am taking the DVD machine back as it will not remember the HDTV channels and the company is no help whatsoever. Have ordered a different model from a different source here in town so at least if it don't work can take it back for repairs for them to handle and return. Our quality control for things in the techno age has sure went downhill. Got the snow blower going and used it once already so it may be a full winter of snow here although it is real late in the season coming so not sure. We have been real lucky this year with a very nice fall and such. Got most of the winter stuff done so not to bad for me. Still need some decorations up but may not make it this year. Didn't get them up at work like normal either. Seems like I am getting slower. Still need to get the big van put away for the winter as it sets in the drive and blocks everything if I don't. Barb is online so am chatting with her. Guess Elaine has given up on the Sunday chats and kind of miss that. Guess I do to much Geeky computer stuff as no one is here anymore with Emails or anything. Got the sewing machine set up for mom but still don't have the voice recognition on the computer for her. Seems like there is always so much going on. Guess I better get this posted as not much to say this Sunday. Miss you all and God bless us all. Love Papa, Dad, Uncle, Cousin, and such Lew
02 DECEMBER 2007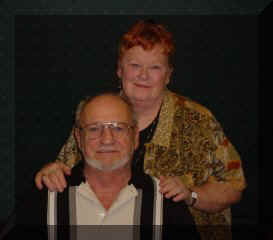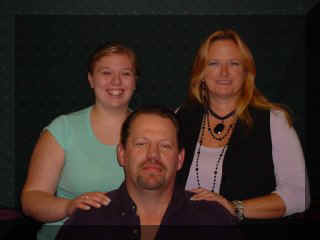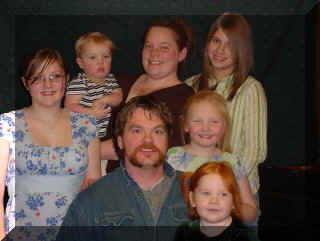 Thought for the week
Honest Labor bears a lovely face.
It's Sunday morning and once again here is Lew. Wow where did this week go. Bob & Josie and Dick & Marge came to Iowa on Wednesday night and then departed on Friday morning early and I didn't even get to see them. What's up with that. I think you guys been in Texas to long if a little snow scares you. Glad you got to see mom but wish I could have seen you, let's make it longer next time with a little more warning. Hope your trip home was safe. Had problems with the new DVD machine all week and took it back for the third machine now and still it does the same thing. Will not remember the channels for HDTV. It might keep them there for a few minutes, an hour or a day but it just loses them all and will only select Line 1 or Line 2 for a signal. The company is baffled. Me also. Of course they start with well your antenna, or it cannot get antenna signals, or they don't work on that level, or maybe a power loss, and on and on till I shoot them all down. That is the third machine from the store so either the new ATSC tuner they built is junk or the HDTV signal they broadcast don't work like they say, or its new technology and it just stinks. My old Philco is working just fine by the way. It sure is discouraging. Went to our little Faiths Christmas concert and was it ever good but was just to short. Mema missed it as her back was real bad but I taped it for her and she liked it. We have some of the Christmas presents done but still don't have the decorations up. Just a little slow I guess. The rain and snow came on Saturday like the forecast said but not near as bad as all the hype made it. Sometimes I just want to get right in there face and say new to Iowa huh and if not just get over it. It was freezing rain but if you went slow it was okay. I put the sandbags in the truck and it did fine. Had classes also Saturday I had to work at so got to work fine. Went back in later and moved some of the snow to clear walks and the roads were just wet then and no ice but was some again cause it froze overnight. I worked on the snow blower Saturday and it is going fine and all the ones at work are good so am ready for winter. Also I made a roast on Saturday for supper and it was really good. We sure enjoyed it. Mom got some new rugs for the library so I put them down and they are nice. The right color this time. We got the December Christmas schedule for the Grandkids in Sac City and boy will it be hectic. Our prayers were answered again as mom got a letter from the hospital on Saturday and her Mammogram came back totally clear and no sign of problems. YA YA YA. I wasn't real concerned but mom was really worried so that was a good note for her. Next week is the colon check and the GI series both upper and lower so keep her in your prayers for that. Then the following week is the toe repair for that bunion thing and that will hurt but may help the back as it makes her walk funny. We can hope so anyway. Brad and family and Tammy and family came down last week and we had a good Sunday feed and then vegged and watched movies on the big screen with the data projector. It was Kewl and the grandkids had not seen Miracle on 34th street so we watched that in the old black and white mode so it was great and then we watched some Roy Rogers and other stuff. I guess I better quit rambling on again and get to posting this and then get to work moving more snow and ice. God bless us all and watch over us. Love Papa, Dad, Brother, Uncle, Cousin and all the rest. Lew
25 November 2007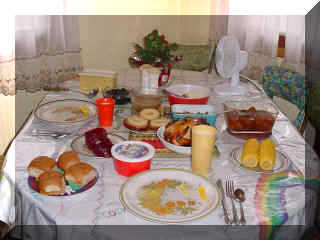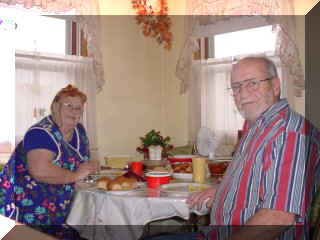 Thought for the week
Be Ye doers of something worthwhile
It's Sunday Morning and once again here is Lew. Happy Thanksgiving to all and I hope you all had a really great one. All our kids were with there family from the other side, except Matt, Kris and kids who are in Germany, so we spent the day just the two of us. Tammy and Brad and there families will be here today for our late thanksgiving. We missed our big Orcutt one this year also as I had to work so could not make it. Anyhow I made mom/mema dinner and we had a small Cornish hen, Ham with pineapple slices, Yams, Potatoes and gravy, Dressing, Corn on the cob, Cranberries sliced, Olives, Biscuits, and later on we had pumpkin pie with whipped cream. It was served on the Thanksgiving table cloth the Grandkids made some years back and turned out real nice. It wasn't a fancy setting as you can see but it was fun. The only thing I did not make from scratch was the pumpkin pie. We watched some TV and just goofed off and did some cleaning and straightening. Had a Gall Bladder attack on Monday last and was that painful. Of course it doesn't help that anything you do with the new world technology is a disaster and mostly does not work. Have a DVD recorder for some shows we have but can not find a single DVD that it will work with. Now do I not have the right DVD or is my recorder bad. It plays prerecorded just fine but says disk error please eject whenever I put one in to record. It says It will only record a DVD R DVD which I matched to there emblem and manual specs. After two nights of messing with it I went up to my Ham room and turned on my 1938 Philco radio which came right on after the warm up and worked fine. I then fired up my Swan 350 from 1964 which of all miracles came right on and I visited with people from all over and Checked into the Swan net twice. I also played with a couple of old wind up clocks that keep perfect time just for some relaxation. At any rate went out and got another DVD recorder and miracle of miracles it is a mess also. It has an antenna cable in and an antenna cable out but the out is pass through only so when you turn the DVD player on there is no signal out there so now you need to hook it all up with another set of video/Audio cables and if your TV does not have those inputs you need to get an RF modulator for it to work. What engineer had a night mare to dream up that idea. Why is it that the more technology we have the less any thing works and what does work is at a very poor degraded level. Like volume controls that you push and if they work beyond a couple years or you can set them where you want it's a wonder. My radios have controls you turn that work every time and have for some of them 60 + years and you can set them where you want, not where some engineer thought would be a good level. And how about remotes and menus and such that never do anything in any logical sensible order if they work at all and if so you need a manual for each one to see how to make it function if you ever figure it out because it is translated from Chinese by a Russian that learned his English from a Frenchman and then you ponder why did they design them so stupidly and useless. And what's with the car doors that are always locking themselves so you can not let any one out till you park and turn the car off or push the unlock button, just let me lock it if I want to. Brad came down on Friday and helped me with a tree in the fence line and with topping the last one we cut down so had a nice visit there. He brought our little Steph and Faith also who spent Friday night, Saturday and Saturday night till today with us and sure do enjoy those visits. They will go home today after the Thanksgiving meal and the movies. Also Tammy, Ben & Crystal came down last night so had a great time there. It turned really cold this week, down into the 20's and we even got some snow but not very much. Just a light dusting here but 4 inches around Des Moines. Got the projector running good and it sure is fun but may have it wore out fast so better just save it for special occasions. Guess I better stop and get this posted before next Sunday is here. Love and God Bless to all. Papa, Dad, Brother, Cousin, Uncle, and so on. Lew
18 November 2007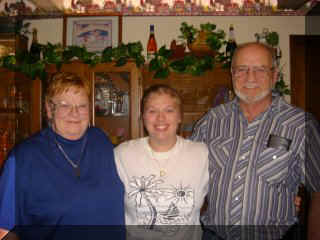 Thought for the week
Trust God's leadership he knows the way
It's Sunday Morning and once again here is Lew. Have been feeling kind of poopy all week like I'm coming down with something but have had a good week. We got the memory for the laptop and installed it and it works great so that is done. Will try and get moms dragon naturally speaking 9 on there today if time will allow. I got my projector up and running and is it great. I used a large window shade for a screen and it works out just fine. We now can have it hooked to the TV signal and we have a 7 1/2 foot diagonal TV screen. Is that Kewl or what. We got a small stand for the projector that it can set on when we get it out and it also holds many of the DVD's. The screen also can be taken down and Mom/Mema can hang up some ornaments there when not in use. Now we can set up some TV nights and its good to go. I still have the rest of the tree to clear out by the patio and the one in the fence line but should get them over the Thanksgiving weekend as I have a long weekend then. We got the camper cleaned out and stuff packed away yesterday and then got it put in the machine shed for the winter. Still have some work on the big van and then we can put it up also. Have started working on some Christmas projects and some winter projects but am sure getting slow with all that. I did get on the Swan net last week on Sunday and on Wednesday and that sure was a treat. Mom got in for several of her doctors checks and so far they are good. She is getting an appointment to get the bunion on her foot removed and the colon check after that. She is doing better and has lost some weight so we are improving that way. Her back is still a mess but some better but she is taking pain pills for that. The doctor said the bunion could be causing some of it as she walks funny because of it. I pulled a muscle in my back on Thursday but it is okay. Mom & I went to town yesterday as I had to work some and then got some stuff at K Mart and we ate out at KFC. I checked several places for printer ink but no one carries it here so will have to keep ordering it. Oh Bother. I need to get the snow blower going also as there are flurries in the weather forecast. It sure has been a goofy year weather wise here and now is staying warm later in the fall than usual. I do remember some falls like this growing up though so guess we are good. I remember many thanksgivings as just shirt sleeve weather and most of the Halloween's that way. Guess I better get this posted so God bless us all and have a Great thanksgiving. Love Papa, Dad, Brother, Cousin, Uncle and all. Lew
11 November 2007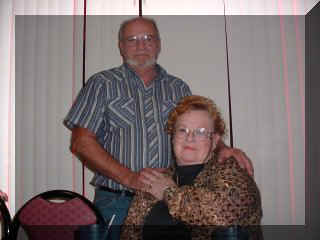 Thought for the week
Christ has no place in your life unless it is first place
Its Sunday morning and once again here is Lew. Another week has passed away and our 45th anniversary is over. It has been a great week and an even greater 45 years. The good Lord has blessed me so much that I can't even understand all the blessings he has given. As usual there were way to many gifts or should I say toys. Mom got a new sewing machine, Voice recognition for her laptop, Eagle bookends and statue for the library and I got the projector and a small statue for my collection and a beautiful card and we also got a lamp for the library and a heating blanket for our bed. In the evening we went to Yan's for supper and then to Brads for some games and watched a movie with the new toy I got. It was all great. Much was accomplished this week. I got the van in for service and got the headlight and the sliding door fixed, along with the windshield washer light disconnected as it was always on but only said it was low on fluid. Like I couldn't figure out when I pushed the button and no fluid came that it was out. Where did that Idea come from. Go figure. Mom/Mema went to the doctor and has some appointments for a bunion on her foot, her back pain and then some of all the woman checks that get done from time to time so she will be there on more than one visit. She is worried about them so say a small prayer for her to not worry and all to come out ok with the checks. Have been updating genealogy with Bday, anniversary dates etc so that is a chore. Guess I will never get it all correct as we have many to remember now. I apologize if I got them wrong or forgot some. Was told we could not upgrade the memory on the laptop for the voice recognition program so called HP to find out why and they assured me we could go up to 2 Gig so I ordered 1 Gig so will see if it works. Not sure as all you get when you call is non English speaking people that are very hard to understand so will see. Received the part for the dishwasher but still need to install it. I checked into the Swan net last Sunday and that was fun as I hadn't been on the radio since last March. Treated the pond and all is well there and got the heater in there for winter and need to get some extension cords for the bird baths. The weather has turned chilly and winter can be felt in the morning chill. Day temperature's are still making the 50's so it is a real nice time of year here in Iowa. Put out some of our gifts yesterday and went to town for some shopping. Got some stuff to set up our projector and hope it works. Am going the cheap route for now but should be fine and am not saying till I get it all checked out. Sure have a ton to do before the Christmas season gets here. Wait we are not even to Thanksgiving and the Christmas stuff is already out. That's just wrong. Halloween wasn't even over and it started so that is just double wrong and I was taught that two wrongs does not a right make. Go figure. Temps are really warm again this morning for November so that is nice. Guess I better quit the rambling on and on and get posted before it is Christmas. Love to all and God Bless. Love Dad, Papa, Uncle, Cousin, Brother, Etc. Lew.
04 November 2007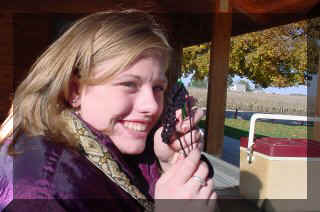 Thought for the week
Seven days without a prayer makes one weak.
It's Sunday morning and once again here is Lew. What a week or should I say weak as I have done next to nothing. After the journal last Sunday I got the camper drained and antifreeze put in for winter. Then got the chain saws and all ready and Brad came and helped me cut out our Ash tree and that went pretty good. Got most of it out and hauled away except the tall stump and some small brush left. It is still the same way today by the way. Oh Bother. I couldn't finish it yesterday as we went to Sioux City for Tammy and Crystals Birthday. Crystals was way late but we did it then so they could be together. We went to Goodwill shopping and to another thrift store and then we treated to USA steak for supper where we opened gifts. Brad, Heather and family came also and that was great and after the gift opening Brad, Heather and family went home and we went to Sears and got mom a nice sewing machine and then to Best Buy and got her a voice recognition program for the computer. Now she will be able to use that for writing on her book and such and it should work well for the price they get for them. She already let me get my Data projector for my gift for our anniversary next week so have the gift part all done. We went back to Tammy's for some games and then on home and sure was a late night for me as was up till 2:30. It was a fun time any how. We will be going to Yan's for supper next Friday for our anniversary and then to Brads to play some games etc and might stay up all night. May have to work on Saturday so that could be a mess. At any rate should be a good anniversary and I been in love with the same woman for 45 years, If my wife finds out she will kill me. Hee Hee. I may have said that before, Oh my gosh am I becoming one of them old people that keeps repeating there stories. Crystal got to drive all over with her new permit and our little love is sure growing up way to fast. I forgot to set the clocks back last night as it was so late when we got home and I was so tired so am up kind of early today. The computer in its great wisdom had already set itself last week so it got that wrong. Guess it couldn't keep up with changing the fall fallback time to a later fallback time so it fell back a week early. Aha I knew I could beat it. What is all this about anyhow as we did not change a thing as the day still comes and goes at the same time exactly like the good Lord has it do all the time. Guess I better get moving and get posted and see if I can stay up. God bless us all until next time. Love Papa, Dad, Cousin, Uncle, Brother and so on Lew.
28 October 2007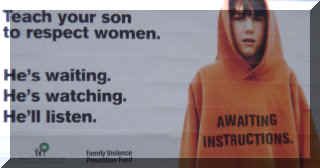 Thought for the week
Happy the home where each one serves the Lord.
It's Sunday Morning and once again here is Lew. I saw the above picture on a billboard and it intrigued and impressed me so am using it for this weeks picture. I finally got all the mowing caught up on Wednesday but that is it. Have lots of the camper done so need to finish that and the van and then get it winterized and put away for the winter. Sad that the camping season is over but we have been on the go all year and it sure has been busy. We started with a trip to Wisconsin dells with two of the grandkids in June for two weeks, then the annual 4th of July campout at DeWayne's, then the annual campout at Elaine's in August, and then a whole week stay in September at the grandkids while Brad and Heather went to Germany, and finally our Springbrook camping trip in October. This does not even count the trips for family gatherings and such. Not sure but don't believe we have had a free weekend all summer long now that I think about it. Wow what a year. My yard and stuff show it. The weather has finally cooled off some so that is nice and we had plenty of rain so now just need to get the corn in and all will be right. Surprise got the corn in on Thursday and Friday so that is good I hope if it is dry enough and we don't have to dry a lot. Mom is still fighting a cold, flu, virus bug and not feeling well. Then Saturday was another trip to see our little Crystal for some special stuff and that was a fun trip but Mema suffered I believe. Well fun except for the van sliding door, it won't open again. Who was the engineer on that disaster. You would think after this many years they could make one that works or forget it. Oh Bother!!! We got some good pictures anyhow. Have been helping some on moms magazine and VCR tape cleanup projects but not very good there as don't I know what to do. The weather has turned cold and a freeze is in the air so better get the camper drained and winterized before that is a problem also. Need to get the chain saws ready to cut down some trees and such as Brad is coming over today to help me with a big one. Its the ash tree right by the patio as it is split in the middle and will land on the house if it falls. Hate to cut it out as we started it from a sapling in the peony bed and it is now about 50 feet tall but don't want it in the house either. I haven't been on the radio in ages so might try that today if time permits. Got a call from Bob Fischer and his novel is now in publication and is a very interesting book so if you get a chance read it. It is a short quick read and has some family resemblance in part of it but the language is strong at times. At any rate I guess I better get moving and post this and get the saws and stuff ready so till next time Love Papa, Dad, Brother, Cousin, Uncle and so on Lew.
21 October 2007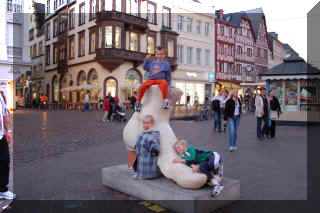 Thought for the week
Let it rain, Let it rain, Let it rain, Oh Bother
It's Sunday Morning and once again here is Lew. Last Sunday was full of rain after my post and our camping spot was flooded. It was a big mess but we decided to stay and I would commute to work from Springbrook campground for awhile. I went to the camp store area and used the wireless there and it worked well and I posted the journal from there. I added many of the kids pictures to Lewzplace so they are checkable there. There are 43 pages so many pictures are there. It rained all Day then after I posted the journal so we did not do much. I made T bone steaks for supper and they were good. Monday found more rain but it let up some so big puddles in front of the camper have left but is still wet mud. Left my stove open so had to clear all the water out of the burners. Did chili dogs and salad for supper and then just vegged. Tuesday cleared up some but still more rain on the way they say. Had a small amount of sun so that helped our spirits some. Visited with Mel and Heather on messenger and that sure was kewl. We had pork steak and fried potatoes with salad for supper. Mema is feeling better and the cold is on the mend so that sure helps. Ran out of grill gas so need more tomorrow. We may stay till this next weekend. Got more gas on Wednesday and we decided to stay till Sunday so will be here till after post. Still raining and Thursday I got the knobs on my stove fixed. I found out Dave is taking Friday and the weekend off so will be working some there as we have classes on Saturday. Oh Bother. At least the rain appears to have stopped and we have some sunshine. Elaine showed up on Friday and caught some fish for us to have a fry and then she caught some more yesterday. We all went out for the all you can eat fish and shrimp Friday night and then home and Elaine went to bed. Mom and I played a game of cribbage and then went to bed also. I got the Friday night work late stuff and the Saturday stuff done and that went well but took some of my camping time. OH BOTHER. Wait a minute should those fish Elaine caught be wrapped in plastic with a weight and price sticker on it. Hee Hee. Helped Elaine with her camper screen and now it closes easy but needs to be able to latch. She can figure that out later. She had a fire last night at her camper and we shared supper at our camper. Wait a minute those fish sure tasted a lot like chicken. Was still a good meal and a great day. Ever notice how a woman can toil from sun to sun but a mans work is never done. We had a great fire and when we were so tired we thought it must be 10:00 we looked at the clock and it was 08:10. We made it till 09:00 and then went back to our camper and played cribbage and went to bed. Mom was much better last night and it sure is good to see her feeling better again. Am online but not any messenger visits yet and sure have missed Elaine a lot for these Sunday chats. Wait, she is right here will just go next door and visit. One of the stove knobs is crooked so need to fix that. Works just fine but not lined up with the others. Go Figure. May have OCD. Guess I better quit rambling and get moving am doing Sausage, Eggs and Hash browns for breakfast. May the good Lord bless and keep us and watch over us all. Love Papa, Dad, Brother, Uncle, Cousin etc. Lew.
14 October 2007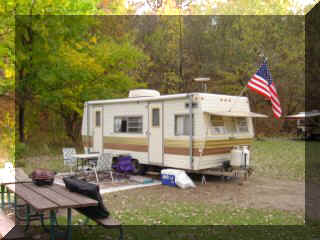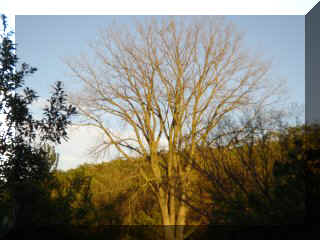 Thought for the week
Camping at Springbrook and life is good, praise the Lord.
It's Sunday morning and once again here is Lew. Wow what a week we just finished. After the post last Sunday we got the kids to Sunday school and then Mel was sick so took her home and the rest then to church. We then finished the stuff we had started in the house for the kids. We painted the dinning room, and decorated, fixed some outlets, then went and got a new dryer for them and installed that. The kids got home late then so we stayed over until Monday and then just visited and got home late on Monday. Then Tuesday we spent getting the camper ready for our Springbrook trip and finally got here at about noon on Wednesday. I did some setup stuff and Mema went to town for a few groceries we missed and then just did supper and vegged out. Mom took a nap as her cold is still not good and she is tired. The cell phone is up and running here and so is the sprint broadband card for the internet. They have free wireless internet here but do not get signal so will check it tomorrow. Meanwhile my sprint wireless seems to work fine. Our spot we usually get was in use and will be the rest of the week so we picked another one and it should be fine. Got the TV fixed and is good now and still need to fix some of the siding. Made some changes to the antenna system and it is now better. Guess I just need stuff to do when camping. Thursday we had toast, oatmeal and juice for breakfast and Mema/Mom still not feeling well with the cold so hope that helped some. Went for s short walk by the lake dam and it sure is pretty with the sun coming up. Got a picture or two but I still prefer the old Sony. It takes much better pictures. Fixed a loose part under the stove for mom & lit the furnace to get the dampness out of the camper. Made a flying trip to Cedar Rapids on Thursday as mom is back in the hospital with low blood count. A transfusion brought it back up and she went home on Friday. The girls and I talked about what to do and we decided to get hospice to help so signed her up for that. Hope that goes well. We could not get our normal spot for camping as you know but it opened up on Friday so we moved there and then went to town for some thrift store stuff and our time to eat out. After getting back the rain started and it kept it up all night and Brad, Heather and the kids come out on Saturday so was pretty much a wet mess. We had chicken and salads for lunch and played some dice and then they went home. Still experimenting with the new camera so I might learn how it works. To many buttons and settings and so on. I need click and go cameras. Not sure but think the focus is off or something as it is quite often blurry. The FD 100 is still the best yet, it has clear pictures always. Last night Mema and I went to town for the flea market but it was closed so we did some grocery shopping and came home and had soup and watched TV. It rained again last night real heavy and our spot is flooded and the lightening must have knocked out a cell tower as I have no signal for the phone or computer broadband card. It has worked good all week but now is not, guess I will post later. Oh Bother. Guess I'll miss messenger this morning. God bless us all and keep us in his loving grace. Love Papa, Dad, Brother, Uncle, Cousin and so on Lew.
07 October 2007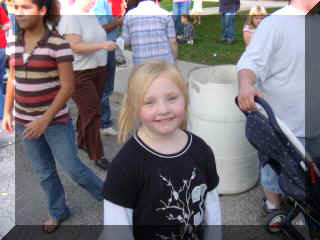 Thought for the week
Grandchildren are Gods special gift for us to take care of for awhile.
It's Sunday morning and once again here is Lew. Have been watching the Grandkids all week but we missed kite day as we had some sick kids so just vegged at home. The week has been gloriously hectic and constant turmoil as I forgot how it works when we have kids in our lives daily. It is great but needs getting used to again. Got the kids to church last Sunday and then not much done. All made it to school all week and was it hectic. Was homecoming week and so much going on. Mel is on student council and band and had all that stuff and it was things like spirit day, color day, pajama day, skit night and much more. We ran them somewhere all week long. Was up till 2AM shuttling Mel and Steph to band stuff, homecoming game they won, and dance, 4 trips to Wall Lake and Lakeview and so on. Thanks kids. It was fun and we loved it. Mema's back was not good and then she came down with a cold so was just miserable on Saturday. I got the electrical problem on Brads van fixed and the water leak may be the heater hose for the rear seat heater as the other one went bad last year and this is in the same place. Rewired some electric for them so they don't need an extension cord through the floor to run the washer. Then on Saturday night, last night the dryer broke, element I think so had to hang the clothes out to get dry. Go figure not a thing open to get it checked or anything. The kids will be home late today and now can't even dry the clothes and I bet they have a lot from their trip. Oh Bother. We had some rain several times this week and the weather has been unseasonably warm for October so am ready for cool Fall weather. Sure has been a busy week so better get this posted and get going for the church and Sunday school things for the kids. God bless us all and watch over us this week and in the weeks to come. Love Papa, Dad, Brother, Cousin, Uncle, and so on Lew.
30 September 2007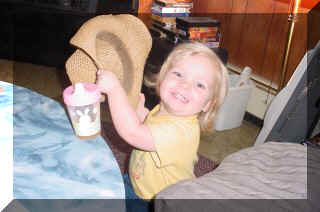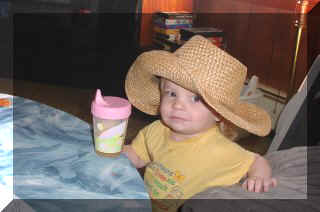 Thought for the week
I'm thinking all this thinking takes a lot of thinking, what is your thinking?
Its Sunday Morning and once again here is Lew. Have had a real bummer week and still not done. Lost one guy at work as he resigned and we had many things going on all week and this weekend. Had placement hearing for Amanda on Tuesday and we finally spoke up and said to place her with Brad and Heather for adoption and terminate the parental rights. That was very tough but the kids are always in turmoil and stress with all the stuff the mom and grandparents keep doing. Then been working late as we had to get ready for band day on Saturday and kites over DMACC on Sunday. Also had to get everything mowed and cleaned up and set up nursing stuff and then work over at Jack's Shack because the fellow that resigned worked there also. We have many wild cats on the lose again so am trapping for them. Had to clean the pond filters again as it is really going good this year. Had to throw out a lot of the water lettuce as Earl May does not want any more. Yesterday we did the water bottles for handing out at band day and that was a success and all the water went. Got some cute pictures of Mel & Steph I think if the camera worked right. At any rate they did a good job from what I heard and seen and I was clear at the end so they were wore out. Had class on Saturday also so had to set that up. Got the new camera back and it is all fixed but not sure I like it. The focus is not just right so will need to check that out some more. Today will be kite day and our plan is to get all the kids to that but first we need to get to Sunday School and then to church. That will be over about 11:30 and the Kite festival starts at 12:00 so we will be late. There is going to be a workshop there and the kids can build a kite and then fly it. Should really be fun. Hope our three kids and spouses and grandkids are having fun in Germany and we sure miss them all. How about our little Lucas in the picture. Is that kewl and that was the day Mema watched him for awhile. Do I have the kewlest grandkids or what. The answer to that is yes by the way if you are wondering. The beans are all picked and we sold right out of the field as the price was really up. Wish the corn would do that also and we could sell that out of the field. Got the camera up and on the computer and the pictures look a lot better now. I set the mega pixel setting from 5 to 3 and they look better so why do we want 5 mega pixel. My old Sony is a 1.2 mega pixel and it does fantastic pictures. Tell me again why newer, bigger, faster etc is always better, NOT. Must be some settings I don't know if you want to use the 5 setting or my hand wiggles to much OR it is just not better. Go figure, Oh bother. Guess I better get this posted and get ready for Church and the the kite building seminar. God bless us all till next time. Love Papa, Dad, Brother, Cousin, Uncle, Lew
23 September 2007
Thought for the week
God is able to do more than man can understand
It's Sunday morning and once again here is Lew. Broke my big mower last Sunday while adjusting the drive chains. Couldn't get it fixed so went in on Monday and ordered the part. Finally found out on Wednesday that they could not get it till the boss got back in two weeks so I called the company, put it on my card and had it overnight shipped to me. Up and running the next day. I don't always get it. Also had a flat on the Country Clipper at the farm so had that fixed so am good to go there also. Got part of the mowing done here at home but still need to finish up on the ditch bank and the garden area. Did get the set aside and front done for the weekend. Been working most of the week on some special stuff For our precious little Mel as It was her Bday yesterday so we had a huge party at our place. I kid her about finally turning 13 and becoming a teenager but she is 15 this year and all grown up. We did hot dogs over an open fire and had chips with them right after we opened the gifts. She got many wonderful things. I spent all week working on a movie set up to show one outside and it came out real nice. I used a data projector and our Laptop computer and the Sony stereo for the audio. One of the 4x8 boards for around the bathtubs made the screen and it worked out nice. The kids had to gather some apples for the first part as a game and person with the most ok apples after 15 minutes got to pick a prize of there choice first, and then the others could pick one also. It was a lot of fun and I think the kids had a good time. I know I did but sure am tired. As you can see in the picture the apple hunt went well. We had Steph and Faith stay the night so need to get them back home in time for church. Got all the stuff cleared up from the party so am doing fine there, thanks to all the help from Heather. Guess I better get this posted and get moving. God Bless us all. Love Papa, Dad, Brother, Cousin, Uncle and so on. Lew
16 September 2007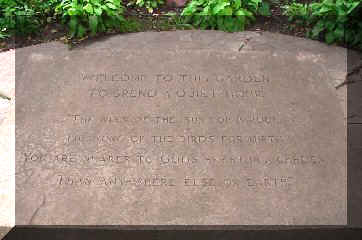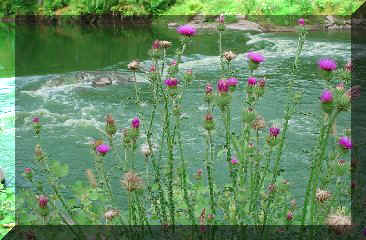 Thought for the week
When all is said and done there is usually more said than done.
It's Sunday morning and once again here is Lew. Had a great start as I hauled the metal we loaded on Saturday to the salvage yard so that is done. Got the computer running fair again, Knock on wood. And on Tuesday Tammy came for a visit and spent the night and Wednesday here. That was so good. We got the new Sony 5.0 Mega pixel camera I bought on Ebay but it did not work well as it all had a pinkish red cast to the picture. After much checking I found out it has a recall for the image sensor in it so may send it in after I contact the seller. It is a really sharp camera if it is fixed under the recall. Found out on Wednesday that our fence may not be all on our property so may need to move that. It looks like it starts on our property and ends on our property but it sure bows out the wrong way in the middle. Never noticed that before. Oh Bother. Wanted to raise the fence some so it is easier to weed eat so now might be the time to do that and straighten it out. The battery in the camper is shot so need another one of them and some of the siding is lose so need to fix that. Maybe time to upgrade some but I sure like this one. Friday night got down to 30 Degrees and the hanging baskets did not do so well but they are struggling to make it. Again last night the temperature dropped and we had some frost so am thinking most of that stuff is done for this year. The humming birds are getting ready to head south so it's time for the feeders to come in again. Yesterday we went to visit Crystal again as we sure miss that little love. We got some good pictures. All the computers are running fair again but they sure can be a bother at times. Did get the mouse turning on the computer fixed but had to go into bios to do it. When they upgraded the chipset it put in power management the options to use a mouse click or click and move to turn on so I disabled that and all is well. Who has these dumb ideas and why do they feel the world wants or needs them. Just give me the option but don't make it automatic. Big Oh Bother!!! What a year this has been and so many trips and so much happened and accomplished that I am just lost. Now the first week in October we will be watching Brad and Heathers six children while they visit there brother in Germany. THEN they will return on the 7th so the week of the 8th through the 14th I will be at Springbrook camping for those of you that have campers, tents, sleeping bags, etc and the need to use them again once more for the year. I think we bit off more than we should have this year but we sure had fun. The yard and house and all we got sure show it though. Oh Well. I will make this trip if it's the last thing I do. I NEED IT. God bless us all. Love Papa, Dad, Brother, Cousin, Uncle and so on Lew.
09 September 2007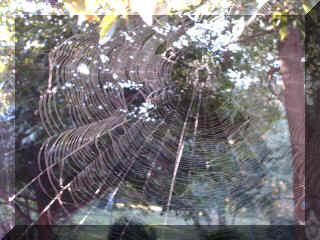 Thought for the week
No one exists alone, We must love one another or die.
It's Sunday morning and once again here is Lew. Been rather busy but got a lot of things done. Got clean up done at the farm but have much more so Brad and girls will be down this weekend to help some more. Will haul some old metal to the salvage yard and move and clean the grove some. Will start a brush pile to burn this winter also. Heather and the rest are coming also and will help Mema here at the house. What fun!!! Got most of the stuff ready Friday night and set up at the barn and then here at home for Mema so we are good to go. Even got the girls some gloves and stuff for their work. Had to jump start the little tractor as it was about dead but should work okay now. At any rate the whole family came and Heather and the little girls and Lucas helped Mema here at the house and Brad and the big girls helped me at the farm. We got all the trees around the barn and machine shed and grain bins cut out and trimmed and made a huge brush pile for a winter fire. The big girls moved a whole truckload of metal tee post in the machine shed and then pruned tree limbs off the barn. We loaded and old auger and a short elevator on the pickup and trailer and will haul to salvage on Monday. Mema and the crew here trimmed a bunch of saplings on trees and picked up and hauled brush, and also sorted on some T shirts mema is working with and then they made all of us lunch. All in all a great day and a lot accomplished and the weather was just perfect. After the lunch they all went home and Mema and I rested as we kind of over did I think. Got the computer back on Friday and they found nothing wrong. I don't get it. Oh Bother. Now if you click a mouse button it turns on. What's up with that. I did a restore point restore and got it going good again but the mouse still turns it on. Had a chat with Barb Orcutt\Beelan on Saturday and she said Dan has MS and one lung not working well. She said it came from his days in Viet Nam and agent orange. Say a prayer for him and Sue and there family and remember them as we celebrate our good health. The day is dawning to be a gorgeous day and we have had a wonderful week and in a while we are on the road to see our little crystal so does life get any better than this. I guess I better get going and get this posted if I am going to get anything done. Say a prayer for Dan and God bless us all. Love Papa, Dad, Brother, Cuz, Uncle, Lew.
02 September 2007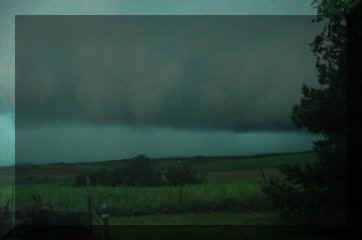 Thought for the week
The straight and narrow is full of good turns
It's Sunday morning and once again here is Lew. It has been a hectic week but getting back to normal some at work. Many storms here and the yard work is way behind. We have lots of rain but no serious damage here at home but many around us with downed trees and floods. Finally got the camper unhooked from the van after Elaine's campout. Oh wait it's time to get ready for a Crystal trip and then the Springbrook week. Do I remember what to do in the right order. Mema/Mom has been pretty active this week but think her back is telling her to much this morning. Have got many more karaoke songs for our next campout trip so will have lots of them ready. They are rather cheesy but fun. Will need to check a lot of them and make sure they are good decent songs for our grandkids, kids, family, and friends to hear. It was gorgeous day yesterday so did a lot of the mowing and today Brad Heather and kids are coming down for lunch. Guess we will grill some steaks with pigs in a blanket and eat outside as the weather is just right for a change. Guess I will keep this short and sweet this week as I have much to do before the kids come and Mom needs some help. As we go about our lives this week please remember Dick and Marge and family in our prayers in their time of need with the loss of their grandson. God bless and keep us all in his grace. Love Papa, Dad, Brother, Uncle, Cousin, and so on Lew.
26 August 2007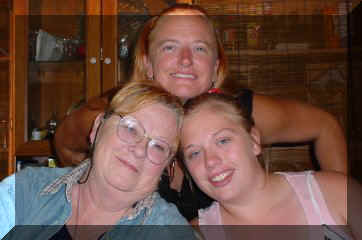 Thought for the week
Marriage is finding that one special person
You can annoy the rest of your life
It's Sunday morning and once again here is Lew. The picture is from last weeks picnic with Ben, Tammy & Crystal. It was a good picnic but was again to hot. This week has cooled off some but lots of rain all around us and floods all over. We have just enough rain and no serious floods or problems here. The grass has really started to grow again so will catch up there some day. Most all the work of carpets, roofs and painting at work is complete and the kids come back this Monday so has been a very hectic two weeks over the break. We have humming birds and finches back so have added there feeders again. It was so hot they must all have went north for the cool. Got the note book all fixed again and runs well now. Had them put on XP only and not any other disks or programs and will install them as needed. Zone Alarm works fine again and all the firewalls are going great. Mema got some movie DVD stuff from the thrift store so I put on the home theater again and that works fine. Got all the hedge trimmed yesterday and all the mowing done except at the barn so need to do that today along with some weeding trimming. Mel said my hedge needed a haircut and she asked Mema for some scissors to trim it. What a little doll. Been getting more karaoke songs from the internet as it was kind of fun so may do it some more. Have been looking for some Christian and children's songs for all the grandkids to sing also. Had to get tire repaired on the big mower yesterday and then grease and adjust some but the carburetor or load control don't kick in right so may need to take it in for repair. Oh Bother. Mema and the girls went to town yesterday also to get the girls some gym shoes and some new school outfits. I stayed home for the yard work but got to see the stuff when they got home. They got some neat blouses and shoes and had fun they said. Guess I better get this posted as did not see Elaine or Barb this morning or anyone else. Love to all Papa, Dad, Uncle, Cousin, and so on. Lew
19 August 2007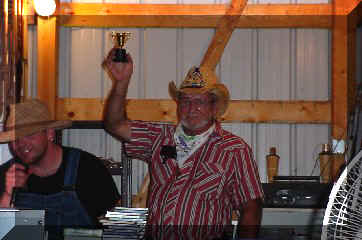 Thought for the week
I can do all thing's through Christ, who strengthens me.
It' Sunday morning and once again here is Lew. Yee Haw the Country Karaoke king is here and last year it was the Pogo stick champ. Where can it go from here. I think it was fixed as DeWayne was much better. I missed last Sunday's journal as we were camping and the computer would not work with my anti virus so did not try to get on line. At any rate the campout was a great success in spite of the ungodly heat we had. My thermometer registered 110 a couple times in the shade. I did not get stuck and Elaine did a great job and it was a lot of fun. Bill & Ellen even came in there new BABY camper, I tripped over it once going to the bathroom. Hee Hee. Sorry Ellen Not. Have some pictures posted from then at Lewzplace. The week this week has just been hot and busy also as we are doing new carpet at work so am about wore out. Have tons of mowing here at home and am way behind on that. Then Friday night we got 1 3/4 in of rain and the temps have cooled off some so that is nice. Saturday was a day on the road as we went to have a picnic with Tammy Ben & Crystal. Brad and family came also and was great to have us all together. Brad did some guitar and harmonica playing. Mom/Mema made some new salad thing and it was real good. The morning was cool and nice but warmed up to about 85 with humidity before the day was done. Tammy Crystal and I went garage sale shopping but didn't get much. We played some croquet and just visited and then came home. I have some pictures posted of then. Also had to take the laptop back in as it would not run Zone Alarm anti virus and it kept saying updates are ready for installing but the whole system was updated the day before. The updates it was trying to get were a year old and had already been on the old system and should have been here also. Zone alarm also worked on the old crashed hard drive but would not here. They used all the disks for the HP system and installed all that drivel that I don't use and along with it all was Norton anti virus. I uninstalled it but I believe Norton leaves something there and Zone alarm will not function with it. I told them to format again and install XP only along with updates and our old documents folders. Will see next week if that solves the problems. I better get this posted and hit the road again as we are going to church with the kids as Brad is doing the service at there church since the pastor is away. Until next time God bless us all. Love Papa, Dad, Brother, Uncle, Cousin, Lew.
05 August 2007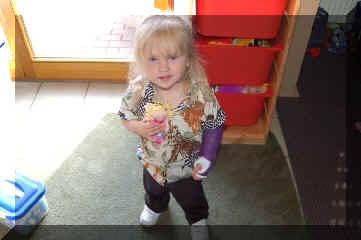 Thought for the week
Patience is the ability to idle your motor when you feel like stripping your gears.
It's Sunday Morning and once again here is Lew. I did some small amount of mowing and yard work last Sunday and then just rested. Mema was tired and beat and we found out Monday she had a cold flu thing. On Monday I did some grocery shopping, and picked up the new couch we got. It is very nice. I watered some plants later and then just nothing. I took the computer in also and had it checked but it just looks like it had a memory lapse or corrupted files, or bad index or all of the above and a windows repair will fix it. Will find out tomorrow for sure as he will run some checks and run all night to check. Oh Bother I could have done that. Mom is looking for some karaoke songs for the campout at Elaine's. Tuesday we found out our little Caitlin hurt her arm hence the journal picture this Sunday of the little dear. She has a cast clear over her elbow so she can't get it off. Just a wrist compression of some sort. Wish Papa could kiss it and make it better. Got the computer back also and it sure is faster again. Just corrupt files I guess, so may take the note book in also and have them clean and repair it also. I did get a case for my Western Digital hard drive and now it is a USB external hard drive and it sure is slick. It has been just a storage device and now I can use it with the note book also. Which speaking of the note book that I tried to use for mom to print from has gone dumb also so guess I will take it in for $30.00 and get it repaired and and all the updates done just like the tower. It is working great after that. This stuff used to be fun back in the late 80's but now is just a bother. Oh Bother. Mom and I ate out tonight, Wednesday, and got the renters set up for the water meter so are done there for awhile. They seem nice and sure hope it works out. I also did some with the pond and took a bag full of the pond lettuce to Earl May as it is growing so fast. Thursday I took the note book in and had them do the repair on it and it seems some better. Think I need some more memory for it as it only has 348 Mb of ram it says. Where did that figure come from. At any rate I got the external hard drive hooked to it and it works really cool or as the grandkids say Kewl. Am having fun with it all and now will look for a Karaoke player to install on the computer and let the grandkids sing with it. I have some other old hard drives I may get a external mount for and use them also. Am I getting Geeky or what. Also watered all the plants again as it is so dry. We sure do need some rain. Friday just did some more playing on computer and then went in to get groceries and do some shopping. Saturday we drove up to see Crystal and then stopped and seen the kids on the way home. On the way up it rained when we got up north and then after we were home it just poured with thunder and lightening here and did the good old Iowa rain show. We really needed it so that was good. We got a little under 3/4 of an inch but I believe my rain gauge leaks some so not sure how accurate that is. Well guess I better get moving and post this before next week arrives. All my love to all and God bless us all. Papa, Dad, Brother, Cousin, Uncle and so on. Lew
29 July 2007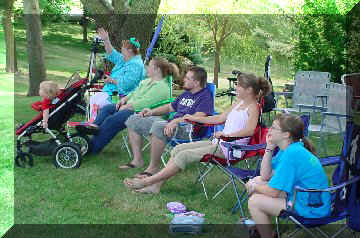 Thought for the week
A Merry heart doeth good like a medicine.
It's Sunday Morning and once again here is Lew. Wow and wow and wow, worked my tail off Sunday after posting the journal but did accomplish a lot. I sprayed many of the landscape areas for weeds, trimmed the bushes and plants in front of the house, trimmed all the landscape areas, picked up and hauled brush, ate a pear from our tree and man are they good, moved and unhooked the camper, treated and sprayed the drive, and wow was I busy. Then in the evening I did some of the pictures I wanted for Brad and Heather and we watched a movie with Amanda. Monday came early and was a good day with much accomplished at work as we are getting ready for some carpet to be installed over break. After work we took Amanda to Yan's for supper and then I went home and Mema and Amanda did some more shopping. I mainly goofed off and put the pictures I did in the frames that I picked up after work. Just watched some TV, set outside, looked up some oximeter stuff on the internet and mainly zoned. When Mema and Amanda came home had to help them carry stuff in and then just did Zero. I did upgrade our Sprint connection manager and got a transfer rate of 9.02 KBS which is great for me. Not sure that is accurate as it was from the sprint site for there program. Tuesday did some mowing and such and hauled mulch home for some of the landscape areas. Amanda went home home and we miss the little stinker. Wednesday the computer went dumb again and that sure is getting old. The newer we get the worse it is. Got it going some but think it needs to go in for a what the heck is wrong check. It seems like it has misplaced or lost it's memory as it now sometimes pops up the little flashlight when it looks for a file and such, or just stops everything mouse and all and all you can do is turn it off. Oh bother. Thursday Mema and I went and looked couches and got a different one and will pick it up on Monday. Also got some plants for around the willow tree and then on Friday I planted them in preparation for the Willey Quasquicentennial on Saturday. On Saturday the Brad and Heather and the kids came for the parade and the games and that sure was fun. I posted some pictures from then and gave them the pictures I did for them. We lasted till about 6PM and then the kids packed up and went home and Mema and I just vegged and watched a movie and I gave up about ten and went to bed. Earlier in the week Mel and Steph posted some pictures on KCCI for a contest but there's were not chosen for the finals so I hope they try again. It is now Sunday and the dawn was great and looks like a real nice beginning to the day. Will get this posted and get busy. God bless us all love Papa, Dad, Brother, Cousin, Uncle and so on Lew.
22 July 2007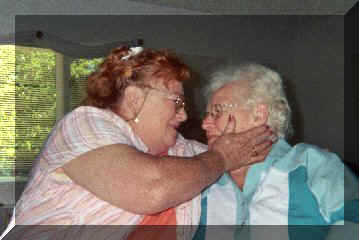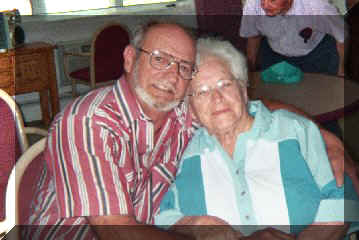 Thought for the week
We can give advice but not the wisdom to profit by it.
It's Sunday morning and once again here is Lew. What a week, the temperature has been just miserable in the 90's most of the week. Did not do much outside except a few small things I had to like the fish etc. I got Amanda's Bible camp photo pages done on Sunday afternoon but not sure if I got all the right ones. Hope she lets me know. Called Brad as I do not have any from My little Faith's Bible camp so hope I get those also. Monday did a little outside and then we watched some TV and went to bed, did not feel so well. Tuesday had a chat with Barb Beelan and also Dick Fischer and he said Josh is back in the hospital so keep him in our prayers please as he can use it. Had to tend to some outside plants that I didn't want to lose so did them on Tuesday also. Had a plum pudding coral bell plant to fix and a couple of our double Knock out rose bushes to feed and then I mulched them and the coral bells to hold the moisture. I also had to weave the silver lace vine we put in so it would go where we want it. By then it was two hot so gave up and went inside. The temperature at 6 PM said 98 degrees. Please take Texas back as this is to hot. Wednesday still hotter than Hades and did some weed pulling and such but real slow work in this heat. Cut out some small tree starts in the landscape areas and then gave up and went inside. Needed some work clothes cleaned so washed some of them but the wife said I did it wrong again. I guess I am supposed to fill the machine with water and add the soap and then put the clothes in. Oh Bother. It all worked just fine even if it's not correct. Hee Hee. Thursday was some cooler so that helped some but still to hot. Did some more outside stuff and got the hedge trimmed, some weeding done, cleared drive to get ready for spraying for weeds, and cleaned some more landscape to be sprayed and mulch added. Friday dawned a cool morning and a very nice day and finish many small tasks but mostly did relaxing stuff. That's politician talk for I'm babbling on and on but saying absolutely nothing when I say it. Good huh? Saturday we went road tripping to visit our Crystal and I took the laptop along to show her some of the trip pictures and such but it went dumb again so didn't see many of them. Oh Bother. Our visit was good and trip was nice and Brad went along so it was even more enjoyable for that. The car died several times and then when we got about home it popped up the bell and low on gas light. Some thing went really wacky as that was a full tank when we started and normally would use maybe a half tank. Now what. Got home and then started the cleanup of the laptop and see if I can get it to work right again but got tired and went to bed before I could finish it. When I got up this morning I started the virus scan and will see where that gets us. It is another great sunrise and better temps so far so should be a nice day. Last night when we came home from Brads after dropping him off we brought our little Amanda with us so will have her for about 3 days I believe. That will be neat as she is another little sweetheart. All our grandkids are great and we are so fortunate. Guess I better stop babbling and get this posted as no body else is here for the chat and all. God bless everyone and see you next Sunday morning. Love Papa, Dad, Brother, Uncle, Cousin, Lew.
15 July 2007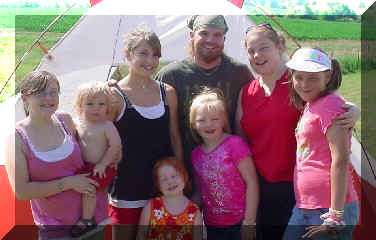 Thought for the week
Honest labor bears a lovely face
It's Sunday morning and once again here is Lew. The campout was great and we had a lot of fun but it was way to hot. The drive home Sunday was very miserable from the heat and we had a straight on head wind so the van was struggling to keep moving and to keep the air inside cool. We stopped at Toledo and got a Maid rite for our little Faith and they sure were not what they were years ago. After getting home just unloaded some stuff and then rested and went to bed. Monday came and the heat had let up some and had a busy day at work and then had to hurry to the rental and finish up as the renters wanted in right away. Oh Bother. Got that done and then just went home and vegged. Mom, Brad and Faith went to town for supper and then my little darling Faith suggested they bring a sandwich home for Papa. What a little doll. Tuesday was hectic at work as the roofers came and the painters came and the carpet layers came and what a circus. Then went home and did some yard cleaning and such. I gave up about 7 and just watched TV as I wasn't feeling so good. Thursday dawned some cooler and I had a good day and got a lot done. Camper is about cleaned out and ready to go to Elaine's if we can go this year. Will have so much going on at work this year at that time as will be roofing, painting, and carpet laying at work at that time. Will only get to leave on Friday night and back on Sunday if I can even go. Oh Bother. Got some of the weeds around the pond cleaned out and some around the picnic table and then trimmed some of the hedge there so it looks some better but still a lot to do for it to be Kewl looking. I got the kids some pages printed for there scrapbooks from DeWayne's campout so that is one more chore done. Amanda came home from camp and would like some of those pictures added to her book also. I told her I would develop them and then do her book for her as I could get a cd of the pictures when developed. Friday night all the kids spent the night and that was fun. Then Heather picked them up on Saturday and I got busy and cleaned my Den/Ham/Computer room as it was a real mess. Now it is just cluttered. Hee Hee. I cleaned the battery for Mel's diabetes meter and got it going again but told them they need a new battery on hand just in case. Had to add some ink to the printer as it really ate the ink printing the scrapbooks. We been checking moms oxygen level as the doctor seems to be worried about it. Am doing some research to see what the level you should start to worry about it would be as the tests we seen seem to be not real serious but need more research. We both smoked for about 40 years so am checking for an oximeter to maybe check the level for both of us. Went all over the net but no luck after an hour or so so went to a book we have for the answer in about 3 minutes. Go Figure what is the internet suppose to do. The level should be in the 90's the way it looks but the low seems to be about 88 and the lower 80's can be a problem. Now to get the meter and see why it would be in the 90's during the day and the 80's at night. Anyhow found them on Ebay but need to check as some are Chinese rip off ones that don't work well the way it sounds. Life is such a challenge don't you think. Tammy and Ben came down on Saturday night and we had a good visit. Everyone is sleeping in and the sunrise was really nice with a temp of about 58 degrees so it is a wonderful start to the day. I think I better get the post done and get going so I can enjoy it before the heat returns. All my love to all and God bless each of us. Love Papa, Dad, Uncle, Cousin, Lew.
8 July 2007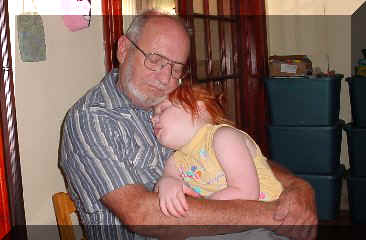 Thought for the week
The prayer of a righteous man has great power in its effects.
It's Sunday morning and once again here is Lew. The week has been a very hectic and short week. We spent Monday and Tuesday evening working at the rental and Brad came along those days and really helped to get it ready. There was a lot of just little stuff. I did some mowing at home and some plant watering and other yard work. I also got the sway controller fixed for the camper and in between all the other stuff loaded and got stuff ready for the campout at DeWayne and Danielle's for the weekend after the 4th. We then went to the 4th of July parade in Sac City as Brad's group, Awana, from his church and all his kids were on a float in the parade. It was pretty good and we got home late on Wednesday night. I stayed up till almost midnight working on things for camping and helping mom with some crab salad and finally gave up. Thursday we were up early and finished all the camping stuff and hit the road about 9 AM and arrived at the campout at about 2:30 or so on Thursday. The kids were working and no one else was there yet so we had a very quiet afternoon and I did T bones for supper and we played some cribbage and just goofed off. Of course this was all after I had the camper set up and the tables and carpets and stuff all set up along with the grill table to cook on. Did some internet stuff and the wireless card seemed to work okay here but caught a roaming signal once and it was slow. The heat has been really bad and on Friday went over and took mom out to dinner to Long John silvers and it was fun . All went well and I think mom had a good time. We had a great bonfire roasted some marshmallows and then we went to bed. Then on Saturday I made Sausage, eggs and pancakes for breakfast and we had sandwiches for lunch that Brad made. Then we had our community supper where we all made our own meat and then shared all the rest. I did some steaks and furnished potato salad, pea salad, broccoli salad, and some of moms crab salad. It was a good feast. The kids played all day and seemed to have a lot of fun but it was to hot for me. Then on Saturday evening DeWayne had his karaoke and that was fun but I only lasted till about 11:30. Mom sang, and Brad and Heather and the kids sang and I taped them but the camera was acting goofy so hope it came out ok. At any rate I better get this going and get it posted and then pack up and get home and back to the old grind tomorrow. Love to all Papa, Dad, Brother, Uncle, Cousin, etc. Lew
1 July 2007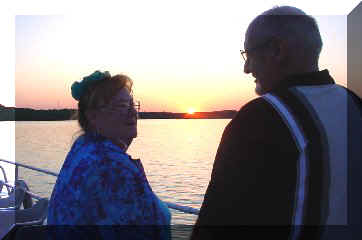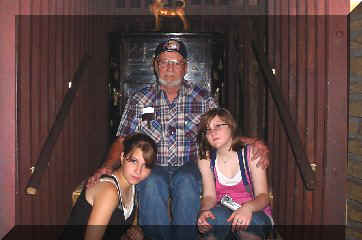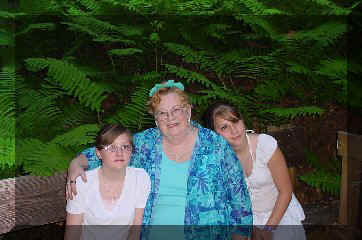 Thought for the week
If God numbers our hairs, will he not also number our tears.
It's Sunday morning and once again here is Lew. What a week this has been. Running like mad but nothing done so wonder how that works. Mom did get the house rented yesterday so that helps but I worked there for about 6 hours and very little done but the renters seem nice and are just kids and have two children and one on the way. I also mowed the yard at home. Maybe should just grab our two little lumps and go back on vacation. We will have two more of our pumpkins next weekend for the 4th weekend campout at DeWayne's. Our little Amanda and Faith will be going with us early and then Brad & family will be coming Friday I think. I worked some this week on some scrapbook pages for the kids photo books and added one for Sarah as she is becoming our little big girl. Work was really busy and I believe I might have saved the tree and some plants after they were not watered while I was gone. Boy was I upset. I did lose one hanging basket and two of the trees will look rather bad for a couple years. The planter one has been there for 16 years. I finally got the big mower adjusted right again so now it runs good. Also finally got the double knock out roses replaced that didn't make it through the year. Took a lot of the water lettuce out of the pond and gave back to Earl May as it is growing and multiplying like mad and then treated the pond again yesterday and is sure clear again. The computer went dumb again while scrap booking and printing so I guess it was to much for the print spooler so got confused. Will remove and reinstall the printer if it continues. Man does that ever use a lot of ink for the projects. Oh well it's fun and worth it. Have not even got the camper unloaded so will just leave the rest and add what else we need to go over to DeWayne's for the 4th. Still need to fix the sway controller that broke on the last trip. Oh bother. Might need a battery also if it is dead again. Today we run and see our other little darling Crystal and sure am excited to see her again. I'm beginning to want my babies and grandbabies around all the time. What's up with that. I am signed in to messenger this morning but no one is there yet. Computer is also trying to update so that is always a mess. It always wants to run stuff I have no need for. Thank you Bill Gates. All of our finches have been gone since we got back from vacation and can't figure out why. Maybe the weather was just to hot for them and they went farther north. It has been a very hot and humid year so far so maybe that's it. Guess I better get this posted and get going. God Bless and Love to all. Papa, Dad, Brother, Uncle, Cousin and so on. Lew
24 June 2007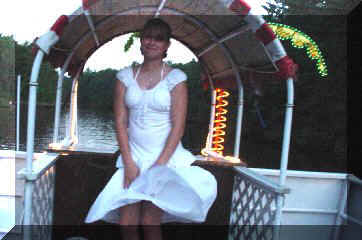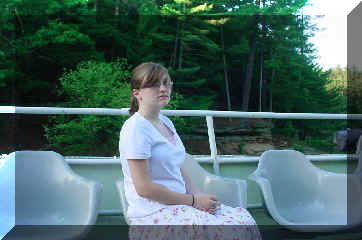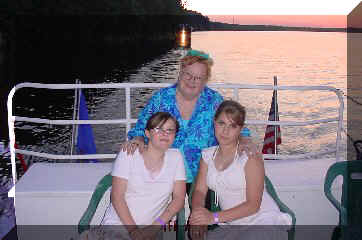 Thought for the week
Never put off till tomorrow what you can do today.
It's Sunday Morning and once again here is Lew. Praise the Lord for a wonderful trip and a grand vacation. It was hard for it to stop as we all enjoyed it so much. Today's pictures were taken on our dinner cruise on the upper dells. Our little pumpkins clean up real nice don't they. The cruise was wonderful and the meal was excellent. We spent Sunday afternoon at Brad's for Stephanie's Bday and for fathers day celebrations together. I got some terrific gifts that I did not deserve and we had a great meal. Monday found me mowing and doing yard stuff and more work on the pond and camper things. The ball for the sway controller on the camper broke so need to fix that. I picked one up but did not get it on yet. On Tuesday there was more mowing and camper unloading. Much work also at work as the guys did not mow or water like I left instructions to so have been trying desperately to save some plants and trees. One tree has been in the planter for 17 years so if it is dead I will be very upset. Wednesday found us unloading more from the camper and watering plants etc as the heat is just terrible and everything is really dry. I treated the pond to get it clear again and then just watched some TV. Thursday turned really hot and humid and not a fun day. Late in the afternoon finally got some rain and it seemed to clear out the air some so that was nice and we really need some rain but it was not enough. Maybe get some more this evening. I tried to load some Fathers day/Steph's Bday pictures but once again MSN has went dumb. What's up with that. Sent them an Email and waited an hour and then tried again and it is now working. The internet is broken can someone please fix it. I am getting the pictures uploaded though even if it is slow. As I sat outside tonight I seen the finch feeders were low and was drawn back to an earlier time and a small blond haired little girl that would help Papa fill them so the birds would stay here with us and then later in the evening as I seen all the firefly's light up the night sky I could see my little Crystal, her blond hair blowing in the breeze as she ran after them with a fruit jar in hand that mema gave her to catch them to use as a night light. Those were the days my friends. Friday showed promise of rain and before the day ended we has some and it sure was needed and appreciated. Later Mema & I did some grocery shopping and then watched some TV. Saturday dawned some cooler and did some outside work. Brad came over early and helped me mow at the farm and rental. Then we did some work on the house there to get it ready to rent again. We then went home and Heather and the girls were there and helped Mema some with some chores. It is very hard to figure out what to have them do like that. They gave us that as a fathers Day/Mothers day gift to help us work for a day. We did some more mowing at home and I trimmed the hedge and then Elaine and Steve and John and Susie stopped by from getting there trailer over in Manila. They got a real good deal on it from some family relatives there. It was great to see them and sure will be a cool camper with very minor work. I then cooked steaks and we had them and corn on the cob and salads for supper and played a game of cranium and the kids went home. As they were leaving our little Mel was chasing after fire flies to catch and again I was carried back to some childhood days and fond memories. She did not want a jar for the night light though cause she said they always die. All in all it was a fun day. And today is cool and misty out and it will be another warm one it seems by how it feels now. I better get this posted and get moving. God bless all and take care. Love Papa, Dad, Cousin, Brother, Uncle and so on. Lew
17 June 2007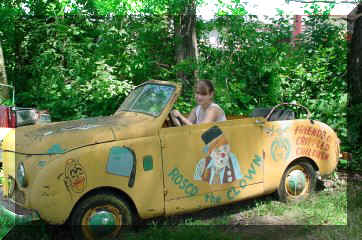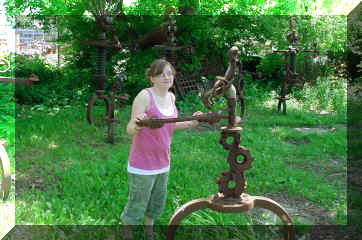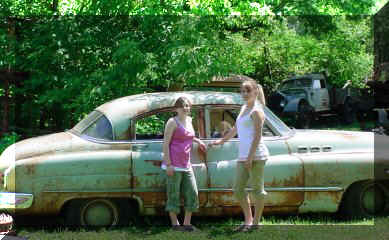 Thought for the week
If you can dream it you can do it.
Yahoo we are at the Wisconsin dells and are camped at the Yogi Bear Jellystone campground somewhere in the Dells. I need to get going soon and get the girls to the water park here as they want to go swimming. Okay been there done that and they had fun at the water park thing and the sunburn blisters should go away in a few weeks. :) Mel's Smiley. I felt so bad about the blisters that I let the girls get a tattoo each. Do we dare come home? Got some cool pictures at Forevertron on the way here and will try and post them later when the camera battery is charged. It was a marvelous place and sure neat to see. We got supper done and we had steaks, potatoes, and creamed corn and then off to bed as it will be busy the next day. Already been a week and we are not even half way done yet. Hope we can make it to the Great Lakes. Should have checked the Jellystone campground more as it is right on the freeway and sure noisy. Glad we are so tired we can sleep through it and are not there during the day. Is rather pricey for what it is also but guess that's the tourist area ways. Monday Mema was not feeling well so I just let her and the girls sleep in and did some computer stuff and checked with the maps and brochures some to change our schedule a little so we can still see a bunch. Got the pictures from Forevertron posted, since the batteries were all charged, and they are cool. Mema and Steph finally got up at 10am but Steph snuggled in by mema in our bed so that was cool. Finally at 11am all were up and raring to go but I need a nap. Oh Bother. Got the girls to the pool again and Steph got pink on the cheeks and shoulders but Mel just got a little tan. I then set up for a dinner cruise for the evening and we went to Burger king for some dinner. From there we went to Ripley's believe it or not museum. It was cool and the girls really liked it. Then we rushed back to the camper to change and get ready for the dinner cruise. The dinner cruise was great and the meal was a real treat. The scenery was great and the girls looked so nice in there dress outfits. They said they did not want to dress up but I could see them prance all evening and I believe they really liked it even though they complained we were the only ones dressed up. Got home around 9:30 and cleared cameras, charged batteries, and posted pictures. It was a great day. Woke up Tuesday to heavy sultry weather and we are going to be here for a couple days yet so I went and registered for two more nights here. Today will see if I can get the girls sunburned some more and we will visit some more of the sites in the Dells, then tomorrow we will leave the camper here and travel to the Great Lake Michigan for the day. May have to start heading back home then as it will be Thursday. We sure have covered a lot of ground and seen a lot of things with much more to go. Mema and the girls are tired again so they are sleeping in. After getting up the girls did some sunbathing while I did some laundry and then we headed to the Dells again. Had to stop at Wal Mart for some swim stuff then on to Wizard Quest which was a real challenge. The girls really liked it I think but it is way to stressful for me and I wasn't feeling so well anyhow. We ate lunch at Burger king and then we had supper at Country kitchen and then went on to a gift shop for more shopping. By this time it was 10pm and I was not feeling well and very tired so we went back to the trailer and went to bed. Wednesday finds us on our way to the shores of Lake Michigan and some more burning of the girls. Mel is getting some tan and Steph is being careful not to burn. All in all it is a great trip so far. Mema even has her new Minnetonka moccasins for this trip. Is now Thursday and we spent most of the after noon at Harrington Beach on Lake Michigan yesterday and Steph got some pink but I think will be fine. I burned my head and tops of my feet etc and Mel is getting a tan. We ate at the Hobo restaurant at the end of the day and headed home to camper. When we got home last night the girls all three did there nails with some of the glue on ones they got and was all up till midnight. They had a lot of fun and laughed all the time cause they glued fingers together and all sorts of funny stuff. It was great to here the truly joyful childhood laughter and fun going on again. I hope the girls are enjoying this as much as us. We spent today just goofing off and vegging and were going to spend one more night here and then head home but we found out someone had reserved our spot for Thursday night so we packed up and hit the road. We spent Thursday night back at Valley RV park in Spring Green and just goofed off again. Friday dawned hot and humid and I was tired as I did not sleep well and we then started the long trip home. We stopped at a Wal Mart for some personal stuff for the girls and at a yard sale for some junk. We could not stay long as the van was overheating real bad from it being so hot. I do not like all this heat!!!! We camped at the same campground in Nashua as we did going but it is packed this time. I made pork steak, potatoes, and salads for supper and we just played with puzzles and went to bed. Saturday morning dawned with a quiet sadness as the final day of a wonderful trip begins with a overcast hazy sky as if it is sad also and it leaves no doubt it will be another real warm humid day. As the day begins the girls are up but snuggled in bed with Mema and what a precious sight that is. The good Lord has truly given us more wonderful blessings than we truly deserve and I am so thankful for that. We stopped at a few garage sales on the road but mostly had a quiet trip as the girls napped and read and we listened to a library tape Mema got about dragons. Finally arriving back home we went out to eat at Yan's buffet, unpacked some, filled the pond and Mema and the girls sorted things out after we got them in the house. It was a wonderful two weeks and we seen many new things. God bless us all and help us in our times of need. Papa, Dad, Uncle Cousin, Brother and so on. Lew
10 June 2007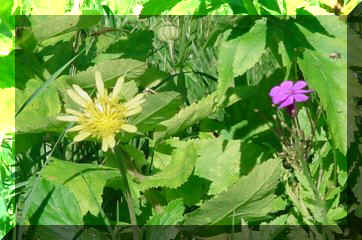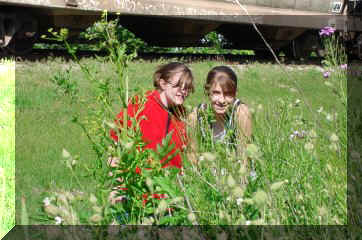 Thought for the week
Never look so hard at the things happening that you forget to see the world around you.
It's Sunday Morning and once again here is Lew. Getting ready for our trip was a lot more work than we thought. We finally got going on Monday and it was a late start. Anyhow we made it to West Bend and camped at the Grotto of the Redemption. As you can see by the pictures we picked a couple of really cute flowers to dress up the camper and take with us. These were by some train tracks at the campground. We will have many pictures we will post as the wireless service will allow. The next day we toured the Grotto. The girls really liked that I believe. They took a lot of pictures and wanted to see it all which of course took us to the gift shop where they got some rings and trinkets. The following day we went to Nashua and camped there at the city park. It was a nice campground. We seen the Little brown church there and the girls were not to impressed with it. Also a gift shop where the girls had there picture taken with some cute Indian and post cards and trinkets were again exchanged in trade for some silver. From here we then headed East again and visited the Spook cave that you have to travel through in a canoe to see it. It was really cool and again more pictures and trinkets at the gift shop. Our little flowers seemed to really like this one. This was an overcast and rainy day so we proceeded on from there to Prairie du Chien Wisconsin and camped at a local private campground. It was okay but not real great but we had our showers and clean up and did a campfire and smores and then to bed as there were many wonders in this area to see. On Thursday we got up fairly early, 7am hee hee, and went to Hamann's variety store, which was like and old time variety store. It had many things and was able to get mom some Blue Waltz perfume. I have not seen that in many years and it sure was a treat to see the excitement when she found it. From there we then went to the Cannery which was supposed to be an antique store but it was not. We then ate lunch and went to a second hand store and to the grocery store and then on to a state park campground. It is on the juncture of the Wisconsin and the Mississippi river on a very high ridge and has many very scenic overlooks. We looked at some and then just goofed off. Friday dawned crisp and cool with a hint of a wintry chill. It was a wonderful change from the heat and humidity of yesterday. I let Mema and the girls sleep in as we were up late and they needed some rest. On our departure we walked to the lookout over both rivers and did some pictures. It was really pretty. The girls seem excited to see lots and it sure lets us see all this through there young, unspoiled minds and eyes. We are having more fun than them I believe. After leaving there we went to Kickapoo caverns but they were closed after a 20 mile trip to see them. We then left and went on east and found another road to the Eagle cave. After another 10 mile trek we discovered that the hill was so steep the van could not get up it or it would down shift so it could. We were about thirty feet from the crest when we came to a complete stop and then I had to back up about 1/2 mile down hill before I could turn around. From there we then went on and got some lunch at Dairy Queen and then on the road again. Mema then got some sickness of some sort and we decided since it was 3:30 we would just stop for the night. We got a small mom and pop RV park and I made steak, potatoes, and corn for supper and then did some laundry. By then it was 9:30 and still no shower, so missed one that night. Here we were camped close to the house on the rock so started with that adventure the next day. Saturday dawned another crisp cool morning and it was a nice one. Woke Mema at 7 and again at 8 so was a slow start but was a great day. We got going about 10 am and then seen the lookout for the house on the rock and got some good pictures. We did all three tours and it was really fun. There was tons to see and the house was really cool along with all the other nostalgia and such tours. We spent about 6 hours getting through all three tours and most of us were really exhausted. We then went back to the camper and started supper and it was then 7pm. After supper the girls worked on some gifts for later and Mema got the trip stuff for tomorrow figured out and I got camera pictures cleared off, formatted, and charged for the excitement tomorrow. It is now 9 pm Saturday night and I will see about posting tomorrow from the Internet cafe here in Spring Green, Wisconsin. Am I a Geek or what. We are having fun so God bless us all and love to all. Papa, Dad, Brother, Uncle, Cousin, and so on. Lew
03 June 2007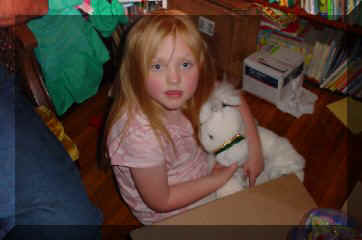 Thought for the week
Blessed are strict parents, for they shall inherit orderly children.
It's Sunday morning and once again here is Lew. What a busy week and still not ready for our vacation and we leave tomorrow. Had some complications so will be two days late getting going. We had to wait to have a birthday party with our little Faith before we left. She is growing so fast and is now 7, WOW where has the time went. We were there yesterday and she sure got some cute clothes and lots of toys. She said I sure am spoiled. What a little doll. Been all week getting the camper ready and sure seems like it is taking a lot longer lately. Ya and the floor is farther away than it used to be. I must need glasses. At any rate the gas tanks are full and the fridge, water heater, and furnace all work along with the air conditioner so we are good to go there. The water tanks are filled and have installed several small dressers for the girls clothes. The van air is fixed so that is ready just need to fill with gas. Did yard work all week and then did all the mowing yesterday so that is good and Brad said he would mow a time or two while we are gone and Heather said she would stop and water and check fish. The pond has cleared up and is really looking nice again so am glad for that. Mom seems to be doing better on her machine now and is up and moving more which is really great. She beat me up this morning and was on the go when I got up with the trip stuff. I finally broke down and bought some new clothes for our trip as most of what I have mom has shrunk so bad they don't fit anymore. Hee Hee. Got a lot of the camper stuff ready but am glad we have this day to finish as still don't have it all done. The girls are real excited to go and can't wait till tomorrow so hope we have a really nice time. Mema has sure worked to make it so. Will have the laptop along but not the radio's this time as we will be very busy I think. Guess I better get this posted and get moving. God bless everyone till next time, Love Papa, Dad, Uncle, Cousin, Brother and so forth. Lew
27 May 2007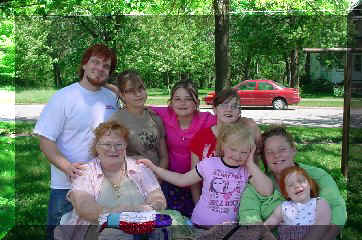 Thought for the week
Blessed are consistent parents, for they shall obtain their children's trust.
It's Sunday morning and once again here is Lew. After my post last Sunday the day got real busy. I cleaned 3 of our flower beds, cleaned more on the fish pond, mowed and did weed eating at the barn, mowed at the rental, mowed here at home, trimmed both hedges and three bushes, did some stuff at work, fixed the Deines mower as it broke a chain, and finally gave up about 5pm. What a day. Monday did more mowing and had to work on the mower again as some of the sprockets were lose. Had to water a lot of the new plants again so I can keep them alive till I get them all planted. Picked up some replacement plants from Earl May as some died that should have come back around the pond. Tuesday night then Mom and I planted some of the hosta's and vines for the arbor, mom cleaned some weeds and planted 4 o'clock and morning glories, and I did some work on the pond. It is really clear now and getting better. Wednesday I planted the new plants around the pond and removed the North American cranberry bush at one end as it was to large. I moved a lot of the rocks to get the plants in good and then replaced them and picked up more from the barn and added them around the new plants. It is looking real nice so hope these plants survive. Also got the new push mower but it would not cut grass, it ran fine but the blade did not work. Took it back and found out the blade belt was bad, they put on a new belt and now is fine. Now Brad can have his back as it is running fine now after the fixes. Also found out Mom Orcutt has been sort of kicked out by Tom's daughter as he had an operation and she said he could not deal with taking care of her any more so she has been staying at Elaine's till we get something worked out. The girls say we are to far away to have her here with us and Ellen is looking for a nursing home for now as she needs 24/7 care because of the memory I guess. We had a doctors appointment for Carol on Wednesday and we then set up for a sleep test we went to on Friday for her as she is always so tired. Wow did that ever tell us a lot. She is sleeping but getting no rest at all. She stops breathing completely about 120 times and hour and the average with this problem is 5 time an hour and this is very dangerous. She also moves and works all night sleeping and gets no rest there. The tech said there should be a great improvement in about a month with the sleep machine. It is a small mask for the mouth and nose and it keeps the air way open and we should get that next week he said. Later he said with the rest up and the weight down this could disappear again. Great Huh. We should have it in time for our camping trip with the girls so they will see Mema as an alien with her mask on. Hee Hee. I also worked on the letter for the renters so we can get that all taken care of as they left owing a $985.99 gas bill among some other small damage fees and not fulfilling their contract. We took that to the lawyer on Friday also and he said we were way to nice and he will take care of it for us so he used our letter for info and wrote one up to send them. Got another big shower on Wednesday night and about 3 inches of rain so sure is a wet spring. Mema is still working on the trip stuff and this weekend will spend it all getting the camper ready to go. We did a little on Thursday and got all the things out of the attic and in the camper. Also on Thursday I went to the set aside to have a small break and rest by mom's fire pit and guess what I saw. A Blue Bird checking out our Blue bird house I put up on a post by the pit for them. It is the first one I seen here so that is real Kewl. Mom Akin had the house at there place and never did get a Blue bird in it so after she passed away we brought it here but never did get it up right. After I got the fire pit done I seen the east post had a great southern exposure at the right height and overlooked an open grass area and field that the Blue bird likes so I put the house up there last year and WOW we may have one nest in it now. Saturday was full of rain again and overcast so a very dreary day and did not do much outside stuff but worked on getting the camper ready. We went to town and got some things for the trip and I got the water, gas, and all that going. It is going to be a fun trip I hope. Mema and I sure are excited about it. I guess I have rattled on here long enough so will close with all my love and God's blessings to all. Love Papa, Dad, Brother, Uncle, Cousin and all Lew
20 May 2007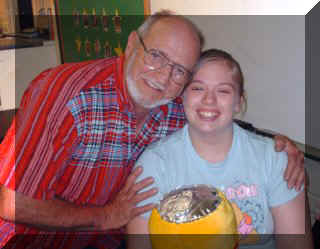 Thought for the week
Give others a piece of your heart not a piece of your mind.
It's Sunday Morning and once again here is Lew. Been a very busy week but got a mower from Brad so can mow again on the bank. Had to get some new wheels for it as one of them fell of and then had to reinforce the handle as when you moved a certain way the blade hit something. Is going pretty good now but still needs some carburetor work but all in all will be a good mower till I get the 2 cycle from Iowa small engine. Then he will have a good mower back. Thank you very much son. Then on Thursday the big rider broke the tire spindle clear off so had to get it welded back together. Tuesday the weed eater would not start so had to get that going. Now the hedge needs trimming. I drained the waterfall on the pond as I could not get the water clear and cleaned all the filters and lava rock and restarted the good algae growth that eats all the bad stuff, then added a bunch of plants to help it along. By Saturday it was already looking a little better and today is a lot clearer than before. The fish are really growing and the winter out did not seem to hurt them at all. Finally got almost all of the bird feeders out this week as we are overloaded with birds. We got moms Arbor day trees planted and one has leaves already so hope they all make it. Got all the mowing finished Friday but still some wet spots I had to miss and then can start it all over again today. This includes the rental now that no one is there and at the barn. Sure have a lot of trees to trim yet even if I did get many done. Wow is the time ever flying, May is half over and two weeks till we get our two girls and head out on our Wisconsin trip. I hope they are as excited as we are and sure hope we can make it a good trip for the kids and are able to keep up with them. Mema has lots of stuff planned and should be fun, but wow gas is now $3.39 a gallon so will be expensive for the gas. Oh Bother. Saturday we went to see our little Crystal and Mema seen a junk store on the way so had to stop there. Didn't have much of anything but tons of clothes. Just what I wanted to see. Oh well it was fun but we were late. Had the computer along so I played on it while she shopped. The wireless card seems to work good but is still prone to internet activity for speed. Not quite sure but downloads always seem to be faster than uploads. Although uploads are mostly pictures and the down loads are usually updates, files, etc for new programs and such. I would think the speed would be the same but have seen the download speed step up to 10 Kbs but the upload only to about 5 Kbs. How does that work. At any rate it did get better after I called them and complained. Why do we always have to do that before we get any service. It sure is different than it used to be. I watched the sunrise today and it will be a great day so I better get this posted and get a move on it. It is already 7 AM and no one is on messenger to chat with so will miss that today. Girls Papa and Mema are getting the camper ready to go and hope you have all your things you need figured out and ready. All my love to all and God bless us each and every one. Papa, Dad, Brother, Uncle, Cousin, Lew.
13 May 2007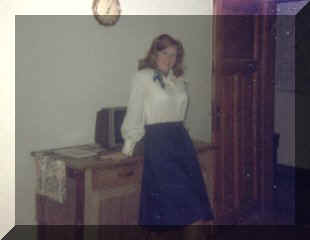 Thought for the week
Please, Lord, fill my mouth with worthwhile stuff, and nudge me when I said enough.
It's Sunday morning and Once again here is Lew. Happy mother's day to all and especially, Happy Mother's day to my wife, The love of my life, The mother of my children, The glue through our strife, My companion, My Lover, My light through the dark, and most important of all My very best friend. I love you more today than yesterday but less than tomorrow. Okay Okay I'm done but I mean it. Just in case you have not already noticed the calendar I made this year has the wrong year for the months of May, July and September so they are not any good for the days of the week the days are on. I made them for 2006 instead of 2007. Hello. What a week this has been. Got a call Monday from our renters saying they have moved out. Some lame excuse that they found some drugs in one of the closets after they have been living there for 8 and 1/2 months. HUH??? Will see a lawyer about the lease time left and such. Go figure. Had to get a tune up kit for the big zero turn as it was running kind of sluggish. Some of it is the rain and wet areas and the grass is so long. Some areas may have to bale. Also had to mow at the farm and rental and the country clipper mower had a bad wheel bearing so had to fix that. Then doing the push mowing on the ditch bank here I slipped and the mower slipped and the blade hit the culvert knocking the keyway on the flywheel out and bending the crankshaft. It is a very steep bank and you need a 2 cycle as the 4 cycle is so far sideways the oil don't get to all the parts and it burns up rather fast. Surprise they are not making 2 cycles any more because of the emissions but found a used one at Iowa small engine I may get if they can get a new coil for the ignition. Got the oriole feeders out as the orioles are back. Seen some humming birds yesterday so need to get them going also. The types of birds we have this spring is just amazing. There are grosbeaks, Indigo buntings, Orioles, Goldfinch, Catbirds, owls, robins, wrens, house finch, jays, thrush, nuthatch, just to list a few. I have 7 goldfinch feeders up and each have 8 perches and they are all full with some waiting in the trees. That makes probably from 60 to 80 of them and when they take off it is just a yellow cloud. It is so cool to see them all along with the squirrels and such. The good Lord sure knows what he is doing. We have several full grown squirrels and we have seen one baby one. The pond is rather dirty and cloudy so not sure what to do there yet. We planted moms arbor day trees yesterday for some of her mothers day gifts. The plants by her fire pit have all made it and it looks real nice and the weeping mulberry and the Gingko have leaves now so they made it fine. Man we have put in so much stuff I may have to retire just to keep up with it all. It is very pretty though and we like it. Mom has been fighting the flu the last week so it is just one thing after another. Speaking of Mom/Mema don't tell her about the gorgeous chick I have as the picture this Sunday. Hee Hee. Am working with sprint as my speed with there USB modem dropped drastically after the first week, or I read some speeds wrong the first week. It stepped up from 12 to 30 Kbs the first week and then dropped to 2 to 4 Kbs and stayed at that after the first week. Seems like it never ends, could someone please fix the internet and the ISP community for us to get there. Thank you in advance. It is a beautiful morning out and have completed feeding the birds, need finch food and sunflower seeds, and we are going to Brad & Heathers today for mothers day so better get this finished and post it. Sorry I got so windy today. Happy Mothers day and God bless you all. Love Papa, Dad, Brother, Cousin, Uncle and so on. Lew
06 May 2007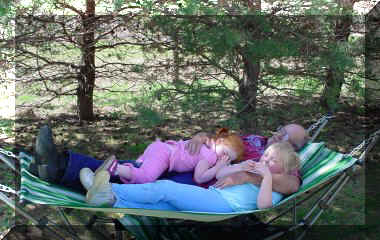 Thought for the week
This day nothing will come my way that God and I cannot handle.
It's Sunday morning and once again here is Lew. What a week it has been, what with the rain and the grass growing and wet spots I can't mow I will need a baler soon. Work has been a night mare with a lot of my equipment breaking down or malfunctioning and the technology behind it just stinks thank you Bill Gates. The internet is broken and needs to be shut down and rebuilt for today's genre as it was set up for the government of many years past and then let out to the civilian world, let's fix it. Oh Bother!! Our telephone broke so had to get a new one so bought a cordless one that has 3 handsets with it and that's kind of cool. The base and handset are the answering machine and the other two we can put upstairs and in the garage and have the phone in those places. Fired up the Swan on Wednesday but no Swan net so missed that again. Got mom some presents for her Birthday and Tammy and Brad, Heather and kids were here to help celebrate. Tammy came on Friday night along with Heather and they spent the night sort of like a girls night out. We ate at Yans Buffet and the did some shopping at Hy Vee and got some movies and went home and watched them. I didn't last very long but they stayed up late and then spent the night. I made breakfast for them and for mom and we had a great visit. We opened gifts and Mom/Mema got some fine stuff. Then I had loose meat or my Maid Rites with salads for lunch and being a big softie I got Pizza and subways for supper because the kids didn't like the same thing. During the day the kids played outside and Sarah fell in the pond and got really scared but all is okay. She is such a little trooper. Tammy left about 4 and then at 6 we had supper but some of the stuff I got special for some didn't like it cause I had the wrong stuff on it. Next time they get just what I get. Then we started the movie Cars for the kids and set out to play Cranium with the big kids. I still haven't heard back from Sprint as to why my speed dropped so much after the first couple days so guess I'll have to call. I put all the cleaning stuff in the pond again today and the filters sure get full of stuff when I do that. It sure cleans it out though. The leaves and stuff from the bottom just boil up and Steph, the little Sweetheart, used the net to skim a lot of the debris off. She did a real good job and Papa was proud of her she is such a little helper. Right after supper Heather had to go to her book club so we put in another movie and then finally got to play Cranium and it was fun. Brad & I played Mema and Steph as Mel did not want to play. Brad and I won but it was close. Steph did a really great job with answers and all. We had some popcorn snacks and then the kids did some of there bible study and left for home about 10:30. It was a great birthday celebration for mom and it all ended to suddenly. I guess I better get this closed down and get it posted as it looks like another completely rainy day. God Bless. Love Papa, Dad, Brother, Uncle, Cousin and so on. Lew
29 April 2007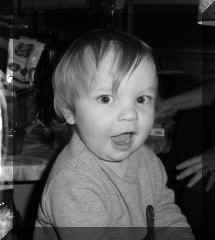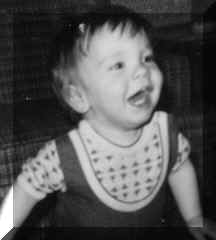 Thought for the week
Thank God for all our bad luck because without it we would have no luck at all.
It's Sunday morning and once again here is Lew. It has been a very busy week and we had a lot of rain. About 4 1/2 inches according to some of the local rain gauges. I know it was a lot anyhow. What a nutty week it has been. The first of the week we went to another Track meet for Mel and she was 1st in the shot put and 1st in the long jump 2nd in the shuttle hurdles and 3rd in flight hurdles. Is the just great. Also on Sunday we went to see our little Crystal and that was a great visit. Mom and I were both pooped out on Wednesday so we missed the girls concert and hope they understand. Mowing has been never ending with all the rain and now it is so wet we are leaving big black tire tracks. Guess I will wait for it to dry some and then we will have to bale it. Hee Hee. Had to get another cable for my broadband antenna as the one I just got the end fell off. It was only a few days old so I got it free. Got most of the set aside mowed and the trees trimmed and it sure looks nice. Elaine came over on Friday night to fix her camper so the battery don't go dead all the time. Got all the wiring figured out and straight and added a relay to disconnect the charger when the camper is not plugged in. All checked and worked great and added a switch back to run the water pump so it can be on or off. Let it charge 3 hours but the charger acted funny and when we wiggle the 10 amp 2 amp switch it cuts in and out so it needs a new switch or just hard wired to get a good charge. Elaine and Steve wanted to leave so they will have to do that. Before they left while we were hoping the battery charged on Saturday, Brad Heather and kids came and we had a real good picnic with hot dogs roasted on Mema's fire pit, Loose meat Elaine made and I also grilled some pork steaks on the grill with chips and salads and stuff with it. We really missed Mel & Steph as they were away at a band contest for the school so hope they did well. My little Faith and Sarah snuggled with me in my new hammock so what a treat I had there. Brad & family had to leave at 3:00 because they had to set up for a special supper at Church. All in all was a great day and will post some pictures at Lewzplace. Sure did get quiet with every one gone and I had to check work and then back in to work to lock up at 8:00 as we had classes going on. We have them today also but the other guys can get them. It is just a gorgeous day as the last several have been. I was online last night and had a great chat with Susie and that was sure fun. Don't get to see her a lot so enjoy the time we can get to visit and such. Mom was up most of the day yesterday and out for a small walk so that made a perfect day for me and I pray the back continues in the positive direction. Today I need to do some mowing here and some at the barn as it is real long over there. Also lots more tree clean up and yard clean up here. Sure am getting slow. Looks like Elaine is not getting online today for our chat. Her and Steve went fishing last night after they got home so now we will have a big fish story to hear I suppose. Guess I better get moving here and post and all and get busy. God bless and keep us. Love Papa, Dad, Brother, Cousin, Uncle, Lew.
22 April 2007
Thought for the week
Grandchildren are Gods reward for not killing our children
It's Sunday morning and once again Here is Lew. We went to our little Sarah's Birthday last Sunday afternoon and it sure was nice to see her joy with her day. When we got there Mema said we forgot and didn't get her any presents and the little darling said that's okay Mema I love you and I don't need any. Got the camper out also and checked the awning and roof and not sure if I will take it back or just forget it. I know they want me to forget it. The pond has lot of the green string algae in it and my algae fix is not working so got some new stuff Monday and will see how that works. I treated the pond twice this week with the new cleaner and it seems to be better but time will tell. Spent a lot of the week mowing and cleaning brush. Trimmed a lot of trees and hauled all that away. Have got so much that I had to start another brush pile, so now will have three of them pretty good size. Thursday we went to Mel's Track meet and she did really great. She got first place in the shot put with a throw of 28.8 feet, and she got second in both of her hurdle relays and third in the long jump. She is such a little darling and really worked so hard for that, that she got a big head ache at the last hurdle race. Then as soon as it was over we had to hurry another 30 miles to get to Amanda's Music concert. It was a good concert and the little darling did a great job. Wednesday I fired up the new Sprint broadband wireless card but decided I needed and external antenna for it to get the signal strength up some. Just the card and I would get the antenna and maybe 1 bar. I then set it for roaming only and got 2 to 3 bars. Friday I got an external antenna and such and now have about 6 bars. I can now get an upload of about 30 Kbs as compared to about 2 Kbs on the dial up. Not a great fast speed but a big improvement. Saturday I installed it on the laptop so now that is ready to go also and can use it anywhere. I got the antenna as a mobile magnet mount so we can use it camping, and on the road and all. It seems to work some better also if I use the USB Y cable so it can use 2 USB ports. Also Saturday I trimmed all the trees in the set aside and in the landscape behind the garage and cut up the tree that fell by the brush piles and hauled it all an stacked it on the brush pile. I also finished trimming the snowball bush by the garage as it was about 15 feet tall. I mowed the garden area and the set aside and set up all my feeders for the summer. It was a very busy day. Late in the afternoon then we went to town and ate out and got things for our little Crystal as today we are going to visit her for another Grandkid fix. Does life get any better than this. The day has dawned with a beautiful sunrise and I woke up this morning so life is great. God bless us all and keep us in his loving care forever. Till next Sunday luv to all. Papa, Dad, Uncle, Cousin, Brother, Lew
15 April 2007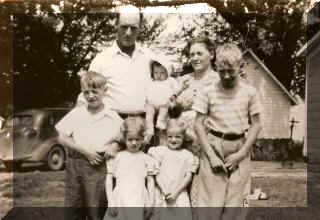 It is Sunday morning and once again here is Lew. We had a joyous Easter and have so much to be thankful for, as the first part we had lunch with Brad and family and then with Tammy and family. We had some great Grandkid fix's and can now survive for awhile maybe. It was still cold Monday but did a little trimming and some work on the pond. Tuesday I picked up the chain saw from the shop but was raining so not much outside stuff to do there. Got most of the planter plants ordered for work but may be to cold the 17th to put them in, will just see. Wednesday we had much snow but it did not accumulate as we were above freezing all day. Worked on checking in the Swan net but no luck. There was DX station on and all people were calling him. Think it was Great Britain. Oh Bother!! Am starting to get a little speaker hum so need to replace the large can Capacitor. Ya like I'll find that so will just have to use some new stuff. I broke down and tried to call the DX station GI3DZE in Budapest I believe but he either did not hear me or did not want to. Oh Well. Radio was good so it was just him or conditions his way. Have been looking for another camera for Steph but no luck yet. I did get the memory stick adapter fixed for Steph and it works good now is just slow. Will decide what to do with it later. Might still get another camera as that one has some loose fittings. Went over to De Etta's for our family Easter on Saturday and had a good time but it sure is a long drive. Had Brad and four of the Grandkids with me so it was fun. Mom/Mema stayed home as her back was really bad. Missed her for the trip a lot. Guess I don't have a lot to say this week so will close with love and best wishes to all. Papa, Dad, Brother, Cousin, Uncle and so forth. Lew
08 April 2007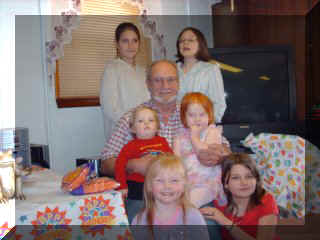 It's Sunday Morning and once again here is Lew. Had my Bday last Sunday and Tammy & Ben were here and Brad and family were here and it sure was a good time. Got lots of great presents and a partial Grandkid fix. Did some yard work on Monday and then some mowing. I treated the pond again for the algae and stuff and my water lily is almost grown to the top already. The pond grass has been trimmed and it is growing fine and the Plum pudding coral bells are growing along with the little tree I put in and the rest of the plants. Does God just perform miracles or what. Tuesday the weather turned cold again and the wind was really blowing so just stayed inside and worked on some bills and paper work mostly. The early warm spell spoiled me and got me started in the spring stuff. Now we have turned cold again, OH BOTHER!! No I do not repeat myself and I don' repeat gossip so you have to listen close. Hee Hee. Am really struggling with my ISP and may go try Sprint again since they have no roaming charge for the broadband. Had VPN for work and it was rather slow but that is going away and now must use Virtual Lab and that is really slow. I live 6 miles away and could walk there faster than that works. Why do things always get worse with improvements. I can't figure that out. Wednesday was still cold and we had some snow flurries but not any accumulation. Did not feel like working outside and mom was not feeling great so just stayed in and goofed off. Tried the Swan net again but not much luck there either. The band must have just went south for me. Did supper for mom on Wednesday as she did not feel well. Thursday and Friday turned real cold and the bird waters froze solid again and the pond had some ice on it. The gold finch are back and they sure got a cold welcome for here. Have most of the starlings gone so hope they stay gone. Hauled some tree trimmings away and the drive area is looking nice for now, just a small amount to go. Got the set aside picked up a lot and have done some small trimming there. Saturday I woke up late as I slept in till 8:30 and the temp was 10 degrees. I put up the sign for the library I got for my Birthday. We finished the Easter baskets for the grand kids and got them ready. I helped mom with some things she was making for Crystal. The pond was froze over in the morning but was cleared off again by the evening as we got up to 34 degrees by 5:00 PM. Most of the early flowers have bit the dust but should show up more from the roots I hope, If not they will be back next year. Talked to Brad and the camera we got for Steph with the adapter has the adapter not working, May look and see if we can get another adapter cheap. Should have just got the FD 100. Oh Bother. The girls got back from church camp and had a good time they say. I just seen another adapter on Ebay I might try for. Guess I better get this closed and posted and then hit the road for Brads for Easter dinner with them and then from there for Easter Supper with Tammy & family. God Bless us all. Love Papa, Dad, Brother, Cousin, Uncle Etc. Lew.
01 April 2007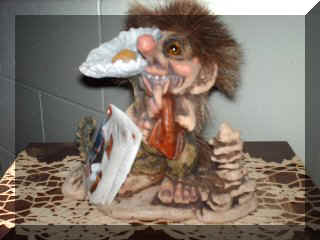 It is Sunday morning and once again here is Lew. That is moms Norwegian troll, from some of the relatives in Norway. Troll stuff is a big thing there I guess. Spent most of last Sunday working out side and sure got a lot done. Cleaned out the garden shed, trimmed some trees, cleaned the picnic table area, and the walk way among other stuff. Was going to haul the tree trimmings but when I got the trailer out and ready it had a flat tire. The temperature got up to 75 Sunday and I grilled some pork steaks out and that was great. A real warm day again Monday but wasn't feeling so good so not much done, just a little in the shed and some pruning. Hauled some brush on Tuesday and cleaned up the trimming I completed. Wednesday did a lot more trimming and got ready to haul the trimmings. Planted the butterfly garden and maybe soon I won't need to do that every year if it gets established. Got some new tires for the trailer and hauled one load of brush and then trimmed some more. Has been a sort of poopy week but did do some stuff. Had to replace another light in the landscape lights as another bulb burned out. All are going now. Got the sand bags out of the truck so spring is officially here. Picked up a bunch of shelves from the used store here as they are going out of business and mom wants them for some reason. Oh right it's a girl thing isn't it. Hee Hee. Not much more to say so will close with lots of Love. Papa, Dad, Brother, Cousin, Uncle and so on. Lew
25 March 2007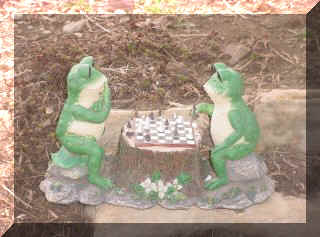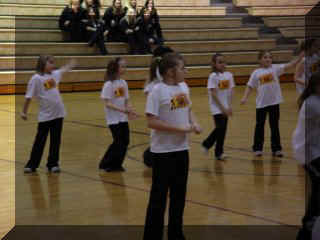 It is Sunday morning and once again here is Lew. Another week has passed this way, and it is just a gorgeous day, The sun came out and had to say, get up, get out, it's time to play. Did I really say that and more importantly, did I say that out loud. Oh Bother I hope help is on the way for me. Got the tire back on the big mower on Monday and got the Cub Cadet started and running good. Now just need the spring oil changes and they will be good to go. Still need to get the push mower and the saws going as there is a lot of trimming to do. Took my boots in for repair on Tuesday and had new heels put on and dyed again and boy do they look nice now. At least there are still people and shops that do some of the old good stuff. Has been a kind of a tired week what with all the early shifts and the DST time change. Early only one more week and then back to normal. Tuesday evening we got some rain so most all the snow is gone, just the huge piles have a small amount left. Looks like the small pines may be okay, except maybe the ones I tried to dig out, and they have some broken limbs. Go Figure. Will see later if I can trim them to look okay. Wednesday was warm again as it got over 60. Still trying to track the lost letter we have with money order but no luck yet. The fellow on Ebay sure is a decent guy with patience to spare. Now I find out Thursday that my Mortgage payment has not shown up that was mailed on the same day. Fast checking shows me that all other mail I did on the same day, like to Seattle Wash., here in Iowa and all have arrived, but all the ones that went to Missouri have not shown up yet. Sounds like a trail to Missouri problem somewhere along the line. Friday I went up to Brads for our little Amanda's Drill Team performance and sure enjoyed that. The seating was terrible but the show was great. Papa was so proud of her. Got mom a new PCMCIA USB card for her laptop as the old USB hub we had just slowed up the new 2.0 USB technology and we needed one more USB slot. It sure helped things run smoother. Saturday I got all the yard equipment running except the chain saw and pole saw up at Brads. We went up there Saturday evening, after we got the girls some swimwear and June trip stuff at Wal Mart, to play some games, and picked them up so maybe I can get them going today. It rained a lot Friday evening and Saturday and WOW is the Grass ever green and things growing. Temps are warm in the 50's and all the snow has vanished. I also worked on the landscape lights Tammy gave me several years back and got them all trimmed out of the bushes and had to get 4 new bulbs as that many were burned out. Also had to repair a wire that somebody cut in two so sure hope I don't find them real soon because it sure made me more work. Oh Bother. The Crocus are in bloom and the Daffodils are really up. Also moms shooting stars are up about 8 inches. Spring is just a great time of year to be alive, Thank you Lord!!! It rained again last night and was 60 degrees at midnight. The sun is on the way up now and the grass is almost ready for its first cutting and this is only March. What's up with that. Guess I better post and get busy. God Bless us all and see you next time. Love Papa, Dad, Cousin, Uncle, Brother and all. Lew
18 March 2007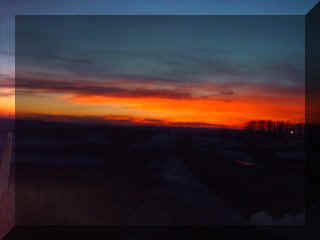 Last Sunday evening's sunset picture and was it gorgeous. Was out moving some snow off our little pines in the drive to see if I could save them from the heavy snow and breakage it would cause and this is the sunset. It got really warm on Monday and I moved more snow and got out the bird food for the finches. Moved some more snow on Tuesday and had to chase the starlings away so they don't all roost in our trees as they are dirty and make so much noise and carry disease. Have been chasing them for 3 nights now and it will take a week or two to change there roosting habits. We do this each year. Wednesday we cooled off into the 40's again which is really warm for this time of year. Had some of the cooling units kick on this week at work on a call for cooling so you know it was warm. 76 degrees on Tuesday. Fired up the radio on Wednesday to hopefully get into the Swan net but had 0 for luck. Oh Bother. The pond is all thawed out and the fishy's are fine so guess that will work fine for them to stay out all winter. Daylight savings is here but am not real fond of it as it is hard for me adjust to the times. Speaking of that it is time for a good Rant from here at the ranch. I have arrived at several huge conclusions. The first is the World Wide Web serves absolutely no practical purpose whatsoever. Oh sure it is wealth information, but like all information, believe nothing you hear and only half of what you see. It has Chats, that never have anyone there unless you are interested in the XXX sites, and it has Emails that are full of all them forwards that have been floating around the WWW since 1988 serving absolutely no purpose except cluttering up the WWW with useless pictures, spams, Spy bots, spoofs, phising, advertisements, viruses and so on that if anyone ever did send you a real email it would come with a virus or something attached so you need to constantly update a virus or blocking program. And the biggest most useless thing it has created is a society of workers that no longer can do the jobs they were hired to do, because wherever you go with a problem, the first statement from them is have you been to our web site and I want to respond is that WWW.IDON'TGIVEA#$L*&n.whocares . No one can or will answer a question as they just send you to the WWW where you find out absolutely 0 anyway. Next would be the Answering Machine/Voice mail/IP phone no one there to do there job or ever answer calls. When I call a guy up the street to check on a repair for a Pepsi machine at work, I don't want to go through 20 minutes pressing a number or letter only to get to talk a person in Africa that speaks very poor English who will check with the service just 3 blocks away and call me back some day maybe. I would rather have no answer and I will call again later and talk to a real person. In this group also would be the Cell phony crew. Who is so important or busy that they have to walk around all day with that thing stuck in there ear and wander aimlessly through stores and drive the streets blocking traffic and people and mill around like lost cattle looking for there place to be milked. Give it up and get a life or hang up the phone and have a life. Guess that's enough of the rant but I do have a lot more. Thursday turned out to be a nice day but has cooled off some. Was in the 40's and up to 50. Really nice for March. Been still chasing the birds all week but I might be winning. Most of the snow is gone and the Daffodils and Crocus are up so spring is close now. Mom is doing some better I think but not sure if it's the doctors or she is just not going to put up with the pain any more. She is at least a little more active but is just getting over a bad cold/flu I think. Friday was a long day at work for some reason and I did not think it would ever end. My old straw cowboy hat was getting bad so I got a new one that fits better. We are still getting things ready for our June trip and getting set up for then. Saturday finally arrived and brought the weekend but it dawned gloomy and with snow flurries and was kind of pretty out. One of my Ebay purchase payments is still lost in the mail after two weeks and the post office is checking on it to see what happened. It was from our place to Hannibal Mo. Oh Bother. May just wire the money and hope he sends back the money order if it shows up. Mom spent Friday night working on trip stuff so was up till 3 A.M. I believe but she is having fun with it. About have some of the girls special stuff ready and am having fun with that and sure will miss our Little Crystal for this trip. Guess that's how things go though. Worked on the old Sears Silvertone Saturday and got the turntable all greased and adjusted and it works well now. Also set it up with some new amp equipment to listen to some records but it does not do the old tube radio justice. Hope I can get that fixed as the audio is the best there is from tubes. I looked all over the WWW to see if I could find some parts but no luck yet. Will keep trying. Ya right as if that will work!!!! Got the big mower going Friday to get ready for the spring stuff but had to take a tire off and get fixed next week as it was flat again. It started doing that the end of the season last year. Wow I sure have rattled on today haven't I. Any how it appears like it will be a very nice day and it is supposed to get warm again in the 50's. It is 7:15 and no body has shown up in messenger so maybe I will not have a chat today. At any rate love to all and God bless us. Papa, Dad, Brother, Uncle, Cousin, etc. Lew
11 March 2007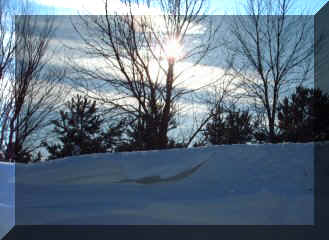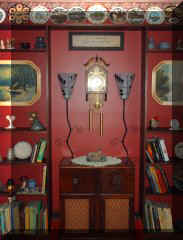 Once again it is Sunday Morning and here is Lew. After my post last Sunday I went to move snow at work and it took me 5 hours to get it all cleared out. I had aches in spots where I didn't even know I had spots. It turned real warm and it cleared the walks nice once the snow was gone. Afterwards I went home and moved a small amount there and then got on the Swan net which was fun for a change again. Got mom's new HP camera on Monday and the picture at the start is taken with it of the drift by the garage at sunset on Monday. It is a 5 mega pixel and might be a good deal. Mom sure likes it and is having fun with it. Tuesday had to move more snow as the gas tank was buried and Ferrellgas needs in to put in gas. Oh Bother!! Wednesday Ferrellgas came back to fill the tank. We had 20% left and they filled it to 80% which was 323 Gallons. Whew you do the math, over $700.00 for just that. 18 years ago the whole winter didn't even cost that much. I must be getting old. Tried to hear the Swan net on Wednesday but no luck, the band was totally dead. Thursday the weather got really warm and the snow will go fast with that kind of change. Still waiting on one of my Ebay purchases that has been delayed because of the snow storm here but all seems okay, been in touch with the seller. Unpacked our new sleeping bags for the camper and they are way to heavy so will see if we can return them and get some lighter ones. If not maybe some of the kids would like them. They are really nice Coleman 20 degree bags. Friday had an In Service for work at Boone, BORING, Opps did I say that out loud. Mom had a doctors appointment and a chiropractor appointment in the afternoon, then that evening mom and I did some shopping, returned the sleeping bags and got some different ones, and ate out. That was fun. Saturday I put the old radio in place in the library but the service tech said it could not be fixed cause it needed a part no longer available. I will keep trying because I really like it. Have got some other stuff put in it for now and it is good so far. As you can see the second picture today is the wall that has the radio and I put up the new picture over the clock. It is by Emerson and say's "Let us be silent that we may hear the whisper of God". That is so Kewl for a library saying. Mom may get another one I like that says, "As for me and my house we will serve the Lord". Saturday evening Mom and I went out to Yan's to eat and then I stopped at Wal Mart to get some stuff for the old radio so I could play some of the old 78 records but it didn't work. Need to get or build a preamp so I can get enough signal off the turn table to work. Also got to chat with Crystal for awhile and sure did enjoy that. She is my little baby girl. The weather turned really warm Saturday also and the snow really is disappearing and you can feel spring in the air. Am getting anxious for it to come. Guess I better get this posted and see who has remembered to spring ahead and get on line at this time. Well I see Elaine and Barb are both signed in but are away at this time so still no one to chat with. Will post this and then see if they are free. Love to all and God bless and keep us while we are absent one from another. Love Dad, Papa, Cousin, Uncle, Brother, Etc, Lew.
04 March 2007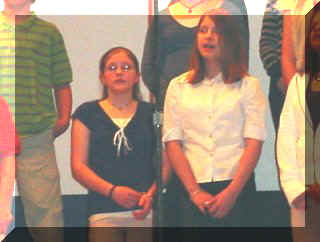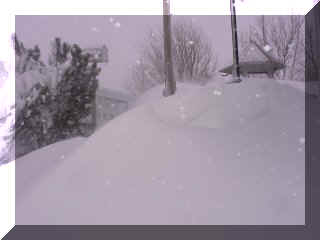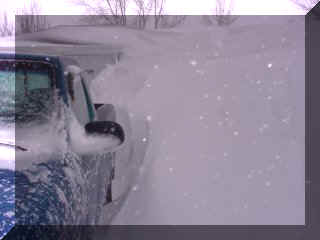 The week has passed, it is Sunday, and once again here is Lew. Couldn't post last Sunday as we had a power failure and then a huge snow fall I had to work on at work. The snow cleanup took 4 hours to move. Tuesday evening we went to Mel & Steph's music concert and they did a song with one other girl and it sure was good. They did great. Papa is so proud of them. Also they were in band and they were great there. Put up a picture of them but it did not turn out well cause the gym lights were off. Wednesday the rain/snow came again and it was bad enough we were closed on Thursday so I posted the journal for last Sunday then. Had to run into town Thursday and get some medicine for mom and it was about white out conditions when I came home. We closed on Friday also as it was white out and most all of the roads in our area were closed. I could get to the street in front of our house but the street was about 3 foot deep with snow so no go there till it was plowed. I put up two pictures of the snow from then by the garage so you can see the drift as high as the garage roof. One drift is about 13 feet high. WOW!! Been working on our new Laptop Matt gave us as Kris got a new one. Boy is that thing a marvel and it sure works great. Am still cleaning out out some of the old files left on it but most of moms stuff is there now. Got the wireless running at work and all is fine on it there also. WOW!! Even got the wireless mouse and keyboard hooked up and running and that is awesome. Now if I could just get a decent internet connection I would be good to go. Since we were closed on Friday and no work I finished putting up all the plates on the plate racks and it looks pretty nice. All easels finally came in so I could finish them. Late Friday afternoon had to clear snow off the pond as it had created a dome over the water and needed to open that up so the fish had some gas exchange for oxygen. Had to do the bird bath the same way as it had a dome over it also kind of like an igloo. Got the birds fed and watered and there sure were a lot. The squirrel's and all were out looking for food. Saturday the sun came out and it was just a beautiful day but still some wind. The sun seems to make the world right. Our good Lord sure knew what he was doing. Brad came in on Saturday to help dad move snow at work but it was so full yet we couldn't even get in the lot or street to move it. It sure was a great thing from him even if we didn't move snow. The tensioner pulley on his van froze from cold and rust so had to get that fixed but got him going again and he made it back home. I really did appreciate the effort he put in for me and will have to move snow today as The drive crew cleared the south drive so I can get in and start. Today dawned clear and bright with the sun up and the wind has let up so it will be a great day. Elaine and Barb were here this morning for a visit on MSN so had fun there. Better get this posted and get moving the snow. Love to all And God Bless us all. Papa, Dad, Cuz, Uncle, Lew and so on.
25 February 2007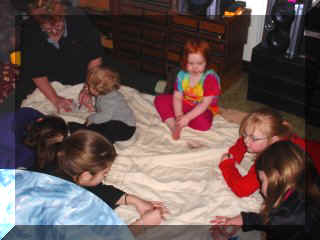 It's Sunday morning and once again here is Lew. Greetings, Greetings all my family and friends. It is time once again for some words of wisdom and with any luck there are some of you that will have some cause I'm drawing a blank here. Oh Bother!! Update!! Update!! Since the Library is basically done it is time to start the library remodeling. Now where did that come from, Oh wait that's a girl thing isn't it. there are some additions in the plan. Been a poopy week but got the pond water fall going again as it is now thawed out. Had to treat the water again because it was getting full of algae and moss stuff. Thought that would not grow in all this cold weather. Boy was I wrong. AGAIN!!! At least the fish are fine and doing great and they sure are getting big. Been getting a lot of unsolicited mail lately so have asked Juno for help on this. Must have been to a site someplace that allowed it to happen. Deleting cookies etc don't seem to get rid of it. Am setting up some mail assistants to help some I hope. Worth a try anyhow. Seems to get worse as you try and slow it down. Got the shop trailer rewired at work and now it works fine. Had some Air Handler problems but got them fixed also. Had to move snow there a time or two also and the neighbor did some of my drive at home which was sure nice. Have made a few more trip plans and some of the surprise stuff is taken care of. Got an Email from Dee and she said she can't make it but have not heard from Ellen and Bill Yet. Have sent an Email to see if they might make it. Been working on some pictures and albums and things but not getting much done there either. We had Heather and family over for her birthday Friday night and took them out for Mexican food and then did some gifts and movies at home. The kids went out to a movie and we watched the Grandkids. Mema and the kids worked on an old blanket to make it a popcorn blanket for TV as you can see from the picture. They all did some drawings and pictures etc. That was really neat. Our two big girls, Mel & Steph had a cough and sore throats and were not feeling well. Sure hope they improve as they have a concert and a solo they do on Tuesday night next. Sarah seemed a little under the weather also. Guess Mema and I will be getting it now. Friday night into Saturday then we had rain and freezing rain so the roads were slick and not good. My little ranger has to much engine for all this ice, even with the sand bags in the back, it is rather slippery. That's why we love Iowa isn't it. Guess I better get out of here. Love to all Dad, Papa, Lew, Cousin, Uncle, Me. Lew
18 February 2007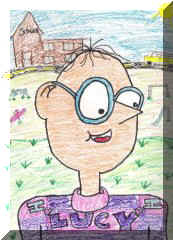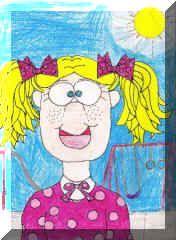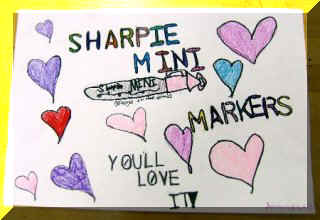 It's Sunday morning and once again here is Lew. As you can see some pictures from the artsonia web site are the feature this Sunday. Wait a minute the first picture is by Mel, the second by Steph and the third by Amanda. It's a miracle. Hi girls great pictures, I couldn't get them all to fit here, and Papa loves you. I just joined Facebook also Crystal but not sure what it is about so you will need to get papa up to speed. Love you bunches. Been a super cold week and had to add water to the pond as it was low again, but the fish are fine. Had to move snow at work twice early and one of those days I had to move the same snow 4 times as the wind was terrible. Ya and it was six miles to school, uphill both ways. Hee Hee!!! At any rate it has been holding around 0 degrees. Got the stain on the bookshelves on Tuesday and then got the varnish on Thursday so am making progress there. On valentines I got mom a CD she wanted, a Precious moments figure of a little boy holding up flowers that says I picked you to love, a ring that says love and we went out to Yan's to Eat for a nice meal. It was a good day. Mom is still having bad back pain and she slipped in town last week so that didn't help any. I have found a chiropractor to go to if she will as the doctors are just giving her pain pills and fixing nothing. We can get no commitment there either as to what it might actually be. On Friday night I got the bookshelves installed and they look good and then I got the plate shelf up also. Saturday we got many of the books and plates out and put up and now just need the radio in place. Also got the one light for the picture by the bookshelf installed. The pond pump is froze but the heater is still going so the fish should be fine I hope. Maybe warm enough next week to thaw the line again. Sure has been a busy week but got a lot done. It is sure nice to see it starting to get light at about 6:30 in the morning now. I am ready for the spring season and then the Wisconsin trip. Am really excited for the trip. We are still making plans and have the girls looking at maps to see stuff they find interesting also. As I think about it I get excited to be going. Am planning a couple surprises maybe but those are secret for now. The day is dawning beautiful and just had a visit with Elaine and Barb online in MSN messenger so am caught up there. Dear little Mia has been sick for some time and hope she is well soon. Where are the rest of you for Sunday morning. Guess I better get moving and post this and get busy before I lose this beautiful day. God Bless and keep us till we meet again. Love Papa, Dad, Uncle, Cousin, Brother, and all. Lew
11 February 2007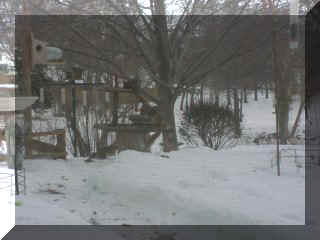 Been a hectic week but very little done. Kind of under the weather this week. Did get the two end bookshelves made for the paperback books, and also got the lights wired for the dimmer control at the top of the room outlet boxes. Then I built the two larger bookshelves and cut the plate boards for over the top. Also got the pictures hung and the new lamps put together and hung for beside the clock and mounted the clock. Moved the furniture around for the way it will be so we could see how it looked. Now I will stain the new stuff and then varnish and install them permanently and then put up the plates and drag out the rest of the books. Just been a poopy week. Have had the chills and feel tired. Mom has felt some better so that helps. Had a power failure and lost one phase of power at work so really was a mess with all the 3 phase pumps and motors etc. Took me 5 hours till 11:30 at night to get it all back to normal with burned out parts, blown fuses, and resets and just got finished and what do you think, we lost power again. Oh Bother, just took 2 hours that time. The shop trailer for building trades got a ticket for no running lights and when I fixed it I discovered someone had cut the wires for the breakaway brakes and rewired stuff so there is no work lights inside. The instructor said the inside lights have never worked since we got it. Where, why and how do people come up with ideas for the stuff that they do. Why Me?? Been a very chilly week but is suppose to warm up this next week. Should be back in the double digits for the day highs. Possibly in the 20's. It did feel much warmer out this morning when I let Missy out. Mom did some of her Norway potato ham dumplings for supper last night and boy was that good. Today I have a roast started and we are taking it to Brad and Heathers for Supper tonight so will get a grandchild fix at that time as we are missing them lots and lots. My kids have all grown up to fast. Lucas is running all over the place now. Caitlin did fine with the operation and Cody is okay now with his arm it sounds like. Crystal has a job and is getting her drivers license and Faith is so tall now. Sean is doing scouts and Mel and Steph are in bands and Chorus and all turning into great young adults and Sarah is just my little peanut and now God has blessed us with Amanda, along with Joe and Sandy. My oh My guys all of you please slow up for papa. I love every one of you very much all 12 of you. Okay new subject, where is everyone as I am online but no one else is. The library is so cool and a very peaceful room as they are always so relaxing to be in. Mom is doing a great job decorating it and setting up stuff there. I guess I better get going here and get this posted as I seem to be rambling on. Love to all and God Bless us. Dad, Papa, Uncle, Cousin, Brother and all. Lew
04 February 2007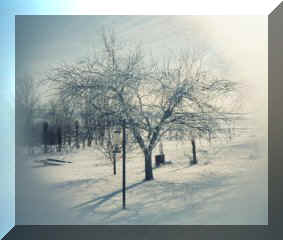 Oh My Oh My another week's gone by, Oh My Oh Me this don't rhyme you know cause nothing would fit here and sound right to make a rhyme for us. Been a cold week here but we have survived the chill but not much work completed. Did get some wood for the bookshelves but that's as far as that got. We did get the wall scones in but they don't fit just right so will have to manufacture there some for them to work. Oh Bother. Have started the early shift at work and that will be for the next two months so am not adjusted to the time change yet. I go to work at 6 AM which is a bummer but then I get off at 2:30 so that is nice. Looks like we will change our plans for the trip to Canada with Crystal as she has some work then and can't get off and has drivers Ed to get her license to drive also at that time and that is the important thing for now. May be we can plan it for another time. We might just Take a trip ourselves and go to Blue Ridge mountains or someplace that direction as we haven't seen a lot that way except for just passing through. Might see about taking some of the other kids with us if we can. Brad, Heather and kids came over Friday night for supper and it was so cold they stayed the night. We did movies, popcorn, games and finally got to bed about 2 AM. Did I say 2 AM and not even blink. Wow was that late for me and what's up with that. We all slept in and I made it till 7:30 and then the kids got rounded up and left at about 10AM. It was a fun time for us and hope they enjoyed it as well. Mom was very tired and took a nap after they left. She worked hard on the Friday meal and it was a super supper so she needed the rest. When I went to check work on Saturday I was clear in town before the truck warmed up enough for the gauges to start working. Temp high for the day was 3 degrees with some wind for a chill of 20 below. Hope it cools off soon. The fish and the birds are doing just fine so far but the robins are very confused as mom seen a group of them yesterday which lets you know how warm our winter has been for this time of year as this is way to early for them. They may show up in early April normally. Have rebuilt some on some of the web pages so you can see the newer version on this, the index, the main and Lewzplace. Ya Ya I can hear everyone cheering, NOT!!! If I told you about the accelerator for our internet connection I thought I would try again, it appears to be a bummer as all pictures etc look really sad and old style. I will probably give it up again as I already did it before and came to the same conclusion but will play some and see if it goes well enough to use some times, for what it costs. Techy stuff Bah Humbug!! Thank goodness I can turn on my old radios and low and behold they work every time, and work very well, and if not they can be fixed by ME!! WOW, tubes, you know or in the English or old school vernacular, valves, which make the audio quality the best ever and no techy stuff today can compare. Hurray I win so there nah nah na nah. Guess our time is drawing to a close again so I better end this agony and get the posting done. God Bless us all and I love you all bunches and bunches. Dad, Papa, Brother, Cousin, Uncle, Lew etc. Lew
28 January 2007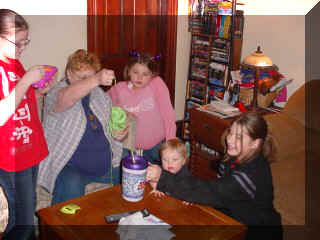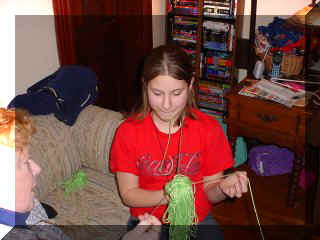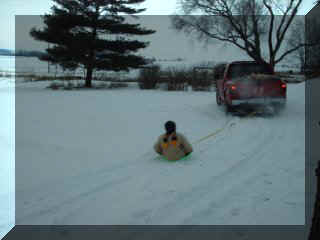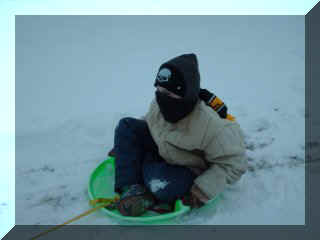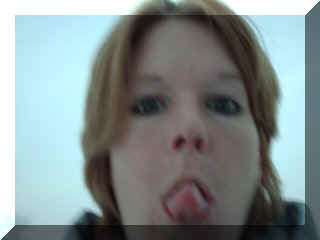 Another week has disappeared over the horizon and all is well here at the homestead, except for the yarn mess Mema and the grandkids have created. Hee Hee. We got more snow and got the snow blower going pretty good and cleared the drive. The temperature were really mild so it was really fun out moving the snow. Looks like Elaine, Weston and Susie had fun in the snow also. Hi Susie great self portrait but a little blurry. Double Hee Hee. Gotcha. No work on the shelves this week as been working on the radio/record player consoles for the library so we can decide which one we want. Better get going on the rest of the shelves next. Oh bother who decided to do all this. I have the Zenith Cobramatic up and running but need a needle and cartridge, and then refinish the cabinet to match the library as it is the blonde finish from the 50's. I have taken the Sears Silvertone to the shop as my eyes aren't as good as they once were and I needed help with it. We are also getting the old retro library chair recovered for their. Juno crashed on me but used the backup wizard and then reinstalled and all is fine again. That was pretty slick. Went up to Brads again yesterday and helped get his computer back running. Finally got all the stuff cleared, formatted and reinstalled XP so is going now. He finally got it figured out on his own and it worked. Turned pretty cool and windy yesterday but so far the snow has missed us for this round. Mom got the results back from the doctor on the stress test and all the results came back normal so that is good. At least her heart is working good. Still need to figure out why she is always tired and get the back figured out. We are starting on our summer and vacation plans already and thinking maybe of going west through South Dakota to Rapid City and then north through North Dakota to Canada and then East to the great lakes and then south to Iowa and west to back home. We want to take Crystal and Maybe Brad & Heathers Big girls along if they want to go and were able to. We would see things like the Corn Palace, Mt Rushmore, the Badlands, Wall drug, and many other sites. It would a great trip for the Grandkids and a chance to make many memories. Then of course there is the 4th of July campout at DeWayne's and Elaine's campout in August or September and then our Campout in October plus all the other things in the yard and all. Whew I'm wore out. Guess I better get this posted and rest some. I see Barb just came on line so will visit with her some. God Bless and keep us and all my love Papa, Dad, Brother, Uncle, Cousin and so on Lew.
21 January 2007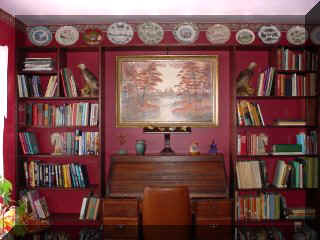 Well we did get the forecasted snow last Sunday night and they claim it was 4 inches. My guess would be maybe 2 inches would be pushing it but I'm not a meteorologist. At any rate we got snow and winter has finally arrived here at the ranch. Temps are down close to 10 degrees with wind so it is now normal in Iowa no matter how much they hype the cold and wind chills etc, it is just a normal January in Iowa and still much nicer than it could be or has been in past years for this time of year. Should I say it, Put on your big girl panties and adjust! Oh bother. Got the library bookshelves stained last Sunday afternoon and they are really coming out nice for being thrown together. Got the Varnish on them started on Monday since I had the day off. Ya right had to go to work for 3 hrs and clear the snow for Tuesday and then after that my snow blower at home started to act up and not work well so may need to rip into that and see what's wrong. Seems like all my stuff is getting old like me and not working so well any more. I did get it going enough to get the drive cleared as much as I wanted. Mom still is not well and has some bad headaches, so that along with the back, being tired all day and the diabetes not sure what we can do. Hope the Doctors find out something soon on what is going on. Checked into the Swan net last Sunday and as hadn't done that in awhile it sure was fun. The old radios are still going strong. Wish I had some time to work on some of them a little as that is a lot of fun. As the picture shows I got the bookshelves over the desk done and it sure is looking nice. Only now all the goofy books hide all my pretty shelves, what's up with that. One more full wall to go and then part of a wall and some small stuff. We have some of the lights on order for each side of the window so will add them when they arrive. Also think we need to get mom a different chair for her desk as the blue does not fit the decor now. I put a different brown one in for the picture so that is better, I also put up a picture mom painted and some things on the shelves but mom will change all that the way she wants or likes it. Tammy was here for a day and two nights and she did the border for me so that is done also. It looks really great sweetheart, thank you. Am I the luckiest Dad/Papa in the whole wide world. I believe so. I tried the Swan net again on Wednesday night but the band was dead so no check in there. We got a little more snow on Thursday but not enough to even count. Pond pump kept going and the fishy's are fine so that is good. Went up to Brad's last night to try and help with his computer but no luck. He has one of the worms that just take over. He needs your help Matt. Told him he needs someone to run a clean up program as they have stuff on it they can't lose. Computers Baa Humbug!!! At least I got to see my grandbabies so the trip was great. The snow started again last night at about 10 PM and it looks like we have about 4 inches maybe by my guesstimation so will see what the weatherman says when they wake up. I guess I have rattled on here long enough so will close with all with my love and God bless us all. Papa, Dad, Brother, Cousin, Uncle and so on. Love Lew
14 January 2007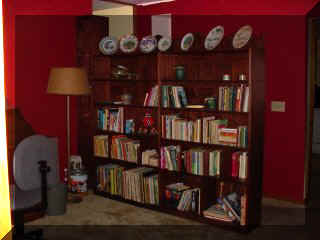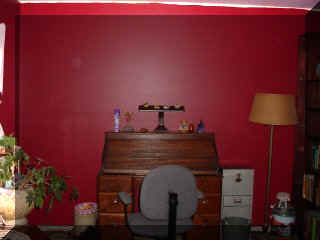 Starting of the bookshelves for my love for her Christmas present. As you can see the wall has been painted and the first set of shelves completed. That much was completed before Christmas so she got her partial present. Still need to finish the border at the top of the walls and am working on the shelves to go on the wall around her desk in the second picture. Then will also have a plate rack clear around the room at the top of the bookshelves for her plate collection. Only three more walls to go. Oh Bother. Did I say that out loud. It is fun and is going to look real nice I think. Got some snow yesterday and more in the forecast, up to 1 foot they say but we'll see. The winter here has been real mild so we are due for some nasty Iowa weather. It turned really cold and windy the last two days so winter must finally be here. Need to check the pond heater and stuff as a fuse blew for it. Hope it isn't bad already. It was completely frozen over yesterday but the pump part was still circulating the water so the fish are fine or at least should be. As long as the falls stay open and the pump goes for gas exchange/release it should be fine. MSN groups is still broken so if it isn't fixed soon will just add the new addresses and then let people change the password they want or send an Email and let them click the join now button rather than invite them since that is broken for now. Went to Brad & Heathers for our little Amanda's 10th birthday yesterday and sure had a good time. We got her a nice dress and some other craft stuff and things and had some cake and Ice cream and then came home. Was a little drizzle at that time but not bad. I did send the Email for the joining Lewzplace so hope that works. Time will tell. Elaine just came online so will visit some. Had a trace of snow so far but they are predicting more for tonight and tomorrow. I get tomorrow off but may be moving snow all day if we get a lot. Got the pictures of Amanda's Birthday off the camera so might post some of them. That is if the internet keeps working, seems like it is always broken lately. Well just finished a chat with Elaine and cousin Barb but no kids showed up. Where are you guys. Oh Bother. Guess I better get busy and get this posted also and get my roast started for supper tonight. All my love to all and God bless us. Love Papa, Dad, Uncle, Brother, Cousin, Etc. Lew
7 January 2007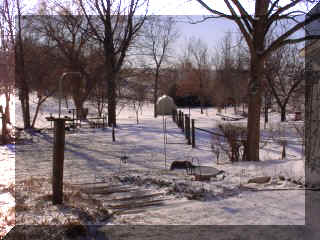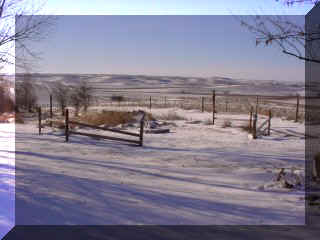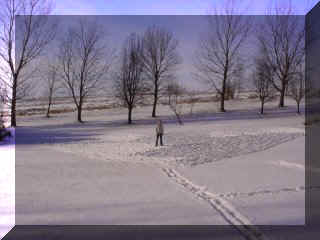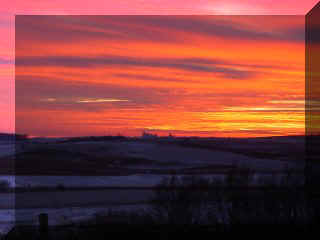 These pictures were taken 1 January 2007 and you can see how we started the New Year here at the ranch. The day dawned like a winter wonderland with the bright beauty of a great day in the making and the kids and Grandkids, already here as they spent the night, were able to play in the snow after the breakfast of Bacon, Eggs, and Apple pancakes I made them and then watch some movies and slowly set out for their own homes as the sun dipped below the horizon and first day of the New 2007 Year came to a close with a breath taking view of God's hand painted sunset. As goes the first day of the New Year so goes the New Year so it will be a great one here I am sure as this is the day the Lord has given us to do with as we will. We spent New Years eve playing bingo and playing with the kids and Grandkids so ended the old year in a great fashion and then we brought in the New Year with loving fun and anticipation. My life is pretty great and very blessed. Mom seemed to feel some better and the back seems to be improving some but now has that bad cough from bronchitis I'm guessing. We got her some other cough medicine to try so hope that helps the cough. Then maybe will be getting back somewhat to normal. It has been a very busy several weeks and it's starting to tell on me. Guess I can't go like I used to. Oh Bother. We had a small amount of snow Friday night but did not accumulate and the Temps are still warm so it won't stay long and the snow that was here for New Years day was already gone. We are already missing the kids and the fun we had over our Christmas this year and will cherish these many memories for a long time. I got some more lumber for the bookshelves yesterday so have enough to do one more wall. It will be the wall that moms desk is on so it will have two bookshelves, one on each side of the desk and then a plate shelf clear across the top. Also have the border but do not have it up yet just to much going on. As you can see I have changed the format of the journal some and hope you like it. Mom & I have been watching some of the DVD's we got for Christmas and just not doing much of anything this weekend. I might try and work on the bookshelves some today but not sure yet. Was online some last night but no one was there. The kids went back to Germany yesterday so will be another two years before we see them I guess. I received the CD of pictures Elaine took at our family Christmas she burned for me and sure are some good pictures on it. Still have the date stamp on it though Elaine what's up with that. Hee Hee. Have started working some on the taxes, OOOOOOOOH naughty word, but need some more forms before my end is done and then take them to Verna. Soon it may be a three line tax form. Line 1, your income, Line 2, money withheld by IRS, Line 3 subtract line 2 from line 1 and send to IRS. Oh wait we are almost there. Guess I better quit rambling on and on and get this posted if my MSN site works today. That sure has been messed up a lot lately. Love to all and God bless us in this new year to come Happy New Year to all. Love Papa, Dad, Brother, Cousin, Uncle and all Lew