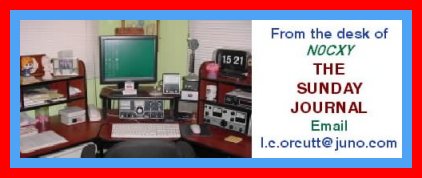 2006
SUNDAY MORNING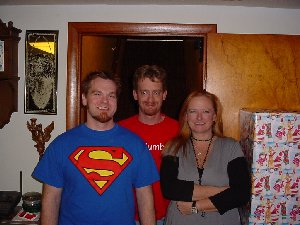 31 December 2006
It's Sunday morning and once again here is Lew. Oh my, Oh Bother, what to do what to do it's the last day of the year with a new one on the way and I'm not ready!!! Wait all the kids will be home tonight for the New Years eve celebration, except Matt and family as they are having CHRISTmas yet with Kris's mom in California, so how much more ready can I be. OH BOY I am so not ready!!! Tomorrow is a new year and this one has just started. Lots of rain today and temps still in the 40's and 50's so what's up with that. We had an excellent CHRISTmas and are looking forward to an even better new year as we got to meet our little Caitlin and get reacquainted with Sean and Cody. Ya guys eat your heart out as once again I have the best and cutest grandkids ever. How Kewl is that. Hee Hee. Just had to visit with Barb and Elaine some as they are on MSN so had fun there. Where are you Matt, Sean, Brad, Crystal, Mel, Steph etc. Join us at 7am on Sunday morning before Church. Sure been a busy couple of weeks but sure been fun ones but need to get back to work to rest up. Mom is wore out and has a cold on top of it all so is really feeling bad. Next week she goes in for a check on her heart to see if that is some of the problem. I think it is part a sleep disorder along with the diabetes and medications but who listens to me. Guess I better get this posted and start getting ready for tonight. God Bless us all and watch over us till next time. Love Papa, Lew, Dad, Cuz, Brother and on and on.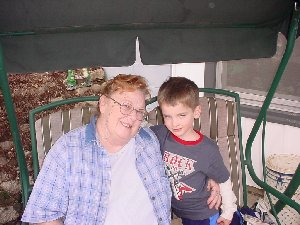 24 December 2006
It is CHRISTmas eve day and We are truly blessed here at our house. This Christmas we will have all our kids and most of the grandkids home for the evening and that is a true blessing from God. Matt and family are here all the way from Germany so we are blessed with that. The weather is not the best as we have no snow but it will still the best celebration for our savior we can give. Have purchased the Sprint Broadband/ PCS network USB card for connecting to the internet and will give it a test run to see how the speed goes. Claims it will up to 3 times faster than our dial up. Signal is rather weak so that is iffy but will get and external antenna to see if that helps. Have only one or maybe 2 bars for signal strength. Also is rather high for the monthly fee but will see as it does not have the initial outlay as satellite internet and just a little more per month. Western Iowa has no techy stuff at all. Oh Bother. Guess I better get my Christmas shopping started as it will be here before I know it. Took most of the week off to be with the kids while they are here so have had a great week. Helped a small amount on the boys pinewood derby cars and that sure brought a lot of fond memories. Daddy is doing so well with them. All my kids are doing so well with there children and I am so proud of them all. We had Brads birthday celebration last night and then Tammy, Ben and Crystal came in about 3am so was a long night. I was in bed so it was not for me. Got moms gizzards in the crock pot last night so they are all cooked and nice this morning. We will be having other snack stuff for the evening plus our evening supper of oyster stew. Our little Crystal is just crazy about the milk from the stew. We should have that about 2:30 or 3:00 and then start on the gifts. I am already excited to see the kids faces as they are opened. Mom has not felt so good this year but even so she went on the early trip with Crystal, and the other camping trips in July at DeWayne's, September at Elaine's and again in October for our last campout. It has been a very full year for us and we have so very much to be thankful for and now maybe we can work on moms health and get her feeling better. At any rate God Bless us all and the very best of the CHRISTmas wishes to each and all. Remember the reason for the season and keep each other in our hearts and prayers. Love Papa, Lew, dad, cousin, uncle etc.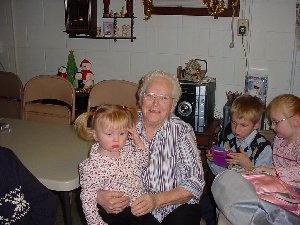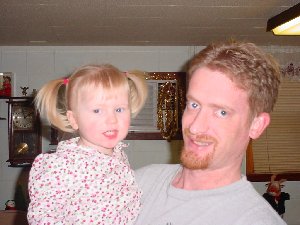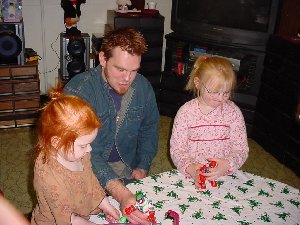 17 December 2006
Mid December and the temperatures are in the 50's so is really a warm spell. Had our family Christmas yesterday 16 December and sure had a lot of fun. I believe it was a great success, at least for me. We got some really super gifts and got the visit from many family members. It sure pooped me out and really slept in today. If I counted right there were 33 of us there. My potato chowder and Loose meat were really great I think and we ate a lot again. Matt, Kris, Sean, Cody, & Caitlin arrived on Friday and sure is great to see them. They will be here till after Christmas so am really thrilled with that. Not much progress with the journal today as it is now noon and we just had some more of the chowder and loose meat sandwiches and it is still good. I did it this morning as I got online and Barb was all that came for the chat so after that I went to sprint and ordered the wireless USB card for my internet connection and will test it out. If good I might keep it and drop WIN-4-U network. Not sure yet but if I do will then need to find a space for some of my pages online unless we get some with the sprint service. Oh bother maybe should just leave it alone. Guess I better get out of here as not much to say. Love to all Papa, Dad, Brother, Uncle, Cousin etc. Lew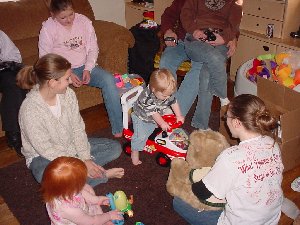 10 December 2006
Another week has come and gone and the Christmas season is upon us and am so not ready. Been working like made on some Christmas gifts for mom but not much done. She knows about the book shelves and the library and have some of that done but will have finish the rest after Christmas. Am waiting on the border trim for around the top of the library and then will add the plate shelves with the rest of the book shelves when we finish them. Been working on some other stuff for her also and should have that done and then working on stuff for kids and just busy. Went to Brad and Heathers for our little Lucas and his first birthday and what a treat that was. He is growing so fast and is standing and walking and just a joy. Got mom's roll top desk fixed and now it works well again. The weather is really warm here for December and was about 50 degrees yesterday. No snow yet so might not even have a white Christmas. Oh Bother. Elaine just came online so will visit there some. Had a good chat and guess I better get a move on it as have a lot to do today. Love you all bunches and bunches and hope to see everyone next weekend. God bless and keep you till we meet again. Love Papa, Dad, Brother, Uncle, Cousin etc. Lew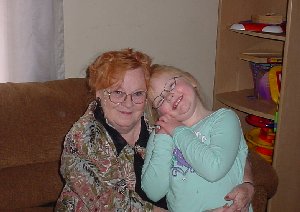 03 December 2006
November is gone and the winter mode has arrived here at the ranch. The pond froze over so I did get the heater for it although I probably didn't need it. I will only use it when it is really cold to keep some of the ice off. It was really cold last night again so turned it on this morning. We have been down to like 6 to 8 degrees at night so it is chilly. Been working on the bookshelves for mom and got two of them finished putting together so now just need to sand, stain and varnish them. Only six more to go. I got the library room painted this week and we ordered the border for the ceiling so that should be here next week. Got the roll top out of moms desk as it was not working and will get that back together tomorrow I hope. Did a double take today going to check work as I seen a 1955 dodge pickup at H&H sports. It was a six cylinder with a floor shift. Bummer. Mom is doing some better this week I think but sure is slow work. Sure hope she gets better for the Christmas season. Started the stove in the garage for the work on the bookshelves and it is evident that it needs major work or replaced. There is a large hole in the fire box and all the firebox glass is gone. Had to cover those with a coffee can. Oh Bother. At least it still heated the garage but think I better get a new one. Just turned on messenger so will see if anyone is online. Found Barb, Jeff, And Elaine on so had a nice chat there. The thermometer says 0 this morning so it is chilly again. Need to add some water to the pond today as it is getting low. Got the fire going in the garage so guess I won't get much done setting here so will close with all my love and God bless us all. Papa, Lew, Brother, cousin, uncle and so on. Love Lew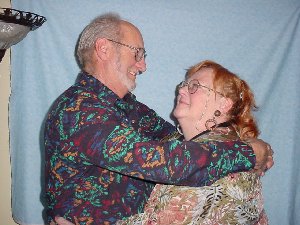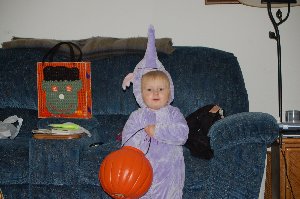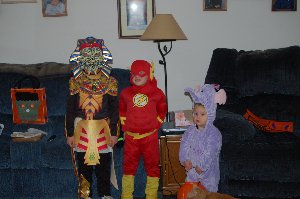 26 November 2006
Thanksgiving is over and I sure have a lot to be thankful for. Was at Elaine's last week for our family gathering and then At Brad and Heather's for my Immediate family feast on Thursday. Sure missed Matt and family but they will be here for Christmas. My tummy still hurts from all I ate. Got lots of nice pictures and am downloading more from Matt at Redzworld as we speak. I ate way to much again and still have a full feeling. Got started on the library mom wants so may be can get that going finally. Got to check the camper and it was really a disaster so asked for some of the money back. They said they would send it back. We will see. When they get $75.00 an hour for 20 minutes work that is ridiculous and then the job is really bad. I don't think so. Had a good visit with Jeff this week on messenger and was nice to reconnect there as haven't seen him in ages. Sure has been a busy summer here and mom still not feeling so well. Just signed into Messenger so will see if anyone is here this morning. Have checking a lot of the Email addresses I have and some have went south so not sure what happened there. Will try to check later. Did a lot of work at the rental this weekend as they claim to have electric problems but could find nothing wrong. Also found the bottom of the back door broken out and thrown over the hill. Not sure but believe the last tenants did that and just now found it. Might have been these not sure. What is with people. The fish are doing great and no ice there yet. Sure have had a warm nice fall and then last week was like Indian summer as in the 50's. Got the clocks set fine and am working on mom's roll top desk as it doesn't roll right. All the binding has come loose and frayed and it can warp and get stuck. It is not an old roll top so has some kind of tape they have used. Will try to make it better. Guess I have rambled on here long enough so will close for now with all my love and Gods best wishes for all. Love Papa, Dad, Brother, Cousin, Uncle and so on.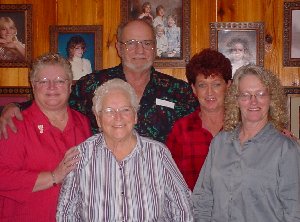 19 November 2006
Thanksgiving at Elaine's is done and we had a great turn out and tons of fun. Thanks sis I really enjoyed it. Brad, Heather, and kids showed up and they had a lot of fun they said and I got to pick a whole 3 quart pan of Shelf/elephant ear mushrooms. Got them cleaned and soaking in salt water and will now cut up and freeze. I can taste them already. I think there were 30 people that came which was about 1/2 of all or so. It was crowded and full house and we all gathered in the kitchen for a picture. WOW. I stopped and paid for the camper on the way over and then picked it up on the way back. Made for a long day but sure enjoyed it as Mel, Amanda, and Sarah got to ride over with me and Steph, and Faith got to ride back with me. Will now check the camper to see if they got anything done and if it is any good. Sure hope so. They were supposed to patch both holding tanks, Seal the roof, and repair the awning. They said they could find nothing wrong with the awning. Oh Bother. Need to add some more string algae stuff to the pond as some of that is still growing but so far they are all doing fine. Heather has been lost on Lewzplace and have been in touch with MSN for the problem but that isn't working. Will see what happens later. Got the new scanner up and running and it sure is techy but will be good I think. Will be a short week this week as it is only a 3 day week so better get out of here and get going. Had a nice chat with Elaine, Barb, and Dick this morning so had fun there. Have a great Thanksgiving and remember all the things we have to give thanks for. God bless us all and keep us in his steadfast love always. Love Papa, Lew, Dad, Cousin, Brother and all the rest.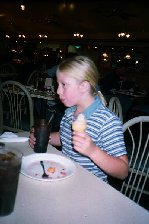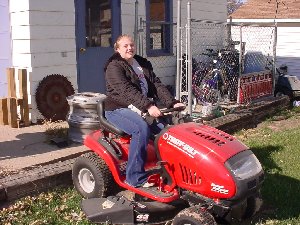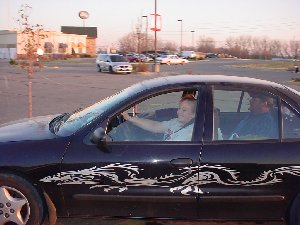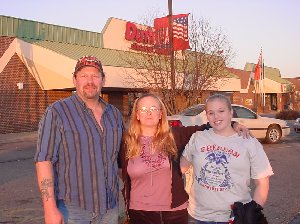 12 November 2006
Papa's Little darling is all grown up and we just celebrated her Sweet 16th Birthday along with mom's, some year birthday we won't mention, and wow does time fly. You are still my baby girl along with your mom and Mema and pray you have a great year and a wonderful life. Think of Papa from time to time and be good as I love you all very much. We got snow on our anniversary, 10 November, and it sure was beautiful with all the large flakes falling gentle to the ground covering the earth with a blanket of pure gleaming crystal white beauty. Just like our birth on that day so many years ago in 1962 the earth was reborn to a new beginning and a changing season in our life's which marked the beginning of a very special time for me. Guess I better change the subject before I wax all nostalgic and you all get sick. I need to change the batteries in the electronic thermostat as it has been flashing change the battery for some time now. I'll do that as soon as I remember where I put the paper that tells me how to do it and not lose the program. Oh Bother. I'm guessing the black tape over the flashing light like on the VCR won't work in this case. Had to get a new scanner as the old one would not work well with XP as I was told the Power Twain setup was not longer around. When we got the new one it is run by power Twain drivers. HUH!!! At any rate I got a flyer from Epson through my Email about there 3590 Techy scanner since I registered our new printer with them. The following week I had our office supply order one since it was the one they had listed in there catalog. After two weeks we got the message it was discontinued. What have I missed here. Did I sleep that long. I just gave up and went to computer concepts and got a Cannon flatbed which seems to work real well. Seems no one sells the flatbed scanner anymore either as all I could find was all in ones mostly. Haven't got the camper back yet as they still need to fix one tank I think. The rest is done they say. Got all the snow equipment ready at work but still need to get it finished here at home. Most of the snow we got is gone but we are In Iowa so it will be back. Mom has been hearing a noise on the roof so guess I better get out and check my antenna before it comes crashing down as I can't see anything else that could be doing what she describes. Guess I better sell some of the radios also as I will never use them all. Why did I get them all again. Am still adjusting the new clock as it lost about 30 seconds this week so am getting closer. Guess I better get signed off and post this before you all fall asleep. God bless us all. With Love Papa, Dad, Brother, Cousin and all. Lew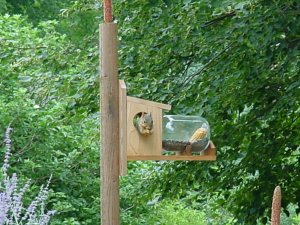 29 October 2006
It's Sunday morning again and it is a great day out. The sun is up and I woke up another day so life can't be any better than that. Every body must have forgot to set the clocks back as no one was on messenger today. The daily clocks are wound and set, the weekly clocks are wound and set, the 30 day clocks are wound and set, and the yearly clocks are also set here at the ranch. Whew I'm tired guess I'll take a nap. Hello!! where is everyone. Had all the grandkids from Brads yesterday afternoon and had a lot of fun. I made a huge roast with all the trimmings for supper and them little stinkers just about cleaned it up. Of course there are now six of them and they can really put the food away. Even our little Lucas has a very healthy appetite. We play a little and then later made some popcorn and we watched The Borrowers, and Over the hedge. During all this we lost all to sleep except the big girls and Brad. I think it was finally 1 AM when they left. Got a lot of the pond ready for winter but still not sure about the heating of it. Might try without a heater to see how it starts out. Ran the camper back to Webster city Friday for them to look at the new awning as it has that wrinkle and then having them seal the roof and fix some tank leaks. If things go right, Matt, Kris, and kids will be here the 14th of Dec through Christmas so am getting excited about that as we have not seen them all since 2002 I think. Matt was back for the wedding but that's all. Tonight is trick or treat night here in Willey so we have some candy for that as we might get 20 to 30 kids. Can't figure out why it is never on Halloween any more. Oh Bother. Guess this leaves me run down so will close with all my Love and God bless us all. Love Papa, Dad, Brother, Cousin, Uncle, etc. Lew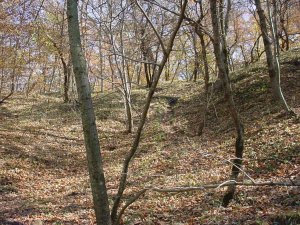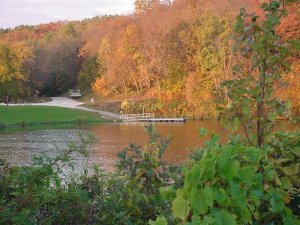 22 October 2006
It's Sunday morning and once again here is Lew. Been a hectic week getting back in the swing for work but made it okay. Brad and Heather have another dear child of Heathers sister on a temporary basis so we now have one more grandchild and they now have six children in there world. WOW double WOW WOW!!! Got a new cell phone at work from Nextel, and spent all week telling them it don't work. What a joy all the technology is that makes our life easier. Had some water leaks on the floor when we got back from vacation and finally figured out our water heater has a leak and need a new one. Went To Brads yesterday to help set up a room for Amanda so am pooped today. Set up an appointment next weekend for the camper to get the roof sealed as I see a few small water spots, along with getting the holding tanks patched and the new awning looked at as it has a wrinkle at one end. Then will put it up for the winter or haul it back for bedroom if we need it when our kids come home from Germany for Christmas. Need to get the furnace room cleared out today for a new water heater and get some of the pond stuff cleared out for winter so will be a busy day. I got the clock with Westminster chimes running this week but need to get it all timed yet as that takes quite awhile to balance and set. It has two other chime settings also and is kind of cool. Ya like I needed another clock. Just had a visit with Elaine and Jeff in messenger so that was fun. Mom overdid yesterday at Brads and her back is really bad today so hope that works out okay. Guess I better get moving here and get this posted and get to work. God bless us all and my love all. Papa, Lew, Uncle, Brother, Cousin, and so on. Love me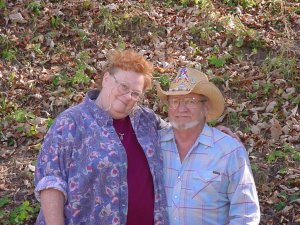 Greeting's and howdy from Springbrook campground. We arrived and set up on Sunday 01 October 2006. It was a rather warm day and was about worn out when done. Once again I brought way to much stuff, hence the reason for being tired.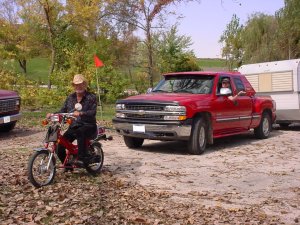 Monday 2 Oct 06
Elaine came in today and you can see in the picture that I had to tow her Chevy over a piece of pea gravel that she got stuck on that was lying in the road. Hello, Pea gravel is the size of a pea. Went to town to get a few small things on Monday and then had butter steak for supper.
Tuesday 3 Oct 06
Today I cleaned out the van and organized it and cleaned out some of the cupboards and organized them. Made a few changes for my camp stove table and did sausage eggs toast and bacon for breakfast. Got my Swan 350D up and running with the mobile supply and antenna and made some California contacts. It had close to 100 watts out so was pleased with that. Went to town again and did some thrift shop stuff and then had T-bones for supper with some potatoís and carrots Elaine made. Sat by her fire and chatted and am now ready for bed. It is a little after 8 PM.
Wednesday 4 Oct 06
Today I did some more work on the Swan radio and checked into the Swan tech net in the evening. Also did some thrift store stuff and fixed one of the yard decorations that the wind broke.
Thursday 5 Oct 06
Brad and the kids came but Heather was in Vegas again so she could not come camping with us. We all missed her a lot but Brad did the most I think. Early in the morning I went for a walk around the lake and got some pictures of some cranes and a beaver working on itís den. I set up the tent in the morning so they did not have to do that when they got here and when we got them settled the kids played in the creek and got wet.
Friday 6 Oct 06
Today we had eggs, sausage, and potato and apple pancakes for breakfast, goofed off, played in the creek, and went for walks and in the evening we took Elaine and all out for supper to all you can eat fish and shrimp.
Saturday 7 Oct 06
I made maple and brown sugar oatmeal, with toast, juice, and a fruit cup. We sat around the fire, Brad took the kids for some special walks and activities and then needed to get home after we had hotdogs for lunch. The Big girls, Mel, Steph and Faith all wanted to stay another night so we moved the tent over by the trailer and they stayed here. We cleaned and straightened up and the girls did some homework and we made some símores and our little faith fell asleep so Papa got her to bed then Mema, Mel and Steph played Uno and we went to bed.
Sunday 8 Oct 06
Today we slept till 7:30 and then just goofed off. The girls read some and did some pictures in their books and we started a fire to dry Faiths shoes and we had cereal and pop tarts for breakfast. The girls walked in the water some and then did some homework and church work and then got all their things together to go home. We then just sat and talked, walked in water, made pictures for Mema and mom, read some more, worked on a wood game we got from the people leaving and Mel made a top for it and called it Memaís ring toss. It was in a box of wood to burn and they said it was a coat rack that was not all there. Mel put it together and her and Mema decided it was a ring toss game and was all there. Mel measured and designed and cut the wood for the top with a little help and then sanded and decorated it. It is pretty cool and she did an excellent job. Brad and Heather then came about 12:00 and whoosh they are all gone and this part of our adventure is over. Thank you kids and girls so much for sharing this time with us and loving us, as you have no idea how much it means to Mema & papa. We took down the tent and packed it away and then just relaxed and I checked into the Swan net and then made supper, watched some TV and went to bed.
Monday 9 Oct 06
Today I slept in till 10AM. Whatís up with that. I didnít sleep well as my back hurt and the ulcer flared up so just slept in. Cleaned up the area some and went to town and got some things to put up my swantenna on the camper so I donít need to move the van around all the time. It is working out real nice and is a lot of fun. Had to bring some water over to put in the tank as we were out so put in 20 gallons. Did pork steaks for supper and now here I am just watching TV and mom crochet, and typing the journal.
Tuesday 10 Oct 06
I finished the antenna mount and tested it all and got some fine reports with it. Went to town for some food supplies and picked us up ham balls for dinner from the Chuck wagon diner. It was okay but not a great meal. Moms are better. Turned the heat on as mom was getting cold. Wait did I really say that and is that right. Mark that on your calendar. Checked for some of the Swan guys on the radio but only found one I could contact. We had a nice rag chew for about an hour so that was fun and he was in Phoenix. Heard a station from the Netherlands but could not make a contact. Overcast and rainy today and rain is really coming down and its about 55 degrees out. Had a visit with Brad on the phone and they may be having another child. That would be Amanda the sister of Mel & Steph and they must be a lot stronger than I feel I could be. That is a huge responsibility for them to step up to. WOW. Another Grand child, Double Wow Wow. We will see later if this happens.
Wednesday 11 Oct 06
The morning dawned cool and windy and I was awakened to the awning flapping from the wind blowing it. Had to get out fast and take it down before it was damaged, as it is brand new. I got it done in time. Picked up some and put up some of the ornaments and cleaned the grill, stove, and table and then did breakfast/dinner of eggs, hash browns, sausage, toast, tomato juice, and milk. It was pretty good. Did some more outside and worked on the awning lights. I was going to put the awning back up but the wind picked up again and is real strong now. Oh Bother. Mounted the Ham antenna on the side of the camper by the awning rail. Made ham steaks with pineapple rings with sweet and sour sauce, Fried potatoes, and a salad for supper. Checked into the Swan net and now it is 8PM and feels like bedtime.
Thursday 12 Oct 06
Today dawned with a chill in the air and a temperature of 30 degrees. The water I put out for the birds is frozen solid and the ground is white with frost as a warm brilliant sun comes shining through the trees as it tops the hill behind the camper. The wind has been replaced by a gentle breeze that carries the smell of the distant campfires and the quiet ringing of some wind chimes while the water in the stream beside us makes a babbling sound as it tumbles over some rocks on its journey to a distant place. Thank you Lord for this gorgeous day that makes you excited to be alive. Not much planned for today so will just play it by ear, as we need our kids and grandkids here for us to get going. We need to get a few groceries and then might work on the walking sticks some if the temperature warms up enough to be out very long. Will try and catch the Swan group later. Went to Panora when we went to town but no thrift shops there so went back to the flea market in Guthrie Center. Got some groceries and then home. Nobody on the Swan group on the air so will start supper. Might go back to the flea market tomorrow and get the clock I seen there. Just what I need another clock.
Friday 13 Oct 06
Still a chilly dawn and no luck with the furnace so will just wait till we get home. Tried to find a gas valve but no luck, as everyone needs to order one. Got the clock at the flea market as if I really need it. Picked up some other stuff there. Cleaned up around the camper some and we went out to eat at the primetime for all you can eat fish and shrimp. Discovered when I did the dishes that both tanks are empty or the gas regulator failed to switch tanks because we had luck warm water. Will check that in the morning. Talked to one of the Swan group today and had a good chat and the radio worked out real fine. It has a real low SWR so am real pleased with the Model 45 Swantenna mobile all band antenna. We are now watching some TV and having snacks and then will go to bed.
Saturday 14 Oct 06
Another chilly morning but had a fire lit and going so we can burn the last of our wood so we donít have to haul it home. Yes Elaine your wood is all gone. Did a lot of pick up and area clean up today and even got a lot packed to go. Got the furnace going again and seemed to be a dry seal on the control knob, as it does not smell now. Talked to Jim again, WA5BDR in Wellington Nevada. Had a real good signal and the setup is working fine. We took a few pictures at the bridge and others and I got some of me talking on the radio. Mema is still working on some Bday gifts and we had charcoal steaks, oyster stew, baked potato, a salad and Jell-O for supper. We just finished all the wood and now I am inside watching TV and filling out journal. Mema is still working on her Bday stuff.
Sunday 15 Oct 06
Going home day and it is overcast and raining. Got all the inside stuff put up before the rain so was lucky there. Emptied the tanks and got on the road and am home. Got the van unloaded mostly and went in and got some anti freeze for the lines and have checked into the Swan net. Not much else here so will try and post yet today and add pics for the trip. Back to normal next week.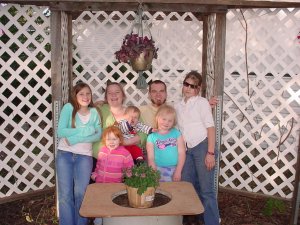 01 October 2006
Another week and we had a great birthday for Mel and sure hope she had as much fun as we did. It took several trips to Webster City for the camper awning as when we got there we had not communicated all the proper stuff so hardware was not ordered. OH Bother. Did end up getting some more frills for the camper that we used to look at the people that had them and just laugh and say that's not camping. Oh my gosh we have become those people. At any rate the new Awning is on and the camper is ready to go. Spent most of the week getting it ready for our last trip of this season at Springbrook and we leave today. It will be fun and sure need some camp fire time. Work has been hectic and had to work some yesterday as it was Band day and DMACC was giving away bottled water for it. We ran out before it was done. Got all the mowing done here in the afternoon so hope that will hold till we return. Guess this one will be short as we want to get moving. Elaine is coming this week also and then on the next weekend Brad and the kids are coming. So hope more of you come also. At any rate God bless us all and keep us safe. Love Papa, Dad, Cousin, Uncle, Dad. Lew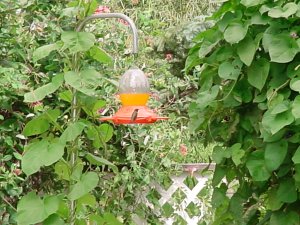 24 September 2006
Another week is done and we are gearing up for our last camp trip of the season down to Springbrook. Today is our little Mel's birthday and we are having it here and are doing a campfire wiener roast along with her gifts. I got mom to the doctor on Thursday and they changed the dose on some of her medicine's so hope that helps. She slept late yesterday but was more active and did a lot of stuff so maybe. It has been a busy week what with tree limbs down I still need to clean up as haven't got them all here or at rental. Been mowing and stuff like crazy again and can hardly keep up. Did get the arbor back up and the bench put back together and some of the limbs picked up and a few trimmed. Had to run the computer in yesterday as it went stupid again but was partly a program and part me. At any rate it is going again. It is a gorgeous day out and will be great for the Bday celebration so I need to get a move on it and help mom and get outside set up. Happy Birthday Dear Grand daughter and I will see you shortly for your party. God Bless us all and keep us in his steadfast love forever. Love Papa, Dad, Brother, Uncle, Cousin and all the rest. Lew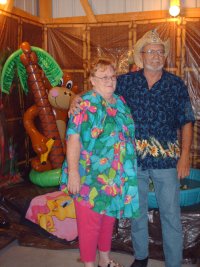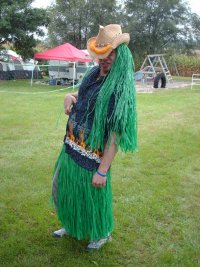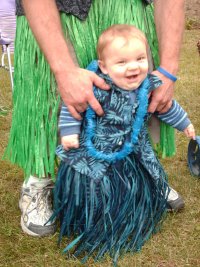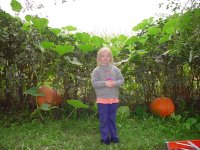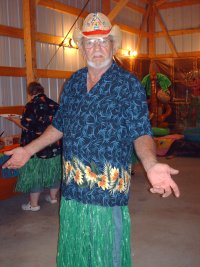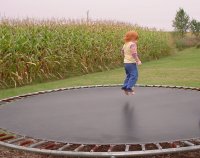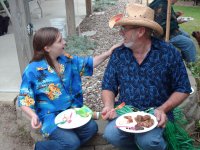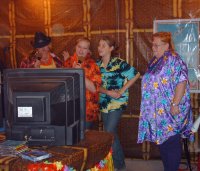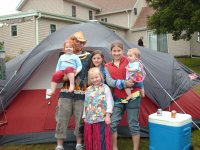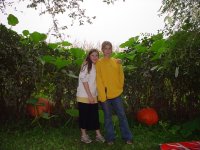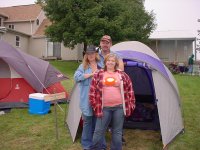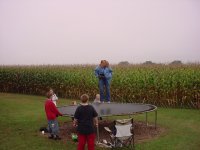 17 September 2006
The campout at Elaine's is now over and if you didn't come you sure missed a good one. Elaine took us all to Hawaii. As the pictures show we all had a great time and we ate a lot, acted silly, did Karaoke, slept in tents that leaked, played on the trampoline, checked the pumpkins growing in the trees and some even said where am I, How did I get here and WHO ARE these people. You did a great job sis and we all had a wonderful time and sure glad I went even if I had a weird feeling I should stay home. It started with the camper battery dead and I needed to replace one of the gas tanks. Then I forgot to light the fridge going over but thank goodness the food was okay. When we got there the ground was wet and soft so the old ford would just spin so Elaine had to pull me around with her truck to get parked. While there we got some rain and the awning filled up and bent in the middle and tore off the trailer. When leaving I couldn't pull the camper out and made big ruts in her yard just getting the van out. Had to go back yesterday to get the camper that Elaine pulled out for me. Oh Bother with a Chevy even. I got to see almost all my grandkids and kids and mom and sisters and visit with family and friends so it was well worth it. Woke up to a big surprise this morning after Mom woke me up scared last night from wind and rain. Have tree limbs down, the arbor broke off and blew over, the old tent blown down, and the patio things blown all over. Maybe even more once I get out to see it all. Just had a nice visit with Elaine and Dee so guess I better post and get to work as there is lots to do. God bless us all and keep us in his grace. Love Papa, dad, brother, cuz, uncle and so on. Lew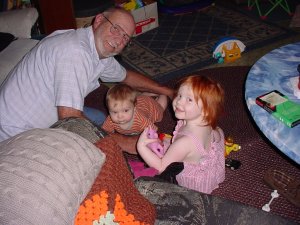 03 September 2006
Oh my what a tired week this has been. Been real busy but have not slept well I guess. We had our two little grandbabies, Sarah & Lucas, on Friday and Saturday and part of Sunday while Mom & Dad went to a wedding in Minnesota with the rest of the kids. What a joy they are and Lucas is sure growing fast. Sarah is just my little jabber box doll. She is talking so much now and is just 3. Been a mad house at work what with fall term starting and all the yard work because of the rain. Everything is looking so nice but is sure a lot of work. Got rid of most of the apples I took to work and the trees are still loaded, What was I thinking. Mom, Mema still has some blackberries to get and they will be done also. We didn't do to well there as I didn't take care of them a lot this year. The humming birds are back and we have many at the feeders. I can count about ten before I get confused as they are so fast. There are quite a few though. Have seen the Orioles again also so the fall must be approaching. This coming week is the campout at Elaine's and sure am not ready for it. Monday is a holiday, I work Tuesday and then Wednesday we are off for camping. Wow where have I been and what have I been doing and where did the time go, Oh Bother Oh Bother I'm Late I'm Late for something or other. Are we having fun yet? Got a little rain yesterday so the grass should keep jumping out of the ground. I see Elaine is online so am visiting with her. Wow is this multi-tasking. I did it, Opps wait she's back just a minute. Not so good huh? For me it's great as I am working here, have a download going, and am visiting with Elaine. So there. Ya like that works now I lost Elaine. Oh Bother. I see Jeff just joined us so now am really going to town. Is that Kewl. Hee Hee. Is rather cool out this morning, in the 50's so that is nice for a change. Just finished feeding the grandbabies and watched some of Sunday morning so guess I better get his posted and get busy. Haven't even started to load the camper or check it yet. Till next time God bless us all and watch out for April in this time of need. Love you all. Papa, Dad, Lew, Uncle, Cousin and so on. Lew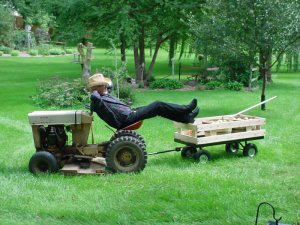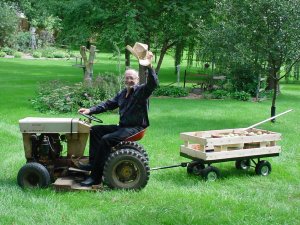 27 August 2006
Yee Haw, Yee Haw, it's off to work I Gaw. Opps, no wait Yah who, Yah who got lots of work to do. No that's not right either. Oh Bother, Oh Bother Now where was I. Ahhh!! yes taking a nap as that always solves a lot of problems. How about that International Cub Cadet tractor made in 1962, the year mom & I got married and how about that trailer made last Sunday. The pears are all done and lost some because they got to ripe before I got to them all. The apples are doing fine and have two bushels for work tomorrow if they want them. There are probably 5 or 6 more if we get them all. We will never use that many, what was I thinking. The grapes are done but didn't do so hot as I think they were to dry when we needed the rain as they were very small and bitter. Got a 20 year certificate for being at DMACC for 20 years and a $40.00 gift certificate to the bookstore. Helped Brad put some new brake pads on the van Wednesday night but the rotors are in bad shape. The whole van is getting pretty tough. Not much works on it any more. We went up to Brads last night for our grandbaby fix so we are right with the world for awhile again. Did some work on the pond this week but may have lost a plant around it as I didn't water it very well and it must not be real deep in the dirt. My yard is a disaster and can't seem to catch up what with the birds, pond, mowing, weeding, picking fruit and all. The Corn is sold so that helps some. Been working on the rental and that takes some time but am just slow. I did get the tree limbs cleaned up that fell last week so did get that done. Been mowing about every 2 to 4 days as the grass is really growing and green and lush. What is that fertilizer stuff about. Oh Bother, Oh bother. Guess this is going nowhere as I just ramble along so better close while I still can. God Bless us all and keep us in his grace. Love you all bunches. Papa, Dad, Brother, Uncle, Cousin, and on and on. Lew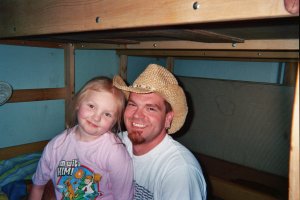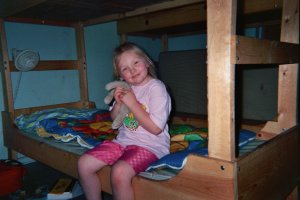 20 August 2006
My little pumpkin is back from her camp and sure was glad to see her. She is such a little doll. I got her pictures developed and her album done for now of the camp. It rained last Sunday so not much outside work done but did get some done at the rental. Touch up painting and patching and things like that. On Monday the mowing at home started again and was way to long. Got the Gingko planted and all the other new stuff watered in good again also. Have a large tree limb down by the fence so had to mow around it till I can get it cut out. We must have had some high wind as small twigs everywhere also. I may end up with tadpoles as two frogs now inhabit the pond. Guess that will be good fish food for the fish to start winter on. Finished the mowing again but have not got the tree limb cut up and hauled yet. The seat on the big mower is broken so need another one there. Will check on one. It broke on the backrest part and been wondering why my back was sore so much. The pears are ready so better get at them before we lose them all, they sure are good. Tuesday Our little faith came over to spend a couple of days and that sure was fun. The humming birds are back in full force so the weather has cooled off some for them. The city of Willey has started tearing down the old bar and is going to tear down the old storage garage of the Steffes family. Will be nice to have those eyesores gone. The house is already gone and the holes filled in. Just visited with Elaine & Lil John in MSN messenger and that was fun, we got on @ about 7 and run till 8 so had a good chat. The sun is up and is a gorgeous day. Had a lot of rain at the end of the week so did not need to water the plants any more. Have returned to 1960's I think as now am wearing a cowboy hat and boots again. Forgot how comfortable they are. Guess I am just rambling again so will close for now with all my love for all and a special Gods blessing for those of us that need it. Love Papa, Lew, Dad, Unc, Cuz, Etc.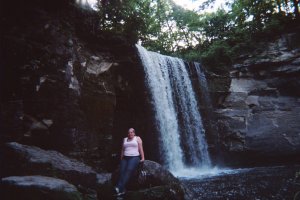 13 August 2006
Well the wiener roast Sunday last, went real fine and we had a great grandkid fix. Might last another week. After the roast we went to town and got the kids some new clothes for the start of school and that was sure a lot of fun. Wish we could have done that much when the kids were growing up but was always to broke then. At any rate we got them some nice clothes and then Tuesday our little Melodie was here to spend the night and then on Thursday our little Stephanie did the same. Then Next week Our little Faith will be here also as she is at the Raccoon river Bible camp this week. The plants all seem to be doing fine and I trimmed some trees and bushes on Monday night so now they look better. Got the trimmings hauled away on Tuesday and then started the mowing again. Boy is the grass ever growing now. Have many more bushes and trees to trim so will be busy for a long time. Tell me again why I just bought more of them to trim. Something wrong with that picture or just with me maybe. The mowers were out of gas so had to get some, It cost $35.50 to fill the cans to mow. Oh Bother, where did that come from. When Mom and I were married in 1962 we took off for Oregon in a 1953 ford wagon and the gas for the whole trip cost us $22.50 to drive 1,800 miles at 20 mpg and $.25 a gallon. What's up with that it costs me more to mow my yard now than to drive to Oregon then. WOW!! is that just crazy. We took Steph home yesterday and had supper there and then came home. It was a great week but very busy and am tired. Just seen Elaine online and we had a chat in MSN so that was fun and told her and Ellen happy birthday with an Ecard. Still don't have the gingko planted so better get going on that. Guess this leaves me run down again so will close with all my love. Papa, Dad, Lew, Me, Cousin, Whatever.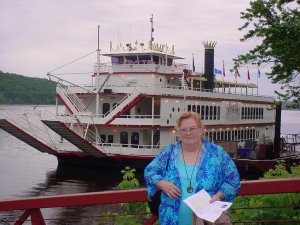 6 August 2006
Went out last Sunday after the journal and worked in the yard most of the day. It got to 98 degrees and 72 % humidity, what a bummer that was. Got the spraying for weeds done for the most part. Did the drive way and 3 landscape areas. Did the push mowing and mowed the garden area and trimmed some on my sad pine tree. Did a little more work on the pond but gave up cause the heat was unbearable. Went inside and cleaned the Ham/computer room some and filed things that were piling up. Where did all these radio's come from and why do I have them. Got all my clocks hung and arranged again as there were some new ones. Where did all these clocks come from and why do I have them. Kind of quiet here for the week but was real busy. Have lots of yard work done and more stuff to spray but ran out of roundup, and then we got some more trees and bushes and things. Got a Gingko tree, a drooping Mulberry tree, Two Knock out red roses, and a dwarf rhododendron. Have them all planted except the Gingko and not sure yet where I want it. Mom listed the house for rent on Tuesday and the calls started Tuesday evening. The first call set up an appointment for Wednesday and they filled out an Application that checked out and they said they wanted it so Saturday they came over to confirm, paid the deposit to hold it and it is now leased for 1 year. WOW!! That is so cool. Was over there and got the mowing done and the mowing at the barn and did a lot of work in the rental so it is about good to go. Had another flat tire on the big mower so got that fixed also and then had to work on hydro linkage some. Today we are having the kids over for a wiener roast so have the fire pit and all cleaned up and the new knockout roses planted there. It looks really nice. Have to put up the hammock yet and set up tables and chairs so still lots to do. Just got online but no one there yet so might miss today. Need to water all the new plants well again today so they start off well. I help them out at first and then they are on there own. The good lord has a great plan for them and it works out real well and gives us many hours of pleasure in the planting and caring for them. Got the rest of our little Steph's photo album from Bible camp completed so will give that to her today. Hope she likes it. Barb showed up for our chat but that was it so now I better get this done and get going. Love to all, Papa, Me, Lew, Brother, Cousin and so on.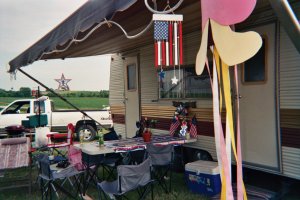 30 July 2006
Why are we not camping? Where did this heat come from? How come my grass is growing like mad again. Why is the new pump for my pond broken already? OH BOTHER!!!! Why me? Ya I spent the day out in the heat yesterday putting a new pump in the pit for the pond as the other lasted 3 whole months before it broke. Go figure. Also battled for sometime trimming the hedge by the house as it was getting long. Whew was it hot. Got it all looking well and even trimmed some on one of the pine's so we can walk down the sidewalk again. Last week I bought a 2 wheel golf cart you haul your golf bag around on and strapped my sprayer to it so I don't have to carry it. Got it for $5.00 at the thrift store and is in great shape. Added about 5 feet of hose also so you can move around some. Wow does that ever work nice and no heavy carrying now. Got everything mowed except the garden area Thursday and it is all needing it again after only two days. We got just enough rain to make it jump out of the ground. Got a lot of the spraying done but need to do some more and will water the new shrubs today also. Worked on the new picture frames we got for the stairway and then made some of our trip to Minnesota for my little Crystal. The big girls of Brad's returned from camp yesterday so will have some more pictures from them to develop and see. Man has this ever been a busy summer as we are always on the go but have finished a lot of the things we wanted. We are gearing up to get the bookshelves built in the front for the library room and get some painting done before the kids come home for Christmas from Germany. Seems like I am moving really slow. Come on September I need a camp trip. Sure wish it would have stayed in August. Hee Hee. Just kidding sis. Guess I better get moving here and get some thing done today. Love to all and God bless us all. Dad, Papa, Brother, cuz, Uncle etc.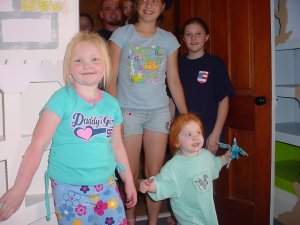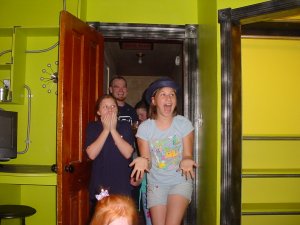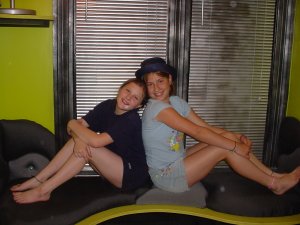 23 July 2006
What a week this has been. As you see all the girls are moved in and really happy with the rooms. That is so great for Brad as he worked so hard. I went a little nuts and had to get them all some picture frames for there desk etc and we took them up Friday night. We got the Big girls some camera's again as they are now going to Raccoon River Bible camp for a week and we also got one for Faith as she goes the next week for a Few days. Spent a lot of the week mowing and watering plants and yard stuff. Treated the pond and got it clear again and seems to be fine. The pump pit seems okay and the company thinks the frog and fish were dead before they got in the pit. Sure hope so. Yesterday went over to the farm and rental and did the mowing there as the renters are out but did not do all the mowing as they should have. Got the farm done and started on the rental and a tire went flat. It happened at 11:45 and by the time I got the tire off and to town all shops were closed so ended up at TSC for the tires and tubes, as they needed replaced last spring but thought I could get another year out of them, but had to mount them myself. Boy was that hard. Got it done and finished the mowing and it sure looks better now, as I got the weeds they were supposed to keep down also. They really messed up the house with tape everywhere that pulled off paint and paneling trim and they put up mirrors in the middle of some of the wood doors with nails and just did a lot of dumb stuff. OH Bother!!! They even drilled holes in a steel door to put up a chain lock that they fastened to a light piece of paneling. HUH?? Go Figure. Mom and I went out to supper at Yan's one night and it sure was good. They have some awesome Walnut Shrimp. Yum Yum!! We all discussed and removed Mom (Grandma Orcutt) from Aricept as it is way past the time it could do any more good for the memory so why keep spending the money for it. We hope it was a right choice. Am starting on the trip for Elaine's campout and got the new cover for the power cord installed in the camper. Also repaired the awning rail pole that did not work. Guess we are about ready there. Hope all the kids can make it as it is always so much fun. We finally got all the girls pictures developed and I made them each a photo album and then when they take more pictures I will develop and put them in there books if they like. Went out to feed the birds and the temp is about 58 Degrees and the sun is coming up. It is a great day so will close with all my love and gods blessings to all. Love dad, Papa, Lew, Brother, cousin, Uncle and so forth.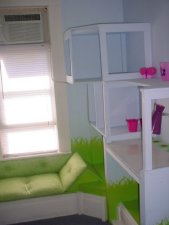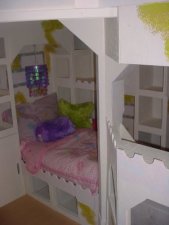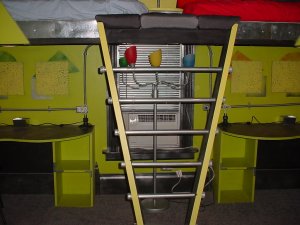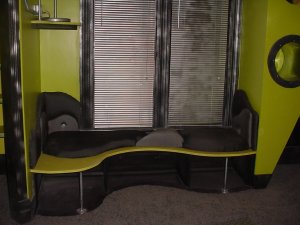 16 July 2006
As the pictures show the little girls and the big girls rooms are done and they sure were excited about getting in them. We spent the day at Brad's helping with the finishing touches and then got pictures when they first seen them. It was awesome. He sure did a nice job. The week has been just a real nightmare for heat and still hot for the coming week it says. Been in the 90's all week. OH Bother. Kind of poopy also as I lost one frog and one goldfish in the pond. They got in the intake tank and couldn't get out I guess and died. Will check with Earl May's and see what's the deal with the door there. Got some of the mowing done early on but it already needs it again so the rain we got sure perked it back up. Elaine was on MSN messenger today but that was all. Guess I am wasting my time with all this journal stuff and stay in touch things. Got tons of yard work done this year but still looks I have not done much. How does that work? Guess I been camping to much and still two more trips to go this year that are kind of big. The one to Elaine's that all the Grandkids want to go with us and then our trip to Springbrook just for us. Hope we can muster the ability to see that the grandkids can go if the parents can't do it. It is so much fun there and the kids have a great time. Got some work done on the hedges so they look some better but still need the final shape trimming to do, but is way too hot. The humming birds and orioles have went farther north so you know it is hot. We usually have a pair or two that stay but not this year. Guess I am run down as I seem to be babbling so will close with love and God's blessing for us all. Love Lew, Papa, Dad, Uncle, Bro, Cuz, and all.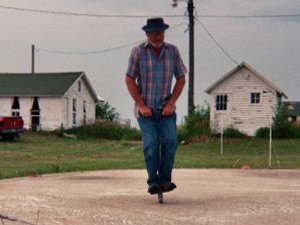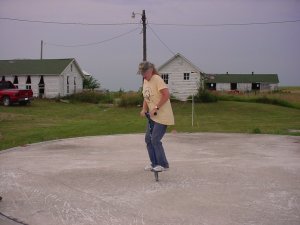 9 July 2006
As you have already noticed there was no journal on the 2nd as we were at DeWayne's for his annual campout over the 4th of July and those of you that didn't come really missed a great time. And just for the record and EVERYONE'S info, Me, Lew, Papa, Uncle, Cousin and so on, holds the record for the pogo stick jumping contest for the old duffers. I WIN so nah nah. I got 29 or 30 and Elaine was second with 25 or 26 after many attempts. As the picture shows she tried hard but must have been two old cause she just couldn't catch me. Hee Hee. Come to think of it we were the only two dumb enough to try out. Most all of the kids were better than us but we don't count them as they are young with body parts that still work. I will Email this also to all in my address book just in case you don't get it here and I know Elaine wouldn't want you to miss this important INFORMATION. My picture looks like it about did me in. Elaine had fire works on Saturday night 1 July that were awesome and DeWayne and some friends had more on Sunday 2 July that were also awesome and on Saturday night they did Karaoke and it was fun. There was Volleyball, Badminton, Horse shoes, Croquet, Elaine's golf ball game, Basketball, and on Sunday DeWayne had a huge water balloon fight for the kids. There was a huge meal on Sunday for the family picnic and it was all in all a great time. On Monday the 3rd of July the last stragglers left and it was over. Plan to be there next year or be square. We got home about 5 pm on Monday and Heather was there to pick up the girls so we got there things together and off they went. We sure had a lot of fun and sure enjoyed them both. Here is one of there pictures and all of them are on Lewzplace now.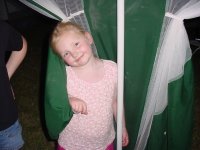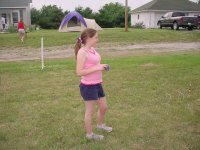 Now the next campout is Elaine's on the 8th, 9th, and 10th of September. Maybe we will take Mel & Steph on this one. Got some of the camper stuff unloaded after the girls were gone but not much. Then on the 4th just did some small work on the pond and some trimming and then checked work and returned one of our broken camp chairs and got another and picked up one more as we liked them so much. Also got another pond pump but it won't last long so will return it and get a good one from Earl May. Got my pictures from the trip organized and then copied off the VCR tapes so am caught up there. Went to see the fire works on the 4th at Carroll but was none there. What's up with that. Back to work on the 5th and did some of the mowing when I got home and then unloaded some of the camper and goofed off. Thursday after work did some more of the yard stuff, mowed the bank in front and watered plants and then grilled some steaks. Trimmed more bushes and then goofed off again. Friday night was so tired did not do much except finish the rider mowing, made supper and then to bed early. Been a very busy week. lots of work stuff with getting a room painted, moving all the furniture, cleaning carpet, moving several pop machines and so on. Saturday did a lot of yard work, like trim hedges, clean weeds, haul limbs, spray weeds and more. Been busy but lots accomplished. Sure miss the camping and the kids. I even tried some new meal recipes and we had potato pancakes, and apple pancakes, and corn fritters and it was all good. Guess I better get this posted and get busy. Just had a nice chat with Elaine as no one else showed up. God bless us all and I love you. Papa, Dad, Lew, cousin, Uncle etc.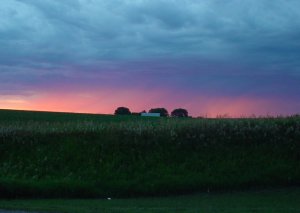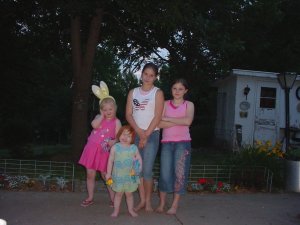 25 June 2006
Another week has passed and we are so thankful for all that we have. We went to our little Steph's Bday celebration on Saturday but we were not ready and had missed our Faith's while on vacation so we are going to do both of them for us Today. Then on Sunday, last, the kids came and we had a fathers day here. Our little Mel took the picture of the sky and did a really nice job and then the other is one of the four girls that day. I got some wonderful gifts then and from Tammy, Ben and Crystal and calls from Germany for the day. It was all a lot more than I deserve. Papa loves all you kids so much. Spent a lot of the week doing yard stuff and got a lot done, the pond is clear again and will need to use the treatment every two weeks instead of every month. Cleared the drive of weeds and sprayed and cleaned up the set aside and fire pit area. Have started work on the trip for the 4th of July at DeWayne & Danielle's for there campout. We will have our little Faith and Steph with us so should be fun. Got the big mower fixed as it was acting goofy with the mower deck and electric controls. Turns out a couple wires had vibrated loose and fell off so found that pretty easy. It is great again. Mickey, Mema, Mom is still real tired so we need to find out what is going on there but the back seems to be some better. Her blood sugar is close to what the doctor wanted it to be so maybe the low levels and the medication makes her tired. Am going to make some old fashion meals for the 4th campout and hope it goes over well. The new grill, grill table, griddle, etc I got on our Minnesota trip sure work good so am going to try more dishes with them. I hope the whole crew shows for DeWayne and it goes real well. I think we should all turn out and pack his place and then leave. That would be a lot of fun. We finally got a little rain yesterday but sure need a lot more as it was only about a 1/4 inch. Hardly got the ground damp but sure did appreciate it. The big van and the air conditioner did real well on the trip but the mileage was not so hot. Gas up north was really expensive also. About 10-12 mile to the gallon and it cost almost $3.00 a gallon up there. The temperature was really warm so it would run real hot most of the time and was so hot when we got home it wanted to boil. How does all that work. Any how the new tires and front end alignment sure made it handle nice. Guess I better get moving here and post this and get some stuff done before the kids come. All my love to all and God bless you. Love Dad, Papa, Bro, Uncle, Cousin, and on and on.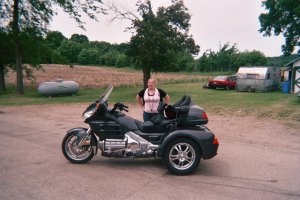 18 June 2006
We are back from our special trip with Our grand daughter and was it ever fun. We had a great time and got to visit some relatives I have not seen in years plus some that I had never met.. We started in Le Mars on 2 June and spent the night and in the morning we gathered up our little crystal and went to Cherokee to the Sanford Museum and the Planetarium. After that we traveled on east to the Grotto of the Redemption in West Bend Iowa and spent the night there. This was a real marvel to see. The next morning we traveled slowly up through Blue Earth Minnesota to Minneopa SP near Mankato where we met up with Elaine and Dez and spent the night there. Then the next day we all continued on around the twin cities to Blaine Minnesota and the Bunker hills campground in Anoka and got settled in. During this part of the travels we got separated from Elaine and had to use our Cell and walkie talkie to get back together. On Tuesday we then visited the Mall of America for the day and was that ever a trip. Crystal was really awed with all the large buildings and things in the cities. Then on Wednesday we spent the later part of the day with Dan & Sue and Brian & Sarah and family and Barb and Chuck and Mia. It was a great visit and a lot of fun. Thursday we then headed to Taylors Falls Minnesota for some of the research on Carol's time there. We made some trips to Wisconsin and had and evening meal on a riverboat ride on the St Croix river and it was really great. We found the old school Carol went to as a child and we think the spot she used to play in where the abandoned school was. We found her cousin and her sister in the school records but could not find her or her other two cousins. That was a disappointment. We did a few hiking sights and seen the old man of the river and where the Devils chair was. Elaine left on Sunday to go home and then we left on Monday, after we went to see the potholes at part of the interstate SP, for the rest of our trip. We now traveled to the Mystery Cave at Forestville and spent the night there and seen the cave and it was a real good treat. From there our travels carried us back into eastern Iowa to see the Norwegian museum and then on to the Bily Brothers clock museum. From there we went to see the smallest church in the world at West Union and then spent the night at a county park in Fredericksburg. We then continued on to see The Little brown church at Nashua and then on to Marion to see Mom and we spent the night at Squaw Creek and Took her and Tom out to supper. Then on Friday morning we headed home and arrived there at the same time and day we had departed on 2 weeks earlier. All in all we covered 1,519 miles total and our little Crystal had a great time she said so it was well worth it. Now the next big gathering is De Wayne and Danielle's over the 4th of July and then Elaine's campout the 2nd weekend in September. Hope many of the family and Texas and Minnesota cousins can make it to Elaine's as it is a real fun time and a good chance to catch a lot of the family together. God bless Everyone and all my love to you all. Papa, Lew, Brother, Cousin, and so on.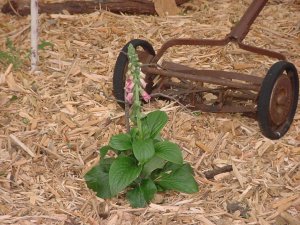 28 May 2006
What a week and the journal will be short this week as have a lot to do. Trip starts this Friday and am not ready yet. Did get the camper out and it is now cleaned on the out side. There is no place, not even the camper places that clean and wax them anymore so did it myself and it sure came clean. Tried to get the van done also but found the same problem there as no one will clean with rubbing compound and then paste wax it. What the heck has happen while I slept. All there shiny cleaning wax stuff washes off with the first wash job and it is all white and sunburned again and they will not do it in the body shop cause it leaves the powder dust they claim. Oh Bother. Brad was down yesterday and helped some so sure appreciate that. We got a lot done on the Van and then he did some mowing. Guess we will go ready or not but will think twice before another spring trip. There is so much that needs done around home in the spring. All the new plants, pond fish and things are going well so glad that is done but it still needs monitoring. Got new tires on the van and had the front end aligned and it is now a new van and does not wander all over the road. I might like the ford some now. Don't tell anyone. Got some hub caps for the camper to dress it up some but they don't work. Just cheap @#%*&92@!!& plastic junk. If you could get them mounted without breaking a tab you could grab one with your little finger and pop it off. Where did that Idea come from. I give up. Guess I better get moving and get this posted and get busy. All my Love Papa, Dad, Brother, Cousin, Uncle, Lew Etc.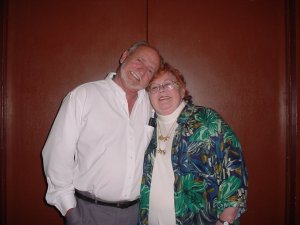 21 May 2006
Another week and has passed by and soon May will be coming to a close. We are still in bad need of some rain as all is pretty dry and need to keep watering some of the new plants we put in. The wind is really bad also so that is not helping and have to add water to the pond regularly. I got 3 of our solar lights going again but might need batteries for a couple of them as they are dim. Will see after several days of charging. I finished all the mowing yesterday and we went to Brads to help with the big girls room some more. That sure is turning out to be work. Went out to supper afterwards and then came home and went to bed. I got mom's squirrel feeder up last week and will be posting some pictures for Elaine and will put that there also. Seems like I sure have added a lot of new stuff for not going to do more this year and just take care of what I got. Oh Bother. will put the pics in a folder that says for Elaine. Got the deck back for the country clipper and got it back together and works good again. Got the mowing done there but need to weed eat again. Renters didn't pay rent and missed the water payment again so went to see what was going on there and ask if they want to renew the lease in July or not as this is getting old. They decided they wouldn't so is kind of a mixed blessing. Now need to look for renters again. Mom is feeling some better and helping out side and that sure is fun and makes me have a lot more energy I think. We are getting a lot of things done. Still need to get all the yard spraying done if the wind will let up enough to do it. It has been a very windy spring here and that is the only part of Iowa weather I don't like. Got the aluminum Sulfate to water the hydrangea with so it will turn blue, at least I hope it does. Guess I better get out of here and get stuff done as I want to get the camper out and going today also. All my Love to all and God Bless each and every one of us. Love Papa, Lew, Dad, Uncle, Brother, Cousin etc.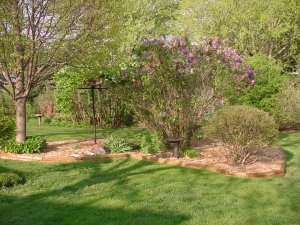 14 May 2006
Happy Mothers Day
It is spring time here at the ranch and things are all in bloom and it sure is pretty. Will post some pictures of the yard if you'd like to see them. Last Sunday was great but windy and we roasted hot dogs and did smores in moms new fire ring and they were good. Then on Monday I got the wildflower area tilled and planted so hope it takes off well. Mom and I both have been fighting a cold this week so has been kind of poopy that way. Had to take the mower deck for the country clipper in for some welding as it was getting rusted out in spots. Did get it running good again so hauled it back to the farm. Then while doing some weed eating there the weed eater quit so had to fix that. Am still working on the trimming here at home and guess that is a never ending thing. Saturday I trimmed the hedges to shape but not to the final trim, just to shape so they can fill out and add growth to the correct shape. I pruned some on the bushes by the drive and did some weed eating there to help dress it up. While cleaning this area I discovered we have a cardinal nesting in the plant on the arbor there, that we used for Brad and Heathers wedding, and there are two babies in the nest. Cardinal, how great is that. Then I checked for the fancy hosta's we planted last year that I thought were dead but I had covered them with to much mulch so cleared that out and got them going again I hope. I added some lava rock to the pond falls filter area to help grow the bacteria needed to eat the algae and bad stuff and also added two hyacinth plants and one water lettuce plant to get some roots growing there for the Eco system to operate better. Trying to do to much I cleaned the falls filters and then discovered that that is where the good stuff grows and needed to leave it alone so had to use the chemicals to give it a jump start again. Oh Bother. Reading first works. Am learning as I go. I also picked up the cocks comb plants mom wanted for the patio area but not sure when I will get to that. I got mom some loungers and a special squirrel feeder for mothers day like the one she seen at Aunt Ella's that she liked. It has a gallon jar you put the corn in and the squirrel gets inside to eat. It is kind of neat. The loungers are Eeyore loungers. Last night we went to Brad & Heathers church for there mothers day gifts to the moms which was the kids waited on the mothers for that meal. They had a kind of roast and then Brad led in the devotional and we had dessert and then it was done. We went back to brads for awhile and then home. It was 11:00 and was getting tired. Guess I will get this posted and get moving for mothers day. Have a great day and God Bless you all. Love Papa, Dad, Lew, Brother, Cuz and so on.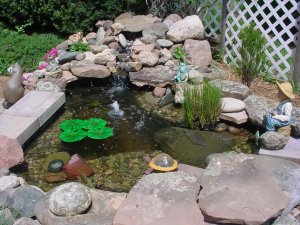 07 May 2006
The pond is complete and have a picture here and will post some also for you to see if you like. Man is the water ever clear now with all the new fangled stuff. We put our 4 goldfish in and added two albino catfish and a regular catfish and 2 Koi or shubunkin whichever they are one red and gray spotted and one white. It has been a very busy week what with the pond, mowing here and at the barn and bins and putting in moms new fire pit. Will post some of them while the work is in progress also. They both came out real nice. Now need to load up the mower from the farm and bring over home to do some work on it as the belts are slipping and the deck height is wacky and the battery needs charged and it could use a new set of tires among other minor things. Mom did a lot of outside stuff yesterday and sure was fun, just hope and pray it wasn't more than she should have done. We went to town for lunch around 01:00 and had a whopper jr. and then back to more work. The little fishing boy is one of moms birthday presents along with her fire pit. We had a fire in it last night and then will roast hotdogs today when Brad, Heather and the kids get here as Tammy and crystal came last night. Ben couldn't come as he was on call. The week has been very busy and have a lot completed but still much mulch to haul and clean up work to do. Elaine just came on line so will visit some and be back soon. Am back some as Elaine is looking at the pond pictures. Hope she likes them. Her, Mom and Tom are going fishing later today so hope they have fun. Well it looks like MSN messenger has went south again so thank you Bill Gates. The world of computers isn't it great. Should have stayed outside as that was fun. We still have the wildflower area behind moms fire pit to put in and then should be about finished there. It will be very pretty when and if all the wildflowers come up and should attract a lot of butterflies. Been real busy at work also planting new flowers and mowing and such. Guess I better get this done and get busy. All my Love Dad, Papa, Brother, Cousin, Uncle Etc.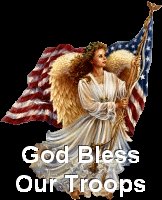 30 April 2006
Had a good but short visit with Jeff and Elaine this morning but missed Barb so hope all is okay there. Got an Email from Bob and Josie and they want to come up this summer to see Mom and all the Orcutt clan and want to know a good time so let me know if you have a good time for us all or let them know also. I will to. Got the pond almost done and it sure is coming out nice. Just have some water plants left to put in and they should arrive this week and then our 4 goldfish and will add 2 Koi and maybe 2 Catfish and that should be enough for the pond size. It is a lot of fun but also a lot of work. Have put a Jacobs ladder, Fine line Buckthorn, Sedum, Coreopsis, Flocks, Shasta daisy, Blanket flower Gaillardia, English Daisy, and some small grasses around the pond in the rocks etc for accent. May add some hen and chicks yet but not sure. Will post pictures when I am done for you all to see if interested. Has been a very rainy weekend and have 2 1/2 inches since Friday but we needed it. It stopped all outside work so went to Brads and helped him on the big girls room and it sure is going to be great. He is doing such a neat theme and the girls will sure be proud of it and lucky to have it and really glad to get moved in. We got a lot done and had a great visit with all the Grandkids so it was just a great day. We did not get home last night till midnight so what's up with that. Mom has an appointment next Wednesday with the doctor so may find out more information on the diabetes and back then and why she is so tired. Sure hope so. She will check the closed MRI to see if she can do that one maybe for the back scan. Got some oil and stuff to change the oil in the lawn equipment so now can get that finished as its all running on last years oil and gas and already have mowed everything twice and is in need of it again. Guess this leaves me run down for now so will close with all our love and God blessing for all. Dad, Papa, Brother, Uncle, Cousin etc.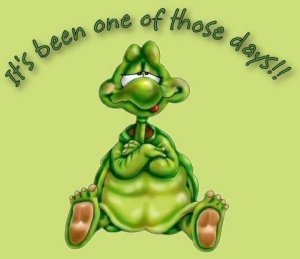 23 April 2006
Boy oh boy what a week. No a single thing done on the pond until yesterday. Might need my gallbladder out from what the ultra sound indicated and the MRI for my wife's back didn't work after driving clear to Des Moines for it. Did I get old and if so when did it happen. No wait it must be the gravity increasing and I can't move as fast as I used to. Now I can only move half fast. Ya that's it or maybe I just gained weight. No wait gravity and weight would be slower than half fast like I am now. Maybe I just don't remember how fast I used to be. Any how Carol was not feeling so hot and I didn't want to go alone so didn't make to my sis's for Easter yesterday. It was at Ellen's. At least got all the mowing done here one time and cleaned out the landscaping behind the garage and the rhododendron is in full bloom there so it sure looks nice. Yesterday got the gravel down for the pond and put down the liner. Then put down the rubber and cut an fit it. Got the falls installed and filled the pond with water but had to much flow so had to get a valve to slow it down and then added some of the river rock. Have got some of the edge rocks started but don't like the water fall so will take that apart today and fix it. Oh Bother. Got some info from Norway on moms biological side of the family and found some lost relatives of Bert's so that was nice. Mom has many Norway relatives there it looks like so it is exciting to learn all that. Was just outside watching the world come alive as the sun popped over the horizon and bounced off the church steeple to light up the cherry blossom's as the cardinals tried to get to the water and bird feeders to start the day. Did the good lord do a great job or what. The whole world is reborn on a daily, weekly, monthly, and yearly basis and that is just awesome to me. Elaine just came on line so am talking there and Barb just joined us so we are chatting. That sure is fun. Well just got signed out there so better get this done and get a move on it. God bless us all. Lew, Dad, Papa, Brother, cousin, and so on.

Happy Easter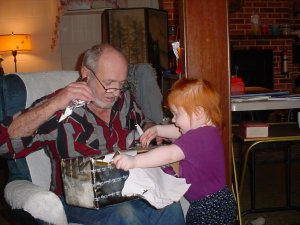 16 April 2006
Well the week is over and was it ever good. Started last Sunday with Ben &Tammy and our little Crystal here and then with Heather, our little Mel, Steph, Sarah, and Lucas as Brad and Faith were on there Daddy daughter weekend in Minnesota. This was all for my birthday. So last Sunday was just phenomenal. I got some real nice gifts and a gift card for Earl Mays from Matt, Kris, Sean, Cody, & Caitlin. Did not get much done on the pond but all the grandkids got the squirrels fed with the corn and Crystal helped feed the finches as she has always done since she could get out and help. That was a great help and lots of fun. I am truly blessed with great kids and extra special great wonderful grandkids. Then in the evening after all was done I got online and got To visit again with my little Mel and Steph in MSN messenger. Was that ever great and they helped me a lot with how it all works. They are so much faster than Papa. Then Monday got back on the pond and got the waterfall about done and added a lot of the rock there. and On Tuesday got ready to add the rubber to complete the falls. Got some sand bags etc to use as bank and shape material for the sides but then it all came to a halt as we got some bad news from the doctor on mom. She has the early onset of diabetes. At least we now know the cause of her being tired and so on and it can be managed with some pills. We have a bunch to learn and understand but I guess that makes it type two cause you don't need the shots or insulin etc. We also go to Des Moines on Tuesday for an MRI on her back pain to see if we can see what causes that. The quitting smoking coupled with the weight gain from it probably brought the diabetes to the surface but as we study and learn more it appears to have been coming on for some years as we look back at some of the symptoms. Now we can fix it or at least treat it and get better we hope. It can even go away with proper diet it sounds like. If any of you have any info on this type of diabetes it would sure be helpful for us. Got back on the pond later in the week and got the liner for the falls, the pond and the under liner. The old is now drained and ready for the liner and need some more work on the banks and pump pit before going further. We did some shopping on Friday and ate out. Then on Saturday I got the pump pit done and all the rock in and added the mulch and also the seat area, the pump in the pit and the cord ran and now will just put in the under liner fabric and then the liner and add water as we go. Then just need the fish in and some plants and it will be done. Turned out to be more work than I thought and then I needed to move the morning glory and four o clock area some to get the seat area I wanted for the grandkids. Oh well it is looking nice and worth it. You all have a very Happy Easter and we are off to Brad & Heather's for Easter and Tammy and family will be there also. God Bless us all and keep us in his graces always. Love Dad, Papa, Uncle, Brother, Cuz and so on.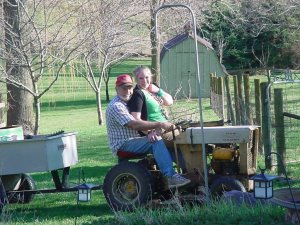 09 April 2006
It has been another busy week and another tragic loss for Dick and Marge in Texas with their beloved daughter Trena losing her battle with cancer. We are so sorry for your loss and are praying for you and Josh. Have been doing a lot of work in the yard this week and sure got a lot done. As the picture shows our little Crystal was here yesterday and she needed to ride on the tractor with Papa again. That sure brought back a lot of fond memories. Have got a real good start on the pond and it is looking real nice. It is going to be pretty expensive before it is all done. Who decided to do this anyhow. And why did I listen. Oh well it is fun. Got the pump pit done and the falls area started and hose installed, along with the walls and some of the rocks in place. Have the liner but will need some help with that as it is very awkward to work with. Finished hauling mulch to my area and now just have by the garage left and that choir will be done. Did get the hedge trimmer running and trimmed some of the hedge by the pond so have a small start there. Still have a few trees to trim before that is finished but sure have more done than last year by now. Went to the doctor this week for some blood tests and an upper GI series as my stomach and such is not acting right. Will find out how that came out next Tuesday. Got my Swan 350D back from John out in Arizona and it sure is nice and he cleaned it up also so it looks good to. He had a new final there I bought and now has full power out also. Will take the lifetime tube back to radio shack to get another one. Do you think that will happen. Now get the power cord manufactured and it will be ready for vacation. It still needs some work on the 10 meter portion of the digital dial but will get that later as I never use 10 anyhow. Now I suppose I will want to try it. May just make a connection for the Swan DD-76 digital dial to hook up just to check it out. I hopefully can test the radio on the Swan net today. I guess I am starting to ramble more than usual so better close and get this posted. God bless and keep you all and watch over you daily with a special blessing for Dick and Marge and all our family there on there loss. Love Lew, Papa, Dad, Uncle, Cousin ETC.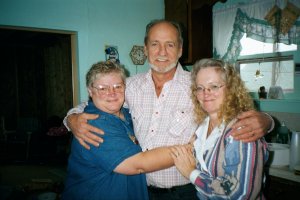 02 April 2006
Another week is over and spring is in the air. Most of the clocks are set I hope so that should be good for now. Will see today if all the automatic satellite ones at work set on there own. Got a lot done in the yard this week as I hauled more mulch but still have one more area to fill and then should be good for some time. Have got a good start on rebuilding the pond so it will be larger and then can leave the fish out all winter. Sure hope that works anyhow. Will have to move the dwarf lilac bush to make it work so hope I don't kill it. Got some more trees trimmed so have made progress there but still have more to go. Cleaned out the garage and hauled a truckload of garbage to the dump so that helps. Some was from Tammy's wedding yet. Lets see that was a year ago. How does that work. There was a lot of other stuff there also. Still have some more fence to mend to before I get that project done. Who started all this stuff. The Swan arrived in Arizona but not heard on the progress yet. Sure hope it will be good. Might have found the plug I need for it but will see if it still can be ordered. If not will just have to make one work. Hope I can get it all together for the trip in June. Have it set for the first week in June now and will go on 2 June and get our little Crystal and then head for Minnesota. Will visit Cousin Barb and Dan and families and then to Taylor Falls Minnesota to a place Carol remembers as a kid. Sure hope it all turns out good. It is raining again today so not much work outside it looks like. Will have to study the pond filter set up so am ready for that. Guess I don't have much this Sunday. Barb was gone today but got to visit with Elaine, Matt, Sean and Brad. It was fun and Brad's first time so that was great. Guess I will close with all my love and God Bless you all and a special blessing for all My Texas kin for your recent loss. God bless you and keep you. Love Lew, Papa, Dad, Cousin, Uncle etc.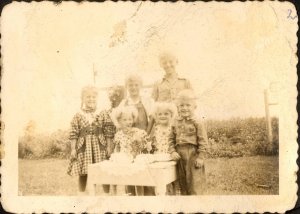 26 March 2006
What a crew we have here so guess who is who. Been a busy week and have accomplished much. I got a lot of the landscape posts renewed before the snow came so that looks real nice now. Have to put the mulch in yet but it snowed Tuesday at about 10 inches I think. It was a lot and it was wet and heavy so the outside work came to a halt. Did get some of the trees trimmed so that helps some but a lot more to trim when it gets a bit warmer again. I moved inside and tried the radio alignment again and finally gave up and decided to send it off for a pro alignment. Then Wednesday night after the bands being totally dead for so long I was able to check into the Swan net and Stu gave me a very simple alignment solution that I might have been able to do to get it back in alignment. Trouble is I just put the radio in the mail that morning. Go Figure. That's the Orcutt Luck. I got the Swan 14A converter in the mail to use my 350D mobile and it is real nice so will have a great station when done. Just need to get the power plug and do the cables. Mom has been busy with some grandkid projects but was not feeling so hot this week but kept going anyhow. They sure are going to be nice things when done. I hope she gets to feeling better soon. She went to the dentist for some teeth work but wasn't much in the mood for that even. XP seems to be working okay and Mom is after me to get dish internet from wild blue. That might be nice but is about $300.00 to get installed and about $50.00 a month after. That seems a little pricey to me. Maybe will get it for both our birthdays if it is okay for our area and I can get over the price. The company we bought the freezer from came out this week to put in a recall item to stop a shock hazard they claim was there. What a farce that was. They removed two tye wraps and installed metal clips. What is that about. I also found out why it was always full of water in the bottom and froze the drawer in. The drain was covered with foil tape because the heat from the defroster was melting the plastic and they forgot to put a hole in the tape for the drain. This is all from the brand new freezer that lasted 2 hours when we first got it and it ruined about $400.00 worth of food. And we got this freezer because the $40.00 defrost timer went bad in our 25 year old freezer. Oh My Oh My Lions & Tigers & Bears Oh My. Now the rest of the story. Just called Our ISP to check on getting Wild Blue Satellite internet and am told there beam is full and will be the first of the year for more room. That would be 2007. I told them that would be just great as then I would have it before I get the pictures I emailed myself last year using their dial up and would still be faster. Please refer back to the earlier statement about the Orcutt Luck. I'm just a lonely little petunia in and onion patch, all I do is cry all day. I think I heard that somewhere before. Oh bother. Did get Moms printer going on the laptop as it had dried up the ink and did not always print. Got one cartridge to work but had to replace the other one. Yesterday I did some repairs on some of the landscape fencing, hauled more mulch, and trimmed shrubs and trees. Still many more trees to go but got the small willows at the south end of the property that needed it for several years. While hauling the trimmings to the brush pile I see someone backed in our property at the south end and broke off a fence post and dumped a small load of concrete there. There sure are some small people in the world aren't their. Am looking at making the pond bigger so I can leave the fish out there all year. If I can get it 3 foot deep or more then they should do fine, or so I am told. Probably will need a bigger pump and a filter system then so I can keep it clean. Would need to devise a cover for the fall to keep the leaves out also. Okay maybe that's to much. Have I rambled on long enough now. The morning is beautiful with a great sunrise and its crisp and clear so it will be a great day. All my Love to all and God bless each and every one. Love Dad, Papa, Lew, Cuz, Brother and so on. Lew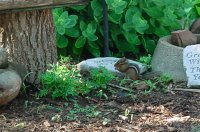 19 March 2006
Spring is in the air and the spring work has begun. Just got off line with Barb and Elaine and sure was a good visit. Not any of my kids there though and was there about an hour. Oh Bother. Missed Jeff also as he didn't show up when I was there. Maybe his ISP still messed up or the dial up is the pits. Went yesterday to help Brad on the big girls room and we got a lot done so the was fun. After that I grilled steaks and did supper and then got him set up for computer but still not a show this morning. Mom stayed home and worked on some of her clothes stuff and cleaning out. I spent all week hauling mulch for the landscape areas, trimming trees and shrubs, and adding new posts etc to some of the landscaping so got a lot done. It was really great to be outside again. Plan on working on the Duck area today and trim some more bushes etc. It is overcast but still good for spring work and plan on keeping up this year or even keep ahead of it all. I think I have all the machinery running so am good to go there. Have not made any more headway on my latest radio and may send it off as I can't seem to get it on the right frequency. Even tried using my digital counter but can't find it. Must have set something wrong so might send it off for calibration. Why is it so hard for me to give up and say I can't get it. Guess I got that from dad and its not a bad thing. Guess this leaves me run down again so will close. All our prayers go out to Aunt Ella as she is some better at home Bob says, and To Dick & Marge in there time of trouble as their Daughter Trena and her son Josh are not doing well with the leukemia. God bless you and keep you all in his Grace and we have you in our prayers. All my Love Lew, Papa, Cuz, dad etc.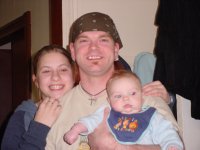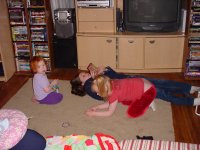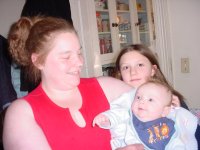 12 March 2006
It's Sunday morning again and boy am I slow. Was up late last night with the kids and grandkids as the pictures show and spent all week working in the yard so am wore out. Got a lot of mulch hauled but more to go and got the trimming started on trees and shrubs and such. Got the lawn swing out and was able to use it for awhile so feel like spring is in the air. Not much work with the radios this week but that will be less with summer coming. Got some of the equipment going but still have the pole pruner, one chain saw, the push mower, tiller, hedge trimmer, and things at the farm to get going. I just love spring. The part for the dial on my radio is in so will try and get that in next week. Then I may have to send it away for alignment if I can't get it right. Might need some new tubes. Had a nice chat with Barb, Elaine, Lil John, & Jeff this morning so that was fun. Hope we get some more to join us. Will invite some of the rest to join and see if that helps. Will keep working in the yard this week and just maybe this year I will be able to keep up or even stay ahead of it. Guess Not much more this Sunday so will close for now with love and kisses and God bless you all. Dad, papa, Cuz, Uncle, etc lew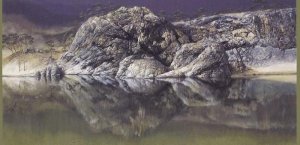 05 March 2006
Lay your head sideways to the left and look at the Image. Is that cool or what? If that is a real picture it sure is remarkable isn't it. Well a small amount of snow yesterday but not enough to even move. Been a fun week but not much done just been lazy I guess. Worked on radios some and made headway there but have some to go yet. Have an LED on order for the counter. Went shopping with mom one night and went to Sac to see the grandkids. Am about done with the old computer and think I have all the stuff off we need so am going to format the drives and then get rid of it. As soon as I format though we will discover we forgot something. Isn't that how it always goes. Am getting ready for spring here so we can get outside again and do some fun stuff. We need to paint the green shed this summer and the garden shed before they fall apart. Then just the two wood sheds left and all the buildings will be in good shape again. Stuff sure seems to get ahead of me lately. Have lots of mulch to dress this year so will be busy there for awhile once it gets warm. Wanted to make the pond larger and deeper also but guess that wont happen anytime soon. Also need to get some thing done on the 56 truck but have even stopped there. Need to get out now and prune the grapes, apple trees, cherry trees, pear trees and the shrubs and such. Also should do all the ornamental stuff and the hedge. Whew I' am wore out already how about you. Had a nice chat with Elaine and Barb this morning at 7 AM but that was all that was there again. Jeff is having ISP issues and he called me this week so had a good chat with him on the land line. Brad has internet again but don't have all the particulars yet. We tried to get his laptop on line but it is to old and just couldn't make it go. The girls have one they us for school but he doesn't want it online so is figuring out something else. May be our old one will help for awhile. I think he would like to get a notebook with external flat panel, keyboard and mouse for home and then can go portable also. XP is still running good here so am in the new world again. Guess I am about run down again so will close with all my love and Kisses. Dad, Papa, Cousin, Uncle Etc. God Bless you all. Love Lew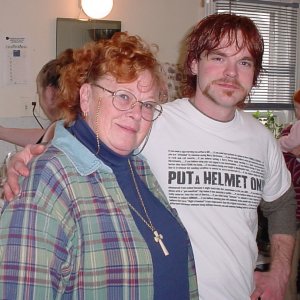 26 February 2006
Another week has come and went and been real slow. Was on line this morning but only Barb, Elaine, and myself there. Had a nice chat and really enjoyed it. Brad and Family here last night and played some games and stayed up way to late, past midnight. How did that happen. Worked on the 350D this week and got the meter all complete and got digital dial to work which was really exciting so went to have coffee. When I got back the dial was back not working correctly where it was before and now the rest did not work either. No power out etc. OH BOTHER. Finally got it all back except the digital readout again so go figure. Been a real warm week again for February as some days were in the 50's but need some rain or snow for the subsoil here. Have been offered early retirement again but guess I might pass as I am to young yet for that. Hee Hee. Got on the Swan net a couple times this week but no help yet for the dial problem. Guess I might have to take some vacation tomorrow to help Brad out with the kids. Guess I might as well close as am not getting much written and the day is about over. My love to all and God Bless. Dad, Papa, Lew, cousin Brother, etc.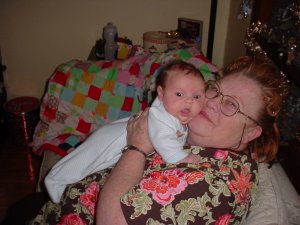 19 February 2006
Been a real busy week and am wore out. It turned really cold and we got some snow finally, but not near enough to make it fun. Maybe an inch or two but with wind so did have a few small drifts. In to work several times for that and then some work with phone lines and ISP at home but no headway there as the phone line is still full of static and our ISP keeps giving a busy signal or dropping connection. Been working on one of the Ebay radio's the Swan 350D so have been busy there. I got the meter fixed so it now reads and does not stick at 100 mils. Was told it couldn't be done so I did it. Did a complete alignment and Neutralized the final and now have about 60 to 70 watts out so it is pretty good. Got some real fine signal reports. Now just need to get the Digital frequency dial to read correctly as it is off by the Carrier oscillator frequency so you have to add or subtract the carrier frequency to the dial reading to find out what freq you are on. Boy are you all excited now. Okay that's enough of that. Mom has been better on and off but last night was not good again with the knee and back. I was really sore with all the shoveling of snow but was just sore not the back problem so was happy for that. The diet is going fair but not much loss yet. Yesterday I did a Crock pot roast and it turned out good but not near as good as moms roasts are. The temperature has dropped to 20 below the last couple nights and warmed up to about a 3 below during the day. Mom is very busy with her crafty work on Birthday gifts etc and is really doing good there. Mom got me a cute frog couple that sing It's in his kiss and a cute bear angel the sings Wind beneath my wings and the wings move. They sure are nice. I got her a bunch of Hair clippie things. These were for Valentines day. Brad and Heather came over for a while for mom and I to take some pictures and now they just have to decide which ones they like and we will print them. Found a way to do them in the new Print shop so it will be pretty easy I think. I believe we got all the stuff we need from the old computer so will wait some and then format the drives and get rid of it. XP is doing great and am getting it trained to work my way so that helps. YA right. We lost the hockey match at the Olympics yesterday but it was a good game. Am run down again and have bored you long enough so will close with All my love and Gods blessings to all. Love Lew, dad, Papa, Cousin, Uncle and so on. Lew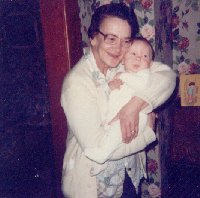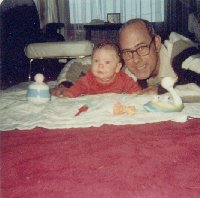 12 February 2006
What a week. Got all the new stuff running okay but not sure new is better. Moms knee is better, knock on wood, and hope it stays on the mend. Her back was sore but not serious I hope. Jeff and Elaine were in the chat this morning and we missed Barb as she didn't show up. Hope all is okay as she is there a lot. Where are the rest of you all. Had some snow this week and that was nice but not much. Just once early to clear walks and then will have to today for tomorrow. I just love the snow. Up late last night as was at Brad's and I helped Faith some with some valentines and sure was fun. We played some Phase Ten with Steph and then got home around midnight. We watched the kids while Brad & Heather went to a church Valentine supper. The older kids in the Church served them so Mel was there also. Got some new building automation engineered and installed last week so got a lot accomplished there. Had to service the Air Handling Units also and replaced a lot of belts Etc. Isn't this exciting stuff. Mom is in the full Olympic mode so she is taping and watching all the time now till it is over. Was just at work and all the snow is gone so couldn't shovel there, Darn. What's up with that. Now am trying to move the sub woofer for the stereo system to the back of the room so it is behind us but may take to many wires. Will just have to see how the system works. Got a lot of Pictures of the grandkids from Matt and Kris and they are sure nice. Really enjoy them. Have taken some more at Brads so will post them as I can. Computer is still working great so am enjoying that a lot but the ISP is still slow and intermittent. Guess that is the story with Dial up. Guess I am just rambling so will close for now with all our love and Best wishes. Love Dad, Papa, brother, Cousin and so forth. Lew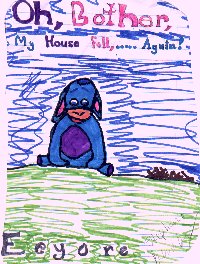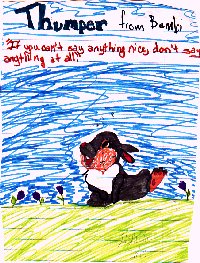 05 February 2006
Got some Pictures from our little Steph so they are the headline for this Sunday. She's one of Papa's little sweethearts. Been busy this week trying to get the new equipment running Mom got. She went crazy and got us a new VCR for broken one, TV with VCR for sewing room, Small 5 in TV for craft room, portable Hand TV for camping etc, and a Sony Stereo system for our old broken one. WOW new stuff is sure complicated. There is no such thing as controls any more, it is all in remotes and automatic, no balance, bass, treble etc. What's up with that. Need the Grandkids here or its back to college for a degree in how this new JUNK works. Got most of it going and got the stereo figured out yesterday but still need to arrange it. Had a bummer time with the speaker system as it had a place to hook front speakers as the manual said but none for the rear. It says hook front speakers here so I assumed it must have a spot for rear speakers. YA RIGHT must have been written in Chinese and translated to English by the Russians. Of course it only has one set of speakers so how can you have a front without a rear. It does have a woofer though maybe that's the rear. I' am confused. Will input the turntable through the game audio input as the new technology kids don't have a clue about vinyl and what records are. Oh Bother. Are we having fun yet. It's February already. Where is the time going. No snow so winter is really boring and that's just wrong. Weather is still real warm and has been raining some. Mom is doing some better but is a slow process so hope that it continues in the positive direction. Still sore knee but getting around more and better. My back is almost well again so am happy with that. Mom and I went shopping some yesterday and it went pretty good but her leg got to hurting when we got home so she laid down . Got some switch stuff and cables for the new stereo and that works nice now. Found I already had some of them when I got home. Barb, Elaine, and Matt all signed in and we had a good chat this morning so that was fun. Matt & I tried a video audio conversation afterwards but was not real good. Will have to work on that some. Guess I better get out of here and get this posted. Love to all and God Bless you all. Dad, Papa, Lew, cousin, etc.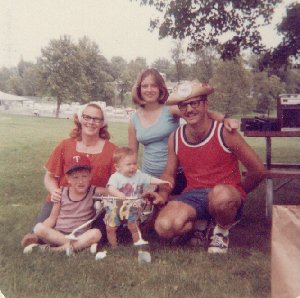 29 January 2006
Hey, Hey, Hey, where did this come from. Either the 70's or the Okie files. Has been a very busy week but a lot accomplished. Called at 2 AM three times this week as our fire alarm panel failed to communicate with the monitoring company. My machine wouldn't call there machine. Finally got it figured out and should be good next week. The large Air handling unit for the auto shop then went down so had to fix that. A quick trip to Ankeny for a safety committee meeting and the boiler going down twice at 5 PM and at 11 PM because of the wind. Got the taxes done Friday night and still owe money so it has been a crumby week. Mom is feeling some better and my back is on the mend so am thinking spring and getting outside again. Is real warm for January and was 47 out Saturday morning at wake up and even had heavy rain Saturday afternoon and evening. What happened to winter, where's the snow. This is really boring. Built a new phone line switch for the computer modem and it seems to be fine. Why is what I buy not as good as what I make. I don't get it. Have been cleaning out file drawers this week and shredding papers so that is a chore but will be nice when all cleaned out again. Some went back to 1992. How did that happen. Been downloading some pictures from Redzworld and some of them are Tammy's wedding so will get them posted as I have time. Got all of the folders from there so far so can burn them if anyone would like them. XP seems to be good so far but sure wants to control and contact the internet a lot. Also scanning some more on our old albums and that is a very slow process. Am only up to the late 70's. Oh Bother WHO took all these pictures. Just like the commercials I'm lovin it. Have been on a diet all week now and not much weight lose, maybe 5 lbs., but feels like I have lost some inches. I sure need to cause Mom has shrunk all my clothes with the dryer and nothing fits anymore. Life is great as last night mom found her calculator Christmas present she could not find since Christmas eve. Hope to see a lot of you this Sunday at 7AM for a chat. Can't think of much else to write for now so will close with lots of love and God bless you all. Love Dad, Papa, Lew, Brother, Cousin, Uncle and so on.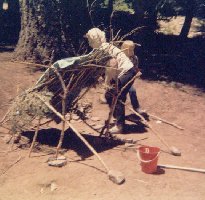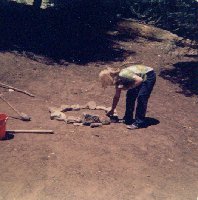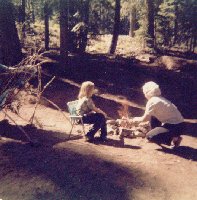 22 January 2006
Those were the days my friend we thought they would never end. Another week has come and gone and all is well here at the ranch. Had some late work this week so was kind of wore out but got over the flu so am better. Now mom has it and with the knee still not good. We did find an arthritis pill for the knee joints that seems to help some and we are both on the diet to help also. Still no snow here so winter is rather boring in Iowa. XP is still progressing nicely but wants to much control. Was on MSN messenger this morning with Elaine, And Jeff but Missed you Matt, guess you couldn't get there at 2PM your time. Seen Dick and Marge on and off line several times and invited them to join but no response, so guess there connection was bad just like Jeff. Computers are they great or what. Dug into the old photo albums for my pictures this Sunday and they are from the late 60's. That's my two girls building there shelter for camping. Above there heads in the photo with the fire by the trees a bear had just walked through awhile before they started there project. It was so peaceful there. Well that was cool, cousin Barb and Dick just came online so got to visit with them also. Hope we all can meet next Sunday. I am back as had to go get my supper started, am doing a crock pot roast for tonight. Guess I don't have much this Sunday so will close with love and kisses. God bless you all. Dad, Lew, Papa, Cuz, Etc.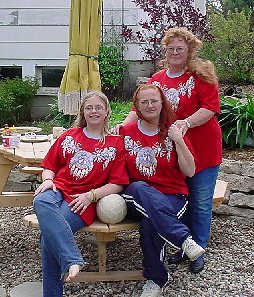 15 January 2006
Another week is gone and already is the 15th of Jan 2006. What happened to Christmas? Where is the time going. Been not feeling well this week and ended up coming home early on Friday and slept all afternoon and all night. Flu I think. Had a terrible gas attack on Tuesday so not much sleep there and very tired on Wednesday but then felt really good on Thursday. Moms knee still bad and Tammy came down on Friday so I wasn't any fun and mom not very active so her trip was watch TV etc and go home on Saturday. Felt some better Saturday but slept wrong so the back went out again. Oh Bother. Today am pretty good again. XP is up and running fairly good and might end up liking it. Put on an upgrade of Zone alarm anti virus and then took it back off as it took most of the control away from me and wanted to do all automatically. Put the old one back on and all is well. Added VPN for work and now have that going well. When they find stuff that works well why can't they leave it alone. Had a couple clocks at work go funny but was just batteries not the satellite signal like I thought. Is this January or what? Suppose to get to 50 degrees out today. Been real warm all month and not any snow or much sun. Wow just had a chat on MSN messenger with Elaine, Barb, and Jeff. That was fun. Lost Jeff and couldn't get him back so guess ISP is still YUK. Got a really cute picture from Barb of Mia her grandbaby. They are so precious. Hope we can all meet next Sunday and maybe even more of family. Not much else here I guess so will close with all my love and kisses. Dad, Papa, Cuz, Uncle Lew etc.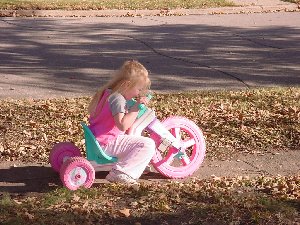 08 January 2006
Already the first week of the new year is gone and not much to report. Still not sure about XP but will give it a chance. Moms Knee is still not good so the improvement was just a tease. She said she is staying off it till this next week and then if not some improvement is going to the doctor. Been a busy week at work as we are getting ready for term to start next week. I did an XP upgrade to my notebook computer there and the first thing it did was die. I emailed Microsoft about the owner screen on the home computer but got no where there as all they did was quote the stuff I read on there support page that fixed nothing. Found a fix through goggle that fixed it but deleted everything on my desktop and opened up the windows tour etc like you had just installed the XP OS. Also see a Tweak or something fix there at google. Guess no one knows much about this system. Why am I surprised. Okay my mistake but the start, run, control passwords2, thing did work when you read the instructions right, and the, Tweak thing is a Microsoft Powertoys for windows XP which worked also. And for the crash at work I went to the system tools, system restore and it took it back to the time when it worked right and it actually worked. I also finally got the modem to be remembered by installing it itself instead of letting windows do it. I might get to like this XP thing but don't tell Matt. Also been working on the XP VPN so I can check on the automation at work from home. Been helping mom this week and got most of the Christmas things down and put away but still have the outside lights to get down. We got the inside decorations, table cloths, boxes, wrapping paper and stuff down and put away in the attic yesterday and most of the gifts sorted out. Made a small ramp for Missy to get on the couch but she doesn't like it so guess I will just make her a step. Have seen no grandkids since New years eve so am going into withdrawal. Where are all my little loves. I need a fix. It's 7AM Sunday and Elaine is visiting in MSN where is everyone else. Weather has been real warm for January but not any Sun, I need sun. Barb just joined us on MSN so we have a convoy. HUH? Jeff just joined us so now am real busy. That makes 3 so hard for me to keep up and try and write here also. Well gave this up but now am back as we all left MSN. Was there almost 2 hours so was fun. Guess I better get out of here and get this posted. All my love to all and God bless you all. Dad, Brother, uncle, Papa, cuz etc.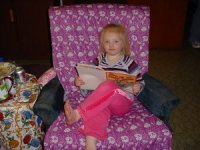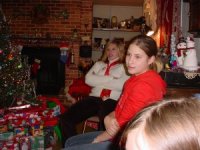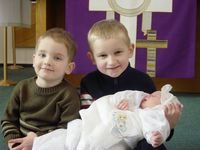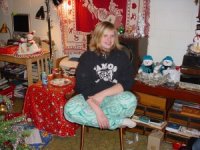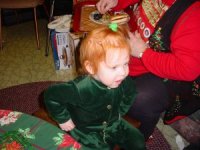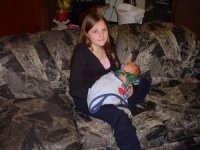 01 January 2006
Christmas is over and the New year has begun. Let me reflect for a minute on the wonderful year I have had and the many joys my children and grandchildren have given me. As usual we had way to many wonderful gifts and I ate to much and all things were normal. If you followed the 2005 journal you can tell that a lot of my life was Mom, the grandkids, ham radio, and family. We have seen our daughter married to a wonderful guy which gave us two more grandchildren and three great grandchildren, Brad and Heather getting the guardianship of our precious Melodie and Stephanie and the birth of Caitlin and Lucas bringing the total to 11 Grandchildren and three Great grandchildren. The Good Lord has surely blessed us. Mom had a bad case of bronchitis last February and we both quit smoking which was good but she still is not well with the breathing and back and the knee problem. We both put on weight after we quit smoking so need to loose some there and that would help us both. Work went well for the most part and I have my health so I guess all is well and right with the world. This is being put together on our new computer as the old one is getting more flaky every day. The new printer is up and running also. Wow what a printer Epson Stylus Photo R800. Got most of the software on but XP is no smarter or better than 98SE and in some ways dumber. It can't even remember where the modem is unless you remind it every time you turn on the computer and it has stuff that wants to connect with the internet every few seconds so it knows what it is doing. Must be early stages of some timers. OH Bother. Why is new never better or am I just getting older. So far have made it all work except the modem thing and may get that figured out also. Otherwise will just turn it on before I turn the computer on and then can turn it off till I need it. Had to load some of the old programs one item at a time as it would give an 855 overflow error and not install. HUH it worked on the old had to it replace system. Have beat it at it's own game so far just need to figure out what wants to talk to the internet on a constant basis and why, and figure if there is a setting to keep the external modem there with it not turned on at every reboot or turn on. New is supposed to better but mostly it just stinks. The good news is moms Knee seemed to be better some on Friday night and she said I can walk and just walked around the house a lot. Sure was good to see her better and able to move some again as she has always been an active person. Then still good on Saturday for New years eve and still today. Hope it just gets better and better now. I though Elaine would be here for MSN messenger this morning but no show. To much New Years eve for an old lady I guess!!! Hee Hee. Went to Brad and Heathers for New Years eve and had a fun time. The big girls went to church parties but Mel and her friend said it was boring so they called to come home. Then we played Phase 10 till after midnight and we got home finally around 2AM. Wow did I make it that late. Guess I better get this posted or it will be 2007 before I am done. Happy New year and God bless us all. Love Dad, Lew, Papa Etc.