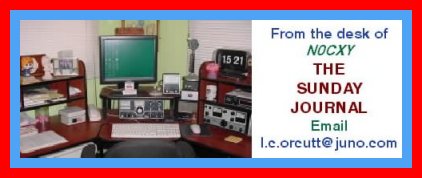 Sunday Morning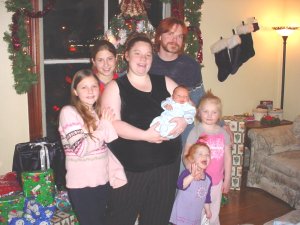 25 December 2005
Merry Christmas and Happy New Year to all. We had a wonderful Christmas at our house. Tammy and Brad both brought there families home and as usual we ate to much, had to many gifts and in general just had a great time. It was fun. There was 12 of us and with several breaks for food and with the smokers needing some breaks we still finished before midnight so it was cool. The little girls gave up early as they were tired but they were all good and the joy of Mema & Papa. We had no snow for Christmas and it was rather dirty and dreary outside. Am now on break for awhile so will just play and Have fun. Been having problems with the computer and the printer so we got us a new one for Christmas along with a new printer. The computer is here and got it loaded and with the Windows XP Professional OS, 2 new 80 Gig hard drives one SATA and one IDE, 512 Meg of ram, 2Gig processor and so on. Seemed really good and powered up several times installing my PC camera and it worked great and the system was really fast and then shut down to go get some coffee. When I got back and turned it on it did nothing, zero, notta, zilch, zip. WHAT is it with computers. Will run it back in tomorrow and see what is wrong. For the price it was it should fix itself. The printer will not be here till Wednesday so have set up the old PC with 98 SE on it again and am using it. Windows 98 SE rocks. Why did I do this. Most people said XP is more stable than 98. Ya RIGHT. OH Bother. We have some of our clutter picked up and the turkey is backing for our supper so now am just loafing and playing. Mom and I got some of the best gifts and we sure are blessed by the Lord with such a great family. We got some wonderful gifts and we did get our Hallmark 2003 snow couple we bid on. We also added some more singing things to our displays for Christmas and am kind of sad that it is over for another year. Hope you all reading this had a wonderful year and a great Christmas and I wish you a blessed year ahead. God Bless us all. Love Dad, Papa, Brother, Uncle, cousin and so forth. Lew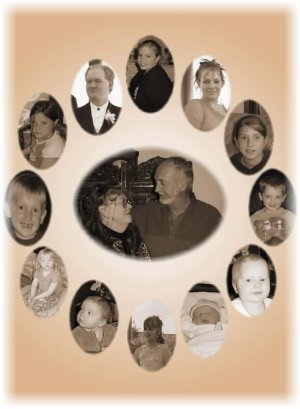 Sunday Morning 18 December 2005
It has really been a fun week as I had to go to work at 4 AM twice this week for snow removal and then had to clear walks about 4 times each day as it would start snowing right after they were cleared. Who upset the snow Gods. Please make amends for whatever you did. Our printer went dumb so had to work on that also. Pictures are Center Mema & Papa and then clockwise starting at 12:00 o'clock, Crystal, Sandy, Melodie, Cody, Caitlin, Lucas, Shawna, Sarah, Faith, Sean, Stephanie, & Joe. All grandchildren except Shawna whose is a great grandchild, Sandy's daughter. I still have no pictures of Sandy's boys David & Johnathan our other 2 Great grandchildren that we still need to meet. Temperature has been cold all week but back into the forties by Christmas according to the weather man. It is clear and the sun shining today and sure pretty out. Just finished a chat with Elaine and Barb in MSN messenger and sure was fun but sure am slowed up on the journal. Dee was online again but away so guess we will never catch her. We usually meet around 07:00 am Sunday morning. Lets set up a time and Chat. I hope you get the truck unstuck Elaine. Sure could use some snow. I think I will get a new printer as this one always needs some work and has always used a lot of ink. Was never as good as the Epson Stylus 640 Photo printer. Guess I don't have much to say this Sunday so will close with love and kisses. Dad, Papa, Brother, Uncle Cuz, Lew.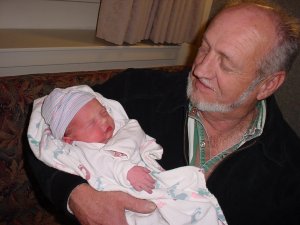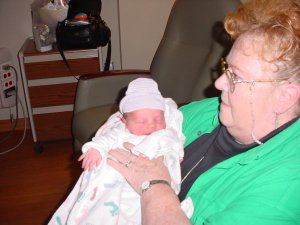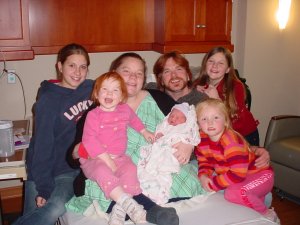 11 Dec 2005
Just in case you haven't noticed or did not know We are grandparents again. Baby boy, Lucas, 7lbs 3oz, 20 inches, blue eyes, reddish hair, born 9:46 AM Tuesday 6 Dec 2005. Oh yes he did not just appear, proud parents are Brad and Heather. There are some pictures posted also in a folder called Baby Lucas. I told our other four girls of Brad and Heathers they were not to turn him into a little sissy girl with all the girly stuff. Melodie assured me that she would see that he was a little boy and did boy things. She said she would get him in the mud and all the boy stuff. Him and Daddy are all alone with the 5 women there so it will be tough. As the picture shows he is one of the 11 cutest, best grandchildren every. Don't you agree? It has been a pretty nuts week as had to go in early 3 times for snow and one day had to clear it 5 times in eight hours. Just got the cutter bar back on the tractor blower at work in time. Thank goodness for the blowers etc. Was 0 or below for three days so that made it even more fun. Was really warm yesterday and a lot of the snow melted but now the wind is picking up. Even got some rain yesterday. I made it to Mel's concert but Mema was not feeling good enough to go. She felt really bad. It was a great concert and Mel did a superb job and was again the prettiest grandchild in the concert. NO I'm not prejudice! Mom still has a bad hurting knee and her back is hurting and needed me for help so was not able to make it to the family Christmas gathering. She said she was okay and I should go but I could tell not. Moved lots of stuff for her and got out some Christmas decorations, cleaned the downstairs and put out our new rugs and put up the new curtains. Fixed a ramp for Missy to get on the couch and fixed her a new house. Cleared our drive twice and the paths to the bird feeders and fed and watered them. Got a case for our new camcorder and got all the batteries charged and ready to go for all the cameras. Was going to use them yesterday at the Christmas gathering but didn't go. Helped mom some in the garage to get it cleaned and straightened yesterday also. Printer is acting up and leaving black ink on papers or missing spots to print. Have cleaned several times but still is dumb so may need a new one. Sure have went through a lot of ink lately and the colors seem off some. Elaine just came on line so am chatting with her in MSN messenger. Very hard for me to multi task. Barb came online also so had a nice chat with both of them and guess I am run down anyhow so will close for this time. All my Love Dad, Papa, Lew, Brother, Uncle, Cousin and so on. Lew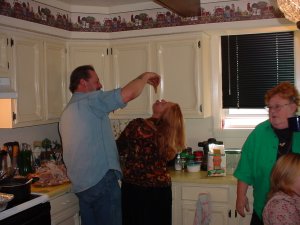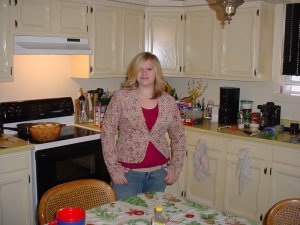 04 Dec 2005
Another week and had some snow, broke the snow blower, Are we having fun or what. For Barb the left picture is Tammy my daughter and husband Ben and on the right is my Grand daughter Crystal, Tammy's Daughter. Got to a Christmas program for Faith and Steph and they sure did a nice job. I enjoyed it so much. Got to visit with Elaine, Barb, Dee, Marge and almost Susie in MSN messenger this morning so that was fun until my ISP kicked me off line. The joys of dial up. It was fun though and sure enjoyed it. Mom not feeling well this morning and I need to go to work and clear snow to get ready for tomorrow. Everyone remember that this weekend the 10th is our family Christmas gathering at Elaine's. Hope to see you all there. My printer is not doing so well as my blue head needs cleaning all the time. The ink is about out so maybe just is dried up. Guess this will be short this week as have a lot to do so will close with love and kisses. Lave Dad, papa, Lew, me etc.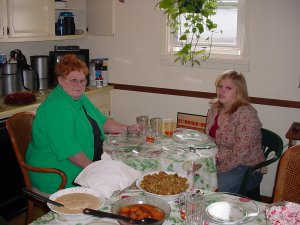 27 November 2005
Another week has passed and still very warm here and be in the 50's today. Went to Tammy and Ben's for thanksgiving and had a great feast. Ate to much as usual but it was good. We had turkey, stuffing, potato's, pie, and on and on and was really a feast. The good lord sure has looked after us. Got the last radio in the mail and it works but needs some TLC. Also got the wattmeter fixed and seems to work now and the audio filters also. I think that is enough for now as I got no room left and will not have time to use them all. Got lights up on the house for Christmas but not the rest yet. Seems like I am slower each year. Have some I would like to put up at work also so get them today if the weather is okay. Seems like we are going to get some rain. Had the phone company out here all week as we have noise on the line and they can't find it. Have called then daily and will call FCC next I think. They come real fast but say they find nothing and can't fix it. I told them I shaved my legs, I paid money, now play something country. Am tired of messing with them so started moving up the chain with each one that comes with no results till I reach the top and then FCC. Guess I better get going as am run down, lots to do, and none of my sis's showed up on MSN messenger this morning. OH BOTHER. Love to all and God bless each of us. Lew, Dad Papa, unc, cuz. etc.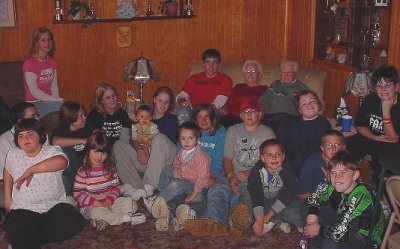 Thanksgiving at DeEtta's 19 November 2005
As you can see there were 17 of the Great grandkids around Grandma. If we count all the marriage's, adoptions, and so forth of Mom's family there are 9 kids, 28 grandkids, 38 great grandkids, and four Great Great grandkids. WOW that makes 79 total and what if all of them came to a family gathering. Would that be awesome.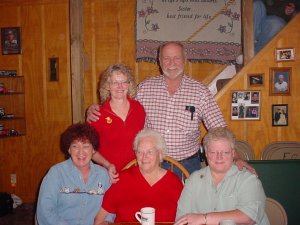 20 November 2005
This has been some week. Started early with some snow so had to get up early and clear it all at work. Then finally got the fish out of the pond in the snow. YAAAAY. At least they are all set up. Mom still not feeling great with her back and then she was sick the end of the week. Found out the Ranger is about useless on ice as it has to much engine and just spins and slips and slides all over. Got most of the radio stuff I ordered and just the one radio to get yet. It was shipped on Friday so should be here the first of the week. Guess that will be enough of that for awhile as I sure don't need all the equipment I have. Will be fun getting it going this winter though if I have the time. There is still some snow outside that didn't melt away so guess winter is officially here. It is all dreary and overcast today. Went To DeEtta's yesterday for our family thanksgiving and sure had a good time. Mom really seemed to enjoy it. Didn't realize till after I used this picture that the wall hanging by the stairs behind our head says on the last line, Sister best friend for life, Is that cool or what as there I am with all my sisters. And mom of course. Guess I am amused pretty easily. aren't I. Guess I don't have a whole lot this week. Elaine was online around 7:30 this morning, Sunday, and we had a nice chat on MSN Messenger so if you all are on around then make sure you are set to see us online and that you are also set so we can see you and lets chat. We can all be invited to join the conversation and have a real confusing time. He He. Will close with love and Gods blessings for all. Dad, Papa, Lew, brother, Cuz, me.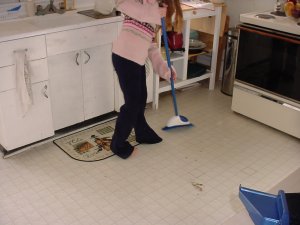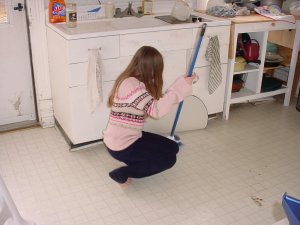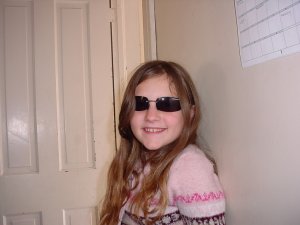 13 November 2005
Okay Steph where did that dirt go. Who Me I don't know??? Another week has passed and sure has been a fun one. The weather is just terrific and life is just great. The good Lord sure knows what he is doing. Spent Saturday, last, at Ben, Tammy and Crystals for all of there birthdays as we forgot Bens, was busy for Crystals so got them all on 5 Nov 05 which made us late for all. Went out to China one to eat, did gifts, and spent the night there so watched the movie Saw. After I seen Saw I realized I didn't' care to see saw but now I can say I saw saw as that's all there was to see. Are you as glad that's over as I am. Stopped at Brads on the way home Sunday, chased the grandkids and had a leaf fight, fell down hurt my knee, guess I forgot I was getting older and maybe shouldn't do that. Naaaah. Sure was sore on Monday. Had a nice Steak supper and then came home. Am looking at a filter for the audio on my radio's on Ebay and have told one of the Swan guys to send me the peak wattmeter he has for sale since I have moved into the 1970's and the techie age with my radio's. Aren't you impressed. Nice warm week here and have sure shortened winter with all this good weather. Got the snow equipment ready at work for winter but not here at home yet. Still need to get the fish in before the freeze comes. Had the phone company out again for the crumby line we have and seems some better. Was looking at Wild Blue satellite for our internet but is to pricey. $300.00 to get equipment in and then $50.00 a month for the cheap package 512Kbps, $70.00 for the next 1.0Mbps,and then $80.00 for 1.5Mbps. The last two would cost more for equipment installed also. Guess we will just stay dial up. Oh bother!! Felt guilty so went out and got the snow blower ready here at home also. Got the Camper and the Van in the shed for winter yesterday and called the phone company again as I went to use the phone and it had static everywhere. Got all new lines and phones in the house so it isn't there. Went to look at a fish tank for in the house for the pond fish for winter but mom don't like it so guess we will use the fish tank again. Got a little rain last night but not enough so are really going into winter dry. My new peak reading watt meter is in the mail and so are my two audio filters so that is great. Should have them next week and am looking at a 350D and a 240 radio also on Ebay. The 240 would be a parts radio and the 350 an experiment as it is some solid state or maybe all solid state but just fun to see and use maybe with digital readout and all. Guess I have rambled on long enough again so will close for now with all my love. Dad, Papa, Lew, Cuz, Uncle, and so on.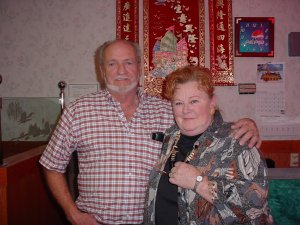 November 10th our 43rd Anniversary
What a night to remember. We went to supper at Yan's Buffet, an oriental restaurant on Brad and Heather and had a good visit. Then we went to K mart and did some shopping and then to Wal Mart, and then to Hy Vee and by then it was 10:00 and we went home and to bed. I got a new coat and mom got stuff so all was well. Supper was great and moms back did fairly good so we had a fun night and I have started the next 43 years with my special forever love. If they are half as wonderful as the first it will be outstanding. I love you angel. All my love Lew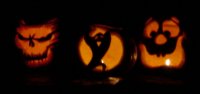 HAPPY HALLOWEEN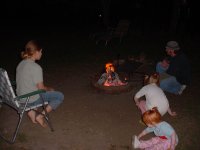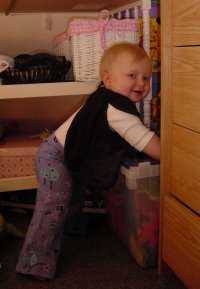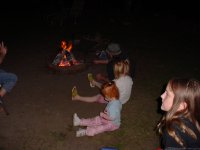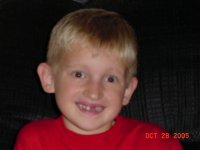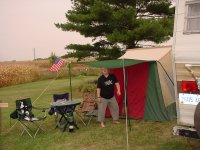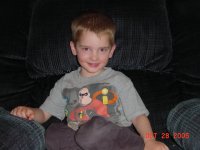 30 October 2005
Got the grandbaby fix while camping and some in the email but am now needing some more. How does that work. Oh bother. Guess the tanks on the camper will have to wait till next year when we get it out as need to get it over to machine shed before the rain gets to bad. Maybe will wait till it's done. I don't know. Computer went dumb again but got it fixed. Would not defrag so had to reinstall some programs and now am fine again. 98SE Rocks. Finally got moms Hallmark card program on and it seems like it will be fine. Got all my items from Ebay finally and they all work great. Am using the Swan 350, coupled to my Swan 1200-W 1000 Watt amplifier, then through my Swan ST-1 antenna tuner, then through the Swan WM-1500 wattmeter, through the R. L. Drake low pass filter to my Cushcraft R7 vertical antenna and using the Swan DD-76 for my digital frequency dial, and powered by the Swan 117XC power supply. Does that sound good. Ya right I'm not even sure what I said. Any how am having fun on the radios and stuff and getting some great signal reports. Have not scanned any more album pictures as not enough time so far. Maybe will get some more when winter sets in. Want to work on the truck then. Matt's that is. Want to see if I can put all the parts back for the overdrive if they are there. Just not enough time and papa is getting old and slow. Grilled up some T bones last night and they sure were good and spent a lot of yesterday working in the house trying to clean up some and organize stuff. Ya that's right all we got is STUFF and a lot more than we need. I'm ready to back the truck up but mom says no. That's okay she needs to sleep some time. Hee Hee. Guess I better get busy and get the fish out of the pond and inside for the winter before it freeze's. They sure have grown a lot this year. Had to mow some more as that still hasn't stopped and this morning the temps are in the 50's and it looks like it will stay that way all week. Sure has been a nice fall. Mom is still having some back problems so hope that gets better soon and I' am okay so far. To ornery to get sick I guess. Am run down for this week so will close with all my love and God's blessing for you all. Love Dad, papa, uncle, Cuz, and so on.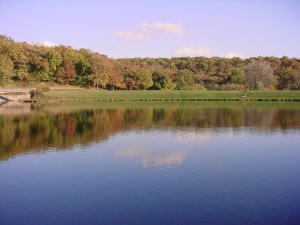 23 October 2005
Our summer season is almost over as the Springbrook camping trip, our last of the season, is complete and the temperature has dropped along with some snow here at the ranch this morning. We had a great time at Springbrook and Elaine came for the last weekend and she caught some fish and we had a great fish fry. Brad and Heather came and brought the grand kids then also and that was great. Each of the girls caught a fish but they were to small to keep but sure was a lot of fun. We had a campfire and did some mores and hot dogs and got lots of hugs so the grandkid fix was good. Got the camper mostly cleaned out and winterized yesterday but need to get the holding tanks looked at yet as there are some small drips from each so a leak is inevitable. Found the correct tools here so believe I fixed the furnace also as it had a funny gas order in the pilot stage, but seems to be gone now. Missed the journal on the ninth and sixteenth so you all lucked out there. Received my Swan ST-1 antenna tuner and is it ever great and a great buy. Also got the the DD-1K digital freq display but it does not work. Both from Ebay and I figured the display was maybe fixable but has all that new fangled transistor and chip stuff, no tubes so may have to send it out for repair. Don't believe that new stuff will catch on. The Swan list has really grown here as I discovered when I started the serial number inventory so I could find out when each was made. Used some of the new stuff camping and got some very nice reports on the air. Am run down for now so hope this finds everyone okay and will see you next time. God bless and all my love Dad, papa, me.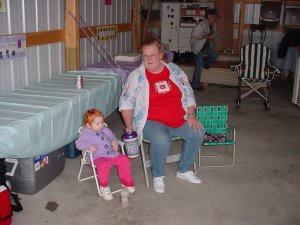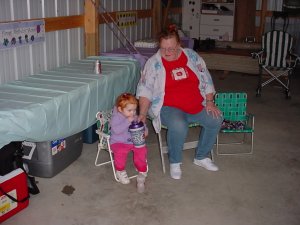 02 October 2005
I guess Mema's drink is better than Sarah's. As you probably noticed the Great campout at Elaine's and Moms 90th birthday celebration is over and I was gone last Sunday. All that cheering is really not necessary. We had a great time and have loaded some of the pictures at Lewzplace. The police did not come this year so all was well there and Elaine had some new services including a shuttle and a Sunday morning worship service. She worked real hard and it was a great success and we all had a fun time. Got some of the mowing done as we are getting ready for our Springbrook camping trip next week. The apples are all ready for picking and hope I get some of them done. If not I guess the birds will enjoy them. The Golden or yellow delicious are super this year. Will be going to Sac City later today for our little Mel's 13th birthday. It actually was the 22nd of September but are celebrating it today as last weekend was full. The truck is doing fine but the van was running hot on the campout so had it checked but found nothing wrong. Oh Bother. Why Me. Go Figure. Was a busy week at work as several nights was down to the freezing point so had to get all the boilers going and automation set for the winter modes. Should be good to go for now. Taped off a bunch of the things mom taped so have a few more tapes cleared. One antenna tuner for mobile ham operation is on the way and the fixed station one is held up in Louisiana because of hurricane Rita. All the mail in that area is stopped and they just got phones back yesterday and no electric yet. Mail should start Wednesday they said. Not much more work on the radios and most are all working fine. Went to the rental yesterday for appointment and another no show. Guess this leaves me about run down so will close with all my love and God's blessing to all. Lew, Dad, Uncle, Papa, cousin, and so on.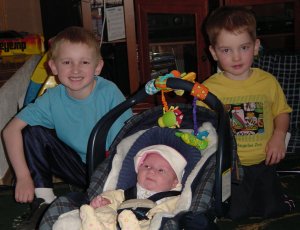 18 September 2005
Has cooled off some and am getting ready for Elaine's Campout next week. Can hardly wait and will be taking off early Wednesday as I took 3 days vacation finally. Got tanks full and the van ready, the fridge running, and the air going, so just need the water filled and some of the food ready and were outta here. Went up to Brad's several nights this week and helped level a floor so our little Mel and Steph can have there own bedroom and then connected some of the light wires Brad ran so Our Faith and Sarah can get in there room. His remodel is coming along just fine and it sure looks great. He's doing so well. The painting and some small stuff and Faiths and Sarah's room will be ready. Been looking at my radio stuff for the camping trip but guess I will forget it as will be to busy what with security and all. Hee Hee. Did bid on some things on Ebay for the shack though so maybe will win them. A couple of antenna matching units and another radio. Like I need the radio, but the matching units are cool. Are they really needed, probably not, as all has worked well for 40 years without. It's a boy and there toys thing I guess. I sent DeWayne some email and an invite to join Lewzplace etc but no response yet. Hope all is well with Danielle and him. Got an Email from Gary and Jeanne and they said to tell you all hi and Aunt Eunice is not well as she is full of cancer and the best they can do is treat the pain. He said it sure would be fun to show up at one of these get together's, and he still gets on the air occasionally but only on PSK 31, Phase shift keying 31 baud, which is keyboard to keyboard but am not set up for that. May check into it. Ya Right like I need another project I can't find time to do. Guess am about run down again so better sign off and get moving. All my love and God bless you all. Dad, Lew etc.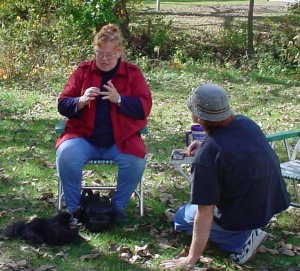 11 September 2005
Heat, heat, heat, and more heat, what is this all about it's September and supposed to be cool and SPRINGBROOK where are you? 95 on Friday and the same yesterday and in the upper 80's all last week and middle to upper 80's forecast for the next week. I'm moving to Alaska as the good Lord intended the weather should be. 72 in the daytime and 55 at night and then your talking. OH BOTHER. All is well here and it appears as Elaine, sis, mom, auntie, etc, has her computer running again, but can't seem to catch it as I never see her there. Helped mom yesterday clean out the attic and the garage and get things ready for a garage sale. Man there was a lot of junk there and in the house. Hope she likes it when she sees it. Hee Hee. Maybe I can stay with the kids awhile. We found a lot of forgotten stuff and was kind of a fun adventurous, excursion into the past and remembered and revisited some elusive almost forgotten times. The Lord sure has blessed our lives in so many ways. Computer still going strong and Win 98SE Rocks. Picked a bunch of the apples as they are ready and then picked 2 bushels and took to work for the people there. They went pretty fast so may pick some more next week. We have apples till the cows come home this year. Did a lot more of the outside stuff and taped off more of the shows mom wants. Seems like she can tape them faster than I can edit them. We are both feeling fair but seem to get tired real easy any more. Where did that come from. Looked at a couple more radios on Ebay but decided not to get as I probably have enough for my next lifetime. Sure hope it cools off for Elaine's campout as I would much rather have a fire inside and out than run the air. Mom and I went to bingo last night but did not win. Seen Heather and the grand babies while there so got our weekly fix. Brad was away at promise keepers so missed him. All in all been a good week if you don't count the heat we had so will close with all our love and bless you all. Love Me.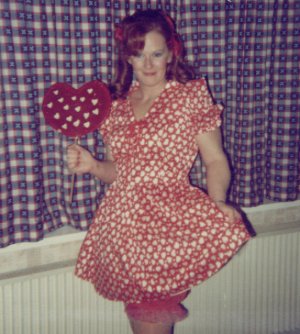 04 September 2005
Another busy week with very little done. Oh Bother!! It's a three day weekend and the grandkids are all gone for all three days. Who the heck let this happen and how will we cope now. Got some of the VCR tapes cleared off mom has been doing but she just adds more. How does that work. Gas hit $3.17 here in Carroll and had to fill the truck. It took 11 gallon and cost $35.00. I need a grandkid fix. If Katrina can cause this many problems for our gas supplies we in America need to take a serious look at how the gas industry is working and why this can happen. Crystal, Sean, Cody, Caitlin, Mel, Faith, Sarah, Steph, Shawna, Where are you guys I need a Grandchild fix. Hope I didn't miss any. Got a lot of the weeds cleaned up in the landscape areas and trimmed the hedge by the house and then continued the training on the hedge by the garage. Trimmed a lot of water shoots from trees and some of the low branches on some others. Cleaned some of the hosta and lily plants also. Opps I did miss some Joe, Sandy, David, and Johnathan. Sorry guys but I'm old and all of you are new and two I haven't even met yet. Was pretty warm again this week and we sure are short on rain. Have started picking the apples but not much done there and might not get them this year. There sure are a lot of them. The green delicious are just great this year and are ready so come and get them. The small van went dead with the battery but turns out just a light left on so it charged up fine. Have scanned a few more photo's but not uploaded yet and have many albums to go. And why was this a good idea. Hope you all remember Elaine's campout on the 23rd,24th,and 25th for moms 90th birthday. It should be great. Am really looking forward to it. Did some cleaning on the dead DVD/VCR and put it in the sewing room and will see how it goes now. Mom can us it for the vcr tapes of her sewing stuff if it works. Was just payday 4 days ago and I can't figure out why there is so much month left over at the end of the money. What is that about. Oh Bother. Got almost all of the cooling problems at work corrected and have to get a heat valve replaced also as it is leaking. All the corn is out of the bins and should sell soon but need to pay the taxes so won't gain much there. If the gas keeps going up it will be costing money instead of making money to continue the crops. Went out yesterday to get the mowing done and the push mower decided the self propel to one wheel wouldn't work so had to fix that. Got a lot mowed but need to get at the Barn yet and the rental. The monarch butterflies are migrating again and the trees are loaded with them. What a sight that is. Guess I have rambled on long enough for now so will close with all my love and may God bless you all. Love Dad, Papa, Uncle, Cousin and so on. Lew

Thanks for noticing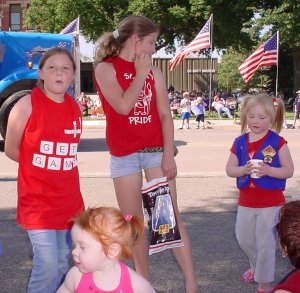 28 August 2005
Very busy week but a lot done. Got the Air at work going good finally. Had install and engineer problems but seems fine now, knock on wood. Tammy and Ben came on Tuesday and picked up our little Crystal and sure could have used more time with her. Her and Mema had a great time and hope she enjoyed it all. Mom picked up a Hallmark card program for the computer so she will doing tons of cards I guess. Went to Bingo with Brad and Heather last night and that was fun. It was a good excuse to see the grandkids for a grandkid fix. Hee Hee. Mom won $39.00 so guess we did good. Did some more checking on the Ranger and according to the metal plates and numbers and things it has a limited slip rear end so should be good in the snow if it is all working well. Just have to put some weight in the box. Started to clear up some of the VCR tapes mom has been accumulating and in the process the DVD VCR machine quit so had to get a new one. The first we brought home would not turn on so took it back and they gave us another one, the second one would not always rewind and did not get all the channels as it had no amp so took it back and they gave us another one but changed brands this and it seems to works really well so far. In days gone by that would not have happened, what has happened to quality control and such. I believe the companies save a ton of money and pass the heartburn on to the consumer. Oh Bother. The renters we had lasted about a month and are moved out again as the girl left and that was that. What is that about. Brad wanted the shop vac last night when we went to bingo but forgot to take it so probably will today unless I forget again. Got the Swan 500C back in line along with the 1200W so now have about 600 watts out so that is nice. The sun spots are bad though as signals are poor. Got my call sign license plates for the truck and put them on. Guess I better go and get this posted, so God bless you all and be good. Love dad, Papa, Lew, Brother, Cuz and all. Me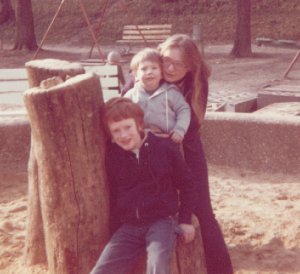 21 August 2005
What a week. Got the S-10 sold so that is out of my hair. It has warmed up again and much of the Air at work has been acting up. Kept me busy all week. We had our little Faith Monday through Wednesday so Had another grandbaby fix. Mema is wore out and we sure forgot how they start out on a dead run at about 7 AM and don't slow up till they fall in bed at night. Whew!!! Don't think we are equipped for that anymore. They tried mema's color making kit and did a lot of crafts on shirts and stuff. Faith and I picked some apples one night and did some playing outside but that was about it for me. She sure is a joy to us. Now we have Crystal who came yesterday and she will be here till Monday night so will be fun for awhile. Not a lot of time so will probably go to bingo today and out to eat on Monday plus the things her and Mema do for there craft stuff. She will have to help me feed the birds also. Tammy and Ben came when they brought Crystal and spent the night so was up late there but had fun. Had pizza for supper and popcorn later and played Phase 10 and they went on to a movie but I crashed then. Did a lot of weed clearing yesterday and cleaned the driveway, built a fence for the Russian sage as it kept falling over, and did some of the mowing, cleaned out the 4 o'clock bed and changed the filter on the pond. Brad and Heather now have full guardianship of our little Steph and Mel until they are 18 so that is just great. There is now some stability in their life and we love them very much. The Lord works in mysterious ways. Crystal got a Trac cell phone but she was out of minutes so Papa got her some. Where did that come from as I don't even like cell phones. Must be the getting old and mellow thing. Has cooled off a lot today so it appears like it will be a good day. Guess I better get this going and do the same thing get going. Love to all and God bless you. Dad, Papa, Lew, Uncle, Cuz, etc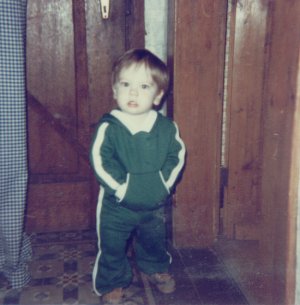 14 August 2005
After my blog last Sunday I got busy and took care of the birds we have. It took me almost two hours, cause I had to clean and fill the oriole feeders and put out orange's and grape jelly for them, clean and fill all the water's, clean and refill the hummingbird feeders, fill all the finch feeders, fill the platform feeders, and put out corn for the squirrels. Why did I start this. We got some nice rain this week, about 2 inches on Thursday and we also picked up our little Steph and had her till after bingo on Saturday. Mema won one game and that was all but we had fun. The rain sure made the grass jump out of the ground again so am busy with the mowing. Did a small amount of weed cleaning and some design work but not sure yet if I like it as my honey don't. Have been scanning a few more photos but not much progress this week. All the bird stuff needs doing again so will be busy with that later. Monday we will get our little Faith for a few days and am looking forward to that. Wish you were all home again. Temperature is really nice this morning as it is about 55 degrees out and that with the rain has the grass up as fast as I mow. Started to get the corn out of the bins this week so will need to get it sold by October. The corn market is in the toilet. Oh Bother. Guess I don't have much this week so will close with hugs and kisses. Love Dad, papa, brother, cousin, etc.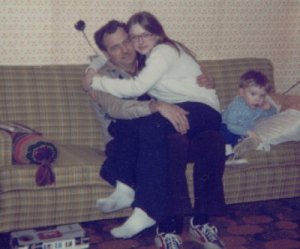 07 August 2005
Another week has passed and was cool at the beginning but has warmed up again. Picture is in Germany about 1978 with Tammy And Brad. I sure have been blessed. The week has been busy and sister Elaine came for a visit on Friday and then left for home Saturday. Sure had a nice visit and was so good to see her. Saturday I got busy and put the new mud flaps on the Ranger so that is done and tried some of the touch up paint and the spray will be just great. The small bottle with the brush which is the same color is way to dark. How does that work. Had the two small rust spots on the front of the box fixed this week so is pretty clean for now. Got all the mowing done and it is ready again, all the weeds are doing fine along with all the other stuff we don't want. Oh Bother. Guess I'll get that all caught up next year. Mel Spent another day with us and sure had some fun. Was supposed to have Steph this weekend but since Sis came and Steph had to be home Sunday for some thing decided to wait till next weekend for another grandchild fix so we can have a full two days there also and wouldn't need to rush. Been scanning more of our albums but with 6 done it is barely a dent. Sure have some neat pictures there but a lot of them were not focused very well. They were not blurry just not real sharp. Maybe its just my eyes but more likely just the technology of the times. Ya that sounds good. Just had a short chat with Elaine as she was on line so that was fun. It's a really nice morning out at about 57 degrees and low humidity so is great to be out, but need to get rid of the hog confinements. Need to get the oriole feeders cleaned and set up today as they are getting bad and the Oriole's are not happy. Guess I better get going so will post for now and see you all next week. Love Dad, Papa, Me, Lew, Cuz Etc.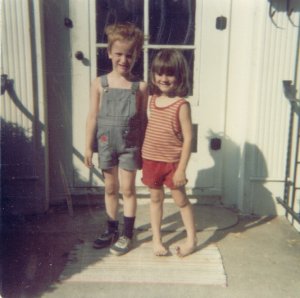 31 July 2005
After I posted the journal last Sunday I trimmed some trees and hauled branches, watered some new plants that were stressing, removed the Christmas lights from the house and then gave up as it was 90 out by then. Just goofed off the rest of the day and we went to bingo in the evening and it was 95 degree's out. Like the picture of my two little orphans. Hee Hee. What a couple of little cuties. The temperatures cooled off this week and was really a nice week with lows in the 50's and highs around 80. Almost perfect weather. Had another tree come down along with the rest of the one I just cleaned up so had to clean them up this week. Had to put a new gas line on the saw as you had to hold it just right or it wouldn't run. One tree was across the fence at the neighbors so got it out right away. Can't decide if I should cut the other clear down or what but got it cleaned up also. The touch up paint for the truck was not any good so had to order some more. Spent the week finishing at the farm and rental and then yesterday did the mowing and weed eating there so am good to go for awhile. Got the mower fixed there also as the regulator was bad so it is now charging again. Hooked up trailer lights for the ranger and that sure was a joke. Hooked them up and then on the first brake application the ABS light came on and kept flashing. Stopped turned off the truck to reset and all was fine till I used the brakes again. Thinking it might be in memory I stopped again and disconnected the battery for 5 minutes but still no good. On checking the cruise after a slow down using the brakes the accelerator would floor and you really took off so now I have to turn the cruise on to make sure it is off. OH Bother. Took off all the trailer wiring and put all back to normal but the problem still there. Now what, did I burn out the computer. To make the story shorter I had blown a fuse and the voltage's were all back feeding somehow and making the system do dumb things. What engineer designed this mess. Must have been an exercise in dumb that day. Any way I had to purchase a $39.00 device for the truck so I could put a $1.69 plug on for the trailer. Should have just built it myself. could probably build the box for a couple dollars or just made the trailer lights different. As we get older we don't have memory loss, I think the world just gets dumber. All is well now and it is working fine. Guess I have ranted enough for this week. Went to Brad's last night for our Grand baby fix and then we are doing bingo tonight and will have Mel for that and she will spend the night and then the day tomorrow with Mema. God bless you all and all my love. Dad, Papa, Lew, Cuz Etc.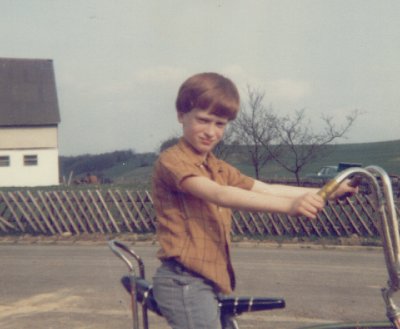 24 July 2005
Again with the high temperature here in Iowa, What's up with that. It was almost a cold snap this morning as it had cooled off to 75 degrees by 06:30 in the morning. Been in the 90's all week and maybe 100 or better today. Can't even go outside and enjoy it. Even setting in the swing is to exhausting. Got shocks for the pickup and put them on yesterday and was that ever a dumb idea. The heat was terrible and then it dawned on me why I take it to the mechanic, the wrench never fits, the bolts are rusted, they are always where you can't get at them without removing the rest of the vehicle first, and they have all went metric and I believe the China metric and the European metric are different as my wrenches never fit. OH Bother. It did save me about $160.00 though so guess that was good. Still scanning our old photo albums to disk but have a long way to go. Who took all of these pictures. I skipped the first album as it is huge and so far am just up to our going to Germany which would be 1977. Elaine just came on line and we met in MSN messenger and tried audio and video but the network was really slow and kept popping up a message said it was slow, Well DUH!! so didn't work very well. Hi Sis. Typing was just fine. Technology, isn't it just wonderful. Can you believe it I was multi tasking as we were their and I was working here also. Wow!!! Have found some dress items for the ranger but not sure yet which ones to do. Got some touch up paint for some of the real small chips. Was up to Brad and Heathers one evening and played some phase 10 and got to have supper with the grandkids and get my grandbaby fix for the week. Need all of them to move real close here so we can love them to death, spoil them rotten, feed them sugar and send them home. Would that be a perfect life. Had a dentist appointment this week and had to get a filling. Guess I better wrap this up and get it posted. All my love Dad, Lew, Papa etc.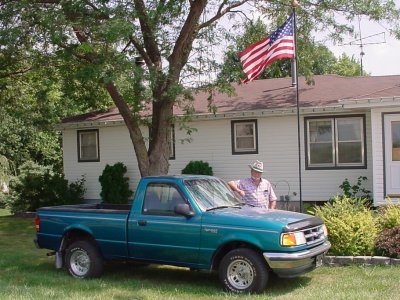 17 July 2005
Another week has come and passed and the temp has still not let up. Been in the 90's all week no rain and no end in sight. As you can see I have a new pickup, well new to me, as its a 1994 Ranger, 4 liter 6 cylinder, automatic transmission, Full dress XLT. Dad would not be Happy but brother Tom would. Runs out nice and about 28 to 30 MPG on the road with a small load and the air running. I am pretty happy with it. Bull horns for the hood are next if I can find some here in IOWA so all you Minnesotans and Texans just eat your hearts out, and forget you see my Christmas lights still up on the house. Does that make me a Red neck. Not much outside work this week other than the bird stuff and plant watering as all are in stress and the grass is going dormant. Did have to get on the roof yesterday as my ham antenna was leaning to one side bad and found a broken mount. Got it repaired but did it at 06:30 in the morning and it was still 80 degrees and 68% humidity. We can ship that back to Texas where it belongs. Hee Hee. Got outside some later and did a few weeds but was 97 degrees by then so gave up and went in. Went to bingo last night as it was to nasty for anything else but we didn't win anything. All the radios going great and purchased a 240 for parts. Am looking at another Digital dial also. SSHHH don't tell mom. Did you get the power supply and Mic Matt because if not it is insured and I need to turn it in. Got my Copal green light military 24 hour clock going again so the shack has more nostalgia and soft glow. Need to put a different ground cable on the ham antenna as it should be braided and not solid. I know I put it up in a hurry for testing and then left it there for years. Go Figure. Would like to add some dress stuff to the truck such as visor, running boards and such so guess that's another toy to play with. I must have to much time on my hands or am in the second childhood gear or something. Thank goodness mom puts up with me and loves me still in spite of all that. Maybe put on duals and run the pipes straight up behind the cab with those little floppy things on top. Where did that come from. I guess I have ranted on long enough so will close with all my love to all and may God bless you. Dad, Papa, Lew, me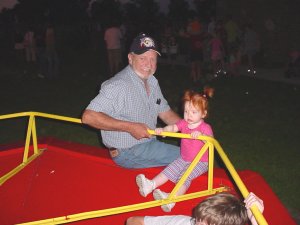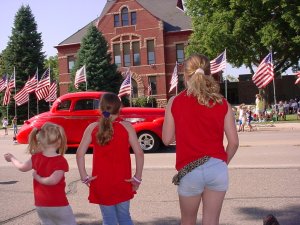 10 July 2005
As the pictures tell papa and the youngest still like the merry go round but the next three as you see we have trained right and you can just here the oooooh's and aaaaaah's and Wow's can't you. We had a great 4th but missed Mel at the fireworks display as she was at camp for the week. She will be home tomorrow I think. It has been a busy week and we finished the painting at the rental and the carpet was installed Wednesday so it is ready for renting. Found several trucks but they want to much for them. My little S-10 is getting in bad shape as the rust has taken over and the doors don't work so well. It still runs pretty good but the muffler and tail pipe fell off so is kind of loud now. Oh Bother. People must think trucks are worth a lot in farm country. Will find a good one for a good price some day. Found a nice 1999 ranger, manual transmission, 4 cylinder, etc but they want 6 grand for it and it has 60,000 miles on it and is 7 years old. Oh well. Had my new old Swan 400 on the air Wednesday and got some fine reports so it is working great now. Just need to clean it up very well but that will be a winter project. Still no more work on the 1955 Dodge truck son and am sorry for that but dad is getting pretty slow. Seems like I barely get the yard done and I am pooped. Moms being sick this spring with the bronchitis and stuff just seemed to slow us down. Still have not had any cigarettes but not doing very good on losing weight. Think I have lost some inches but not weight. Oh well just more to love I guess but I feel better at about 20 to 25 lbs lighter. Have to clean up a tree that part came down in the storm last week but was just a large branch of a walnut not the whole tree. Mowing has slowed up some but need to get the set aside again. Have lots of tree pruning to do but not sure if I will get to it this weekend or not. Got some of it yesterday along with weeding, cleaning the cactus bed and stuff and just about did myself in as it was very hot and humid out. Also went over to barn and rental and did mowing and trimmed some trees and stuff there so was kind of pooped when I started here at home. Had some problems with the mower at barn as it seems to not charge or has a short to run battery down. Will need to check that out now. Guess I better get this posted and get to work. Love to all and God bless you. Dad, Lew, Papa, Me.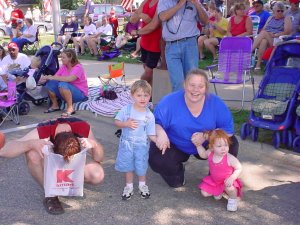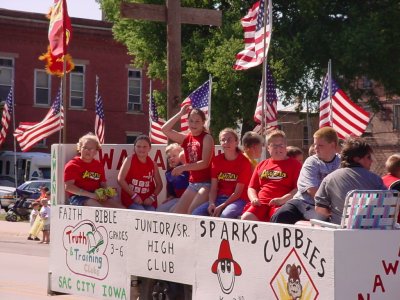 03 July 2005
Here we are again and went to the Celebration parade in Sac city yesterday and was it ever good. Three of our little girls were on the Awanas float throwing candy to the crowd. As you can see Brad was looking to see what candy he got. Hee Hee. Our little Mel goes to camp today at Boone for kids with diabetes and will be gone a week. It has been a very busy week. DeWayne Achey, Elaine's son is having his campout this weekend but had to miss that as to much going on here. If he does this every year now maybe we can plan for it, if I am able to remember it till next year. Mom and I were caught at the rental in a hail storm and we might have some crop damage. None to the house here or there but lost some small tree limbs. It really came hard for a time. Am doing some cleanup from that this weekend also. Mom is busy all weekend with calls and showing the house so she can't get in any trouble that way. Need to get some renters in there. Had to make a small repair on the tractor and then one of our hoses broke so had to fix that. Got all the bird feeders cleaned and refilled so that was a big job out of the way. Guess I will close and try and get some things done. Love to all. Dad, Papa, Lew.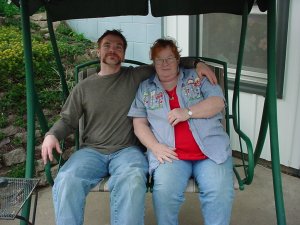 26 June 2005
Another week and very hot and rainy. Temps in the 90's and that don't happen till end of July or August. What's wrong with this picture. Had the septic cleaned this week and then had the plumber come and power auger one of the drains. What a stinky mess. Several renters confirmed they wanted the house to rent and then never came or backed out while there so still no renters. That means I am now mowing there also. Have some repairs to do there this week and then the next some new carpet going in so will make no money on rent this year. Why do we even bother. Had the ford back in for waxing again to see if there wax will stay on this time. There was no charge as the last time when I went through the wash the shine just washed off and went right back to the sunburn white faded film. I think it's the paint but they wanted to try. Steph went to Kiwanis camp this week and then we had them here some Friday so got to see all of my wonderful grandkids again. Life can't get any better can it. Mom has been very busy with the rental with no luck so hope that changes this week. We are going to do some painting and floor repairs this week so should have fun there. Guess if I am going anything done today I better get moving. Till next week all my love Dad, Papa, Lew etc.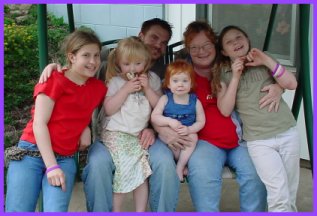 19 June 2005
Are we having fun or what. Another very busy unproductive week. Oh Bother. Set up for getting the septic tanks pumped so need to dig out the lids for them. Also set up the plumber to come as we have some slow drains. Got the tire fixed on the van, and set up for changing out some carpet at the farm as the last people cut two holes in it. Need to rip up some of the carpet there also as I need to repair some floor before the layers come. No one there now so had to mow there and here and then the weed eater broke there so had to fix that. We got to watch Sarah Monday and then went to Stephanie's Bday party yesterday so that was the highlight of the week. Of course today is Fathers day so happy fathers day to all the fathers out there and remember the children are what made us fathers so give them all the love you can and thank them for making it happen. I love all you kids, grandkids, great grandkids and so on. Did some work on the web pages and added a slide show for the grandkids page and that is neat but I am on very slow dial up so it is slow loading for me. Check it out and see what you think. Sure would be nice to get hi speed out here but am very glad I am here instead of the places I can get hi speed. Mom and I still haven't got the cell phone figured out but should be able to answer a call pretty soon as we about got that figured out. Technology, it sure makes your life easy and simple, YA RIGHT. I guess I better get out of here and start one of the projects that I need to do. Maybe I'll just take a nap. See you all next time, Love Dad, Lew, Etc Etc.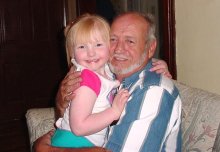 12 June 2005
Another week has passed and the good Lord has given me many blessings. Had my little Faiths birthday on her birthday and will go again today for her party. Got the wedding pictures from Elaine and they are great, she did a wonderful job. Am in the process of updating all my web pages for more speed so visit them and see if things are better for loading speed. I have very slow dial up so it will not make a difference for those with high speed internet. Mom has been busy with the house rental for renting and she might have it done. We need to carpet one room so will do that now if we can. It's always something. We finally woke up after Tammy and Ben were married and figured out we now have another son, Ben Baugous, 2 more grand children Sandy Morey and Joe Baugous Bens kids and 3 Great grandchildren, Shawna Gatch, Johnathan Boyle and David Boyle, Sandy's kids, Thanks Bennett. Giggle. Boy did I age fast but I believe I am truly blessed. Just need pictures of them all so get them coming my way, lots and lots. I will have them in next years calendar but you can pencil them in if you like. Shawna 30 Dec 95, Johnathan 3 Mar 99, David 3 Mar 2000, Sandy 15 April 78 and Joe 17 Feb 80. Got all the birds fed yesterday and that sure is getting to be a big project but really a fun one. My finches needed food, where are you Crystal. Just fed them Thursday and they are about out today so will feed them again. Need to get some mowing done also and get to the kids for Faith. Finally got most of the camper unloaded but still need to get the van tire fixed as it has a slow leak. Guess I better get this done and get going and do stuff that needs doing. Love to all Dad / Lew
MEMORIAL DAY FUN 2005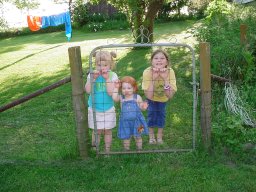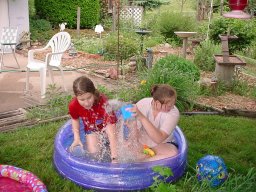 Baby Jail Crystal & Mel
05 Jun 2005
Very busy week and we had Brad, Heather and Kids here for memorial day along with our little Crystal. It was great fun but am getting old I think as I sure was tired when all left. Four full months now without smoking but still feel I want one from time to time. Guess that will never leave. Put the radio on the air while camping and got some nice reports so am about ready for mobile operation. Been mowing like mad and still not catching up. Finished at the farm today and it was so long will need to go back in a day or two and do it again as a lot of it was just knocked over. Matt left Tuesday to fly back to Germany and we sure enjoyed seeing him. Wish the whole family could have come as seeing Matt just made me miss all my kids even more. Spent the week working outside a lot and did a lot yesterday on some of the landscape areas and the hedge. Cleaned up at the front of the house and drive also. Met the Swan net on Wednesday but the band was really bad so didn't talk much. We have had our little Crystal all week and what a blessing she is. I am the luckiest guy alive and am so blessed with wonderful children and terrific grandkids all eight. Ben and Tammy should be back today from there cruise so hope they had a good time. What timing that is, I just got a call from Tammy and they are back in Miami and had a great time. Crystal is really missing her mom and is so happy for her at the same time. They should be here to pick up my little Crystal tomorrow. More yard work to finish so better close for now and get busy. All my love to all. Dad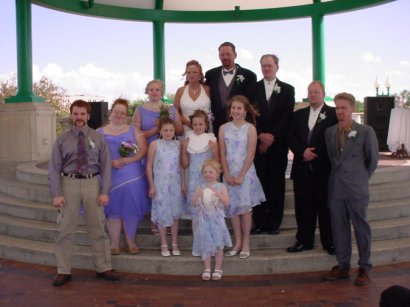 29 May 05
Four months with no smoking and we have completed the Wedding for Tammy and was it great. Have put the pictures on Lewzplace for you to see if you like. We had a great time there and with Elaine and Ralph. Went to one antique store and then just walked around. Got a lot set up for mobile operation with ham radios and that sure was fun. Tammy was a beautiful bride and I sure am proud of her and Ben. They are off on there honeymoon now and we are home and have all the animals fed and taken care of. Elaine took the pictures for the wedding so hope they are all great as she had some neat poses for them. The ones posted are not the ones she took. Those are some of mine with the digital and not as good as hers are. Guess that is all for now and thanks Elaine for filling in for me with your journal. OVER. Hee Hee. Your right I guess no one is here anymore as there are no posts at all. Love dad Etc.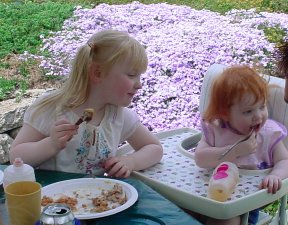 22 May 05
Will start this early and maybe send before we go camping this Friday for the wedding. Mom and I have been busy and she helped me spray weeds some between her wedding things. Mom got a cell phone that she feels she needed for the wedding trip but I don't know why. They are way to bothersome for me, and mainly I cannot figure them out. Why oh why would someone even bother. The indigo bunting's are back, and they are such a brilliant blue it just lights up the bird feeders. We have so much to be thankful for and are so blessed in our lives aren't we. The Lord has truly been good to us. As I get older I think I become more of a softy or something. See the picture above of two of my many gorgeous Grandkids. To even by chance ponder that life is not a complete thought out miracle is mind bending. That's as far as it went for this as we left for camping and the wedding so will send this way. Love till later. Dad Etc.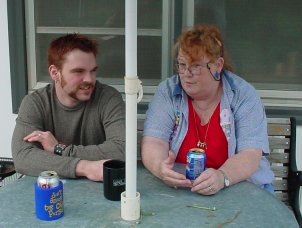 15 May 05
One more week and all is well. Got through all the Bday, mothers day stuff but Heather was sick so we really missed her. All else went fine and the week has been mostly rain and cold drizzle. Got the camper out and over home early in the week so that worked well before the rain came. Had to get all the rest of the bird feeders out as the orioles and the hummingbirds are back. We have about 4 pair of orioles now so that is cool. Also the screech owls are back as I seen them in the pear tree. Hadn't seen them for a couple years so glad of that. Need to get a mic gain potentiometer for my 400 and I got the Swantenna, part on Friday and the rest on Saturday. The main coil was not in good shape as it had 4 broken wires to the inductor and 2 copper tabs broken from the center shorting slide. I believe I got it fixed but will see when I get it active. Emailed the seller as he said it was a very nice working condition antenna and he will return some money he said. Want to check on what one is really worth first and then go from there. Maybe can get a clue on the Net today. Mom is real busy with the wedding stuff. She finally got her Ebay order and it was not as stated so called the party and waiting for a reply. We looked at the camper yesterday so will start that this week and guess I better finish it this week also as this next weekend is the time we head to Le Mars for the wedding. We will be camping the whole week before the wedding so should be fun. Might miss the Sunday Journal so don't all moan at once. Lots of mowing and yard things to do today and then will have to get it done just before we leave also, and even so will be a hay field when we return. Oh Bother!! I stopped there and went got most of the mowing done and then helped mom with a stand she wants to use for the wedding. Got the radio on now and ready for the Swan net so guess I better get this posted and get busy. Not much traffic at Lewzplace, has everyone went to sleep or what. Love to all and God bless you. Dad, Lew, Uncle, Cousin, etc and on and on. Me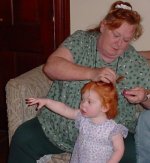 HAPPY MOTHERS DAY
08 May 2005
What a week. No cigarette yet, lots of yard work done, got mom a craft stool for her Bday, fish pond cleaned and filled and the fish in, set up oriole feeders as they are back, more spraying done along with full time mowing when not doing something else, got the patio swing set out and set up, cleared and weeded some of the landscape areas, did some weed eating, won the bid on the Swantenna model 45, met the swan net Wednesday night, tracking fed ex shipment that they say our address is wrong, Tammy here and spent the day on moms Bday, got the 420 VFO yesterday since Fed ex figured out where we live, and on and on. Whew!!!! How about Mema and my little Sarah, is that cute. I have the cutest, best grandkids in the world ever. The weather has turned warm today as in the 70's and we could sure use some rain. After a fair start in the spring it has all stopped. Got 400 hooked up to the 420 VFO and will now let them cook some and check alignments. Already see it needs some cleaning and repairs and is leaking RF back in the transmit.. Helped mom in the house some yesterday as Brad and family will be here today for mothers day. Found a baby cat abandoned under the willow tree and gave it to the neighbors as we didn't want one now. Got mom and oriole feeder and a wind chime for mothers day. Put up some hooks to hang her chimes, flower baskets, and bird feeders outside the window at the patio. Had to put holes in the new over hang metal for these. Guess I better get this uploaded so am closing with love. Dad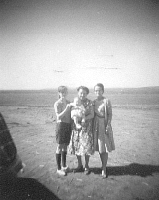 Four Generations
01 May 2005
Here we go again. Still good on the no smoking so hope that continues. There have been some real tough times but they didn't last long. Much happened this week and a lot done. All kinds of mowing and the grass is growing like mad and the mower at the farm picks now to break down. Spent most of Saturday working on it only to find out the battery was bad and to low to hold the clutch engaged. Got a new battery and problem solved. Still cats running everywhere so better catch some soon. A lot of them are tame as they have collars. Will take them to the vet anyway if I catch them. Got a lot of weed spraying done and need more but has been to wet or windy to do well since then. Mowing like crazy, mom on the wedding stuff, And much more. Mom was busy all Saturday working on wedding stuff and sure is doing a nice job and a lot of work. Most are some special projects and really cool things. Thatís all Iíll say. Got the Swan 1200 W linear amp and found some bad solder joints and did some cleaning and repairs and have it going. I let it cook all day Saturday and by the evening with careful tuning it put out about 800watts on the WM 1500 wattmeter. Did really well there. Found a mobile antenna on Ebay so will try to get it and then ready for mobile operations. Its a model 45 you guessed it (Swantenna). Go figure that out. Canít wait till the VFO for the 400 comes and the mobile antenna if I win it, then Iíll be mobile. Second childhood coming up, next step diapers & drool bibs. Did a lot at work for Earth day and put in some new plants and an arbor with plants to climb it and a bench. All my kids in DSAC and Phi Theta Kappa helped a lot with the planting of the plants. Guess I should quit and get this on line. Love Dad.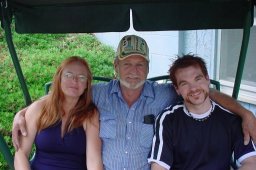 24 April 2005
Been a very hectic week with not much accomplished and might not get this out on time as we are helping Tammy & Ben move. I can hear you all cheering. Oh Bother! Looks like the Postal service might have lost one of my money orders as it has been in the mail ten days from Iowa to Alabama and they don't know where it is. It had to be the one for the linear amp. Five days so far to California for the one for the VFO. I believe the Pony Express was quicker. Been busy in the yard and got some spraying done and of course just as I finished the rain started so probably not much good there. Got some more trimming done but lots to go yet. If I am lucky will get it before the snow flies. Still have the Christmas lights to get off the house and bushes. Pretty late for this year but could be early for next year so I guess I am ahead of the game. Ya that sounds good. Mom has been going nuts with wedding stuff and is getting a lot done along with helping outside and the rest of her normal things. The weather has turned cool and had lots of rain this week that was well received as we needed it but it sure set the grass to growing. Actually the temperature is normal as we have been spoiled with the warm temps this year. Well it took all day Saturday and Sunday moving the kids so this is now Monday so better get this going as I know how you all wait on pins and needles for it to come out. Got a lot moved for them and most of the large stuff, just the washer and a freezer for real large things. Mom had a sore back all day today so hope that isn't from all the moving. Guess I better get this out and will see you next week. Love Dad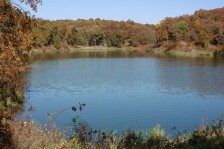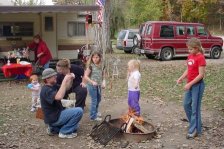 17 April 2005
It's that time again and the van is ready and am setting up for the camper to be repaired and detailed. It needs some fixin on the black water tank that I can't seem to get fixed. Still not smoking and mom is driving me nuts. Hee Hee. Spent a lot of time outside this week on yard work and mowing is going full swing again. Got up early Saturday to do some spraying etc and it was raining so had to pass on that and any outside work for the morning but it quit and the sun came out in the afternoon so got a lot of yard things done then.. Deines zero turn had right side hydro not working right, turned out to be a bad cable and not the hydro as I thought. That's great as the hydro is about $600.00. Did a temp repair and ordered a new cable. I won the bid on the Swan amplifier and now just need the External VFO for the 400 and will call that it. Got the other 500C on Wednesday and decided to make it work and use the problem one as the parts radio so swapped out some parts from the problem one to the recent acquisition and got it working fine at about 350 watts out. Will use it awhile to make sure it is fine and then not sure what to do with it as I have to many now. Guess I'll figure something out. Just finished checking on the camper cleaning and waxing and can't find anyone that does it so guess its up to me to do it. Might just as well do the tank also. Is this fun or what. Got back on line last night and won an Ebay auction for the 420 VFO I need for my Swan 400 so guess I better quit for now. I let the new 500C cook for the whole day to get any gas out of the tubes and am able to get 400 Watts out now with good receive. Yippee Yah!!! The sun is up and burning off the fog so looks like a great Sunday ahead. Had some coffee, fed the birds, watched Rebecca's Garden and some of Sunday Morning so guess I better get moving and get some things done. All my love Dad.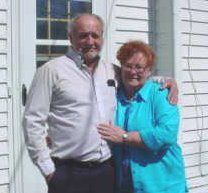 10 April 2005
Still going strong and not smoking so we might make it. Have started some work outside and have all the equipment going I think. Flowers are coming up and blooming so spring is here at last. We need some rain here as it is real dry. Got both power supplies back up that I managed to fry cause something went bad in the Swan 240. Got great power out on the 400 but no receive and the one 500C is still great along with the 350. The other 500C I think is a parts radio as soon as the other late model 500C gets here. Bidding on an amplifier again. Mom is still busy with the clothes and finally got her dress form she bought on Ebay. It seems real nice. Have hauled one load of brush and tree pruning stuff so far and lots more to go. Cut back all the hedge along the drive under garage so will be several years before it looks good again. Cleaned a lot of the landscape areas around the patio area and got the 4 O'clocks started. Cleaned out the patio planters and uncovered the pond to get it ready for fish. It was almost full of water and sure was rancid, guess the tarp didn't work or it leaked. OH bother. We went to Sarah's Birthday party on Saturday and had a good time. The pictures are posted at Lewzplace. Tammy came down last night for her and mom to work on wedding things but was to late for me so I went to bed. Got an Email from Stu the Swan Guru this morning and for the 400 to work right and be on the correct frequencies I will need a different VFO so now am looking for one of them. Don't have the manual for it yet so can't figure all that out. The van came out real nice when it was detailed but when we washed it, it got all dull and streaked. Guess I will go back and see why. Am run down for another week so will close with hugs and kisses and Gods best for everyone. Love Dad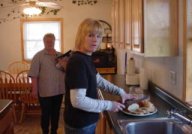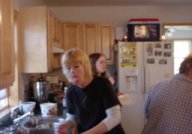 03 April 2005
Over two months now and all is well so unless we get weak we should make it. Was a very busy week and we went to Susie's for our Easter celebration and it was really fun. A great meal was had by almost everyone it would seem even it doesn't appear that way in the pictures. Hee Hee!!! Will post the rest of the pictures at Lewzplace if you want to see them. Was great to see all the little munchkins again and get back in touch with everyone. On the great Grandkids that mom has I count 42 or 43 if you count the two possibly three Brad and Heather are getting if they do. Can't remember all of who belongs to who to check the Great Great's. Maybe the count on the greats is wrong also as I used my calendar and I may have that wrong. Let me know if so. John and Susie have done a lot of work on their house and it sure is nice. Oh by the way the first sentence was about our smoking and winning the quitting battle. Got most of the radios going and having a lot of fun with that. Still looking for a linear amp and an antenna tuner and then will need a good mobile antenna and will be good to go mobile. Picking up some stuff to start the things for Tammy and Ben's wedding on 27 May so that will keep us going for the next month. Had the old Ford van detailed this week and it came out real nice. Finally got the air going good in it again as it worked well going to Susie's yesterday. Next is the camper and then we are ready for the year. We are going to use it for a week for the wedding I think and just camp there. Should be a fun slow time doing it that way. Finished setting all my clocks ahead so have that done for the next six months. Lets forget the clocks and just use the sun as the good Lord intended. That system worked very well for many years until humans tried to fix it. If it isn't broke don't fix it. Guess this leaves me about run down again so will close with lots of love and kisses. God Bless you all. Dad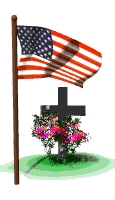 HAPPY EASTER 2005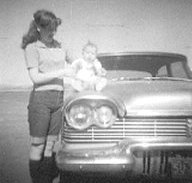 27 March 05
No cigarettes yet and hope I can keep it up. Mom has had none either but we sure have wanted one a time or two. The 500C is not blowing fuses now but has no carrier so I am hating to say it but it may be a parts radio. NOT!! Just finished rewiring four rooms at work for smart boards, projectors, computers and the automation controls for heating and cooling system Etc so what is it about this radio that I can't find the problem? Have won the bid on the Swan 400 so now have that also. Am trying for a linear amp also. Still need to fix the caps in the 350 and get a tube as the receive is getting bad. The 240 is like a Timex it takes a licking and keeps on ticking. Got some more snow Friday morning but just a small amount so no problem there. Had to get a battery for the rider as it went bad over winter so now all are in fair shape except the one at the farm as I need to check it yet. Got some of the scrubs trimmed and cleared out and some of the brush hauled. Had to get some new finch feeders as all the seed would leak out because the holes were getting to large. Got the big van out of the machine shed and scheduled it in for cleaning and getting the air working so it is ready for the camping season and the camper to come out of the shed. Got the FTP stuff going for Matt's site so now have a lot of the pictures of my new baby Caitlin among others from there. It works Grrrrreat but is some slow but will have to do till I can get high speed or DSL or something. Yah Right. Although the phone companies are being deregulated and part of the package is they offer high speed service to rural areas. Yah Right at what price, we lose again, the great American rip off. OH BOTHER. Are we having fun yet. Mom and I went to town yesterday and someone left the pasture gate open again because there were all these people milling around like lost cattle again. Decide what your going to town for before you and then go and get it and go home, it sure is easier that way people. Better yet just stay home and send someone who knows what they are doing. Guess my vent is over so everyone have a joyous and wonderful Easter as our savior has risen from death for our sins. God bless us all. Love Dad.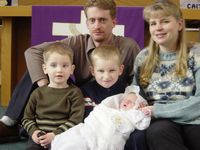 20 March 05
Six weeks and counting and no smokes yet. On the last step of the patch and it seems to help. There are some stress times that are tough but have made it fine so far. Made some progress on the Swan 500C radio and narrowed it down to a small area now but still looking as it seems to be intermittent. Should have it soon I hope as I am using up a lot of fuses. Got the external VFO running on the other 500C and it sure is nice. Am bidding on a couple more swan pieces so hope that works out. Like I need more right. Been out and got the lawnmowers going and fixed a flat tire. Still need to work on the walk behind as it will not go self propelled for some reason. Belt may be slipping. Time to get moving as the daffodils are up, the crocus are up, the shooting stars are up, the woodchuck is out and about, and many of the birds are coming back, starlings included so will be banging the pots and pans for several weeks now to get them gone. Took a small break there and went out and got the walk behind fixed and adjusted for spring. Was just a walnut shell stuck in the pully. Had to chase the birds away again. The weather has been warm for Iowa and the winter pretty mild here. Back in the forties and fifties next week so pretty warm for March. Got the birds fed and watered and watched Sunday morning so guess my Sunday tasks are completed. Yah Right!! The honey do list never ends. Should get the Christmas lights down I guess and then start on the spring yard cleanup. Not much else new for now will close with love and Kisses and God bless you all Dad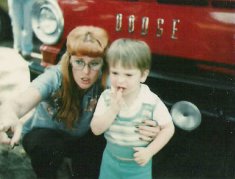 13 March 05
Five weeks and still going strong without a cigarette. Knock on wood. Has been a busy week but not much completed just spinning the tires I guess. Got the 500C going and made a contact or two and then it went dumb again so worked some more and got it going an made another contact or two and it went dumb again. Guess I will send it to the Swan wizard for help. No matter what I try it has an intermittent problem and even if I get it licked I don't have the test equipment for all the alignments. OH BOTHER. It's really hard to give up. Guess I will rejoice in the fact that I fixed all the others and go on from there. Got the other 500C transmitting 550 watts at 500 ma so am happy with that. Mom has been busy all week and we got the new shades up in the bedroom. She has been doing clothes to wear and throw and doing washing. She went up to Tammy's Thursday to help look for a wedding dress and they got one. Then she stayed over to look at the new house they are getting and then stayed another night and came home on Saturday. Sure was boring without her here to nag at me. Hee Hee. The weather has been so good was thinking of getting the camper out but then it turned cold this week and a few snow flurries so guess that is just reminding me we are in Iowa yet. Need to get the red van out of the winter storage though as The kids want us to help move to there new house the end of April. Life sure is fun. Brad and the girls, were here Friday for a visit and then Mel left her test kit here so Brad came back Saturday to pick it up. His new van is great he said so am glad for that. Checked in with some of the Swan guys on Saturday for the afternoon gathering and also last Wednesday for the Swan Tech net on the 500C I got working so that was fun. Will use it today for the Sunday net also. How about this Sundays picture, that sure is a nice looking van isn't it but who are those strange people and with the goofy glasses. Guess this leaves me about run down again so enough of the cheering I am going already. Love dad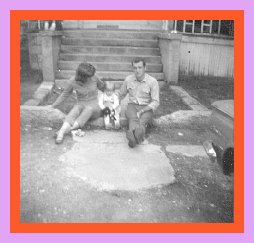 06 March 05
Four weeks smoke free and if mom don't leave me alone I'll have to smack her. No it's not that bad as the patch helps. Mom is down to the last patch step and I will be soon. Got all the Swan gear up except the one 500C and may not get that one up as it looks like some one in their infinite wisdom tried to put it on the CB bands and really messed it up. Looks like they were in the VFO stage and changing the inductors. Will run a few more checks and then maybe send it to the wizard of Swans and see if I got a good radio or a 500c parts radio. The one I got up and running has right at 400 watts out which is a lot. Now have to mount a jack in the back so I can hook up the digital dial for frequency monitoring. Got the mobile supply this week and it seems to work fine as it fired up the 500C but need to get the mobile antenna to put a load on it to really test it. Bid on another mobile supply and won the bid for $5.00. I was the only bidder. Mom is feeling a lot better and will have the stress test the end of the month. She had a good checkup on Tuesday for her appointment. We went to Offutt AFB Friday and got mom a new ID card as hers had expired. Also got the van registered for the base. Did some thrift store stuff while there but didn't find much. Then we ate at USA steaks and came home. Mom got the bedroom drapes finished and I finally got the hooks mounted for her to pull them back. I made supper last night and had chicken with pasta in marinara sauce, but it did not agree with mom and she doesn't feel so good today. The computer is running fine but mom has been on line and using it so it should now need an overhaul again. Hee Hee. Can't figure out why it always goes goofy with her. Did get a new keyboard as the old one was getting sticky. Turns out it is a black one and it really matches the monitor, radios and stuff at the desk. Weather has been really warm for the time of year it is and is supposed to get in the fifties again today. The sun is out nice and will be a great day with just a small breeze. Feels like winter is over and it's time to get outside and start the yard work. Better wait awhile just to make sure. Am run down again so will close with love and kisses and God bless you all. Dad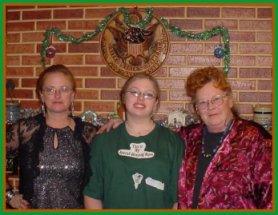 27 February 2005
Three weeks SMOKE FREE, mom and I both. Well a couple more days for me to be yet but aren't you proud. Been busy with the Swan equipment all week and guess I still have the touch. Was able to get the new, old 117XC power supply up and running and it sure is in good shape for a forty seven year old piece of electronics. Got the Swan 410C external VFO and adapter running also along with the Swan VOX unit and one of the new Swan 500C transceivers. Will try the 500C on the net today and get some reports. Still have the mobile power supply coming also so I can go mobile again. Is this a second childhood or what. The second 500C is giving me some problems as I think a part of the alignment is bad but I haven't the equipment to do that part. Will figure it out and the guys on the Swan net today will help. Went to Brad and Heathers this week for Heathers birthday on the 23rd and took them out to supper. Then Brad and I worked on his computer some afterwards. Mom has been busy all week rearranging and cleaning and sure is good to see her better again. She has an appointment Tuesday for a checkup and then maybe we will look at her angina. Have reorganized the Ham room and computer desk area so I can use more of the radios. When I get them all fixed I will have some stuff left over so what should I do with that. Hmmmm. Guess I'll figure something out. Got all the birds fed this morning and that was a feat as Brad came down last night and was up till 2 am working on his laptop. Got it going and messed up his PC so guess we are even. Go figure. Been all week picking up curtains, drapes etc for mom's rearranging and is starting to look nice. We won't let her know I said that. The weather is real nice for this time of year and makes me want to get out and do spring stuff. Had some rain this morning and temp is at 42 so what happened to February. We must not be in Iowa any more. Guess I have babbled on about nothing for long enough so will close with all my love till we meet again. Dad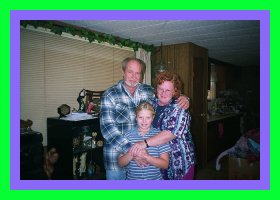 20 February 2005
What a week this has been. Mom is much better and 2 weeks smoke free and I have been 12 days. She has a real sore throat now so will get that checked to see what it is. I won my second bid on ebay that is the complete Swan station plus parts so am happy about that. Now I may bid on a linear amplifier for the swans and an antenna matcher then I should be done for awhile unless I need the power supply. Sshhh don't tell mom. Checked FedEx on line and the first radio should be here Tuesday. Got through the Van hunt for Brad and they got a 2000 dodge caravan. Sure is nice. Been on the radios some and sure is fun and need to take time for that a little more than I do. At least the Swan net on Sundays and Tuesdays. Helped Brad on his note book computer Friday night as the floppy drive don't work but no luck yet. We all went to an all you can eat fish fry in Halbur and then the kids spent the night here. Sarah managed to fall down the stairs and gave us all a scare. It's just amazing that we ever live long enough to grow up. I managed to stay up till midnight. That was dumb huh? Mom and I went shopping last night looking for curtains and rugs and such but did not have much luck. We may have to order the things we want if we can or get close and just make them. What has happened to the world and now they are remaking Bugs Bunny! That's just wrong. Had to set the live trap again as there are more cats out and roaming around and chasing the birds. My ISP is looking at high speed internet for us this summer so guess I will see what that will cost. Probably more than I want to pay. Will just have to see. Computer and all is running well so can't complain there. Guess this leaves me about run down again so better close till next time. God bless you all and keep you in his Grace. Love dad
13 February 2005
Week has been a blur and not much accomplished. Mom in the hospital from Friday till Tuesday and discovered it was Bronchitis not Pneumonia. Either way it was not fun and had some panic attacks over it all. Even after we got home. Mom is fine but still in panic mode along with me but better each day. We are both on the patch and quitting smoking or at least making the ultimate try. Mom has been a week and 3 days with no cigarettes and I have been 6 days so far. I took off from work on Thursday and Friday to be home with her. In one of my weaker moments I signed in to and joined ebay and bought a Swan 500c transceiver. Was a fair price if it is as good as shown and stated. Hope it wasn't a huge mistake. The Swan stable keeps growing. Need to find another Swan 117 xc power supply now for the radio. I found one on ebay but had been set up with new caps and the picture showed them hanging off the side and another one that had the bid at $200.00 which is twice or better than what it is worth. Not the best job or bids so am leery of these and those that say no way to test etc but say it operates fine. Guess it all depends on how bad you want it. Is this a second childhood or what. Am looking at another one that is a complete station plus other parts. Computer is fine and Windows 98SE rocks since I removed the accelerator. I didn't' get in a lot of trouble for the kitchen but guess mom hasn't noticed it all yet. Did get a new coffee maker as the old one has been leaking for about a year so I think that helped some. Had some more snow on Monday and then again on Wednesday so been moving some at work and at home. Oh Joy! Mom was feeling a lot better on Thursday so that sure is great. The breathing is better and the panic is less. Sure is crap to get old, hope it don't happen to me. YA RIGHT! Fed the birds some more and see some ducks are headed back with the warm weather but are confused and now are going south again with the return of the cold. Has been a mild winter so far but have March to get through yet. Brad and Heather had a nice trip and returned safe and sound. During the week the Car of theirs went bad so they are down to one car again. Saturday went car shopping with him and he may have bought a 2000 dodge caravan but will see on Monday when the loan credit thing is done. Also started the bid process on ebay for the ham station and am the winner so far so will see how long that lasts. Guess I have rambled on here about nothing for long enough so will close with love and Gods blessings. Dad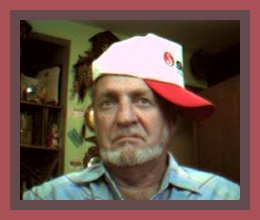 06 February 2005
It has been a very crumby week for us here at the ranch. Mom and I both sick with colds, and flu. Missed some work and then on Thursday night mom got so bad and short of breath that Friday I took her to the doctor regardless of her complaining. It's good I did as the Doctor immediately put her in the hospital with Pneumonia. Her oxygen levels were really low and one lung congested real bad. She was better on Saturday but the oxygen level still to low and doctor is keeping her till today and maybe more depending on how the progress goes. I'm better with just the stuffy, achy, fever, headache, coughing, so I can't rest symptoms. Wait a minute there might be a fix for that. If I get a little better I should be well enough to die. Had fun Saturday as I went through the kitchen and cleaned, organized, got rid of junk and so on. OKAY so before mom gets home and sees this, on a scale of 1 to 10, how much trouble am I really in. Guess I'll blame it on the fever. I went in to visit mom several times on Saturday as it is real boring with her not here. Weather has been real nice and warm this week sure wish we could have enjoyed it. Brad borrowed our van to take Heather and the kids to the cities for the weekend so hope they are having fun and no car troubles. Had the tax appointment on Monday and we owe more taxes. Just great HUH. Why is it the less money you make the more taxes you pay. I think I would vote for a flat tax rate on a simple form for Families, businesses, and any one that earns a dollar in America. The form could be real simple, Line 1 how much did you earn this year, Line 2 send IRS 5% of line one, no exemptions, depreciations, or declarations. Form done and the IRS will have more money than they do now, then run it like my budget where if I don't have it I don't spend it, and the deficit would be gone. I guess the economy would go to pot with that kind of thinking according to the economists. Oh well it's a good thought. While I'm here might as well add the Social Security issue. I support President Bush 100% but not his plan for social security. We tried the similar plan here in Iowa with the Iowa public employees retirement system and most that opted for it want back to the old way. I did not choose it. Besides then you have to watch all stocks and markets for the best gains, look out for all crooks and scams that are after your money and even on a good day you can lose it all, and all this, at a time in life when the memory is getting short. Lets just quit spending it on things it wasn't originally intended to be used for. WOW guess I been on the soap box. Rain predicted today, and it has started, turning to snow tonight and tomorrow and Tuesday. Up to 4 inches. Guess I have babbled on enough here so will close with all my Love and best wishes. Dad.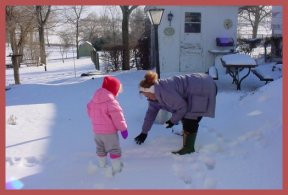 30 January 2005
AH Snow Beautiful snow. Another week has passed and we got most of the farm stuff done and a lot of the taxes so I guess all is well. Mom was sick Wednesday so made her supper and sent her to bed early. Just wore out I think but was better the next day. I think all our get and go done got up and went. If you see it please send it home as we miss it. Had a couple days of January thaw but now back to about 25 degrees. Computer still great and all systems go. Still haven't heard from my ISP on the accelerator so guess I will just get rid of it and save the $2.00 a month. They always are there quick to sell it to you but never there if you have issues. Why is it I don't remember that stuff. What world am I in. It's kind of like my getting the peanut butter from the store, They have creamy and extra crunchy but no crunchy. How can you have extra crunchy unless you have crunchy I ask? Or when you get a pizza from a pizza parlor and they have medium or large. How can you have a medium and large with no small I ask? I can see a small and medium with no large size. Did I miss part of the English language skills in school? I was pretty sick Saturday and Sunday so am really late with this. Still have the tax to finish as I have an appointment for them tomorrow. Guess this will be short and see you next Sunday. Love Dad.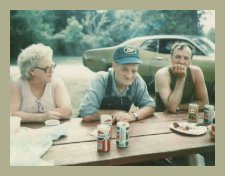 23 January 2005
The week started off with a temp of 18 Below 0 on Monday morning. Since Monday was a holiday I got the day off and did some trapping. Just cat as there are some wild ones here and they eat my birds. Got a small path cleared on the patio to get to the rest of the bird waters' and feeders. Had to run into work also as some heat was not working. Managed to mess up the computer but got it back going and am working with Zone Alarm with some conflicts they have with my system. Found out it was may card reader for the camera. Removed the program and the problems disappeared. The online new version update does the same thing so will just load from camera as that works fine. Really got windy during the week but the temp warmed up. Had to run into work Friday night also as the boiler went down at 2AM so had to reset it then back to work on Saturday for half a day for some ICN classes. Friday night and Saturday the winds were really bad with gusts to 60 MPH and white out conditions. Friday night when I went in I had to stop twice. My life is so exciting. Mom got the gifts done (sleep shirts) and given to the girls and they sure liked them. Caught one cat but still have one that is wandering around the yard. Computer crashed but got it all back okay and runs better than ever again. The internet accelerator I got from my ISP kept checking the use proxy server block for my connections and eventually crashed it all. Took it off and got everything back. ISP is checking why but think I will just forget it. WIN 98 SE Rocks. Old is good just ask me. Also installed the Ethernet card and SATA raid controller and and all is working well. Mom is finally getting down some of the Christmas decorations. I said if we wait some we can just leave them till next year. All in all has been a busy week with a lot accomplished. Still have to get the taxes completed so guess I better get busy on them. Till next time all my Love dad.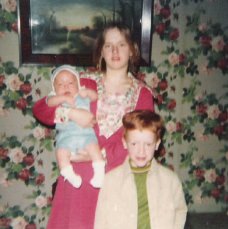 16 January 2005
Those were the days my friend
We thought they'd never end
Another week has passed and it sure is cool here in Iowa. The weather has turned chilly also. Haven't heard from Zone Alarm yet on the computer problem so maybe will Email them again. It is working fine if I don't load it at startup so no big problem other than remember to start it before I get online. All else seems to be working fine. Got all my microphones checked out and all work fine so now can start on the audio hum in the 350 and the cleanup and alignment of the 240. Both are working well, I guess I just want to work on them. Mom has been busy all week with some of her projects for the kids and they are coming along nice. Tammy & Crystal came down Friday and Mom and they went to town for girl stuff while I had to slave at work. We watched a movie Friday night with them so had fun there. Still don't have the patio cleared of snow but Mother nature will clear it if I can't get to it before spring. Have paths through the snow and such to get to the bird feeders and waters so it will all work out. Had a big warm up yesterday and the temperature shot up to 0 degrees. WOW! I just love Iowa. Weather man is predicting 30 by the middle of the week. Crystal got signed into MSN messenger and have been able to talk to her twice now and that sure is neat. She is going to join Lewzplace also so that is cool. When you see her there make her welcome. It's tax time again so have a lot of things to put together there but should get it done in time. The birdbaths and feeders are full of birds and mom and I sure enjoy that. Not much more this week so will close with my love and Gods blessings. Dad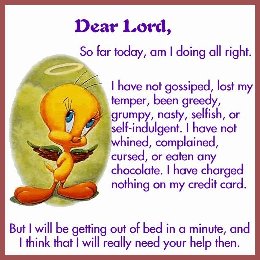 09 Jan 05
SPRING HAS SPRUNG
FALL HAS FELL
WINTER IS HERE
AND IT'S COLDER THAN IT WAS LAST SUMMER
What a week this has been. After the journal last Sunday I had to go to work and treat the walks and drives for ice as we had freezing rain. Then Monday in some early to treat for it again and then some snow on top of that. Then Tuesday some more snow to move. Wednesday in at 4AM as the snow came again and then on Thursday in at 5am as it still came down. Six and one half hours on Thursday just to get walks and drives clear. Then a trace again on Friday to clean up. In all about 10 inches of snow and we closed early one day and opened late the next day. I have places that ache that I didn't even realize I had places. I just love Iowa. Finally discovered why I couldn't format my floppy drives or explore the other drives with the right click on the icon. My anti virus was causing a conflict. If I don't load it at startup it works just fine so will contact Zone Alarm as to why. I guess floppy drives are going away any way so I got a couple of jump drives for the USB ports and they are really slick. One will hold about the same as 100 floppies and they are very inexpensive. Aren't you proud of me Matt it's a small step into today for dad. Not upgrading the ham radios though as I still like the performance of the old and the glow of the vacuum tubes in the dark. Got the two microphones I ordered and they are just great. One is a vintage Swan mic made by Shure brothers and the other is a Shure model 450 which is a perfect match for my WRL Sound off SB 44 also made by Shure. All about 40 years old give or take. Also have the Astatic D104 amplified mic but it is just nostalgic as the swans don't need the amplification but it works well with them. So you ask why do I need all this equipment and I don't know I reply. It is just fun and a great hobby. Kind of like the 1937 Philco floor model radio in the wood cabinet I listen to while on the computer. You can't match that audio sound or quality from the wood and vacuum tubes, in today's equipment. I got out yesterday and did some work on the snow blower as it had some bent blades on the impellor from getting in the gravel to many times. I then blew out the drive way so am almost clear here at home also. I guess I have rattled on enough for now so will close for this Sunday wishing you God's blessings. All my Love. Dad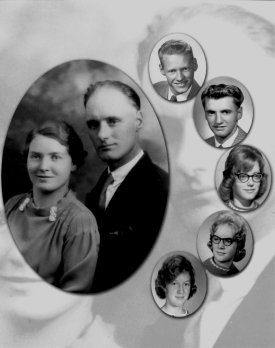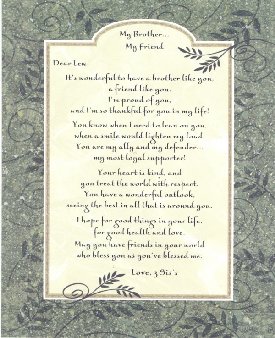 02 Jan 05
WOW!!!
What a season this has been and what a week. So many things to be thankful for and blessings received. How about this picture from Teresa and kids, or the plaque picture from my three sister's as it has left me overwhelmed. Crystal has spent the week here with us and we have spent feasts, gatherings, gifts, visiting with friends, family and on and on together. Mom still puts up with me and thinks I'm great, she must be a redheaded Norwegian, so my life is perfect and I thank the lord for that. Have put up all pictures, clocks etc in the Ham room and even moved in a table and repaired an old clock that died on Christmas day so it could chime in the New Year and even started on the build it yourself wood clock Matt gave me last Christmas. It is really neat but the German/English leaves you guessing a lot so can't go to fast. Was going to have it going for the New year's eve ringing in but didn't make it. Did get it done on New Years day so it did chime on 1 Jan 2005. Had some snow on the ground for Christmas but is gone again and some ice this morning but was in the 50's Friday. Tammy and Ben came down Friday and helped us ring in the New Year and to pick up Crystal and we played games and ate food again and I stayed up till about 01:30. Can you believe that. Took some time off this break and have done absolutely nothing. Is that great or what. Spent a day at Brad's helping him put some of his toys together from Christmas so now I know where to get a compound miter saw when I need one. Worked on my radio mic's some but have found two online so I will get them and then go from there for the others. Tried to get another radio but it was already sold cause it was a great price and a terrific Swan 350 from the middle 60's. I guess this leaves me run down for now so I hope you had a wonderful Christmas and have a great New Year. God Bless you all. Love Dad