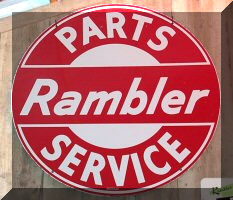 Little Nash Rambler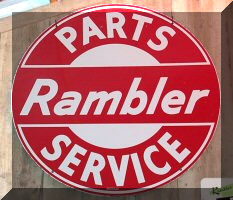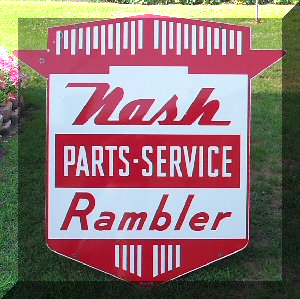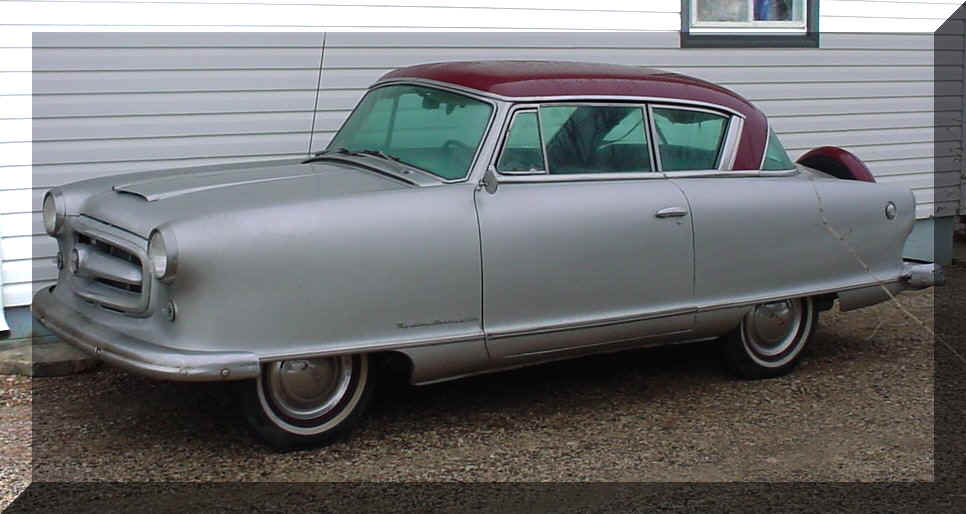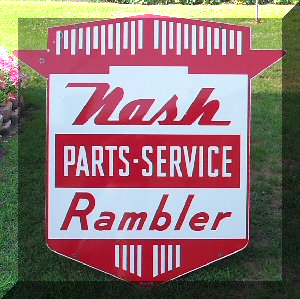 Beep Beep, Beep Beep, His Horn Went Beep Beep Beep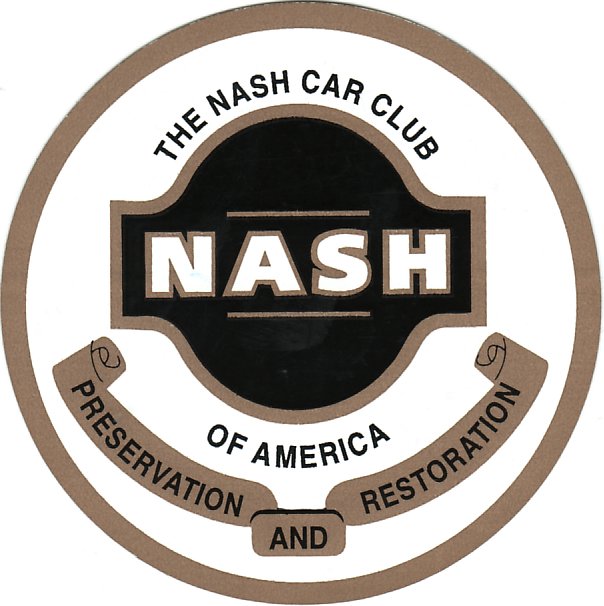 1953 Nash Rambler
Country Club
Odometer 18,758
Model # 5327
Serial/VIN # D149531
Body # 8-22176
Trim # 161
Paint # 20-51
My guess would be that this all started many years ago in a far away place that now only resides in a dark and long forgotten corner of my mind. Be that as it may I recently saw a 1953 Nash Rambler Country club Model # 5327 2 Door Hardtop with continental kit for sale and the faded memories emerged from that dark corner and headed back to the surface of my mind. I have owned two of these in my life and just as soon as I seen it, the mind started working overtime with prodding's like you really need this and remember that.
The first one I owned when I met Mom/Mema and we had our first, sort of almost date, as I could only meet her with her parents at the bowling alley and we got to go outside to see my car and visit. Another time later on we got to drive in it to the store a few blocks away to get some Ice cream for the family and I made many trips to the cabin in it to see her. I can't remember if we really got to have a real alone date with it or not as that was many years ago but we did get to ride in it to the farm up the road from the cabin for some water and milk from time to time and I think we got to go Alburnett once for a pop with it but since she/mom/mema was so young her sister had to come with us on all those outings. This would have been around 1959 when she was 14 and I was 17.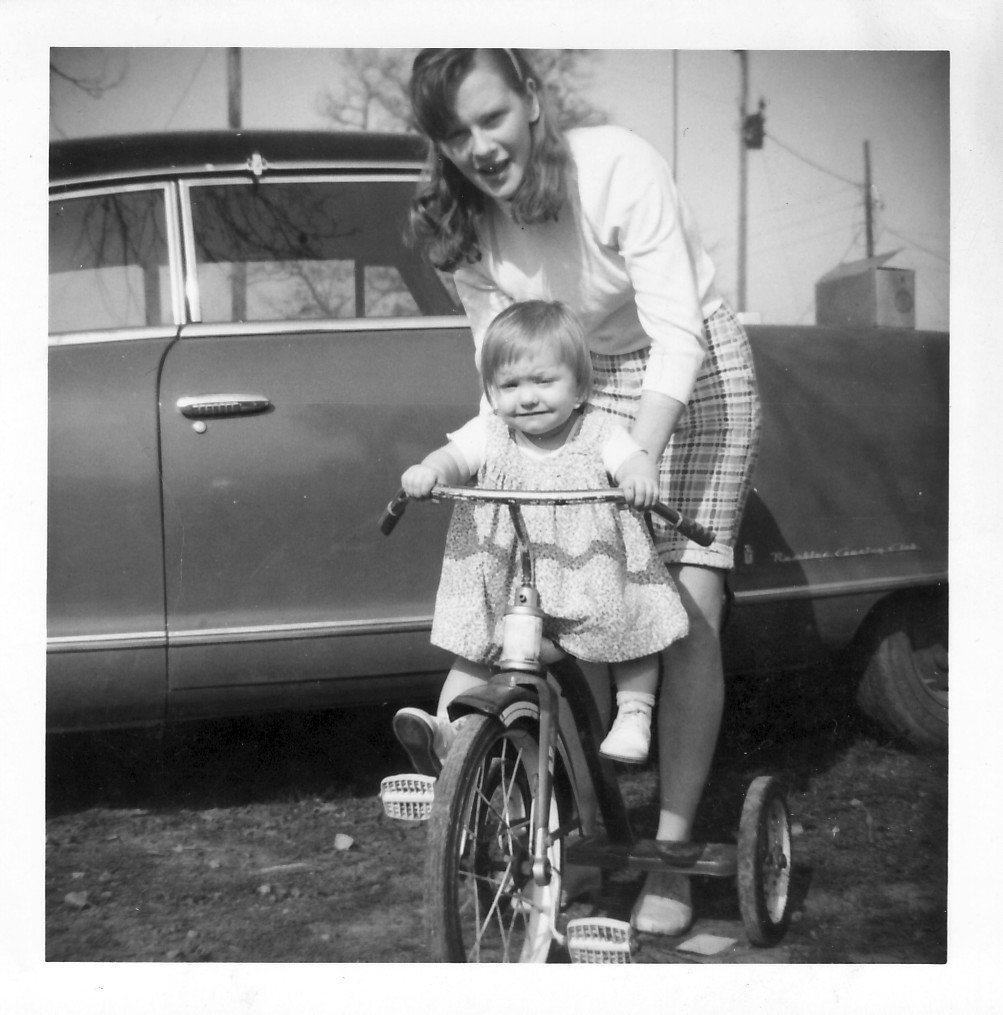 The second one my wife and I owned from 1963 to about 1965 and as you can see in the picture it was 1964 and our daughter was 1 year old and we have been married 2 years. The shiny thing above the glass there by the passenger side window was the child lock so our daughter could not open the door from the inside. Wow what technology right. We traveled around Oregon in this one and made several trips to Iowa in it. Both were wonderful cars and furnished us many fond memories like trips to the hot springs out by Crane Oregon, or camping at poison creek just north of Burns but we will not go into the details on either one of these and then outings to Bend, John Day, and a forgotten ghost town, or a lazy summer day by a lake with friends and many more.
The first one in 1959 was an automatic transmission and was red with black top and the second one in 1963 was a manual transmission with overdrive and was also red with black top and this one in 2008 is a manual transmission, no overdrive and is gray with red top. We now have made a full circle as I have purchased this one with the hopes of restoring it and reliving some of those wonderful memories from a bygone era with my wonderful wife of 46 years and my 3 children, 12 grandchildren and 3 great grandchildren.
Let the saga begin.
20 February 2008. Have gone a little overboard and purchased a 1953 Nash Rambler, Model # 5327, which is a two door hardtop with the continental kit. Gave too much money for it and it needs some work so time will tell.
23 February 2008. My son Bradley and I pulled an all niter and went to Centralia Illinois to pick up my car. Was a long haul but weather has cleared for a day or two and one of the first memories with the new purchase has been enacted. I had a great time and sure enjoyed the company and help. We took turns driving to get there and then slept in the van till the U-Haul rental place opened to get a transport to get it home. We got breakfast and then loaded the car and took turns driving home arriving there in the evening on the 24th.
28 February 2008. The seat covers, carpet, headliner, wear on petals and things appear to be original and by there appearance I would almost be led to believe that the mileage on the odometer is actual. To me that would be very low miles but some other small things would make think it is more. If it was more then it was well maintained and garaged most of its life because the body would be totally gone after 55 years if it wasn't. Maybe I can find a history on it to find out for sure. Anyhow the headliner is shot and will be replaced and the rest is really faded but all intact and in good shape.
01 March 2008. The hood ornament was missing so bought one on Ebay but the wing part was missing so have learned to look real close and ask many questions before proceeding like that. It looks real Kewl on the car and will search for the wing part or the whole ornament later.
02 March 2008. Car is really running rough and poorly so put in new plugs for some improvement. Tried to set timing but is rather funny and bouncing around.
03 March 2008. Car has been converted to 12 volts and what a disaster that is. All they changed was the Generator, Regulator and some light bulbs. Have pulled the clock for service as it does not function now and also pulled the radio as it does not function either. Found a fuse blown in it so hope the hitting both of them with 12 Volts hasn't done serious damage.
04 March 2008. Purchased and installed some linkage clips for the accelerator linkage and repaired and installed the accelerator pedal.
08 March 2008. Brad came over to help me work on the car and we put on a new exhaust system and some gaskets in the manifold. We also did some small tune up stuff and it sure was fun and was glad for the help and company. I got the wrong Muffler as it is a resonator and is a little loud. I will correct this later.
12 March 2008. Performed a compression check today and it came out okay. It has been run so rich that some of the cylinders were low but all within specifications and close on how far apart they should be. #1 -122 Lbs #2 - 125 Lbs #3 - 135 Lbs #4 - 125 Lbs #5 - 130 Lbs #6 - 140. This is over ten Lbs from high to low but believe it will even out once the cylinders get lubed well after being run to rich and washing them clear of lubricant.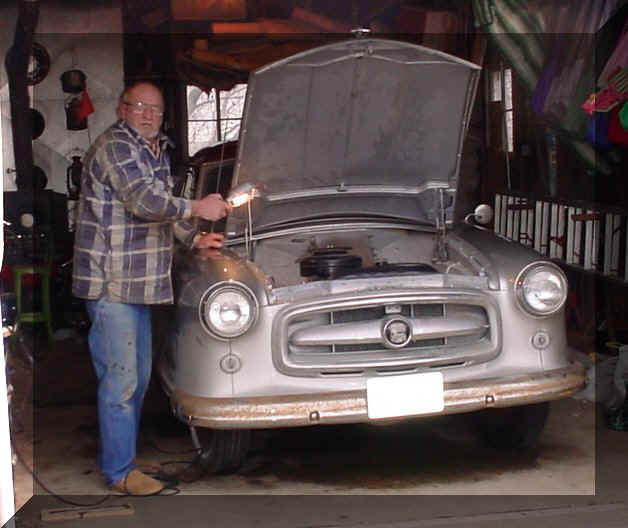 13 March 2008. As you can see by the bumper it needs some cleaning but appears like it will all clean up with some chrome cleaner/polish and a good buffing. The rear bumper however is a different story as it has some holes rusted through it. There are other issues that were more than I thought but will work okay I believe.
14 March 2008. I got the title, License, Insurance for the Rambler. Noticed the title and insurance papers were incorrect so went back for corrections. The insurance was corrected but need to do the title later for clarification. My Plate will be Bep Beep as all the other ones I wanted were gone. I wanted Beep Beep but that was too many letters and Bee Beep, and Be Beep and B Beep and so on were all gone. Guess there is another goofy person out there like me. It was meant to be Beep Beep His horn went Beep Beep Beep hey buddy how do I get this car out of second gear. About the Little Nash Rambler and the Cadillac.
16 March 2008. I finished the exhaust today with and extension to get the tail pipe beyond the bumper.
17 March 2008. I have found more rust than I was led to believe it had but still is not real serious although will need considerable work.
18 March 2008. Put on new rotor, condenser, points and cap today and it sure helped it run better. Got the timing to set right again.
19 March 2008. Repaired the clock from the 12 volt hook up and the years of none maintenance and it runs great again and even cleaned up real nice. I am still checking on the radio. I picked up the new corrected title today.
20 March 2008. Greased, oiled and assembled clock again. Discovered today the points are getting burned again and found they had left that all as 6 volt stuff even the coil. The only things changed were a few light bulbs. Oh Bother. I can make it go good now and get all the right gauges going again as someone installed an after market temp gauge that looks really goofy.
21 March 2008. Started work on these writings as a web page and journal about the Rambler to keep track of and share the progress of it's evolution process with family, friends, and interested persons.
23 March 2008. Pulled the radio all the way out and found a fuse blown and on further checking found the vibrator shorted because it had 12 volts applied to a 6 volt vibrator. Then to even compound the issue I found that the person that converted to 12 volts did not understand electricity and put the battery in backwards as this is a positive ground system and they put it in negative. Mostly not a problem if they polarize the generator but things like the radio and such do not like the voltage going the wrong direction.
25 March 2008. Found and ordered a new vibrator and it is a solid state one for the radio.
26 March 2008. Found and ordered a new 6 volt regulator for the charge circuit.
27 March 2008. Picked up the regulator and bid on a generator on Ebay for the rambler. If I win that I should be able to get it back to 6 volts and then will get the points, condenser and stuff again and put it back together. Also found a coil for it since this one had been hit with the 12 volts will get a new one and then good to go.
29 March 2008. Got a web hosting so should start getting this all together soon with a page for the rambler updates.
30 March 2008. Won the auction on Ebay for a rebuilt Generator for the Rambler so will get it sent off tomorrow. Hope it was a good buy as it was only $50.00 and was rebuilt.
1 April 2008. I received the vibrator for the 6 volt radio so should have that going soon. Have been checking on the lead additive and stuff.
2 April 2008. Am told that the lead additive is not really needed but believe I will use it just to be safe. I can remember when they went to lead free gas all the problems some of the cars had with it.
4 April 2008. Radio is going good now after some capacitor replacements along with the vibrator but it needs an audio output transformer so it will get full volume.
5 April 2008. All is converted back to six volts except I do not have the generator yet so am just running on the battery and it is running much better. Do not even have the generator or regulator hooked up yet but have a new regulator as soon as the generator comes. Put on a new coil, points, condenser, and plug wires and switched back to the positive ground with the new battery installation.
6 April 2008. Was my birthday and my got wife got me 5 books for the Nash. They are and old Chilton's collector edition still in the wrapper brand new for 1940-1953, The Nash Technical service manual, the Rambler body service manual, the 1953-1954 Nash technical service manual supplement, and the 1950-1960 rambler Collision parts catalog. They are really super nice reproduction manuals. WOW!!!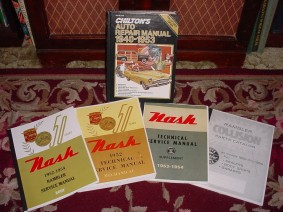 7 April 2008. Did some more adjustments and put in some carburetor cleaner as it is not well. Decided I need to do some serious cleaning or get a rebuilt carburetor for $200.00. Will try the serious clean stuff first. Received notification the generator is shipped so should get it this week.
8 April 2008. Got some spray Carburetor and choke cleaner and removed the idle mixture adjustment screw and sprayed it full along with the intake and choke plates and throttle linkage and such and let it set about 10 minutes. Blew it all out with air and put the parts back and started it up and then ran the idle up and started to spray the intake to get it in the gas bowl and throat assembly. After several application like this it has started to run real sweet and the idle adjustment is working again and the timing is much better. I may get it revived just the way it is as it has much power now and really runs good. It ran so rich from before that I need to change the oil again as it is very thin. I believe it will come back to great without much problem and just needs some road miles to work it out good. What an amazing vehicle and it is 55 years old.
10 April 2008. Carburetor went back to bad so needs rebuilt. Found a kit locally from Arnold Motor Supply and ordered it. Received the generator and it did work but was a poor rebuild job. It put out okay but the brushes arced so bad it would have eaten them in about a few hundred miles. Found the Armature was out of round so turned it and then got a bad arc on one lamination. A close inspection there showed a wire to that segment was bad so got it welded back and it is all fine again with no arcing.
13 April 2008. Got the generator and all electric back to correct, polarized the system and started the car. It all works great and charges great. Contacted a lady about 30 miles south of us that restores the upholstery and in side cars with her husband and kids and might get the headliner fixed there as she said she does it all and will be original as it can be.
14 April 2008. Got the carburetor kit but when I seen all the small springs and things I decided to take it to a buddy here that still does that kind of thing for cleaning and repair.
15 April 2008. Carburetor is in the shop for rebuild so may be a day or two before we can check it. Called Steve Kerkes, one of the MOL's from the Nash car club and will be getting a glove box and maybe some other missing parts I need.
16 April 2008. Got the carburetor back and installed and it works just great now. Walter Rose did a real good rebuild job on it and now the timing is set good and it runs like a top. Next is the water pump as it has a leak and need to fix that before any trips of any length. Things are coming along nice. In checking for the leaks and such I found 4 holes drilled in the floor like for seat belts. This car did not come with seat belts I don't think so will do some checking there. Maybe some of the NCCA members will know.
18 April 2008. WOW, got most of the lights back in correctly, got the radio working along with the clock so that is great. Need to get a 6 volt flasher for the turn signals as I forgot that and the 6 volts won't operate the 12 volt one. Have dropped all the tire pressures back down to 24 like they should be, instead of 32, so my ride should be better now. Sure am finding a lot of incorrect things done to my little Beep Beep.
19 April 2008. WOW WOW Double WOW. Got it all back to 6 volts and just need to get the door switches working so the dome light functions. The switches are either gone or knocked back in the frame work as there are just holes where they should be. Need a new flasher also for the turn signals to slow down. Will need to get all the grounds cleaned well for it to work good. Ran it to town for work checks and it sure is running sweet now. What a car. Lots of work yet but what fun. Did receive the trumpets and such from Verne and was able to repair the long trumpet and got that going. What fun.
24 April 2008. Been rather slow lately and not much done but did get the radio back in after the audio transformer so it is working good.
29 April 2008. The horn relay must be bad or I have a bad connection some where as they are not always as loud or clear as when I just hit them with the battery voltage. More to check here.
7 May 2008. Got call from Karen's upholstery and she has found the original material and will get it and do the job for about $600.00. I told her go ahead.
15 May 2008. Got a rubber filler for an auxiliary gas tank and adapted it to the filler for the Rambler. It will work well until I can find the right one. Got one from a 1950 from one of the MOL's but they are not the same so it wont work. May just have one built if I can't find one.
25 June 2008. Did a chrome clean up on the Rambler and did it ever come out nice.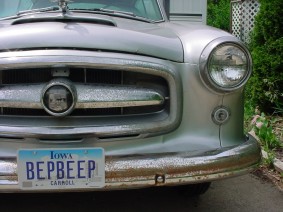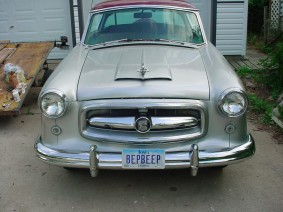 10 June 2008. Got the horn relay working so may be good there. Am doing grounds and such for all the clean up stuff.
1 July 2008. Took car to Karen's Upholstery in Gray Iowa for the headliner replacement..
14 Sept 2008. Most of my work came to a standstill as took the car to the upholstery shop for the headliner and just got it back 2 weeks ago. Took it to church this morning and noticed 2 holes in the material just above the wing windows on both sides so called and will take it back. The price went up tremendously to $947.00 so she better make it good for that.
3 September 2009. Finally got and installed the wings for the goddess hood ornament so now she is great and no longer naked. WOW making progress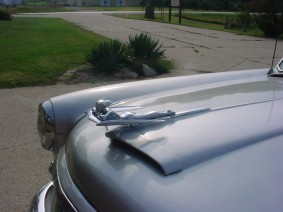 27 Feb 2010. Wow have not posted for a long time. Busy with retirement, Matt's old truck and all but did accomplish much on the old girl. Got the horns working great. Received and installed the aluminum foil element for the air cleaner. Rebuilt the radiator and added a overflow tank. Have not taken the headliner back but may not as it is to much headache and it is just a driver so don't need perfection. Patched two cracks in the block with some JB Weld and that is holding great. That is marvelous stuff. Changed out the gas filter and cleaned the lines. Added a battery disconnect and a charger for the winter storage. Redid the generator as it was acting funny and reset the regulator. Set the toe in and it sure is better tracking now but still need front end parts and repair. Installed the parking light lenses. Cleaned out the heater core for more heat and now need to work on the fan control. Drove it on many outings since the last post and sure have fun when I do. Used it for a trip with the RPM club and it was sweet.