ORCUTT
YOU GOT IT FROM YOUR FATHER, IT WAS ALL HE HAD TO GIVE.
SO IT'S YOURS TO USE AND CHERISH, FOR AS LONG AS YOU MAY LIVE.
IF YOU LOSE THE WATCH HE GAVE YOU, IT CAN ALWAYS BE REPLACED.
BUT A BLACK MARK ON YOUR NAME, SON, CAN NEVER BE ERASED.
IT WAS CLEAN THE DAY YOU TOOK IT AND A WORTHY NAME TO BEAR.
WHEN HE GOT IT FROM HIS FATHER, THERE WAS NO DISHONOR THERE.
SO MAKE SURE YOU GUARD IT WISELY, AFTER ALL IS SAID AND DONE.
YOU'LL BE GLAD THE NAME IS SPOTLESS, WHEN YOU GIVE IT TO YOUR SON.
AUTHOR UNKNOWN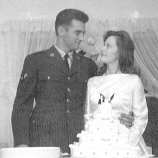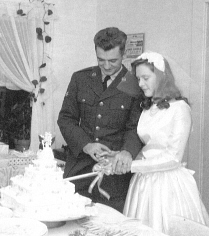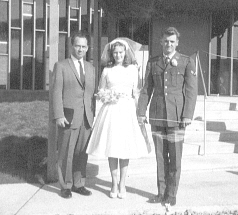 The Lewis L. Orcutt Family was born at 10:00AM on Saturday November 10th 1962. It was a warm sunny day and the world was alive with music and filled with joy, hopes dreams and excitement. The new life beginning would be filled with many wonders and have hard times and fun times and be as memorable as the great wonders of the world. This is a new beginning, The Next Generation,
Generation 10.
The City Gal meets the Country Bumpkin
LET THE JOURNEY BEGIN.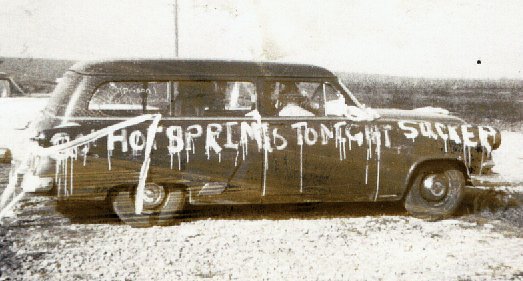 Off to Burns Oregon
The car is all loaded and ready to go, all the final goodbyes are said and my new bride and her sister and myself are headed for Oregon. The first leg of our journey takes us through Cedar Rapids Iowa and we have traveled Approximately 15 miles when all decided we were hungry. We had just eaten before leaving but we pulled over by the drive in movie theatre and had a picnic lunch of fried chicken. This started a tradition that lives till this day. Back on the road and made another couple miles and the girls needed to go to the bathroom, hence another tradition. There will be many more but as we leave Cedar Rapids the first large billboard we see, Lady Bird hasn't killed all them yet, was a sign for Little America 800 and some odd miles. Also many Burma Shave ads will be seen along the way. Our choice of roads was Old highway 30 and we had a State Farm road atlas furnished by Chuck Kent our state farm agent. We are finally out of town and there are many things to see as we travel along. First was the old midway point to Toledo, which is no longer there, and then a stop at Toledo for a dairy queen. We passed Pilgrim heights, Legrand, and on through Marshalltown. Most of the highway still had the old curbs along the edge of the road and was very hard to keep the newer cars between them and the centerline. On to Ames and eventually through Carroll, Not even guessing that some day this would be home. Somewhere here we stopped for lunch and had some more of the chicken our moms had made for us. We got over by Missouri Valley and found several roads with 30 signs and were very confused. Needless to say I chose the wrong one and had traveled about 40 miles and had to backtrack. From here on Carol was navigator and copilot and another tradition was born. It was always so cute how she had to turn the map in the direction we were going but still kept us mostly on track. Since we are back on the right road and we are getting tired we decided to stop for the night. Motels were Like $3.00 a night and no way could we afford that so this night we slept in the car. As the back of the car was full clear to the front seat with only a small space behind the front seat by our heads, Carol's sister slept there and we took turns setting and laying on the front seat. Sunrise came early and we started out again. First stop would be some breakfast, bacon, eggs, and hash browns, almost 0.40 cents. Here would be another tradition but it sure was expensive. Oh well we needed to eat but at this rate we will be broke before Oregon. We are in Nebraska now, and the scenery has sure changed, many stops along the way at petrified forests, rock shops, Indian shops, Reptile gardens and much more. One such place was the Reptile Ranch, and we stopped at many them, as they were marvels. Yes just tourist traps but so intriguing.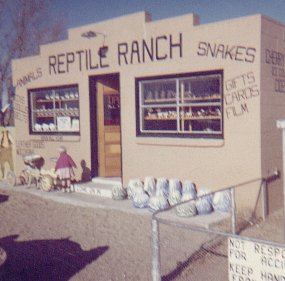 Yes this would be another tradition, stopping at all the shops like this along the way. Also another one born here when we got Carol a pair of Indian moccasin's for $1.98. She wore them many years from then on and we would get them almost every trip we took. We traveled through Fremont, Columbus, And Grand Island where we took a side trip to see the Harold Warp Pioneer village. It was really amazing. We saw the pony express station at Gothenburg, finally arriving in North Platte. Here we were able to get a Hotel room for $1.50 so stopped here for the night. The room was on the second floor and we parked the car on the street below so we could watch it. In the morning when I carried things down I seen we had a ticket as your car had to move before certain times. Needless to say it took some doing to get that taken care of. But breakfast is done and back on the road. Hadn't went very far and there was the Buffalo Bill Ranch we had to see. As we travel along after leaving the ranch we see still more signs for Little America and think this must be really great. Also many of the Burma shave signs. On through Ogallala, Sidney, and Kimball through the highest point in Nebraska at 5,424 feet to arrive in Wyoming. On through Cheyenne into Medicine Bow National forest and a picnic lunch and the start of the foothills for the Rocky Mountains. Through Laramie and past Elk mountain at 11,156 feet. Somewhere along here we decided to climb some for a better view.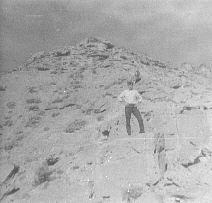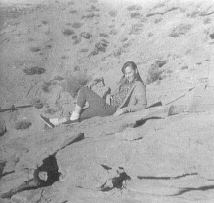 King Of the Mountain Queen Of My Heart
After this climb on to Rawlins and many more small tourist stops through the Great divide Basin and Rock springs to Green River where we spend the night in a quaint little motel by a stream. The excitement is getting more and more as we are about 800 miles into the trip and Little America is just about 30 miles ahead. The Motel is so quaint and charming nestled in the trees in a small valley or ravine next to the small stream that we gave $2.50 for the night as we were caught up in the area charm. We didn't sleep much that night as there we to many things to do and see. Some memories to be made also. In the morning we all started early and had the traditional breakfast, me sausage, eggs and hash browns and Carol and Kay, bacon, eggs and hash browns. As it was late the night before, when we arrived, we seen some of the sights but wanted to get to this Little America place so started off. That seemed like a long 30 miles but finally we arrived, after all the guessing and wondering what we would see, at Little America.
WOW!!!
Our car is parked just under the Little America sign and it is a large souvenir shop, with motel and a gas station with 57 gas pumps. Not what we expected but was still very nice to see and check all the sights. After buying a few souvenirs some pop and snacks it was time to hit the road again. Now heading somewhat north through Kemmerer to Fossil Butte National monument for a short stop. Then to Montpelier Idaho, and on to Soda springs, where we seen a small ghost town along the way.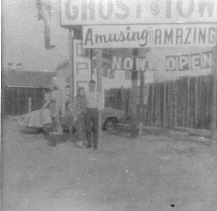 GHOST TOWN
We traveled through some very Scenic Mountain View areas and Lava Hot Springs finally arriving in Pocatello Idaho.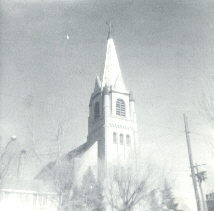 Leaving Pocatello we travel along the Snake River through American falls and Saw tooth National forest and see Massacre rocks scenic point. We are now along the Snake River plains on into Twin Falls and Buhl where we see Balanced Rock. From here it is through Hegerman Fossil beds and arriving in Mountain Home Idaho. My first reenlistment will happen here about three years from now but we didn't know this yet. We spend the night here again and then on through more very scenic points of interest.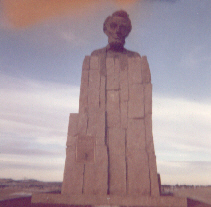 Now we have arrived in Boise Idaho and are able to see the State Capitol.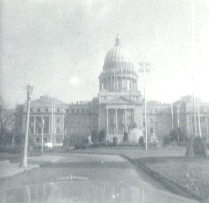 After Leaving Boise we travel through Nampa, Caldwell, Emmett, and Ontario arriving in Vale Oregon and are about 150 mile from Burns.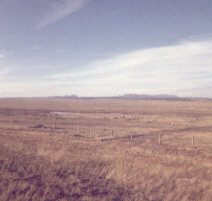 We are now in the high Sierra Desert and the scenery sure has changed. We have changed to Highway 20 and are excited and somewhat nervous as we near our destination. What can we expect, will we make it here, and will we like it. These thoughts run through our minds as we travel through Harper along the Malheur River. We pass though Juntura up over Drinkwater pass and on over stinkingwater pass and stop at Ords service station for gas about 30 miles out of burns. Here we have a snack at a rest area and see a rancher stop in with a rattlesnake he caught in a glass jar. For some time now the landscape has been open range and miles and miles of only miles. It has been only mountains since Vale and not much to see except open range. Now as we leave Ords we make our final descent to the high sierra desert floor and arrive in Burns Oregon, our very first home together and the beginning of our new life. The population in around 3,000 and Hines right next door about 1,000 and the closest city of any size is Bend, Oregon about 100 miles west and north. Main Street is about 1 block long and has one stoplight and several stores. After checking in at the Base we start our hunt for housing and decide on a small duplex apartment on Monroe Street with a living area, dining area, kitchenette, bath and two small bedrooms. It will cost us $65.00 a month. It was about as cheap as we could get but not sure how we could afford it. Now That we were married we would get $150.00 a month so would have to make do. We spent Thanksgiving on the road and Christmas is fast approaching so we set about in earnest to get things ready for Christmas. I have to be at work and Carol is busy setting up house. We will not get our full pay for about thirty days and my check of $75.00 will not go far after rent. She uses some old apple crates for end tables and some boxes for shelves Etc. She has set up a very nice home for us and we are both so excited. After the trip and all expenses we have about $20.00 for groceries for the month so Carol is off to the store for food. When she returns she has things like some pots and pans, broom, nylons, and some macaroni and cheese and popcorn. Our first lesson in economics is presented in a rather harsh manner but in a way we will always remember. Macaroni and cheese and popcorn do not go well with every meal for 30 days but we survive on love. The house is pretty much in good shape as Christmas approaches and we have waxed the floors got a tree and pretty much settled in. Some of our pay has arrived so we have about $10.00 each for Christmas shopping on Christmas Eve. We got some bubble lights for our tree, that we still use today, and our gifts for each other.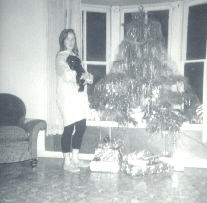 Carol, Cuddles & our first tree
This Christmas was a very good Christmas as it was our very first and Carol's dad and sister were there and we now had a dog-named Cuddles. We got many things we wanted but most of all just being together was the best gift yet. I should add here that you can see the chair in the left of the above picture and there is a small story here. One stormy night with lightning and thunder when I came home from work I found Carol setting in this chair with several dogs and cats and am not sure what else. The story was that they were scared of the storm and lost etc. There were some in her lap and some on the back of the chair by her head and some on the floor. I figured here that she really loved animals and I was in second place. Hee Hee. There would be many more wonderful pets as the years pass. We started to settle in after Christmas and New Years and spring came at last. One night in spring we found some drunk Indians sleeping it off in the back bedroom and decided we probably needed a lock on the door. We seeded the lawn and did some yard things and the love for gardening started. We had some picnics and found and old abandoned swimming pool at a hot springs about 20 miles from town. This was a fun and favorite place for many reasons. There were some abandoned, Aframe houses, there also. Long about April we got the news of a wonderful event to take place in about November and we were so excited. We were going to have a baby. Life continued on and we had a very special meal to celebrate the upcoming event.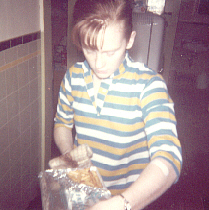 Hee Hee
Sorry Hon but just couldn't resist. I'm a bad, bad boy. Somewhere here during the spring or summer the transmission in the old ford gave up and rather than fix it we got a loan and purchased our 1957 Plymouth belvedere. We had many picnics and made new friends and made plans for our child and the future. Towards the end of summer our dog Cuddles had puppies and now had seven of them deal with.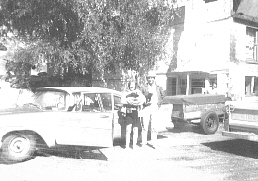 7 Months along and 7 puppies

We figured here that since the time was getting close and the car didn't have a spare we should get one just in case. I was able to find a good used one for $2.00 and we got it. The very next morning going to work at the radar site both back tires went flat. A lot of good the spare was. At this point I began to figure out how the Orcutt luck was going to work for me. Was able to order a new set of 4 tires from Alden's catalog for $28.00 so now we would be ready for the trip to the hospital. Also ordered a sewing machine for Carol for $39.00.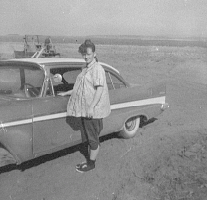 October 1963 outing
14 days before our daughter arrives and I'm a wreck. Sure is scary. Carol is wonderful and we are very excited. I'm working several jobs to make ends meet and sure am tired. Finally the big day arrives and we hurry to the hospital. Now it's wait, and wait, and wait. Finally am so tired I fall asleep and the nurse wakes me to tell me it's a girl and all is well. I can't imagine any high of any kind to compare to this feeling I now have.
Tammra Mae Orcutt
And proud parents
We have been married 1 year, 1 month, 14 days, and 11 hrs when this picture was taken. Tammra is 6 weeks and two days old now. If my calculations are right it is now Christmas Eve. 1963.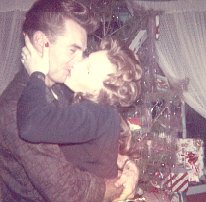 OOPS!!!!
This got us in trouble about nine months ago. WOW !!!
1964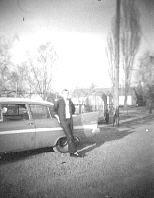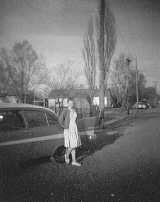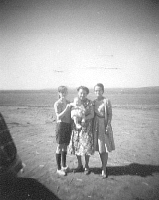 Some of our outings around Burns Oregon 1964 are pictured here. At this time I'm working on the Radar Base, The Burns Detective Agency at the Hines Lumber Mill, And on the Ranch at Crane Oregon. Not much free time and we decided we had a little money now but never got to see each other. The car has a bad rod bearing so stored it at the base and got an 1953 Rambler Town and Country. Real nice little car. We moved to a cheaper apartment to save some money but still had nothing. We decided that Carol and Tammy should go back with my folks for awhile and I move on base to try and get ahead. The last night before they left we burned Tammy's crib in the stove to try and stay warm. They got on the train and headed home and I moved on base. It did not take long to decide this wasn't good and 30 days later on a Friday night after work at 16:30 I jumped in the old Rambler and headed for Iowa and my two special loves. I arrived there in time for lunch on Sunday. It was so good to be together again.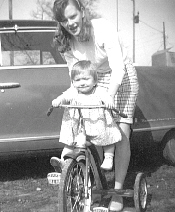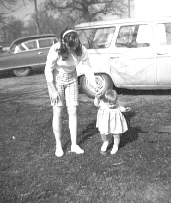 This was sort of a turning point for us as we decided all the work and no time to spend together, was not the way we wanted to be living. We visited family and friends and dad gave us an old trailer to haul some things back to Oregon. Dad helped me fix the overdrive on the car and loaded the trailer and headed back for Oregon. We had another very scenic trip back and the car got 27 miles per gallon. This was a 1953 Rambler in 1964 pulling a trailer. Go Figure today. At any rate the trip was very similar to the last one with some small exceptions. Some where in Nebraska we got very tired and we pulled over on a side road to rest. Tammy was in the back seat and Carol and I in the front seat. The car had reclining seats and was very nice to rest. At about 2AM we were awakened with the loudest noise and a huge headlight headed straight for us. When we pulled over we didn't notice we had parked parallel to train tracks and about only 4 feet away. Was that ever a rude awakening. Then later on, on Drinkwater pass, the water pump quit and since it was run by a shaft connected to the generator and the break was at the shaft connection, was able to fix it by using a piece of Tammy's high chair the folks had given us. By the time I got it fixed it was late and we decided to sleep some and get home tomorrow, as it was only about 150 miles to Burns. When we woke up it was snowing and the snow was up to the doors and it was cold. We managed to get out of the pullout we were in and continued on home. We moved into a small house with a kitchen, living room, and bedroom and it was really small. Here we were able to save some. I rebuilt the engine for the 1957 Plymouth in the front yard and Tammy helped me. She brought me tools, all wrong, and rocks and flowers etc. It sure was fun. We met Bob and Janette Jordan here and became good friends. As we got ahead on the bills some we moved to another house and Carol got me a deer rifle so we could go hunting. On one trip we had walked all over and did not see one deer and got back to camp around noon and were just pooped. After some lunch we decided to lie down for a nap before going out again. When we woke up and left the tent we found there were deer tracks all around the tent and we had slept through it all. Another such trip we were walking some ravines for cover and I was in the ravine and Carol on the top when I scared one up and it ran her way. She was so excited she forgot to shoot and I couldn't, as it was running past her and all she could say was it's a buck, It's a BUCK. So much for our deer hunting. We also started confirmation classes with Pastor Schutte and worked on building a new church as we were having it in a Garage. We got ahead some more and we purchased our first home. It was a Liberty trailer and sure was nice. Were moving on up. We made some more trips home to Iowa and purchased a 1961 Dodge station wagon. Now we won't have to sleep on the ground when we go camping. I went to classes at the radar station to get my Ham license and Carol got me a Swan 240-tri band ham set, I still have and use today. Tube radios they are the best. Our Trailer burned down and we lost everything but were able to purchase a brand new one and now have to start all over. We finished our confirmation classes and the Lord sure has blessed us.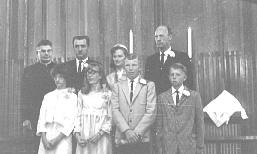 CONFIRMATION DAY JUNE 30,1966

I have received orders for an assignment to Alaska for one year and we have decided that Carol and Tammy will stay in Burns rather than move back to Iowa. We have decided we should go back home for a visit before I go as it would be a year remote.
Continue On For More Of Our Life